PrestaShop Review
PrestaShop is free, open-source software you can download to set up an online store, but to use PrestaShop effectively, you'll need experience with coding.
Expert Analyst & Reviewer

UPDATED
Advertiser Disclosure: Our unbiased reviews and content are supported in part by
affiliate partnerships
, and we adhere to strict
guidelines
to preserve editorial integrity.
PrestaShop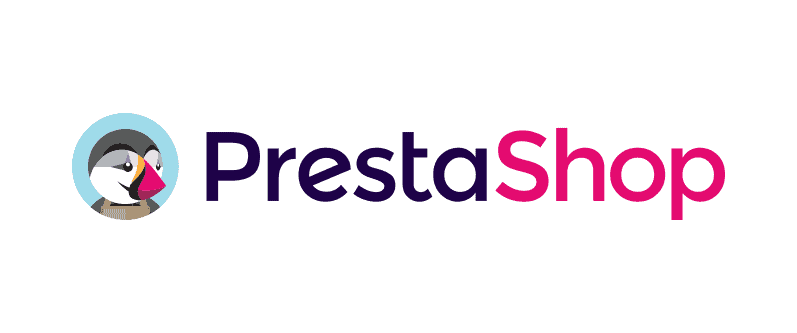 PrestaShop At A Glance
Open-source shopping cart software
Free to download and use
Does not include site hosting, domain, or security
---
Pros
Free to download
Highly customizable
Numerous integrations
Strong user community
Cons
Expensive customer support
Developer skills required
What Is PrestaShop?
PrestaShop is open-source shopping cart software that is completely free to download and use to build and operate an online store. However, because PrestaShop is not a hosted platform, you'll run into expenses like hosting and security. Will PrestaShop's $0 initial cost make this a good eCommerce choice for you, or will it end up costing more than you can afford?
Keep reading our full PrestaShop review to find out the answer to that question and many more.
PrestaShop Pricing
PrestaShop pricing is as simple as it gets: It costs $0 per month to download and use the open-source software to run an online store.
While the setup costs for PrestaShop are as low as can be, you can expect to run into a few expenses. First, you'll need to pay for site hosting. While the cheapest hosting options, shared hosting or cloud hosting, will cost just a few dollars a month, a large and complex store probably will need dedicated site hosting at a significantly higher cost. Expect to pay for a domain name, too, and add on security costs. Don't forget about the cost of any add-ons you'll need to improve your store's functionality. So, although it's not free, many users can maintain a PrestaShop eCommerce site for several hundred dollars a year.
While PrestaShop does not offer a free trial, remember that the software is free to download and tinker with, so you have nothing to lose by testing it out. PrestaShop also makes available a detailed demo that will let you explore the admin and storefront on many devices, including desktop, tablet, and phone views. Everything in the demo store is already filled in with sample information, so you can quickly gain a good feel for how the software functions and decide if it might be a good fit for your needs.
PrestaShop Features
| PrestaShop Features | Availability |
| --- | --- |
| Retail Equipment Available | |
| International Sales | |
| Currency Conversion | |
| Shoppable Social Posts | |
| Gift Cards | |
| Customer Loyalty | |
| Marketing Tools | |
| Hosted Platform | |
| Reports | |
| Staff Accounts | |
| Buy Buttons | |
| Multi-Platform Integrations | |
| Shipping Tools | |
| Shipping Discounts | |
| Free Themes | |
| Unlimited Products | |
PrestaShop comes with hundreds of features already built-in, and these include all the basics most merchants will need to get started. PrestaShop includes built-in eCommerce capabilities that will allow you to create product listings including digital files, create categories and subcategories for your products, track inventory, configure a one-page checkout, calculate taxes, create coupons and discounts, use SEO tools, and much more. Here's an overview of PrestaShop's features:
PrestaShop Themes
The PrestaShop store hosts 2,000+ mobile-responsive web templates created mostly by third-party designers. That includes seven free theme options:
Paid PrestaShop themes are priced between $95 and $300+, and their quality varies. You can sort the themes by categories, such as kids/toys, home/garden, or lingerie/adult; by price; by newest, most popular, or best rated; by five defined styles; or by language — there are more than three dozen available.
The least expensive themes seem serviceable but basic:
And here are some of the most expensive themes, which are a bit more impressive: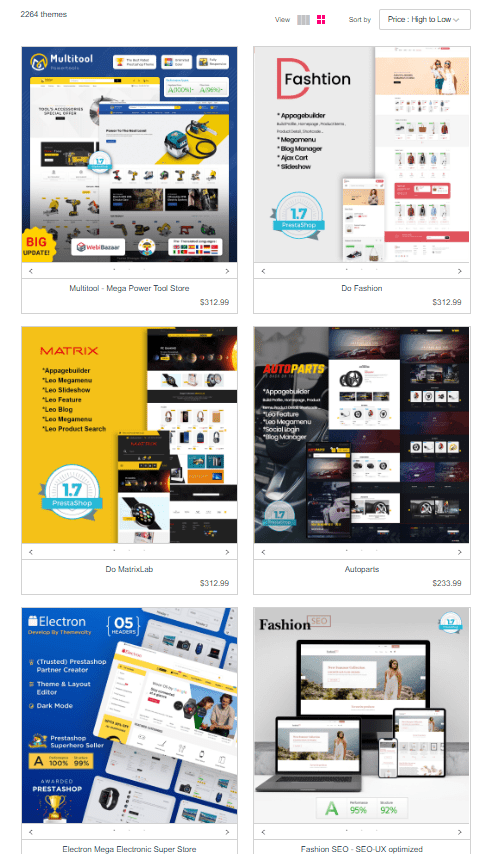 If a good-looking theme is one of your eCommerce priorities, you should also look elsewhere to find more stylish themes from another platform.
However, remember that PrestaShop is open-source software, and that means users have full access to the code that powers their sites. So you or your hired developers can customize your site to look and work exactly the way you want.
If you don't have access to tech talent, there's a WYSIWYG (what you see is what you get) editor available to make changes to your default theme. Using the WYSIWYG editor, you can make simple adjustments like adding your logo and changing page layouts without touching any code at all. You can also use the WYSIWYG editor to update your pages' content.
Types Of Payments Accepted With PrestaShop
PrestaShop accepts a wide variety of payment processors, but you'll almost certainly need to add an integration to access them. You'll need to set up your own merchant account or use a third-party payment processor to start selling. The PrestaShop Official Addons Marketplace lists dozens of compatible options, including the following modules:
151 modules for payment by card or wallet
81 other payment methods
18 COD
12 recurring payments/subscription
12 order management
11 payments in physical store
11 payments by invoice
9 bank transfer payment
5 cryptocurrencies
3 POS
3 B2B
3 buy now, pay later
As far as credit card processors, PrestaShop partners with top names including PayPal, Stripe, Google Pay, Apple Pay, Skrill, and others. Be aware that while some of these addons are free to download, you'll need to pay for many others.
Selling On Multiple Sites With PrestaShop
Users are able to run multiple stores using the same admin panel. You can also add an integration to connect your store to social networks including Facebook, Instagram, TikTok, Discord, and other sites.
Does PrestaShop Offer Buy Buttons?
Buy buttons allow shoppers to make instant purchases, now, without having to go through the full checkout process on your store site. While PrestaShop supports buy buttons, you'll need an integration to use them.
Selling Internationally
You can set your storefront to translate into more than 75 different languages and accept multiple currencies. That includes the ability to adapt your shop to the market you target, set currencies, and use multi-language product sheets to adapt descriptions to different markets. You can also make your checkout process compliant with European laws.
PrestaShop Marketing Features
You'll find a satisfying array of marketing tools out of the box. If you don't find what you need, you can add modules for things like loyalty programs, email marketing, flash sales, referrals, customer reviews, and so on. Here's a sampling of what you will find built-in:
Reports & Analytics: You can view sales data, segment customers, and gain an overview of all carts currently opened. View a full range of product insights, including your most popular products so you can highlight them in your store. You can also measure the impact of promotions, see traffic reports, and gain insight into in-site visitor navigation.
Customer Engagement: Email customers to remind them of the products they've abandoned in their carts. Re-engage customers by sending emails containing recently view products. Allow customers to sign in to receive back-in-stock notifications. Configure customer account creation forms and allow customers to create an account and track their orders. Create customer groups to personalize user experiences.
PrestaShop Product Limits
Add as many products as you like to your PrestaShop store, including digital products, and set categories and subcategories. You can even include a download expiration date for time-sensitive products. Use a CSV file to facilitate migration. Track individual product inventory, and sort and filter orders to gain an overview of manufacturers/suppliers.
Inventory Management With PrestaShop
PrestaShop has basic built-in tools that assist you in managing your inventory and take advantage of inventory tracking and restocking alerts. For more advanced inventory management features, you'll want to enable the PrestaShop Advanced Stock Management module in your PrestaShop admin. This will allow you to manage all your inventory sources from one place, including quantity on hand, warehouse locations, carriers, inventory movement, current product status, and more.
PrestaShop Shipping Tools
You can configure one-page checkout, display a summary page before customers validate their cart, and allow them to choose addresses and shipping and payment methods. Configure shipping methods, including geographical delivery zones by carrier. Allow gift wrapping as an option. Configure taxes by location and display taxes for US customers.
PrestaShop SEO Tools
You'll want to install PrestaShop's SEO Tool Box module to customize URLs, remove ids, generate metatags, manage URLs, and more to optimize your store's visibility in search engine results.
PrestaShop Discounts & Coupons
You can create basic coupons and discounts in your Prestashop store. Once again, however, you'll probably want to download a PrestaShop module to gain access to more advanced discount and coupon features.
Developer Tools
If you want to dive deeper into the PrestaShop software, you can access information about the server, store, emails, and database. Create and download database backups, and delete parts or all of the database. Set cookie lifetimes, activate/deactivate iFrames and HTML purifier, run caches, and create API keys, configure permissions, and create SQL queries.
Is PrestaShop Easy To Use?
Anyone downloading the PrestaShop software should start with the understanding that this is open-source software that requires developer skills for setup (though not for daily use). For many users, PrestaShop can be difficult to set up, and modules often interfere with one another, leading to an overall glitchy site. If you are not familiar with the programming language PHP and don't know how to resolve technical issues on your own, plan to hire web developers and designers to do the work for you. PrestaShop maintains a list of freelance developers who would be happy to bid for your business.
Setting up PrestaShop undeniably takes a bit of time and effort. You'll need to download PrestaShop, create a database, upload the software to your server using an FTP client, then install it. Take a look at PrestaShop's Get Started page for more information, including step-by-step installation documentation. After that, you'll decide which modules you need to run your business. Again, if you have limited tech experience, it would be wise to hire a professional to take care of integrations for you.
Fortunately, once your site is up and running, daily operations are fairly simple. The PrestaShop dashboard is clean and well-organized, giving easy access to essential eCommerce functions.
You can list a product's description, categories, quantities, and SEO features at the same time you add the product to your store. It's all available on the toolbar under the product's title. Order management is also easy. You can add orders, edit orders, and apply discounts from the admin. You can also contact customers via email from the orders page.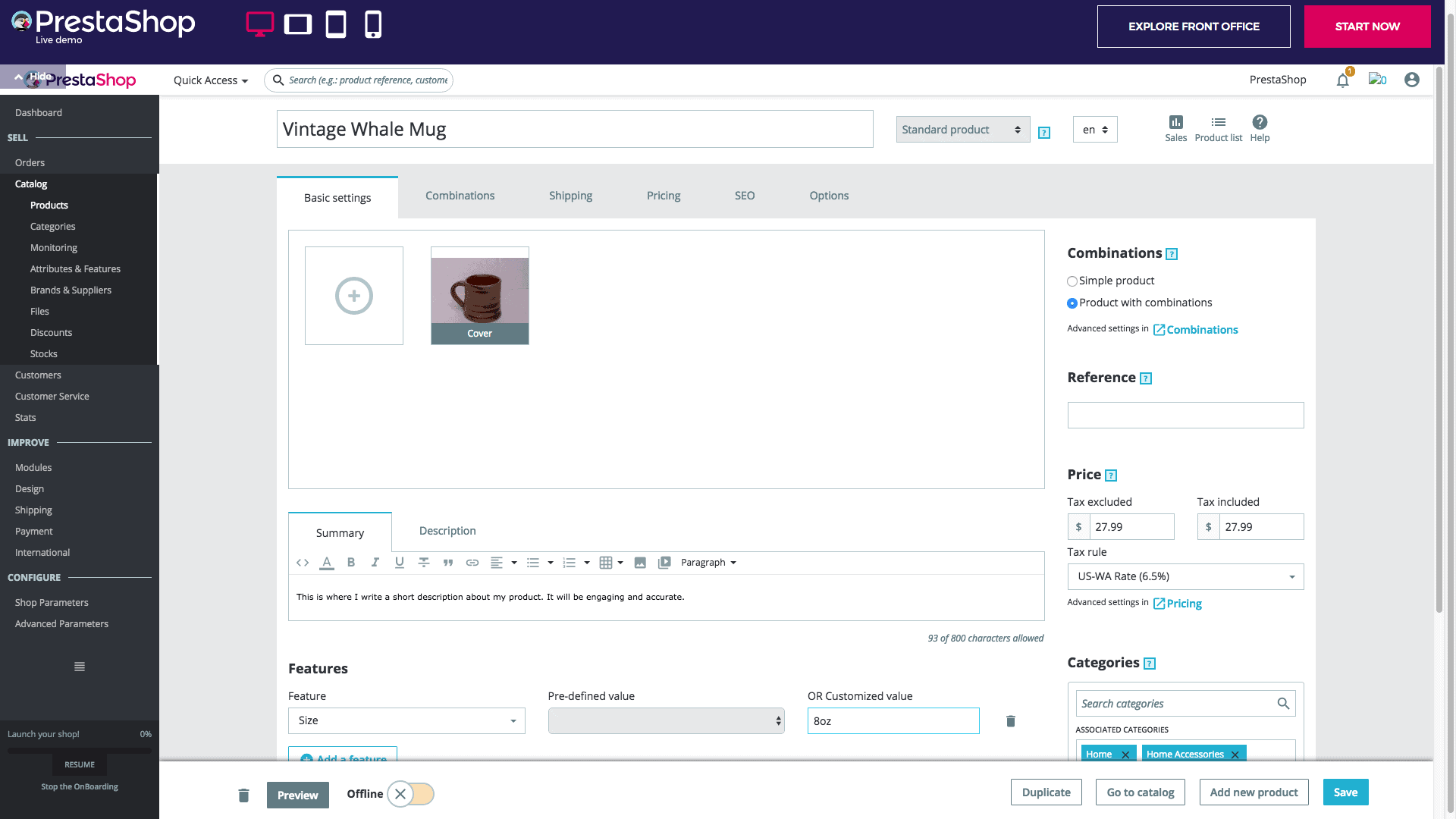 If you can make it through the initial setup of your store (integrations and modules included), you should be all right handling the rest. Because PrestaShop is free to download, you won't find a free trial. Still, you can check out the demo online, to test out the software without going through all the work of downloading and implementing it.
Customer Service & Support
| PrestaShop Support | Availability |
| --- | --- |
| Phone Support | |
| Email Support | |
| Support Tickets | Starts at $60 |
| Live Chat | |
| Dedicated Support Representative | |
| Knowledge Base or Help Center | |
| Videos & Tutorials | |
| Company Blog | |
| Social Media | |
Any time you're talking about open-source software, expect support to be a complicated topic. Because multiple programmers develop the modules and templates available for the platform, it's impossible to provide uniform support. With limitless combinations of modules available, each store is unique in its makeup.
The area of support definitely is one where you get what you pay for, too. PrestaShop's no-cost, open-source software is made for developers who can access self-help options as needed or work out their own solutions. If you're looking for the type of hands-on support you'll find with a fully hosted eCommerce platform, you're bound to be disappointed. On the other hand, PrestaShop hosts a diverse user community that comes together to solve problems via forums and services.
Here's the type of support you can access with PrestaShop. Note that you won't see any options for free phone, chat, or email support.
Quick Start Support: For $53.10, you can get help downloading the PrestaShop software and setting up your store on your server. Assistance is limited to installing your store on your chosen server and installing your store theme.
Web Ticket: Send your questions to a PrestaShop expert, and you'll receive an answer, for a price. A simple request to regain a lost password costs $60, while a more complicated need can be addressed with a one-hour intervention, priced at $115.
Help Center: You can find a link to a general support portal for general support.
Community Forum: PrestaShop has an active user community populated with developers who are happy to share their knowledge and experience. Bonus: Forums are listed in multiple languages.
Guides: You can find answers to common questions and set-up concerns in PrestaShop's FAQ section and online user guides.
Videos: A series of videos is available on the PrestaShop website and on YouTube.
Support Plans: You can purchase support plans to get in touch with PrestaShop's expert support team. Unfortunately, these support plans seem overpriced for the amount of support they provide. Excluding the one-month $279.99 "Support Easy Plan," plans require you to sign up for a one-year subscription. The minimum plan, at $399, gets you a whole six hours of support for the year (yikes!). The priciest support plan, at $1,399, offers 20 hours of support per year.
Upgrade Services: Get help upgrading your store to the latest version of PrestaShop, with the Upgrade Pack starting at $954.
Training: PrestaShop offers training courses to help you master the platform.
Find An Advisor: Hire web designers and developers to integrate modules for you, take care of migration, monitor and adjust your SEO, create a new theme for your store, and more.
Social Media: You can also try to contact PrestaShop via Facebook or Twitter, but you should probably try other contact methods first.
PrestaShop Integrations & Add-Ons
With 4,000+ integrations available in PrestaShop's Official Addons Marketplace, including many available in languages other than English, you're sure to find what your site needs. Those integrations are available as one-time purchases, and user reviews are available.
While about 50 add-ons are available for free, the lowest-priced options start around $50. Prices in the addon market have increased significantly since our last review. At this time, the most common price point, by far, is around $80, and more than three-quarters of the available modules cost less than $100. Some do cost more, with the most expensive listed at $7,790. To give you a few examples, you'll pay $110 for Zapier, you can add Mailchimp for $0, and Salesforce Connector will cost you $551.
It's true that adding these integrations to your platform can cause your eCommerce expenses to rise, especially when you compare PrestaShop to other shopping cart alternatives. Many of these modules come already integrated into other fully-hosted shopping cart platforms. So those fully-hosted solutions may be cheaper than PrestaShop in the long run. On the other hand, you may come out on top with PrestaShop. It all depends on your unique situation. You'll likely purchase a few add-ons to customize your shop no matter what platform you use.
Understand, too, that besides the price these third-party modules come with another disadvantage. Since they were made by hundreds of individual developers, they are not guaranteed to work seamlessly together. Adding multiple modules can lead to glitches, and PrestaShop may not be able to help if something goes wrong. Read the reviews included for each module on the PrestaShop app store, to discover how well it worked (or didn't!) for other users.
PrestaShop Reviews
Most PrestaShop reviews acknowledge a mix of positives and negatives. Overall, the software enjoys a good reputation. For example, on the review site G2, PrestaShop has 141 reviews listed, with all but nine reviews rating the software 4 or 5 out of a possible 5 stars. PrestaShop is well liked by users on Capterra, too, with 233 reviews giving the software a composite 4.5/5 star rating overall.
Let's dig into the specifics of what users have to say about this software.
Negative PrestaShop Reviews & Complaints
Here are a few of the most common complaints:
Bugs & Glitches: Modules don't always work with each other, and upgrades don't always go smoothly. You can expect to do some problem-solving on an ongoing basis.
Additional Expenses: Expect to pay for integrations that are typically included for free on other platforms, and for necessities like site hosting and security that are included on fully hosted platforms. Many users find they have to hire a developer. And of course, costs will be high for those needing support that goes beyond the abundant self-help options available.
Technical Complexity: If you dive in with little understanding of code, you're going to have a rough time. The platform takes a lot of work to set up.
No Support: If you build your store with PrestaShop, the only options for technical support will be of the self-help variety. If you don't have a lot of technical expertise on staff, that can be less than ideal.
Positive PrestaShop Reviews & Testimonials
On the other hand, lots of merchants use PrestaShop for their online businesses and love it. Here are a few things that PrestaShop customers say they like about the software:
Fully Customizable: While there are some basic options available, you'll also find some beautiful themes available in PrestaShop's store. With thousands of options to choose from, you're bound to find one you like, and you'll end up with a truly unique storefront.
Modules: There are lots of modules available. You'll find what you need to customize your store.
Strong User Community: While support options directly from PrestaShop are limited, there's a strong user community and an active forum that can provide a lot of the answers you're looking for.
International Community: More than a few online PrestaShop online reviews are in Spanish, and users report that Spanish language is well supported in the software's developer community.
Final Verdict Of PrestaShop
While there's a lot to like about PrestaShop and we feel confident recommending it to the right type of user, the truth is this platform is not well-suited for non-technical beginners.
If you're reasonably familiar with HTML, CSS, and PHP — or if you can afford to hire a developer — you may find that PrestaShop fits your business's needs. As open-source software, it's highly customizable. It comes with a strong featureset right out of the box, and there's an ever-expanding selection of add-ons to choose from.
Plus, it's free to download and use, and it compares favorably to other open-source options. If you're not sure you're ready for the responsibility of building a store on open-source software, check out top-rated shopping cart alternatives, including fully hosted sites, to see if going that route sounds more appealing. However, if you're looking for a fully hosted, turnkey platform you can use to set up a shop quickly, we recommend you start by checking out PrestaShop alternatives like Shopify, Shift4Shop, or BigCommerce.
On the other hand, if you're ready to dive in and start building your PrestaShop store, don't forget to take advantage of the active user community to provide the assistance you'll need along the way. Soon enough, you may be the owner of a functioning store, ready to offer your own tips to the next "newbie" on the PrestaShop scene.
PrestaShop FAQs
---
Featured Free eCommerce Plan 🔥
Square Online


---
Get a free website builder, online ordering, gift cards, in-store pick-up options, and dozens of other features for eCommerce and hybrid businesses. Free options available. Learn more from Square.
Featured Free eCommerce Plan 🔥
Square Online


---
Get a free website builder, online ordering, gift cards, in-store pick-up options, and dozens of other features for eCommerce and hybrid businesses. Free options available. Learn more from Square.
To learn more about how we score our reviews, see our
eCommerce Software Rating Criteria
.