Expert Analyst & Reviewer

UPDATED
Advertiser Disclosure: Our unbiased reviews and content are supported in part by
affiliate partnerships
, and we adhere to strict
guidelines
to preserve editorial integrity.
PrestaShop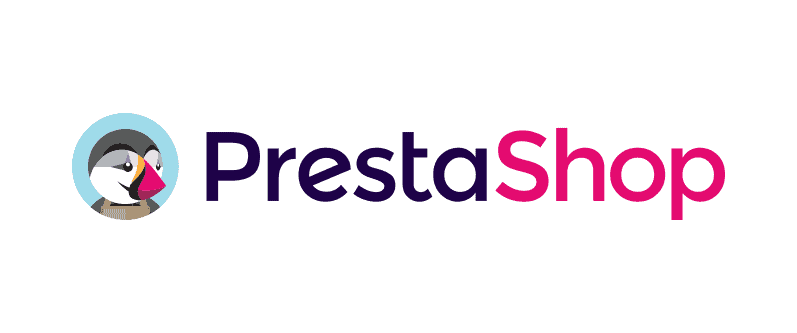 Pros
Free to download
Highly customizable
Numerous integrations
Excellent support materials
Strong user community
Cons
Expensive customer support
Developer skills required
PrestaShop Overview
PrestaShop is a shopping cart solution used by more than 300,000 stores around the world. An open-source shopping cart, the software is completely free to download and use. That said, PrestaShop does bring its share of inevitable expenses, beginning with unavoidable ones like web hosting, security, and a domain name. On the other hand, PrestaShop includes built-in eCommerce capabilities that will allow you to create product listings including digital files, create categories and subcategories for your products, track inventory, configure a one-page checkout, calculate taxes, create coupons and discounts, use SEO tools, and much more.
Although the array of built-in features is impressive, most users also decide to purchase a few add-on modules to integrate different software programs with their sites. Those can be expensive. And of course, because PrestaShop is open-code, if you have limited technical knowledge or little experience working in the PHP coding language, you might consider investing in a web developer to help you through the rough spots.
In other words, PrestaShop may be free initially, but if you aren't careful, it can end up being more expensive than some fully-hosted eCommerce options. Is PrestaShop worth it?
Stick around for a full, independent PrestaShop review to find out.
PrestaShop Pricing
Every PrestaShop review should give the software high marks in the pricing category because free is a hard price to beat. PrestaShop pricing is a simple as it gets: It costs $0 per month to download and use the open-source software to run an online store.
In the recent past, PrestaShop has tested a hosted version of its software called PrestaShop Ready. Intended as an easier alternative to the open-source shopping cart and as a competitor to turnkey platforms like Shopify, PrestaShop Ready was not successful as a paid platform, and it is not currently available.
While the setup costs for PrestaShop are as low as can be, you can expect to pay for site hosting. While the cheapest hosting options (shared hosting or cloud hosting) will cost you just a few dollars a month, you can spend more than $100 each month if you choose dedicated site hosting. Another expense, buying and maintaining a domain name, may cost less than $20 per year. Add on the security costs, too, in the range of $100-$500 for an SLL certificate, and you can use PrestaShop to set up a functioning eCommerce site for just a few hundred dollars a year.
You're likely to encounter some ongoing expenses too, though they'll vary depending on a number of factors.
Modules and add-ons often come at a steep price. If you want to integrate your site with QuickBooks (starting at $75), Amazon (starting at $75), eBay (starting at $65), Facebook (starting at $0), or TaxJar ($110), you'll see the costs starting to add up.
Most important, PrestaShop is not the easiest software to use; it can be difficult to set up, and modules often interfere with one another, leading to an overall glitchy site. If you are not familiar with PHP (a programming language) and don't know how to resolve technical issues on your own, it will be necessary to hire web developers and designers to do the work for you. PrestaShop maintains a list of freelance developers who would be happy to bid for your business.
What if you have some technical experience, bordering on expertise? While PrestaShop does not offer a free trial, remember that the software is free to download and tinker with, so you have nothing to lose by testing it out. PrestaShop also makes a detailed demo available. The demo will let you explore the admin and storefront on many devices, including desktop, tablet, and phone views. Everything in the demo store is already filled in with sample information, so you can quickly gain a good feel for how the software functions and decide if it might be a good fit for your needs.
Cloud-Based Or Locally Installed
PrestaShop is available as free, open-source, downloadable software. When you download the software, you gain access to the open source code, allowing you to build and self-host your shop and edit all the files. PrestaShop uses Open Software License (OSL) v3.0. That allows users to use, modify, and share the code under certain common conditions including standard eCommerce users.
Hardware & Software Requirements
To use PrestaShop, you'll need an FTP client and a registered domain on top of a third-party hosting service. Here's a complete list of PrestaShop's system requirements:
System: Unix, Linux, or Windows.
Web Server: Apache Web Server 2.2 or any later version.
PHP: PHP 7.1 or later.
MySQL: 5.6 minimum; a recent version is recommended.
Server RAM: recommend memory allocation setting per script (memory_limit) to a minimum of 256M.
The company adds that "PrestaShop can also work with NGINX 1.0 or later."
Specific Size Of Business
Mid-size to large businesses are generally better equipped to use PrestaShop than smaller businesses.
Although any size businesses can use PrestaShop's downloadable software, and while the free initial cost can make it appealing to the smallest, I don't recommend it unless you have a lot of tech experience on staff. And if you'll need the multiple add-ons often required to manage a large and complex website, PrestaShop can get expensive and complicated very quickly. On the flip side, if you're practiced in coding for websites or feel like a quick learner, go ahead and give it a try. You don't have anything but your time to lose.
Ease Of Use
Because PrestaShop is free to download, there's no free trial available. Check out the demo online, to test out the software without going through all the work of downloading and implementing it.
Setting up PrestaShop undeniably takes a bit of time and effort. You'll need to download PrestaShop, create a database, upload the software to your server using an FTP client, then install. Take a look at PrestaShop's Get Started page for more information, including step-by-step installation documentation.
After that, you'll have to start considering which modules you need to run your business. Again, if you have limited tech experience, it would be wise to hire a professional to take care of integrations for you. Fortunately, once your site is up and running, daily operations are fairly simple. You can list a product's description, categories, quantities, and SEO features at the same time you add the product to your store. It's all available on the toolbar under the product's title.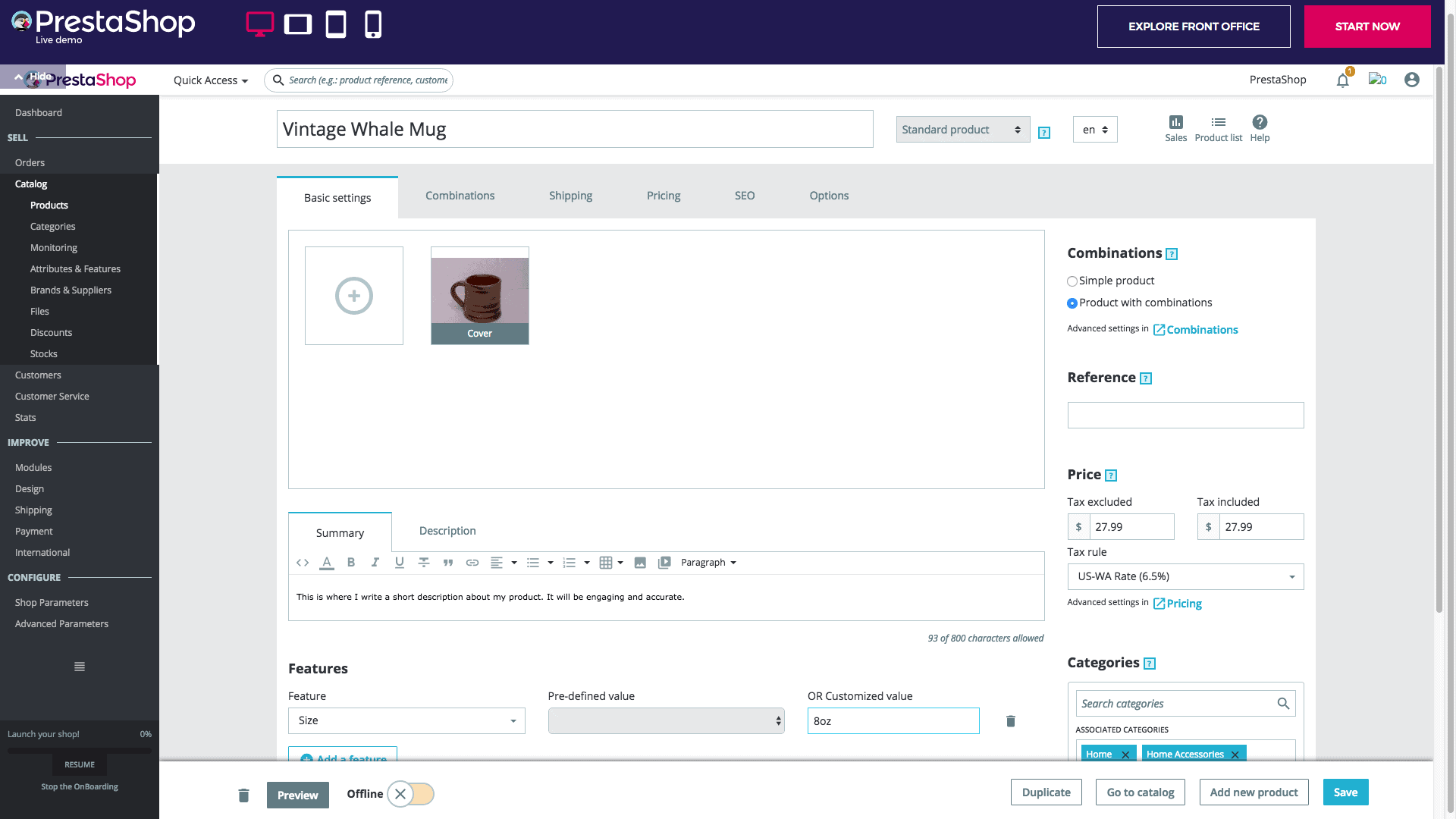 Order management is also easy. You can add orders, edit orders, and apply discounts from the admin. You can also contact customers via email from the orders page.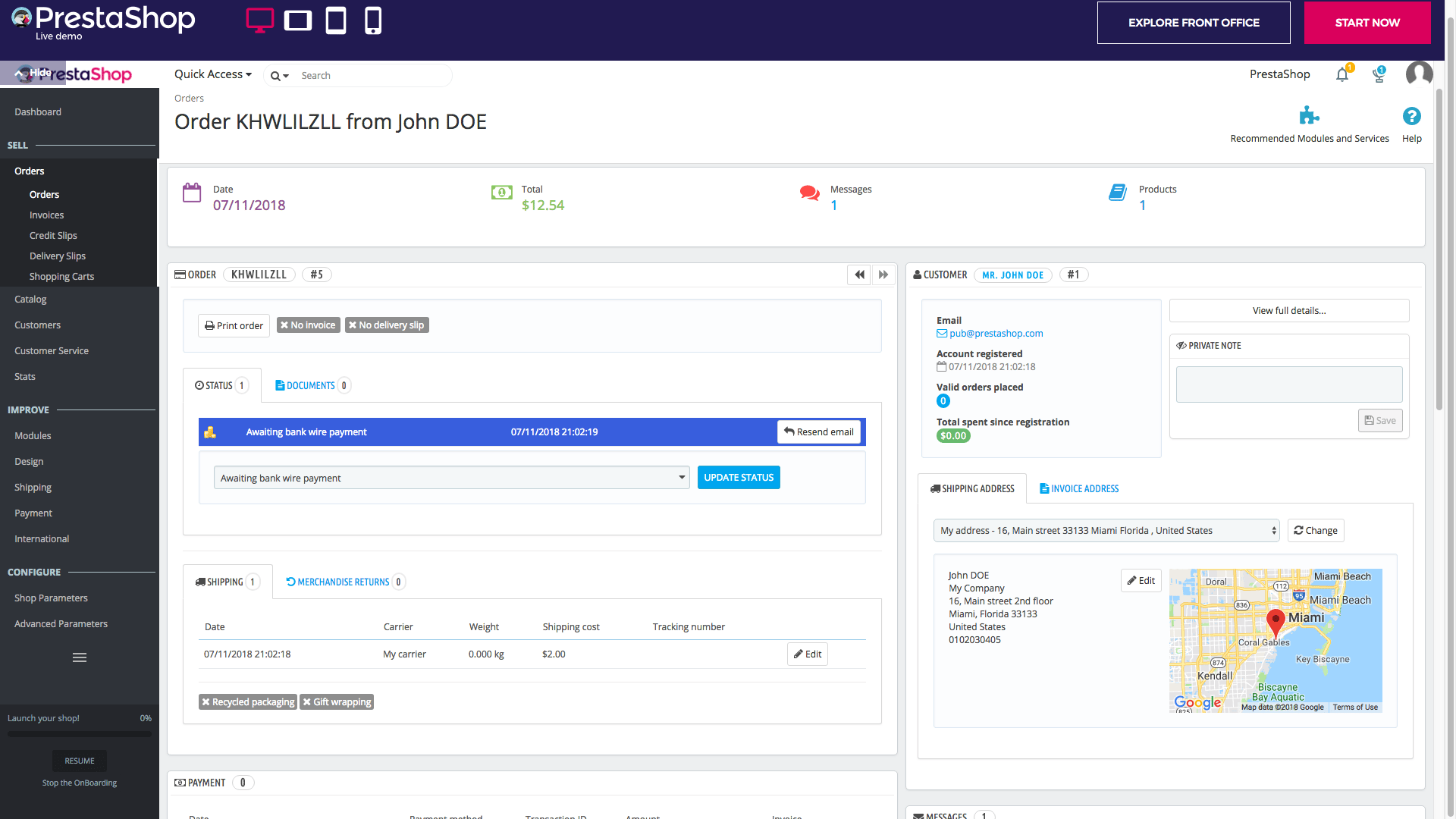 If you can make it through the initial setup of your store (integrations and modules included), you should be all right handling the rest. For that reason, we rate PrestaShop "good" in terms of ease of use. Anyone downloading the software should start with the understanding that PrestaShop is open-source software that requires developer skills for set up, if not for daily use. If you're looking for a fully hosted, turnkey platform you can use to set up a shop quickly, we recommend you check out alternatives like Shopify or BigCommerce.
PrestaShop Features
PrestaShop comes with hundreds of features already built-in, and these include all the basics most merchants will need to get started. Here's a sampling:
Dashboard: The PrestaShop dashboard is clean and well-organized, giving users easy access to essential eCommerce functions.
Products: Add as many products as you like, including digital products, and set categories and subcategories. You can even include a download expiration date for time-sensitive products. Use a CSV file to facilitate migration. Track individual product inventory, and sort and filter orders to gain an overview of manufacturers/suppliers.
Multi-Channel Selling: Users are able to run multiple stores using the same admin panel. Connect your store to social networks.
Sell Internationally: Set your storefront to translate into more than 75 different languages and accept multiple currencies. You can adapt your shop to the market you target, set currencies, and use multi-language product sheets to adapt descriptions to different markets. You can also make your checkout process compliant with European (German) laws.
Checkout: Configure one-page checkout, display a summary page before customers validate their cart, and allow them to choose addresses and shipping and payment methods. Configure shipping methods, including geographical delivery zones by carrier. Allow gift wrapping as an option. Configure taxes by location and display taxes for US customers.
Inventory Management: Manage your inventory and take advantage of inventory tracking and restocking alerts.
Marketing: Collect customer emails, advertise on your store via images or banners; set automated emails to reduce abandoned cart rate; display complete product page with call-to-action buttons, cross-selling and promotional content; suggest and promote specific products, use coupons and discounts; make special offers by product, by customer, or by order.
SEO Tools: Take advantage of URL rewrites, meta titles, and meta descriptions. Configure your internal search engine and display your physical stores on a Google map.
Reports & Analytics: You can view sales data, segment customers, and gain an overview of all carts currently opened. View a full range of product insights, including your most popular products so you can highlight them in your store. You can also measure the impact of promotions, see traffic reports, and gain insight into in-site visitor navigation.
Customer Engagement: Email customers to remind them of the products they've abandoned in their carts. Re-engage customers by sending emails containing recently view products. Allow customers to sign in to receive back-in-stock notifications. Configure customer account creation forms and allow customers to create an account and track their orders. Create customer groups to personalize user experiences.
Developer Tools: If you want to dive deeper into the PrestaShop software, you can access information about the server, store, emails, and database. Create and download database backups, and delete parts or all of the database. Set cookie lifetimes, activate/deactivate iFrames and HTML purifier, run caches, and create API keys, configure permissions, and create SQL queries.
Although this is only a partial list, it represents a surprising number and depth of features for free software. Some notable omissions, like blogging or dropshipping capabilities, are available as add-on modules. See below for more information on integrations.
Web Design
The PrestaShop store hosts over 2,210 mobile-responsive web templates created mostly by third-party designers. The only free option is the free Presta theme that comes with every software download. PrestaShop themes are priced between $75 and $740, and their quality varies. You can sort the themes by categories, such as kids/toys, home/garden, or lingerie/adult; by five defined styles; or by language — there are more than three dozen available.
Here's a sample of the least expensive themes:
And here are some of the most expensive, which seem a bit more impressive:
If a good-looking theme is one of your eCommerce priorities, you should look elsewhere to see what stylish themes other platforms offer. However, because PrestaShop is open-source software, users have full access to the code that powers their sites. So you or your hired developers can customize your site to look and work exactly the way you want.
If you don't have access to tech talent, there's a WYSIWYG (what you see is what you get) editor available to make changes to your default theme. Using the WYSIWYG editor, you can make simple adjustments like adding your logo and changing page layouts without touching any code at all. You can also use the WYSIWYG editor to update your pages' content.
Integrations & Add-Ons
With almost 4,000 integrations available in PrestaShop's Official Add-ons Marketplace, including thousands available in dozens of languages other than English, you're sure to find what your site needs. Those integrations are available as one-time purchases, and user reviews are available.
While about 150 add-ons are available for free, the lowest-priced options start around $50. The most common price point by far is $65, and more than three-quarters of the available modules cost less than $100. A few cost more, with the most expensive listed at $860. To give you a few examples, you'll pay $100 for Zapier, you can add Mailchimp for $0, and Salesforce Connector will cost you $310.
It's true that adding these integrations to your platform can cause your eCommerce expenses to rise, especially when you compare PrestaShop to other shopping cart alternatives. Many of these modules come already integrated into other fully-hosted shopping cart platforms. So those fully-hosted solutions may be cheaper than PrestaShop, in the long run. On the other hand, you may come out on top with PrestaShop. It all depends on your unique situation. You'll likely purchase a few add-ons to customize your shop no matter what platform you use.
Besides the price, there is another disadvantage to these third-party modules: Since they were made by hundreds of different developers, they are not guaranteed to work seamlessly together. Adding multiple modules can lead to glitches, and the company can't always help if something goes wrong. Read the reviews included for each module on the PrestaShop app store, to discover how well it worked (or didn't!) for other users.
Payment Processing
You'll need a merchant account or a third-party payment processor to start accepting payments. You'll find 120+ listed in the PrestaShop Official Addons Marketplace, including options for card or wallet payments, bank transfer payments, POS, recurring payments, invoicing, and more in addition to traditional online payment gateways. Many modules are available at no cost.
PrestaShop partners with ViaBill and Stripe. Other options include PayPal, Amazon Pay, Stripe, Apple Pay, Klarna, Skrill, Authorize.net, Google Pay, Square, and more.
PrestaShop Customer Service & Technical Support
Any time you're talking about open-source software, expect support to be a complicated topic. Because multiple programmers develop the modules and templates available for the platform, it's impossible to provide uniform support; with limitless combinations of modules available, each store is unique in its makeup.
The area of support definitely is one where you get what you pay for, too: PrestaShop's no-cost, open-source software is made for developers who can access self-help options as needed or work out their own solutions. If you're looking for the type of hands-on support you'll find with a fully hosted eCommerce platform, you're bound to be disappointed. On the other hand, PrestaShop hosts a diverse user community that comes together to solve problems via forums and services. Here's the type of support you can access with PrestaShop.
Note that you won't see any options for free phone, chat, or email support.
Quick Start Support: For $241, you can buy help downloading the PrestaShop software and setting up your store. Assistance is limited to installing your store on your chosen server and installing your store theme.
Web Ticket: Send your questions to a PrestaShop expert, and you'll receive an answer, for a price. A simple request to regain a lost password costs $60, while a more complicated need can be addressed with a one-hour intervention, priced at $115.
Help Center: You can find a link to a general support portal for general support.
Community Forum: PrestaShop has an active user community populated with developers who are happy to share their knowledge and experience. Bonus: Forums are listed in multiple languages.
Guides: You can find answers to common questions and set-up concerns in PrestaShop's FAQ section and online user guides.
Videos: Search YouTube for official PrestaShop how-to videos.
Support Plans: You can purchase support plans to get in touch with PrestaShop's expert support team. Unfortunately, these support plans are overpriced for the amount of support they provide. Excluding the one-month $279.99 "Support Easy Plan," plans require you to sign up for a one-year subscription. The minimum plan, at $399 gets you a whole six hours of support for the year (yikes!). The priciest support plan, at $1,399, offers 20 hours of support per year.
Migration Services: Get help switching over to PrestaShop, with the Upgrade Pack starting at $1,084.
Training: PrestaShop offers training courses to help you master the platform.
Find An Advisor: Hire web designers and developers to integrate modules for you, take care of migration, monitor and adjust your SEO, create a new theme for your store, and more.
Social Media: You can also try to contact PrestaShop via Facebook or Twitter, but you should probably try other contact methods first.
PrestaShop Reviews
Most PrestaShop reviews acknowledge a mix of positives and negatives. Overall, the software enjoys a good reputation. For example, on the review site G2, PrestaShop has 114 reviews listed, with all but nine reviews rating the software 4 or 5 out of a possible 5 stars.
Negative Reviews & Complaints
As you'll find with most eCommerce platforms, some PrestaShop reviews come from people who love the platform, and others from users who can't leave it far enough behind. Here are a few of the most common complaints:
Bugs & Glitches: Modules don't always work with each other, and upgrades don't always go smoothly. You can expect to do some problem-solving.
Additional Expenses: Expect to pay for integrations that are typically included for free on other platforms, and for necessities like site hosting and security that are included on fully hosted platforms. Many users find they have to hire a developer. And of course, costs will be high for those needing support that goes beyond the abundant self-help options available.
Technical Complexity: If you dive in with little understanding of code, you're going to have a rough time. The platform takes a lot of work to set up.
Positive Reviews & Testimonials
On the other hand, lots of merchants use PrestaShop for their online businesses and love it. You can take a look at a few of those stores on PrestaShop's Showcase page. Here is what PrestaShop customers like most.
Free: Isn't "free" the sweetest word?
Elegant Themes: While there are some basic options available, you'll also find some truly beautiful themes available in PrestaShop's store. With thousands of options to choose from, you're bound to find one you like.
Modules: There are lots of modules available. You'll find what you need to customize your store.
Strong User Community: While support options directly from PrestaShop are limited, there's a strong user community and an active forum that can provide a lot of the answers you're looking for.
Security
PrestaShop is PCI compliance-ready. The emphasis is on the word "ready," meaning that your PrestaShop store will not be PCI compliant all on its own. You'll have to ensure that yourself. To do so, you'll need to purchase an SSL certificate and check in on security patches regularly. Be sure to check the PrestaShop for free security modules.
PrestaShop FAQs
Final Verdict
You have a lot of options when it comes to choosing the best eCommerce platform for your online store. And while PrestaShop is not well suited for the non-technical beginner, if you're reasonably familiar with HTML, CSS, and PHP — or if you can afford to hire a developer — you may find that PrestaShop fits your business's needs. As open-source software, it's highly customizable. It comes with a vast feature set right out of the box, and there's an ever-expanding selection of add-ons to choose from.
Plus, it's free to download and use, and it compares favorably to other open-source options. If you're not sure you're ready for the responsibility of building a store on open-source software, check out top-rated shopping cart alternatives, including fully hosted sites, to see if going that route sounds more appealing.
If you're ready to dive in and start building your PrestaShop store, don't forget to take advantage of the active user community to provide the assistance you'll need along the way. Soon enough, you may be the owner of a functioning store, ready to offer your own tips to the next "newbie" on the PrestaShop scene.
---
We've done in-depth research on each and confidently recommend them.
We've done in-depth research on each and confidently recommend them.
To learn more about how we score our reviews, see our
eCommerce Software Rating Criteria
.