Contributor

UPDATED
Advertiser Disclosure: Our unbiased reviews and content are supported in part by
affiliate partnerships
, and we adhere to strict
guidelines
to preserve editorial integrity.
Pros
Minimal learning curve
Good customer service
Innovative features
Cons
Buggy mobile app
Outdated interface
High monthly cost
Priority Matrix Overview
Priority Matrix aims to be different. In a field dominated by cloud-based services, this product — brought to you by the developers at Appfluence — runs on your local computer. The reasoning behind this unorthodox choice? When asked, reps from Appfluence claim the answer is speed. According to them, cloud-based, SaaS tools are fine as far as they go, but when working on an enterprise level, with hundreds of users and maybe thousands of projects, cloud-based apps are just not going to cut it. On the other hand, self-hosting on your own servers can be an IT nightmare if you don't have the right resources. Appfluence aims to bridge that gap: Priority Matrix is a project management app that runs on your computer but updates to the cloud.
And the creativity does not end there. Time and time again while testing Priority Matrix, I found myself thinking "well that is an interesting way of meeting that need!" It is nice to see a team dedicated to finding new ways of achieving industry-standard goals. Add to the mix an award-winning customer support team (literally) and you have a very impressive product, overall. Let's take a closer look at this app and see if it is everything it can be.
Web-Based (SaaS) Or On-Premise
Priority Matrix attempts to combine the best of both SaaS and on-premise options by operating as a hybrid "native app." You download the program, but it syncs across the cloud, meaning you get the speed of traditional locally-installed software without arranging your own server farm. It also works on mobile devices (both IOS and Android).
Pricing
Priority Matrix is available in three pricing tiers, with a substantial (20%) reduction in price if you opt for annual subscriptions. The prices below reflect that annual price:
Personal
$12/user/month
50 projects
6-month user history
1GB storage
Business
$24/user/month
Workload reporting
Gantt charts
Version Control
3-year history
Client-View
50 GB storage
Business Plus
$36/user/month
Only available for annual subscriptions
100GB Storage
Custom templates
Custom Lunch+Learn webinar (teams of 10+)
Ease Of Use
Setting up a Priority Matrix account is as easy as entering your name, email address, and phone number and downloading the app to your device, whether you are using a desktop computer or mobile platform. From there, Priority Matrix comes pre-loaded with a tutorial project, complete with tasks like "move me to the lower right quadrant," and "change my name to 'Fire.'" Of the various ways I have seen developers teach new users how to use an app, this style is my favorite because it gets people interacting with the software immediately.
In terms of actually using Priority Matrix, I am of two minds. First, the positives. The real bread and butter of this app is the project page, specifically the Matrix view for which the software is named. It is a 4-quadrant view that allows you to organize your work between the panes. You can rename these panes how you like, but they most commonly end up with names like "urgent," "low-priority," "past due," and "communication." It is a creative way to organize information, and I actually like it a lot. Priority Matrix provides other ways of viewing your information, including Gantt charts and a traditional calendar. It is easy to add new projects and tasks, then assign them to team members.
On the other hand, though, Priority Matrix has some issues. First, and probably of relatively low importance, the visual design of the app is not good. Compare how this software appears with the likes of Redbooth (read our review) and Clickup (read our review) to understand just how outdated this app looks.

Of greater importance is the number of bugs I encountered using Priority Matrix. To be fair, all of the issues I am about to describe reared their ugly heads while I was testing the mobile Priority Matrix app, specifically the Android version. I encountered a disturbing number of app crashes during my test, which is obviously problematic. In a stranger, more annoying bug, a project I created on my phone started randomly propagating like the mythological Hydra. Every time I tried to delete one of the copies, two or three more would appear. Before long, I had 30 copies of that single project.
This is all pretty frustrating since the actual functionality of Priority Matrix is pretty high. Once they fix the bugs on their mobile platform and update the graphic design, the developers at Appfluence will have a true contender on their hands. Until then, we will have to put up with these frustrating shortcomings.
Customer Service & Support
Your one-stop-shop for self-service support is Priority Matrix's Knowledge Base. This is a collection of articles and videos designed to give you detailed insight into the inner workings of the app. A nice touch I immediately noticed while browsing was the getting started guide, which collects the most basic tutorials all in one spot. Watching these basic guides for operating this app on all platforms (Windows, OSX, Android, and IOS) will be a surefire way of helping your team get to grips with your new project management tool. There are plenty of other articles and guides when you want to go deeper as well. If you want to get in touch with an actual person, you can also contact the Priority Matrix support team — a good choice, as the company is widely accepted to be a leader in the field of customer service, winning the Capterra "Best Customer Service" award in 2017.
My experiences with the team have been extremely positive. In every interaction I had with them, I felt the continual focus from Appfluence to improve my understanding and experience with their product. The level of support I (and all Priority Matrix subscribers) received is the kind of thing that can make or break a product. The team at Appfluence understands that, and have put together an impressive group of people ready to give aid when customers need it.
Additionally, any team of 50 or more gets onboarding training from Appfluence. That initial onboarding is crucial, so this is a good option if your team is large enough to unlock it.
Negative Reviews & Complaints
Priority Matrix is generally well received, with many users commenting that they enjoy the app and rely on it to stay on task. However, many users had complaints, with issues that echoed the one I detailed above. I found complaints about the app crashing and sync issues going back two years on Google's app store. Fortunately, it seems these issues are mostly limited to the mobile versions of Priority Matrix.
Other complaints mostly stem from how Priority Matrix looks. As I mentioned above, this app is not going to win any beauty contests and feels like the kind of thing that might have been designed five or ten years ago. One user even went so far as to label it unengaging, or uninspiring. I am not sure I would go quite that far, but I agree the visual design desperately needs an update.
Of these two, I am most concerned about the issues with the mobile version of Priority Matrix. It makes it difficult to get work done when your app starts crashing or does not sync properly with the computer. Having 30 copies of one project is also definitely problematic. Can I deal with boring visuals? Yes. Do I want to manually go through and delete all the unwanted versions of my project? Big no.
Positive Reviews & Complaints
Having said all of that, Priority Matrix is still an app that most people like. In particular, the 4-quadrant Matrix view has garnered praise and loyalty from users. Like many, I found that the checkerboard-style design made sense, and at least on the desktop version, the drag-and-drop mechanics worked pretty well. PM has a 3.7/5 rating on the Google Play store, and a 3.6/5 on G2 Crowd. On the other hand, the app gets a 4.6/5 for IOS and a 4.5/5 on Capterra. While there are other apps that score higher, this is still generally favorable.
Features
Priority Matrix comes with a couple good features that are worth taking a look at:
Projects:

Just like most project management apps, Priority Matrix allows you to build projects, then assign team members to them. You can also assign an overall due date for the entire project. Nothing special here, but nothing to criticize either.

Tasks: Within each project, you can create tasks. Each task can be assigned to one or more team members, who can then report on the time they have spent on it, as well as the more nebulous concept of how much "effort" the task has required. I actually quite like this feature, though you may want to have a team-wide meeting to calibrate what you mean by "effort."
Matrix Mode: This is Priority Matrix's big claim to fame: a four-pane arrangement of your project, with tasks spread between the quadrants of the matrix. Each quadrant gets a label, as described above, which allows you to assess the health of your project in a single glance. It is a creative way of displaying a project, and I personally like it a lot. It is relatively rare for me to see something new in the project management industry, but I haven't seen anything quite like Matrix Mode before. You can customize your matrix with labels that suit your own requirements or load up one of many pre-made templates.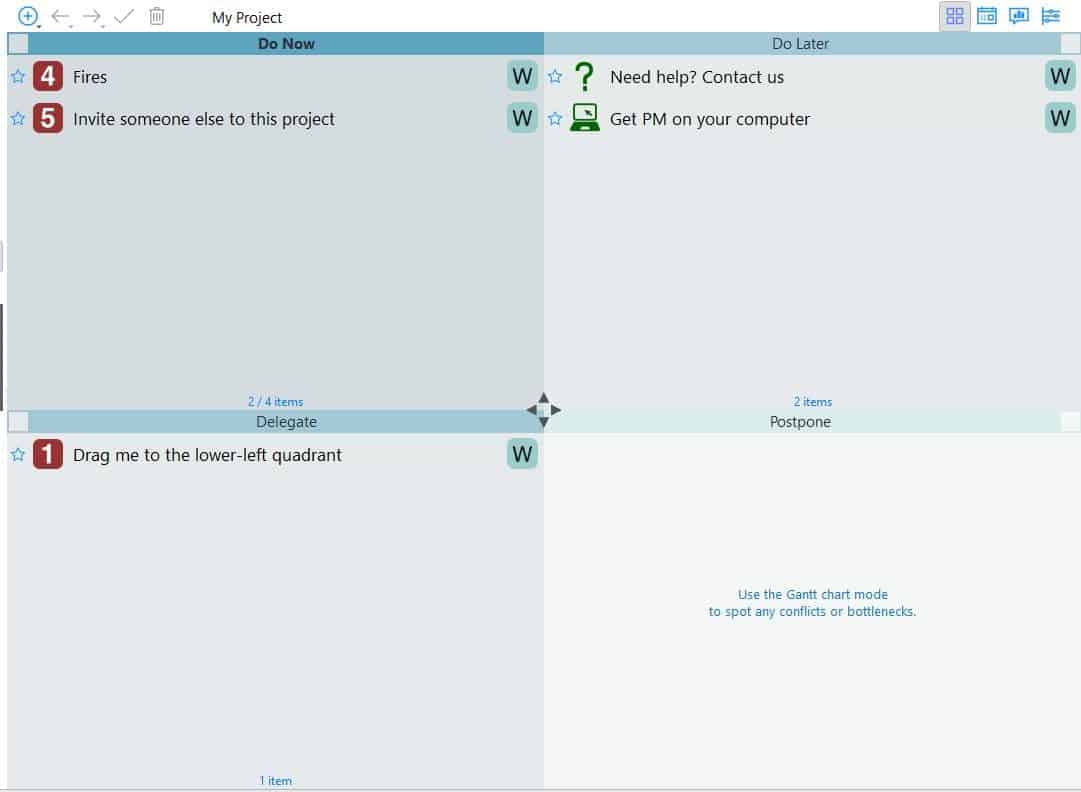 Other "modes:" You can also display your projects and tasks in calendar mode and Gantt mode. For the uninitiated, Gantt charts are a project management trope that arranges your projects as an interactive timeline.
Reporting: In Priority Matrix, each project gets its own report page. These display the time and effort given to each task within the project, as well as how your team members are doing with their assigned tasks. I like that each project has a dedicated report page — another creative move from the team at Appfluence.
Sync: Sync is almost certainly either Priority Matrix's biggest strength or worst weakness. Because this is not a web-based app, you are dependent on how often the program syncs to the cloud. This means your team might not stay up-to-date as quickly as some other project management apps, but it also means Priority Matrix runs lightning quick, especially with large loads of users and projects. Fortunately, Priority Matrix syncs every 30 seconds or so, which should ensure that your projects stay up to date just fine.
Home: Like most other project management apps, Priority Matrix has a home page where you can see your projects and the tasks assigned to you.

Integrations & Add-Ons
Priority Matrix interfaces with the following third-party apps:
Apple Mail
Gmail
Outlook
Google Calendar
iCal
Outlook Calendar
Siri
G Suite
Dropbox
OneNote
OneDrive
EverNote
In conversation with the team at Appfluence, I also learned that a Salesforce integration may be on the way in the near future, with time and resource tracking integrations planned after that.
Security
Priority Matrix is secured using 256-bit SSL/TLS encryption, and the team at Appfluence have physical access to the servers.
Final Verdict
I really wanted to give Priority Matrix a no-holds-barred, caveat-free recommendation. This app represents a creative approach to the crowded field of project management apps, and I truly love some of the innovations Appfluence has devised. But…this app is far from perfect. The bugs in the mobile version make the app practically unusable, and if you are trying to combine the desktop and mobile versions, the problem only spreads. Add to that the unfortunate visual design and we end up with an app I am a little ambivalent about.
Fortunately, Appfluence's customer support team is more than up to the challenge of helping you get to grips with their product, whether it is working through a bug, understanding an obscure feature, or navigating an outdated interface. And while Priority Matrix is not perfect, I think it may well be worth your time. Head on over to the website and sign yourself up for a free trial!
---
Featured Free Corporate Card
Ramp


---
Ramp offers a free corporate card for virtually any business. Start earning rewards with your corporate spending today. Get your free card.
Featured Free Corporate Card
Ramp


---
Ramp offers a free corporate card for virtually any business. Start earning rewards with your corporate spending today. Get your free card.
To learn more about how we score our reviews, see our
Project Management Software Rating Criteria
.