Contributor

UPDATED
Advertiser Disclosure: Our unbiased reviews and content are supported in part by
affiliate partnerships
, and we adhere to strict
guidelines
to preserve editorial integrity.
Pros
Reasonable monthly cost
Customizable feature set
Well-designed user interface
Cons
Poor customer support
Limited integrations
Overview:
First released in 2008, Projecturf is a relatively new addition to the project management scene. The company's founder and CEO, Chuck Pearson, is a seasoned web developer with considerable experience designing the UI (user interface) and UX (user experience) elements of software. Pearson is also the CEO of Rareview, a successful UI design agency. Word has it that Projecturf itself was designed for internal use at Rareview but was discovered to have its own inherent commercial value.
In 2010, Pearson and his crew unveiled a new, improved version of their project management system: Projecturf 2. A third incarnation was released in 2011, and Projecturf 4 – the latest and most up-to-date version of the software – debuted in July 2013. Projecturf 4 is sleeker and smarter than its predecessors, with a huge emphasis on increased speed and efficiency. Version 4's main claim to fame is an ingenious sidebar feature which makes it easier to access project details and streamlines day-to-day processes.
This California-based software is currently used in over 50 countries and is fully supported in English (by default), German, Spanish, Dutch, and French. Additionally, Projecturf allows users to work with 17 different currencies, including big players like Dollars, Pounds, Yen, and Euros.
Web-Based (SaaS) or On-Premise:
Projecturf is web-based and has been optimized to run in modern web browsers.
Pricing:
Projecturf offers four paid plans with varying levels of project and storage capacity. This software is one of the most inexpensive of its kind, particularly because all of the paid plans allow you to add unlimited users.
Basic
$20/month ($220 per year with 1 month free)
Unlimited Users
5 projects
1 Template
5 GB Storage
Single workspace
Email support
Team
$50/month ($550 per year with 1 month free)
Unlimited Users
30 Projects
3 Templates
20 GB Storage
Multiple Workspaces
Email Support
Business
$100/month ($1100 per year with 1 month free)
Unlimited Users
80 Projects
5 Templates
50 GB Storage
Priority Email Support
Enterprise
$200/month
Unlimited Users
Unlimited Projects
10+ Templates
100+ GB Storage
Priority tech support
Advanced Security
More reporting
API Integrations
Customizations
Those of you who would like to test this software before committing to a plan should take advantage of Projecturf's free, 14-day trial. If at the end of your trial period you decide not to sign up for a subscription, your account will be automatically downgraded to the free plan. Unfortunately, Projecturf does require a credit card number to sign up for the trial. This means if you decide not to proceed with Projecturf, you need to make sure to cancel your trial or your card will be charged when the 14 days are up. Plans may be downgraded, upgraded, or canceled altogether at any time. Because users are not bound by any contracts or service agreements, Projecturf expects each customer to be completely responsible for managing their own account – deciding month by month whether they want to continue paying – and therefore does not offer refunds under any circumstance.
Projecturf prides itself on supporting "those who are supporting others" and offers a 30% discount on all plans to valid 501(c)3 non-profit organizations. For more information about non-profit discounts or to apply for a reduced rate, click here. Large, enterprise-type organizations and institutions may qualify for discounts as well and can receive a custom quote at [email protected].
Ease of Use:
Upon your first login to Projecturf, you are greeted by a four-step tutorial. Step one is general information on how to use the program. It is nice to get this stuff right as you are starting, especially for users who did not have a chance to look at the material on Projecturf's website beforehand. Step two is to create your first project, and for step three, you add a few tasks to that project. The last step is to upload a picture of yourself. I do like initial tutorials of this sort this usually, but unfortunately, this one has a few issues. The idea of something like this should be to help you learn how to manipulate the program, but what you see in the tutorial bears very little resemblance to the actual interface itself. It seems strange that a tutorial would not actually help users learn the application itself.
I can't speak for the past three versions of this software, but Projecturf 4 has one of the most ingenious and user-friendly interfaces around. Everything is organized beautifully to make work processes smoother and faster. It seems evident to me that the Projecturf design team has spent countless hours tweaking and perfecting their product. You would be hard-pressed to find a more efficient data entry and project management system. Some of the best, most intuitive features include:
Shortcuts: Projecturf has come up with some nifty keyboard shortcuts in most areas of the software to make mundane data entry a little bit more bearable. You can click here to see a list of the most helpful and commonly used shortcuts (for adding users, declining email notifications, flagging tasks, and so forth). Truthfully, I don't know how much actual time these shortcuts end up saving, but I do know that they help eliminate wasted movement and energy, and that counts for a lot in my book.
Workspaces: In Projecturf, Workspaces are essentially disconnected accounts that you can create to separate different aspects of your work; they are basic organizational tools, designed to eliminate clutter. I like the Workspaces feature very much, because it offers "a place for everything and everything in its place." I find that working is simpler and more palatable in an orderly environment. Workspaces can be used in a variety of ways, most often to separate departments, distinguish between clients and companies, segregate disparate business functions, and isolate freelance projects from normal work. Another plus? Workspaces may be customized with your logo or company name.
Drag-and-Drop: It's hard to tolerate any software program that doesn't have drag-and-drop capabilities these days. Fortunately, Projecturf provides a wide range of drag-and-drop options: you can drag projects to sort them, adjust Gantt chart scheduling, and tweak your calendars by dragging events from one date to another.
Quick Entry: The new interface on Projecturf 4 allows you to "get your tasks out of your head as quick as possible and manage the details later." You can speedily input lists of tasks, subtasks, and tickets – as many as desired – without having to stop and add information like assignees or due dates right away. You are able to add details immediately after creating new work items if you want, but at least there is the option of going back and adding them later. I think this is a great idea and a real time saver.
File Approval: Approving files could not be easier with Projecturf: all you need to do is hover over the file name and click on the check mark which appears. The file will permanently be marked as "approved" with your signature and a time stamp.
Notification Badge: The notification badge on the top left of your Projecturf screen shows a numerical count of all of your latest notifications (task updates, status reports, file additions, etc.). In order to view recent account activity without having to access your email, you can simply click on the notification badge. Every time you check your notifications, the count is cleared until new notifications arise. I like this feature, as it eliminates the need to constantly check email.
Sidebar: This is a cool, unusual feature that allows users to edit tasks and tickets with greater ease. The sidebar (which pops up on the right-hand side of the screen whenever you drill into a task or ticket) enables you to edit details like budget, start date, and due date – as well as attach files and change task assignees – without leaving the main interface. Brilliant.
Customer Service and Support:
Unfortunately, Projecturf has one of the most incomplete support networks I've ever encountered. All official help requests and questions must be directed to the email box found on this page. There are no phone hotlines or live-chat options, so if you have a pressing question, you are out of luck. You can live-chat on the website, but that is presumably just for pricing information, general questions, etc; current users are encouraged to email customer support with day-to-day problems and concerns.
Projecturf's limited support services include:
Social Media Engagement: The Projecturf Facebook page is adequate, a good source for press releases, product updates, etc. The Twitter feed is actually a much more useful place to interact directly with the Projecturf staff, allowing users to ask questions, look for solutions, and suggest improvements. The feed appears to be updated frequently and user tweets receive quick and professional responses.
Knowledge Base: If you want clear instructions or guidance about using Projecturf, the Knowledge Base is your only viable option. On this page you can find dozens of written explanations for all the different features, most of them supplemented with screenshots. Also within the Knowledge Base are common FAQs and a forum for customer feedback. Projecturf obviously pays a lot of attention to the user feedback forum, which allows people to suggest, comment on, and vote for new ideas and software improvements. Apparently, this kind of customer input was responsible for most of the changes instituted by Projecturf in version 4 of the software.
Video Tutorials: Projecturf's inattention to educational material is most obvious in their video tutorials. There are only a few, very brief training videos, most of them available exclusively through Vimeo. As far as I can tell, the Projecturf website itself features only one tutorial, and it takes a lot of digging just to find that one. These videos are not scripted and feel more like short, incomplete webinars than the tutorial videos found on other support pages I have seen. They really lack the kind of polish I have come to expect, and that is a big shame.
Demo: You can sign up for a demo of Projecturf. They will walk you through the software, and help answer any questions you have. This is a great way to learn the product, and hopefully, would let you bypass some early confusion.
Negative Reviews and Complaints:
The consensus among users and reviewers is that Projecturf is currently an incomplete thought. There are several crucial features that this software simply hasn't figured out yet. Some of the most significant downsides to Projecturf 4 include:
Lack of Issue/Risk Management: There is no good way to calculate risk probabilities or track issues with Projecturf. For some businesses, this is simply a deal-breaker.
No Open API: There is an API for Projecturf, but only the Enterprise users have access. Launching a new feature and then making it available only to your highest paying customers is a little lame, in my opinion.
Lack of Dependencies: Not being able to connect tasks really irritates a lot of users. I have seen several customer requests for a dependency feature on the user forum, but as far as I can tell, the problem has not been addressed with Projecturf 4.
Minimal Integrations: Projecturf integrates with very few programs – mostly standards like Google Drive and Dropbox. This is made even more inconvenient by the current lack of open API.
Positive Reviews and Testimonials:
Despite a few obvious lacks, Projecturf has several really wonderful features that make it stand out from the crowd. Some of the best things about this software include:
Reasonable Price: Because you pay no per/user fees and can collaborate with as many others as you choose, Projecturf packs a lot of bang for its buck.
Frequent Updates: Even though it's only been around since 2008, this software has already gone through four different incarnations. To me, that indicates a willingness to improve, adapt, and evolve – all very good signs in a SaaS program.
Fullscreen View: One of the most universally lauded aspects of Projecturf 4 is the fullscreen view, which allows you to get the most effective visual impact from your account.
Customizable: Projecturf allows you to choose what you see on your dashboard, which is cool enough on its own. They also let you turn features on and off on different project based on your needs, and that is above and beyond, as far as I am concerned.
Here are some positive things actual users had to say about Projecturf:
"The conversations module was good for alerting the entire team of a topic that needed to be discussed. If there was something that we needed the whole team's input on this is where we could do it."
"We are currently using Projecturf and have used it on many teams and organizations before. It's a great tool to manage projects, tasks, workflows and for reporting on progress. We use the reporting and charting to see how we are progressing. We use it to manage complex marketing and operation workflows. Its simple, easy design allows for adoption quickly by the team and the alerts are incredibly helpful!"
Features:
Projecturf is equipped with basic project management functions and has put its own unique spin on some of the more standard features. The software's most notable features include:
Timer: Projecturf has a built-in stopwatch that allows you to track and record time on any of your projects. All you have to do is hit "play" and the timer will run until it is stopped or paused (up to 24 hours), even if you log out of your account or navigate away from the section you were working on when you started. Users may run multiple timers simultaneously on different projects. All timer entries automatically count towards your project budget.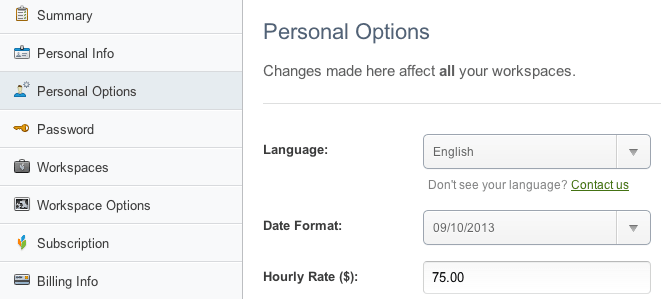 Calendars: There are three different types of Projecturf calendar: individual project calendars, combined project calendars, and personal calendars. Conveniently, each kind of calendar operates on a separate feed and may be synced individually with external apps (like iCal, Outlook, or Google calendar). Upcoming events are represented by color-coded dots for better visibility, and you can actually change task/project status directly from project calendars.
Tasks: One of my favorite parts about Projecturf is that each task receives its own time budget (as a part of the hourly budget for the project as a whole). You can also create personal tasks on your account – tasks that no one else can access, like "change the oil" or "call Mom"- to help you keep on top of your home life and your work life. Like work-related tasks, private tasks can be given their own start/end dates and will appear on your personal calendar. In a recently added feature, you can create new tasks through email integrations, which is a handy feature.
Contacts: This is another place where Projecturf really shines. All contacts may be classified as business or personal and separated accordingly. Each contact can be given two separate informational cards (one for business information, one for private information) with notes, addresses, and other pertinent material – much like a traditional address book. If you want, you can even create specific groups of contacts for easier access. Projecturf goes above and beyond in this area, providing a more thorough way to keep track of clients and coworkers than is usual with project management solutions.
Reporting: Since we last reviewed it, Projecturf has added an important feature: reporting! While this is not the most advanced reporting software I have seen, it is certainly serviceable and can generate six different reports (from overall status reports to estimated vs. actual time reports).
Budgeting: The nice thing about this software is that it lets you budget each project for both time and money.
Gantt Charts: Each project has its own separate Gantt view. You can also access a comprehensive Gantt chart that features all projects (each project is portrayed in a different color). Individual project Gantt charts can be set to show both tasks and subtasks, though you can hide the subtasks if you wish. All Gantts may be filtered according to date, assignee, status, and so forth. Handily, you can reschedule work from within the project Gantt view by dragging and dropping.

Templates: While Projecturf does not offer premade templates, it does allow users to clone projects with similar components. Instead of having to recreate these projects, manually typing in duplicate contacts, task lists, and permissions, you can simply copy that information into a project template. Once you've created a template, you will be given the opportunity to use it whenever you add a new project.
Tickets: Unlike tasks, tickets are typically used in software development processes or to track customer-related issues and requests. Tickets may be grouped into different categories, supplemented with files or comments, and flagged according to priority. Conveniently, tickets can be assigned to more than one worker and even have time tracked against them if appropriate.
Notes: Notes are a good way to keep important information stored within your account. You can use them to create lists, collaborate on documents, add comments, and share website or marketing content. They are similar to Word documents in that you can use rich text formatting options and attach images, but unlike a typical Word file, Projecturf Notes can be accessed, edited, and changed by anyone (with the right permissions) on your account.
Conversations: Projecturf has upped the ante with their conversation feature. Unlike some typical project management software systems, Projecturf allows users to use rich text formatting in their discussions and drag-and-drop files directly into conversations. You can reply to discussions from any device; the software's full email integration assures that conversations and their replies are sent to everyone immediately via email.
Integrations and Add-Ons:
Projecturf has minimal integrations, mostly with file storage programs and online scheduling tools:
Dropbox
Box
Outlook
iCal
Google Drive
If you are one of the Enterprise subscribers, you can also have access to the API, which you can read about here.
Security:
Projecturf protects their users in the following ways:
Encrypted Information: All data is encrypted with a 256-bit encrypted SSL certificate.
Secure Servers: Projecturf servers are hosted by Rackspace in an SAS 70 Type II-compliant data center. Servers are monitored at all times and receive the additional security of firewalls, anti-virus protection, and intrusion detection services.
Frequent Backups: Data is backed nightly and can be restored within hours in emergency situations.
Compliance with HIPPA and PCI: Both Projecturf and Rackspace are fully HIPAA and PCI compliant.
Projecturf protects your data even after you have discontinued their services: after canceling an account, all data (files, project data, account information, and personal details) is entirely removed from the Projecturf servers. The only information preserved relates to the user's billing history (with the exception of credit card and payment information, which are destroyed).
Final Verdict:
Projecturf has one of the smartest, most unique interfaces around. Everything about it is designed to make work faster, easier, more efficient and more exciting. The quick entry feature is brilliant and speaks to the way many creative people actually work – scribbling down ideas and filling in the details later. For me, a slick, intuitive interface is one of the most important things to consider about a new software. I always say that if I am going to have to spend a significant amount of time working in a program, it had better make me feel comfortable! Fortunately, Projecturf fulfills my needs in this regard splendidly.
This program reminds me a bit of Basecamp, Trello, and Redbooth. All of them are pretty simple but beautifully designed and easy to use. Sure, there are some features that are light or non-existent, but the fact is that everything works, and works just the way it should. I would rather take a program that is missing a few features, as long as it functions properly.
Obviously, that is just my opinion. Some will definitely be put-off by the lack of dependencies and risk management, and I really can't blame them for that. As usual, the best way to know for sure is to sign up for Projecturf's free trial. Just remember: if you decide against it, be sure to cancel your subscription!
---
Featured Free Corporate Card
Ramp


---
Ramp offers a free corporate card for virtually any business. Start earning rewards with your corporate spending today. Get your free card.
Featured Free Corporate Card
Ramp


---
Ramp offers a free corporate card for virtually any business. Start earning rewards with your corporate spending today. Get your free card.
To learn more about how we score our reviews, see our
Project Management Software Rating Criteria
.