Expert Analyst & Reviewer

UPDATED
Advertiser Disclosure: Our unbiased reviews and content are supported in part by
affiliate partnerships
, and we adhere to strict
guidelines
to preserve editorial integrity.
QuarterSpot

Pros
Prepayment discount
Relaxed credit score requirements
Transparent terms and fees
Cons
Moderate factor rate
Some additional fees
High origination fee
QuarterSpot Overview
QuarterSpot is an online lender that offers a short-term loan product. Founded in 2013, the company has yet to hit the same level of name recognition as some of its competitors, such as OnDeck and Kabbage. Regardless, QuarterSpot stands out from the competition for a couple of different reasons.
The merchants who would benefit the most from using QuarterSpot are those who plan on repaying their loan before the term is up. Unlike many of its competitors, QuarterSpot's loans are fully amortizing, which means you can save money on the cost of the loan by repaying early.
This lender also offers the option of repaying on a weekly basis, an arrangement many merchants find easier to handle than the standard daily repayments common in the industry.
I would not recommend QuarterSpot for every eligible business because the capital is very expensive. However, because QuarterSpot has eliminated some of the less-than-stellar characteristics of borrowing money for such a short period of time, this lender is worth considering if you don't have access to less expensive forms of debt.
Read on for the details!
Services Offered
QuarterSpot offers the following financial products:
Borrower Qualifications
These are the qualifications for getting funding from QuarterSpot:
| | |
| --- | --- |
| Time In Business: | 12 months |
| Credit Score: | 550 |
| Revenue: | $200K/yr |
Additionally, you must meet the following criteria:
An average daily balance greater or equal to $2,000.
An average of 10 or more revenue-producing deposits per month.
No bankruptcies within the last two years.
$100,000 or less in tax liens.
A maximum of two high-frequency loans if you qualify.
QuarterSpot cannot currently lend to businesses located in North Dakota, Rhode Island, South Dakota, or Vermont. US Territories (Puerto Rico, Guam, US Virgin Islands, Northern Mariana Islands) are also prohibited.

Industries Most Commonly Funded By QuarterSpot:
The industries most commonly funded by QuarterSpot include restaurants, professional offices (dentistry, law, physicians), automotive repair, and beauty salons.
Terms & Fees
There are the rates and fees for QuarterSpot's loans:
| | |
| --- | --- |
| Borrowing Amount: | $5K – $250,000 |
| Term Length: | six, nine, 12, 15, or 18 months |
| Flat Fee: | x1.1 – x1.4 |
| Origination Fee: | 1% – 4% |
| Effective APR: | Learn more |
| Collateral: | Personal guarantee |
Short-term loans work a little differently than what you might be used to. QuarterSpot charges a flat fee instead of interest. That is, the amount you have to repay is determined ahead of time. For example, if you are borrowing $20K, and you have a flat fee of 1.2, you will have to repay $24K ($20,000 x 1.2 = $24,000). Repayments are made on a daily or weekly basis and are directly debited from your business bank account.
In other words, for every dollar borrowed, you'll have to repay between $1.10 and $1.40.
While QuarterSpot's loans are expensive, you do have the chance to save on fees. I know I said above that QuarterSpot charges a flat fee, and that's true, but the lender also amortizes fees on a daily basis. So, unlike many of this lender's peers, the earlier you repay, the more money you save. Here's an example of how that works.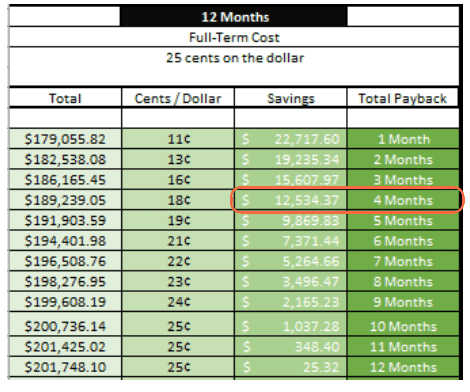 QuarterSpot's loans are unsecured, so no collateral is required. However, the lender does have the option of going after your business assets if you default on your loan.
Application Process
QuarterSpot's application process is fairly standard: you begin the process by applying via the website. You'll be required to submit basic information about yourself and your business. At the very least, you'll have to submit your social security number and your three most recent business bank statements, though the underwriter might require more documentation in special circumstances.
QuarterSpot only performs a soft pull on your credit, which will not have an effect on your score.
When you've submitted all the necessary documentation, your information will be sent to the underwriting department. Your underwriter will look over your information and make the final decision regarding terms and fees. A loan offer should arrive within 24 hours. You'll be presented with a link to an approval form that will allow you to make adjustments to various elements, such as your term length, the amount you're borrowing (within approved parameters), and payment frequency. Once you're satisfied with the terms, you can review the legal and formal terms of the loan and sign the document electronically. You'll then set up automatic debiting from your business account.
The time from application to funding normally takes two or three days, largely depending upon how long it takes for you to submit the necessary documentation.

Borrower requirements:

Must be in business at least 12 months
Revenue of $200,000 per year
Must have a personal credit score of 550 or above.
An average daily balance greater or equal to $2,000
An average of 10 or more revenue-producing deposits per month
Sales & Advertising Transparency
QuarterSpot provides a limited amount of information on its website about its loan products. I'd like to see some more information regarding the cost of loans, primarily a more overt disclosure of the fees involved in the process.
Customer Service & Technical Support
Customer service is available by phone, email, or through the QuarterSpot website. You can also interact with QuarterSpot on Twitter. Most reviewers claim that customer service is easy to get a hold of, helpful, and transparent.
User Reviews
Negative Reviews & Complaints
QuarterSpot has a presence on the Better Business Bureau website and has an A+ rating. Otherwise, the lender has very few reviews across the web, though the few it does have are primarily positive. Some criticisms of the product include:
High Cost Of Borrowing: As is the case with alternative lenders more broadly, you'll be spending more on your loan than you would by going through a traditional route, such as with a bank.
Restrictions On Industries: There are a fairly large number of industries not served by QuarterSpot (see above).
Personal Guarantee: Though common with alternative lenders, you should be aware that a personal guarantee allows the lender to not just come after your business's assets but also your own personal assets should you default.
Positive Reviews & Testimonials
Customer and professional reviews of QuarterSpot tend to be positive, though its customer review footprint is a lot smaller than those of many other alternative lenders. The lender currently rates 8.2 out of 10 on Trustpilot, with 19 reviews on file. Some of the things reviewers like best include:
Customer Service: Customers seem to generally find QuarterSpot's customer service to be friendly and responsive.
Prepayment Forgiveness Policy: One of the biggest selling points for QuarterSpot is its prepayment policy, which not only doesn't penalize you for paying off your loan early but gives you a discount for doing so.
Fast Time To Funding: If you need money fast, QuarterSpot can get it to you within a couple of days.
Final Verdict
Alternative loans are a high-risk prospect for businesses, let's make no mistake. Because the loans are so expensive and have to be repaid so quickly, QuarterSpot will not work for all merchants. However, because QuarterSpot offers the opportunity to save by repaying early, this lender is worth considering if you need capital but don't have access to less expensive financing options.
Chances are, QuarterSpot isn't your only option, though. Curious about your other options? Check out our loan alternatives.
---
Featured Free Corporate Card
Ramp


---
Ramp offers a free corporate card for virtually any business. Start earning rewards with your corporate spending today. Get your free card.
Featured Free Corporate Card
Ramp


---
Ramp offers a free corporate card for virtually any business. Start earning rewards with your corporate spending today. Get your free card.
To learn more about how we score our reviews, see our
Business Loan Rating Criteria
.