Expert Analyst & Reviewer

UPDATED
Advertiser Disclosure: Our unbiased reviews and content are supported in part by
affiliate partnerships
, and we adhere to strict
guidelines
to preserve editorial integrity.
Quetzal

Pros
Simple pricing plans
Easy to use
Multistore capability
eCommerce integration
Loyalty program
Gift cards
Cons
No free trial
Limited integrations
Quetzal POS Overview
Quetzal POS is geared toward small, independent clothing and shoe retailers, resulting in a clean, focused, easy-to-use POS. I'm a fan of the Do-One-Thing-and-Do-It-Well approach, and Quetzal POS is certainly doubling down on that. By staking its flag in a very particular niche, the company has been able to design with an eye toward a specific set of functions.
Quetzal POS prides itself on simple, modern retail POS software. But don't be fooled by its simplicity. Quetzal POS offers a load of great features specifically for retailers with standout features, including exceptional reporting and analytics, loyalty and gift card programs, and solid inventory management. You'll also have access to unique features such as employee leaderboards and customer tag clouds (more on that later). Throw in a functional offline mode and good customer support, and you can see why Quetzal POS is a worthy contender in the retail POS space.
Mostly, though, what shines through is the downright thoughtfulness of Quetzal POS's implementation. If you're a member of the group in Quetzal POS's marketing crosshairs, you ought to put it directly at the top of the list of POS solutions you're considering. Read on to find out why.
Quetzal POS Pricing
Quetzal POS offers two pricing structures, and both are ultra-simple:
Pay Monthly: $75/month per location
Pay Annually: Save 20% ($720/year or $60/month for one location; $1,400/year for two locations; etc.)
That's it. There are no contracts, no setup fees, and both plans come with free support and all available features. This makes things simple since there aren't any different price tiers or paid add-ons that drive up the cost. Impressive, right?
There are no contracts, so you can cancel anytime. Quetzal POS does not offer a free trial, but you can cancel anytime within the first month and get a full refund.
If you operate five or more locations, contact Quetzal POS for a custom quote.
Cloud-Based Or Locally-Installed
Quetzal POS has a hybrid-cloud architecture. As with a lot of iPad POS apps, Quetzal POS runs locally on the iPad itself while data syncs back to the cloud. The norm for this type of architecture is to make your front-end register the heart of the iPad app with all the back-office tasks accessed through the web, but Quetzal POS puts everything right into the app. You can still log in through the web and have a nearly identical experience, but the interface was designed to mimic the iOS environment. Some things, such as adding inventory or generating reports, are more easily accomplished on the iPad (once you learn where and what to swipe for quick access to certain functions).
Also, because you're running everything locally on your device, you can continue to process sales — including credit card transactions — during an internet outage. Quetzal POS will sync back to the cloud as soon as your connection is restored. However, if the connection is lost before you get logged into the app, you won't have access to the POS at all because your data is downloaded to the device at login. This is unavoidable in the cloud-based point of sale industry and pretty easily remedied with a 4G backup.
Specific Industry
Quetzal POS was designed specifically for small to mid-sized clothing and shoe retailers. Any small boutique that sells apparel, accessories, or shoes can use Quetzal POS. The POS is not suitable for restaurant businesses, service-based businesses, or electronics retailers (as it does not support serialization or warranty tracking).
Specific Size Of Business
After 10 locations, it's time to move to a different POS. This company is not kidding when saying it only wants to work with small businesses, and there's also a solid technical reason for this preference. Rather than continuing to push the software to its outer limits, the developers have chosen to stop at a point where Quetzal POS works exactly as intended. Quetzal POS supports up to 10,000 items and 2,000,000 SKUs.
Ease Of Use
The interface of Quetzal POS is beyond simple to use and seriously attractive. Once you're in the system, the main screen shows you four smaller windows to choose from: Settings (for setting up locations, taxes, users, permissions, and customers), Inventory (for adding and modifying inventory and inventory tags), Register (the cash register and all its attendant tools), and Reports (for reporting).
Everything but the Register window requires a username and password to access, and you can set permissions for each user, allowing them to see as little or as much as you want them to. The Register requires a five-digit PIN, which is used to track who's ringing up sales at any given time. If you spend five or ten minutes clicking through each screen, you'll understand quite easily how the system is set up and where every feature resides.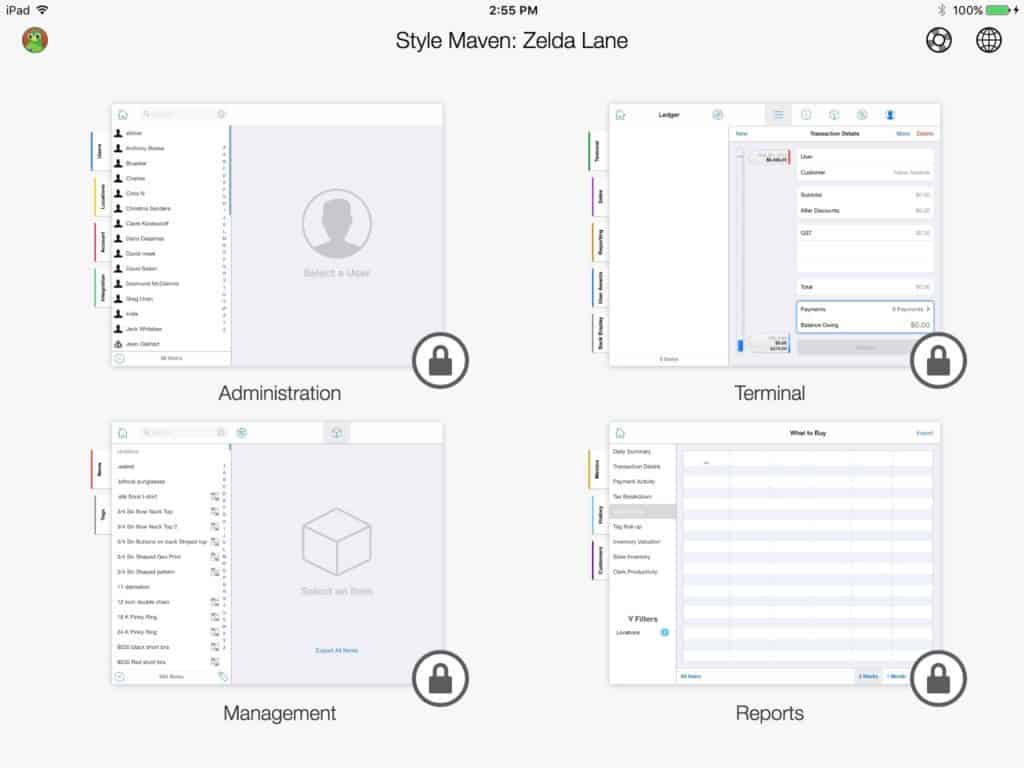 One of the other things that make Quetzal POS so easy to use is what I can only refer to as its "intelligence." For instance, adding a customer to your database typically requires you to put their phone number in the Phone Number field and email address in the Email Address field; then, when you look up the information later, the POS can find what you're looking for.
That isn't the case with Quetzal POS, though. You can simply add whatever contact info you'd like in the "Contact" field — a number, email address, regular address, or all of the above — and the software will recognize the format. Maybe that doesn't sound like a big deal, but I bet a cashier who has to navigate through forms constantly would notice a big boost in efficiency by doing it this way.
Quetzal POS has also made an effort to make information easy to digest as quickly as possible with visual means of comparing customer rankings. Each customer profile displays three "awards" for revenue, profit, and quantity. This allows you to see how much revenue and profit each customer generates at a glance. You can also easily access customer data to see their last 365 days of activity and even their entire purchase history. Pair this with the Tag Cloud (see Quetzal POS Software Features below for more on this), and you'll know in a matter of seconds who your best customers are and what they're most likely to purchase — all from an iPad you can carry onto the sales floor.

Hardware & Operating System Requirements
Though Quetzal POS will work on a laptop or desktop with an internet browser, it was intended to be an iPad app from the get-go so that is where you will get the best experience. The latest version of the Quetzal POS app requires iOS 11.0 or later. The product documentation recommends using the latest iPad Air or iPad Pro, though it will work on any newer iPad.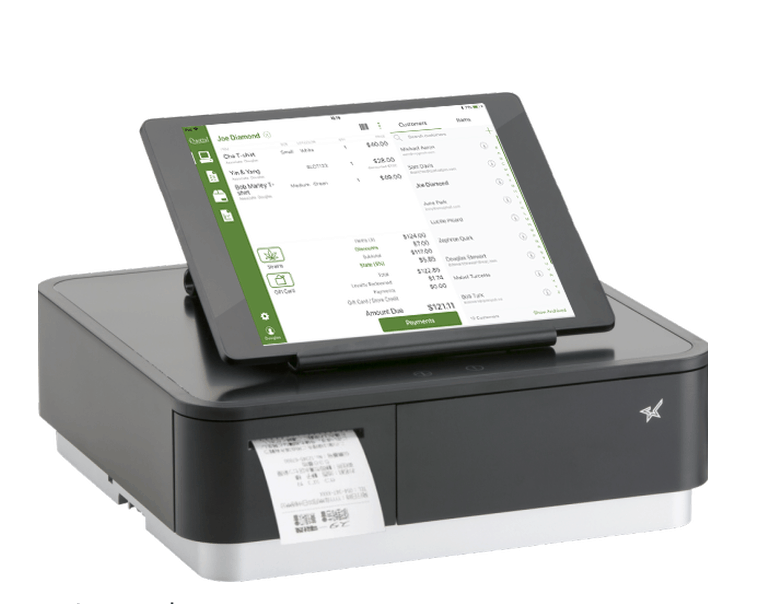 Apart from the iPad, you'll need one or more peripherals as well. Quetzal POS asks that you contact it directly for the latest list of compatible hardware if you wish to source it yourself (and stresses that it does not make any money from hardware sales). If you don't source your hardware yourself, Quetzal POS recommends purchasing from its hardware partner, Barcodes, Inc.
As the "best and easiest" option, Quetzal POS recommends getting your mPOP setup from Star Micronics (pictured above), which is a great option for shops with limited counter space since the receipt printer and cash drawer are combined into a single compact device. You can also purchase a colorful Socket hand scanner (pictured below) and other various peripherals to accompany your mPOP.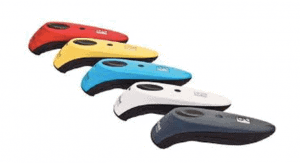 Alternatively, you can choose from various other iPad stand options, such as the iOstand™, Heckler Windfall, Elo PayPoint Plus, and others. You can also choose from hardware setups that include a customer-facing display.
Quetzal POS Software Features
My standard disclaimer applies: Quetzal POS does lots of stuff, including all the basics you'd expect. Multitender register? Check. Size and color matrix for apparel? Check. Easy discounting? Email receipts? Check and check. Here, I'm just going to cover features that make Quetzal POS stand out from the rest. I encourage you to hop on over to the features list on the company website to check out the full story (it's a pretty detailed story).
Reporting: Where Quetzal POS's value becomes abundantly clear is in its reporting functions. Any POS worth talking about will have great historical reporting with the ability to filter according to different criteria, and Quetzal POS does not disappoint. You can check out sales by product, size, color, customer, cashier, date, brand, and more. Quetzal POS uses historical data to help you plan your future with the Reporting Metrics screen and, more specifically, the "What to Buy" report. You can filter the report to whatever criteria you like, and the POS will report the "velocity" at which each item sells. Based on this rate and how many of the items you have in stock, it calculates how many units you need to buy to stay in stock for the next two weeks, 30 days, or two months (your choice). Quetzal POS reporting can also tell you which items in your inventory have never sold. One final note about reporting is that it's not just confined to the Reporting window (as seen below). Throughout the app, you'll get context-specific reports on almost everything you do. If you're looking at an item in the Inventory Management screen, you'll also get a report on that same screen showing you the historical sales data. If you're looking at a customer profile, you'll see their complete spending history. At all times, you can switch between numerical and graphical views.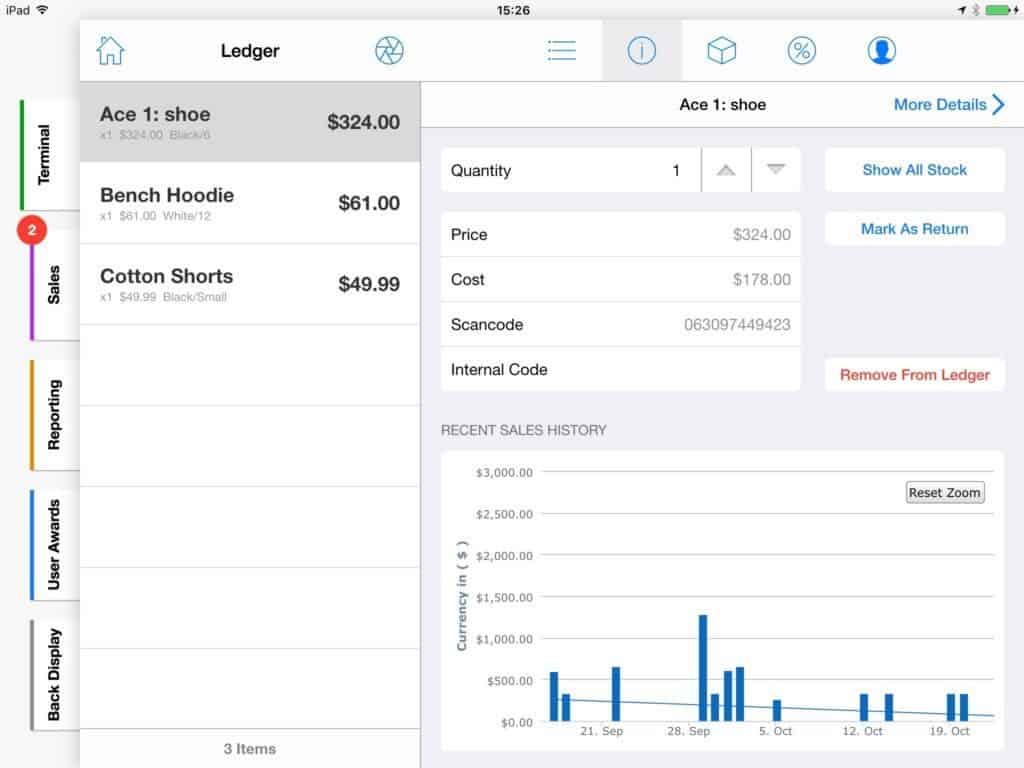 Loyalty Program: Quetzal POS includes an optional native loyalty program. You can set it up to automatically track points when a customer makes a purchase. The program is fully customizable, letting you decide how many points a customer will receive per purchase, the number of points required for redeeming a reward, and when the customer can redeem their points. For example, you can set a delay so that customers can only redeem points outside of your return window. You can also turn this feature off if you'd rather not use it.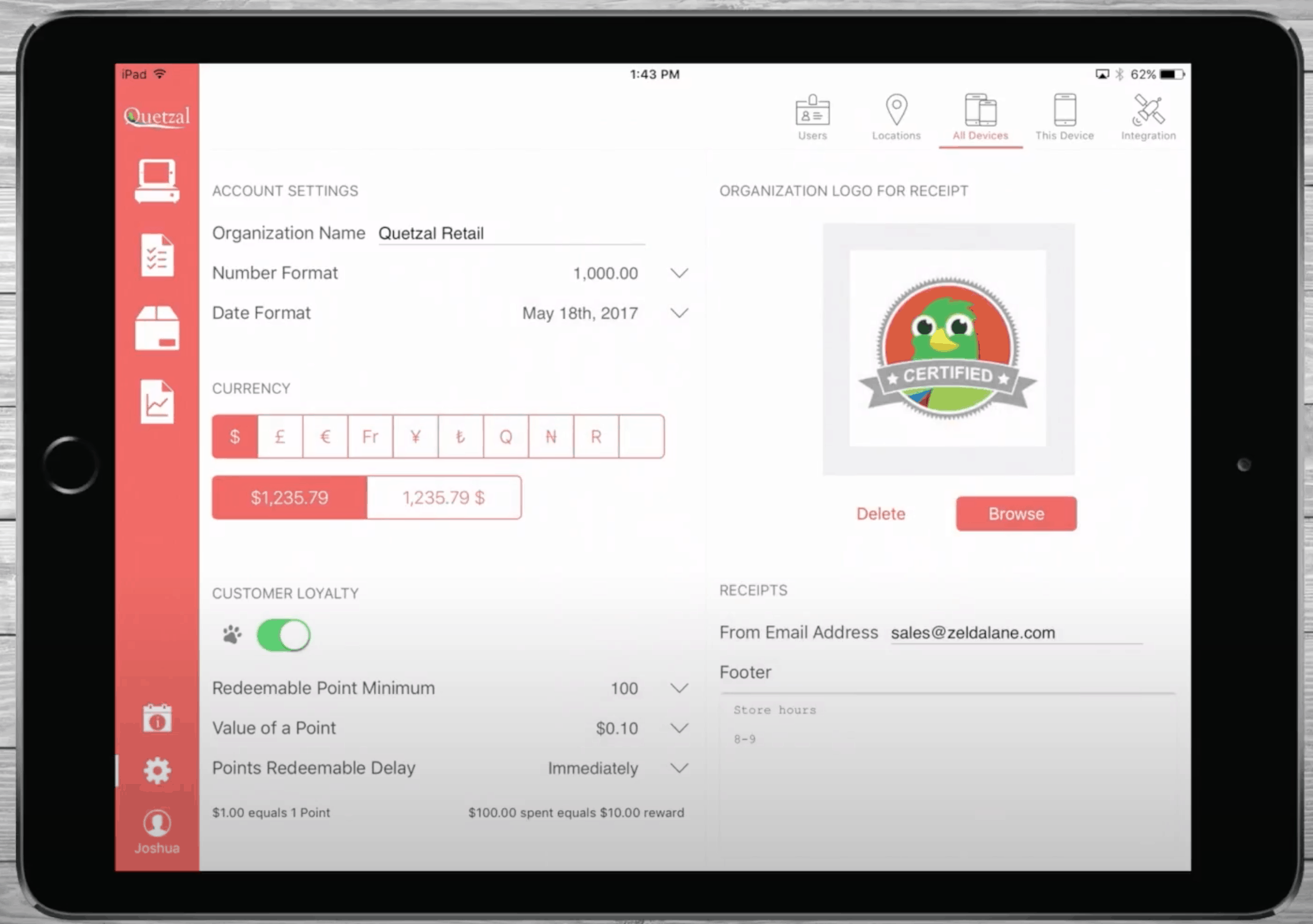 Tag Cloud: This is a more specific (but equally ingenious) way of identifying opportunities with your customers. Here's how it works: Every item in your inventory gets as many tags as you'd like. These tags can represent anything you want. If you've got a green t-shirt with a funny inscription, maybe you tag it with "green," "t-shirt," "cotton," "funny," and another tag noting the size. Every time someone purchases an item, the associated tags for that item are entered into their own personal tag cloud, which arranges all these words in a visual representation of customers' buying habits. So if John Q. Customer buys t-shirts all year long, but only one pair of jeans, his cloud will have the words "t-shirt" and "cotton" very large, front and center, while "jeans" will be much smaller and relegated off to the side of the cloud. This means that with a very quick glance, you or your staff will be able to know exactly what kinds of things to show your customers for upselling opportunities. And if t-shirts go on sale, you'll want to make sure John Q. Customer knows about it.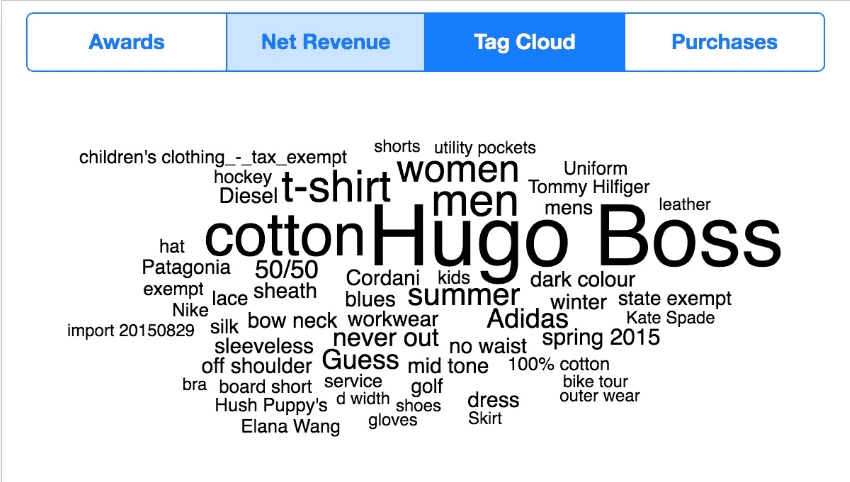 Back Display: One of the drawbacks of the iPad as a cash register is it doesn't allow for customers to watch as things are rung up. I know I like to see things as they get scanned to make sure I'm being charged what I expected and that the cashier doesn't accidentally double charge me. With the Back Display, you can sync up any modern mobile device with your terminal to show each item and the running total on a customer-facing display as it's scanned in. There's virtually no configuration required either. Let's say you wanted to use an iPhone as your display. Just enter the "Back Display" tab on the terminal (iPad) screen, which displays a QR code. Use the built-in camera on the iPhone to scan the QR code, and the device will display a web page generated by the POS, giving real-time information on what's being scanned in at that particular register.
Employee Leaderboard: The employee leaderboard is a great way to strike up friendly competition and fun between your employees. Use the new employee performance leaderboard to help determine who your top sellers are. You can even get creative and have weekly or monthly sales competitions between your employees. The leaderboard will also track if someone is on a sales streak.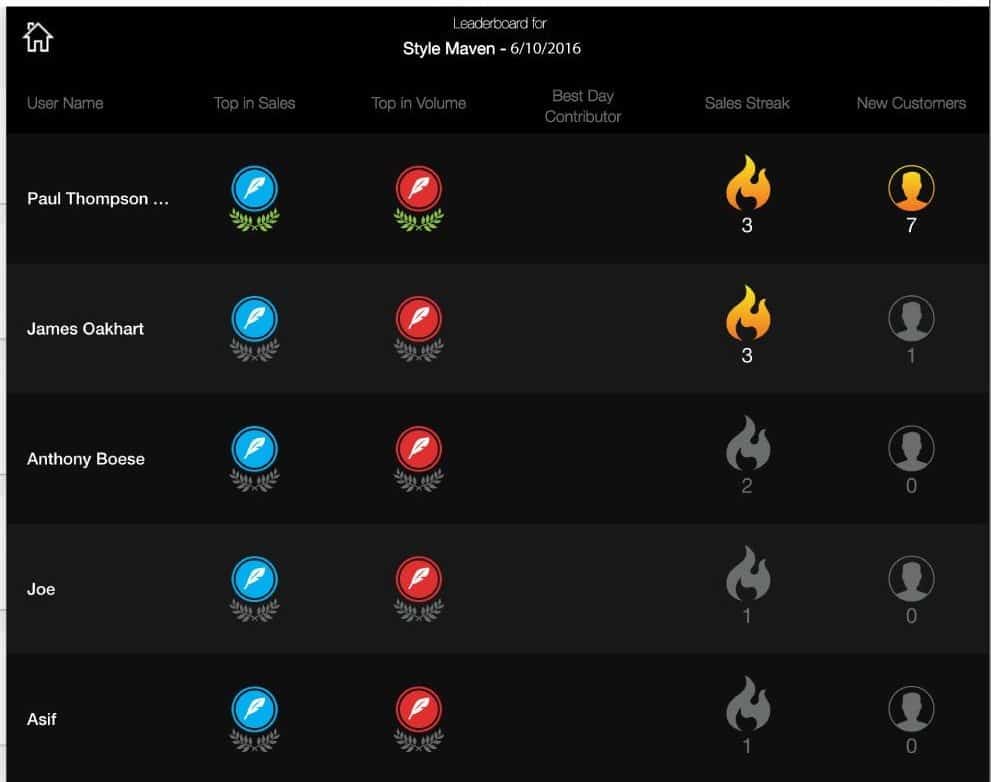 Daily Sales Thermometer: This feature allows you to set a daily sales goal and then helps your employees see how much needs to be sold to reach that goal. If you'd rather not let your employees know how much that goal is, you can change it to a percentage instead.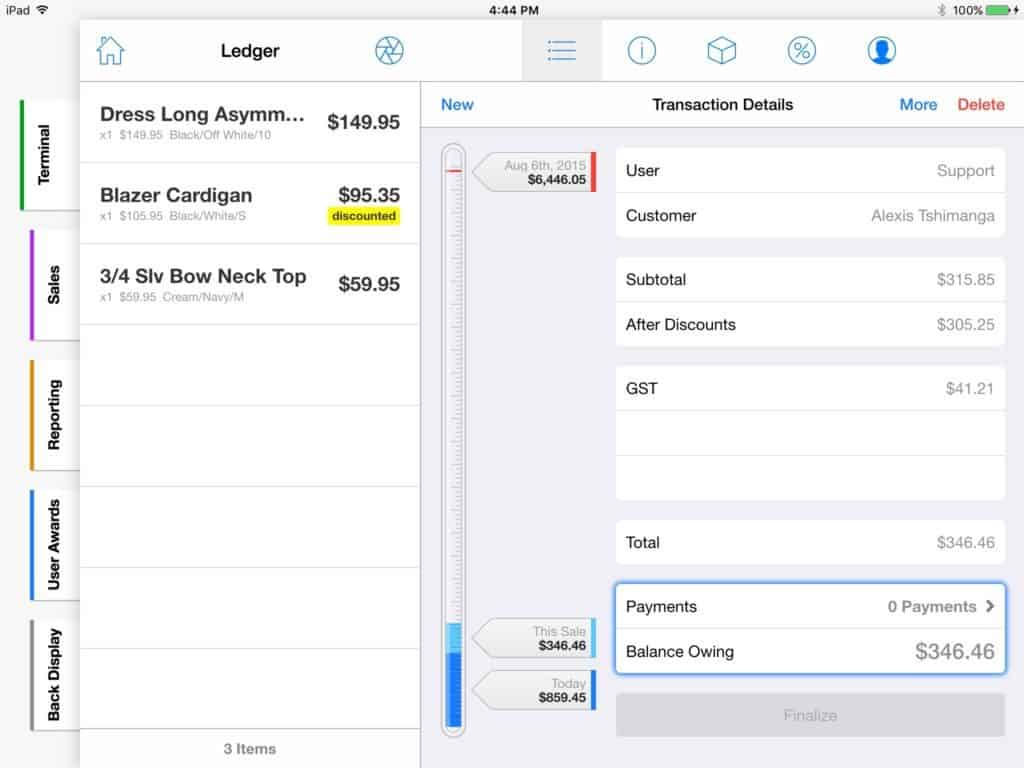 Gift Cards: Quetzal POS includes built-in gift card functionality, which lets you associate gift cards with customer accounts and track their usage through gift card reporting. What's awesome is that, unlike most other POS systems, Quetzal POS's ability to accept gift cards does not result in an extra monthly charge, so you only have to pay for the cards when you order them. (Be sure to check with your Quetzal-integrated credit card processor to see which type of gift cards you should purchase to work with your terminal.)
Mobile Dashboard: Quetzal POS's mobile dashboard app lets you check on your store anytime from your iPhone. The app includes real-time transactions, daily and weekly graphs, and live sales notifications.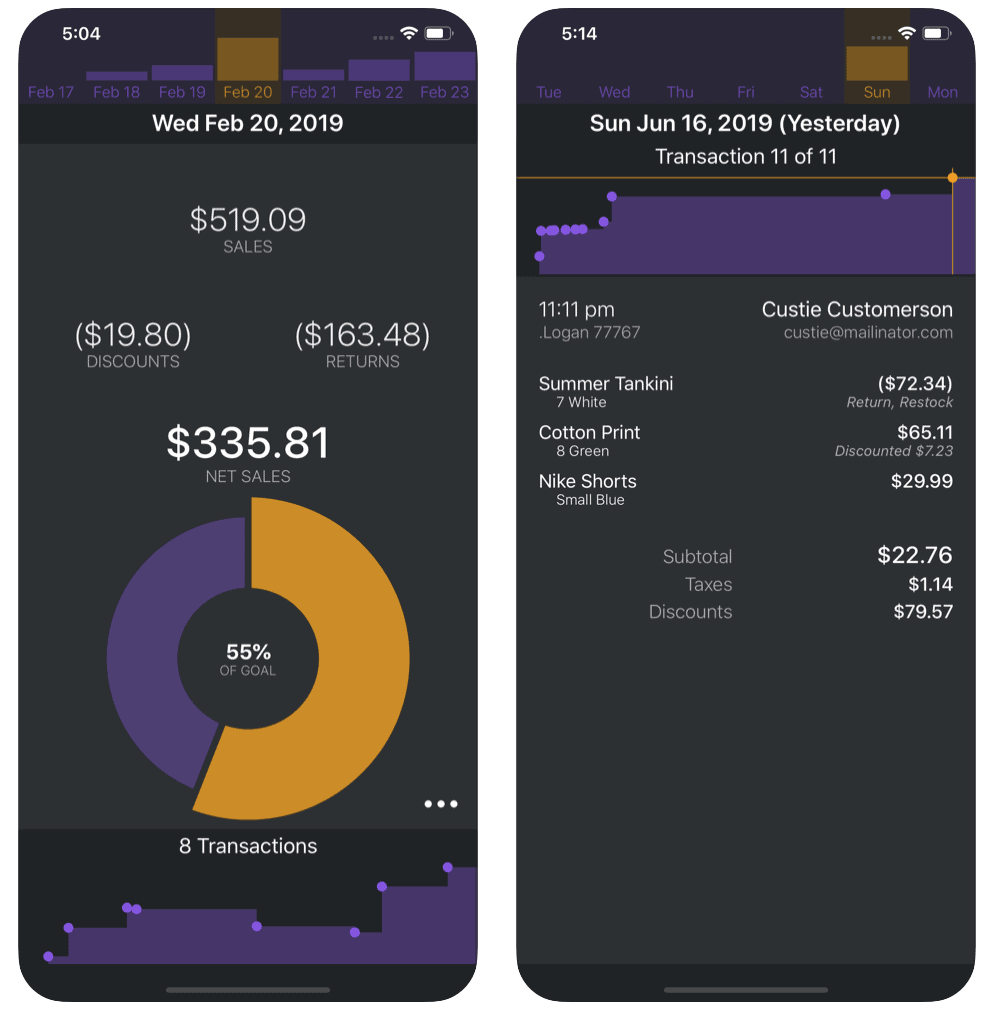 Offline Mode: As mentioned in the Cloud-Based Or Locally-Installed section, Quetzal POS has a fully functional offline mode that lets you accept credit card payments even during an internet outage. This is a refreshing difference from many other cloud POS systems, which often have a very limited offline mode. In fact, I think this is one of the Quetzal POS system's strongest features.
Customer Service & Support
Most of Quetzal POS's support offerings come standard with the license, but you can also purchase extra training and setup support.
As follows are the support options included in a Quetzal POS software license:
Knowledgebase: Previously, Quetzal POS had an extensive Support Center with pictures to go along with the explanations, and we were thoroughly impressed with this feature. As of this writing, the Support Center function doesn't appear to be working (more on that in a minute).
Email: Email support is free to all users 24/7/365.
Phone: Live phone assistance is available during "North American Business Hours," which I'm told means 7 AM to 7 PM PST. Note that Quetzal POS has an office in Temecula, California, as well as one in Kingston, Ontario.
Quetzal POS has a friendly, transparent website that includes a live chat feature that I found to be responsive in answering my questions. Quetzal POS also has a blog and some social media pages, but these are not regularly updated.
Overall, you get the feeling that while Quetzal POS is a small company, this equates to more personalized support. In user reviews, customers often praise the support staff by name. There may, however, be some downsides to dealing with such a small company, i.e., there are fewer resources for support. For example, for at least the several days during which I was drafting this review, the knowledgebase/Support Center was down. I inquired about this using the chat feature, and a friendly support staff member informed me that it was undergoing a redesign, but they could answer any questions I had about the software. Though I can see how this workaround could potentially be an issue for merchants, a live person is generally preferable to impersonal website text.
On the whole, I think the benefits of Quetzal being a small POS company outweigh the downsides, which I guess is why Quetzal tongue-in-cheekily brags on its website, "We're not big, but we're small!" In other words, it's really hard not to like these guys.
Quetzal POS Compatible Credit Card Processors
Quetzal POS integrates with a number of credit card processors, though it recommends using its partner EVO Payments.
Additionally, Quetzal POS can integrate with other payment processors, including TSYS, Moneris, WorldPay, Chase Merchant Services, Fiserv (formerly First Data), Heartland, SumUp, and others. The good news here is that if you're already working with one of these processors and you like them, you'll be able to keep using them.
Using one of Quetzal POS's integrated payment processors, you can accept EMV (chip card) payments as well as Apple Pay and other contactless NFC payments, making for a fast, modern payment experience.
Integrations & Add-Ons
Quetzal POS doesn't have a ton of integrations with third-party software, but it includes all the basics, including integrations for accounting, eCommerce, and email marketing software. Refreshingly, there is no additional charge to integrate supported third-party apps with your Quetzal POS.
Accounting: Staying true to the Apple aesthetic, Quetzal POS supports direct integration with Apple Numbers as its spreadsheet application of choice. Quetzal POS also integrates with Xero and QuickBooks Online.
eCommerce: Quetzal POS integrates directly with Shopify, one of the most popular eCommerce platforms among small businesses. Simply add an eCommerce tag to your inventory item, and Quetzal POS will send it directly to your online store.
Marketing: Integrate with Mailchimp and use it to create email marketing campaigns easily.
Quetzal POS doesn't have any in-house software add-ons, but for good reason — all of its features are included in the base price, even features most POS companies charge extra for, such as gift cards, loyalty, and eCommerce.
Quetzal POS Reviews, Complaints & Testimonials
Of Quetzal POS's user reviews, most are positive, and many are downright glowing. However, with Quetzal POS being such a small entity, there aren't too many reviews of it, period. Quetzal POS is not listed with the BBB and only has four reviews on the Apple App Store (receiving 3/5 stars), though there are scattered reviews elsewhere online.
Negative Quetzal POS Reviews & Complaints
I had to dig, but here are a few complaints I found in Quetzal POS reviews:
Equipment Connection Problems: Some merchants have complained about connection issues with scanners and printers.
Limited Integrations: Quetzal POS only integrates with a few other programs. One reviewer mentioned it would be nice if Quetzal POS could integrate with other eCommerce providers other than Shopify. When it comes to integrating with credit card processors, another user mentioned that it is difficult to integrate seamlessly with merchant accounts apart from EVO.
Cost: Though Quetzal POS's fees are in line with or lower than many of its competitors in the POS space, $75/month might be a little on the high side for a very small business.
Positive Quetzal POS Reviews & Testimonials
Here are some product highlights from online reviews:
Easy To Use: Quetzal POS's interface is just as pretty and clean as the Apple interface; it's also just as intuitive. The entire system seems designed to maximize efficiency and ease of use since I've never encountered a system as easy to navigate as Quetzal POS.
Intelligent Reporting: Quetzal POS steps away from a laundry list of prefab reports and, instead, lets you decide how you want your data processed and displayed. Each report is customizable to each merchant's preference, from filtering information by product, variation, time, date, employee, customer, etc., to flipping between table and graph views.
Compact Design: Quetzal POS was one of the first systems to use Star's mPOP cash drawer/receipt printer combo system. Users appreciate being able to trade in their bulky old cash register for a compact yet powerful POS and maximize counter space.
Great Price: It's always impressive to see a great array of features, but to have them at such a reasonable price is pretty rare. Kudos to Quetzal POS for offering a robust yet affordable solution. As for the POS equipment, reviewers appreciate that it can be purchased anywhere (not just from Quetzal POS), meaning you can shop for a good deal.
Responsive Customer Service: Almost every review of Quetzal POS makes mention of its stellar, responsive customer service agents.
Final Verdict Of Quetzal POS
Quetzal POS isn't for every business. But this niche POS software is certainly worth a second look for smaller retailers. This POS solution is loaded with the features retailers need and even includes features you didn't know you wanted.
Quetzal POS is a small, friendly iPad POS software company designed for other businesses that are just as small. Some notable things about it are its niche focus for clothing and shoe retailers, strong offline mode, friendly customer service, and simple, competitive pricing. Quetzal POS does not charge extra for gift cards or loyalty, nor does it charge an additional fee to integrate with QuickBooks or Shopify. Perhaps what I admire about the company the most is the refreshing honesty that's evident on every page of its website.
If you sell things other than apparel or shoes, or you're the type of person who would be bothered by part of a company's website not functioning for days on end, then this probably isn't the product for you. But for those of you who own the type of shop that Quetzal POS is targeting, this is the system to check out.
Still on the fence? Make sure you choose the right POS for your business. Check out our other reviews of popular POS software that may be a better fit for your business, such as Square or Vend. If POS software doesn't seem to be in your budget, check out our top pics for free POS software. Before you commit to any software, make sure to do your research (our reviews are a great place to start!), and get hands-on with free trials and plans. Good luck!
---
We've done in-depth research on each and confidently recommend them.
We've done in-depth research on each and confidently recommend them.
To learn more about how we score our reviews, see our
Point Of Sale (POS) Software Rating Criteria
.