QuickBooks Enterprise Review
Despite its name, this software is best for medium to large businesses that need multiple users, not enterprises that would be better off with a full ERP solution.
Content Strategist - Accounting & Payroll

Updated on:
Advertiser Disclosure: Our unbiased reviews and content are supported in part by
affiliate partnerships
, and we adhere to strict
guidelines
to preserve editorial integrity.
QuickBooks Enterprise

Pros
Numerous features
Numerous integrations
Double-entry accounting
Good customer support
Strong permissions
Cons
Expensive
Unsuited for small businesses
Learning curve
PC-only
QuickBooks Enterprise Overview
QuickBooks Enterprise. The mission? To go where no accounting software has gone before. Reaching for a final frontier, this powerful iteration of QuickBooks is said to deliver "6x the capacity of other QuickBooks products."
Intuit launched the enterprise version of QuickBooks in 2002 and has been updating the software yearly ever since. There are seven different versions of QuickBooks Enterprise. You can buy either the Standard Edition or one of six industry-specific editions: Contractor, Manufacturing & Wholesale, Nonprofit, Retail, Professional Services, and Accountant.
QuickBooks Enterprise provides one of the most comprehensive accounting feature sets you can get without transitioning to a full ERP solution. The Platinum plan comes with incredibly advanced inventory features, and all subscription plans except Silver come with built-in payroll support. Compared to most QuickBooks products, QuickBooks Enterprise has surprisingly decent customer service and many support resources (though the phone wait times can be a doozy).
It's possible to add up to 40 users, which is a step up from the other QuickBooks products. However, the software can be expensive, and the company has recently increased its prices. For such expensive software, I was also expecting QuickBooks Enterprise to have much stronger invoicing, project management, time tracking, and importing features. Where these capabilities are concerned, this program still has a long way to go.
Continue reading to see if the pros outweigh the cons for your growing business.
Pricing
QuickBooks Enterprise offers three pricing plans. Payments are made annually to maintain the software license, although you can opt for monthly payments. The cost of each plan varies significantly depending on the number of users you have. The prices listed below are for a single user; be sure to check Intuit's site directly to calculate how much your QuickBooks Enterprise software would cost. (To give you an idea of how much this price fluctuates, the smallest plan with only one user is $1,655 a year, but a plan with 10 users would cost over $5,800.)
QuickBooks often offers discounts to new users, so be sure to check for current promotions and take advantage of these money-saving deals. There is a free product tour available for each QuickBooks Enterprise plan. No credit card information is required.
Gold
The Gold plan annual subscription starts at $1,655/year and includes:
Invoicing
Contact management
Lead management
Expense tracking
Chart of accounts
Accounts payable
Inventory
Time tracking
Project management
Budgeting and planning
140+ reports
200+ integrations
Multicurrency support
Tax support
Automatic data backups
Automatic upgrades
Intuit Field Service Management subscription
Enhanced Payroll
Platinum
The Platinum plan annual subscription starts at $2,035/year and includes everything in the Gold plan, plus:
Advanced inventory
Advanced item pricing
Diamond
The Diamond plan monthly subscription starts at $4,020/year and includes everything in the Platinum plan, plus:
Assisted payroll ($1 per employee per pay period)
TSheets Elite ($5/month per employee)
QuickBooks Enterprise also offers hosted plans. These plans are billed by the month and include the features listed above as well as automatic upgrades and data recovery. The Gold with Hosting plan starts at $180/month. The Platinum with Hosting plan starts at $215/month. The Diamond with Hosting plan starts at $379/month.
Extra Costs
There are a few extra add-ons for QuickBooks Enterprise:
Intuit Field Service Management: With your QuickBooks Enterprise purchase, you receive a free Intuit Field Management subscription for a single user.
Cloud-Based Or Locally-Installed
QuickBooks Enterprise is a locally-installed program, although certain functions (such as payroll) require internet access. You can purchase QuickBooks cloud-hosting at an additional cost, sign up for a QuickBooks Enterprise with Hosting monthly subscription plan or utilize the Remote Desktop Services to host the software on your server.
Hardware & Software Requirements
QuickBooks Enterprise is only compatible with Windows, with versions including Windows 8.1 Update 1 or Windows 10 and Windows Server 2012 R2, 2016, or 2019.
Other hardware requirements include:
2.4 GHz processor (minimum)
4GB RAM (minimum), 8GB RAM (recommended)
2.5GB disk space
4x DVD-ROM drive required for CD installs
Internet access
1280 x 1024 screen resolution
QuickBooks Enterprise can be used across multiple monitors. Some features require the use of Microsoft Office or a compatible email. Refer to QuickBooks Enterprise's full list of system requirements for more details.
There is also a separate set of system requirements for users in need of QuickBooks Hosting. Be sure to check these requirements before purchasing.
Specific Size Of Business
Despite the name, QuickBooks Enterprise is ideal for medium to large businesses that need complex accounting, advanced inventory, and more than five users (the user amount QuickBook Premier caps out at). The software is also ideal for the following industries: contractor, manufacturing and wholesale, nonprofit, retail, professional services, and accounting. While enterprise-sized businesses can use the software, many users find the program to be too expensive and not developed enough for true enterprises. For these businesses, I'd recommend jumping straight to an ERP solution, such as Odoo.
QuickBooks Enterprise is a good in-between solution if your company is too big for QuickBooks Pro or Premier but not big enough yet for a full ERP system. QuickBooks puts it this way:
If you need a software solution that is more robust than your current accounting package, that addresses the specific needs of a growing business, and provides an end-to-end management solution in a familiar setting — but you would under-utilize a full ERP system — then you are a good candidate for Enterprise.
QuickBooks Enterprise supports 40 users with advanced user permissions and 14 different user roles. You can also manage multiple companies with QuickBooks Enterprise and can even have two company files open at once.
Accounting Method
Both accrual and cash-basis accounting.
Ease Of Use
QuickBooks Enterprise is generally well-organized, but such complex software comes with a steep learning curve. The setup process can also be quite time-consuming, so be prepared to spend a good chunk of time setting up your business and getting your account ready to go. While it also takes a long while to get acquainted with the software, QuickBooks Enterprise tries to ease the process by making the software consistent. For example, the invoice, sales orders, purchase orders, and estimates screens all look incredibly similar.
For a QuickBooks product, QuickBooks Enterprise has a surprising amount of resources to help you learn the software, including a learn and support center with dozens of how-to articles in case you need some extra help.
Features
QuickBooks Enterprise has an incredibly robust feature set. Below, you'll find the key features of the Standard Edition of QuickBooks Enterprise. Each industry-specific edition of the software offers other features that we cover in our Quick Guide To The 6 Industry-Specific Editions Of QuickBooks Enterprise.
Home: QuickBooks Enterprise is organized a bit differently than your typical cloud-based accounting program but will look familiar to QuickBooks Pro or Premier users. The homepage is divided into sections for Vendors, Customers, Employees, Banking, and Company. Icons and arrows mark important features and help show users the proper flow of accounting. The left-hand side showcases shortcuts to help you quickly access features as well as an option to easily view your balances, favorite reports, and any windows you have open. The side menu is customizable, with 30 different shortcuts. While the bulk of the features you'll need are on the homepage, you'll find a ton of features in the top menu bar as well.

Dashboard: In QuickBooks Enterprise, your home screen won't be a typical dashboard like you would expect with cloud-based software. Instead, you can use the Insights tab to the same effect. It features graphs and charts to illustrate your Profit & Loss, Income, and Expenses.

Invoicing: QuickBooks Enterprise provides ten customizable invoice templates. The templates themselves aren't anything special, but you can customize the font, color theme, and all of the information shown. You can send invoices by email as a link or PDF, or you can print them to send in the mail. You can also batch send and batch print invoices. The Layout Designer is available for advanced customization. The program supports discounts, refunds, and customer credits. You can not only send sales receipts to all of your customers but also add "past due" stamps to your invoices as well. Another new addition allows users to track the status of their invoices. A significant drawback is that there are no recurring invoices.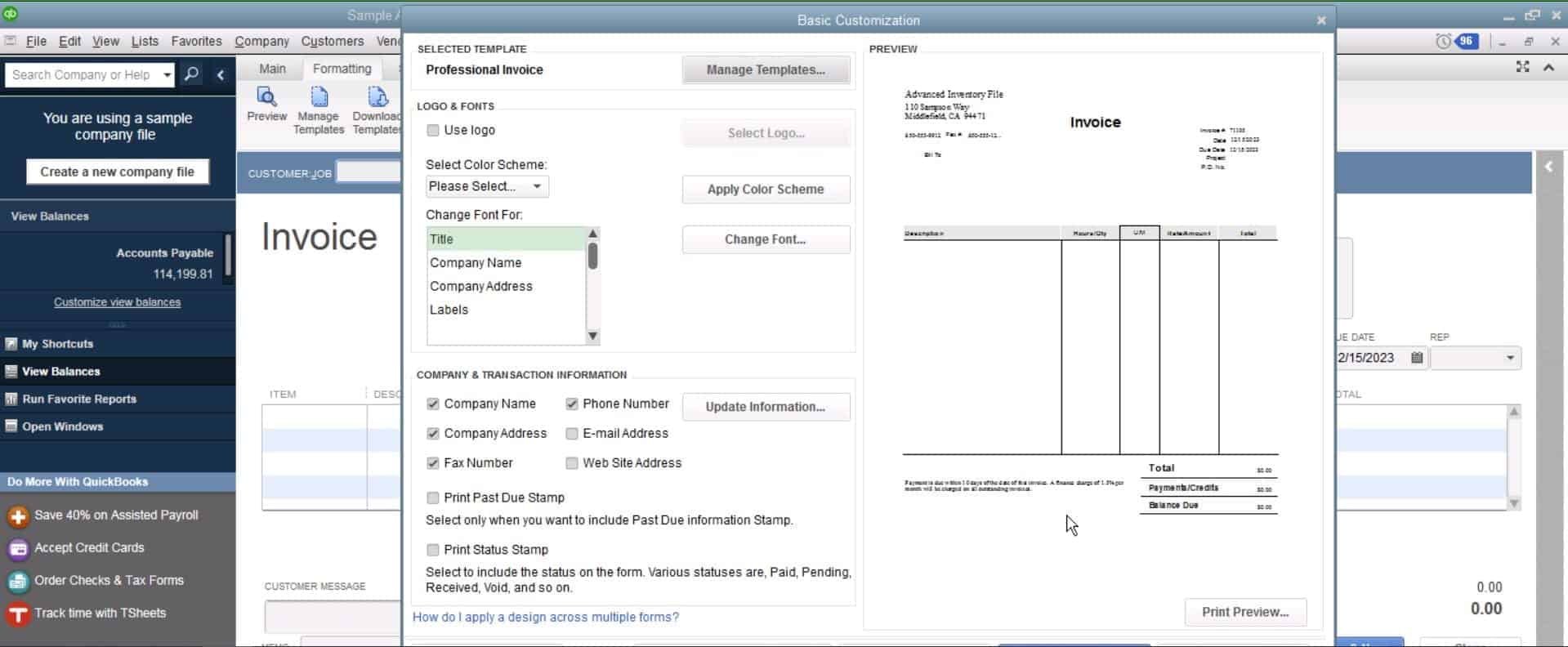 Quotes: You can send quotes as well with three different templates. QuickBooks Enterprise makes it easy to convert quotes into invoices, sales orders, or purchase orders, and you can create quotes directly from projects. It's easy to add attachments to quotes as well.
Contact Management: QuickBooks Enterprise allows you to record detailed information, including contact information, separate shipping and billing addresses, default payment settings, credit card information, default tax settings, and some custom fields. You can also attach a specific sales representative to your customers and select a customer type (advertisement, referral, retail, etc.). When you add a customer address, QuickBooks Enterprise will automatically add a map with directions to the contact information screen as well. As a bonus, you can run customer reports straight from the Customer Center. You can also manage vendors with the same level of detail.

Lead Management: One of the best parts about QuickBooks Enterprise is that not only can you manage contacts and vendors, you can also manage leads (a feature that very few accounting programs offer). On top of the expected contact information, it's possible to add a status to each lead, marking them as "hot," "warm," or "cold." You can also create to-do tasks to help you seal the deal.
Expense Tracking: Enter expenses manually, opt for live bank feeds, or import your bank statements into the program. QuickBooks makes it easy to categorize your expenses and create custom bank rules.
Bank Reconciliation: You can easily reconcile bank accounts in QuickBooks Enterprise. You can also close the books and password-protect them, so those past reconciliations can't be messed with.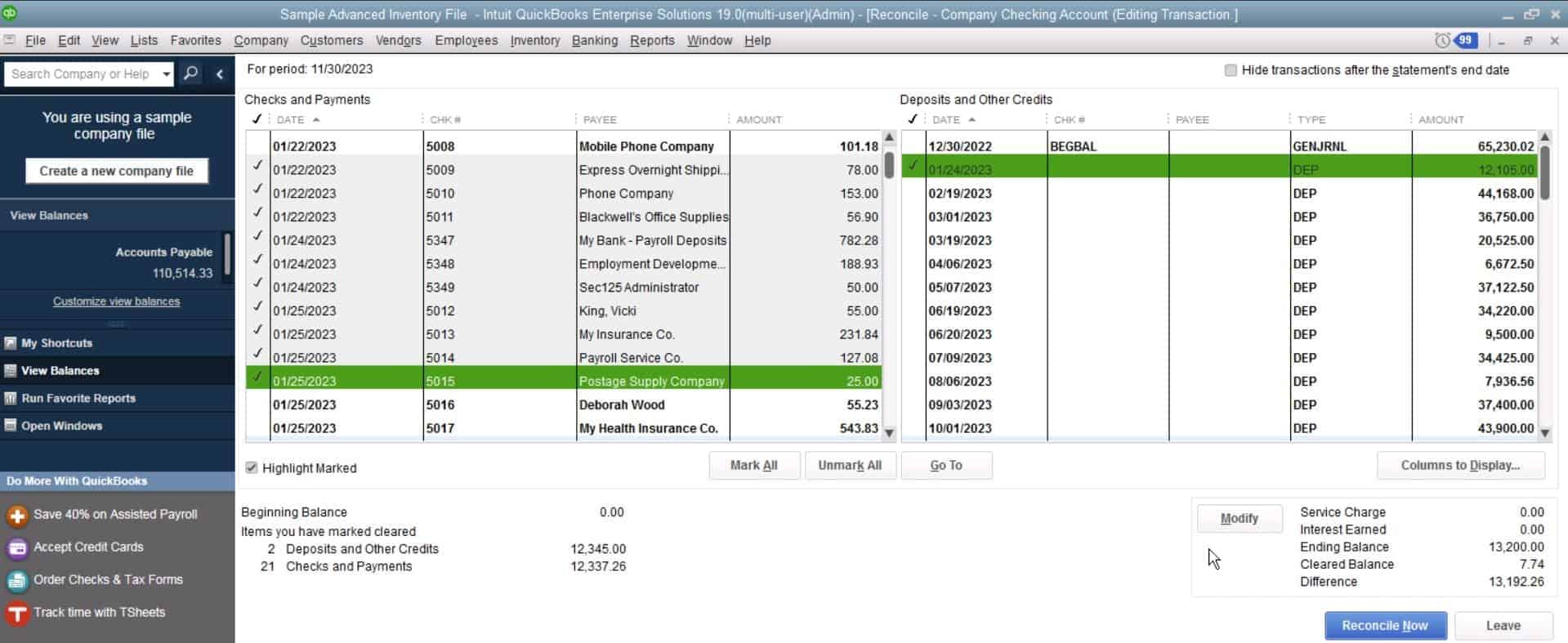 Chart Of Accounts: QuickBooks Enterprise provides a completely customizable default chart of accounts, or you can create or import a brand new chart of accounts as well.
Fixed Asset Management: The fixed asset manager allows you to record your fixed assets and set a default depreciation method. While this feature is thorough, the interface design for this feature is incredibly outdated compared to the rest of QuickBooks Enterprise.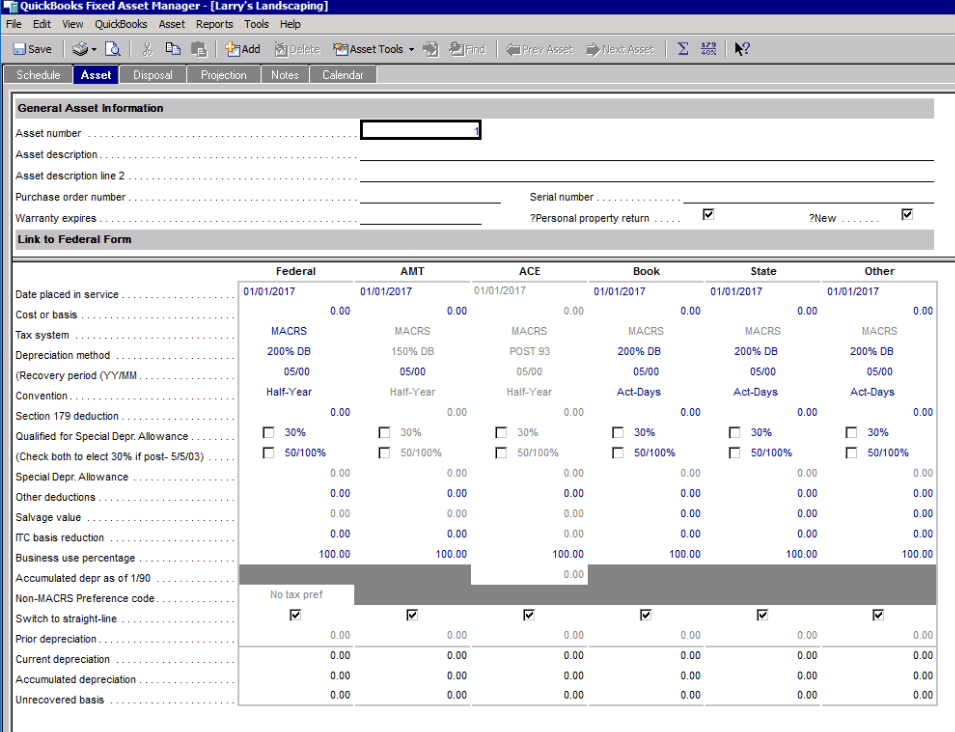 Accounts Payable: You can manage your bills directly in QuickBooks. There is also an appealing Bill Tracker that allows you to easily view unbilled purchase orders, unpaid bills, and paid bills.
Checks: You can write and print checks directly from QuickBooks Enterprise. You can also set reminders to reorder checks.
Inventory: One of the main selling points of QuickBooks Enterprise is how advanced the inventory feature is. You can add detailed item information, build item assemblies, and set reorder points. You can also add images to your inventory. When you add an item's price, QuickBooks will automatically show the markup and margin for that item. With the Platinum plan, you also get Advanced Inventory (which provides serial numbers, mobile barcode scanning, multiple inventory locations, and more) and Advanced Pricing (which allows you to adjust item pricing with ease). QuickBooks Enterprise recently added a landed cost feature, which lets you factor in costs, including shipping, duties, and insurance for improved cost accuracy. Another new feature allows you to add alternate vendors, which simplifies the process of matching up vendors to inventory. When it's time to purchase inventory, you can easily compare vendors using this feature.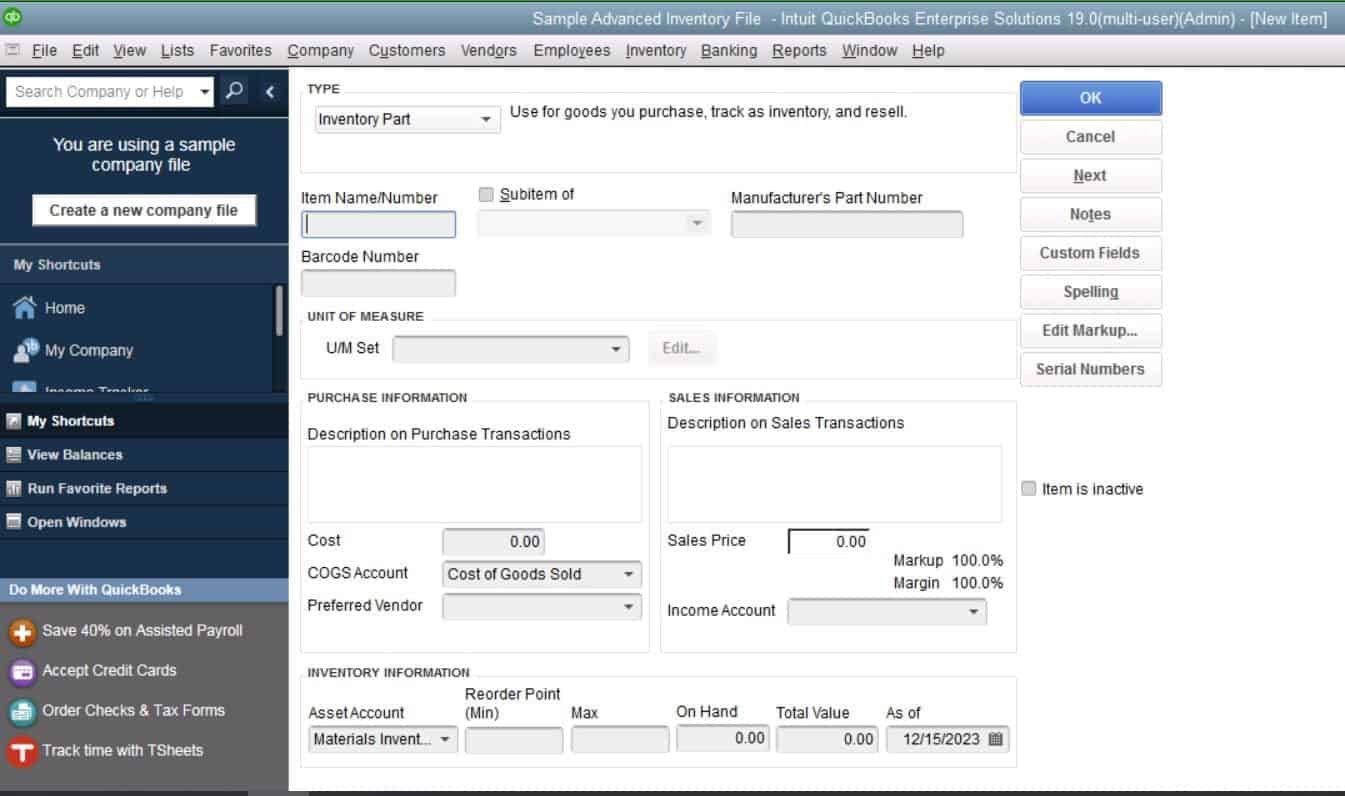 Project Management: Weirdly enough, you'll find this feature located under Customers. Each job must be tied to a specific customer, which is a bit annoying, but the feature is easy enough to use. You can add the job title, description, start date, payment settings, and job status (None, Pending, Awarded, In Progress, Closed, or Not Awarded). You can't set project tasks, which even the most basic accounting programs often allow. There also is no job costing feature unless you use the Contractor edition of QuickBooks Enterprise.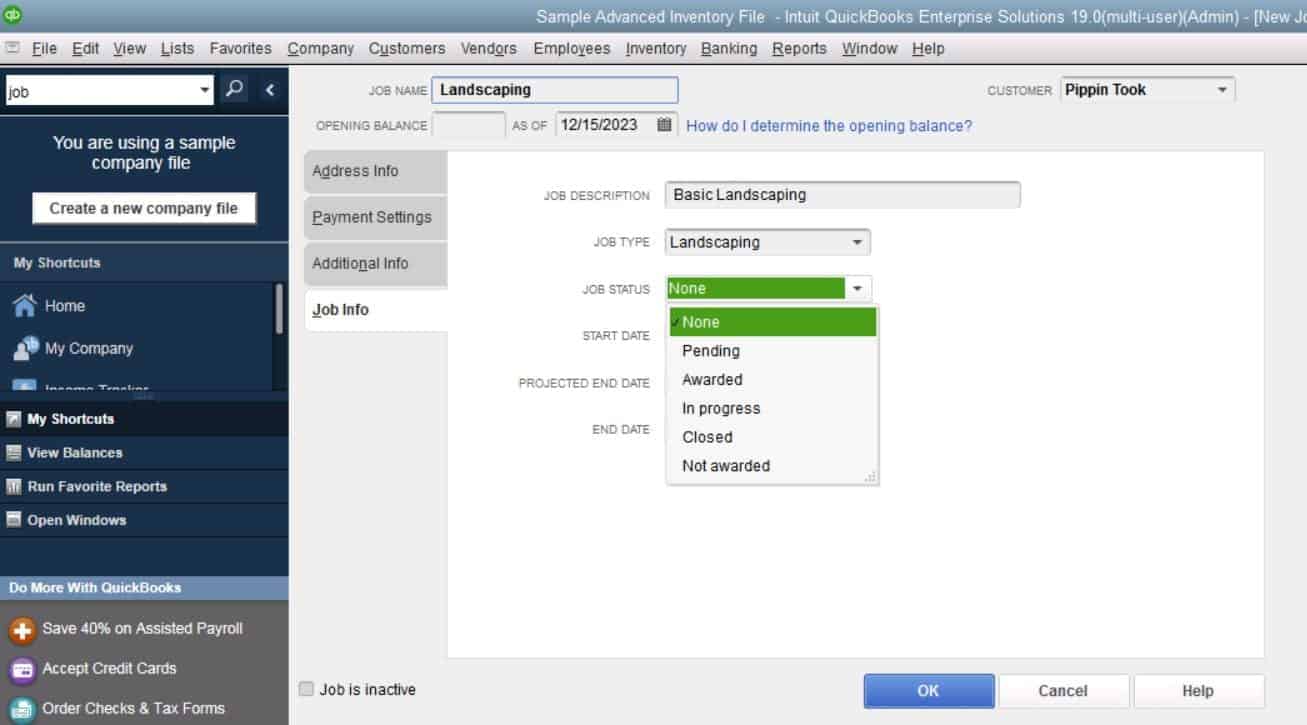 Time Tracking: QuickBooks Enterprise offers basic time tracking. Employees can record their hours and update timesheets. You can also attach time to projects and bill hours as invoices.
Payroll: QuickBooks Enterprise comes with built-in payroll. From the Payroll Center, you can create paychecks, view recent payroll, access payroll guides, and run reports. QuickBooks supports direct deposit and allows you to set up payroll liabilities, employee deductions, and company contributions, such as health insurance and retirement plans.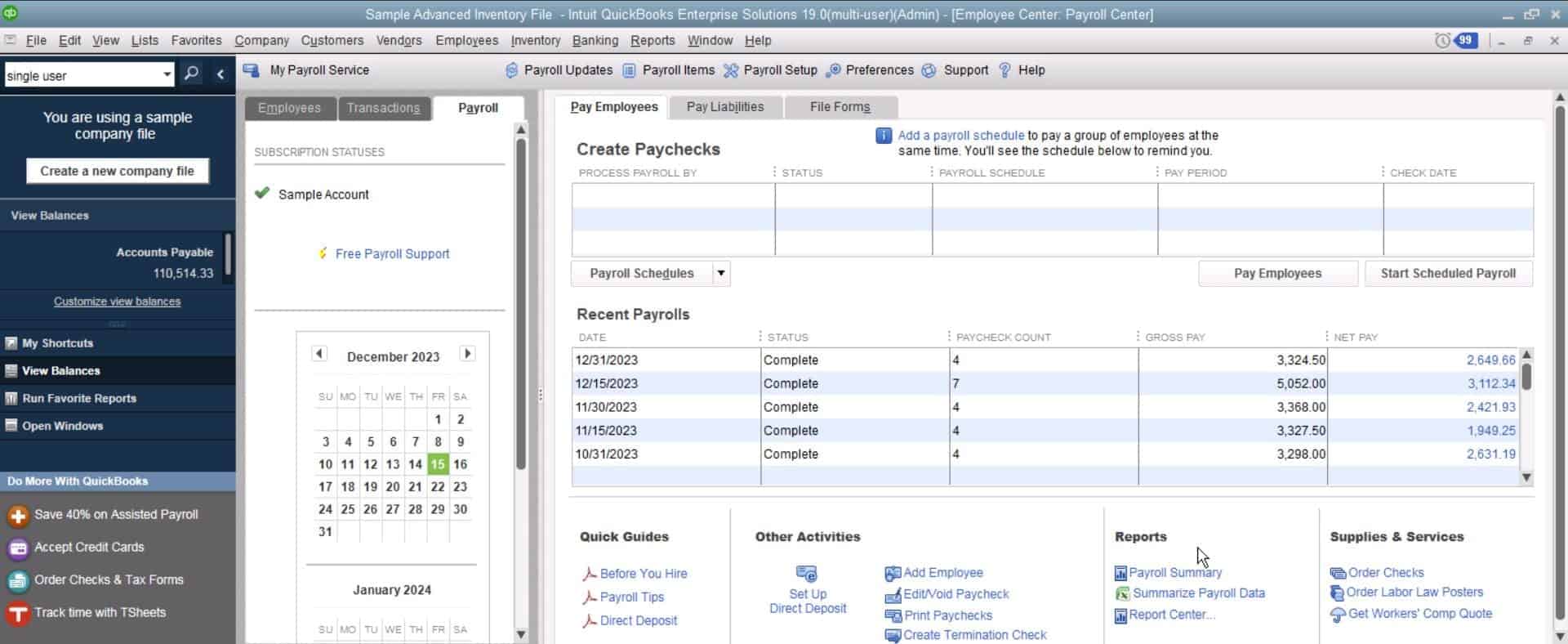 Reports: QuickBooks Enterprise has over 140 reports. And if that's not enough, you can use the custom report writer to create all the reports your heart desires.
Budgeting: You can create yearly budgets using your existing QuickBooks Enterprise data. Add additional criteria for a more advanced budget and run side-by-side comparisons of the budget and actual Profit and Loss or Balance Sheet.
Journal Entries: You can create journal entries if you are using the Accountant edition of QuickBooks Enterprise or if you have accountant user permissions.
Sales Orders: You can create sales orders with your choice of five different templates. You can attach files and send sales via email or traditional mail. QuickBooks Enterprise also offers a Sales Order Fulfillment Worksheet. Express pick-pack is a recent addition to QuickBooks Enterprise that allows you to pick and pack orders in a single process, which improves accuracy and increases speed.
Purchase Orders: There is a single purchase order template and a Purchase Orders Management Worksheet to help you keep track of which items you're still waiting on.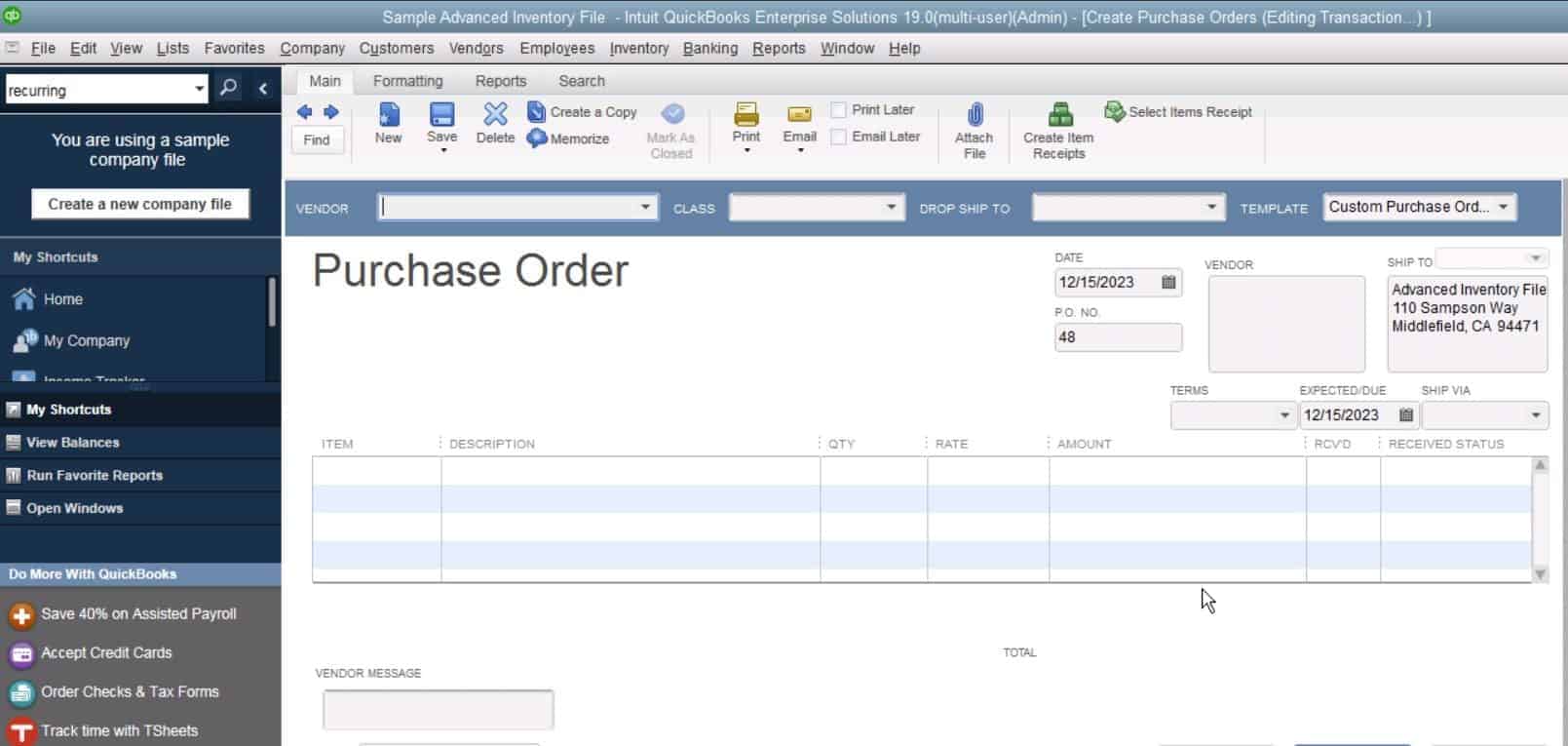 Class Tracking: This unique feature lets you sort transactions, estimates, and billable hours by specific classes or departments. You can also run Profit and Loss reports based on these classes for added insight.
Default Email Templates: You can create default email templates to automate your business processes and save time.
Letter Templates: You can also create letters using one of QuickBooks Enterprise's 12 templates, or you can create a new custom template.
Cash Flow Projector: There is a cash flow projector that can help your business anticipate its cash on hand, incoming cash, accounts payable, and expenses.
Price Levels: QuickBooks Enterprise has the unique ability to create multiple custom price levels, so you can easily charge different prices to different customers.
Business Plan Tool: You can write a full business plan and five-year financial projection based on your company's information, income, and expenses. QuickBooks Business Planner walks you through every step of creating a custom business plan.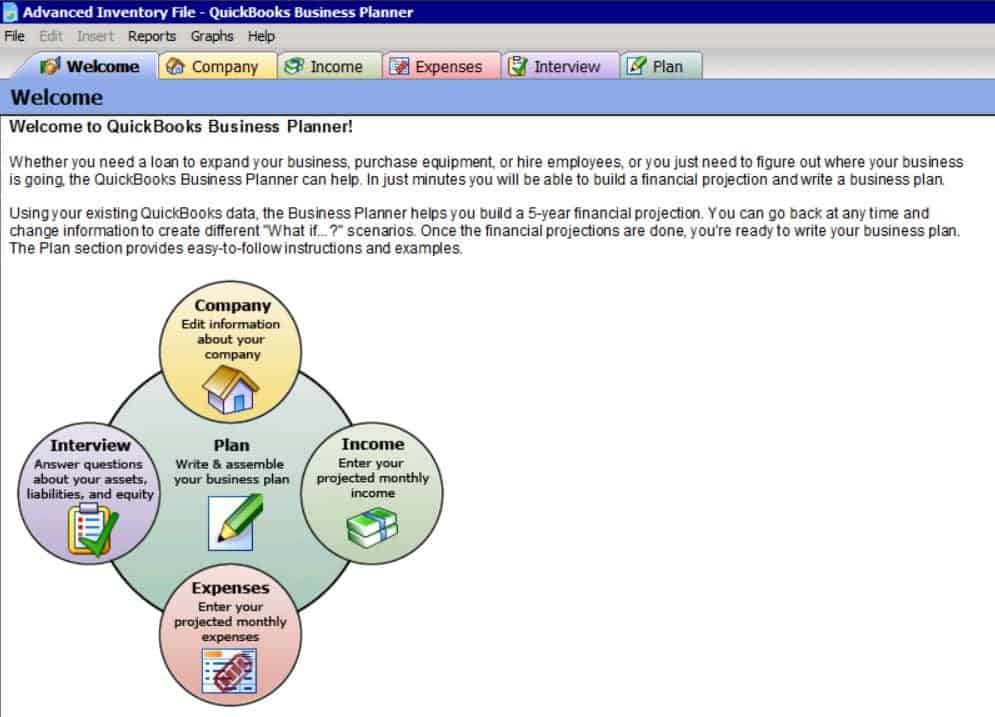 Loan Manager: QuickBooks Enterprise provides a loan manager where you can apply for loans, view your payment schedule, set up payments, and run reports.
To-Do List & Calendar: One of my favorite QuickBooks Enterprise features is the to-do list. You can create tasks with details, due dates, and priority levels. You can also set reminders and view them in your calendar. The calendar shows any upcoming tasks, plus the number of transactions you've entered each day, and the number that are due.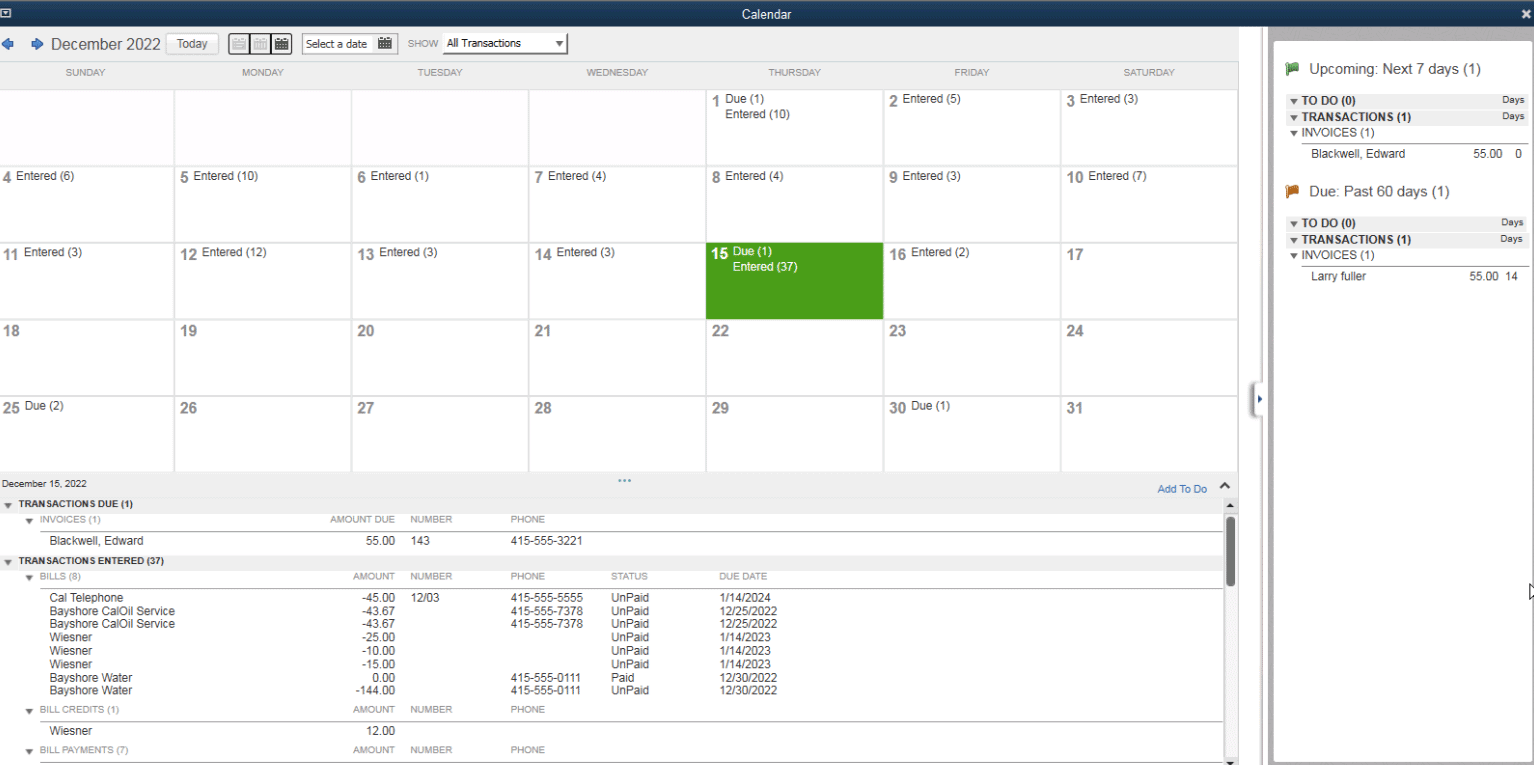 Sales Tax: You can manually create sales tax rates or connect your account to Avalara, an automated tax service (which costs extra).
Tax Forms & Support: QuickBooks Enterprise supports the following forms: W-2s, 1099s, 940s, and 941s. You can e-file your tax forms directly from the software.
Deductions: You can easily track your mileage for multiple vehicles using QuickBooks Enterprise. You can also attach mileage to specific jobs and mark miles as billable.
Multiple Currencies: QuickBooks Enterprise does provide multi-currency support. However, enabling multiple currencies means you can no longer use the Insight, Income Tracker, or Bill Tracker features. Furthermore, you can no longer create batch invoices or batch delete and void transactions.
Importing & Exporting: You can import files via XLS and IFF and export lists via IFF. Most reports and transactions can be downloaded and printed as well; however, the importing and exporting capabilities are still quite limited.
Customer Service & Support
Ordinarily, QuickBooks products have poor customer support. However, unlike other Intuit products, QuickBooks Enterprise generally has well-informed support representatives and provides an impressive number of support resources. I imagine this is because each QuickBooks Enterprise plan comes with the QuickBooks Priority Circle support program.
That said, Intuit still has some work to do when it comes to its support. There's no email support at all, and the wait times to speak to a representative are often long. Once you get through to a representative, things aren't so bad, but I'd like to see Intuit address these issues in the future. For now, there are plenty of other helpful support options:
Phone: Contact phone support Monday through Friday between 4 AM and 7 PM PST.
Chat: There is a chat feature available for quick answers Monday through Friday between 5 AM and 5 PM PST.
In-Software Help: The in-software help button can help you locate features and connects you with the QuickBooks Help Center when you need extra guidance.
Customer Resource Center: The QuickBooks Enterprise Customer Resource Center is where almost all of the support resources for QuickBooks Enterprise can be found. Here you can find a Getting Started Guide, guides for updating from QuickBooks Pro and Premier, installation FAQs, the latest QuickBooks Enterprise features, training videos, a link to QuickBooks support, and a link to chat support. There are also several white papers available.
Help Center: QuickBooks has a QuickBooks Desktop Learn & Support help center where you can find dozens of articles that teach you how to use and troubleshoot the software with step-by-step instructions. You can also view top FAQs and announcements from Intuit. You'll also find questions from other QuickBooks users, and if you can't find an answer to your question, you can ask the QuickBooks Community.
Training Videos: There are several training videos available for QuickBooks Enterprise users.
Demos: You can sign up for demos of QuickBooks Enterprise and the Intuit Field Service Management scheduling add-on.
Tips & Tricks: QuickBooks provides a collection of tips and tricks for Enterprise users. Advice topics range from managing multiple company files to reconciling bank accounts to utilizing custom reporting and more.
Around The Web: Intuit put together a collection of useful QuickBooks Enterprise resources from around the web, which was cool to see.
New Business Checklist: This is a really nice, unique support feature. QuickBooks Enterprise provides a New Business Checklist, which helps make sure new businesses have thought of everything. This feature is under the Help tab within the software.
Training: You can take classes on QuickBooks Desktop (meaning QuickBooks Pro, Premier, and Enterprise) for an additional cost.
Local Help: Intuit resellers can help walk you through purchasing, installing, and using the program (for an additional cost).
QuickBooks Blog: QuickBooks has a blog. Finding articles explicitly focused on QuickBooks Enterprise is fairly difficult. Articles mostly consist of recent updates and ongoing giveaways.
Social Media: QuickBooks has a Facebook page where they post updates and helpful advice articles. Customer comments generally get a response within 24 hours. There is also a Twitter profile for all QuickBooks products. You can find a few QuickBooks Enterprise videos on Intuit's YouTube channel, but most revolve around QuickBooks Online.
User Reviews
Negative Reviews & Complaints
The last time we reviewed QuickBooks Enterprise, it was difficult to find reviews of the software. Now, customers aren't afraid to let their voices be heard. For the most part, customer reviews are positive, but there are several recurring complaints. As a whole, Intuit receives 1/5 stars on Consumer Affairs; however, hardly any of these comments pertain to QuickBooks Enterprise directly (most are of TurboTax and Mint).
Here are the issues users have with QuickBooks Enterprise:
Too Expensive: This is by far the most common complaint. Many users find that the program is extremely expensive.
Steep Learning Curve: Several users find the software complicated and tough to learn. Many recommend going through training to ensure you know how to use QuickBooks Enterprise.
Too Flexible: While many users love QuickBooks Enterprise's flexibility and how easy it is to fix mistakes, some customers express concern about just how easy it is for anyone to adjust past transactions.
Poor Customer Service: Quite a few users complain about poor customer service, particularly about long wait times. However, I was expecting to see far more customer service complaints. More than any other QuickBooks product I've researched, QuickBooks Enterprise seems to have the least customer service complaints and the most positive feedback.
Glitches & Crashes: Users report occasional bugs and glitches, and quite a few people say the software randomly crashes or kicks them off their account. Several users also say the software runs slowly. (In my experience, the program lagged and crashed on me several times.)
Positive Reviews & Testimonials
For the most part, QuickBooks Enterprise reviews are positive. The program receives 4.2/5 stars on G2Crowd (based on over 600 ratings) and 4.49/5 stars on Software Advice (based on over 16,000 ratings). There is also a testimonials page where you can see what real businesses have to say about QuickBooks Enterprise and how these businesses are utilizing the software.
Here's what users love about the software:
Easy To Use: Despite the complaints above, many QuickBooks users find the software easy to use.
Good Feature Set: Across the board, users comment on the features they love in QuickBooks Enterprise. The favorites seem to be inventory tracking, job costing, and custom reporting.
Great Customer Service: Many users mention the great experiences they had with QuickBooks customer service.
Strong Integrations: Several people praise the software for offering ample integration options.
Here's what a few users are saying about QuickBooks Enterprise:
We are able to manage all of our business finances and sales using QBE and are very happy with the results.

The incredible functionality of the software makes running every aspect of our business so much easier. There are a lot of ins and outs to QB Enterprise but we use most of them in our day to day operations of our small business.

QuickBooks Enterprise is a huge step up from Premiere, and most important for our company was the ability to have inventory management for multiple warehouse locations without the need for third-party add-ons. Intuit support staff has been incredible, and support is truly there with the Enterprise edition.
Integrations & Add-Ons
QuickBooks Enterprise integrates with over 200 third-party apps; however, very few of these are payment gateways.
Security
Because it is a locally-installed program, security is primarily up to you. QuickBooks does provide automatic data backups for Enterprise users, but that's about it (unless you are using QuickBooks Hosting). Read our How To Keep Your Locally-Installed Accounting Software Secure post to learn more about protecting your data.
Final Verdict
QuickBooks Enterprise has an incredible number of features. Unique touches, such as business plans, cash flow projections, a loan manager, and advanced inventory, set the software apart. While setup and use of the software can be a bit daunting, most users find the software reasonably intuitive and appreciate its capabilities. The customer support for this product is also some of the best you'll receive from QuickBooks.
Despite Enterprise's great features, I can't help feeling that the name of the program is misleading. This software is really best suited for medium to large-sized businesses that need multiple users, not enterprises that would be better off with a full ERP solution. Additionally, the software is expensive. At such a steep price, I would expect some better invoicing automations (especially recurring invoices, at the very least), more developed project management, and advanced time tracking options. The software does have ample integrations to make up for these drawbacks, but taking advantage of the integrations makes an already expensive solution that much more costly.
That said, the additional features you receive with the industry-specific modules could make the investment worthwhile for some businesses. I recommend taking advantage of QuickBooks Enterprise's free product demo before buying to make sure this software works for you.
If, after reading this review, you realize QuickBooks Enterprise isn't for you, or you want to explore other, cheaper options, take a look at our other top-rated accounting solutions.
---
Need A Simple Accounting Solution?
FreshBooks


---



This easy-to-use and feature-rich software is ideal if you have no bookkeeping experience and want top-notch customer support. Get Started.
Need A Simple Accounting Solution?
FreshBooks


---



This easy-to-use and feature-rich software is ideal if you have no bookkeeping experience and want top-notch customer support. Get Started.
To learn more about how we score our reviews, see our
Accounting Software Rating Criteria
.
Read Next