QuickBooks for Mac Review
Content Strategist - Accounting & Payroll

Updated on:
Advertiser Disclosure: Our unbiased reviews and content are supported in part by
affiliate partnerships
, and we adhere to strict
guidelines
to preserve editorial integrity.
QuickBooks Mac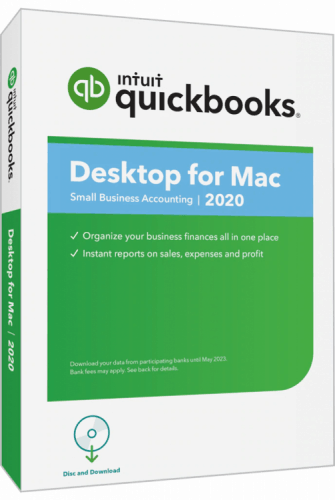 Pros
Well-designed UI
Advanced features
Ample accounting reports
Double-entry accounting
Mac-based
Cash-basis and accrual accounting
Cons
No integrations
Poor support materials
Limited users
QuickBooks For Mac Overview
QuickBooks Desktop for Mac is a locally-installed accounting program designed specifically for Macs. The software combines the best of both worlds by joining together the feature set and accounting complexity of QuickBooks Pro with the ease of use and more modern UI of QuickBooks Online.
QuickBooks for Mac offers everything a small business should expect from accounting software. Key features include invoicing, estimates, bank reconciliation, accounts payable, and both cash basis and accrual accounting. While not as simple to use as some other programs on the market, its learning curve is significantly easier to use than QuickBooks Pro.
While many loyal Mac users are excited that this software works on their operating system, there are a few drawbacks to consider. Few new features have been added over the years, and there's still not a single integration. The software is also on the more expensive side. These shortcomings paired with poor customer support, no payroll, and no payment processing put QuickBooks for Mac out of the running for many small business owners.
Continue reading to see if the pros outweigh the cons for your business.
Get Started With QuickBooks for Mac
QuickBooks For Mac Pricing
QuickBooks for Mac pricing is simple. You can purchase a QuickBooks Desktop for Mac license for $399.99 directly from Intuit. You can also buy the software from resellers, such as Staples, Best Buy, or Amazon.
When you purchase a QuickBooks for Mac license, the license will last you for three years. After three years, QuickBooks drops support for the software. That means you'll be continuously forced to update and repurchase the software. Fortunately, the Intuit store frequently offers QuickBooks for Mac at a discounted price.
Intuit does offer a 60-day satisfaction guarantee. If you are not pleased with the purchase, you can return the software for a full refund. Representatives usually point to this guarantee rather than offering a free trial of the software. Don't let that pressure you into purchasing before you're ready, though; deep within the depths of the QuickBooks Community, you'll find access to a free 30-day trial. You are not required to provide any credit card information to sign up for the trial, and you can uninstall the software at any time. Warning: Use of free trials may inhibit users from being eligible for software discounts upon purchase.
QuickBooks For Mac License
QuickBooks for Mac is priced at $399.99 and includes the following features:
Invoices and estimates
Expense tracking
Contact management
Accounts payable
Time tracking
Project management
Budgeting
Inventory
100+ reports
One user
Extra Costs To Consider With QuickBooks For Mac Pricing
There are a few additional costs to be aware of before purchasing QuickBooks for Mac.
Additional Users: You can add up to three users to QuickBooks for Mac. The more users you buy, the more significant a discount you get on the software. Contact Intuit directly to learn how large of a discount Intuit is offering for additional users.
Payroll: Unlike QuickBooks Online and QuickBooks Desktop, QuickBooks for Mac does not integrate with QuickBooks Payroll. You can still purchase QuickBooks Payroll and use it as a stand-alone product, but it will not connect directly with your QuickBooks for Mac software. Pricing for QuickBooks Payroll starts at $45/month.
QuickBooks Payments: Much like with Payroll, QuickBooks for Mac does not integrate directly with QuickBooks Payments. You can still use QuickBooks Payments as your merchant account provider, but there won't be a "pay now" button or client portal for your invoices like there is in QuickBooks Online. Instead, users will have to click on a payment link you provide them with and go to a separate payment screen to pay their invoices.
Bank Feeds: Some banks charge a fee for working with QuickBooks. This fee can range from $10-$15/month, depending on the bank. Unlike QuickBooks Online and QuickBooks Desktop for Windows, QuickBooks for Mac does not have live bank feeds. You will have to refresh the bank feeds to add the most recent transactions.
Upgrades: An annual upgrade costs $299.
Phone Support: Users receive free support on some issues (mostly revolving around downloading and installing the software) for up to 12 months. For other issues, you'll need to sign up for a QuickBooks Care Plan. Mac plans run $29.95 per month or $299.95 per year.
Hosting Service: QuickBooks partners with Right Network and provides online server hosting for companies in need of mobility (although this service may be moot now that you can share QuickBooks for Mac files on iCloud). Contact QuickBooks directly for pricing details.
Get Started With QuickBooks for Mac
Cloud-Based Or Locally-Installed
QuickBooks for Mac is a locally-installed program, although certain functions require the internet (such as payroll, downloading the software, and product updates). QuickBooks for Mac also has the added feature where you can share data between computers using iCloud.
Hardware & Software Requirements
QuickBooks for Mac is compatible with macOS X v10.15 (Catalina) or higher. Exporting data requires Apple Numbers (v3.5) or Microsoft Excel 2016 or later. An internet connection is needed for downloads and installations. Contact Intuit directly for more information on QuickBooks for Mac's computer requirements.
Specific Size Of Business
QuickBooks for Mac is designed specifically for Macs and is ideal for small businesses that have no more than three users. The software has the in-depth accounting features required to run most small businesses. The sheer number of features and the learning curve may be too much for micro-businesses, though. The software is also not ideal for larger businesses that require payroll, integrations, or more than three users.
QuickBooks Desktop for Mac does support multiple companies, and there are user permissions available.
If you need accounting software that works on any operating system and offers more users and integrations, take a look at QuickBooks Online instead.
QuickBooks For Mac Accounting Method
Both accrual and cash basis accounting.
Ease Of Use
QuickBooks Desktop products generally have incredibly steep learning curves. While QuickBooks for Mac can be difficult to navigate at times, the software is much easier to learn than QuickBooks Pro, and it has a much fresher, more attractive UI. It's a sort of happy medium between QuickBooks Pro and QuickBooks Online if you will.
As a Mac user for ten years, I found this software easy to use and understand. Also, the 2020 update added descriptions below icons, which makes it easy to understand what each button does.
QuickBooks For Mac Features
QuickBooks for Mac has an impressive number of features, although not all of these features are as fully developed as Intuit's other accounting products. Here is a summary of the best QuickBooks for Mac has to offer:
Home: Like traditional QuickBooks Desktop products, QuickBooks for Mac has a home page that is organized into sections for Vendor, Customer, Employee, Company, and Banking. Icons and arrows mark important features and guide you through the proper flow of the accounting cycle. Along the top of the screen, you'll see icon buttons for key features. There is also a top menu bar that helps you navigate all of QuickBooks for Mac's features.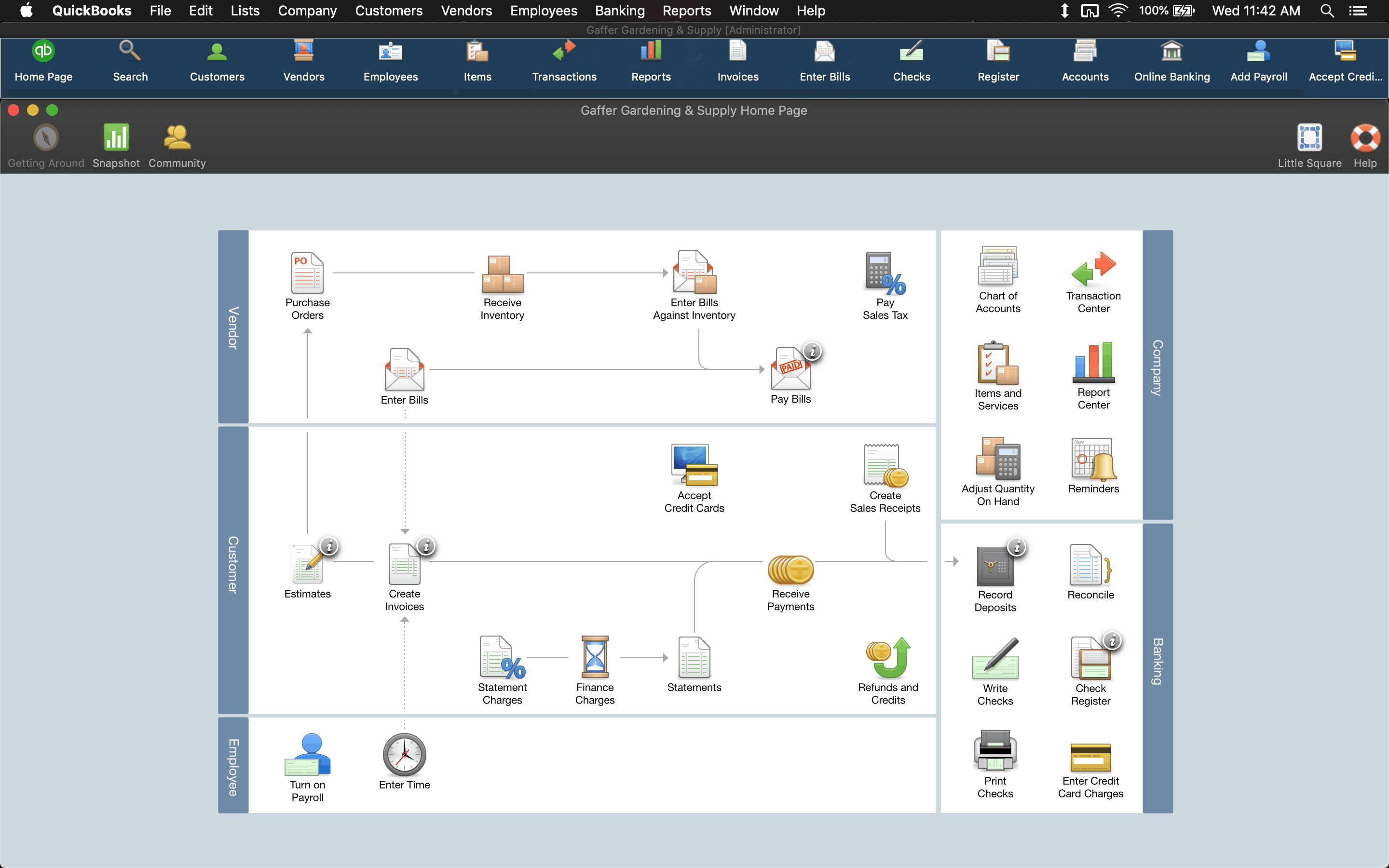 Dashboard: If you want a more traditional dashboard, as you would find with cloud-based software, you can use the snapshot feature. This feature gives you a snapshot of your business's financial state using various charts and graphs. The ability to customize the dashboard to your liking by dropping-and-dragging your desired charts is a fairly new feature in QuickBooks for Mac. There are over 15 charts available.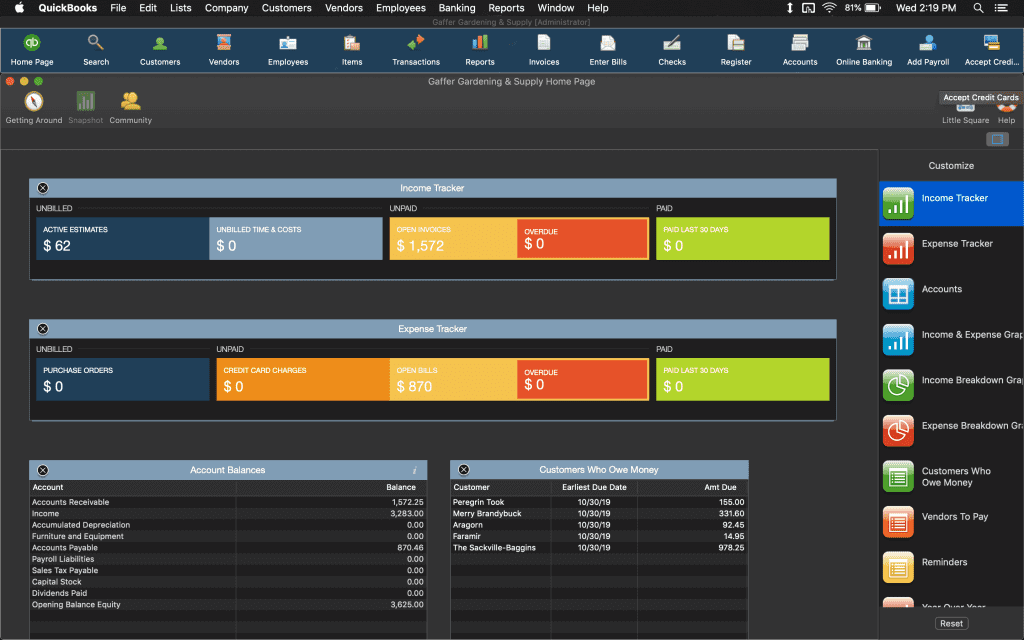 Invoices: QuickBooks for Mac offers 31 invoice templates, and you can create custom templates as well. The software has the ability to send electronic invoices via online ACH, credit card, and echeck payment. You can batch-send invoices to customers and send progress invoices by email, or you can print the invoices (and print envelopes to accompany them). However, there are no recurring invoices. QuickBooks for Mac 2021 did add the functionality of sending statements with payment links — a feature not available on previous versions of the software. My favorite part about the invoicing feature is that when you save or send an invoice, the software makes an awesome cha-ching! noise, which is very satisfying.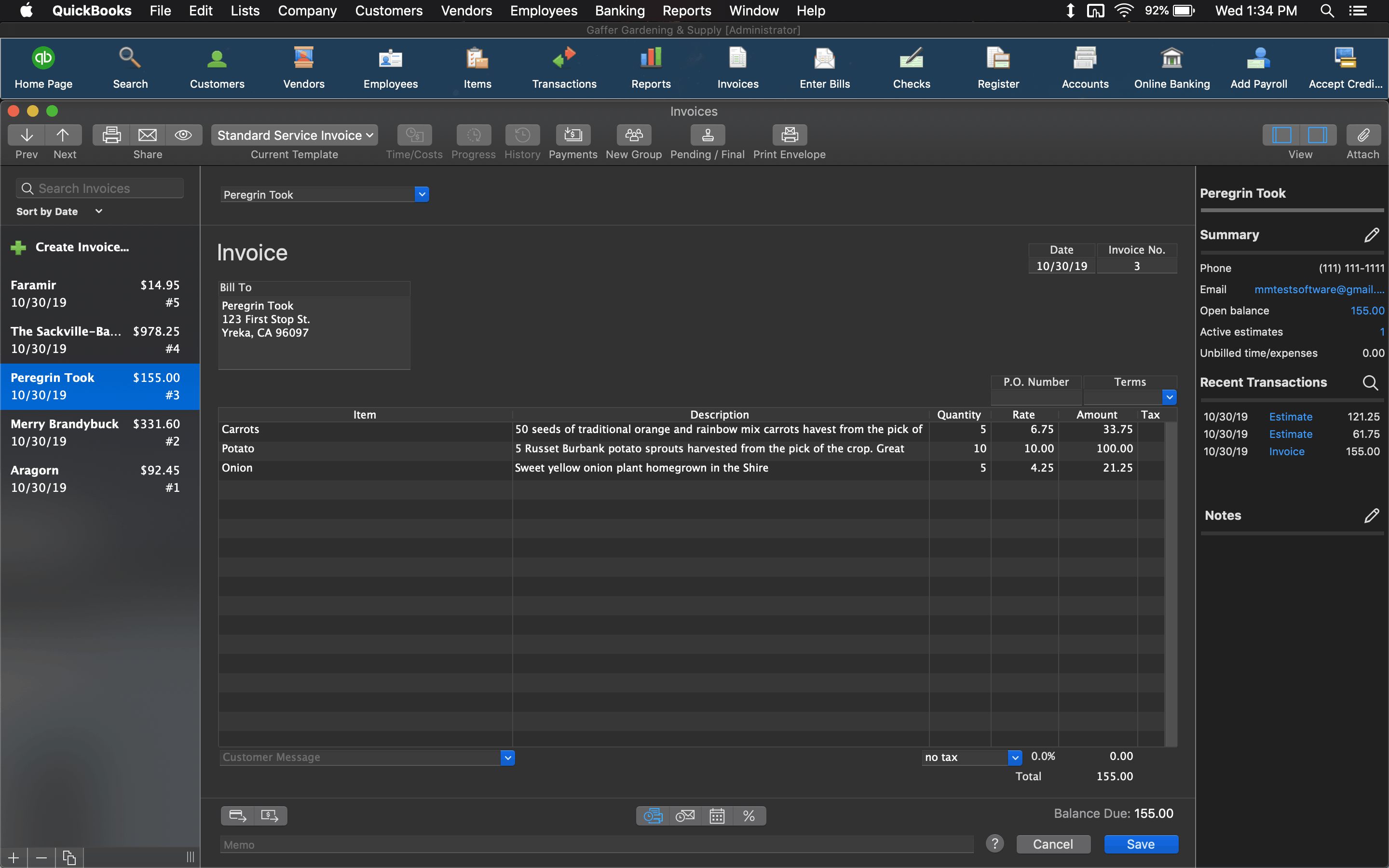 Estimates: You can create estimates and quickly convert them to invoices. There are 24 estimate templates in total.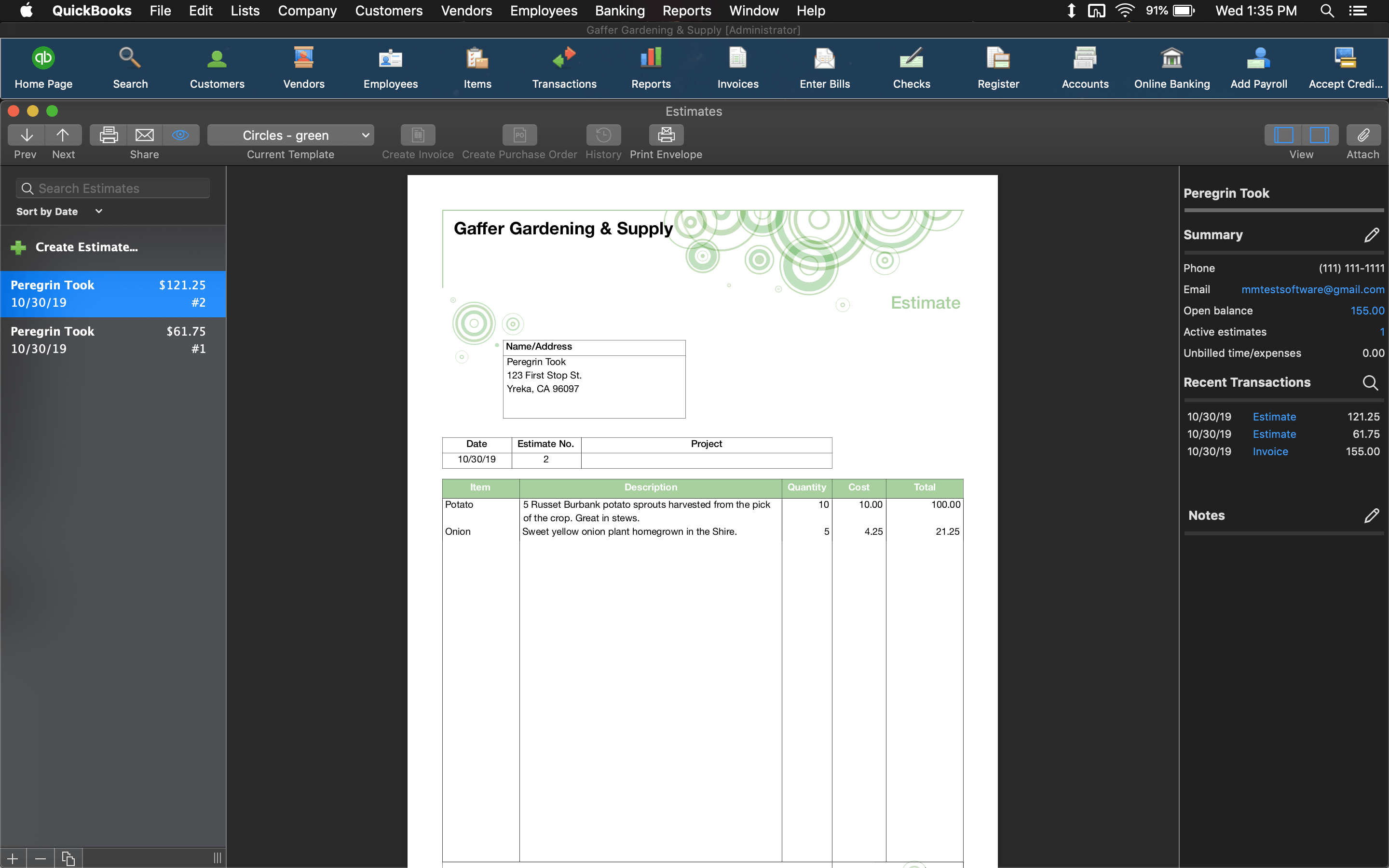 Contact Management: Much like QuickBooks Pro, QuickBooks for Mac has an extensive contact management feature. Not only can you add general contact information, but you can also add credit limits, to-do lists, assigned representatives, default sales tax, customer credits, and even maps and directions. Each contact also gets a dashboard complete with current bills and history. You can also create contact groups and easily invoice the entire group at once. QuickBooks for Mac has the unique ability to sync directly with your Mac contacts. You can manage vendors as well.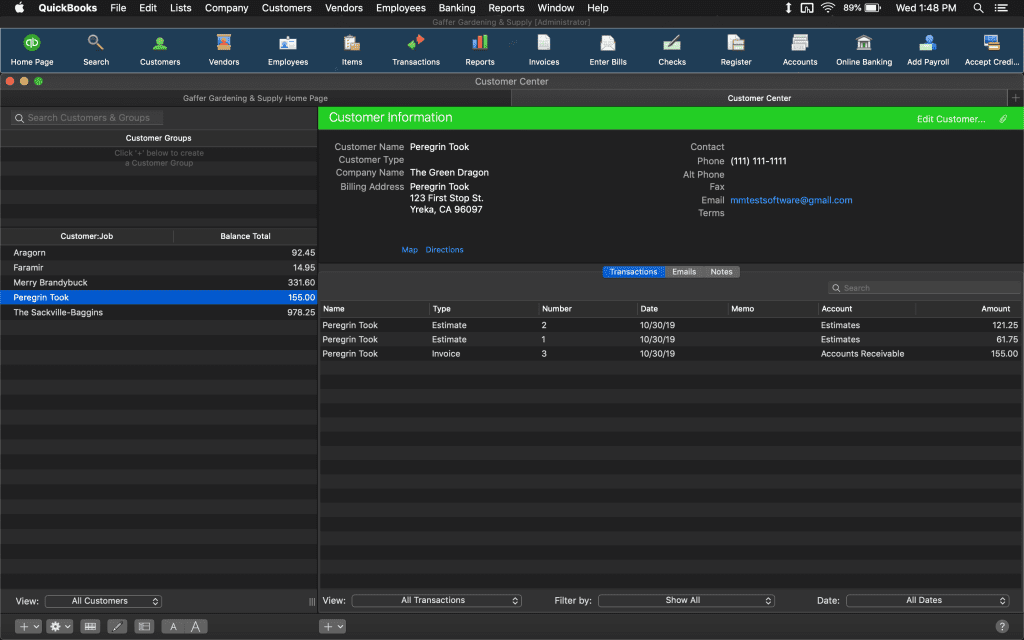 Expense Tracking: You can track expenses using bank feeds or by manually entering or importing transactions. If you opt for bank feeds, just know that they aren't live bank feeds. So instead of your bank transactions automatically updating, you'll have to refresh the transactions in this version manually. QuickBooks for Mac automatically matches transactions, and you can create matching rules as well. There is also a nice Transaction Center where you can view and manage all of your transactions in one spot.
Bank Reconciliation: You can reconcile your bank accounts in QuickBooks for Mac and run several reconciliation reports.
Chart Of Accounts: You select your chart of accounts when you initially set up the software. You can select each account from a pre-generated list of accounts, or you can opt for a default chart of accounts. You can also add and edit accounts as needed later on.
Accounts Payable: You can easily create bills in QuickBooks Desktop for Mac.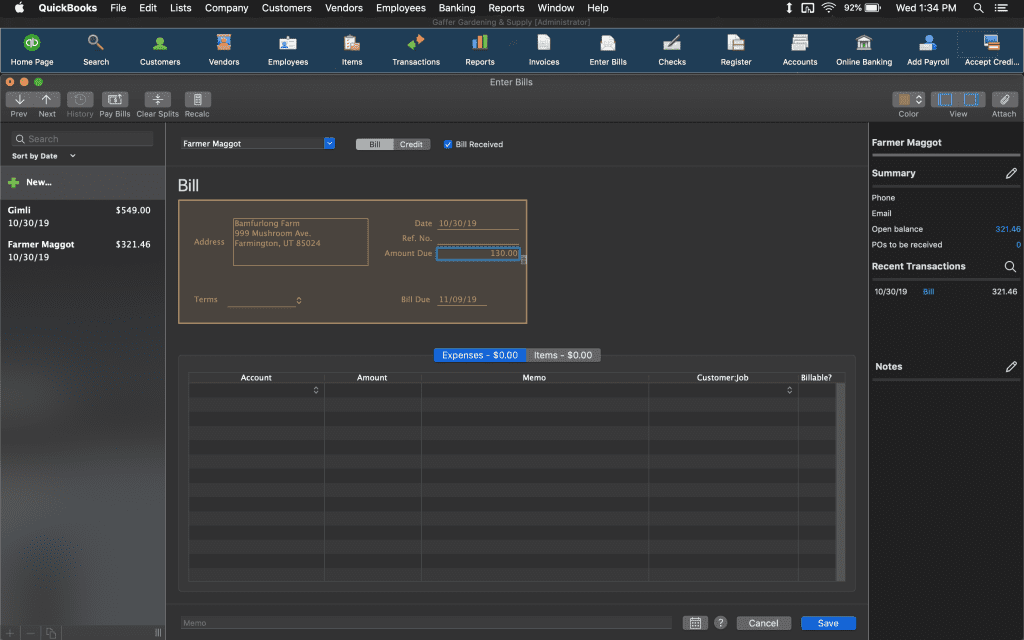 Checks: You can write and print checks directly from QuickBooks for Mac. Bounced checks can also be processed.
Inventory: In QuickBooks for Mac, you can record items, services, inventory parts, and more. You can add detailed descriptions of items as well as rates, item numbers, and custom fields. You can set reorder points as well as default sales tax items and sales tax groups. You can also add sub-items to create inventory bundles.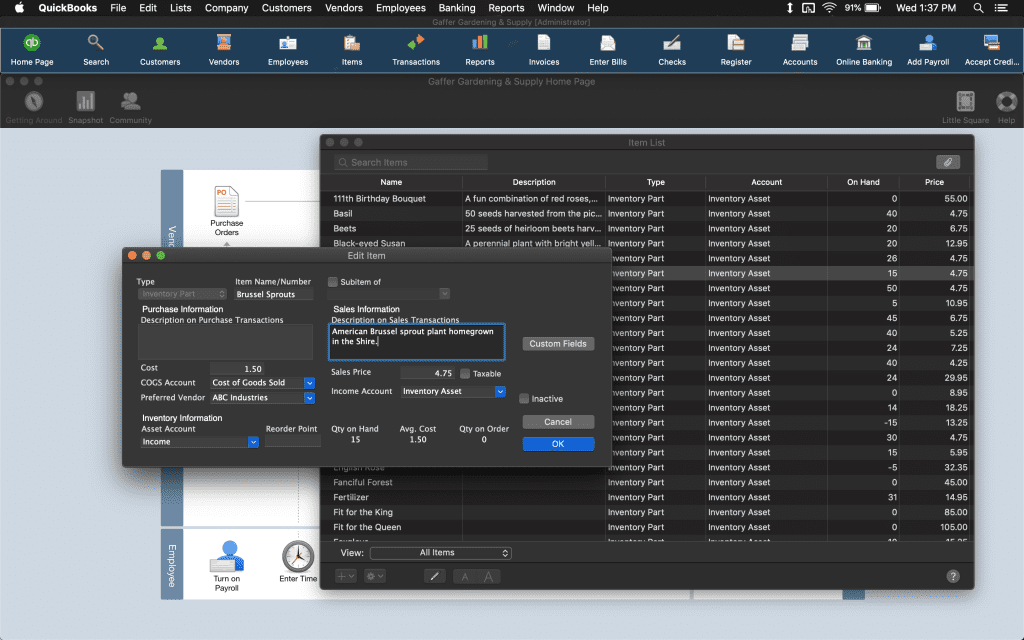 Project Management: You can create projects in QuickBooks for Mac, although you have to connect them to a customer. You can set a job status, start date, projected end date, description, and more. QuickBooks for Mac also has job costing reports.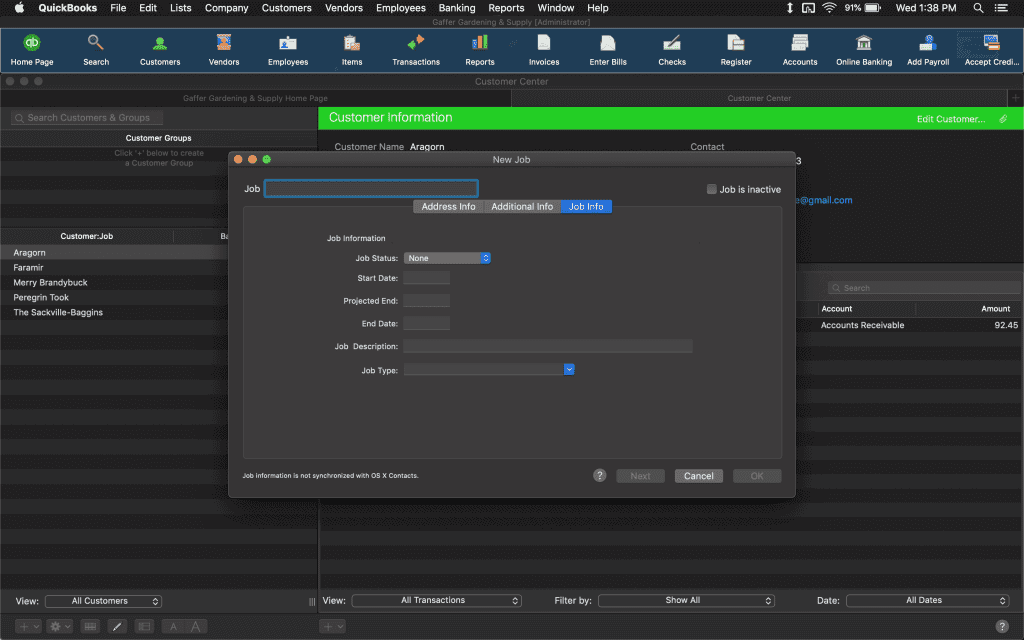 Time Management: You and your employees can track time and create timesheets. You can also attach billable time to invoices and use progressive invoicing, which is a way to invoice projects as each step is completed rather than all at once.
Reports: QuickBooks for Mac provides over 110 reports. QuickBooks for Mac has important accounting reports as well as insightful sales reports and even some graphs and charts.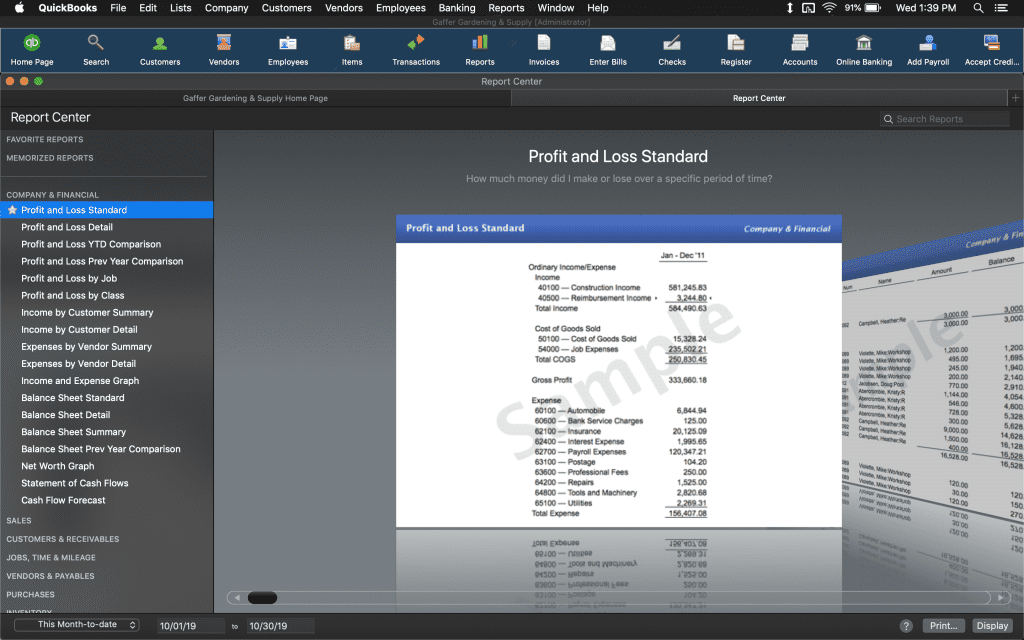 Budgeting: You can create a yearly budget in QuickBooks for Mac. You can enter your budget goals manually or use the previous year's data to create your budget. You can also run insightful budgeting reports to help you stay on track.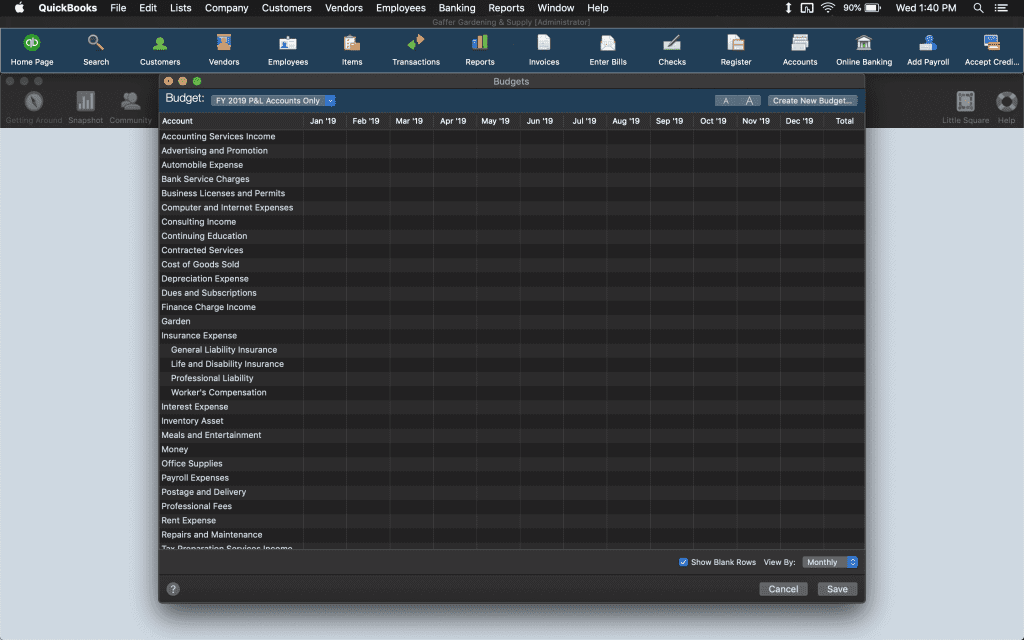 Journal Entries: You can create general journal entries.
Purchase Orders: QuickBooks for Mac supports purchase orders. You can easily convert estimates into purchase orders.
Credit Memos: You can create credit memos in QuickBooks for Mac.
Receipts: You can create and send sales receipts.
Class Tracking: You can sort transactions by class to give you added detail and insight into your business. Some companies use classes to track locations, departments, inventory types, etc. You can create sub-classes as well.
Default Email Templates: You can save time by creating default email templates.
To–Do Lists: Like in QuickBooks Pro, you can create to-do lists and run to-do list reports to stay on top of all your business tasks. You can also set reminders; QuickBooks for Mac can send you automatic reminders for things such as overdue invoices, bills to pay, money to deposit, and more.
Sales Tax: You can set as many sales tax items and groups as you would like. You can also assign a default sales tax to contacts and items.
Tax Forms & Support: QuickBooks for Mac supports 1099s and 1096s.
Deductions: You can track and record mileage deductions in QuickBooks for Mac. You can also assign mileage to jobs and mark the mileage as billable or non-billable.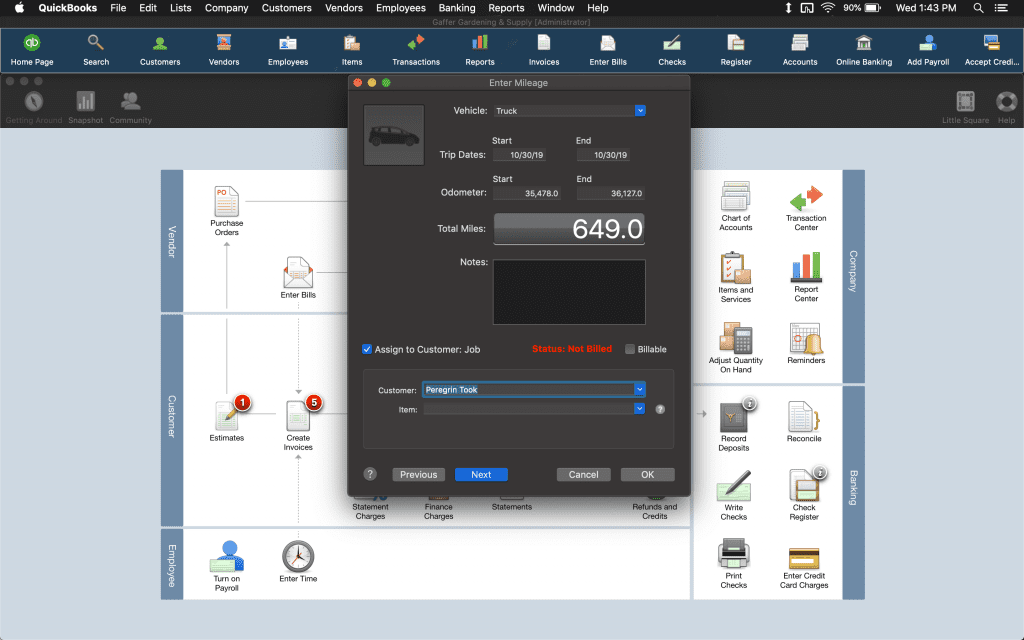 Importing & Exporting: You can import just about anything into QuickBooks for Mac. Exporting is more limited. You can create an all-encompassing company file, or you can export lists to an IFF file and addresses into a text file.
Text Search: QuickBooks for Mac has the ability to search for text in images uploaded to QuickBooks via the iPhone camera with iPhone Scanner. You can also search text in any PDF attachment.
Get Started With QuickBooks for Mac
Customer Service & Support
QuickBooks is notorious for poor customer support. Unfortunately, QuickBooks for Mac is no exception. While phone support wait times are quite short for a QuickBooks product, it's clear that Intuit's focus is on its other software. There is no email support, and other support resources are limited. Plus, you have to pay an extra $29.95 monthly or $299.95 annually for phone support.
QuickBooks for Mac does offer a help center with dozens of how-to articles. The saving grace for QuickBooks for Mac is that the help center can be accessed directly from within the software — and the Little Square resource provides tons of support resources and business tips.
Here are all of the support options QuickBooks for Mac offers:
Phone Support: You can call a sales rep at any time, but you have to pay extra for phone support.
Live Chat: There is a live chat feature on the QuickBooks for Mac website, though representatives are there for sales questions and often try to force you to switch to QuickBooks Online.
Help Center: There is a QuickBooks for Mac help center where you'll find dozens of how-to articles and guides, FAQs, and questions from other customers. You can also access the help center from the Home screen on QuickBooks for Mac.
Little Square: Little Square is an online magazine for QuickBooks for Mac users. It features tips and tricks for getting the most out of your software, much-needed video tutorials, and a complete user guide that covers everything you need to know about QuickBooks for Mac. There's also helpful advice on how to successfully run a business.
QuickBooks Blog: QuickBooks has a blog, but most of the articles are focused on QuickBooks Online.
Social Media: Intuit has a combined Facebook and Twitter page for all its QuickBooks products.
QuickBooks For Mac Reviews
Negative Reviews & Complaints
The issue with finding QuickBooks for Mac reviews is that all QuickBooks products tend to be lumped together — Pro, Online, Mac, Payroll, etc. For example, ConsumerAffairs features the biggest collection of negative Intuit reviews with the company receiving only 1/5 stars. However, most reviews are not about QuickBooks for Mac and instead revolve around Intuit's other products (such as Turbo Tax and Mint).
From customer reviews that are specific to QuickBooks for Mac, user experiences seem split fairly evenly between negative and positive, with a slight lean toward the positive. Here are some of the most common criticisms:
Forced Updates: Many users are frustrated because they are forced to upgrade after support ends for their version of QuickBooks for Mac. Between paying for updates, phone support, and extra users, people are not happy with how quickly the costs add up.
Far Behind QuickBooks Pro: One of the most common complaints is that QuickBooks for Mac does not compare to the capabilities of QuickBooks Pro for Windows, especially in terms of integrations.
Poor Customer Support: Several users complain that is it difficult to reach customer support. This becomes an even bigger issue considering many users also complain that the software has a steep learning curve and is difficult to navigate without help.
Positive Reviews & Testimonials
QuickBooks for Mac receives 7.6/10 stars on TrustRadius (based on 79 ratings) and 4/5 stars on SoftwareAdvice (based on 73 reviews). Not all of the reviews making up these ratings are specific to QuickBooks for Mac. However, there are enough obvious QuickBooks for Mac reviews to glean that users usually like the software. Here is what users like best about QuickBooks for Mac:
Easy To Use: Users are surprised and pleased by how easy QuickBooks for Mac is to use (especially given the reputation of other QuickBooks products). Users also enjoy the UI and organization of QuickBooks for Mac.
Built For Macs: Many loyal Apple-users praise the software for being designed specifically for Macs. Quite a few users say it's tough to find good accounting software that functions correctly on Macs, so this software is a breath of fresh air.
Good Feature Selection: There is a lot of positive feedback about the features available with QuickBooks for Mac, especially for things such as invoicing, budgeting, and reports.
Here is what a few users are saying about the software:
I use QuickBooks for Mac to manage all of my finances for my consulting company. It's incredibly helpful to organize receipts and invoices with the multiple clients I work alongside.

Best of all the bookkeeping and accounting programs I have used, they have thought of everything. I continued to use Quickbooks even after I sold my business. It works great for your home accounting. I couldn't balance my checkbook without it.

This program is great and I would absolutely give it all 5 starts, but the initial understanding of the program is not as easy as playing on the program. I would recommend doing a class or tutorial prior to use.

The software is OK but the fact that their previous versions don't work with Catalina on a Mac sucks. Seems to be a great way to force people to spend more money on something that is not really much of an improvement.
Accounting Software Integrations & Add-Ons
One of the biggest downfalls of QuickBooks for Mac is that there are no integrations, not even to QuickBooks Payments. While the company focuses the majority of its integration efforts on QuickBooks Online (which has over 400 integrations), even QuickBooks Pro, Premier, and Enterprise all have upwards of 200 integrations. So it is incredibly disappointing that QuickBooks for Mac doesn't have a single integration.
Software Security
With locally-installed software, data security is primarily up to you; this is even more so the case for QuickBooks for Mac users. QuickBooks Pro provides automated backups and data encryption to Windows users at an extra cost. Unfortunately, this service is unavailable for Mac users. QuickBooks does offer good online resources for learning about protecting your computer.
Read our article How To Keep Your Locally-Installed Accounting Software Secure for more information on protecting your data.
Final Verdict Of QuickBooks For Mac
QuickBooks for Mac has a lot going for it. QuickBooks for Mac offers most features you'd want in good accounting software. From job costing and class tracking to contact management and expense tracking, QuickBooks for Mac does it all. It is also one of the few programs specifically designed for Mac.
However, the software is not without its faults. There are no integrations, no payroll, no multi-currency support, and bank feeds aren't live (you have to manually refresh them every time you want to see updated banking information).
It seems to me that Intuit puts very little care into its QuickBooks for Mac product. Since its relaunch in 2016, the company has hardly made any improvements to the software. It has minimal customer support options, and every time you talk to a customer support representative, they try to force you to switch to QuickBooks Online. It seems to me that businesses shouldn't hold their breath for QuickBooks for Mac to fix issues such as the lack of payroll and integrations. Intuit is just going to point users to QuickBooks Online rather than updating its QuickBooks Desktop for Mac product.
Because of this, I recommend shopping around before you commit to QuickBooks for Mac. Take a look at our other Best Accounting Software For Macs alternatives, and don't forget to use the free trial of the software before purchasing.
Still need more options? Compare leading accounting software, or check out the easiest accounting software if you want to avoid QuickBooks for Mac's learning curve.
---
Need A Simple Accounting Solution?
FreshBooks


---



This easy-to-use and feature-rich software is ideal if you have no bookkeeping experience and want top-notch customer support. Get Started.
Need A Simple Accounting Solution?
FreshBooks


---



This easy-to-use and feature-rich software is ideal if you have no bookkeeping experience and want top-notch customer support. Get Started.
To learn more about how we score our reviews, see our
Accounting Software Rating Criteria
.
Read Next