Quicken Review
This personal accounting software gives individuals the tools they need to track and manage all of their finances. Does it have what you're looking for?
Expert Analyst & Reviewer

UPDATED
Advertiser Disclosure: Our unbiased reviews and content are supported in part by
affiliate partnerships
, and we adhere to strict
guidelines
to preserve editorial integrity.
Quicken

Accounting Method
Cash Basis Only
Pricing
From $47.88-$83.88/year + taxes
Business Size
Single user
Quicken At A Glance
Quicken is personal finance management software designed for individuals looking to track their finances with category-based budgeting tools
Quicken boasts an impressive array of budgeting features, including investment management, bill pay, rich reporting, forecasting, net worth tracking, budget customization, and much more
With mobile apps, website access, and desktop apps across the Mac and Windows operating systems, Quicken is as close as it gets to a universal platform
---
Pros
Advanced features
Well-designed UI
Decent mobile apps
Ample financial reports
Strong budgeting
Cons
Moderate learning curve
Software crashing
Unreliable transaction sync
What Is Quicken?
Quicken is a personal accounting software program that allows individuals to take control of their finances. The software offers expense tracking, spending trends, budgeting, reporting, retirement planning, and more. Quicken has adopted an annual pricing model, but it's still the reliable, full-featured finance management tool it has always been.
Quicken's primary software line is designed for individuals rather than businesses. Those looking for finance management software that can handle their business income and real estate transactions should consider Quicken's Home & Business software solution.
Quicken Pricing
| Quicken Plans | Price | When To Use |
| --- | --- | --- |
| Quicken Starter | $41.88/year | Basic budget tracking without all the bells and whistles |
| Quicken Deluxe | $59.88/year | Budget customization options and basic investment tracking |
| Quicken Premier | $83.88/year | Advanced investment tracking, forecasting, and tax support features |
Quicken offers three pricing packages for its primary Quicken personal financing software line, including Quicken Starter, Deluxe, and Premier. Previously, customers could purchase software licenses, but the company has recently moved to a yearly subscription structure.
The company also provides personal finance software through its newest Simplifi by Quicken software and Quicken Home and Business software. Although Quicken is behind both these product offerings, they are distinct from Quicken's original personal finance software options.
Quicken does not offer a free trial. However, there is a 30-day money-back guarantee.
Quicken Starter
Quicken's Starter plan costs $41.88 per year and includes the following:
One-month budget creation
Automatic transaction downloads
Savings goal budget
Budget transfers
Spending analysis
Multiple budgets
Rollover budgeting
Checking, savings, and credit card accounts
Subscription tracking
Manual accounts
Bill tracking, payment, and alerts
Cash flow projections
Bill management
Same-day online payments (extra fee)
Check payments to US addresses (extra fee)
Tax expense and transaction tracking
Tax data export
Basic reporting
Transaction memos and notes
Manual transaction review
Custom tags and spending categories
Phone and chat support
Quicken Deluxe
Quicken's Deluxe plan costs $59.88 per year and includes everything in the Starter plan, plus:
Custom savings goals
What-if analysis
Calendar and fiscal year budgeting
Loans, assets, and brokerage accounts
Education (529) and custodial account
Retirement account tracking
Home value tracking
Net worth tracking
Schedule A tracking
Track portfolio changes
Download security prices and history
Customizable portfolio view
Investing reports
Quicken Premier
Quicken's Premier plan costs $83.88 per year and includes everything in the Deluxe plan, plus:
Advanced retirement and investment tools
Track your home's market value
Free bill payments
Schedule B tracking
Automatic security price download (15-minute intervals)
Tax modeling
What-if tool for capital gains or selling
Individual holdings evaluation (ETF/mutual funds)
Premium customer support
Advanced tax reports
Extra Quicken Costs & Fees
| Quicken Extra Costs | Price |
| --- | --- |
| Make same-day online payments | Starting at $9.95/month (Starter and Deluxe plans only) |
| Generate check payments to any US address | Starting at $9.95/month (Starter and Deluxe plans only) |
| Backup disc | $4.99 |
Quicken has only three extra costs and fees that users should be aware of, including two bill pay options and a backup disc purchase option.
The bill pay options are relatively straightforward but priced high. Users enrolled in automatic bill pay will most likely not need these features.
The backup disc option is available to those who would like a hard copy of their Quicken data and can be purchased at checkout when subscribing to Quicken.
Is Quicken Easy To Use?
Quicken has a bit of a learning curve but is generally easy to use. The software's dashboard is well laid out and easy to navigate. It may take some time to get all your expenses, income, investments, and accounts set up in the software, but once that's done, it's smooth sailing. The software offers automatically downloaded bank transactions, so your job will primarily be reviewing and categorizing as the software learns your spending habits.
Quicken is a locally-installed program (Mac and Windows) with a web portal and mobile app companions. Certain features (such as downloading bank transactions and bill pay) require internet access, but most budgeting can be done offline. Automatic updates also ensure you have access to the latest feature and fixes.
Quicken Features
| Quicken Features | Availability |
| --- | --- |
| Budgeting | |
| Tax Support | |
| Invoicing | |
| Estimates | |
| Client Portal | |
| Contact Management | |
| Expense Tracking | |
| Bank Reconciliation | |
| Chart Of Accounts | |
| Accounts Payable | |
| Inventory | |
| Time Tracking | |
| Project Management | |
| Number Of Reports | 50+ |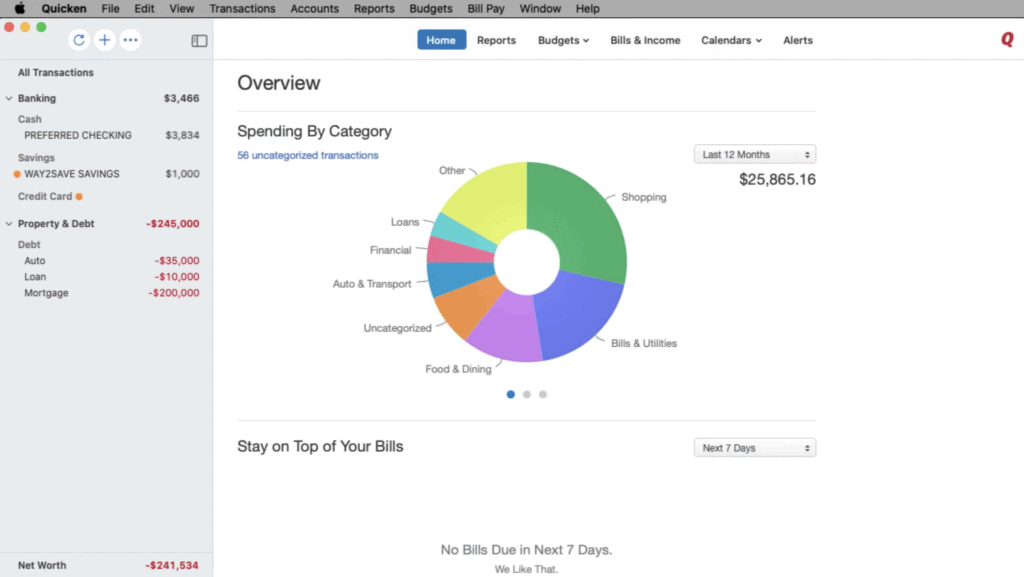 Quicken Starter, Deluxe, and Premier offer an incredible number of features to help you manage your personal finances. The software's features include investment tracking, budget customization, automatic transaction download, bill management, expense management, and much more. Compared to other personal finance management software on the market, Quicken leads the pack with a robust set of features and cross-platform budgeting.
Overall, Quicken is a personal finance management solution that is ideal for individuals who want to manage their money better. Just keep in mind that Quicken's core offerings aren't meant for businesses, so you won't find inventory management, time tracking, project management, or other business-specific finance management features.
Quicken Customer Service
| Quicken Support | Availability |
| --- | --- |
| Phone Support | |
| Email Support | |
| Support Tickets | |
| Live Chat | |
| Dedicated Support Representative | |
| Knowledge Base or Help Center | |
| Videos & Tutorials | |
| Company Blog | |
| Social Media | |
Happily, one thing H.I.G. Capital did not maintain after the Quicken acquisition was poor customer support (Intuit is notorious for terrible customer service). Quicken offers phone and live chat support from 5 AM PT to 5 PM PT on Monday through Friday. In addition to phone support, Quicken has tons of built-in support, and its help search function works well.
Each support option below is available for every tier of Quicken. The premium customer support of Quicken Premier puts you at the front of any phone wait times.
Quicken Integrations
Quicken connects with thousands of online lenders and banking institutions, so you can easily pull in your bills and transactions. The software also syncs with data from Zillow and Morningstar's Portfolio X-ray tool. Every Quicken user gets 5GB of Dropbox storage to backup data.
Additionally, users can import data via CSV, QIF, or QXF files. You can export files and reports via QIF, QXF, PDF, or to specific programs, such as Excel or TurboTax.
Quicken Reviews
Quicken has been well-loved for most of its history; however, the recent acquisition and subsequent change from license pricing to subscription pricing has increased the number of negative customer reviews.
Quicken earned a 3.6/5 star rating on Trustpilot based on 6,400+ reviews. While many customers are generally happy with the product, there are numerous complaints regarding syncing, crashing, and login issues. Despite the negative reviews, customers seem happy with the software's ease of use, customer support, and robust budgeting features.
Negative Quicken Reviews
Long-time customers miss Intuit
The annual subscription pricing model is frustrating
Software bugs and crashes
Transaction syncing issues
Positive Quicken Reviews
Easy to use
Great finance management
Good feature selection
Affordable
Is Quicken Secure?
Since Quicken is a locally-installed software, security is predominantly up to you. Quicken throws you a bone by allowing you to password-protect Quicken backup files. Some Quicken features and its mobile apps require the internet and have built-in security features. Quicken has read-only access to your banking information and stores all data in a monitored database with firewall protection.
Quicken's security features include the following:
256-bit SSL encryption
Integrity checks
Firewall-protected servers
A password vault
Option to password-protect files
Final Verdict
Quicken Review Summary
Pricing
From $47.88-$83.88/year + taxes
Choose If You Need

Ample budget customization options
Excellent investment tracking
Cross-platform budgeting options
For individuals who are financially savvy or want a great level of detail regarding financing, Quicken is a great fit. The budgeting and savings goals features are also incredibly developed compared to other personal accounting software, and its customer support is excellent. To top it off, although Quicken is a locally-installed program, there are still mobile apps, so you can view your finances any time you'd like.
However, the software seems to be going through a turbulent time as it racks up complaints about syncing and crashing. So it's a good idea to take advantage of Quicken's 30-day money-back guarantee and trial the software before making a yearlong financial commitment.
Additionally, the sheer number of features and the slight learning curve may be overkill for individuals who want a simple way to manage their finances. If you want a simpler, cloud-based personal management tool, check out Mint instead.
Quicken FAQs
---
Try A Top Pick For Payroll
ADP Payroll


---
We like ADP Payroll for its advanced employee management, strong payroll features, and great customer support. Get three months free when you sign up through our links! Get Started.
Try A Top Pick For Payroll
ADP Payroll


---
We like ADP Payroll for its advanced employee management, strong payroll features, and great customer support. Get three months free when you sign up through our links! Get Started.
To learn more about how we score our reviews, see our
Accounting Software Rating Criteria
.