Expert Analyst & Reviewer

UPDATED
Advertiser Disclosure: Our unbiased reviews and content are supported in part by
affiliate partnerships
, and we adhere to strict
guidelines
to preserve editorial integrity.
Quicken

Pros
Advanced features
Well-designed UI
Decent mobile apps
Ample financial reports
Strong budgeting
Cons
Moderate learning curve
Limited automations
Quicken Overview
Quicken is a personal accounting software program that allows individuals to take control of their finances. This software, which was created back in 1982, has been one of the biggest names in personal financing for decades. In fact, it was the product that launched Intuit (the creators of QuickBooks) into what it is today. H.I.G. Capital acquired Quicken in 2016, and so far, the company has not disappointed.
While some long-time users dislike the new yearly subscription pricing structure, Quicken is the same reliable, full-featured finance management tool it has always been. The software offers expense tracking, budgeting, reporting, retirement planning, and more. It also tracks your spending trends, so you can know exactly where your money is going.
The software can be unintuitive at times, and the lack of automatic transaction downloads is a bit of a time-waster. However, the software is still a great option for individuals looking to manage their personal finances.
Read on to learn more.
Quicken Pricing
Quicken offers three different pricing packages for personal financing software. Previously, customers could purchase licenses of the software, but the company has recently moved to a yearly subscription structure. While many users complain about the new yearly payments, Quicken is often running promotions on its site for discounted software.
There is no free trial of Quicken; however, there is a 30-day money-back guarantee.
Starter
The Starter plan costs $35.99/year and includes:
Income tracking
Expense tracking
Spending trends
Budgeting
Reports
5GB Dropbox storage
Deluxe
The Deluxe plan costs $51.99/year and includes everything in the Starter plan, plus:
Track loans
Track investments and retirement accounts
Premier
The Premier plan costs $77.99/year and includes everything in the Deluxe plan, plus:
Advanced retirement and investment tools
Track home's market value
Bill pay
Schedule D
Premium customer support
Quicken Starter and Quicken Deluxe users can opt to add premium customer support and/or bill pay for additional monthly charges.
Quicken also offers a Home & Business version that is ideal if you need a combined personal and business finance management. The software works exceptionally well for managing rental properties. Read our full Quicken Home & Business review to learn more.
Cloud-Based Or Locally-Installed
Quicken is a locally-installed program, although certain features (such as downloading bank transactions and bill pay) require internet access. Unlike most locally-installed software, Quicken has mobile apps that sync directly with your installed Quicken profile, so you can access your data without being stuck at your computer. Automatic updates also ensure you have access to the latest feature and fixes.
At the request of its users, Quicken has added Quicken on the Web to the latest version of the software. With this feature, you can access key information, including balances, accounts, budgets, and transactions from any computer, allowing you to sync your account across the web, mobile, and desktop easily.
Hardware & Software Requirements
Quicken can be purchased for either Windows or Mac. The computer requirements vary for each.
For Windows, users will need:
Windows 7, 8, 8.1, or 10
1024 x 768 screen display
1 GB memory (minimum)
450 MB free disk space (minimum)
For Macs, users will need:
OS X 10.11+
1280 x 800 screen display
Both products require an internet connection for setup. Unlike most locally-installed programs, Quicken offers mobile apps. The Quicken app is available for iPhones (iOS 9.0+) and Androids (varies by device).
Specific Size Of Business
Unlike most of the accounting solutions we review, Quicken Starter, Deluxe, and Premier are not designed for business use. Quicken is a personal finance management solution that is ideal for individuals who want to manage their money better. Quicken is best for more hands-on individuals who want a great deal of detail and control over their personal accounting and financial planning.
You can create multiple Quicken files using a single Quicken subscription.
Ease Of Use
For the most part, Quicken is easy to use, although some features are not as intuitive as they could be. The software is well-organized, and there are plenty of support options to help you learn how to use it. Some features do take a while to learn, and a few users have complained that they think the software could be streamlined.
Quicken Features
Quicken offers an incredible number of features to help you manage your personal finances. Here are a few of the most notable:
Dashboard: Quicken has a well-organized dashboard with graphs to show you where your money goes, any upcoming bills, the total you've spent, and if you've gone over your budget. On the side, you'll also see the total for any checking accounts, savings accounts, credit cards, property, debt, or savings goals you've set up.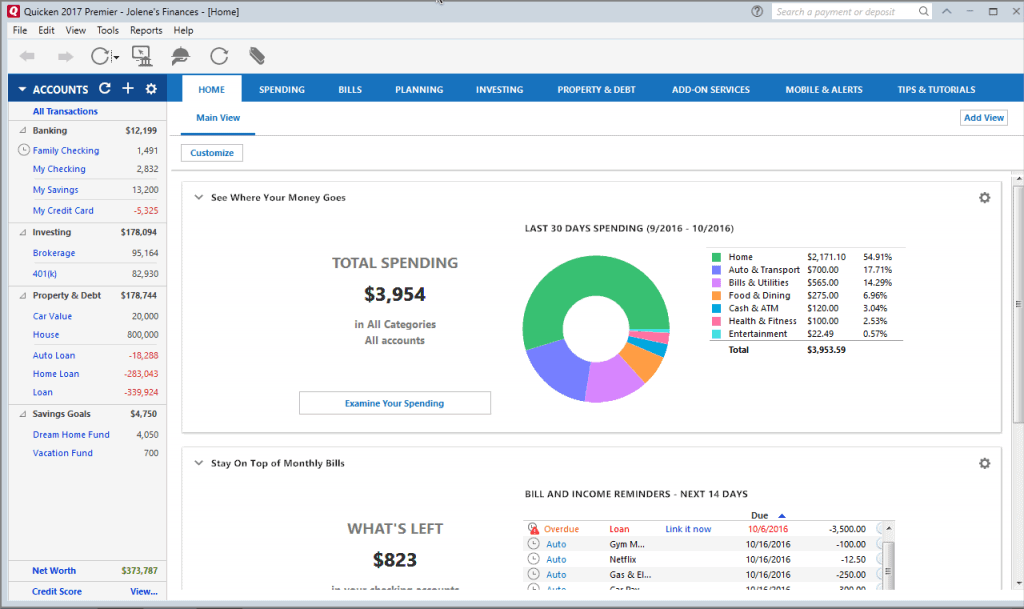 Expense Tracking: You can manually enter income and expenses into Quicken, or you can connect directly to your bank to download them. Transactions do not automatically download, so you'll need to refresh them each time you open the software. While this is a bit of a hassle, you can schedule updates. Quicken automatically categorizes your transactions and shows your spending trends. You can edit the categories as much as you like. You can also track projected transactions to see what your spending balance will be with any upcoming expenses deducted.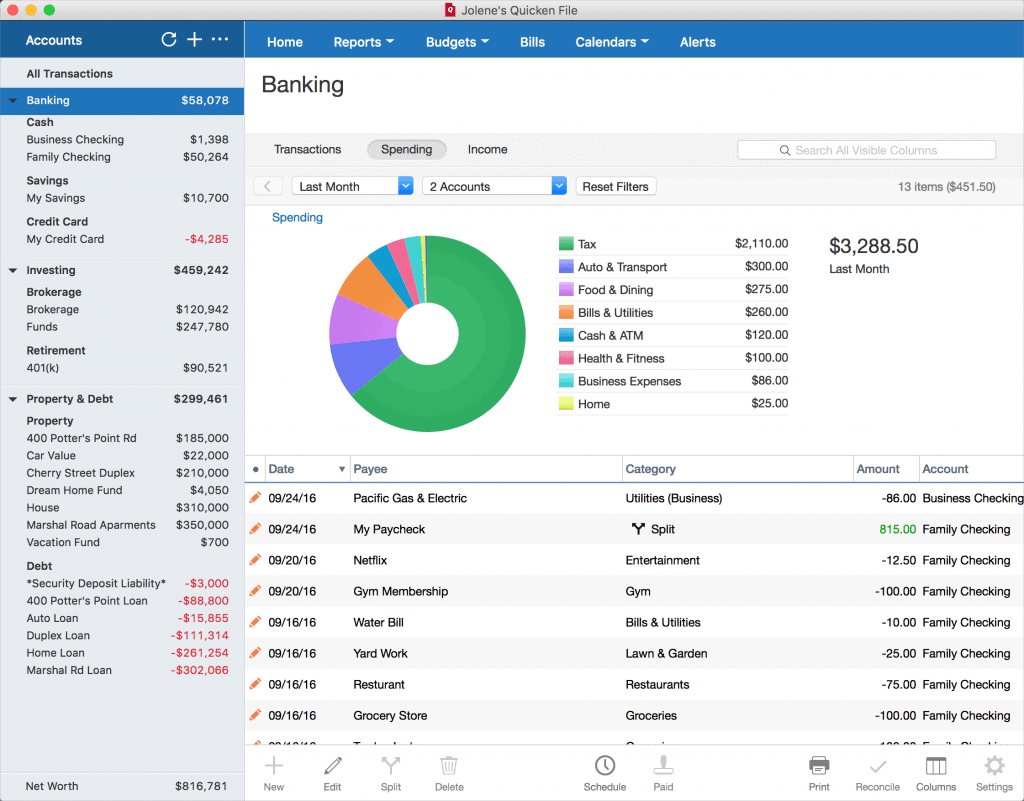 Bank Reconciliation: Quicken makes it easy to reconcile your bank account using your paper statement or your online balance.
Bills: You can connect your Quicken account to your online bills, so you can track your upcoming bills. You can enter manual bills as well. Bill Pay, Quicken's online bill payment service, is only available for Quicken Premier (although you can purchase the service for an additional cost each month).
Budgeting: One of my favorite Quicken features is budgeting. You can create budgets by the month, quarter, or year. When you connect to your bank for the first time, Quicken will automatically create a budget for you based on your spending, which you can adjust as needed. You can also base new budgets on existing transactions and spending trends. Quicken budgets can be as basic or as detailed as you want.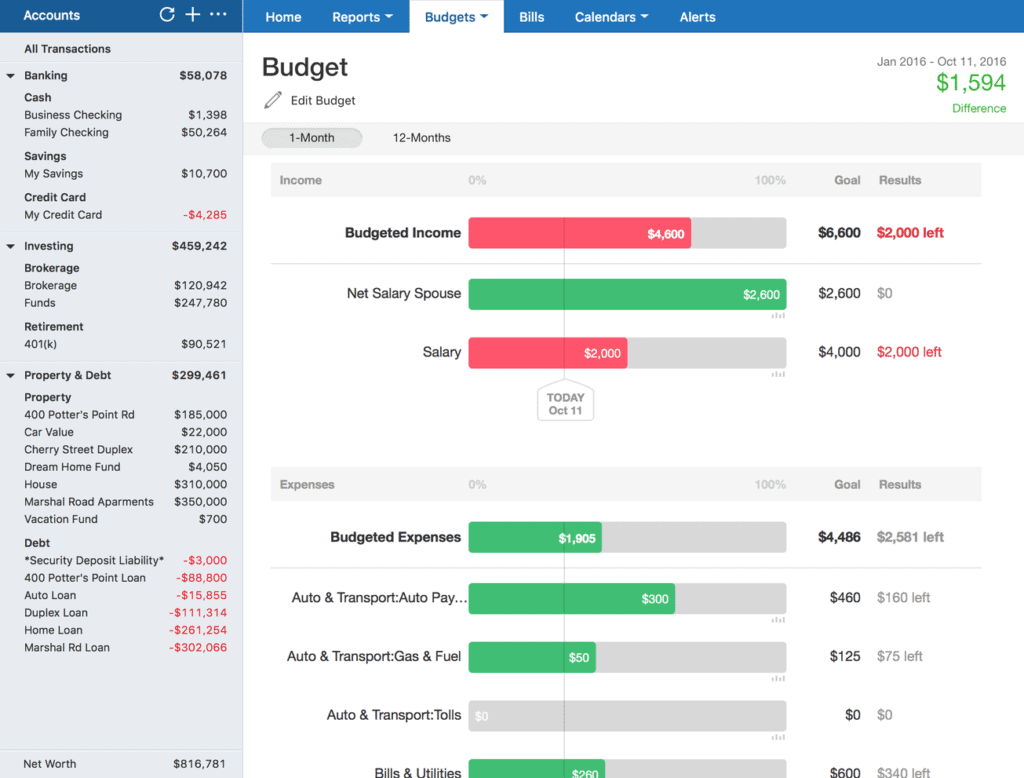 Savings Goals: Another great feature is the ability to create savings goals. Tell Quicken what you're saving for, how much you want to save, and when you want to have it saved by, and it will tell you how much you need to put aside each month. Quicken will ask which account the goal is tied to and will track your contributions to that account. You can set as many goals as you like.
Personal Property Management: You can add your assets, such as cars, properties, etc., and their approximated value in Quicken. You can also add any debts, such as student loans or mortgages.
Investment Tracking: Quicken also lets you track your 401(k) or IRA investment accounts. Quicken Premier has added investment tools, such as a tax optimizer and Portfolio X-Ray tool. Premier also includes a lifetime planner where you can enter your retirement plan, assets, and expected living expenses to see how much money you'll need to retire.
Reports: Quicken offers nearly 50 reports to help you analyze your finances. Budgeting and spending reports are particularly insightful.
Print Checks: You can print checks directly from Quicken.
Credit Score: You can check your credit score using Quicken as well.
Debt Reduction Planner: Though not always accurate, the debt reduction planner can help you gauge how long it will take you to pay off your debts. You can use the "what if?" tool to see how increasing your monthly payment or adding a lump sum payment can help get you out of debt faster.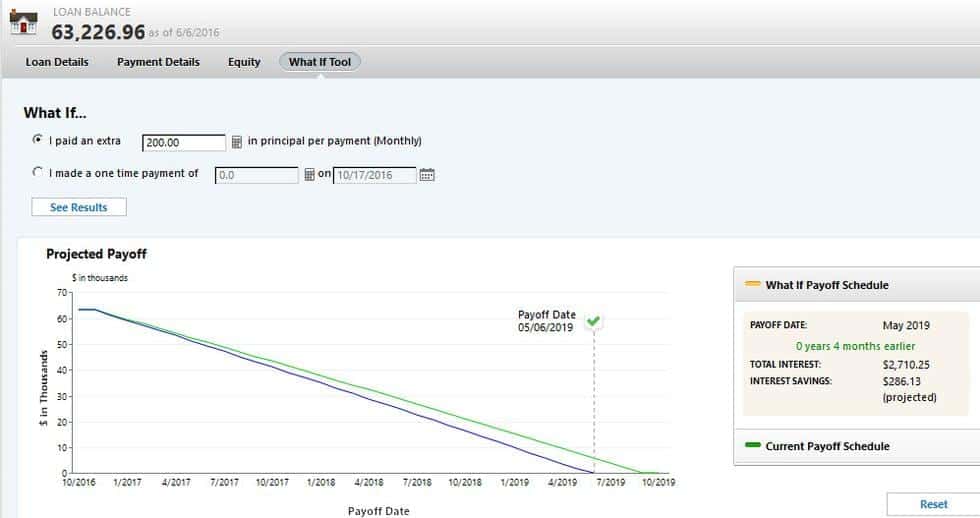 Tools: Other Quicken tools include a built-in calculator and calendar.
Importing/Exporting: You can import data via CSV, QIF, or QXF files. You can export files and reports via QIF, QXF, or to specific programs, such as Excel.
Quicken Customer Service & Support
Happily, one thing H.I.G. Capital did not maintain after the Quicken acquisition was poor customer support (Intuit is notorious for terrible customer service). With Quicken, phone support wait times are incredibly short in my experience, and I almost always went straight through to a representative. Knowledge varies from rep to rep, but I found most to be helpful. In addition to phone support, Quicken has tons of built-in support, and its help search function works well.
Each support option below is available for every tier of Quicken. The premium customer support of Quicken Premier puts you to the front of any phone wait times.
Phone: With quick phone answering times, this was my go-to for quick answers. Phone representatives can also walk you through sharing your screen to solve troubleshooting issues or explain difficult tasks.
Live Chat: Quicken's website has a live chat feature, which is mostly useful for sales questions and simple inquiries.
In-Software Help: The in-software help feature offers short how-to explanations for common questions and features tons of guides. There's also advice on topics such as getting out of debt or creating a budget.
Help Center: Quicken offers a help center with articles to explain basic functions or troubleshoot common problems.
Community Forum: There is a community forum where you can ask questions or make suggestions.
Getting Started Guide: There is a detailed Getting Started Guide that can help you learn how to use Quicken.
Quicken Reviews
Negative Reviews & Complaints
Quicken has been well-loved for most of its history; however, the recent acquisition and subsequent change from license pricing to subscription pricing has increased the number of negative customer reviews. Here's what users have to say:
Long-Time Users Miss Intuit: Many long-time users are dissatisfied with the new Quicken product, saying it has more glitches and more expensive pricing.
Subscription Pricing Is Frustrating: For many, the appeal of Quicken was the ability to buy a one-time license and renew that license only every few years. Many users dislike the new yearly subscription pricing model and several reported issues with transferring data from past licenses.
Bugs & Crashes: Several users reported bugs and crashes. I never experienced any bugs but did find the software slow at times.
Issues Loading Transactions: Some users had problems getting their bank transactions to load correctly. Some had issues syncing their accounts at all, while others experienced duplicate transactions, and others still saw incorrect totals. Several users request automatic transaction uploads to avoid this problem altogether.
Positive Reviews & Testimonials
Despite the negative reviews, Quicken is still loved by many. It maintains a strong reputation in the personal accounting software world, and the number of positive reviews outweighs the number of negative reviews. The software receives 3.82/5 stars on GetApp and 4.1/5 stars on G2. Here's what users like about the software:
Easy To Use: Users appreciate that the software is easy to use, making finances less of a chore.
Great Finance Management: The highest praise of Quicken is that users can easily manage their finances and stay on top of their money. Users appreciate being able to track expenses and pinpoint their spending trends.
Good Feature Selection: Users like the feature set offered. Budgeting, reporting, and planning and investing tools are some of the favorites.
Affordable: Many users find the software affordable and think a yearly subscription is worth it for the features you get.
Quicken Integrations & Add-Ons
Quicken has seven add-ons and connects with 11,000+ online lenders and 14,500+ banking institutions, so you can easily pull in your bills and transactions.
Security
Since Quicken is a locally-installed software, security is predominantly up to you. Quicken throws you a bone by allowing you to password-protect Quicken backup files. Read our post, How To Keep Your Locally-Installed Accounting Software Secure, to learn more about protecting your data.
Some Quicken features and its mobile apps require internet and have built-in security features, such as 256-bit SSL encryption. Quicken has read-only access to your banking information and stores all data in a monitored database with firewall protection.
Final Verdict
Despite numerous complaints from existing Quicken users about the new subscription pricing, Quicken is still a great product and offers an incredible number of features. For individuals who are financially savvy or want a great level of detail regarding financing, Quicken is a great fit. The budgeting and savings goals features are also incredibly developed compared to other personal accounting software, and its customer support is excellent. To top it off, although Quicken is a locally-installed program, there are still mobile apps, so you can view your finances any time you'd like.
That said, the sheer number of features and the slight learning curve may be overkill for individuals who want a simple way to manage their finances. If you want a simpler, cloud-based personal management tool, check out Mint instead.
---
Try A Top Pick For Payroll
ADP Payroll


---



We like ADP Payroll for its advanced employee management, strong payroll features, and great customer support. Get three months free when you sign up through our links! Get Started.
Try A Top Pick For Payroll
ADP Payroll


---



We like ADP Payroll for its advanced employee management, strong payroll features, and great customer support. Get three months free when you sign up through our links! Get Started.
To learn more about how we score our reviews, see our
Accounting Software Rating Criteria
.