Expert Analyst & Reviewer

UPDATED
Advertiser Disclosure: Our unbiased reviews and content are supported in part by
affiliate partnerships
, and we adhere to strict
guidelines
to preserve editorial integrity.
Redbooth
Pros
Well-designed user interface
Low monthly cost
Easy to use
Cons
Limited features
Limited customer support
Redbooth Overview
Redbooth began in 2008 as Teambox, a simple project management program geared toward smaller organizations. Six years later, the company rebranded the platform as Redbooth, prioritizing speed and ease of use. The result is a product that merges task management features, file sharing, and, with its dedicated "Conversations" tab and numerous commenting features, live collaboration tools.
We consider Redbooth to be task management software. It is missing a few features (project budgeting, risk assessment, etc.) that typically come with full project management solutions. That said, Redbooth is a particularly good option for small teams that need easy-to-use task management. And it's not just for small businesses — with 3,000 companies on board, including the likes of Unicef, Ritz Carlton, and NBC, the Redbooth app seems to deliver the task management value its clients require.
Read on for our full Redbooth review. We'll discuss Redbooth's pricing, features, customer support, and more.
Redbooth Pricing
Redbooth has several pricing plans available, all of them priced per user. When you set up your account with Redbooth, you have the option of paying monthly or annually for your plan. Purchase a full year of the software upfront, and you'll benefit from a 20% discount.
Nonprofits, educational institutions, teachers, and individual students can get a 25% discount on Redbooth pricing. Additionally, groups of three students or more are eligible for a 50% discount.
If you're interested in Redbooth project management but aren't ready to commit to a paid subscription yet, you can try it out risk-free with a 14-day free trial. Alternatively, there's a free plan available, which you can use indefinitely.
Here are Redbooth's four payment plans (all prices listed represent the monthly billing model):
Free Plan
Redbooth's Free Plan includes:
Up to two users
2GB storage space
Up to two workspaces
Unlimited comments and conversations
Assign users and due dates
Exportable Gantt charts
Basic reporting
Task overview
Calendar
Email support
Community forums
Pro Plan
Redbooth's Pro Plan costs $12/user/month and includes everything in the Free Plan, plus:
Unlimited workspaces
5GB storage space
Unlimited users
Gantt charts with task dependencies
Time tracking
Tag manager
Multiple task assignees
Workload reporting
HD video meetings
Due date recommendations
Free guest users
Business Plan
Redbooth's Business Plan costs $18.75/user/month and includes everything in the Pro Plan, plus:
50GB storage space
Custom tag groups
Assignable subtasks
Trend reports and timeline overview
OneDrive for Business integration
Project status (coming soon)
Predict reports (coming soon)
Enterprise Plan
Redbooth's Enterprise Plan is available at custom pricing and includes everything in the Business Plan, plus:
500GB storage
Phone support
Free training
Cloud-Based Or Locally-Installed
Redbooth is primarily cloud-based software. It also offers desktop apps for Mac and Windows.
Hardware & Software Requirements
The Redbooth web application works best with the most updated versions of Internet Explorer, Chrome, Firefox, and Safari.
Redbooth also offers mobile apps for iOS (11.0+) and Android (4.1+). You can use these apps to track your projects, make comments, and create new tasks.
Specific Size Of Business
We recommend Redbooth to teams of 50 people or fewer. Redbooth is a fairly simple task management platform, and larger teams may need a more advanced project management solution.
Ease Of Use
Redbooth focuses on giving its customers an easy-to-use task management program, and it succeeds in that goal! Redbooth's UI is simple, with four main menu items: Dashboard, Workspaces, HD Meetings, and Reports. The Dashboard section takes you to your account with all the tasks assigned to you. A workspace is essentially Redbooth's name for projects. Within each workspace, you can find tabs for Tasks, Convos, Notes, and Files. The HD Meetings tab gives you access to video calls, and the Reports tab gives you tools to view your entire account at a glance. Redbooth is quick to learn and well-designed.
In addition, Redbooth provides a variety of other time- and effort-saving features. With the Redbooth quick-add feature, you can create multiple new tasks in your Workspaces by quickly typing in the task name and hitting enter. What's more, you can use the easy comment features to communicate about each task and use @mentions to notify someone quickly. Every function in Redbooth is simple, quick, and intuitive.
Redbooth Features
As a task management tool, Redbooth's features focus primarily on creating, assigning, planning, and organizing tasks. More complex features that help project managers budget for a project (such as job costing and employee scheduling) are not available. That said, Redbooth is great for Kanban board planning, and it works well for communicating across a small team.
Here are a few of Redbooth's key features:
Dashboard: Redbooth's Dashboard shows each user an overview of the tasks assigned to them. You can see what's due soon and what is overdue. The "Updates" section shows activity on the tasks you have been assigned.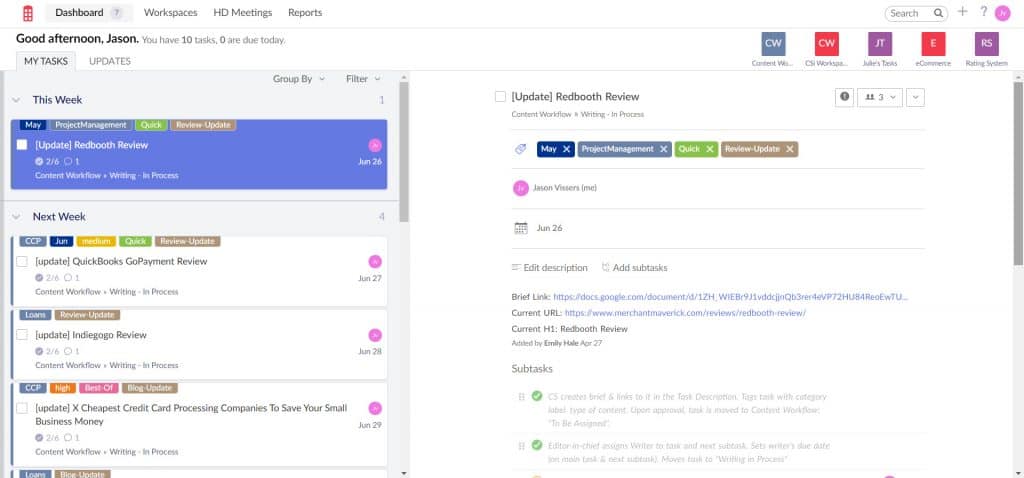 Project Management: In Redbooth, "Workspaces" represent projects. You can use the Kanban board view to plan and track your projects using columns, such as "To-Do," "In Progress," and "Done." You can also view your workspaces using the timeline view (which is Redbooth's Gantt chart).
Tasks: Redbooth allows you to create tasks and assign them to team members quickly. Redbooth also allows you to create subtasks and set due dates for these subtasks. If you find yourself creating the same task repeatedly, you can simplify the process by creating a template.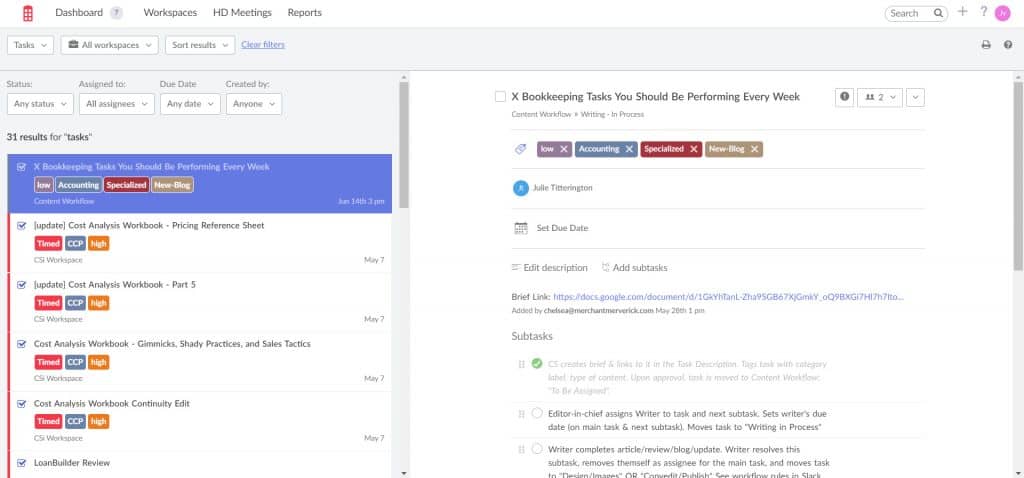 Gantt Charts: Gantt charts in Redbooth are called "timeline view." You can use the timeline to create and assign tasks, more easily adjust task duration, and establish task dependencies. Changes you make to the Gantt chart transfer over to the Kanban board view. Redbooth is created to operate primarily as a Kanban board, so you cannot set the timeline view to be your default view, which may be frustrating for some. What's more, to add a task to your Gantt chart, you first have to set a due date. In some programs, you can just add task duration and task dependencies, and the software schedules due dates based on that information — Redbooth is missing this feature.
Team Management: The Workload Reports feature lets you view the tasks assigned to each team member. This workload management feature is relatively basic because it does not indicate how many hours each task requires, and it does not take into account employee schedules.
Calendar: The calendar in your Reports section lets you view tasks assigned to select individuals. You can also add tasks from the calendar view.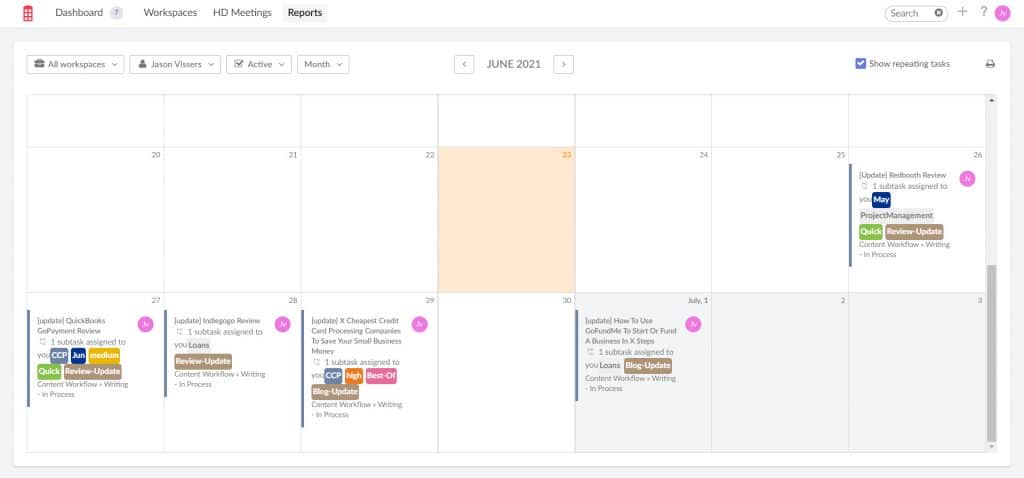 Time Tracking: Although Redbooth does not have a time tracking stopwatch feature, you can manually enter hours worked in the comments section on each task.
Messaging: Redbooth offers a few communication tools. Each workspace has a Conversations tab, which serves as a discussion page. Team members can also share documents directly into the conversation and view them without leaving the page. Additionally, team members can communicate using the comments and task description fields on each task. Use @mentions to quickly notify another team member about a task that requires their attention.
Email Settings: Customize your email settings to notify you (or never notify you!) of activity on your tasks and projects. With the Redbooth + Gmail plugin, you can also quickly convert email conversations into tasks.
Reports & Analytics: Redbooth offers multiple reports that you can use to view each workspace and check how many tasks are late, on time, or not yet begun. These reports are fairly basic, but they are also nicely structured and easy to use.
HD Video Calls: Redbooth partners with Zoom to offer video calling features to its users. Schedule one-on-one meetings or conference calls.
Redbooth Customer Service & Support
Redbooth offers customer service primarily through email and self-help resources. Phone support and training are only available on the Enterprise-level plan. Here are Redbooth's support options:
Phone: Phone support is only available for users on the Enterprise plan.
Email: All users get access to email support. You can send an email or submit a form to get help.
In-Software Help: Your Redbooth account includes links to the help center and video tutorials. In your admin panel, you can also find links to download the desktop and mobile apps and add integrations.
Help Center: Redbooth's help center contains a series of written tutorials to help you answer simple questions, navigate Redbooth's features, and troubleshoot some common problems. The help center includes support articles with text, screenshots, and videos.
Videos: Redbooth has a page in its support center that includes a dozen tutorial videos. Most of these videos are a couple of minutes long, and there is one twenty-minute product demo. You can also find more tutorial videos on Redbooth's YouTube page, but you should keep in mind that they are a year old and might be slightly outdated.
Training: Users on the Enterprise Plan get access to personalized training.
Blog: The Redbooth blog is infrequently updated with project management tips and information about product updates.
Social Media: Redbooth has accounts on Facebook, Twitter, LinkedIn, and Instagram. In general, these accounts are inactive and haven't been updated since 2018. The one exception is Redbooth's Twitter account, which it uses to notify users about scheduled maintenance and system outages.
Redbooth Reviews
Negative Redbooth Reviews & Complaints
In general, reviews of Redbooth are positive. However, Redbooth isn't perfect. We've noticed a few trends among customer complaints. Current users mention the following negative aspects of Redbooth:
Basic Features: Redbooth is designed for Kanban board task management. The software's Gantt chart features are fairly basic, and Redbooth is missing a few additional project management tools. Most noticeably, Redbooth does not provide any budgeting features for setting and tracking project expenses.
Poor Customer Support: For most users, support is only available by email, which can be inconvenient if you need immediate assistance. I've also seen a handful of complaints that say the customer support team was not helpful.
Difficulty Viewing Documents: Some commenters mentioned problems with viewing Word documents from within their Redbooth account. To view these documents properly, users sometimes have to go through the extra step of downloading the file.
Positive Redbooth Reviews & Testimonials
Despite the negatives presented above, Redbooth earns positive reviews from current users. Redbooth currently boasts a solid 4.4/5 stars on G2.com and 8.7/10 stars on TrustRadius. Here's what Redbooth users love about the platform:
Easy To Use: This is the most common comment we see across software review boards. Users agree that the software is intuitive and quick to learn.
Visually Appealing: It can difficult to get your team members to use a complicated and ugly project management solution. Because Redbooth is easy to use and visually appealing, many users find that team members are quick to implement the software in their daily work.
Keeps Everyone Organized: Redbooth provides users with a central hub for their information. Each workspace includes tasks, conversations, and files relevant to each project. This helps team members stay on the same page, and it reduces the amount of time that individuals spend looking for information.
The following are excerpts from positive customer reviews:
Redbooth is an integral part of our organization. It has changed the way we communicate with our clients, staff and vendors. It is truly revolutionary and has save us time and money. Our customers, staff members and vendors love Redbooth.

The integration of Box into the Redbooth platform takes Box to a whole new level. Having integrated tasks, discussions, calendaring and Group chat in one centralized location has increased our productivity tremendously. Bottom line, we get more done with Redbooth.
Redbooth Integrations & Add-Ons
Redbooth supports just 14 integrations, including tools for file sharing, communicating (Gmail, Slack, and Outlook), and time tracking (Clockify).
This is a very small selection of integrations. Fortunately, Redbooth integrates with Zapier, which is a service that allows you to connect programs such as Redbooth to hundreds of other third-party apps.
If your favorite integration is not available, Redbooth has an open API, and the company is willing to work with you to make sure you get what you want out of the product.
Security
Redbooth protects users in the following ways:
Secure Hosting: Hosted by Amazon Web Services, Redbooth's web platform is secured in a "fully redundant data center which has achieved PCI DSS Level 1, ISO 27001 certification and has successfully completed multiple SAS70 Type II audits." AWS also offers protection against DDoS attacks, packet sniffing by other tenants, and Man-In-The-Middle attacks.
Vigilant Monitoring: Both the Redbooth servers and data are carefully monitored 24/7 for intrusion detection and availability, with a special emphasis on maintaining 99.9% uptime.
Restricted Access: There are strict regulations regarding physical access to the Redbooth servers; the servers themselves are fully protected with power redundancy, temperature controls, and fire detection systems.
Safe Connections: Redbooth guarantees a secure connection at all times. Customer data is encrypted for transfer using SSL and is accessible exclusively via HTTPS.
Password Encryption: User passwords are stored with one-way, 256-bit encryption.
Redbooth FAQs
Final Verdict On Redbooth
Redbooth is a great software package for small teams looking for an easy-to-use, visually appealing way to track tasks and projects. Although the software does not include all of the budgeting features some businesses may need, small teams will appreciate the low cost and the immediate usability of the platform.
Does Redbooth sound like a good option for your business? If so, we recommend signing up for a free 14-day trial. It's risk-free, and at the end of the trial, you can always choose to downgrade to Redbooth's free plan.
However, if Redbooth doesn't seem like the best task management tool for you, try looking into a few more robust solutions, such as Wrike, Teamwork, and Smartsheet. These solutions have a steeper initial learning curve, but they might be a better fit for your business in the long run.
If you're still in the research process, here are some additional project management resources!
---
Featured Free Corporate Card
Ramp


---
Ramp offers a free corporate card for virtually any business. Start earning rewards with your corporate spending today. Get your free card.
Featured Free Corporate Card
Ramp


---
Ramp offers a free corporate card for virtually any business. Start earning rewards with your corporate spending today. Get your free card.
To learn more about how we score our reviews, see our
Project Management Software Rating Criteria
.