Expert Analyst & Reviewer

Updated on:
Advertiser Disclosure: Our unbiased reviews and content are supported in part by
affiliate partnerships
, and we adhere to strict
guidelines
to preserve editorial integrity.
Retail Pro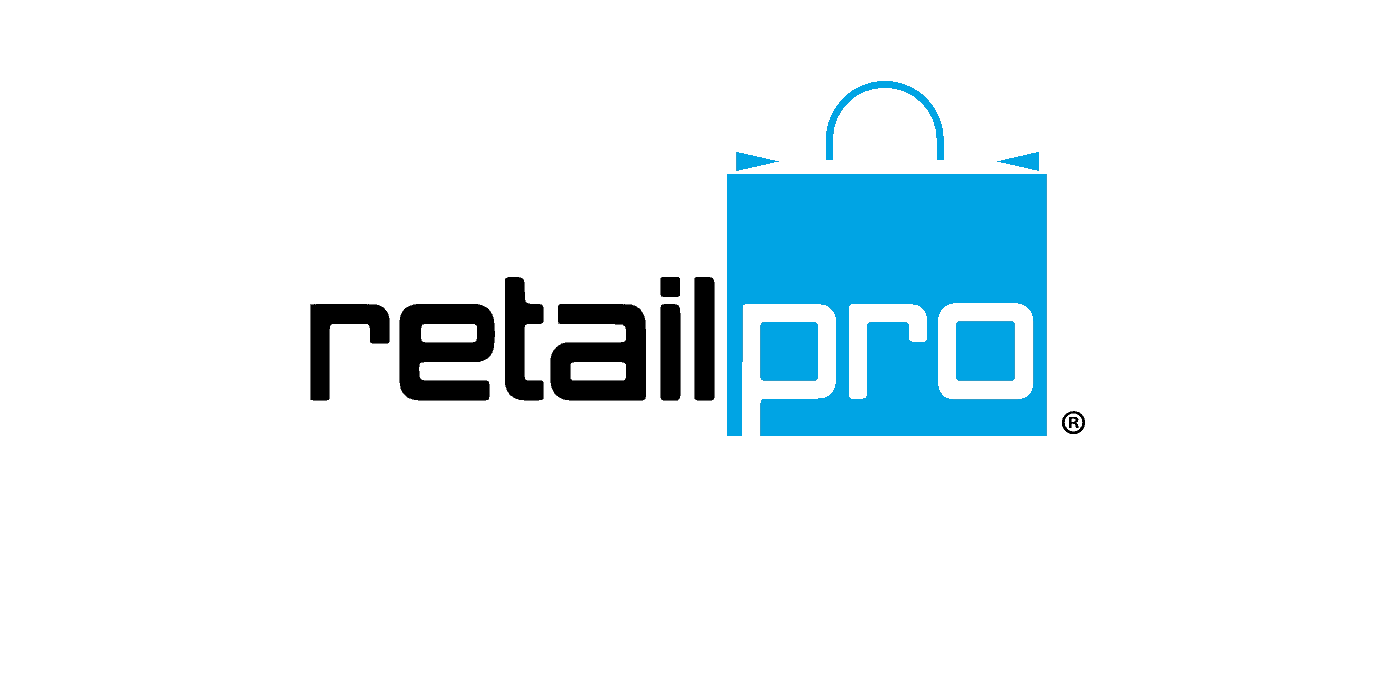 Pros
Highly customizable
Numerous features
Multistore capability
Cons
Expensive
Buggy
No free trial available
Retail Pro Overview
Retail Pro is a global POS software used by more than 9,000 customers in more than 125 countries. Boasting over 30 years in the POS industry, this software has been the go-to choice for many big-name retailers. These include The North Face, Adidas, Oakley, ACE Hardware, and Toys R Us. With all the great features of other modern POS systems — inventory, customer support, and employee management functions as well as international business capabilities — Retail Pro software almost seems too good to be true. But if you take a closer look, you'll find out this software is locally-installed, in contrast to all the popular cloud-based POS systems. Though it has some cloud features offered through its Retail Pro Prism platform, the POS also suffers from many pitfalls typical with locally-installed software. Read on to learn more about the positives and negatives of this system.
Don't have time to read an entire review? Take a look at our top-rated point of sale solutions for a few quick recommendations. Every option we present here offers excellent customer support, detailed user interfaces, and easy-to-use software, all for a reasonable price.
Pricing
Retail Pro is the developer of its point of sale system and therefore does not sell anything directly, including its own software. Authorized company resellers (a.k.a. "business partners") provide everything from the peripheral hardware to technical support. Unfortunately, I was only able to gather a little pricing information from these resellers. You should also note that since it's a locally-installed system, there is no free trial available — though you can request a demo with Retail Pro.
As for the full price breakdown, I was told that the entire Small Business Edition system (including software, hardware, technical support, and upgrades) costs about $11,000. The software itself is about 15% of that cost (about $1,600), and that's the cheapest edition designed for the fewest number of workstations. Depending on your business's size and the amount of peripheral hardware you already have (assuming it works with the system), Retail Pro can get pretty pricey. You'll also have to pay for upgrades to new releases of Retail Pro.
Additionally, you have the option to pay extra for Retail Pro's Software Assurance program, which provides a higher level of technical support, continuous product updates and bug fixes, discounts on training and new Retail Pro releases, and other benefits.
Retail Pro offers several different editions of the current version, Retail Pro 9. The only edition for which pricing is listed on Retail Pro's website is the hybrid (cloud and locally-installed) Prism edition, which starts at $119/month/location. However, this $119/month only includes the "license fee" and not the POS hardware you'll need to run Retail Prism, including a local server (see server requirements in Hardware & Operating System Requirements). The $119/month cost also doesn't include training, installation, or other service fees. So that price doesn't give you a full picture of the total cost. Unlike most cloud POS systems with a subscription-based pricing model, Retail Pro Prism requires a two-year minimum commitment.
Here's some more information about each version of Retail Pro available for purchase:
Small Business Edition:
Designed for local retail operations, including independent retailers, franchises, and small business owners
Up to five stores and ten stations
Includes a full suite of functions
Supports a single language, base currency, and tax structure
Global Edition:
Designed for small businesses to massive multinational operations, specifically for independent specialty retailers who need greater control and insight
An unspecified number of stores
Includes a full suite of functions
Supports multiple languages, currencies, and tax structures
Provides tools to easily adjust and manage your business across the back office, store operations, and point of sale
Global Enterprise Edition:
Designed for multinational operations
An unlimited number of sites and seats
Includes a full suite of functions along with the High Availability database for enterprise-level performance
Supports multiple subsidiaries, languages, currencies, and country tax structures
License fee: $119/month/location for the first user, and $99/month for each additional user
Browser-based interface, which integrates with all other versions of Retail Pro 9 as well as your eCommerce website
Available on iOS, Android, and Windows
Includes an omnichannel inventory, multilocation support, plus most features of the standard edition of Retail Pro
Initial subscription term minimum of 24 months
Price does not include installation, training, and other service fees
Requires a local server
Cloud-Based Or Locally-Installed
Though Retail Pro's software is technically locally-installed, the new Prism modular system is web-based, making for a kind of hybrid POS.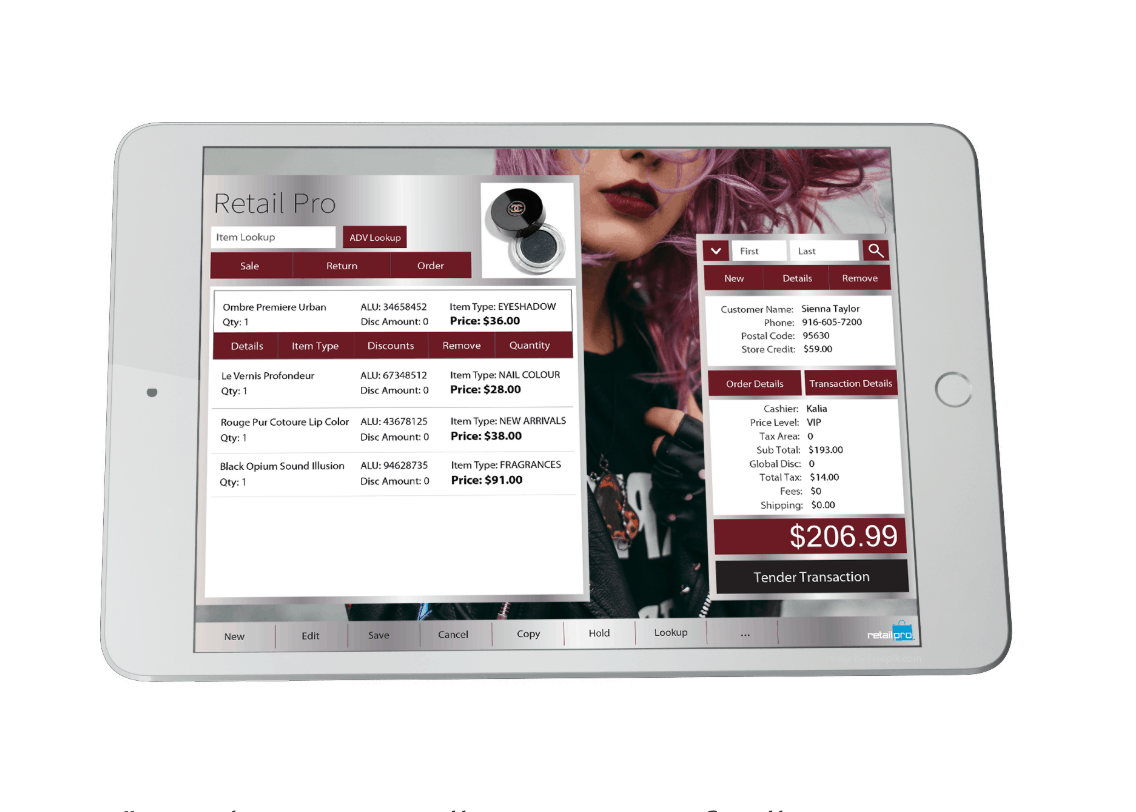 Essentially, Retail Pro 9 (the locally-installed system) houses the database necessary to store the inventory, reporting, and general POS data. Prism is a browser-based interface that gives merchants the ability to access, add to, and modify any of the information stored in one of three database options: Oracle, Microsoft SQL Server, and MySQL.
Specific Industry
Retail Pro software is designed for apparel, hard goods, home goods, sporting goods, and specialty retail stores. Really, any type of large retail operation could use it.
Specific Size Of Business
To justify the $11,00 you're going to need to invest in the system, resellers suggest that your business bring in at least $500,000 a year, though $700,000 to $800,000 is a safer figure. Small businesses and startups would be better off looking for a cheaper system — perhaps a cloud-based iPad POS. As for larger businesses, the software can handle large chains on an international scale, so the possibilities are virtually endless.
Ease Of Use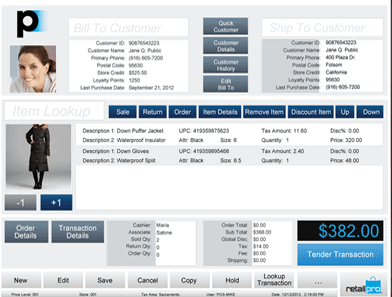 Though Retail Pro's interface doesn't have the clean, modern aesthetic of Apple, the system is relatively simple to use and highly customizable. One of the problems with feature-heavy systems is that the screen can get busy with drop-down boxes and fields that you might not even be using. This kind of clutter is not a problem with Retail Pro because everything is customizable. Making a page as complex or as simple as you want is as easy as right-clicking to add or delete a field within the interface. Depending on the customer or items getting purchased, prompts can also be set up for the cashier to suggest relevant upsells, cross-sells, or volume discounts. Also, receipts can be customized to include company logos and personal messages.
Inventory, customer, and employee management are all simple functions that can be explored in detail or displayed as simple information overviews. The auto purchase ordering function makes maintaining the preset number of items in each store and warehouse intuitive and straightforward. With multiple integrations to different accounting, marketing, and eCommerce applications, Retail Pro allows you to seamlessly manage every facet of your business.
Is Retail Pro as quick or easy to learn as a cloud-based POS, such as Square or Clover? Probably not. But being an enterprise-level POS, Retail Pro has a lot more features to familiarize yourself with.
Hardware & Operating System Requirements
Retail Pro is a locally-installed POS software requiring traditional servers and backups for multistation operation and data security.
The below system requirements apply to Retail Pro Version 9. But first, an important piece of information to note: In July 2019, Retail Pro moved v8 and v9 to "end of life"(EOL) status for sales to new customers. Customers who have Retail Pro v9 with Software Assurance will continue to have access to select updates for the foreseeable future. However, there will be no further Retail Pro v8 updates. When purchasing this system, make sure your reseller gives you the most up-to-date version (currently version 9.4) and hardware. If you buy your POS before a new version of Retail Pro rolls out, make sure the company will help you to update once it's released.
The minimum requirements for dedicated servers are:
Windows 2008 R2 (64-bit) or Windows 2012 (Retail Pro 9.3 only)
CPU: Core i7 2GHz for four to five workstations, Xeon 2GHz for six to ten workstations, and Dual Core Xeon for 10+ workstations
8GB memory
10k RPM hard drive
The minimum requirements for workstation computers are:
Windows 7 Professional (64-bit) or Windows 7 Ultimate (64-bit)
Core i3 2GHz CPU
4GB memory
7200 RPM hard drive
As with the pricing information, resellers were a bit cagey about handing over a list of compatible hardware. All I learned is that the program will work with various POS equipment and that the cost (depending on how much hardware you have to buy) will be about 20% of the $11,000 total ($2,000). Keep in mind that this figure is based on an estimate for a maximum of five stores. Any more than that and the cost will go up.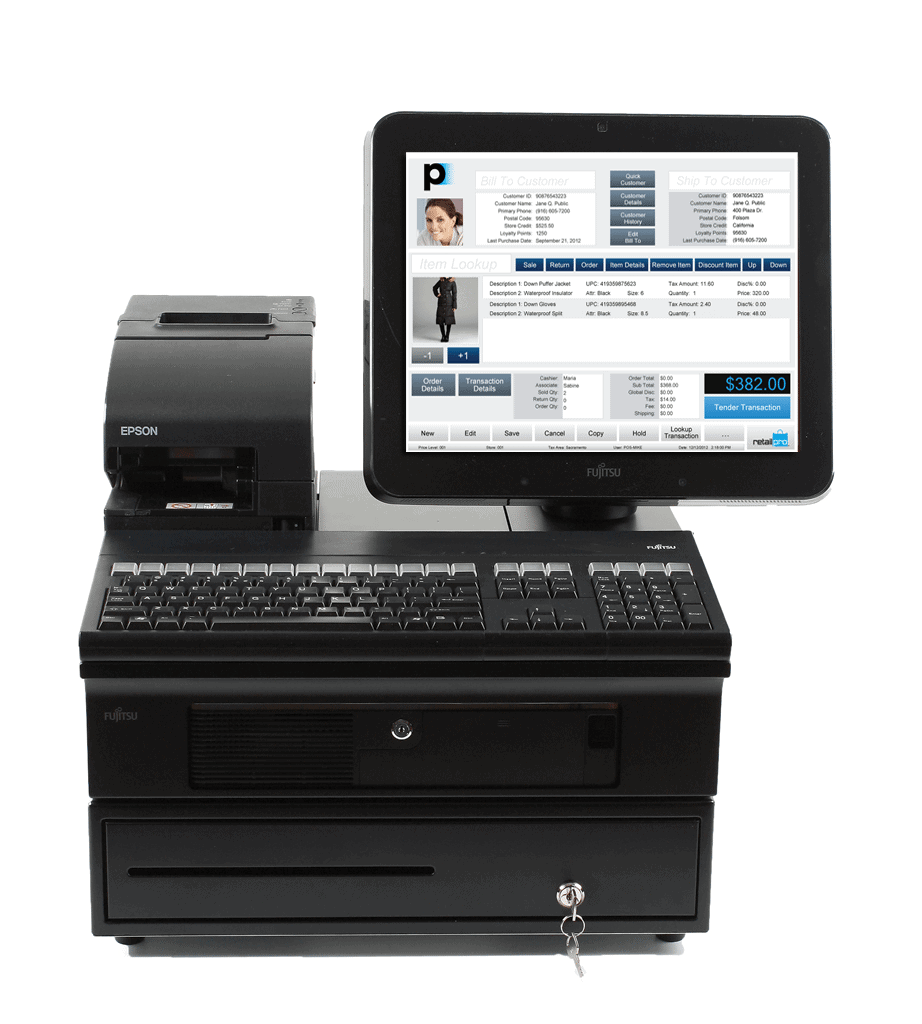 Features
Retail Pro offers a solid feature-set with a customizable interface and especially strong customer management capabilities.
Now for the nitty-gritty. The Retail Pro 9 system runs under a single module with all features nested within a row of drop-down buttons along the top of the screen:
Sales (where the terminal is located)
Merchandise (inventory management)
Purchasing (purchase orders and receiving)
Transfers (managing inventory between stores)
X/Z Out (closing and cash management)
Customer management
Employee management
Tools
Options
Additionally, you can create another toolbar along the right side of the screen with a series of one-touch buttons that will take you directly to the features you access most.
Here's a more detailed breakdown of features:
POS: One function worth noting here is that the POS screen is customizable to perform special tasks at different cash wraps (e.g., special orders, layaways, returns/exchanges, etc.). This sort of segregation can benefit customer queue speed by separating lengthy return/exchange transactions to a designated POS. Otherwise, the terminal includes such functions as automatically calculating and adding sales tax, accepting payments in multiple tenders, tracking customer info, tracking employee sales, completing discounts and promotions, and allowing for voids or returns.
EMV Compatible: Retail Pro uses the EMV-compatible VeriFone MX 915 reader.
Inventory Management: The system updates inventory instantaneously with every purchase or return, allowing for a real-time view of all levels. The system's style matrix allows for the easy input and tracking of items that may vary by style, color, or size. Additionally, the system allows for the transfer of inventory between stores. Plus, the auto-transfer recommendation function prompts you to transfer when stock levels are skewed between stores.
Purchase Order/Receiving Management: Preset your minimum and maximum stock levels for automatic notices to reorder inventory or set for auto PO creation to simplify maintaining your inventory. The system also supports ASN (automated shipment notice). ASN's are electronic files usually containing shipment dates, times, ID numbers, packing slip data, freight information, item details (including quantities), and PO numbers — all for in-transit monitoring.
Price Management: Multiple price levels, suggested pricing (based on costs), and time-based price changes (i.e., sales and promotions) are all possible.
Employee Management: Basic capabilities include secure login and monitoring, position-based security levels, cashier tracking, commission tracking, clocking in and out, tracking absences and tardies, and managing employee performance or productivity.
International Features: The system supports both a multilanguage (up to 18 different languages) and a multicurrency interface. You can select one currency as your base and then assign exchange rates as needed for foreign currencies along with the dates for those rates to take effect. This allows you to purchase items from foreign countries by assigning different currencies to particular vendors and items. You can also track costs by region or subsidiary. Plus, advanced tax features make it easier to comply with international taxes.
Advanced Reporting: The system comes with over 150 preloaded standard report options, including stock levels, best/worst sellers, top employees, top customers, sales tax liability, sales activity, sales summary, price levels summary, item summary, profit margin reports, best/worst selling dept/store/style/vendor, PO reports, employee performance, and audit reports. Version 9 introduced enhanced reporting capabilities, including creating custom reports and viewing reports while working offline.
Customer Management: Customer sales tracking allows you to create special offers, promotions, and discounts based on past purchases, create email or direct marketing campaigns, and special pricing for individual customers. The system also comes with a function to set up, manage, and execute a customer loyalty program where rewards can be determined by either the currency value or point value of purchases.
Mobile Features: Prism is Retail Pro's modular platform for touch devices. Depending on how you want to use each of your devices, Prism allows you to customize different devices for different uses. For example, you can have a kiosk in the backroom for purchase orders/receiving or perhaps set up an iPad as a mobile POS with the ability to ring up sales and access customer information on the sales floor. With the customization options that Retail Pro offers, Prism is just another tool allowing each merchant to run their businesses their way.
Omnichannel Inventory: This feature, included in the Prism platform, allows retailers to integrate their in-store inventory, across multiple locations, with their inventory from their integrated eCommerce platform. (See supported eCommerce platforms in Integrations & Add-Ons.) As Retail Pro mentions in its blog, eCommerce options are of increasing importance to retailers during COVID-19.
Generally, Retail Pro customers seem pleased with the system's features but note that certain functions can be slow, depending on the version and hardware setup. The Retail Pro 9 version has received a few incremental updates over the years, but updating a locally-installed program can be a difficult process, so these types of software aren't updated that frequently. The current release (Retail Pro 9) came out way back in 2008, and as of the time of writing, the current version is 9.4. Some users are still using Retail Pro 8.
Customer Service & Technical Support
Since Retail Pro does not sell anything itself, technical support quality and prices depend on the reseller from which you purchase the software or a local Retail Pro software expert. There are five major Retail Pro resellers (or "Business Partners," as Retail Pro calls them). Retail Pro will assign you to one (based on location, I'm assuming) if you do not contact a partner directly. I highly recommend that you do your research and choose a reseller carefully so that you're not caught off guard by poor service and high technical support rates. Generally, customers seem pleased with the level of support they receive with Retail Pro, particularly if they purchase the Software Assurance package.
To give you a general idea as to the cost, though, I've found that technical support, training, and upgrades are, by far, the most expensive part of Retail Pro's total package. Assuming your starting figure (for software, hardware, support, and upgrades) is $11,000, this part of the purchase takes up a whopping 60% of that (about $6,600). That brings me back to the importance of doing your research before picking your reseller because these rates (along with the quality of service) will vary between providers.
Other than that, the My Retail Pro web portal provides users with access to a support knowledgebase of articles, a TV section of training videos, Retail Pro University (featuring online and instructor-led classes), a documentation section (filled with user guides, technical memos, and release notes), and a discussion board with questions and topics from other users.
In response to COVID-19 and the technological challenges it presents for Retail Pro's customers, Retail Pro also launched a new email address to help you find the support you need. If you cannot get in contact with your Retail Pro Business Partner, or if you do not know who your Business Partner is, you can now contact Retail Pro at standtogether@retailpro.com.
Furthermore, the Retail Pro blog and conferences provide more information on retail practices in general, industry news, and specifics on new software features.
Compatible Credit Card Processors
Pick any processor you like, and Retail Pro will probably be able to make it work. Since the company works with the payments gateway Cayan — "The Payments Possibilities Company" — any payment processor can integrate into the Retail Pro system. Check out our merchant account comparison chart to compare some high-ranking Merchant Maverick payment processing choices.
We've done in-depth research on each and confidently recommend them.
Of course, Cayan also offers payment processing (through its parent company TSYS) and has promised Retail Pro customers to meet or beat the rates of competing processors for 15 years (make sure to verify this with your reseller).
Integrations & Add-Ons
Retail Pro integrates with various retail software applications, including many eCommerce apps. You can also gain access to its API to integrate with any additional software you might use that doesn't have a pre-built integration.
Here are some of the popular business software Retail Pro integrates with:
User Reviews
Negative Reviews & Complaints
Thorough research uncovered few negative reviews, especially since service and technical support varies from partner to partner. Negative reviews regarding the actual software were scarce. Most of them were only lightly critical, with qualifying statements about how great the software was except for one or two minor problems customers had with it.
The main complaints that came up consistently concerned the following:
High Prices: Many customers are not happy with the system's high price, although those reviewers acknowledge that it provides a lot of functionality.
Reports Need More Customization Options: While acknowledging that Retail Pro has strong reporting capabilities, several users said they wish they could edit the preloaded report formats to suit their needs.
Sluggish Operation: Some users say the latest Retail Pro (v9) version is a lot slower than the earlier version (v8). Others report their system has become slower with time (though this could be due to hardware or software needing to be updated). Users with multiple workstations and/or an extensive database with a lot of SKUs seem to have these problems in particular.
System Crashes & Glitches: Several reviewers complain of system crashes, often during busy times. Again, this can sometimes be attributed to needing to upgrade to a more powerful server or workstation. However, some users complain that they still have system problems after upgrading their hardware. Various system bugs/glitches have also been reported for certain functions, including an error that prevents the merchant from accepting customer gift cards.
Inadequate Customer Support: A few Retail Pro users feel that they didn't receive enough training on the system and not enough help from customer support with software updates, hardware upgrades, and other technical assistance. As mentioned, you have to pay extra for support, and it's not always clear in the reviews whether the user has paid for premium support.
Positive Reviews & Testimonials
Retail Pro provides several testimonials on its webpage. Elsewhere on the web, there are many other positive reviews. Here are a few trends I noticed:
Great Customer Support: Many of the positive reviews regarded customer service, complimenting the quality of customer support offered through Retail Pro's distributors.
Customizability: The ability to customize the Retail Pro interface to suit the merchant's needs was mentioned many times as a big plus of the system.
Wealth Of Features: Reviewers like how many useful features Retail Pro has, though some mentioned that they only use a small fraction of the available features.
Smooth Operation: Users praised how smoothly the system operates despite the many functions that could easily clutter up the interface and make operation a nightmare (as is the case with a POS such as pcAmerica). This speaks to the overall quality of a good product.
I was surprised by the sheer volume of positive responses to Retail Pro compared to the smattering of negative reviews and complaints.
Final Verdict
I have to say that I'm more than a little impressed with Retail Pro's software. The ability to customize practically everything is what gets me. Gone are the days when you have to wade through search fields, currency buttons, drop-down scrolls, tabs, hotkeys, menus, text boxes (you get the point) to make a sale. Many systems are modernizing quickly in this regard, making each update with more flexible controls, but Retail Pro is one of the charge leaders. Not only can you tailor the POS interface to make operations smoother, but you can also create an online presence through the use of any number of eCommerce applications and improve CRM with Constant Contact or Opt Culture.
As far as locally-installed systems go, Retail Pro can get pretty pricey. However, it's still relatively comparable to similar software designed to accommodate vast systems spanning multiple countries. Price is something that you can't get around when investing in a reliable POS system, and it's just something that's going to have to factor into your decision-making.
With all that said, locally-installed/legacy systems such as Retail Pro are becoming a dinosaur in the POS world. In addition to its high price tag, Retail Pro also suffers from the other problems typical with this type of system, including sky-high upfront costs and infrequent updates. You'll also pay extra for technical support as well as software upgrades. And if you wait to upgrade to the latest POS software version or the next version of Windows? Your system will probably suffer performance issues over time. Also, as is typical with legacy systems, you will have to purchase your Retail Pro system and support through a POS reseller — and POS resellers aren't exactly known for being reputable.
Though the Retail Pro POS has a lot to offer, with no free trial available, it's hard to know for sure if this system would work well with your business. And for small businesses with a modest budget for POS, this type of system might come with a cost and a commitment you can't make right now. If you suspect a lightweight cloud-based system might work better for your business, check out our top picks for retail POS systems, all of which offer a free trial and month-to-month contracts.
---
We've done in-depth research on each and confidently recommend them.
We've done in-depth research on each and confidently recommend them.
To learn more about how we score our reviews, see our
Point Of Sale (POS) Software Rating Criteria
.
Read Next