HungerRush Review (Formerly Revention POS)
Expert Analyst & Reviewer

UPDATED
Advertiser Disclosure: Our unbiased reviews and content are supported in part by
affiliate partnerships
, and we adhere to strict
guidelines
to preserve editorial integrity.
Revention POS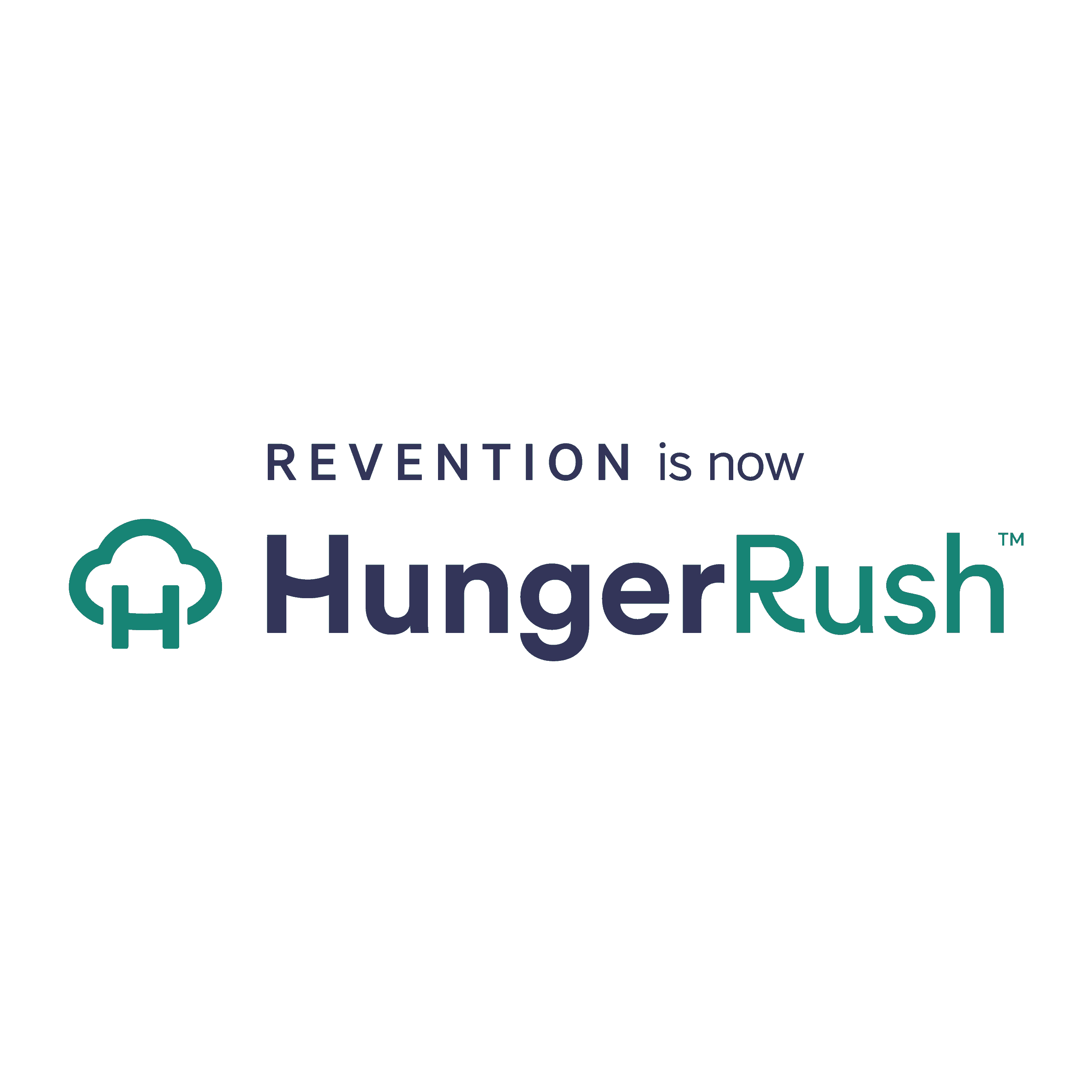 Pros
Highly customizable
Excellent customer service
Advanced employee management
Cons
High upfront costs
Outdated UI
Limited payment gateway integrations
HungerRush POS Overview
HungerRush POS got its start as Revention, primarily catering to pizzerias. Since those early days, this POS company not only changed its name but now has point of sale (POS) systems robust enough for full-service restaurants.
With HungerRush, you can get a custom POS system set up to meet the specific needs of your restaurant or bar. Some of its standout features include inventory management, reporting, table mapping, and integrations with delivery and online ordering companies. Throw in solid customer support, and it's easy to see why HungerRush is the chosen POS provider for over 10,000 businesses.
Unfortunately, these custom systems come at a cost. Many features are add-ons, which can make your monthly fee add up quickly. For the budget-conscious business owner, it may be difficult — if not impossible — to justify these costs. However, businesses that are ready to open their wallets for a custom POS system that's highly praised by its users likely won't be disappointed with what HungerRush has to offer.
HungerRush POS Pricing
Here's where things get a little tricky. Depending on what your business needs and the add-ons you're going to purchase, your price can fluctuate. It's hard to know what to expect in terms of cost unless you physically speak to a representative and get a quote. I asked about ballpark prices for a few different types of food industry businesses. I got answers between $3,000 and $6,000 for the first station (with prices dipping a bit for additional stations). In short, HungerRush is not cheap.
The upside of that cost is you can customize your device for whatever kind of business you're running. In my experience, representatives do a decent job of talking you through all of your options. HungerRush also offers a buy-back program if you are switching from an existing POS, which can help bring down costs.
With a legacy POS that has upfront pricing such as HungerRush — as opposed to a cloud POS with monthly pricing — you could potentially find yourself stuck with an expensive POS system you don't like. HungerRush does offer a demo, so you can see how the POS works, but there is no free trial.
Cloud-Based Or Locally-Installed
HungerRush is a cloud-based system with many of its features, including a back-office reporting suite, accessible online. This seems to be a marked improvement over what Revention had to offer, which was more locally installed, and only some features were accessible remotely. HungerRush also provides an offline mode, allowing its product to function virtually as it would normally during an internet outage.
Specific Industry
HungerRush is best suited for the foodservice industry. It has some spiffy features that make it particularly suitable for bars, nightclubs, and pizzerias, and a specific delivery integration for quick-service food businesses. It also features table mapping, digital signage, and a kitchen display system that makes it functional for small to mid-sized full-service restaurants.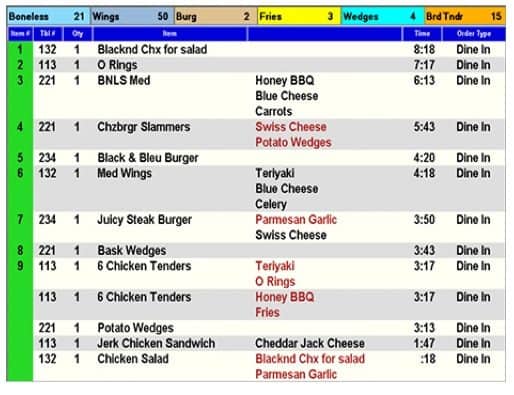 Specific Size Of Business
HungerRush is probably best suited for small to mid-sized specialty foodservice shops.
The system is a bit spendy, so very small retailers that are looking to be cost-effective may not find this to be the ideal solution. That said, business owners in other industries who are looking for specific features may find HungerRush to be a good fit. This POS has the functionality to handle small to mid-sized full-service restaurants with relative ease.
HungerRush Ease Of Use
Sadly, in HungerRush's rebrand, it does not appear to have done much to modernize its interface, which is a bit of a strange choice that undermines how committed the company might be to competing with some of the top systems around. In terms of usability, the interface is okay. If you're a veteran of the service industry, it will probably look pretty familiar, and it's pretty easy to maneuver around. In fact, it reminds me of blogs from the late 90s and early 00s — it suffers from weirdly different fonts, bright colors, and just a lot of things going on. Again, this may not be a big deal for you, but if you're a new business owner comparing POS systems, this one's probably going to look a bit dated.
Creating a custom table layout is a simple process. You can do it yourself or have a technician set it up for you prior to opening your business. You can easily check on orders by table or switch to see what online orders have come in. HungerRush also features a nice Kitchen Display System, which intuitively sorts orders by preparation time. Splitting checks is a simple process. Promotional pricing (such as happy hours) can be set up to kick in automatically, taking any guesswork off the servers' hands. You can also easily audit individual employees and see modifications and discounts to cut down on fraud.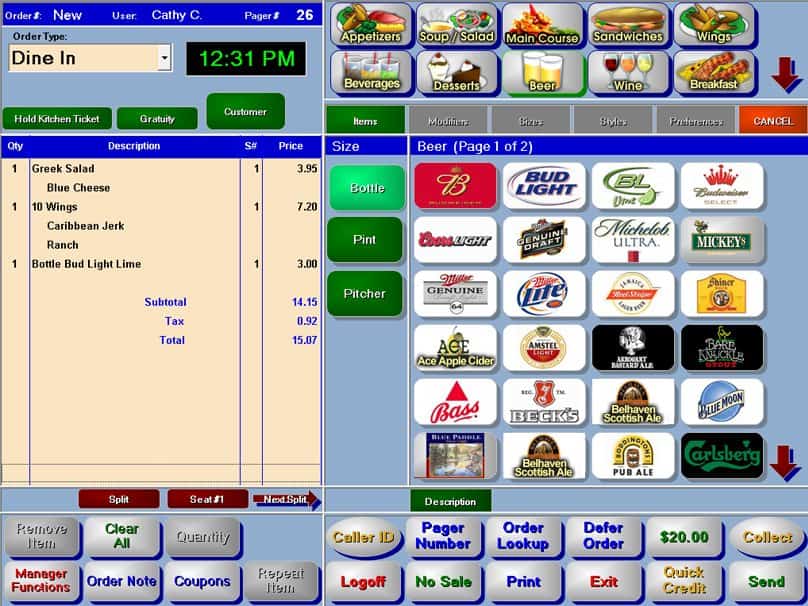 Hardware & Operating System Requirements
This POS system can be used on both Android and iOS devices, and it offers a wide variety of hardware options that can be purchased via the HungerRush website. Based on the hardware on the website, the POS seems to be more PC and Android-based. Add-on hardware options range from kitchen display systems to cash drawers to pagers for restaurants.
HungerRush Features
HungerRush comes with most of the features you'd expect from a modern POS system. The features themselves are somewhat basic, but simplicity isn't necessarily a bad thing. I'll highlight the areas where HungerRush stands out:
Ordering:

Custom menu creation featuring graphics and icons
Unlimited custom order types
An estimated order time calculator
Simple order lookup
Intuitive coupon creation and tracking

Customer Management:

Easily store customer data, including multiple phone numbers and addresses
Look up and track previous ordering information in a few clicks
Search and store customer loyalty information
Email customers for promotions directly from the POS
Map customers from a specific marketing list

Delivery & Online Ordering:

Real-time driver statistics for simple tracking
Integrated caller ID Management
Color-coded order timer warning for late deliveries
A branded mobile app lets customers order online
TextAI digital ordering and marketing

Inventory Management:

Analyze recipe and menu costs
Forced item counts by day or by week
Simple waste tracking
Easily transfer products between locations
Manage vendors and purchase orders

Reporting:

Customized reports can be saved and emailed
Audit reporting to determine individual employee productivity
Real-time productivity charts can be viewed in the dashboard
Warnings for when minors are on the clock or employees are working overtime

Employee Management:

Messaging system allows communication among employees between shifts
Employees can print schedules and set up time off requests on their own
Assign multiple job codes to individual employees
Integrations with multiple payroll companies

Security:

HungerRush offers fingerprint recognition as an option
Video surveillance integrations
Time clock audit monitors changes
Time clock locks to prevent early clocking in

Loyalty:

HungerRush now has its own unique loyalty program, allowing you to manage all locations through one login
Points can be viewed through the company's website
Points and rewards can be updated in real-time
Reward codes are unique and can only be used once
Easily look up customers via their phone number, email address, or unique ID

Delivery:

Keep tabs on your drivers through their color-coded trip routes
View past orders by date and driver
View metrics to determine driver efficiency
Calculate estimated road time for drivers
HungerRush POS Customer Service & Support
HungerRush prides itself on its customer support, which it offers around the clock over the phone. The response time is quick, and representatives are knowledgeable and friendly, particularly on the technical side. The company offers FAQs and video tutorials to help with setup. You can also fill out a form to contact the company through the website, but it appears to have done away with its live chat feature, which is a bit of a bummer. HungerRush can be reached on Facebook and Twitter. It also has a YouTube channel, although the videos are pretty sparse.
Compatible Credit Card Processors
HungerRush accepts credit cards (chip or swipe), gift cards, and mobile/NFC payments. The system is ready for Apple Pay, Google Wallet, and Samsung Pay.
The company integrates with only Vantiv for payment processing and does not offer any in-house payment processing. Ideally, a POS should integrate with more merchant account options.
We've done in-depth research on each and confidently recommend them.
HungerRush POS Integrations & Add-Ons
HungerRush is integrated with multiple companies in a variety of fields, from labor management to online ordering, to security, to gaming entertainment, and includes enterprise-level solutions. However, I don't see any integrations with lightweight cloud-based programs (such as Mailchimp or QuickBooks Online). Again, many of the add-ons come at an additional cost, so you'll want to talk to someone to get a quote.
Here are the business software programs HungerRush integrates with:
DoorDash
Core Cashless
Sacoa Debit Card Systems
Tender Card
NCR Drive-Thru Solutions
givex
Restaurant365
Compeat
Restaurant Magic
Valutec
eWord of Mouth
punchh
TavernTrak
DTiQ
Remote Eyes
Decision Logic
Delphi Display Systems
HME
IDScan.net
QSRonline
HotSchedules
HungerRush Reviews, Complaints, & Testimonials
Generally, HungerRush has favorable reviews, including testimonials from name-brand QSRs, such as Hungry Howie's and Popeyes Chicken. HungerRush receives a 3.5/5 (based on 30 reviews) on SoftwareAdvice and a 4.7/5 (based on 21 reviews) on G2.
While reviews are generally positive, not all online reviewers have good things to say about the company. As follows are some threads in the negative and positive reviews.
Negative HungerRush Reviews & Complaints
Buggy Software: A few customers reported that the software either didn't work the way it was advertised or that it started giving them problems shortly after installation.
Bait & Switch: Two customers complained about getting a slick sales pitch only to be informed that some of the promised features were not offered with the package that they purchased.
Poor Customer Service: While customer service is generally perceived as a strength in most reviews of HungerRush, a few customers complained about long wait times to receive support or representatives who weren't knowledgeable enough to help them.
Expensive Upfront Costs: Multiple customers pointed out that HungerRush cost thousands of dollars to get up and running with all of the necessary features and was not very cost-effective compared to other POS solutions.
Positive HungerRush Reviews & Testimonials
Ease Of Use: Multiple customers appreciated HungerRush's intuitive design. A large number of those reviewers also commented on how easy it was to train employees on the system.
Customer Service: Lots of vendors found HungerRush's customer service to be friendly and easy to access when necessary, and others commented that the technicians were knowledgeable and quick to fix problems.
Customizable Features: A few business owners appreciated HungerRush's flexibility and how easy it was to set up specific features for their unique venture, be it a bar, cafe, or pizzeria.
Final Verdict Of HungerRush POS
HungerRush POS has everything you would expect from a restaurant POS system. There are a large number of features that make this system suitable for all types of restaurants, though it's best suited for small- to medium-sized businesses. It's easy to use, and if you're a POS novice, there are training options available that can get you up to speed quickly. The inventory management and reporting are solid and shouldn't leave you wanting unless you need to delve deep into analytics. There's a lot of potential here, but its recent rebrand didn't seem to address some of its biggest issues.
First and foremost is the cost. Accessing HungerRush's best features is going to set you back. Unfortunately, its nebulous pricing means you don't even know just how much it's going to cost until you've spent a significant amount of time talking to a sales rep about what you need.
Especially if you're purchasing new hardware, the money you're spending upfront can be pretty daunting. It's great to be able to select only what you need (and will use) for your point of sale system, but many of those add-ons come at an additional monthly fee. In a market with so many POS options, you're likely to find something that gives you most of what HungerRush can offer at a much lower price. Its customer service has also taken a bit of a hit recently. While I do like some of the modern options it now features, with its own loyalty program and delivery functionality, it comes across as window dressing.
If you're still on the fence, you can shop around for some alternatives.
Unsure of where to start? Give popular options like LightSpeed Restaurant and Square for Restaurants a look. If pricing is a deterrent, check out our picks for the best free POS software. Regardless of what route you take, make sure to do your research, compare systems, and take advantage of free trials and demos to really get a feel for each system.
What's your experience with HungerRush? Be sure to check out our comment policy and leave us your thoughts below!
---
We've done in-depth testing of each and confidently recommend them.
We've done in-depth testing of each and confidently recommend them.
To learn more about how we score our reviews, see our
Point Of Sale (POS) Software Rating Criteria
.