Expert Analyst & Reviewer

UPDATED
Advertiser Disclosure: Our unbiased reviews and content are supported in part by
affiliate partnerships
, and we adhere to strict
guidelines
to preserve editorial integrity.
Pros
Modern, intuitive design
Advanced feature set
Excellent cash drawer
Cost efficient
Cons
Reporting features lacking
Limited integrations
Rezku POS Overview
Rezku POS is a relative newcomer on the POS market. Launched in 2014 in Sacramento, California, it features a sleek and modern interface that is extremely easy to navigate and learn. Rezku (the company swears it's pronounced exactly like "rescue") is designed specifically with restaurants in mind and has some terrific features that make it an extremely appealing candidate.
After downloading the app, you can set up Rezku in a snap, laying out your entire restaurant and creating your menus quickly. With a custom pricing plan and some unique higher-end products for reservations and table management, it's likely you could find a package that suits your needs whether you're running a busy food cart or managing a full-service restaurant.
Rezku has a few issues that hold it back slightly, however. Its reporting suite is lacking for the business that needs to dive deep into analytics. And, while its customer service is friendly and helpful, the fact that it is not yet available 24/7 could lead to frustrations for industries open early or late.
That said, Rezku is definitely worth a look if you're a restaurant owner wanting something cost-efficient with plenty of features and a small learning curve.
See Our Top Picks For Restaurant POS
Pricing
Rezku's basic package starts at $69 a month, but the company claims to be flexible with its packages depending on what services you need. This seems to be the way a lot of POS companies have been going recently, trying to help customers make sure they're not paying for features they're not using. Rezku also offers hardware packages and 0% financing options for three years, featuring a wide variety of products ranging from printers to cash drawers to scanners. Remote training packages are available for an extra $299 (it's a bit of a bummer that they're not included in the upfront price, in my opinion).
Cloud-Based Or Locally-Installed
Rezku is iPad-based, with all information backing up to the cloud. You can access your entire system from your office or at home –basically anywhere with an internet connection.
Specific Industry
Rezku is specifically designed for the food-service industry. It has some nice features for bars, nightclubs, cafes etc., and would be perfectly functional in those settings. But given its tableside ordering features and advanced Kitchen Display System, Rezku was built with full-sized restaurants in mind.
Specific Size Of Business
With some fairly robust inventory management features and extensive reporting, Rezku is probably best suited for mid-sized restaurants (and can handle multiple locations as well). That's not to say that the system is too bulky for a basic food cart or cafe. As mentioned previously, the system is fairly affordable if all you need is the nuts and bolts. But if you're going to fully utilize Rezku's offerings, larger restaurants will probably receive the most bang for their buck.
Ease Of Use
These days, if you have a point of sale system that's even remotely clunky, you're going to be handicapping yourself tremendously in a competitive marketplace. Rezku's interface is very intuitive — if you have any experience working at a bar or restaurant, you should be able to pick up the ins and outs of the system quickly. Setting up a unique, custom table layout is simple and can be done within minutes of downloading the app. It's also simple to upload photos of menu items or, for added convenience, choose from stock photos already included.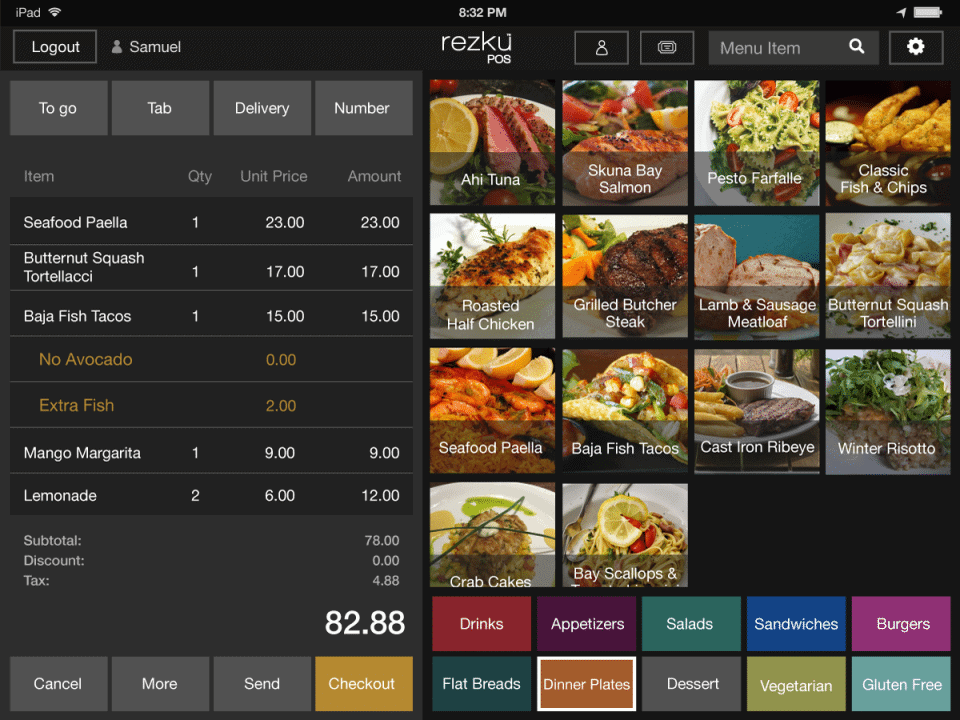 Payments are simple to take and ticket-splitting is a snap. You can assign orders by seat, making it easy to combine parties or even split individual items that may have been shared. The back office is equally simple. It's not as robust as some other systems, but that also means it's not as daunting. If you're just looking for basic reports and inventory counts, they're easily accessible and can be read and digested quickly.
Hardware & Operating System Requirements
Rezku is iPad-based and runs best on iOS 11 or better. You can install the Rezku app on iPad 4 or later, Air and Air 2, any iPad Pro, or iPad minis version 2 or better. It's possible to purchase hardware packages or individual items on Rezku's website; they have an impressive number of items ranging from receipt and kitchen printers to card readers and scales.
Features
Rezku has most of the typical features you would expect in a strong POS, but it stands out in a number of ways with its attention to detail. You can visit their website or schedule a demo for a full list of features, but here are a few areas where Rezku shines:
Inventory Management: Rezku has some nice restaurant-specific inventory features. One of the most interesting is menu costing, where you can plug in your ingredients and calculate how much individual dishes cost to prepare, making it simple to figure out profit margins. Auditing your inventory is also simple, keeping managers alerted to any missing items.
Reporting: Rezku has pretty basic reporting capabilities. You can check sales by user to track your top selling employees. It's also easy to track sales by hour to get a grasp on when rushes might occur. Daily sales reports are tabulated automatically and can be accessed from anywhere with an internet connection. You can also track sales by product to cut down on waste and get reports on voids (by user) to cut down on fraud. It's a functional reporting package that very much gives you the basics, but if you're looking for in-depth reports and analysis, you'll probably find it lacking.
Integrated Time Clock: Rezku has a pretty advanced clock-in-and-out system for employees. Labor usage is tracked and can easily be exported to payroll. It can also be tracked and sorted by employee in real time. There's a unique function where Rezku takes an image to verify an employee with each clock in or out as an added security measure.
Cash Drawer: This is another really nice function, particular for bars or clubs. You can set your cash drawers up to allow servers or bartenders to use one iPad with two separate drawers for when you're making a lot of rapid-fire sales. You can also audit your cash drawer at any point during the day and look up the report. Every transaction is monitored and recorded and you can get a comprehensive report at the end of the day.
Tableside Ordering and Payments: Rezku offers tableside ordering, sending information directly to the kitchen to cut down ticket times and increase efficiency. It's also easy to set up coursing to coordinate when dishes come out. Rezku has an added function where you can input orders by seat, making it a snap to split tickets. Similarly, customers can pay at the table for an added level of convenience.
Menu Design: Setting up a menu with Rezku is incredibly easy, and the UI has an extremely modern and intuitive look. Setting up modifiers is also easy and servers can be run through forced modifiers quickly. Photos of items can be uploaded or you can choose from pre-loaded stock photos. Item descriptions can also be added, allowing servers to answer customer questions about orders with the click of a button. Rezku's floor plan application can help you set up your table layout in minutes and lets you move tables with a swipe as large parties rearrange things.
Ticket Splitting: This is one of the more intuitive ticket splitting mechanisms I've come across. You can easily track who has purchased what item, merge tickets, and do multiple splits in a way that makes sense and ensures accuracy. You can also add or take away automatic gratuities.
Loyalty: Rezku has its own loyalty and gift card program, allowing you to customize your marketing. You can store an unlimited number of customers and enter all of their information for email campaigns. It's also possible to set custom discounts either for employees or for loyal spenders.
Kitchen Display System: Save on paper by sending orders directly to your KDS, which is included in Rezku's app. Monitor ticket times easily and see what items are coming up to prepare your kitchen. This is especially valuable for higher-end restaurants with multiple courses or bars where printed tickets can get easily lost.
Online Ordering: Rezku makes it easy for customers to order online or to have food delivered to them, integrating with multiple services (including GrubHub and UberEats, among others).
Companion Products: You can also sign up for Rezku Prime, an advanced service for customer and table management, giving full-scale restaurants a really impressive and complex system that tracks everything from customers to bussers to servers. Along the same lines, Rezku Reservations and Rezku Waitlist can be added to your package.
See Our Top Picks For Restaurant POS
Integrations & Add-Ons
Rezku integrates with a few of the basics but doesn't have a huge array of integrations yet, although they say they are willing to work with clients and take suggestions if someone needs something specific. Rezku integrates with QuickBooks for accounting, Apple, Epson, Ingenico, and Worldpay, among others. You also have to pay extra to access Rezku's full integration suite.
Compatible Credit Card Processors
Rezku is partnered with Vantiv and prides itself on its easy to understand fee structure. You're not locked into Vantiv either and can bring in your previous processor if you prefer (see our favorite credit card processors if you're looking for a new one). They also accept contact cards, NFC payments, and both Apple and Google Pay.
Rezku offers strong offline functionality. If you lose internet service, Rezku still functions normally, giving you the ability to take payments while automatically encrypting the information (which can only be accessed by the processor). When internet is restored, payment information is uploaded automatically. If you have an extended outage, you can set a limit on the the number of offline payments you can accept.
Customer Service & Technical Support
Rezku has a pair of phone numbers and three different email addresses to contact depending on your needs. The normal business hours for technical support are from 7 am to 10 pm Pacific Time, seven days a week, which isn't great if you need immediate assistance as a bar or nightclub owner. However, the few times I contacted them directly, Rezku was very quick getting back to me (always within 24 hours) and they were friendly and willing to help. They plan to be available 24/7 in the near future and the company, founded by a former restaurant owner, prides itself on the fact that, within business hours, customers will always be able to talk to a live human.
The company's social media footprint is surprisingly sparse — neither their Facebook or Twitter pages are updated frequently and don't appear to have been active in months. The Rezku website has a blog with some generic posts and there is an extensive self-help section with frequently asked questions and some troubleshooting articles. However, I imagine that scrolling through those in an emergency would be a frustrating experience. There are a handful of videos on YouTube with some walk-throughs and explanations of the Rezku system, but these also appear to be fairly outdated.
Negative Reviews & Complaints
Rezku hasn't racked up a significant sample size of reviews yet and, as such, there are very few glaring issues. That said, there are a few complaints that crop up on multiple occasions:
Pricey Add-Ons: A few customers aren't happy with some of the other things they had to purchase in order for their system to work properly, claiming that the additional costs drove up what had originally seemed like a much better price.
Lack Of Features: A few reviewers mentioned that the system isn't quite as robust as others they had looked at, particularly in terms of inventory management.
Positive Reviews & Testimonials
Again, the small sample size is small, but the majority of positive reviews have a handful of similar themes:
Ease Of Use: Without a doubt, the most recurring praise for Rezku is how simple it is to not only use the system, but also train employees. Customers appreciate the layout and the simplicity and functionality of the design.
Price: Most reviewers were very satisfied with the number of features that you get for the cost and appreciate that you don't have to pay for anything you don't use.
Customer Service: Rezku gets top marks again for how friendly their customer service team is. In particular, the tech support team was praised in multiple reviews both for their knowledge and ability to quickly solve problems.
Final Verdict
Emerging in a competitive sea of POS systems, Rezku is set apart by the combination of an incredibly simple interface with some very advanced add-on features. These aspects alone should make it intriguing to restaurant owners who may be looking for something special.
Rezku won't break the bank either, particularly if you don't need a robust inventory or reporting package (something which also makes it a candidate for quick serve or food cart businesses). With frequent updates, Rezku is adapting quickly and improving its product on a regular basis.
---
We've done in-depth testing of each and confidently recommend them.
We've done in-depth testing of each and confidently recommend them.
To learn more about how we score our reviews, see our
Point Of Sale (POS) Software Rating Criteria
.