UPDATED
Advertiser Disclosure: Our unbiased reviews and content are supported in part by
affiliate partnerships
, and we adhere to strict
guidelines
to preserve editorial integrity.
Pros
Extremely cost efficient
Depth of features
Allows for easy importing
Product is highly mobile
Cons
Recent dip in customer service
Can't create advanced product modifiers
Overview:
Despite its incredibly low price, Ring It Up is a powerful, versatile, and mobile point of sale that can be an invaluable resource for virtually any type of small business. Ideal for trade shows, flea markets, craft shows, and festivals, Ring It Up is primarily marketed for merchants who take their businesses on the road, though it would also be a good match for counselors, stylists, photographers, locksmiths, and contractors. As compact as the system is, Ring It Up is equipped with a full suite of features, including transaction processing, inventory management, payment and expenses tracking, and several reporting options. It also offers some handy features that are particularly useful for mobile businesses. One of my favorites is the ability to create customer invoices and submit quotes that can then be converted into sales if accepted. Another cool feature is the ability to use your iOS device's onboard camera as a barcode scanner—a convenient and money-saving option.
Ring It Up was originally developed by a company called Pingysoft, but it was recently acquired by a small start-up based out of Uruguay. Since the acquisition, two improvements have been added to the Ring It Up software: the ability to translate the app into Spanish or French and customer support being offered in both English and Spanish. The new owners hope to continue providing a simple and intuitive app that doesn't cost an arm and a leg; users shouldn't worry about their Ring It Up experience changing too drastically.
In the end, the software speaks for itself. Read on for a more detailed breakdown of Ring It Up's features and specs.
Don't have time to read an entire review? Take a look at our top rated Point of Sale solutions for a few quick recommendations. Every option we present here offers excellent customer support, detailed user interfaces, and easy-to-use software, all for a reasonable price.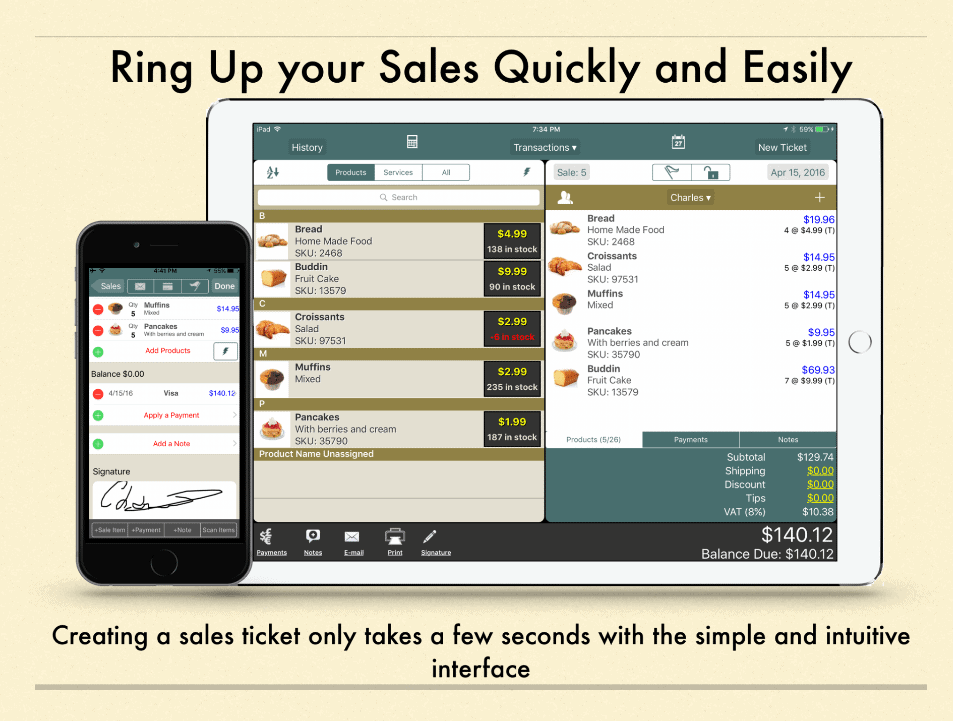 Pricing:
You can purchase Ring It Up by downloading the demo for your iPhone or iPad from the Apple App Store. The demo allows you to run up to 10 "test" transactions with all features unlocked. After that, Ring It Up requires you to upgrade to continue processing transactions.
Ring It Up Universal: This version of the app works on both iPads and iPhones and comes with three pricing points.
Basic – This plan costs a one-time payment of $19.99 and includes some of the following features:

Unlimited transactions
Purchase Orders
Quote Transactions

Advanced – Pay a one-time fee of $29.99 and you will receive everything offered in the Basic plan, as well as the following features:

Import/export products, contacts, and expenses via iTunes sharing file or Dropbox.
Customize your receipts and invoices
3rd party credit card app integration
The ability to print

Pro – For a one-time payment of $39.99, you can get all the features of the Basic and Advanced plan, as well as:

Multi-business capability
Barcode code scanning
Signature capture
You can also use choose to use Ring It Up for iPad for a one-time payment of $24.99 or Ring It Up for iPhone for a one-time payment of $24.99.
Cloud-Based or Locally-Installed:
Ring It Up is locally-installed with cloud-based capabilities. Some offline features include completing cash transactions, viewing reports, and updating inventory items. All of your shop data is stored in the cloud and wirelessly pushed to your iOS devices.
Specific Industry:
Ring It Up is geared to mobile, on-the-go businesses across a spectrum of industries. It is great for merchants who sell their products at festivals, fairs, malls, trade shows or even garage sales. It's also a nice solution for people who offer their services outside of an office: technicians, massage therapists, taxi drivers, etc. Ring It Up also has some capacity for basic mobile restaurant concepts (i.e. snow cone pop up stand).
Specific Size of Business:
Small businesses are definitely the target market for Ring It Up. The interface doesn't sync across multiple devices so Ring It Up isn't a good option for businesses that need multiple workstations. It's designed for single-user checkout environments, although the Pro level can handle multiple, unconnected businesses.
Hardware and Operating System Requirements:
Ring It Up is compatible with the iPhone and the iPad, though it requires iOS 6.0 or later. Pingysoft does not sell any hardware directly, but it does have a listing of compatible hardware and links to providers. See below for a breakdown of compatible hardware and costs:
Mobile Devices –

The Ring It Up app runs on the iPhone, the iPod Touch, and the iPad.

Barcode Scanners –

Your cheapest option would be to simply upgrade to Ring It Up Pro and use your device's built-in camera as a scanner. Otherwise, Ring It Up works with Koamtac KDC-200i or 300i barcode scanners and Linea 4 technology.

Printers –

Ring It Up offers four different printing methods, including two different Blue Bamboo Printer models,

AirPrint capable printers

, and a range of Star Micronics wireless printers. Ring It Up is also compatible with

EuroSmartz printing apps

, which allow you to print to any wireless printer (not just those capable of AirPrint). The company is working on adding support for two Epson printers in the near future.
Ease of Use: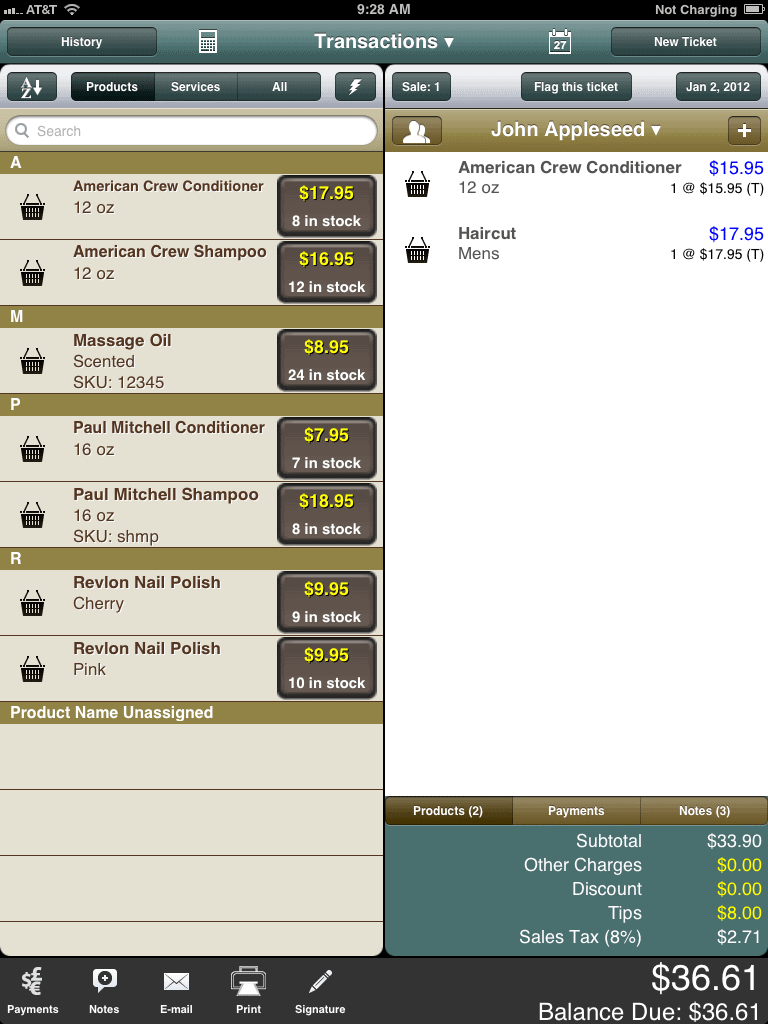 After spending some time with the Ring It Up demo on my iPad, I found myself completely surprised by the number of features included in a one-time app purchase (costing under $40 bucks!). The software design is fairly easy on the eyes, and once I located the drop-down menu at the top of the app, I was in business (it took me a few tries of tapping every button on the screen to find the navigation panel). Both the front-end checkout functions and the back-end management settings are located within the iPad/iPhone app.
The shop setup process is simple and allows for CSV file import and export, which really speeds things up. The Ring It Up drop-down menu has ten sections: Transactions, Expenses, Contacts, Products, Reporting, Data Management, Accessories, Accept Credit Cards, Upgrade Store, and Settings. Under the "Products" tab I was quickly able to setup several products and services with advanced features (such as multiple pricing levels/tax rates and the option to add a photo). The only option lacking was a feature for product modifiers (i.e. small, medium, large). After setting up my product inventory, I ran several test transactions in the checkout area, which also offered a lot of great features such as discounts, notes, and digital signatures.
The Contacts area, which logs both customers and product suppliers, was equally easy to navigate, as were the Reporting and Settings areas. Again, the ease of use and number of features available in this one-time purchase app were on par with a lot of monthly subscription-based POS apps that I've reviewed in the past. I would rate Ring It Up's usability pretty highly in terms of intuitive navigation and setup. No manual reading required.
Product Features:
I'm going to spend a little time going over the features that I think make Ring It Up a powerful tool for small businesses:
Customization –

Customization is rare enough with robust, feature-heavy systems, let alone those designed for much smaller operations. Yet, Ring It Up defies the norm once again with personalized receipts and invoices (via HTML coding). Add your logo to all customer paperwork for easy advertising. As an added bonus, you can easily customize the color schemes within the app itself to keep your POS brand-consistent.

Import Functions –

As simple as it is to enter items into your inventory manually, Ring It Up makes it even easier by offering the option to import products from a CSV file. You can also import client and supplier information directly from your Contacts app. Capture photos of your products for inventory and receipts to track expenses, all from the built-in camera.

POS –

As for the actual "point" in point of sale, Ring It Up is versatile enough that you can simply ring up a transaction as a sale or create and send quotes, which can be converted to a sale when your bid is accepted. In addition, you can apply discounts on a per item or per ticket basis by amount or percentage and implement three different tax rates.

Reporting –

Run summary or detailed reports that you can wirelessly print or export to email. Track inventory levels by both initial quantity and current stock. Monitor sales, purchase orders (from customers and suppliers), quotes, expenses, payments received, income, category totals, profit margins, and payments due, all from your phone or iPad.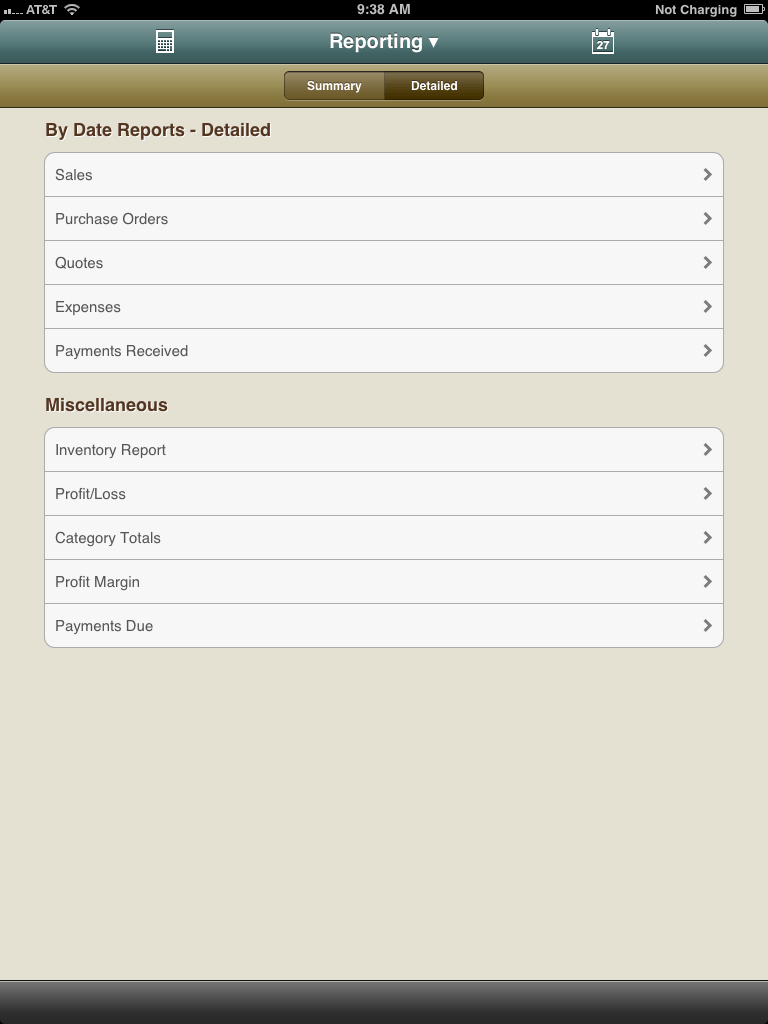 Built-in Scanner –

With

RedLaser

technology, you can enter the native barcode found on any product (I tested this with a book) and then assign your own options (price, quantity, taxes, etc.). When it comes time to check out, you simply click the little lightning bolt symbol on the transaction screen to pull up the barcode-scanning camera. You don't have to do anything after that—as soon as the camera hones in on the barcode number it adds it to the order. I set up my book in about 60 seconds and was scanning away. Once you hear a beep, move the camera away from the barcode; otherwise, it will continue to ring up your item every two or three seconds.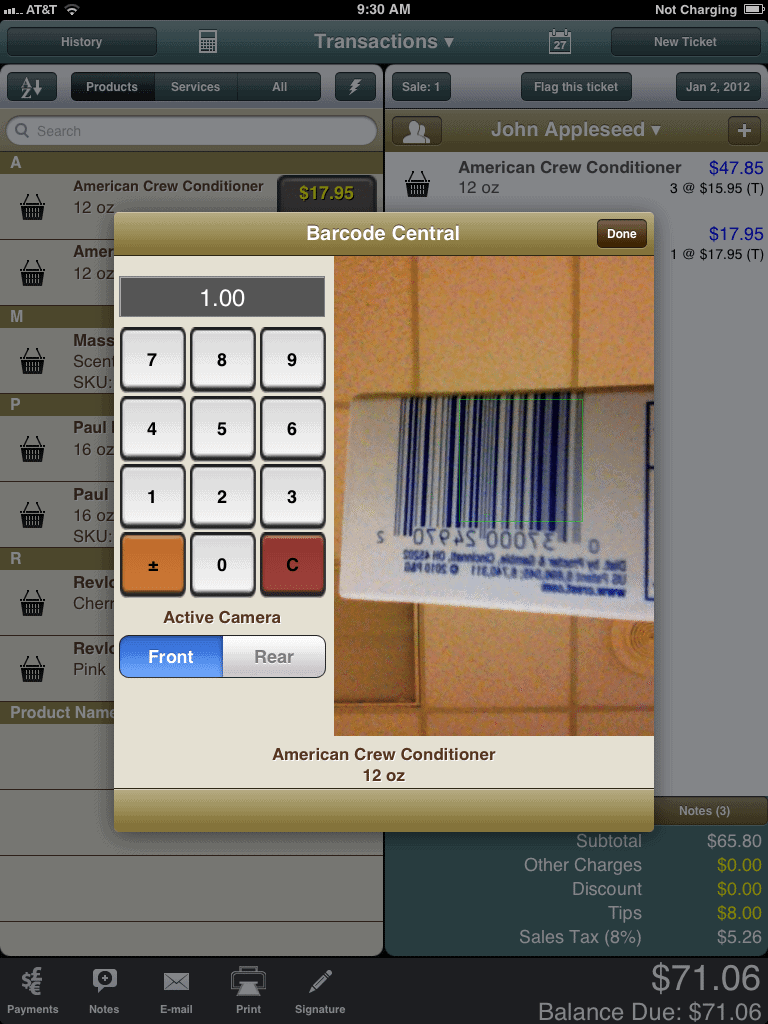 Dropbox –

Since all data for your business is stored in the cloud, it's important to have a backup in case your iPhone or iPad dies an unfortunate death. That's where the Ring It Up/Dropbox alliance comes in. Under the "Data Management" area you have the option to link your Ring It Up account to your Dropbox account. After that, you can backup, restore, export and import directly from Dropbox. You can also create a backup file via email or zip file. This will come as a huge sigh of relief for small business owners who want to secure their data.

Expense Category –

This is a helpful tool for tracking non-sales related expenses (parking at a festival, lunch for staff, shipping costs, etc.). Product orders can also be created and received within the Ring It Up interface.

Built-in Calculator and Calendar –

Having a calculator on hand is a small thing, but can helpful (especially for people on the go). Ring It Up also has a calendar feature that syncs with your iPad/iPhone calendar. Again, a small detail, but the details add up.
Integrations and Add-Ons:
Right now, the only integrations Ring It Up offers are with Dropbox and EuroSmartz printing apps (discussed above), but that's not necessarily a bad thing. Since the system is specifically designed for small businesses, there really isn't a need for ERP or accounting software (especially since Ring It Up has all the functions you'll need). A web store integration might be nice for some merchants, but again that's getting into an area that mobile and service-oriented businesses rarely breach.
Compatible Credit Card Processors:
Ring It Up works with several credit card processors, including Phone Transact, Inner Fence, Swipe from App Ninjas, Redfin's PocketPOS, iPay POS Tek Tango, and Paypal Here. These are third party solutions, so you'll have to create your own account directly through them.
European merchants, specifically, have the option of using iZettle and SumUp for their processing needs.
Customer Service and Technical Support:
As I previously mentioned, under its new ownership Ring It Up now offers support in Spanish as well as English. The customer service representative I dealt with was very nice and always responded right away. However, English was not the representative's first language, and the responses I received were often choppy and broken. This is somewhat disappointing, especially considering the glowing reviews of the former owner's customer service skills.
Here are some of the resources Ring It Up offers:
Negative Reviews and Complaints:
Ring It Up has been around long enough to accumulate quite a few user reviews, but the negative ones are few and far between.
Community Forum –

There were one or two requests for a community forum so that customers could figure out product workarounds.

Customer Service –

Although responses are prompt and friendly, with the recent takeover, they have become hard to understand.

Lack of Features –

The ability to create advanced product modifiers and rules would really take Ring It Up to the next level in terms of usability. To add a disclaimer here, though, Ring It Up is definitely not lacking in features. I've seen some software designed for much larger businesses that don't have as many features as Ring It Up does.
Positive Reviews and Testimonials:
Most of the recent commentary is very positive and generally hovers around the 4/5 or 5/5 star rating. Ring It Up is doing well for itself and the customer reviews reflect this fact. Here are the most common review trends in terms of testimonials and positive feedback:
Bang for Your Buck –

For uber-tiny businesses, Ring It Up could be a dream come true. This is such a great price for a really great service. It makes a POS accessible to a much wider range of entrepreneurs and small business owners who are just getting their feet wet.

Mobility –

There are many cloud-based apps that can act as a mobile POS solution, but Ring It Up has some great features that cater directly to people who offer their services on the go.
Final Verdict:
I am incredibly impressed by this little piece of software. My final conclusion about Ring It Up is that it's worth every penny for a mobile small business owner who doesn't have a complicated inventory and only requires a single checkout station. You would be hard-pressed to find a better deal for a near-complete POS system with such great features.
Now, if your needs are more advanced—say you have a lot of products with multiple options or are taking in a high enough volume that multiple checkout stations are necessary—I would definitely recommend that you keep searching. Ring It Up appeals to a very specific market; if you don't fall within that market then you may run into some roadblocks.
I encourage you to take Ring It Up for a spin. The demo is really easy to navigate and you'll quickly get a feel for whether it might work for you. The app requires only a $40 investment (at most) so there's really no way you can go wrong. If you fit the target demographic, Ring It Up can be a very robust and cost effective POS solution.
---
We've done in-depth research on each and confidently recommend them.
We've done in-depth research on each and confidently recommend them.
To learn more about how we score our reviews, see our
Point Of Sale (POS) Software Rating Criteria
.