Expert Analyst & Reviewer

UPDATED
Advertiser Disclosure: Our unbiased reviews and content are supported in part by
affiliate partnerships
, and we adhere to strict
guidelines
to preserve editorial integrity.
Saasu

Pros
Unlimited users
Scalable
Suited for Australian users
Impressive feature set
Numerous integrations
Built-in payroll
Cons
Unsuited for US businesses
Poor mobile apps
Semi-steep learning curve
Limited invoicing
Saasu Overview
Saasu, an Australian cloud-based accounting programs, takes a bold stance — to battle with Goliath is our everyday mission. This company hurls metaphorical stones at its competitors, an army of content software users at its back. Simplicity and innovation are Saasu's weapons of choice against big names like Xero and QuickBooks — and the company is putting up quite the fight.
Saasu launched in 2000, and since then, this Australia-based company has had over 80,000 users. Saasu prides itself on being one of the earliest to the cloud-based accounting scene. Previously, Saasu was available for multiple countries and any-size business, small to enterprise. Now, Saasu is narrowing their scope to specialize in accounting software only for small to medium-sized businesses located in Australia. As the US version was limited in areas before, this seems like a good change for Saasu. Plus, the company has given non-Australian users a lot of heads up so they can find a new accounting software (if you're one of these users, check out our top accounting solutions).
The software itself is well-developed with tons of features, unlimited users, and even built-in payroll. Good customer service, positive customer reviews, and a decent selection of integrations make this software an even better option for Australian small businesses. Our biggest complaint about the software previously was that it was hard to navigate — and while there is a bit of a learning curve given the sheer number of features, Saasu has streamlined and simplified the user experience. The only other drawback is limited invoicing.
Saasu more than holds its ground against competitors like QBO and Xero, and could be a great choice for your Australian-based business. Continue reading to learn more.
Saasu Pricing
Saasu offers three pricing plans: Small, Medium, and Larger. The Extra Large and Enterprise plans which Saaasu had in the past have been discontinued. While payments are currently made on a monthly, quarterly, or yearly basis, Saasu's new pricing model is migrating all plans onto a monthly payment basis. A free 30-day trial of each plan is available. No credit card is required and you can cancel the plan at any time.
Saasu's pricing plans are structured a bit oddly in that they are based around the number of transactions your business needs per year. When you begin using Saasu, a counter that tells you how many transactions you've used appears at the bottom of the software screen. If you run out of transactions, you can upgrade or cut back on transactions until more become available. (Saasu considers transactions as a sale, purchase, bank transfer, pay entry, or journal entry. Contacts, employees, accounts, etc. don't count against your transaction limit.)
While I don't typically like to see these types of limits place on pricing plans, the unlimited users and built-in payroll may make Saasu's seemingly expensive plan worthwhile for some businesses. (And, when comparing Saasu to its main Australian competitor Xero, Xero's most expensive Australian plan is $65/month, before payroll, and Xero's Starter plan is much more limited than Saasu's Small plan, so Saasu's pricing is still competitive.)
Here are the prices for Saasu (prices include GST):
Small
$15/month
1,000 transactions per year
3 bank feeds
Invoices and quotes
Contact management
Expense tracking
Accounts payable
Reports
Cash flow forecaster
Budgeting
Payroll for 1 person
2 GB of attachments
Unlimited users
Medium
$40/month
20,000 transactions per year
5 bank feeds
Invoices and quotes
Contact management
Expense tracking
Accounts payable
Inventory
Reports
Cash flow forecaster
Budgeting
Multi-currency support
Payroll for 20 staff
4 GB of attachments
Unlimited users
Large
$70/month
40,000 transactions per year
10 bank feeds
Invoices and quotes
Contact management
Expense tracking
Accounts payable
Inventory
Reports
Cash flow forecaster
Budgeting
Multi-currency support
API sandbox file
Payroll for 40 staff
10 GB of attachments
Unlimited users
Unlike most software companies, Saasu does not offer discounts or referrals.
Cloud-Based Or Locally-Installed
Cloud-based. No downloads or installation required.
Hardware & Software Requirements
As cloud-based software, Saasu is compatible with nearly any device so long as you have an internet connection and are using one of the following browsers:
Mozilla Firefox
Microsoft Edge
Apple Safari
Google Chrome
Saasu is designed for a screen resolution of 1024 x 768, and 2GB of RAM or more are required for successful use. Some features may require a PDF viewer like Adobe Acrobat Reader.
Saasu also has mobile apps for Apple (iOS 9.0+) and Android (4.1+).
Specific Size Of Business
Saasu is Australian software through and through — designed by Australians, for Australians. The company used to offer support for other countries but has recently eliminated their multi-country support and larger pricing plans to focus on small to medium-sized businesses in Australia. Existing users who aren't located in the land down under, have until January 31, 2020 to migrate to a new accounting solution. (If this is you, take a look at our top-rated accounting solutions to find a great new accounting option.)
The software is one of the best choices out there for Australian users and is a good fit for small to mid-sized businesses looking for ample features, tax support, and built-in payroll.
Saasu also offers unlimited users. There are detailed users permissions, including ten different user roles and an audit trail, to help you control who can access your financial information. You can grant access to your accountant, and you can also provide a read-only file to your banker to help accelerate the loan approval process (check out our favorite Australian loan provider to learn more about getting the funding your business needs). You can create multiple files for your business, but each additional file or additional company requires its own subscription payment.
Accounting Method
Both cash-basis and accrual accounting.
Ease Of Use
With so many features available, Saasu has a semi-steep learning curve. While the software may take some time getting used to, it is well-organized and simple to navigate overall. There is also a getting started guide and comprehensive help center to help you learn your way around.
Saasu Features
This is where the software shines, as it should. Saasu offers many valuable accounting functions and numerous features. There are even a few unique touches like cash flow forecasting and drop shipping support. Here's an overview of Saasu's feature set:
Dashboard: The dashboard features a clear collection of charts and graphs marking profit & loss, cash flow, balance sheet, accounts receivable, accounts payable, and Saasu news. These default charts are completely customizable. You can easily add new charts or rearrange existing information to suit your business.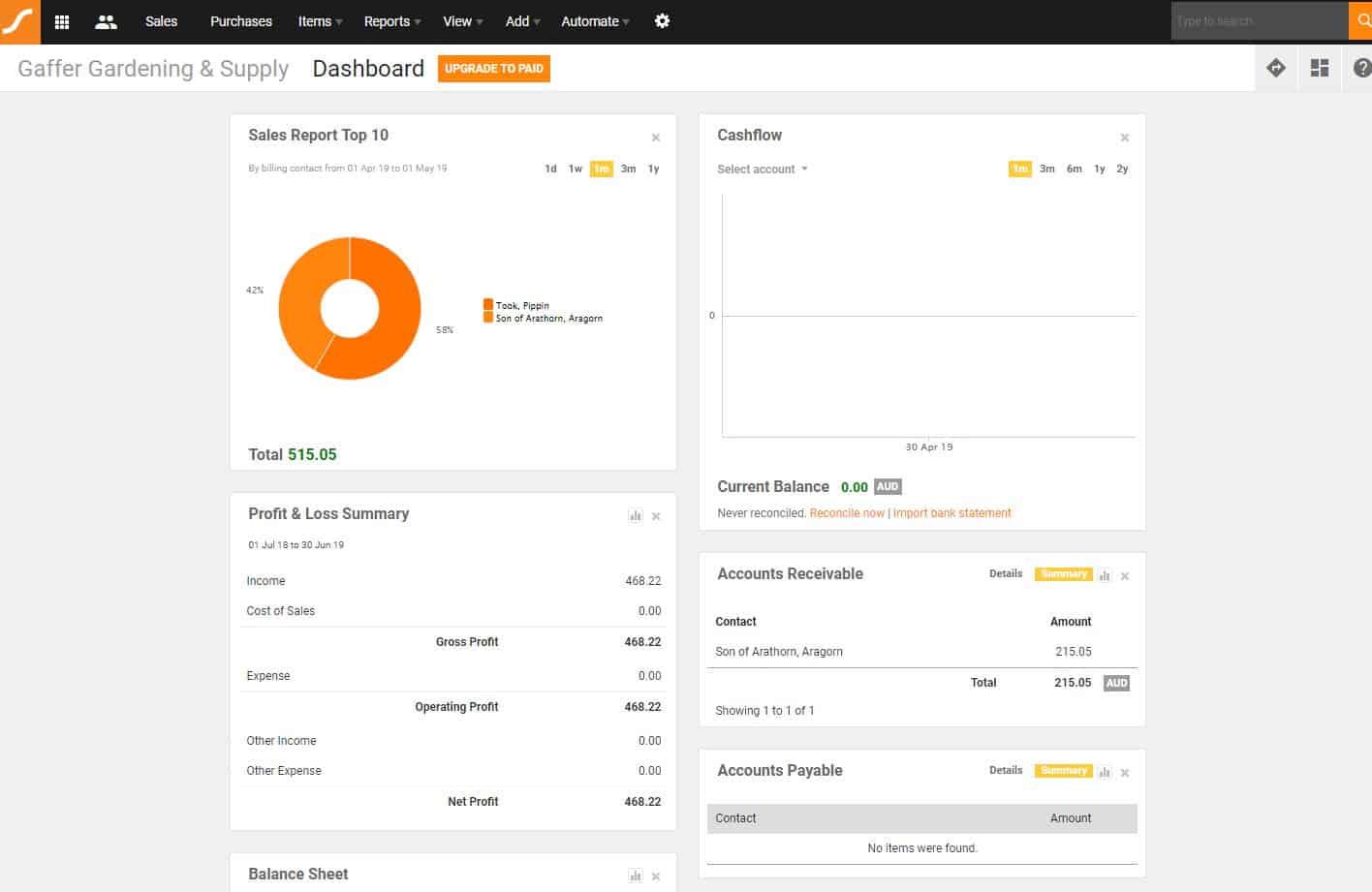 Invoicing: Saasu offers three very basic invoice templates. You can add a logo to your templates, but beyond that the ability to customize invoices is limited. The software supports recurring invoices and batch invoicing to contact groups. You can add contacts and enable payment reminders; however, these reminders won't be sent automatically like with most software. Instead, you have to go to the Requires Follow Up report and send them yourself. You can email invoices or print invoices to mail to your customers.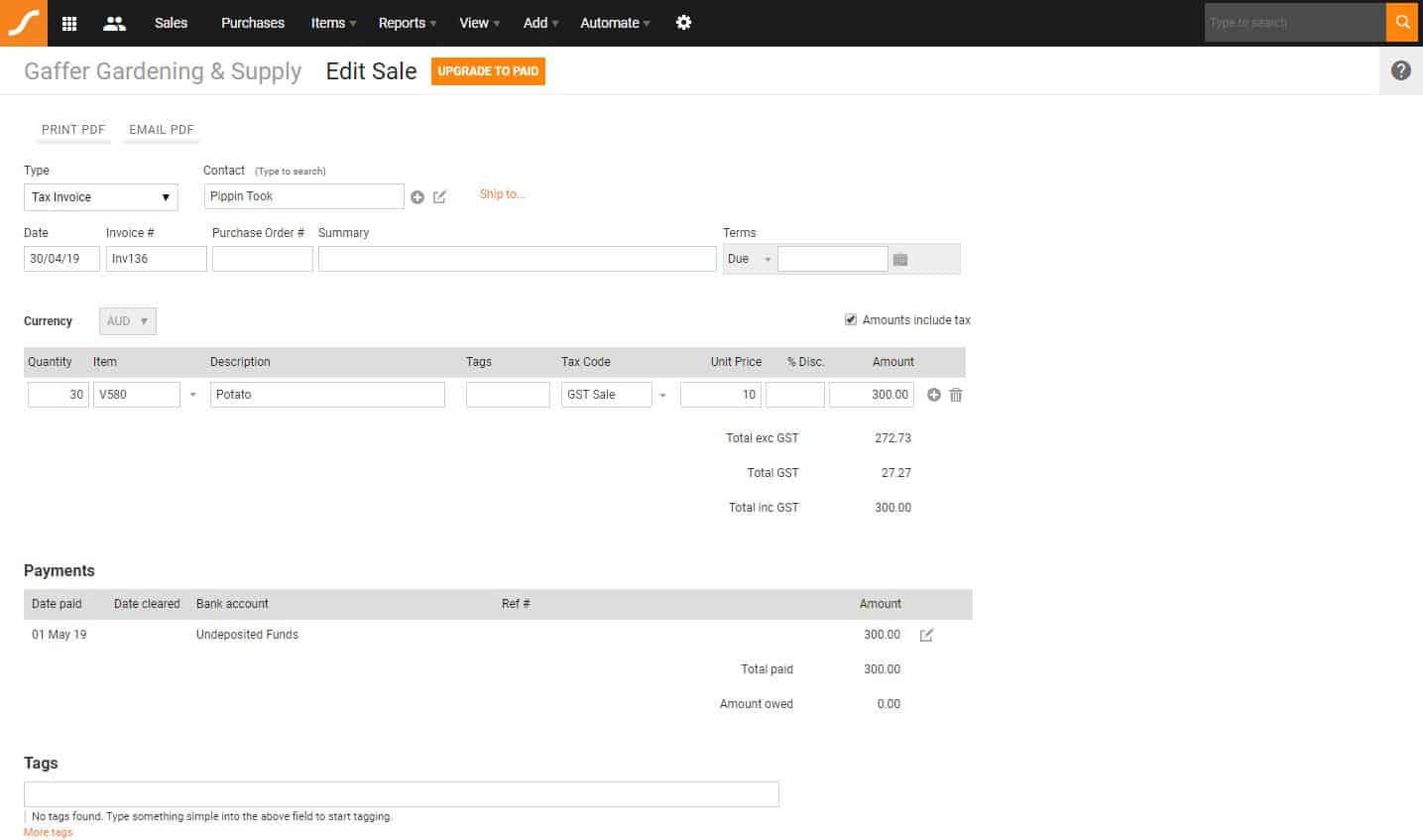 Quotes: This feature allows you to create quotes for items and services. There's also the unique ability to create pre-quotes for tracking future sales. It's difficult to view past quotes, and there's no way to easily convert quotes to invoices.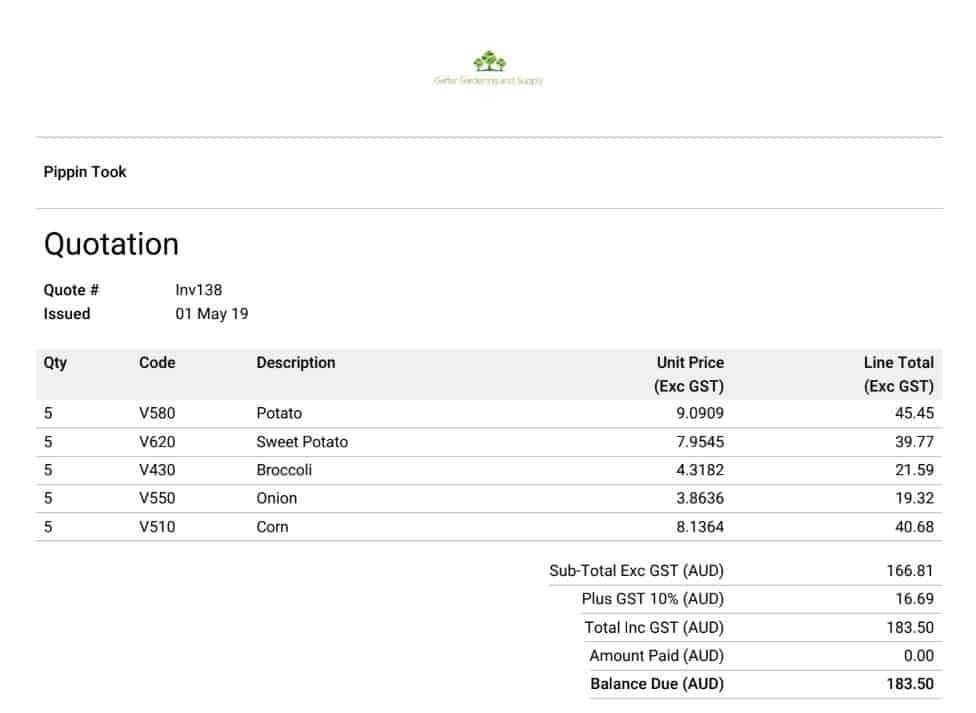 Contact Management: Saasu offers detailed contact management. You can add contact information, default payment information, custom fields, and more. You can distinguish between customers, suppliers, contractors, and partners, and you can add multiple contacts per company. One of the best parts of Saasu's contact management is that you can create custom contact groups. You can also automatically send statements to your customers.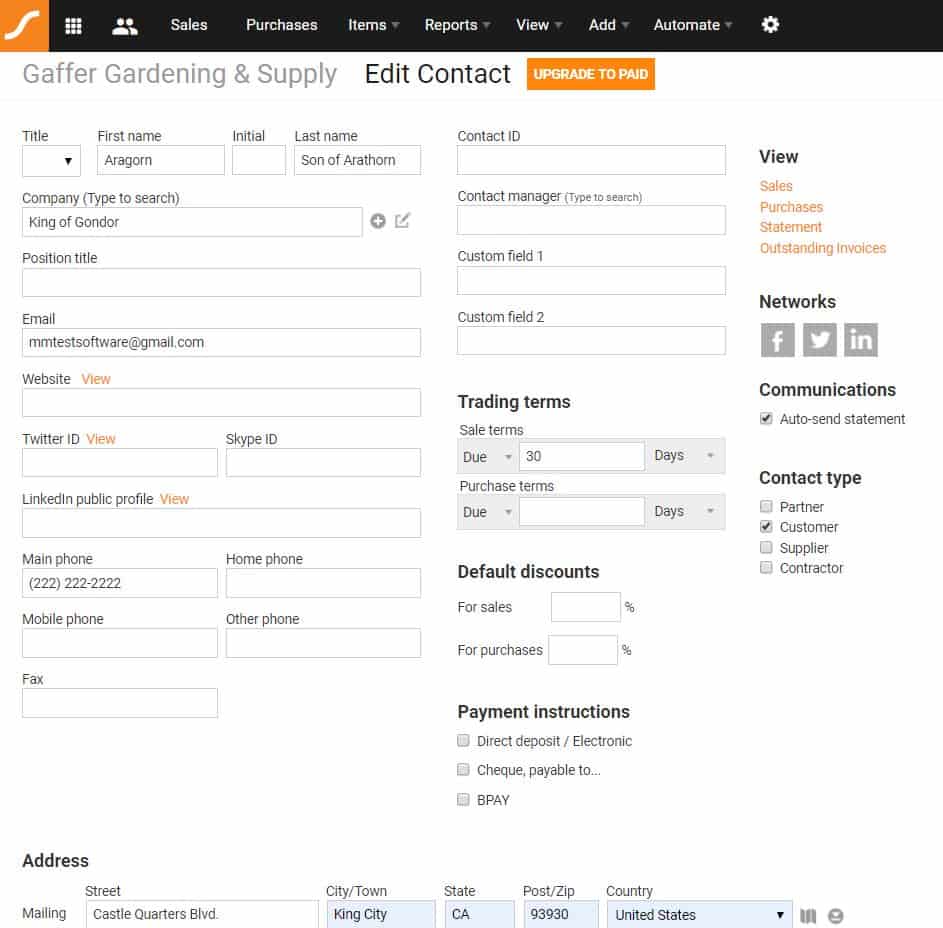 Employee Management: In addition to customers and suppliers, you can manage employers as well. You can add their personal details, contact information, employment type, and pay rate information. You can add wages and salary information, as well as deductions, taxes withheld, and contributions, making it easy to run payroll.
Expense Tracking: You can connect to your bank account using live bank feeds or manually import bank statements into Saasu. You can create bank rules so that Saasu will automatically categorize transactions, and you can perform bank transfers as well. Note: Like most software using live bank feeds, Saasu partners with Yodlee, which may violate some banks' Terms and Conditions. Consult with your bank to see whether live bank feeds are a good choice for you.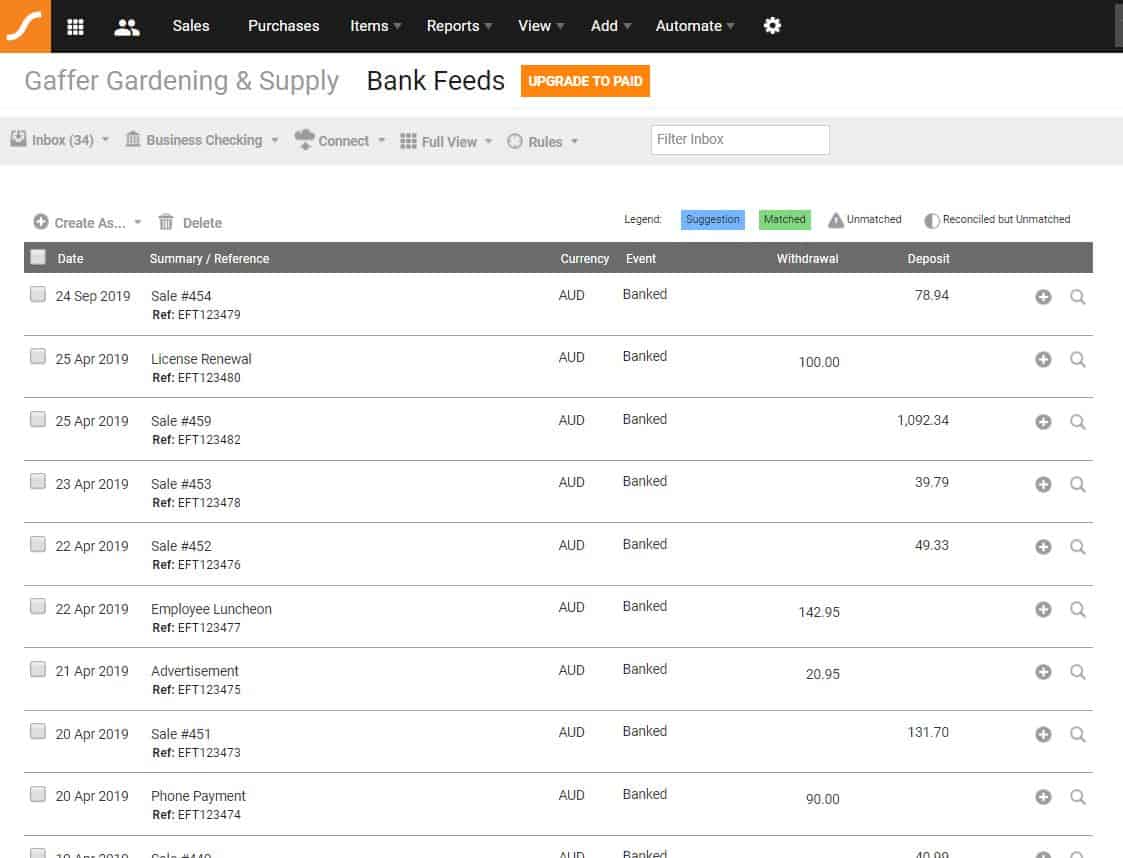 Bank Reconciliation: You can run a bank reconciliation report.
Chart Of Accounts: Saasu has a default chart of accounts that is customizable. You can edit accounts to suit your business or import your own chart of accounts instead.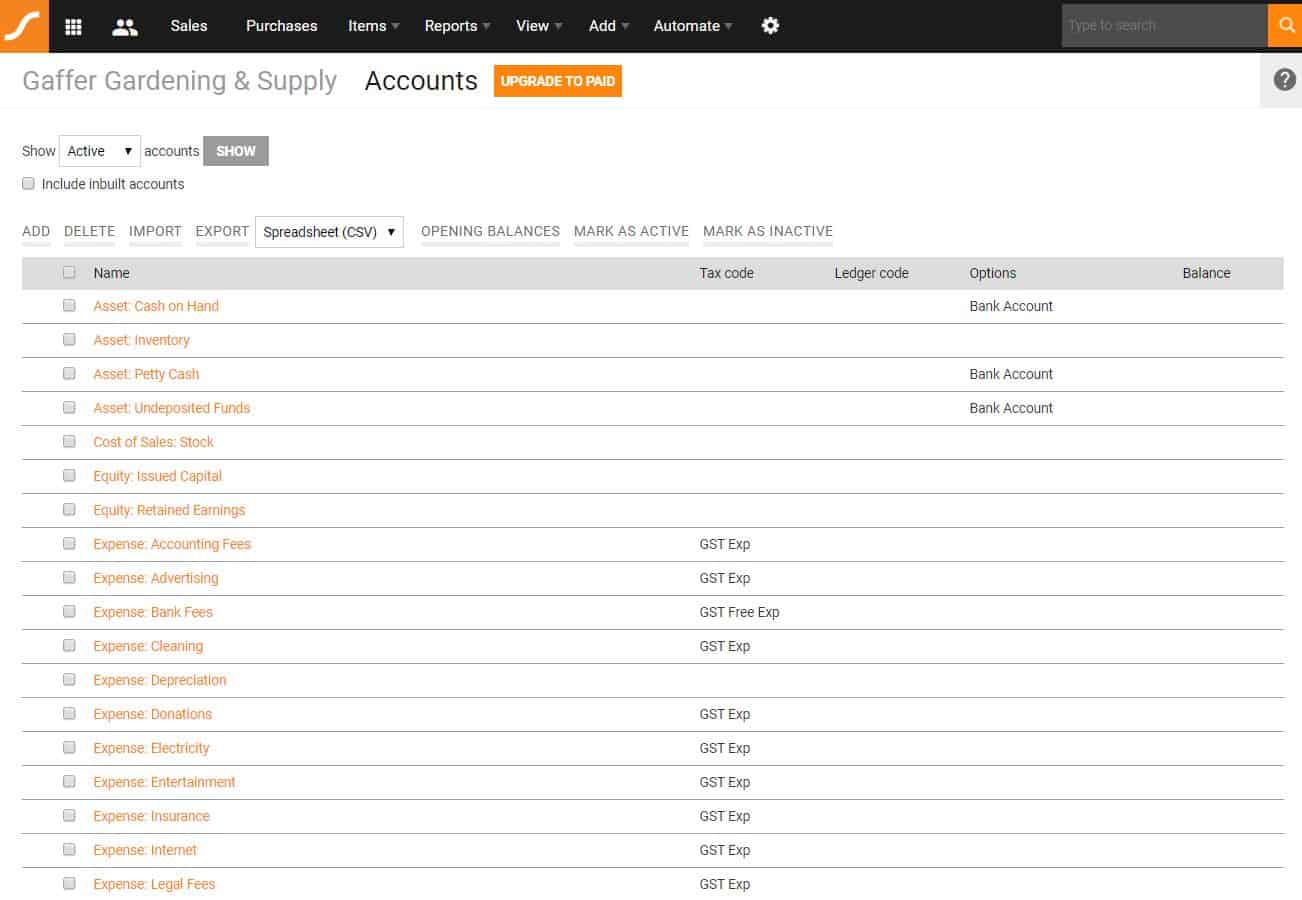 Fixed Asset Management: You can record and manage your fixed assets in Saasu and track depreciation using journal entries.
Accounts Payable: You can record purchases and bills in Saasu. You can create recurring purchases and run an accounts payable report to see who you still owe.
Inventory (Medium & Large Plan Only): You can create items and services in Saasu, and the software has a well-developed inventory feature. You can perform inventory adjustments, inventory transfers, and create inventory combos (or bundles). You can record detailed inventory information, and not only can you record a default low stock reminder, but you can also set a default reorder amount. Saasu features several inventory reports as well.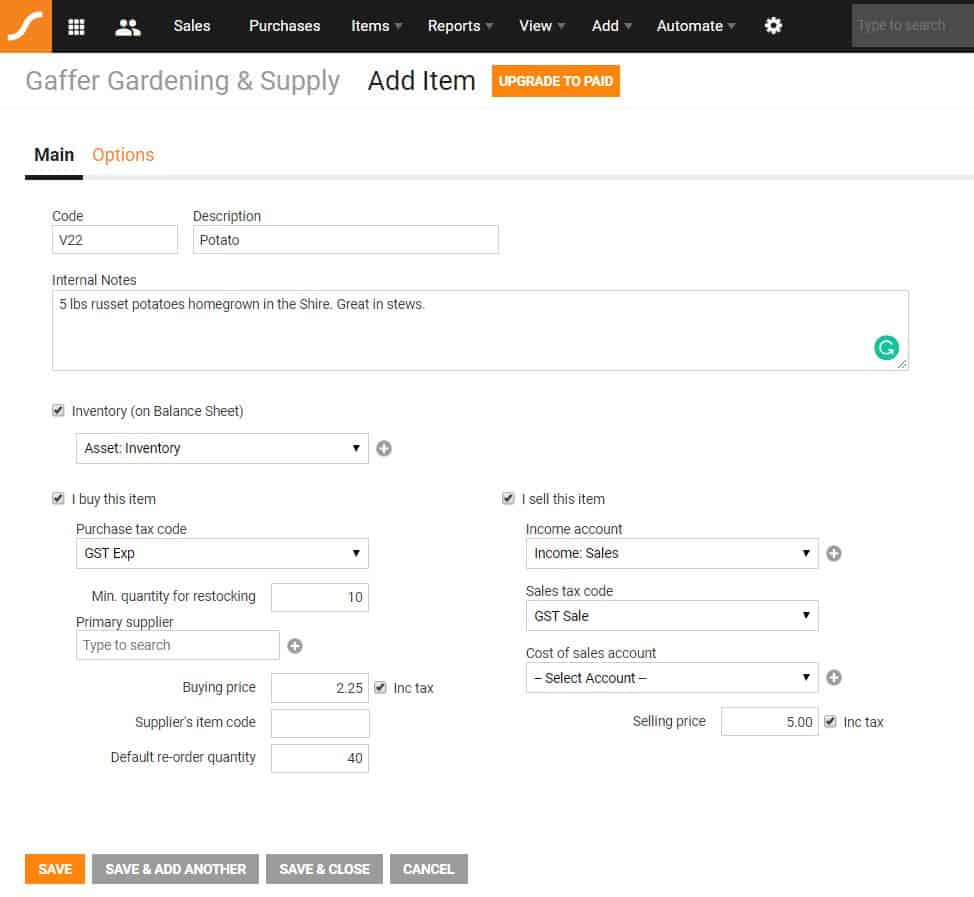 Payroll: Saasu helps Australian business owners handle payroll with a built-in payroll feature. You can add employees, pay items, payroll entries, and direct deposit.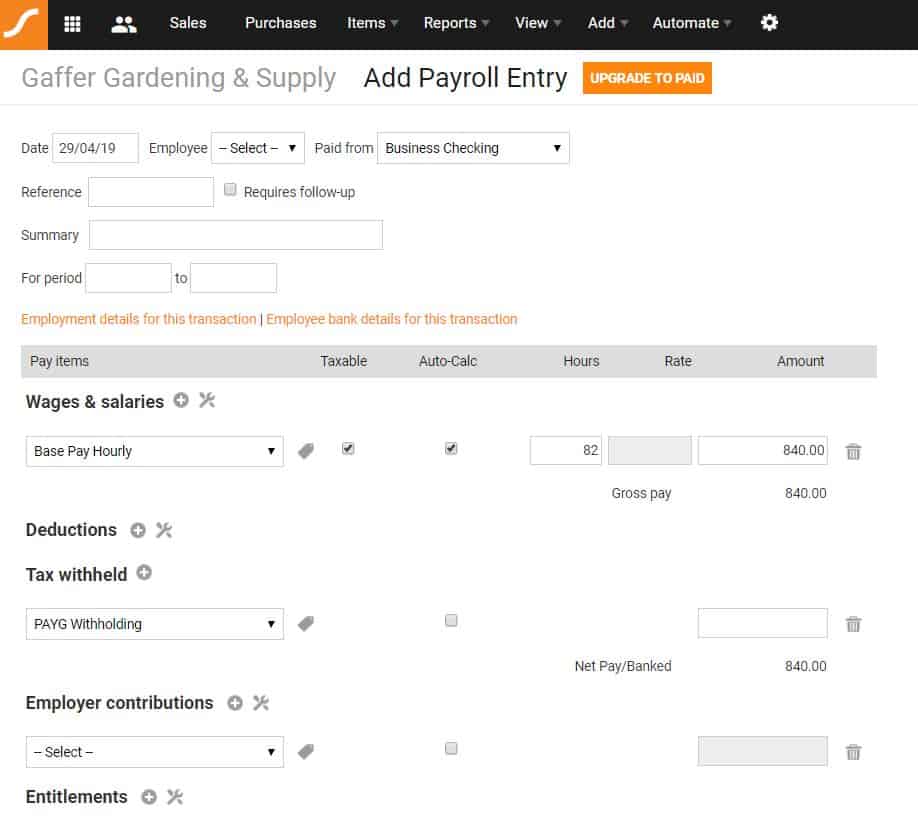 Timesheets (Medium & Large Plan Only): Saasu does not have a full-on time tracking feature, but your employees can fill out timesheets, allowing business owners to easily run payroll.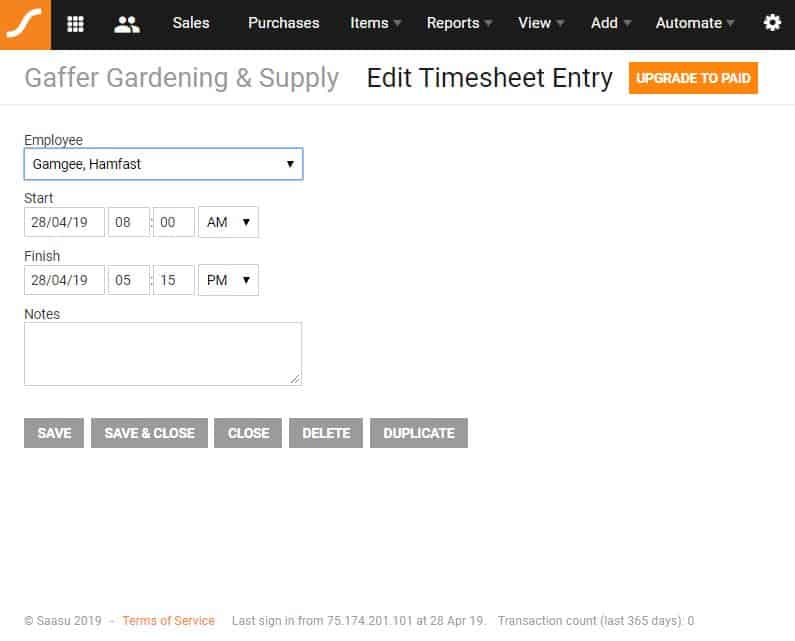 Reports: Saasu offers 35+ reports. These reports cover the basic accounting reports, sales reports, and several helpful payroll and tax reports.
Budgeting: Saasu offers comprehensive budgeting. You can create budgets by month, quarter, year, or a custom time period, and you can compare budgets directly with Profit & Loss statements.
Cash Flow Forecaster: Saasu provides a budget forecaster that predicts your company's future sales based on any invoices or bills you've entered and any recurring sales or purchases. This unique feature lets business owners see their projected transactions for the next 90 days. The forecaster automatically takes any currency exchange rates into account for a more accurate cash flow prediction. While this feature is one of the coolest in Saasu, I wish there were a way to zoom out the cash flow lens so you didn't have to look day by day. Additionally, I'd love to see this feature actually forecast sales based on previous cash flow trends, not just on the data you've entered into the software.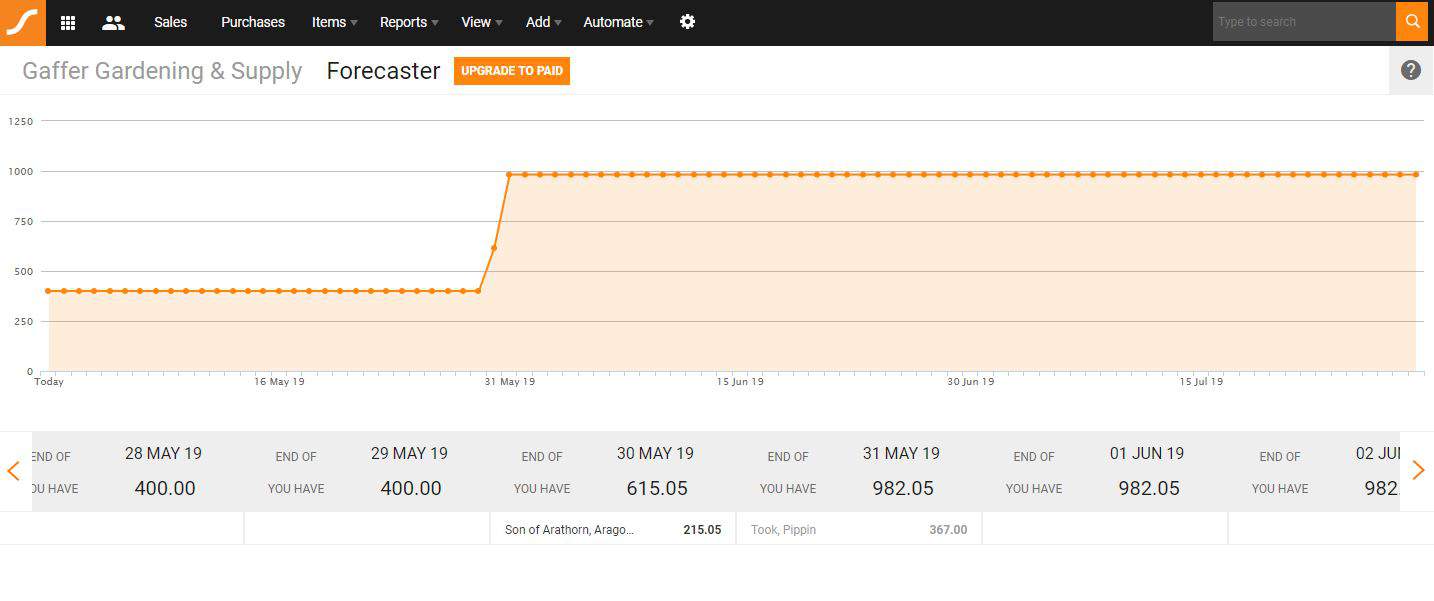 Journal Entries: You can create journal entries in Saasu.
Sales Orders: You can create sales orders and record daily sales or other income using the money-in option.
Purchase Orders: You can create purchase orders in Saasu and record full or partial stock deliveries. Saasu is one of the only programs I've seen that created its purchase order feature to work with drop shipping.
Credit Memos: You can create credit memos.
Packing Slips: You can create shipping slips in Saasu.
Sales Receipts: Saasu support sales receipts.
Tags: Tags are Saasu's way of helping you filter information. This feature makes it incredibly easy to categorize transactions, find information, and create more detailed reports.
Default Email Templates: You can create default email messages for sales, sales orders, receipts, purchases, purchase orders, remittance, pay advice, statements, and/or outstanding invoices.
Activities: Saasu does not have a project management feature; however, they do have a feature called activities that you could use as a project work around. Activities can include calls, appointments, meetings, or notes. You can add a due date, details, and assign the activity to an employee.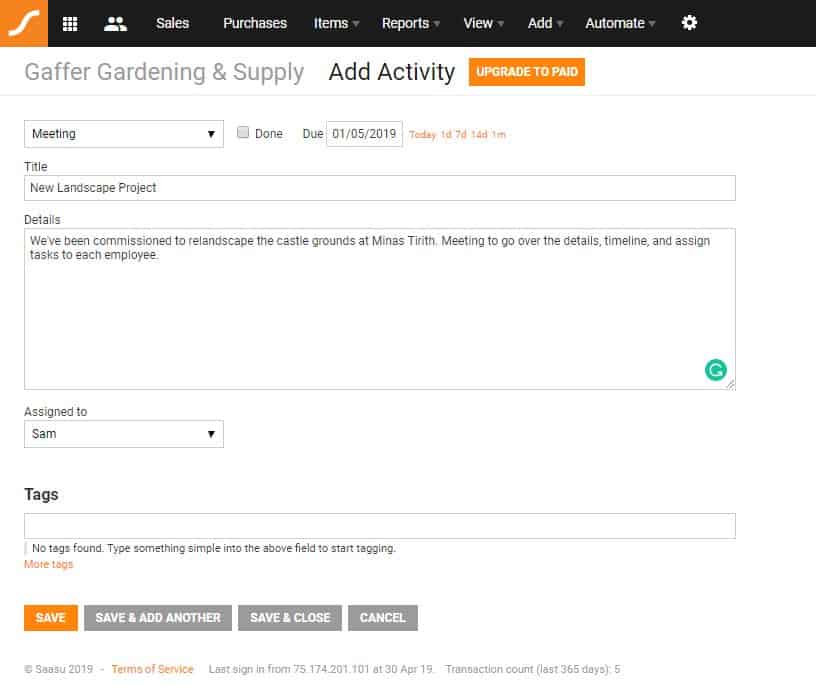 Tax Support: For Australian business looking for tax support, Saasu's got you covered. Saasu helps handle GST and simple or full BAS. There are also several tax reports in the software and tons of information in help center about how Australian taxes work and how to use Saasu to reflect your correct taxes.
Multiple Currencies (Medium & Large Plan Only): Saasu offers over 50 currencies and exchange rates are updated daily.
Importing & Exporting: You can import bank statements, contacts, a chart of accounts, or items into Saasu. You can also migrate your information from MYOB, Xero, or QuickBooks Online. You can export most information in Saasu as well.
Saasu Customer Service & Support
Saasu offers a good number of support options, and while there is no phone support, they are quick to answer emails. All of my emails were responded to between one to two hours with the longest taking a day — and that's given my US time zone. For Australian users, I imagine the response time is even better. While some customers complain about the lack of phone support, others leave positive reviews regarding the company's customer support. Additionally, the software offers a comprehensive help center that is easy to access and full of great how-to articles.
Here are all of the support resources available to customers:
Email: You can email Saasu regarding sales questions.
Support Ticket: There's a support ticket that you can fill out in the help center. Saasu says representative will "get back to you within 24 hours, if not sooner." In my experience, representatives are knowledgeable and helpful.
Help Center: The Saasu help center includes dozens of how-to articles. You'll also find a support ticket and feature request area here.
FAQ Section: Saasu's FAQ section answers sales, pricing, and account questions.
Saasu How To: This is basically a blog that contains "tips and tricks for small business owners."
Saasu Blog: There is the actual Saasu blog, which features company news and updates.
YouTube: Saasu has a well-developed YouTube channel with tons of training videos, although many of the videos are a bit outdated.
Newsletter: Users can opt for a monthly newsletter from Saasu.
Social Media: Saasu maintains active Facebook, Twitter, LinkedIn, Pinterest, and Vimeo accounts.
Saasu Reviews
Negative Reviews & Complaints
Saasu has a fairly small Internet presence. Of the reviews that are out there, the majority are positive, although there a few complaints. Complaints are mainly about the mobiles apps, which is evident by the app's 1/5 star rating on iTunes (based on four customer reviews). Here are the issues users have with Saasu:
Weak Mobile App: The most common complaint is that Saasu has poor mobile apps. Users complain that the apps are slow and poorly designed. There are also cases of the app glitching or users finding bugs in the software. Although, it's worth noting that Saasu listens to its customers and many of Saasu's updates in 2018 were to the mobile app to try and address user issues.
Poor Customer Service: A couple of users say Saasu has poor customer support and wish for phone support.
Learning Curve: Some people complain that the software is difficult to learn at first.
Positive Reviews & Testimonials
While there's only a small sampling of Saasu reviews, Saasu users who did give feedback generally seemed positive and content with the software. Saasu receives 3.1/5 stars on the Google Play Store (based on 21 reviews) and 3.6/5 stars on GetApp (based on 22 reviews). Here's what users seem to like about the software:
Saves Time: One of the most common comments is that the software is easy to use, simple, and saves time. Users particularly like that Saasu is cloud-based and can be accessed anywhere when needed and that it offers automations like recurring sales and expenses.
Good Price: Another common praise is that Saasu is a good price for the number of features available. A few others appreciate that the pricing plans and features are scalable for their business and that there are unlimited users.
Good Feature Selection: Users like Saasu's feature selection, particularly payroll, multi-currency, inventory, and reports features. Some users even say the software is better than Xero or MYOB for Australian businesses.
Here's what a few users are saying about Saasu:
I have been using Saasu for a few businesses for years now and am very happy with the features, they keep improving it every year and it gets faster or easier every time.

Pricing is simple and is affordable for small businesses like mine. Has all the key functionality I need including bank feeds which makes account reconciliations nice and easy. BAS reporting is quick and easy with the built-in reports.

We at Truppr love Saasu for its strong accounting features, comprehensive reports, unique cashflow forecaster, and an unlimited amount of users available on all plans.
Saasu Integrations & Add-Ons
Saasu features 40+ integrations, including six payment gateways and a Zapier integration (which connects Saasu with 1,000+ third-party apps). This number has dropped slightly since our last review; however, there is still a decent selection of add-ons to choose from. API is available for developers.
Security
Regarding security, Saasu declares, "Redundancy, Integrity, Security and Capacity are the cornerstones of our development approach." To ensure these cornerstones are met, Saasu uses SSL Encryption. The company also offers a "bug bounty" to white hackers to test their app's security Saasu's servers are monitored by RackSpace. The company doesn't offer much detail beyond this so contact Saasu directly for more information.
Final Verdict
Saasu may not have taken out its Goliaths completely, but the fight is one worth watching. Packed with features, strong accounting, unlimited users, and built-in payroll, Saasu throws quite a punch — or hurls quite a stone. However you say it, Saasu is a good accounting option for Australian businesses. The software is ideal for small to medium-sized businesses in need of strong accounting, ample features, built-in payroll, and GST support. The software has strong contact management, expense tracking, accounts payable, a cash flow forecaster, and more. Add good customer service to the mix, and it's easy to see why so many users leave positive reviews about Saasu.
However, there are a few places where Saasu falls short. There's no real project management or job costing feature, there's limited time tracking, and the cash flow forecaster, while great in theory, isn't as developed or user-friendly as it could be. The invoicing and quote features are also limited. Usability, invoice templates, and templates customizability could all be improved.
That being said, Saasu could still be a great choice for Australian business owners. Give the software's free trial a run to see if Saasu is right for you. Or, if your Australia-based company needs accounting software with project management, take a look at Xero instead.
---
Try A Top Pick For Payroll
ADP Payroll


---
We like ADP Payroll for its advanced employee management, strong payroll features, and great customer support. Get three months free when you sign up through our links! Get Started.
Try A Top Pick For Payroll
ADP Payroll


---
We like ADP Payroll for its advanced employee management, strong payroll features, and great customer support. Get three months free when you sign up through our links! Get Started.
To learn more about how we score our reviews, see our
Accounting Software Rating Criteria
.