Sage 50cloud Review (Formerly Peachtree)
Expert Analyst & Reviewer

Updated on:
Advertiser Disclosure: Our unbiased reviews and content are supported in part by
affiliate partnerships
, and we adhere to strict
guidelines
to preserve editorial integrity.
Sage 50cloud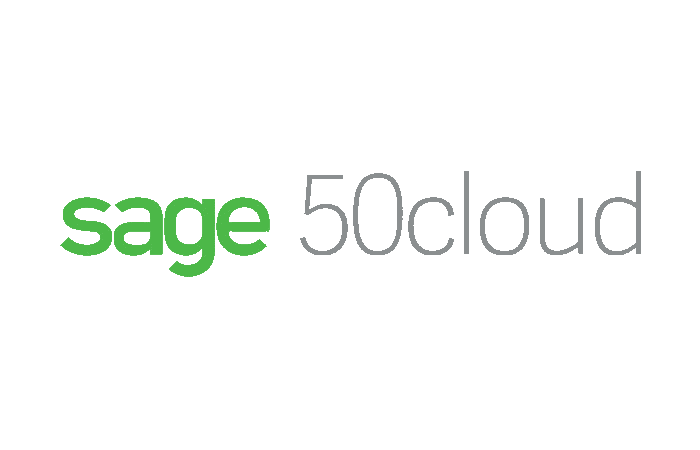 Pros
Double-entry accounting
Numerous features
Ample accounting reports
Cons
Steep learning curve
Outdated UI
Limited integrations
Sage 50cloud Accounting Software Overview
Sage 50cloud is true accounting software (as opposed to simple invoicing software) that offers traditional accounting, advanced features, and a high degree of customizability. With strong inventory, reporting, and unique tools such as a cash flow manager, it's easy to see why the software has been so popular.
However, Sage 50cloud is not without its faults. The software has an incredibly steep learning curve (worse than QuickBooks Pro, which is saying something) and is far more expensive than its competitors. With poor customer support, an outdated UI, and a lack of automations, this software could stand improvement.
If you are an accountant (or have a strong background in accounting) and are looking for software with complex accounting features and a high degree of customizability, Sage 50cloud could be a good choice for you. If you're looking for something that still has great features but is far less expensive and easier to learn, we suggest checking out QuickBooks Online, Xero, or one of our other recommended accounting programs instead. Read on to learn what Sage 50cloud has to offer.
Sage 50cloud Pricing
Sage 50cloud offers three pricing plans that you purchase as a license or as a monthly or yearly subscription. While Sage is a bit expensive, the company has improved its pricing structure by adding a monthly subscription option instead of just a yearly, locked-in contract.
The company is pushing users to purchase a subscription of Sage 50cloud online rather than purchasing a license — so much so that there's no license pricing listed on the website. You can contact support directly for pricing, or you can purchase Sage 50cloud from most office supplies stores, such as Staples or Office Depot. Make sure to check how many users your license allows and the level of customer support available before purchasing. Prices vary anywhere from $300-$2,300 depending on your business's needs.
Sage 50cloud


---



A Sage 50cloud subscription can be purchased directly from Sage's website. Previously, there was only a yearly subscription option, but now you can choose a monthly payment option as well. If you opt for the monthly plan, you can cancel your subscription at any time. If you opt for the yearly plan, your Sage 50cloud subscription cannot be canceled at any time, and you must agree to a minimum one-year commitment. There is no free trial for the US edition. There is a discount for purchasing yearly, and the company is often running promotions, so be sure to take advantage of any discounts.
While Sage 50cloud is upfront about its pricing, the company makes it difficult to know exactly which features come with each plan, so here is a breakdown of what each offers:
Pro Accounting
The Pro Accounting plan is priced at $56.08/month and includes:
Contact management
Expense tracking
Invoices and estimates
Accounts payable
Inventory
Job costing
Live bank feeds
Reports
One user
Premium Accounting
The Premium Accounting plan starts at $84.58/month and includes everything from the Pro Accounting plan, plus:
Time tracking
Project management
Advanced job costing
Advanced budgeting
Serialized inventory
Up to five users
Quantum Accounting
The Quantum Accounting plan starts at $139.58/month and includes everything from the Premium Accounting plan, plus:
Personalized dashboards
Industry-specific features
Up to 40 users
Extra Costs To Consider With Sage 50cloud Pricing
There are several extra costs to be aware of before purchasing Sage 50cloud.
Additional Users: Additional users cost extra. Go to Sage 50cloud's pricing page and enter your desired number of users to see how much your subscription will cost.
Sage Payroll: You can add Sage's payroll service. Contact the company directly for pricing details.
Sage Payment Solutions: Sage's payment gateway allows you to accept payments online. Sage does not disclose any rates or pricing information (although the transaction fee was previously quite high).
Sage Exchange: The Sage Exchange payment management system takes Sage payments to the next level with electronic checks, gift cards, loyalty programs, and more. Contact Sage directly for pricing and details.
Microsoft Office: You can add Microsoft Office 365 to any plan for $150/year.
Checks: You can purchase and print checks through Sage 50cloud. Visit the company's website to view all check products and pricing details.
Cloud-Based Or Locally-Installed
Despite the name, Sage 50cloud is locally-installed software, although an internet connection is required for certain functions.
While the software isn't cloud-based, there is a cloud component where you can store your information on Sage Drive and remotely access your Sage 50cloud account from another computer (so long as Sage 50cloud is downloaded on that computer as well).
Hardware & Software Requirements
Sage 50cloud is only compatible with Windows 8.1 and 10; Mac and Linux are not supported. Certain features require Internet Explorer 11.0 or higher, and some integrations require Microsoft Word, Excel, and/or Outlook. Other Sage 50cloud US system requirements include:
1.0 GHz processor (2.33 recommended for multiple users)
4GB RAM (8 GB recommended for multiple users)
1024 x 768 resolution
Specific Size Of Business
Sage 50cloud is ideal for medium to large-sized businesses with moderate to complex accounting needs and deep pockets, as the software can be quite expensive. The software is geared toward accountants or business owners with strong accounting backgrounds. The software is not meant for small businesses or those with little to no experience with accounting software.
You can have up to 40 users and user permissions are highly customizable.
Sage 50cloud


---



Sage 50cloud Accounting Method
Sage 50cloud uses both accrual and cash-basis accounting.
Ease Of Use
Sage 50cloud is not for the faint of heart. The software is complex, has a steep learning curve, and takes quite a while to learn (especially if you aren't familiar with accounting). This is partially due to the sheer number of features available. The software is well-organized, but the UI is outdated, and many features could be streamlined for better usability. There is a basic walkthrough guide when you first open the software that gives you the lay of the land as well as a built-in help center.
Sage 50cloud Accounting Software Features
This is where Sage shines. While the UI is a bit outdated, Sage 50clouds offers a large number of features. Here are some of the most notable features the software has to offer:
Dashboard: Sage 50cloud has an incredibly customizable dashboard where you can add over 45 different graphs and charts so that you can see easily see what information is more important for your business.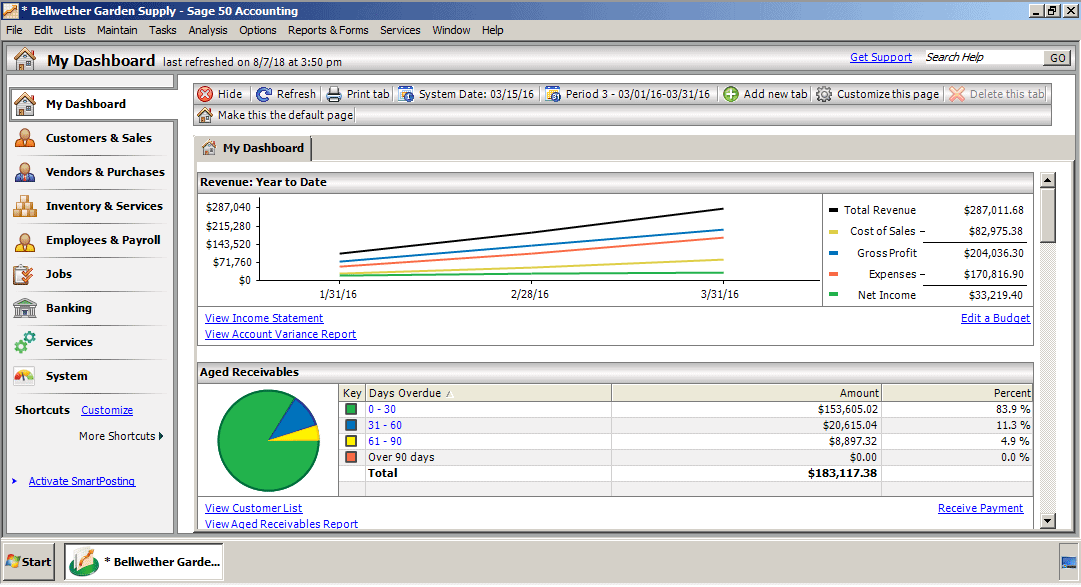 Invoicing: Sage 50cloud offers a single, very basic invoice template. You can customize the template by changing the colors, font, layout, and adding a company logo. You can track invoices, send recurring invoices, and duplicate invoices as well. You can add attachments and send one invoice to multiple customers, which is a nice touch. Note, you can only send invoices via email using Microsoft Outlook.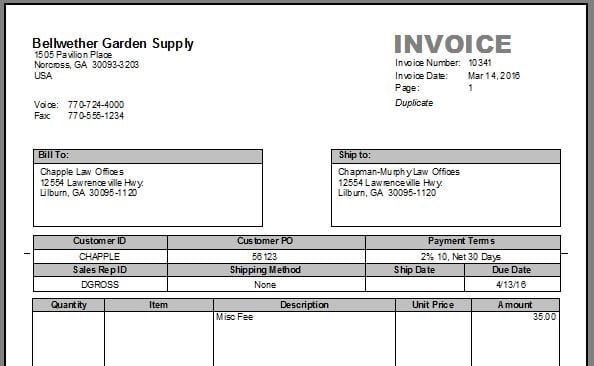 Estimates: You can create both quotes and proposals in Sage 50cloud. Sage makes it easy to convert quotes into invoices or sales orders.
Contact Management: You can manage customers, vendors, and employees within Sage 50cloud. You can add tons of contact information, including a billing address, shipping address, phone, email, custom fields, and much more. Sage 50cloud has a particularly nice Customers & Sales dashboard where you can view all of the most important info about your customers. You can view a contact's history and attach tasks (send a letter, call, or meeting) as well. Additionally, you can record a customer's payment information and assign a sales rep to each customer.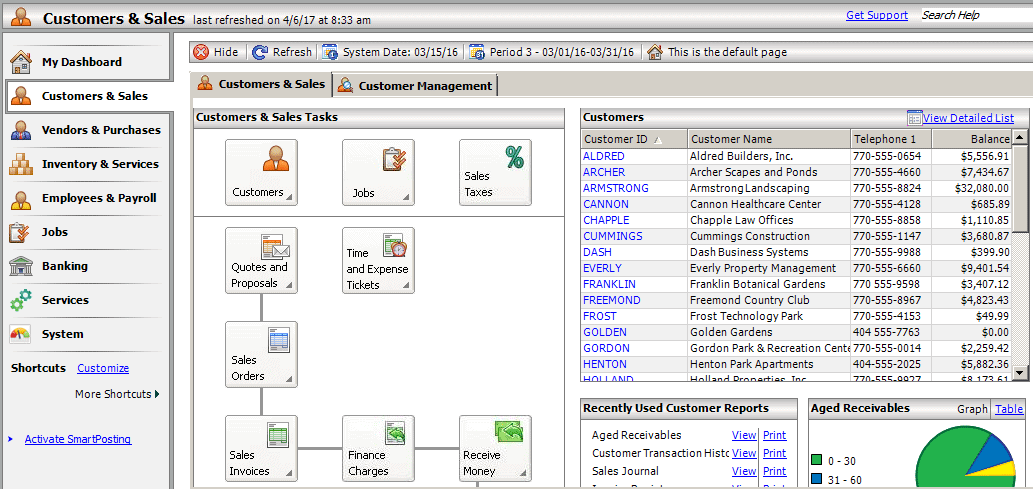 Expense Tracking: Sage 50cloud offers very basic expense tracking. You can connect directly to your bank account using live bank feeds, but the software doesn't automatically categorize transactions, and there are no custom bank rules. Note: Like almost all software using bank live feeds, Sage Business Cloud Accounting software partners with Yodlee, which may violate some banks' Terms and Conditions. Consult with your bank to see whether live bank feeds are a good choice for you.
Bank Reconciliation: You can easily view your account register and reconcile your bank accounts.
Accounts Payable: You can manage, track, and even pay your bills directly within Sage 50cloud.
Checks: You can write and print checks directly from Sage 50cloud. You can also order checks, forms, and other business supplies straight from Sage.
Chart Of Accounts: Sage 50cloud offers a comprehensive chart of accounts that is completely customizable.
Inventory: Sage 50cloud's inventory feature is particularly well-developed. You can set up inventory defaults and unit measures, build inventory assemblies, and easily make inventory adjustments. The Premium and Quantum plan supports serialized inventory. You can also set quantity discounts on the Quantum plan.
Time Tracking: You can easily track time with a built-in timer, or you can enter your hours manually into the software. You can also create weekly timesheets and mark time as billable or nonbillable.
Project Management: You can create and manage projects in Sage 50cloud. You can add a project description, start date, end date, supervisor, status, and more. You can also create job phases to track how your project is progressing. The Premium and Quantum plans add full job costing, so you can see how much you're earning on each job.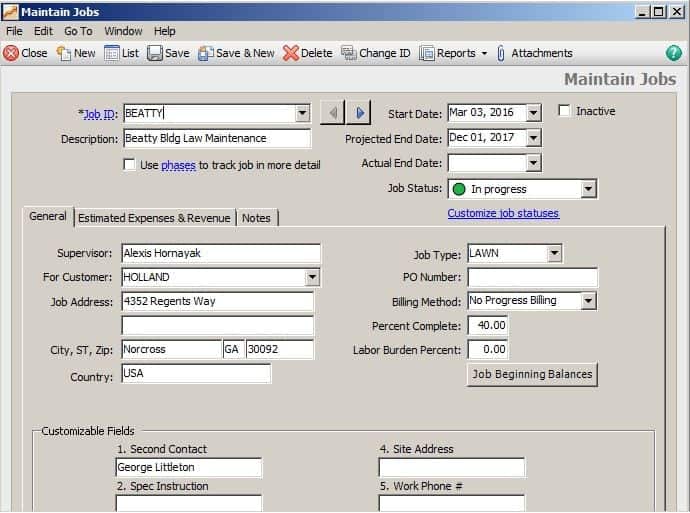 Reports: Sage 50cloud offers upwards of 165 reports depending on your plan. Reports are highly customizable and provide all of the detail you could ever want or need for your business.
Journal Entries: You can create and adjust journal entries.
Budgeting: You can create a budget from scratch or by using existing data within Sage.
Cash Flow Manager: One of the coolest features Sage 50cloud offers is the cash flow manager. It allows you to analyze your cash flow, anticipate "what if" situations, and predict cash flow. This tool is invaluable for businesses trying to manage their cash flow.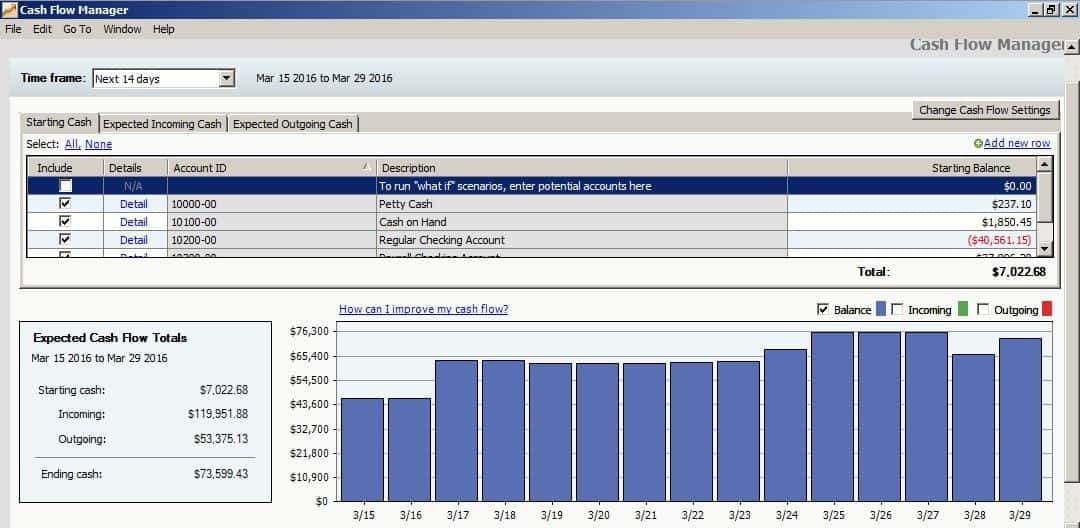 Sales Orders: Sage 50cloud supports sales orders.
Year-End Wizard: Another impressive and unique feature that Sage 50cloud offers is the year-end wizard. This tool helps guide you through closing your books at the end of the year.
Tax Support: Sage 50cloud offers tax support for 1099s.
Importing/Exporting: Sage 50cloud offers comprehensive importing and exporting capabilities. You can import and export almost anything you want using the software. If you were predominantly managing your business in Excel, you can also import your custom-made Excel reports straight into Sage 50cloud.
Sage 50cloud Accounting Customer Service & Support
A glitchy in-software live chat, a nigh-useless help article search bar, and an over 60-minute phone wait time left me pretty disappointed with Sage 50cloud's customer support. While there are plenty of support options to choose from, customer service is one area where Sage 50cloud needs to step up its game.
Phone: You can reach sales and technical support by phone. Sales questions are answered promptly, while tech support wait times are quite long. I waited on the phone for 60 minutes before giving up entirely. At the beginning of a call, you can opt to leave your name to have a representative call you back.
Support Ticket: You can fill out an online support ticket and submit questions to the Sage team.
Live Chat: There is a live chat option on Sage 50cloud's website.
In-Software Help: There is an in-software help section with a getting started guide, user guides, and a knowledgebase. The search bar for the knowledgebase never seemed to work correctly, though the guides are helpful. There's also a "get support" link that takes you to a live chat screen.
Knowledgebase: Sage offers a knowledgebase with articles and videos on how to use Sage 50cloud.
Sage City: Sage City is where you can see recent blogs, ask fellow users questions, hear the latest Sage announcements, and more.
Sage University: You can search for Sage training courses near you (extra fees apply).
Year-End Resources: One of the most unique aspects of Sage 50cloud is that they provide tons of year-end support, including a complete year-end resource center.
Sage Advisor: You can search for a Sage advisor as well.
Social Media: Sage is active on Facebook, Twitter, LinkedIn, YouTube, and Instagram. The YouTube channel doesn't offer many videos regarding Sage 50cloud but does offer tons of helpful business advice and tips.
Sage 50cloud Reviews
Negative Reviews & Complaints
Sage 50cloud reviews are a pretty even mix of both positive and negative. The software receives decent ratings across popular review sites, but there is still a good number of complaints. Here are the recurring problems users have with the software:
Difficult To Learn: The most common complaint is that the software is tough to learn.
Outdated UI: Many users also comment that the UI is outdated, and they wish for a more modern, updated software.
Bugs & Glitches: Several users reported bugs and crashes. The only glitch I experienced was with the live chat, though the software often ran slow.
Too Expensive: A few say that the software is too expensive, especially with payroll thrown into the mix.
Positive Reviews & Testimonials
While there are negative Sage reviews, there's an equal number of positive reviews from users who love the software. The software receives 3.7/5 stars on G2 Crowd (based on 106 ratings) and 3.7/5 stars on Capterra (based on over 240 ratings). Here is what a few users are saying:
Easy To Learn: Despite the complainers, more users say the software is easy to use. Accountants in particular like the software and users boast about the organization and customizability of Sage 50cloud.
Strong Features: Many note the strong features Sage 50cloud offers. Some of the favorites include reporting, inventory, and user permissions. Users also appreciate that the software helps them view all their information in one place and keeps them organized.
Good Customer Support: Despite my personal experience, many users are satisfied with Sage 50cloud's support and say they've received good customer service.
Here's what a few users are saying:
We use this daily at our company and it works well, it is powerful and can be customized to fit your needs

This software is easy to use. It can manage inventory and general transactions. There is project management which is a nice feature.

I'm a CPA and small business consultant. I have worked with some clients that use/used Sage 50. Sage 50 has a lot of good accounting functionality and makes it possible to record transactions and review reports, which is what an accounting software should do… My Sage 50 clients work in services, merchandise (drop shipping), transportation, and manufacturing. Sage 50 is a great software, but from what I've seen it takes a while to learn.

Up there with Quickbooks as one of the best accounting tools.
Accounting Software Integrations & Add-Ons
Sage 50cloud accounting software offers over 70 third-party integrations; however, there are hardly any payment processing apps available. The software does integrate with Sage Payment Solutions.
Software Security
As locally-installed software, Sage50cloud's security is primarily up to you. To learn more about protecting your data, read our post, How To Keep Your Locally-Installed Accounting Software Secure.
However, if you are using the cloud component of Sage 50cloud, the company does provide some security safeguards, including 128-bit SSL encryption and redundancy. Sage 50cloud uses Amazon Web Services to host its data, and all data is monitored 24/7.
FAQs: Sage One Accounting
Final Verdict Of Sage 50cloud
Sage 50cloud is most suited for accountants or businesses that want strong accounting and fully customizable software. Sage 50cloud combines the features of locally-installed software with the mobility of cloud software, but in some ways, misses the mark.
While Sage offers a couple of unique features, Sage 50cloud is missing some of the major basics, such as multicurrency support, multiple invoice templates, integrations, and transaction categorization. In addition, Sage 50cloud has poor customer service and a steep learning curve. When the software is already so expensive to begin with, these drawbacks make it hard for me to see Sage 50cloud being a realistic solution for most businesses, especially those looking for an easy accounting software solution.
That said, the software could still be a good fit for accountants or businesses in need of advanced features, such as inventory serialization, departmental accounting, cash flow management, and customizable reporting. Just be sure to do your research before purchasing, as there is no free trial or 30-day back guarantee with this software.
If Sage 50cloud doesn't sound like the right fit for your business, take a look at one of our other accounting solutions instead.

---
Try A Top Pick For Payroll
ADP Payroll


---



We like ADP Payroll for its advanced employee management, strong payroll features, and great customer support. Get three months free when you sign up through our links. Get Started.
Try A Top Pick For Payroll
ADP Payroll


---



We like ADP Payroll for its advanced employee management, strong payroll features, and great customer support. Get three months free when you sign up through our links. Get Started.
To learn more about how we score our reviews, see our
Accounting Software Rating Criteria
.
Read Next