Salesforce Email Marketing Review
Expert Analyst & Reviewer

UPDATED
Advertiser Disclosure: Our unbiased reviews and content are supported in part by
affiliate partnerships
, and we adhere to strict
guidelines
to preserve editorial integrity.
Salesforce Marketing Cloud

Pros
Excellent feature set
Suitable for medium and large businesses
Powerful automation options
Cons
Expensive monthly cost
No free trial
Inconsistent customer service
Salesforce Marketing Cloud Overview
If you are considering Salesforce email marketing, you are probably already familiar with the Salesforce brand. Make no mistake, however, that Marketing Cloud offers an entirely different set of services than the Salesforce CRM services created for your sales team. Salesforce's email marketing editions can iterate with its CRM, but these services should be thought of as a separate vertical. And because Salesforce offers over 40 business solutions, things can get really confusing if you don't make this main distinction between the CRM and email marketing platform right off the bat. So to clarify, Salesforce email marketing services within the Marketing Cloud vertical are all about planning campaigns for prospects you've captured in the funnel, and it's not necessarily geared for sending out mass emails from your outbound sales teams.
As most Salesforce reviews show, you don't need any special technical skills to use the software, as there is no coding required to create beautiful email campaigns and automated journeys. Unfortunately, you'll be taking a bit of a leap of faith if you decide on Salesforce for your email marketing. While you can test Salesforce CRM for your sales team with the 14-day trial, there's no free trial at all for the Marketing Cloud. However, you're not going in totally blind here, as Salesforce does have a demo series you can view, in exchange for all your contact information.
Because of the price point and where email marketing lives in the Salesforce ecosystem, it's accurate to say that smaller businesses with modest marketing needs and resources can probably get away with less expensive email marketing software. If you are already using Salesforce, however, it offers an omnichannel opportunity for you with plenty of room to scale and explore what's possible in email marketing. Let's get into the details, so you can decide for yourself.
Salesforce Email Marketing Pricing
Pricing for Salesforce email marketing is straightforward but a bit on the steep side for the basic plan. Each step up in plan includes an increase in features and functionality along with a corresponding price increase. Overall, the Salesforce platform is geared for a business that needs sophisticated options when it comes to automation, segmenting customer journeys, data, reporting, and other targeting and learning tools within the suite.
Here are the Salesforce Marketing Cloud email packages:
Basic
For personalized promotional email marketing, you'll be billed annually, starting at $400/month. The Basic plan includes the following:
Five users

1GB data storage

A/B testing

API access

Triggered messaging

Relational data
Mobile optimized email templates
Subscriber profiles

Content builder

Drag-and-drop segmentation

Forward to a Friend

Getting Started Playbooks

Lead capture

Marketing Cloud Connect

Personalization and dynamic content

Reports and dashboard
Personalization tools

Reply Mail Management

Social Forward

Transactional messaging

Web Collect for list acquisition

Approval workflows
The company's brochure lists contact limits, but the curious thing is it does not specify what that limit is for the Basic Edition. When I spoke to the account rep, she explained that there is some customization that happens at that level, so your cost could be a bit higher if you have a large list.
Pro Edition
The Pro Edition helps you create one-to-one customer journeys with your email marketing, starting at $1,250/month, billed annually. The Pro Edition builds on everything in the Basic Edition and offers expanded segmentation, automation, and Einstein, which is a part of Salesforce's predictive intelligence. This package is geared for businesses with a larger budget and more sophisticated email marketing needs. For this expanded package, you can expect everything in the Basic Edition, plus:
15 users

1K content tagging images

15GB data extension storage

15K contacts

15K automations

2M API calls yearly

Automated workflow and campaigns

Automation Studio

Landing pages

Einstein Content Tagging

Email Conversion Tracking

High-priority email messaging

Einstein Content Selection

Einstein Recommendations

Triggered communications

Queries, filters, and measures
Corporate Edition
The Corporate Edition is laser-focused on engagement as you'll build one-to-one, unique customer journeys across multiple channels, including in-app. The other significant addition to this plan is all the data you'll gain along with artificial intelligence through the Einstein feature, which we will dive into a little more in a future section. At this level, you get everything that comes along with Basic and Pro and everything listed below for $3,750/month, billed annually.
45 users
45K automations
6M API calls yearly
45K contacts
45GB data extension storage
2K content tagging images
SMS messaging
Dedicated SMS code
Einstein Engagement Tools, Insights, and Optimization
Einstein Copy Insights and Recommendations
Journey Builder
App inbox messaging
Mobile messaging templates
Group messaging (OTT)
Location (geolocation and beacons)
Mobile in-app messaging and notifications
Push messaging
App in-box messaging
SMS response messaging
Advanced reporting features
Enterprise Edition
The Salesforce Enterprise Edition includes everything in the previous levels with a big jump in contacts, storage, and pretty much everything else. Your final price for the Enterprise Edition is based on your contact and message volume, and the company isn't giving that information up until you call.
100 users
500K contacts
100K automations
200M API calls yearly
100GB data extension storage
Audience Builder
Custom user roles and permissions
Send-time attributes
Shared item
Shared subscriptions
Multiple business unit support
Real-time big data segmentation
One final note on pricing and packages: Many of the services that only come with the higher tiers can be purchased separately and added to your package, so you'll definitely want to take the time to work with your rep and only pay for what you need. There are a lot of things to wade through here, but Salesforce does offer a handy brochure and even an eBook to help you navigate all of the possibilities and proprietary, not-so-clear products. Suffice to say that you'll likely find yourself on a call with a dedicated account manager to customize your options.
Cloud-Based Or Locally-Installed
Salesforce Marketing Cloud, as the name implies, is cloud-based. As a SaaS product, you access it through your browser and log into your account at Salesforce's URL. This process does mean you'll need a healthy internet connection to use Email Studio and all the features.
Hardware & Software Requirements
Salesforce Marketing Cloud supports the latest version of Chrome and Firefox as well as Internet Explorer 11 (no compatibility mode). With Safari and Microsoft Edge, you'll risk losing some of the functionality of Email Studio's features.
For the Salesforce inbox mobile app, you'll need iOS 11.0 or higher or Android 6.0 or higher, and the company does recommend accessing Marketing Cloud via the Marketing Cloud mobile app if you are on a mobile device.
Keep in mind that you cannot disable cookies to use the Marketing Cloud applications. You'll also need to configure any pop-up blocking software to accept pop-ups while creating your email campaigns. Additionally, we wanted to note that Outlook and Gmail integrations with an inbox license to Salesforce AWS servers require an HTTPS TLS 1.2 connection with AES-128 cipher.
Specific Size Of Business
The Salesforce Marketing Cloud is tiered to accommodate businesses of varying sizes, though the cost still could end up make this product prohibitive for a lot of smaller businesses. That, combined with the complexity of the suite, probably makes it a better fit for mid-to-large-sized businesses that have dedicated marketing employees.
One clue is that the basic edition is built to accommodate five users. So if you're smaller than that, Salesforce Marketing Cloud may be a more powerful email tool than you need. For the most part, we think this software would be overkill if you just need to fire off some simple email marketing campaigns to your list. Fortunately, if you fall into that category, you have some other great choices to consider for your email marketing needs.
Ease Of Use
While most of the Marketing Cloud's complexity comes from integration with other Salesforce platform features, each segment of the Marketing Cloud is pretty meaty and comes with a learning curve. Multiple learning curves are certainly not indicative of poor design so much as the scope of Salesforce's features. And if you're only planning on using the Email Studio, you'll have less to learn than if you were to utilize the full power of the Marketing Cloud. However, as you'll see in this review, we recommend viewing Salesforce's email marketing product in the context of the larger Salesforce platform.
Also keep in mind that Marketing Cloud is made up of several suites and studios. Your account manager will customize your final package based on your volume, service verticals (e.g., sales, service, and marketing), and goals.
Salesforce Email Marketing Cloud Features
Some of the most compelling features offered for email marketing under Salesforce Marketing Cloud include:
Email Studio: The Email Studio is where you'll create your email campaigns. Ultimately, the Email Studio's biggest advantage is its integration into the Salesforce environment. The ability to easily access customer information from your CRM removes a lot of duplication of effort. At the lowest tier, you'll have access to split-testing, a drag-and-drop email builder, and reports. At higher tiers, you get access to a powerful set of automation tools, notably the Journey Builder, which allows you to map out customer interaction paths for your subscribers.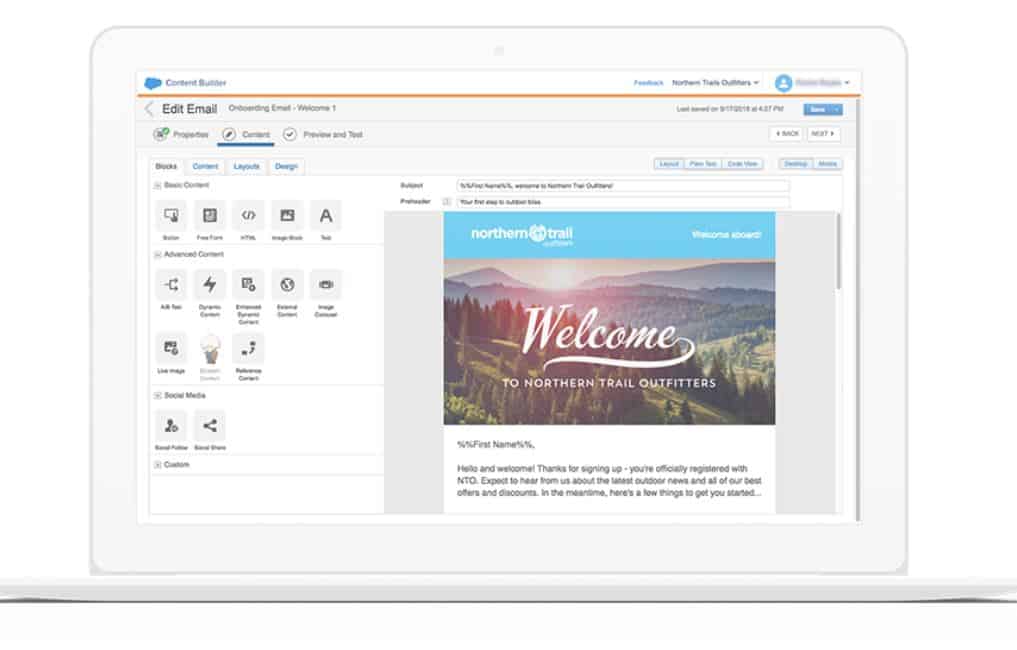 Email Segmentation: Happily, the segmentation is a simple-to-use, drag-and-drop feature that is available at all levels. It's an easy way to segment your base and send them different messages based on interest or other groupings.
Email Scoring: When a company has a large number of contacts and the marketing budget to back it up, scoring is an essential part of success. Einstein Engagement Scoring is an AI feature that can help you predict engagement based on past and current behaviors. It can lead to more effective segmentation, trigger journeys, or personalized messaging that may improve the relevancy of the messages you send to contacts. Einstein Scoring is available for an add-on in the Pro Edition and comes standard with Corporate and above.
Surveys: You can collect information from your subscribers and also track that information per user through the tracking feature. You can include your surveys in emails sent to subscriber lists, groups, or data extensions (if allowed by your price tier).
Landing Pages: Creating a landing page to house your offer or form and capture more leads is available on the Pro Edition and above.
Journey Builder: The Journey Builder, included at the Corporate and Enterprise levels, allows you to map out customer experiences based on their behaviors using a drag-and-drop interface. Essentially, it's a powerful automation tool that lets you set triggers for campaigns based on various criteria. These criteria include time-since-subscription, interaction (such as registering for events) and goals (such as a percentage of customers meeting a threshold of interaction). Customers can be rerouted through different paths or ejected from them entirely.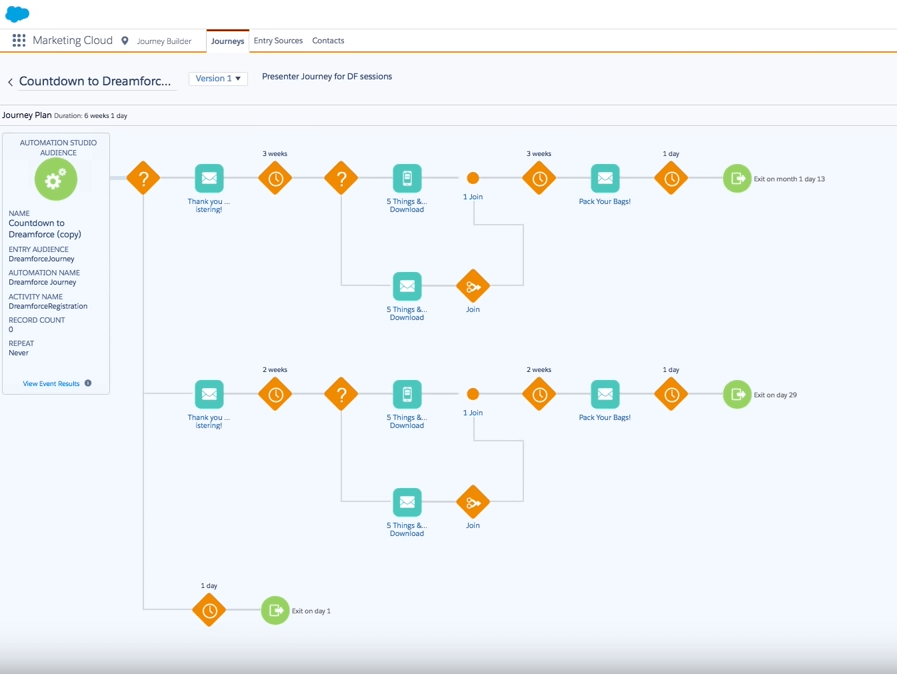 Automation: While you can send API triggered messaging with the Basic Edition, you'll need Pro or above to create more complex automation for your campaign.
More On Einstein: Einstein can be used to automate workflows and make predictions (in the form of percentage scores) about how likely a customer is going to engage in a particular behavior. You'll see Einstein artificial intelligence offered in several features through Salesforce Marketing Cloud. If you have concerns about how Einstein is making its predictions, you can examine the predictors it's using to reach those numbers, whether they're positive or negative, and how much they individually affect the score.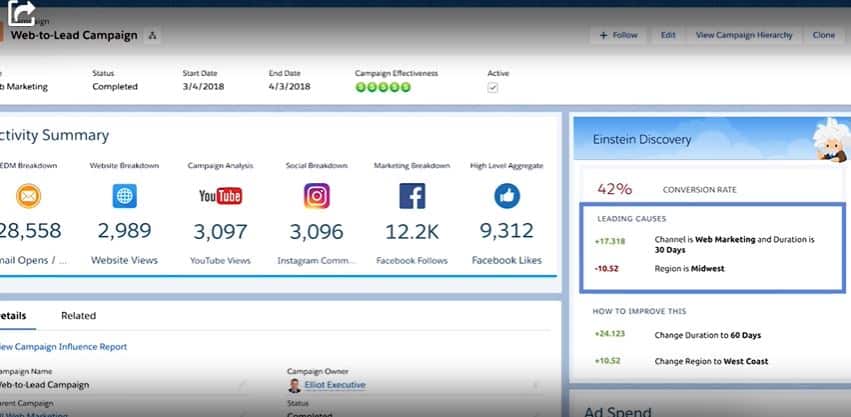 Salesforce Marketing Cloud
The Salesforce Marketing Cloud is a massive suite that runs parallel to Salesforce's other verticals in CRM and other business tools. For this review, keep in mind that we are only focusing on Email Studio, but the Salesforce Marketing Cloud has other integrated marketing tools you can explore separately, including:
Audience Studio
Mobile Studio
Social Studio
Advertising Studio
Datorama
Interaction Studio
Data Studio
Google Analytics
Pardot
Each of the above tools has its own pricing, depending on what edition you need, other services you have, business size, and a few other factors. You can also check out each of these, except Google Analytics, through video demos, which is a nice touch. While we aren't going to dive into these separately in this email marketing review, I wanted to introduce you to these tools so you understand the enormity of the marketing resources Salesforce offers as well as the customization that's possible when it comes to your final package.
Salesforce Email Marketing Customer Service & Support
There's no shortage of ways to contact Salesforce, and the company seems very engaged with its customers overall. That's what you'd hope to see from a company that makes customer engagement software.
My experiences with Salesforce's customer service were through the bot chat, live chat, email, and phone. Response times were fast, and I did not experience high-pressure sales for additional products or services. My contact did not reach out to me and give me a huge sales pitch, which I was fully expecting (I was glad it didn't happen). She followed up my email question with a phone call and provided me with clear information, and it all happened within an hour or two.
Support is available through:
Phone: You can reach Salesforce by phone, toll-free during regular business hours. If you are a Premier Support customer, which comes along with higher tiers, you can contact Salesforce during normal business hours, Monday-Friday 9 AM to 6 PM JST as well as weekends and holidays from 9 AM to 9 PM JST.
Online Form: The Salesforce website essentially demands you provide your contact information to get more information or view demos, and a rep will get back to you sooner rather than later.
Online Chat: You can use the Salesforce website or SaaS to live chat with representatives.
Online Help Center: Existing customers can make use of the Salesforce Trailblazer community and find knowledge articles, best practices, and other support information.
Videos: Demo videos and even a few tutorials are scattered through the Salesforce site and on third-party platforms such as YouTube.
Webinars: Salesforce offers webinars-on-demand for certain products.
Social Media: You can interact with Salesforce through Facebook, Twitter, LinkedIn, and YouTube.
Salesforce Marketing Cloud Reviews
Salesforce email marketing software is a complex product, and it's unsurprising that actual users have a range of responses to it. Most users, especially advanced ones who are diving into the API, seem to have at least soft praise for Salesforce Marketing Cloud. Since our last review, Salesforce Marketing Cloud now has a distinct entry at the Better Business Bureau, and it's sitting at an B-.
Negative Salesforce Reviews & Complaints
There are just a few user complaints, including these issues:
Sales Tactics: Salesforce was called out for aggressive marketing tactics, and while I didn't face that this time around, our last reviewer did experience a major marketing storm after signing up for a demo. It likely depends on the salesperson's tactics, but of course, this can reflect negatively on the company as well.
Customer Service: Some issues with customer service have been noted in regards to response times, and these concerns were unanswered by Salesforce on Better Business Bureau. Spotty customer service was taken to task with a placement on the "con" list on TrustRadius.
The Salesforce Marketing Cloud App for mobile is rated 3/5 stars on Google Play with only 37 reviewers. Reviews are a mixed bag here. Users complain about connection problems despite being connected to the internet and some general functionality complaints about the app's usefulness overall.
Positive Salesforce Reviews & Testimonials
The Salesforce Marketing Cloud garners a 7.2 out of 10 stars on TrustRadius and, since our last review, has dropped three-quarters of a point. It still rates a solid 4 out of 5.0 stars on G2Crowd.
People called out the following for being features they loved:
Reporting and analytics
Automation for scheduling events
Great UI and easy-to-use drag-and-drop functionality
Robust features
Great preview function for subscriber views
Easy to scale services
Salesforce has remained stable at worst and improved at best as far as customer reviews are concerned, and that gives me a good feeling overall.
Salesforce Integrations & Add-Ons
Since the Salesforce Marketing Cloud is just one piece of the larger Salesforce environment, you can expand it by purchasing additional services and features from Salesforce. Having first-party access to Salesforce CRM is probably one of the best reasons to use the Marketing Cloud in the first place.
You can extend Salesforce's API with a considerable number of integrations, and the company provides plenty of support to coders who want to make modifications themselves. The Salesforce AppExchange is a good place to look for both free and paid integrations that can expand Salesforce's functionality beyond its first-party expansions. The AppExchange has thousands of solutions that you can install with just a few clicks in every category you'd need to boost your Salesforce services as a whole.
Security
Given the types of information Salesforce handles, security is a big deal and is the company's first value. Visiting Salesforce Trust can keep you up to speed on the state of the company's various services and new security initiatives. Salesforce has extensive documentation on best practices for system administrators and users, and security advisories for customers, best practices, and training.
Salesforce has a variety of certifications and meets international standards and regulations including but not limited to these:
CS Gold Mark: Certifies security level to be equivalent to the ISO/IEC 27017 standard
DoD IL2: Cloud computing security requirements for the US Department of Defense for Impact Level 2
DoD IL4: Cloud computing security requirements for the US Department of Defense for Impact Level 4
External Security Assessments: Third-party assessments and penetration tests
HIPAA: US privacy requirements for personal health held by covered entities
HITRUST: CSF certified
ISO 27017: Adherence of practice control for cloud services
ISO 27001: Compliance with specific information and risk-management
And of course, one of the absolute most important things to consider is reliability. The Salesforce 1 Platform has a proven 99.9% record for several years and provides strong security measures, including redundant data protection, facilities protection, and a complete data recovery plan.
Salesforce FAQs:
Final Verdict Of Salesforce Email Marketing
When I solely focus on the cost and features of the basic Salesforce email marketing plan, I'm just not seeing anything that's incredible in its own right. You can definitely find something cheaper elsewhere. If you're a small company looking to send out newsletters or the occasional event notification, you may feel like a little fish in a big pond when it comes to the enormity of the Salesforce platform. Also, given the lack of a free trial, it's a challenging program to evaluate casually without a big commitment — especially since all of Salesforce's Editions are billed annually. If you are still shopping around for email marketing services, check out our list of Best Email Marketing Software & Services.
However, if you have a larger budget, you open up a world of features with the Email Marketing Edition. For a mid-sized business that uses Salesforce CRM, much of the value is in syncing the CRM and marketing platforms. That's why we believe Salesforce Marketing Cloud is best thought of as a solution that runs in tandem with the CRM verticals.
If you are a mid-to-large-sized company with a dedicated tech support team or at least a tech-savvy marketing team, Salesforce can provide you with a virtual treasure chest of marketing tools. In that case, I can recommend you give Salesforce a try and don't forget to take advantage of the 14-day trial for the CRM while you're at it.
Whether you choose to use Salesforce Email Studio for your email marketing, or if you choose another solution, make sure that email marketing is at the top of your to-do list this year. Make sure you're on top of the best email marketing strategies, so you can expect to see a good return for your efforts!
---
Featured Free Corporate Card
Ramp


---
Ramp offers a free corporate card for virtually any business. Start earning rewards with your corporate spending today. Get your free card.
Featured Free Corporate Card
Ramp


---
Ramp offers a free corporate card for virtually any business. Start earning rewards with your corporate spending today. Get your free card.
To learn more about how we score our reviews, see our
Email Marketing Software Rating Criteria
.