Expert Analyst & Reviewer

UPDATED
Advertiser Disclosure: Our unbiased reviews and content are supported in part by
affiliate partnerships
, and we adhere to strict
guidelines
to preserve editorial integrity.
SalesVu

Pros
Simple to use with a customizable appearance
24/7 customer service
Service appointment functionality
Excellent marketing features
Cons
Doesn't function well offline
Have to pay more for some basic features
SalesVu Overview
Nestled in the tech-hub of Austin, Texas, SalesVu is a cloud-based, all-inclusive POS interface and payment processing package with an ambitious reach. In fact, it is intended to work as a successful POS regardless of whether you're selling hamburgers, books, or cleaning services.
SalesVu is an interesting product because it does a ton of things right. It's an all-in-one POS system with some extremely in-depth features and a diverse set of home-grown apps that make it capable of handling an array of businesses, but it has a few distinct blind spots. While SalesVu may have originally started off wanting to compete with Square, it eventually fell into the "if you can't beat 'em, join 'em" mentality, partnering with Square and developing apps that run on Square products. But SalesVu's POS is a solid product in its own right.
SalesVu's strength is in its broad flexibility. It's more than just a mobile cash register. This software allows you to monitor inventory, create detailed reports, design custom discounts and promotions, maintain an active customer database, and manage employees — and all of this can be done from anywhere with a Wi-Fi connection. Helpful for shops that sell products by the pound, the app allows items to be charged by fractional and decimal quantities. It is also great for therapists or trainers who charge by the hour and need to bill for sessions in different increments.
SalesVu has some nice features and is also affordable for everything you get. However, as you'll see, I have some issues with what it offers in its pricing structure. While you get a generous amount of features in its basic product, you have to shell out a lot more for the advanced tier just to access certain things (such as advanced inventory). SalesVu still doesn't have an offline mode either, which is a pretty big strike.
Don't have time to read an entire review? Take a look at our top-rated point of sale solutions for a few quick recommendations. Every option we present here offers excellent customer support, detailed user interfaces, and easy-to-use software, all for a reasonable price.
Pricing
SalesVu has simplified its pricing structure, which is helpful in terms of knowing what you're expected to pay, but it also makes the product less scalable than it used to be. There are now two plans to choose from: Basic and Advanced. The Basic plan costs a standard $75 a month per location and includes one terminal license. Additional terminals cost just $15 a month. Basic includes some nice features that are often add-ons in other systems, but it's also missing what I consider to be some pretty standard features unless you subscribe to the advanced package. At the Basic level, you get:
Cloud-based reports
Cloud-based remote management
QuickBooks integration
Online ordering and reservations
Loyalty
Labor management and scheduling
Getting loyalty, online ordering, plus some solid reporting and employee management for that price is a legitimate steal. However, if you have even slightly complex inventory management needs, you're almost certainly going to need to subscribe to the Advanced level, which is double the cost at $150 a month. Both the Basic and the Advanced levels include one terminal license. Additional terminals cost $15 a month. Basic does not include marketing, purchase order management, inventory level tracking, or low stock alerts, which is a pretty big bummer. That said, if you're looking for a complete, all-in-one system and you have the budget for the Advanced package, you're going to get a really solid system without many gaps. Advanced includes:
CRM and marketing automation
Recurring billing
Purchase order management
Inventory level tracking
Automatic inventory updates
Label printing
Cross-location inventory transfer
Low stock alerts
Predefined and custom units
Profit margin reports
Spillage/discrepancy reports
There's a lot that SalesVu has to offer, and we'll break it down further in the Features section. However, you're paying a bit of a premium to unlock all of it. If your business needs online integration and loyalty but has only limited inventory needs, you'll definitely benefit from the affordable Basic package, but that's a fairly niche market.
Web-Based Or Locally-Installed
SalesVu is entirely cloud-based.
Specific Industry
SalesVu can be tailored to meet the needs of a wide range of industries, including retail venues, restaurants, cafes, bars, and various service industries (such as salons and spas) as well. Because it runs on mobile devices, it's handy for businesses with remote employees (e.g., pizza delivery, cleaning services, food trucks) or businesses with several different locations.
Specific Size Of Business
SalesVu is set up to handle a range of business sizes, from small home businesses to larger organizations with multiple locations. The price is a little steep for very small businesses, but if you're wanting some of the advanced features the Basic package offers or are wanting multiple terminals, it's a good value. Mid-sized establishments are probably SalesVu's bread and butter. I don't yet recommend SalesVu to really large establishments because the reporting systems are fairly basic.
Ease Of Use
SalesVu is split into two platforms: the front-end mobile device app that operates the POS and payment processing, and the back end where you can create reports, manage inventory, and add employees. The cloud-based back end is accessed by logging into the SalesVu website, which means you and your staff can monitor your business in real-time from any spot in the world that has a Wi-Fi connection. The front end allows you to check out customers, monitor all transactions within your shift, sync with SalesVu.com for updates, and manage printer and barcode scanner settings.
In the front end, there's a lot going on, but SalesVu has it laid out well enough that it doesn't feel overwhelming. It may take a new employee a little time to remember where everything is, from discounts to open and closed orders, but I appreciated just how much was readily available from the home page. There are customizable layout options as well, with SalesVu allowing for picture icons or a simple list view. It's also easy to manage your employees' access by assigning individuals different permissions and requiring a manager override or a unique PIN for certain features. Processing sales is equally simple, with a large button leading to the available payment options. From there, you can split a check, apply a discount, manually type in a credit card, etc. From the home page, you can also quickly access open tickets, which are arranged by an order number, something that's convenient for bars that would use tabs. I could see how the layout of this feature might be a little overwhelming when an establishment has dozens of open tickets, but the process of searching by order number or customer name seemed easy enough.
The back end is pretty typical and can be accessed through SalesVu's website. At first appearance, the interface seems a bit outdated, but that has no bearing on how easy it is to navigate. Here, you can access your accounting programs and your basic reports. For someone who has basic experience with these types of programs, this should be a breeze to figure out, especially since SalesVu's back-end offerings aren't extremely complex.
Hardware & Operating System Requirements
SalesVu doesn't offer any direct hardware sales, but it does recommend compatible hardware. I was also informed that all hardware can be purchased through SalesVu's recommended vendor, mPOS Gear. mPOS Gear offers a wide range of required, as well as optional, hardware choices. It even offers two bundle deals:
SalesVu POS Package
This customizable package costs $450 and comes with the following items: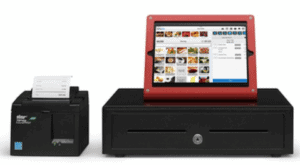 A Star network printer
A cash drawer
Windfall iPad Stand (for iPad Air 1/2)
Cables for the cash drawer
Star mPOP Printer & Cash Drawer Combo
This combo costs about $400 and includes the following: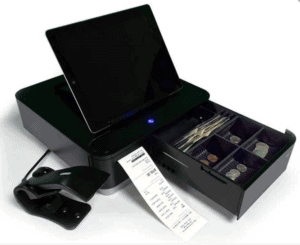 Black or white color option
Cash drawer
Printer
Basic stand for iPad
Bluetooth Connectivity for one iPad
2″ paper
Four bill slots
SalesVu is also integrated with Square and is set up nicely to function with Square's readers and with programs such as Square Payments.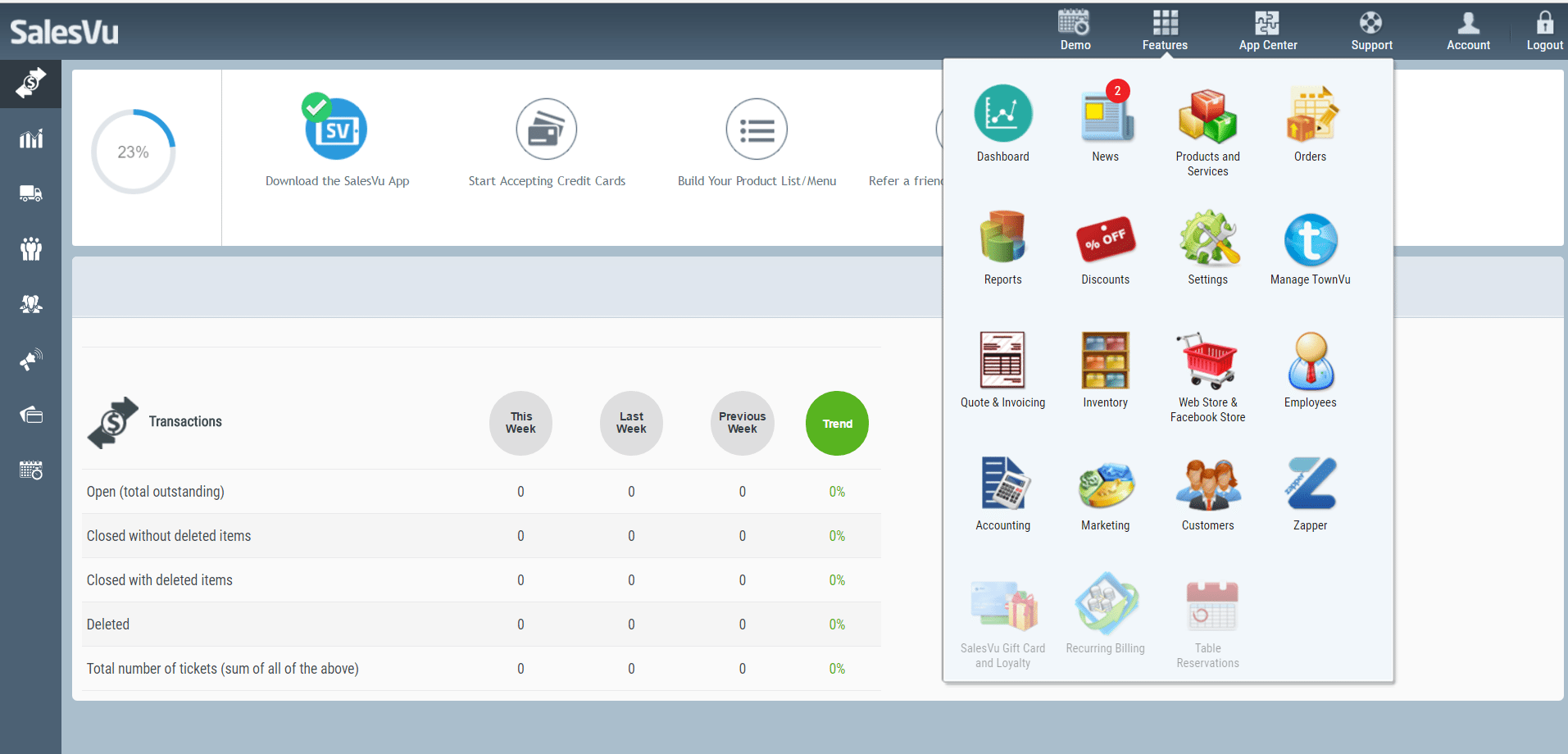 Features
SalesVu offers a strong representation of POS functions across the board. Some specialty functions are nice, too, such as customer invoicing, decimal quantities, and appointment scheduling.
Multitender POS:

Process payments with cash, check, or credit card. Split payments between different types of tender.
You can split checks by item, product, or seat.
Email digital receipts with complete transaction details to customers, or wirelessly print to the printer of your choice.
Customize receipts with a company logo and message.
Monitor cash management with options such as the total deposit to safe, current cash amount in payment device, and closeout shift functions.
Quickly lookup items by typing in SKUs or by scanning a barcode.
Take advantage of decimal quantities for products that sell by hours, weight, and volume.
Maintain open orders or tabs for multiple customers. Start an order on one device and finish it on another.
Create automatic happy hour pricing menus that kick in at certain times.
Adjust totals for tips and process payments with split checks.
Use customer invoicing, quotes, and recurring billing for service industry environments.
Have customers directly sign for credit cards on their mobile devices.
Allow customers to make table reservations (for food service) or schedule appointments (for professional service industries) online or over the phone.
SalesVu's eCommerce capabilities support online ordering. Create a web store through the back-office integrations built directly into the SalesVu app, or create widgets to be used in an established website.
The kiosk feature allows food service patrons to order directly from their tables, increasing the number of sales while reducing labor costs.

Inventory Management:

Upload all products or services to the SalesVu back end and then track product levels.
All products can be custom edited with unlimited modifiers or add-ons, with (or without) additional charges. This is helpful for both retail and restaurants.
Upload your inventory with CSV files, or manually enter new products directly from the front-end register.
SalesVu offers some predefined products and services, so you don't have to reinvent the wheel while creating your inventory.
Create multiple tax brackets and designations for different items or client groups.
Manage extensive categories, product options, and prices from the back-end headquarters and then sync to all mobile devices in real-time.
Manage vendor profiles and product orders from the inventory department of the back end.
Whether you already have barcodes and need to print them off or need to create barcodes from scratch, SalesVu has you covered. You can add a barcode, input your product, and print en masse.
Use inventory mode on your iPad and turn the iPad camera into a barcode scanner. This feature allows you to take your iPad around your store or restaurant while counting inventory. This can save you time and help reduce mistakes.
SalesVu recently introduced an out-of-stock setting. There are three different ways to customize what happens when your inventory level hits zero. Option one pulls the item off your site completely. Option two shows that the purchase is out of stock but will still allow a sale to go through (this can be used for low inventory). Finally, option three leaves the item alone and allows you to make sure it doesn't run out on your own.
Invoicing:

It allows for multiple location capabilities.
You can grant different levels of access to certain employees.
Manage invoices that are open, paid, not paid, or partially paid.
Produce quotes.
Generate invoice reports.
You can create reoccurring billing and can change between monthly and weekly. The feature is great for businesses with memberships.
Employee Management:

Employees can clock-in and out with SalesVu.
Create different levels of back and front-end access for staff members. You can easily manage who can see, use, and edit what.
Generate labor reports.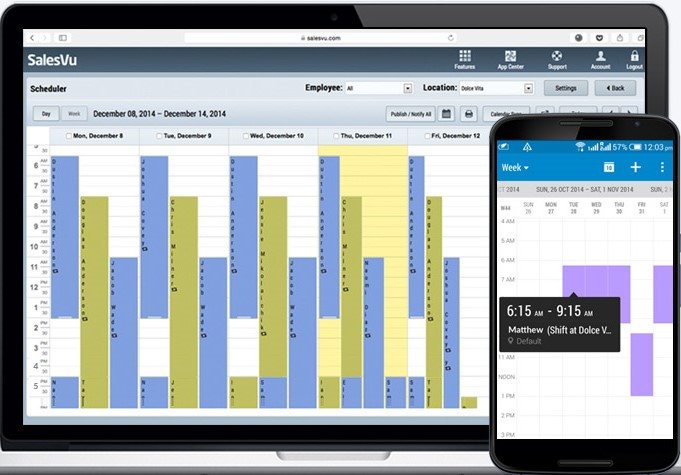 Professional Services Appointments:

Great for businesses such as spas, salons, and barbershops.
It connects the employee schedule with the appointment schedule calendar. This ensures that if a particular employee isn't available to provide a specific service, then an appointment will not be booked.
It allows you to set a duration for an appointment.
You can set up and customize commissions.
A customer scheduling app is currently in beta testing. I'm told that while it can be used by restaurants for customers to order food, it's mostly directed at professional services.

Customer Management:

Maintain an active database of customer information that can be used for marketing as well as for checkout. Once a customer has entered their email address during checkout, they won't have to do it again in the future, as it is kept on file.
Offer your customers highly customizable discounts. Discounts can be created by type: time-based and non-time based. You can offer a limited number of coupons for a first-come/first-serve promotion.
Advertise your marketing campaigns directly on your Facebook page or through email blasts. Custom Facebook coupons can be a big asset to your marketing program.
Take advantage of free advertising and online ordering — TownVu is a site hosted by SalesVu that allows users to list their location, hours, specialties, and any other pertinent information (parking, wheelchair accessible, Wi-Fi, etc.). All of the data entered becomes search criteria that potential customers can use to find your business.
Create a customer list. This will allow you to click on a particular customer, pull up their info (including loyalty and gift card balances), and allow them to pay with a gift card without having a physical card.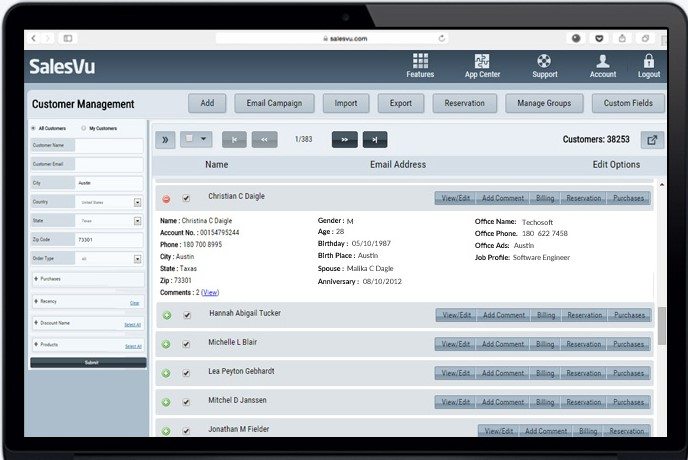 Reporting Functions:

Review accumulated sales data from all mobile devices through the SalesVu website. Reports can be viewed as line, bar, or table charts. Save and print them according to your needs.
All reports can be viewed by the time of day, employee, location, device, and product/service categories.
Export all your data to QuickBooks with the QuickBooks integration add-on or use SalesVu's built-in accounting system. Seamlessly merge your POS and accounting systems.
Monitor end-of-shift reports for every employee.
Check average daily amounts by the time of day or location.
Keep an eye on cash flow with cash adjustment reports.
View all employee clock-in and clock-out times. Edit times if needed.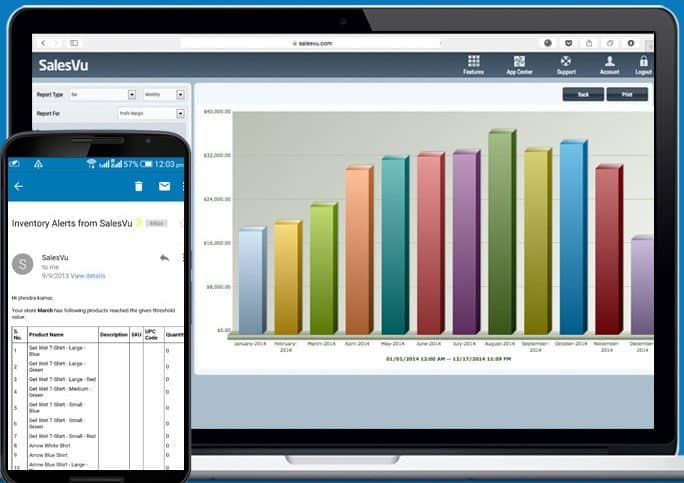 Integrations & Add-Ons
This is where SalesVu has put a lot of time and effort in recent years. The company has carved out a bit of a niche for itself by developing its own apps. While these pretty cool and useful applications can be used with SalesVu's own point of sale, they were also designed to work seamlessly with Square products as part of the companies' partnership. Here's a brief rundown of what SalesVu offers:
OrderUp: This is the company's kiosk app, which has a sleek design and gives customers the ability to scroll through the menu and order on their own, cutting down on potential errors. It comes with forced modifiers for upselling and can help free up your busy staff.
Handheld POS: This app is for restaurants or retailers that want their staff to have more mobility and the ability to create a more personal experience with customers. This comes with SalesVu's full slate of POS features but is designed for customers looking to implement mobile ordering.
Incoming: This app functions as your restaurant's Kitchen Display System and is designed to take orders directly from Square Register. You can track orders with a color-coding system, receive SMS notifications when orders are ready, and easily view recent orders.
Mobile Ordering: SalesVu offers a convenient mobile app for restaurant customers to place orders over the phone. You can have customers place orders in advance, set up appointments for salons or classes, or add yourself to a busy wait-list for restaurants.
Restaurant Website: SalesVu also has you covered when it comes to eCommerce. Create your own website complete with online ordering options, set up appointments and reservations, and customize our own domain name.
VIPz: How about loyalty? SaleVu's got an app for that as well. Sell digital or in-store gift cards, check balances via the mobile app, and accept payments all through the POS.
OnTheList: This app is specifically to help restaurants manage wait-lists and reservations. You can create floorplans, allow customers to choose their preferred table, send customers notifications to their mobile device, and take deposits to guard against no-shows.
Compatible Credit Card Processors
SalesVu currently integrates directly with three credit card processors: Vantiv Integrated Payments, WorldPay, and Evo Payments International. SalesVu is working on releasing several other credit card processing integrations in the next few months. Those in need of EMV devices should contact SalesVu for more information.
For clients in the US and Canada, the first magstripe credit card reader for each of your business locations is free when you run your payment processing through Vantiv.
Any other payment methods (checks, external credit card processors, external gift cards, etc.) are included in discount bundles of $75 or higher. Otherwise, it will be an extra $25 per month.
Customer Service & Technical Support
SalesVu clients have the option to get customer support through several different channels.
Email: You can email the support team directly. I tried this route and sent in several support tickets. All my questions were answered within a couple of hours during non-standard business hours. The answers to my questions were helpful and direct.
Phone: The company also offers a direct phone line, which is nice and somewhat rare these days. The number appears to be staffed 24/7.
Support Database: If you're logged into your account, you can access the user support database where SalesVu staff have answered a lot of different user-submitted questions.
Live Chat: Another option is the live chat feature. I tested this out and was helped within minutes by a friendly and knowledgeable customer service representative.
Demo Videos: SalesVu offers a series of videos that provide an extensive look into the system and most of its features. They are called "demo" videos but are actually more akin to training tools since they provide a step-by-step walkthrough of almost the entire interface.
SalesVu also has a blog that features a lot of different businesses that are successfully using the POS service. There's not much in the way of technical support here, but it might be helpful to see if there's anyone out there using the software in a way that might also work for you. And if you really want to cover all your SalesVu social media bases, you can check out its Facebook page, Twitter feed, and LinkedIn account.
User Reviews
Negative Reviews & Complaints
Complaints about SalesVu are few and far between, and the majority of them are about earlier versions of the software. That said, the complaints I could find mentioned the following problems:
No Offline Mode: In the event of an internet outage, not having an offline mode can be disastrous for a cloud-based system. Many of SalesVu's competitors offer some sort of offline capability and is something to consider. Another aspect of no offline mode is that if your wireless hits the dust, you won't be able to process credit cards either. That's the tradeoff of abandoning bulky and expensive local server setups. You can always use a backup modem that would plug into a specialized wireless router and automatically switch your internet connection over to 4G in the case of a failure. That still sounds like a hassle to me, not to mention an extra expense, but it's not a big enough problem to dismiss the whole POS system.
Some Features Difficult To Use: A few reviews mentioned that navigating some of the back-end features was a bit clunky or that it was difficult to find features that they wanted to access. Others didn't even realize that SalesVu came with certain features since they weren't easy to find.
Positive Reviews & Testimonials
Overall, SalesVu seems to have a pretty good thing going. Here are some of the reasons SalesVu clients are satisfied with the POS interface:
Affordability: SalesVu is reasonably priced as far as full-scale POS systems go. The transaction fees offered through Vantiv are low, and for small to medium-sized businesses, the payoff for the price is really great. SalesVu supports such a wide range of functions that just about any type of business can tailor it to their needs. Everything from basic inventory and customer marketing to employee management and financial analysis is represented in a fairly solid way.
Good Support: Several client reviews mentioned that they were satisfied with SalesVu's support. I can certainly confirm this with my own experience. One client stated that he suggested five different modifications, and all five were developed. Being responsive to client needs and requests says a lot about a business.
Mobile Capabilities: At its core, SalesVu is a mobile POS system. While it's designed to accommodate the types of businesses that are more obvious — retail shops, cafes, and bars — it was also made with other types of clients in mind. People who work in massage, therapy, tutoring, or cleaning services can take advantage of payment processing wherever they go. The recurring billing and invoicing features are also helpful for payment processing.
Final Verdict
Some of the up and coming cloud-based POS systems are industry-specific. This is not the case with SalesVu. I appreciate the way this company covers a lot of different bases in a broad product that can be tailored as needed, whether you own a coffee shop, a shoe store, or a spa. Cloud-based software such as SalesVu opens up a lot of opportunities for smaller businesses and people who offer their services on the go.
SalesVu is up to date with a lot of current POS trends, offering a strong kiosk mode and a variety of options for mobile ordering and delivery. The nice thing about SalesVu is it's pretty upfront about what you're getting. If you can get by with everything it offers in its basic package, the product is a steal, and if you have a higher budget and are looking for an advanced product, it's definitely one to check out.
All in all, I would recommend evaluating your business needs and then deciding if the many capabilities of SalesVu can adequately meet those needs. As long as the interface works for you, you'll be paying a great price for a solid product.
---
We've done in-depth research on each and confidently recommend them.
We've done in-depth research on each and confidently recommend them.
To learn more about how we score our reviews, see our
Point Of Sale (POS) Software Rating Criteria
.