Expert Analyst & Reviewer

UPDATED
Advertiser Disclosure: Our unbiased reviews and content are supported in part by
affiliate partnerships
, and we adhere to strict
guidelines
to preserve editorial integrity.
Pros
Customizable feature set
Strong security
Cons
Poorly designed user interface
Poor customer service
Limited support materials
Overview:
If you long for the days of shareware and programs you download but don't quite own, ScheduFlow is here to give you a taste of a largely bygone era of business productivity software.
Originally a desktop app, Duoserve's ScheduFlow has evolved into ScheduFlow Online, a locally installed booking application with the ability to sync across multiple computers and devices. In doing so, it mimics the functionality of a lot of SaaS web apps while also giving you more of a sense of control over how you use and manipulate your calendar.
I've reviewed ScheduFlow before. In fact, Duoserve felt as though I didn't give their product a fair shake in the previous iteration of this review. My biggest concern at the time was that the learning curve would discourage a lot of small businesses without ample IT resources. I have, however, reconsidered the company's primary objection to the old review, namely that I was unfairly biased toward web-based scheduling apps. Fair enough. How you respond to ScheduFlow will largely depend on what you think of their approach to solving business scheduling dilemmas.
If you're willing to put in the time with ScheduFlow, you'll find a reliable, versatile application.
Pricing:
Even though it's a locally installed program, when you download ScheduFlow you're not purchasing the software. After a 30-day trial, you'll have to buy a monthly license to continue to use the program. The cost of the license is based on the number of computers on which you'll be installing ScheduFlow, as well as the number of "resources" you'll be scheduling within that month.
Resources are defined as anything you'll be scheduling, whether it's a person, a room, or a vehicle (the appointment itself, however, is not a resource). ScheduFlow can also be downloaded to mobile devices–giving you access to your desktop calendars on the go–for an additional $4.95/mo per device. You need to sign up for a minimum of two months and will receive a 5, 10, or 20 percent discount if you pay 6, 12, or 24 months ahead, respectively.
2 Computers, 20 resources: $19.85
3 Computers, 30 resources: $28.95
4 Computers, 40 resources: $36.95
5 Computers, 50 resources: $44.95
6 Computers, 60 resources: $52.95
7 Computers, 70 resources: $59.95
8 Computers, 80 resources: $69.95
9 Computers, 90 resources: $74.95
10 Computers, 100 resources: $83.95
15 Computers, 150 resources: $118.95
20 Computers, 200 resources: $154.95
25 Computers, 250 resources: $189.95
50 Computers, 500 resources: $349.95
70 Computers, 700 resources: $469.95
User Experience: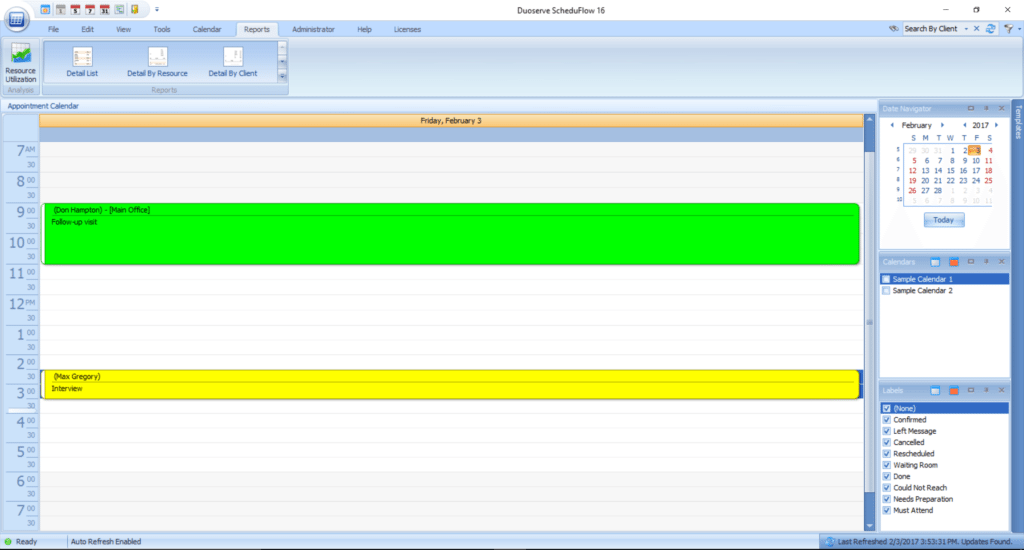 Setup: It's a testament to how dominant the online software-as-a-service model has become when a program seems unique because it is locally installed. Downloading the program and installing it is pretty easy, although you'll have to repeat this process on each computer you'll be using. The download file is about 508KB. Once you've done that, you'll need to create an account for both ScheduFlow and Duoserve. If you want to access your calendar on a mobile device (note: the app currently appears to only be available for Android, although there was an iOS version at one point), you'll need to assign the device through this portal. Even though the product is locally installed, you'll need to have an online connection to access the servers on which your actual data is located. Note to Apple and Linux fans: you need Windows to run Scheduflow.
Graphic User Interface: If you want to know what locally installed programs used to look like in the heady days of the early '00s, Scheduflow is ready to give you a hearty dose of nostalgia. The layout will be familiar to anyone who has used Microsoft Office products over the years, with File, Edit and View tabs, as well as Outlook-like sidebars and calendars. UI design has come a long way since then, but that doesn't necessarily mean ScheduFlow's UI isn't serviceable. Think of it like driving a manual transmission: you'll need to manually connect to Duoserve's server to sync your calendars across different devices, for example.
Settings and Calendar: Some of these old-fashioned inefficiencies actually work in your favor; you have a lot of control over how you set ScheduFlow up. The Preferences menu allows you to set default values that will be used for any future appointments, which is a great time-saving strategy. If you're someone who likes to fine-tune your calendar, ScheduFlow has you covered. You can allocate your blocks of time to anywhere between 5 and 60 minutes, set the number of days visible on the main calendar view to anything between 1 and 30, set how much of your past information is cache, etc. Setting an appointment should be familiar to anyone who has used scheduling software before. You simply double-click on a time slot. This will bring up a window that will allow you to enter relevant information about the appointment and set the appointment as recurring if it's not a one-off. There are even a number of color templates you can use to change the color scheme of ScheduFlow a little bit.
Reports: ScheduFlow offers a trio of reporting tools for tracking your client and resource histories and allocations, as well as the ability to send them to a printer for offline use. The resource system may feel a little bit alien to those who aren't used to thinking about their scheduling habits in that context, but it can actually be helpful in instances where there would be scheduling conflicts for a particular resource (ScheduFlow will give you a hard time if you try to allocate the same staff member to two appointments at the same time, or schedule two meetings in the same room, for example).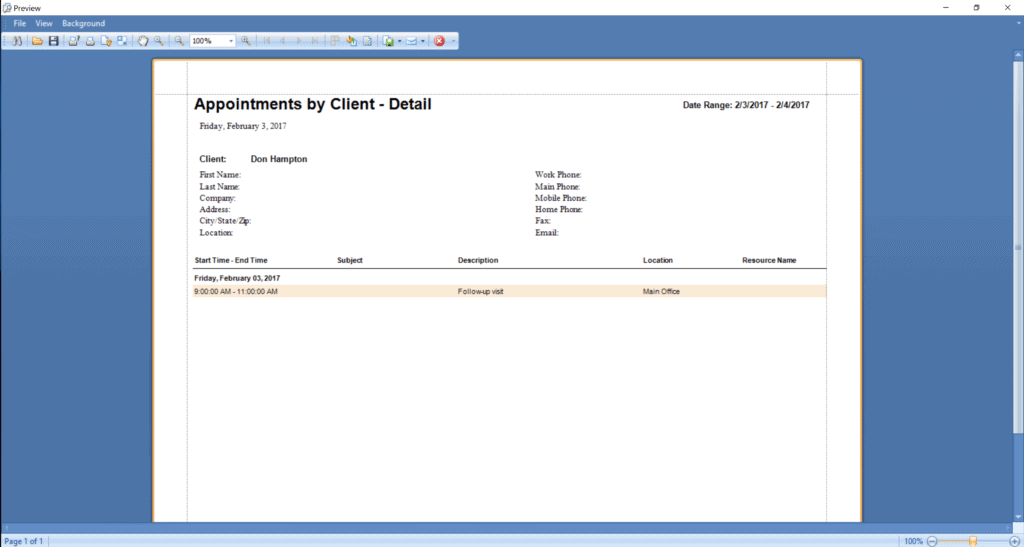 Customer Service and Support:
ScheduFlow offers a number of customer support options, including:
Phone: Sales can be reached on weekdays between 11 a.m. and 5 p.m. PT at 1-888-667-0890 or 1-951-651-0328.
Ticketing system: It's easy to miss, but you can submit a tech support ticket.
In-app Help: ScheduFlow has an old school help index system that covers pretty much all of the app's functions. I'd recommend it over the online resources.
Online Support Center: Also reachable from within the program by clicking on "Knowledge Base," the online support center isn't the easiest or most helpful tool available, but if the Help index isn't enough, it might be worth a look.
Negative Reviews and Complaints:
ScheduFlow Online has received mostly positive reviews from users, with the occasional single star outlier. Complaints tend to revolve around ScheduFlow's:
Server Dependence: The online functionality of ScheduFlow is what contributes to its modern utility, but some users lament that they must connect to an online server to access their calendars on a locally installed app.
Customer Service: Most complaints revolve around customer service, particularly the difficulty in reaching it.
Complexity: While I'd personally argue that most of ScheduFlow's perceived complexity has more to do with its interface than anything, some users felt the app was overwhelming.
Positive Reviews and Testimonials:
ScheduFlow's users congregate arou with relatively few negative reviews. ScheduFlow rates 4.2 out of 5 stars on Google Play. Users liked the following aspects of this software:
Super Customizable: ScheduFlow gives you a ton of control over your calendar and how you view it. More than most of its competitors, ScheduFlow feels like it's "yours."
Plays well with Outlook: Not only does ScheduFlow superficially resemble Outlook, it can fully synchronize with Outlook as well (and import contacts).
Free Updates: While they're not quite "free" (given the monthly licensing costs), updates can't necessarily be taken for granted with locally installed software. When a new version comes out, you'll be able to download it as long as you have an active license.
Security:
Like most of ScheduFlow's supporting documentation, information about security features isn't in an obvious, convenient place. However, in an article about HIPAA compliance, we discover that:
"1. All data is stored in secure databases, offsite, in highly-secure datacenters. No physical access is granted to any employees to these servers.
2. All data that travels between your computers and our secure datacenters is encrypted
3. Dual-level authentication security:
Account login allows only managers to determine which computers can have access to the database i.e. employees cannot log in from the outside if they do not have these login credentials. They can only log in from computers designated by the manager(s) who have the account login credentials.
User login prevents anyone who may have acquired the Account Login information from accessing your scheduling data by forcing each authorized user to log in with their specific username and password, and user login/password.
Ex. Account Login: MyMedicalOrganization12 Password: ManagersPassword would be only known to managers and saved on all computers that need access.
Ex. User Login: JohnSmithEmployee1 Password: employeepassword11 would be known to employee who can not access system from home/outside without the Account Login as well.
4. ScheduFlow Online has granular user security allowing you give specific privileges to each user (e.g. employee1 can only view and edit appointments but can't delete them, employee2 can only create clients, etc.)"
Integrations and Add-Ons:
You won't find too much in the way of integrations for ScheduFlow, but it does synchronize with Outlook.
Final Verdict:
Everything about this software, from the design to Duoserve's minimal web presence, feels like something out of the recent past. Like many well-designed throwbacks, it works quite well, though it asks a bit more of you as a user.
What ScheduFlow does offer is stability and the control that comes with having a product installed on your computer. It's not the cheapest solution on the market, nor the easiest to use, but if you've been burned by web-based software and/or have the IT knowledge or support required, it's a solid alternative to the traditional, cloud-based industry fare. Four stars.
---
Featured Free Corporate Card
Ramp


---
Ramp offers a free corporate card for virtually any business. Start earning rewards with your corporate spending today. Get your free card.
Featured Free Corporate Card
Ramp


---
Ramp offers a free corporate card for virtually any business. Start earning rewards with your corporate spending today. Get your free card.
To learn more about how we score our reviews, see our
Booking Software Rating Criteria
.