Expert Analyst & Reviewer

UPDATED
Advertiser Disclosure: Our unbiased reviews and content are supported in part by
affiliate partnerships
, and we adhere to strict
guidelines
to preserve editorial integrity.
ScheduleOnce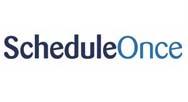 Pros
Free plan available
Good customer support
Varied support materials
Excellent integrations
Cons
No native calendars
Moderate learning curve
Can be expensive for medium-sized businesses
No native promotion or gift card support
ScheduleOnce Overview
ScheduleOnce, the booking software half of the OnceHub, Inc. suite, is a little different than many of its competitors. Rather than directly provide common (and often free) functionality like calendars, it's built to expand the functionality of popular tools like Google Calendar or Office 365 calendar. Think of ScheduleOnce as a hub that can centralize the different components of your appointment processes.
In addition to being a unique hybrid between a meeting and appointment-based scheduler, ScheduleOnce's two most standout features are its superb Google integration and advanced time zone support. Anyone already dependent on Google for running a business or daily life, as well as those who frequently work with people in different time zones, will find ScheduleOnce exceptionally useful.
ScheduleOnce has some limitations and, at the end of the day, is as good as the integrations you use it with. That said, it can be a cost-effective way to add booking support to your business.
ScheduleOnce Pricing
ScheduleOnce's plans charge based on the number of users and access to the advanced features and support. ScheduleOnce now offers a free plan for solo users, but you can also sign up for a 14-day free trial if you want to play around with the advanced features before buying.
ScheduleOnce offers three plans:
Solo: (Free)
1 user
Unlimited meetings
Unlimited event types
Calendar integrations
Video conferencing integrations
Workflow integrations
Onboarding webinars
Knowledge Base
Teams: ($10/user/month or $9/user/month paid annually or 3 users for a flat $15/month)
Everything in Solo, plus:
Unlimited meeting history
White-label branding
Team distribution and assignment features
APIs and webhooks
Multi-user management
Single sign-on (SSO)
24/7 email support
24/7 live chat support
Enterprise: (Contact ScheduleOnce to negotiate price)
Everything in Teams, plus:
Organizational security policies
Centralized calendar management
Onboarding and trading
Professional services
Compliance services
Custom service agreements
Dedicated Account Manager
Priority Support
Scheduled video support
Additional Costs
SMS credits for text reminders can be purchased for between $0.15 each and $0.08 depending on the volume of your purchase.
Cloud-Based Or Locally-Installed
ScheduleOnce is software-as-a-service (SaaS), so there's nothing to install locally. To access ScheduleOnce, you'll use your web browser to make an account on ScheduleOnce's website. The service is delivered through your browser.
Hardware & Software Requirements
ScheduleOnce uses HTML and JavaScript. The software should run without issue on the latest versions of Chrome, Firefox, and Edge, as well as on Safari for Mac on version 5 and above. Internet Explorer is not supported, and ScheduleOnce recommends against using Safari for Windows.
ScheduleOnce should run cleanly on most up-to-date iOS and Android browsers, though access to the OnceHub administrative toolset is currently limited on mobile.
Specific Size Of Business
ScheduleOnce should be usable by businesses of any size, but their free Solo option makes it a fantastic tool for sole proprietorships. Small businesses can also probably get a cost-effective deal with the flat-rate Team plan.
Where ScheduleOnce gets a little iffy is with medium-sized businesses. $10 per user per month can add up pretty quickly on the Team plan. For large businesses, it's more of a question of platform integration. ScheduleOnce is powerful enough to do most of the things a large business might need to do, but enterprises will need to consider how well it fits into their larger software strategy.
Ease Of Use
ScheduleOnce has changed a lot since we last updated, but it's still a fairly straightforward program. The interface has been updated to be clean and modern, with color used strategically to draw attention to interactive areas.
Setup is fast. The program will guide you through a test booking before taking you to the OnceHub dashboard. From there, you can click on the setup tab to get a quick walkthrough of ScheduleOnce's features. And that's it. I'd recommend setting up your integrations early as ScheduleOnce no longer has its own calendar.
Otherwise, it's just a matter of remembering where things are. Some features, like Reports, are self-explanatory. "Resource Pools," however, may take a little bit of experimentation and FAQ checking.
ScheduleOnce Features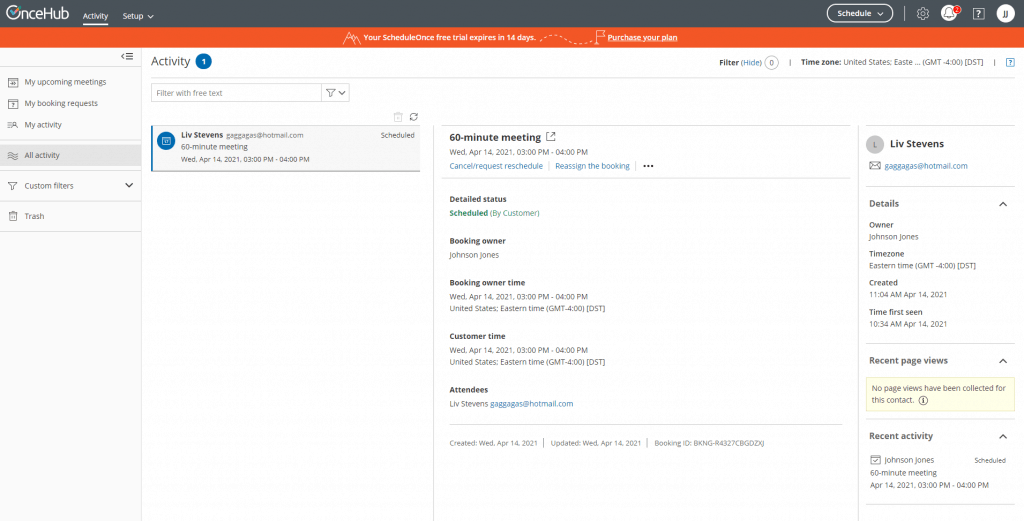 Dashboard: ScheduleOnce's dashboard is clean and relatively lean. It's integrated with OnceHub's other main software offering, ChatOnce. Your most recent activity will be displayed in the center of your dashboard. The Setup pulldown menu at the top will take you to integrations, resources, and other parameters that you can tweak to your liking.

Scheduling: An "activity stream" (rather than a calendar) appears on the account homepage; the application relies on integrations for the actual calendar functionality. In the setup menu, you can create event types, booking pages, and master pages. The latter two come with URLs that will function as the client-side interface.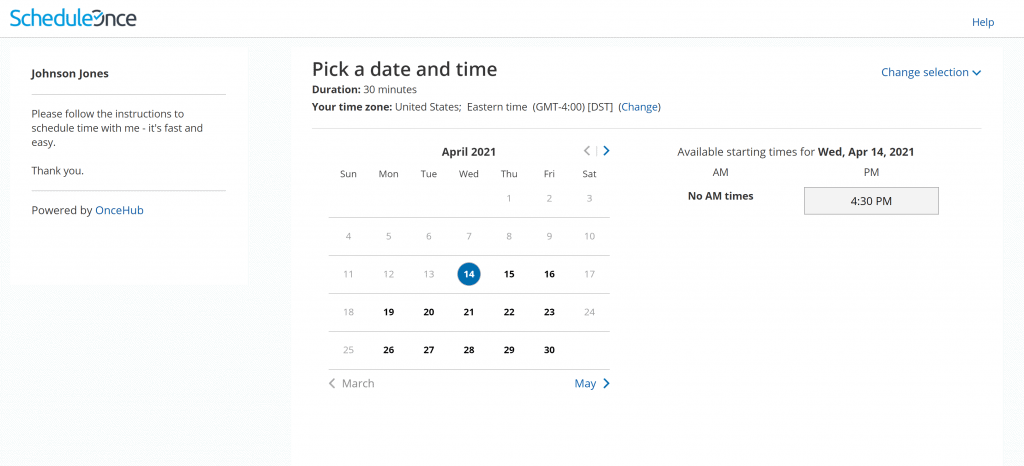 Calendar: While you set up your available and meeting types in ScheduleOnce, the program outsources its calendar functionality to integrations. ScheduleOnce integrates with Google Calendar, Exchange/Outlook, Office 365, and iCloud Calendar.
Email/Text Reminders: By default, ScheduleOnce will send booking reminders to both you and your customers via email. You can enable SMS text messaging reminders if you prefer for either you or your customers or both. As is usually the case, SMS messages aren't free. Each text consumes an SMS credit. These can be replenished under Billing > Products.
CRM: ScheduleOnce's contact management is customizable. At minimum, every contact will have a first name and email address. Beyond that, you have a lot of freedom to create your own custom fields. The process isn't entirely intuitive and will probably require you to click on the help box to guide you through the process. Each field needs to be not just designed, but also applied to your booking forms. You can search and filter your contact list based on label, field, or type.
Reporting & Analytics: ScheduleOnce offers seven different types of reports, allowing you to analyze your scheduling activities by event type, booking page reports, customer reports, user reports, account reports, revenue reports, or master page summary. These can be exported to a spreadsheet or pdf format.
Multiple Languages: ScheduleOnce comes with a Localization Editor that grants users a lot of control over languages, allowing you to set a system language (English (US/UK), French, German, Spanish, Portuguese, or Dutch). You can also manually translate fields if you don't like the translations provided by ScheduleOnce. ScheduleOnce can also accommodate multiple time zones.
ScheduleOnce Customer Service & Support
ScheduleOnce's customer service is tiered, with not every option available to all customers.
Customer service options include:
Email Support: I received a response half an hour after I sent a support question during business hours on a weekday. The email was friendly and precise and included a phone number for live support.
Live Chat: Live chat is available in-app at the Team level and up and can be handy for resolving problems.
Knowledge Base: Over 150 in-depth articles.
In-Software Help: ScheduleOnce provides handy little question mark boxes that you can click on for contextual help, as well as a searchable database of help articles that you can access through the help menu.
Blog: The ScheduleOnce blog announces regular (usually monthly) updates to the software.
Free Consultation: ScheduleOnce offers to host a one-on-one meeting with a customer service representative to demo the software and receive feedback (though this only comes with the Enterprise level subscription).
Training Webinars: Every ScheduleOnce account gains access to the company's onboarding training webinars. With the complex setup required to use this software at its full potential, I highly recommend taking advantage of them.
Social Media: The company's YouTube account offers a wide array of videos, more than 80 in total (feature introductions, general overviews, and testimonials). ScheduleOnce has a moderate presence (around a little over 1000 likes) on Facebook, with posts every few months, mostly by CEO Rami Goraly. The Twitter page is full of conversations between ScheduleOnce and enthusiastic users — praise for the software springs up almost daily. There are also conversations on Twitter focused on solving users' issues and answering questions.
ScheduleOnce Reviews
Negative Reviews & Complaints
OnceHub Inc. has a Better Business Bureau (BBB) listing for its Walnut, CA office. It currently is not accredited with the BBB but does have a B+ rating with 3 complaints closed in the last three years.
Billing Issues: All three of the recent complaints on BBB revolve around billing issues over what the customers believed was canceled, so you may need to double-check that your account is in fact canceled if you part ways with this service.
No Home Page Calendar: The software only displays an "activity stream," or list of meetings and appointments on the home page.
Some Features Are Hard To Use: Some of the more advanced features have a learning curve or aren't intuitive without tapping into the knowledge base.
Syncing Issues: Several users reported calendar de-sync, where either employees or customers could not see some appointments. This doesn't appear to happen as often as it used to, however.
Positive Reviews & Testimonials
There are literally hundreds, if not thousands, of enthusiastic reviews for ScheduleOnce scattered in various sources, from Google App Marketplace to Twitter. A small business CEO writing on Geekwire, for example, claims he "can't live without" ScheduleOnce in his daily life. A Twitter user writes, "This is one of those 'OMG' apps," while another tweets, "If you are a busy person and you aren't using ‪@ScheduleOnce you are making a huge mistake." "It's what I like to call a 'gamechanger,' " writes a Google App reviewer. So what do these users getting so excited about?
Accurate Time Zone Support: ScheduleOnce provides easy scheduling accuracy across any combination of time zones and daylight saving changes. You can rest assured that all attendees receive the correct time, anytime in the year and anywhere on the globe.
Reliable Company: Even most of the users who have beefs with the software also note that the company is very quick to respond to issues.
Easy To Use For Clients: One user writes that his clients are very responsive to the email links, while others note that they receive positive feedback from their customers and meeting invitees. A business owner theorizes that "a well-displayed timetable stimulates the use of the system by clients and by staff." Another reviewer called the interface "dead-simple."
Powerful Back-End System: One tech-savvy ScheduleOnce user praised ScheduleOnce's capabilities and described a long-term history with the company. Mozilla add-on reviewer praised: "In my point of view ScheduleOnce is the most powerful, friendly and functional add-on for Gmail on earth, thanks for make it [sic]."
Integrations & Add-Ons
ScheduleOnce is built on thorough integration with Google—including Gmail, Google Apps, and Google Calendar. In total, ScheduleOnce offers 15 integrations, one of which is Zapier, which in turn allows for additional integrations.
Notable integrations include Zoom, Salesforce, and PayPal. There is also an API for anyone who needs a do-it-yourself integration.
Security
ScheduleOnce seems more focused on personal information protection than data protection. It makes no claim to backup data – in fact, according to its website, the company "never has your Google account information and does not store any of your calendar information on our servers." This not the case with Outlook. The new Outlook connector uses a secure HTTPS connection using TLS protocol to exchange information. If you disconnect, the non-ScheduleOnce Outlook appointments will be deleted from ScheduleOnce's servers. You can click here for ScheduleOnce's (pretty standard) privacy policy.
You can choose to add a layer of HTTPS encryption (already present in the link for website embedding) to your standard customer links.
ScheduleOnce FAQs
Final Verdict Of ScheduleOnce
A hybrid of appointment-booking and meeting-scheduling software, ScheduleOnce is difficult to judge against software that falls strictly in either of the two categories. It's safe to say that because ScheduleOnce is a reliable company (which has earned a glut of fantastic reviews by virtue of attentiveness to users), the software will only get more powerful and more flexible with time. Painless integrations with Google and Outlook are a major selling point. Currently well-suited to the needs of educators, consultants, organizers, and busy individuals, the software is quite affordable for the average user. With the free Solo version having returned, testing ScheduleOnce out is a low-risk endeavor.
For as well-developed as ScheduleOnce's feature set is, its limitations are likely to frustrate. Many core functions are offloaded to integrations: this isn't a platform so much as a tool for centralizing other tools. This makes it a great fit for businesses that are already independently using the component parts and less so for businesses looking for an all-in-one solution.
I imagine that any business that requires online meetings, particularly across time zones, would find ScheduleOnce uniquely useful. I highly recommend it to sales professionals and small businesses that are already hooked up to Google and want to integrate a scheduler into their website (but only if they are comfortable relying on third-party solutions for CRM and payments). Larger businesses may want to explore the Outlook connector as a way of unifying their internal meeting and appointment schedules.
---
Featured Free Corporate Card
Ramp


---
Ramp offers a free corporate card for virtually any business. Start earning rewards with your corporate spending today. Get your free card.
Featured Free Corporate Card
Ramp


---
Ramp offers a free corporate card for virtually any business. Start earning rewards with your corporate spending today. Get your free card.
To learn more about how we score our reviews, see our
Booking Software Rating Criteria
.