Expert Analyst & Reviewer

UPDATED
Advertiser Disclosure: Our unbiased reviews and content are supported in part by
affiliate partnerships
, and we adhere to strict
guidelines
to preserve editorial integrity.
SendinBlue

Pros
Low monthly cost
Numerous features
Good customer service
Rated highly by customers
Cons
Limited integrations
Phone support not available on all plans
SendinBlue Overview
SendinBlue is an email marketing service that offers a variety of features we think will provide a great overall value to a small business in any stage. Whether you want to set up a transactional email or a complicated workflow, you'll have what you need with plenty of room to grow.
In this SendinBlue review, we'll explore what pricing plans you have to choose from (including the freemium option) and look a little deeper into the features you can expect from this email marketing platform.
Pricing
Sendinblue has a straightforward pricing model, which includes an entirely free plan with no credit card required.
The Free Plan includes:
Unlimited contacts and details
Advanced segmentation
Customizable sign-up forms
Sales CRM
1 inbox
Email campaigns
Mobile-friendly email designer
Email template library
SMS marketing
Transactional email and SMS sending
Email and SMS personalization
Chat window
Core API features
Advanced templating language
Workflow editor
Page tracking
Marketing automation workflows: up to 2,000 contacts
Real-time reporting
Email support
GDPR compliance
API and plugins
The Lite Plan starts at $25/mo and includes everything in the Free Plan plus:
No daily sending limit in campaign and transactional platform
Up to 100,000 emails
Optional remove Sendinblue logo
Optional A/B testing add-on
The Premium Plan starts at $65/mo and includes everything in previous plans plus:
Up to 1,000,000 emails
Marketing automation Facebook and retargeting ads
Landing pages
Multi-user access – 3 users included
Telephone support
3 inboxes included
Unlimited marketing automation workflows
The Enterprise Plan is a customized option that includes everything in previous plans plus:
Custom volume of email
Priority sending
20+ landing pages
Access for 10+ users
SSO (SAML)
Customer success manager
Priority support
Unlimited shared inbox
Dedicated IP included
Multi-user access
Service level agreement (SLA)
Cloud-Based Or Locally-Installed
SendinBlue is a cloud-based, SaaS solution that does not require any local installation.
Hardware & Software Requirements
SendinBlue only requires an internet browser, preferably Chrome for optimal use, says the company. You can also use Mozilla Firefox; however, other browsers are not mentioned and may not give you the full experience.
Specific Size Of Business
SendinBlue has a generous free plan and customizable Enterprise plan, making this email marketing platform suitable for businesses of all sizes.
Ease Of Use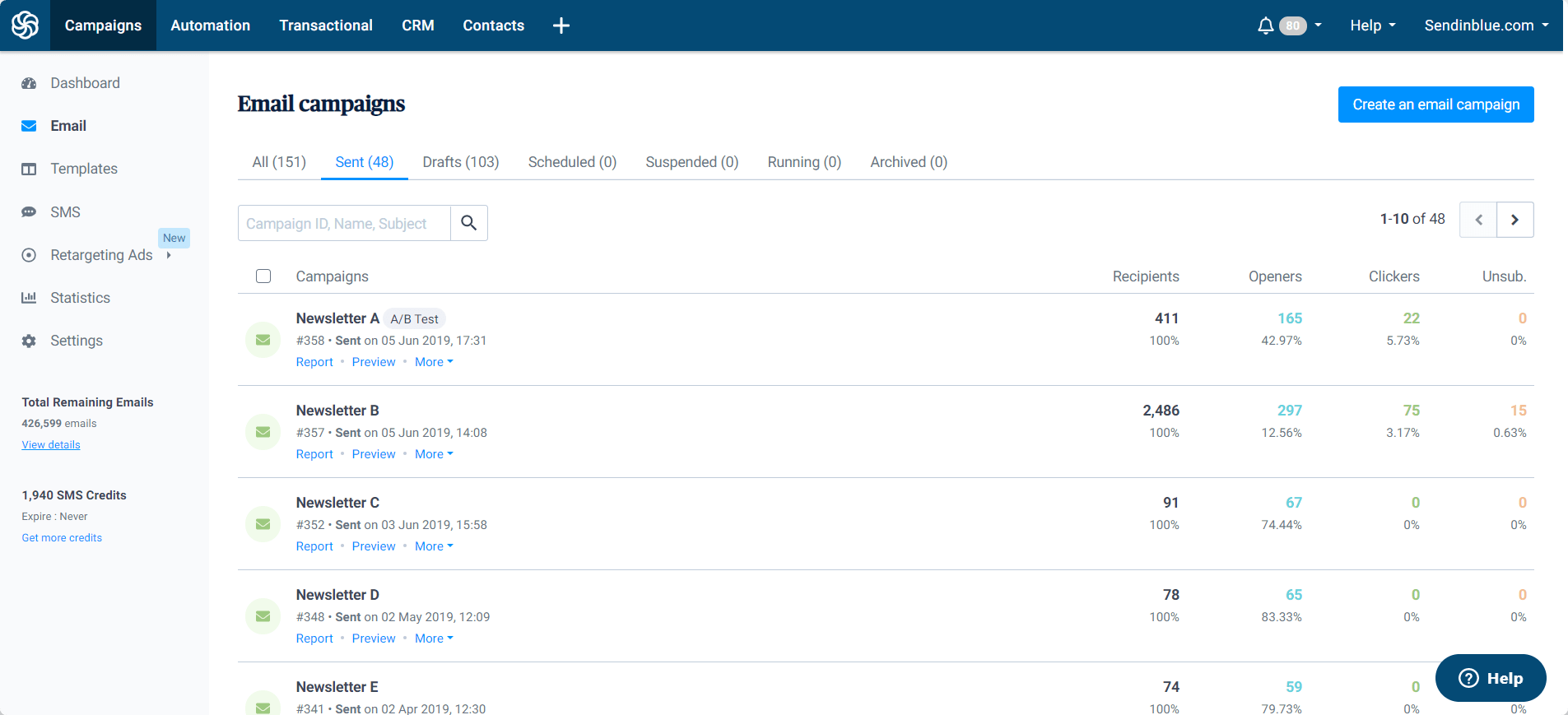 We really like that SendinBlue is easy to get started with the free plan and you won't have to give your credit card information. You'll be able to test many of the features right away from your dashboard with the free plan before you make your final decision about the software.
As far as your email contact lists, you can upload a .csv or .txt file from your computer, copy and paste from your .xls file, or add manually. You can import as many data fields as you want including your contact's first and last name, birthday, and mobile phone number. You can also blacklist clients as needed.
Overall SendinBlue is easy to navigate and set up the first email campaign. We think most users will be able to quickly find what they need in the organized dashboard. For more complicated or custom workflows, you may have a learning curve, of course, but you'll find bountiful articles and how-tos within SendinBlue's help section to help you along the way.
Features
SendinBlue gives you very precise control, down to the minute, over how to schedule your campaign. My emails arrived within a minute of when I scheduled them. The email I created with the responsive design tools displayed nicely on both my laptop and iPhone. Here is a closer look at some of the main features you can find with SendinBlue:
Email Campaign Creation: Campaign creation begins with a multi-tiered approach. You can begin by simply entering your campaign name, subject, sender (your) email, and sender name. Simple, easy. Veteran email marketers can select advanced options to add features like unsubscribe links, tags, and custom fields.
Creating & Customizing Emails: SendinBlue gives you three options for designing your emails: a responsive design builder (which is available for all plans except Free and Micro, both of which offer it as a 60-day trial), a standard drag-and-drop editor, and a simple text editor into which you can paste your HTML code. The responsive design-builder is geared toward mobile devices and offers several attractive email templates to choose from. SendinBlue really shines when it comes to images. Imported images can be extensively edited with a built-in image editor (it's not Photoshop, but it's head and shoulders beyond what you'll find in other email marketing software). Text options are more than adequate, and you can preview your creation to see what it will look like on different screen sizes.
Email Segmentation: Once you have your email looking the way you want it, you have the option to send the campaign to every member of a selected contact list or to send it to segments of a list. The latter is accomplished by selecting a condition (it can be based on any of the data fields mentioned above) and adding additional conditionals as needed.
Automation: If you plan to make use of SendinBlue's automation features, you will need to prepare all the messages beforehand and set up the chain of events that will trigger each email to send. This process is not exactly more difficult, but due to the advanced preparation required, might feel a bit more overwhelming. Fortunately, as I mentioned above, you'll find helpful articles to aid you in the process.
Email Reporting: SendinBlue offers a basic suite of reporting tools: opens, clicks, unsubscribes, and complaints. It does go a bit farther than many ESPs however, in your ability to map this information onto a timeline and see geographic information about where your emails are being opened (and on what device). You'll also get some handy feedback on the design of your emails with an analysis of which links are being clicked. If you're using the transactional system, you'll have some additional information about bounced emails.
We think there's more than enough here to set up a strong email marketing campaign and with the A/B testing feature, learn more about your customers along the way.
Customer Service & Support
While phone support is limited to the Premium plan and beyond, SendinBlue users have options to turn to if they run into problems with the software:
A resources page, with nine topics you can use to learn more about the various capabilities of the app.
A ticket system for submitting questions and problems.
General questions can be submitted by the form.
SendinBlue maintains a weekly blog that covers email marketing topics and alerts users about new features. Whether you read the changelogs or not, it is nice to know the developers are constantly improving their product.
You can also keep up to date on blog topics via SendinBlue's Facebook page.
User Reviews
Overall, SendinBlue has maintained positive regard among its users. While it is not accredited by the BBB, it has far fewer complaints than expected (only one closed complaint in the past 12 months), with no customer reviews at all. Here's what we found at the other consumer review sites:
G2: 4.5 out of 5 stars with 1,066 reviews
Capterra: 4.4 out of 5 stars with 497 reviews
TrustRadius: 5.4 out of 10 stars with 70 reviews
First, let's look at what themes we uncover in complaints, then we'll look at praises.
Negative Reviews & Complaints
Some users do have criticisms about the following:
Deliverability Issues: A few users say their emails aren't reaching enough of their customers.
Opaque UI: A lot of customers express frustration about difficulty navigating the program's layout and its initial learning curve.
Customer Service: A few complained that support is slow, and phone support wasn't available. Phone support is only available on Premium plans and up. Keep in mind while frustrating, it is very common for email marketing platforms to lack phone support.
Positive Reviews & Testimonials
Customer reviews of SendinBlue have been overwhelmingly positive. Here are some things customers like about SendinBlue:
Cost: SendinBlue compares favorably to most email marketing software in the affordability department and delivers a high degree of functionality at its price point.
Reporting Tools: Users appreciate the depth and breadth of information offered by SendinBlue's reporting tools.
Easy-To-Use: Customers liked that it is easy to set up and implement their marketing strategies, including configuring workflows.
Features: Customers sited a few features they appreciate including webhooks for events, A/B testing, transactional emails, and overall organization of campaign and contacts.
Integrations
SendinBlue integrates with over fifty extremely handy plugins. The technically savvy can also make use of SendinBlue's API to enhance functionality.
The following are available as plugins:
WordPress
WooCommerce
Magento
PrestaShop
Drupal
Wix
Salesforce
Shopify
Google Analytics can be added as an integration. Additional apps can be integrated through Zapier.
Security
SendinBlue is more transparent with its uptime and security since our last review. It's maintained a 99.87% uptime in the past thirty days at the time of our review, with daily, weekly, and monthly reporting available.
Anti-Spam Policy & Protection
SendinBlue has a zero-tolerance policy towards spam. All contact lists operate on an opt-in basis, and SendinBlue reserves the right to suspend accounts suspected of spam without warning. People who have gotten spam from a SendinBlue user can report the account.
Final Verdict
We think SendinBlue is an excellent choice for when it comes to value and features. We noted that they have improved their integration count, so you'll likely find what you need when it comes to plugins. While some customers don't like that phone service isn't available on all plans, this is typical among other email marketing services as well. Since the time of our last review, SendinBlue has become a more established brand among marketers and small businesses, earning high regard among most consumer reviewers. Overall, the company seems to be headed in the right direction, as these are all good signs.
Given the amount of money you could potentially save by using SendinBlue and the ability to test it for free, there's little excuse not to try it and see if it meets your marketing needs. If you're looking for other options to try before you buy, check out The Best Free Email Marketing Software Programs.
---
The Merchant Maverick Seal of Approval 🏆
SendinBlue


---
After hours of in-depth research and evaluation, we can confidently recommend this brand to our readers. Get started today and see SendinBlue for yourself.
The Merchant Maverick Seal of Approval 🏆
SendinBlue


---
After hours of in-depth research and evaluation, we can confidently recommend this brand to our readers. Get started today and see SendinBlue for yourself.
To learn more about how we score our reviews, see our
Email Marketing Software Rating Criteria
.