Managing Editor

UPDATED
Advertiser Disclosure: Our unbiased reviews and content are supported in part by
affiliate partnerships
, and we adhere to strict
guidelines
to preserve editorial integrity.
ShipWorks
ShipWorks is a Windows application designed to streamline the order fulfillment process for businesses of all sizes. With a few clicks, the software can download shipping information from an online sales channel, calculate and print postage, and generate labels, packing slips, and more. With integrations for over 40 different mail carriers and eCommerce platforms, this solution can be put to work for any business that deals with shipping on a regular basis.
ShipWorks proudly markets itself as the first software of its kind. St. Louis-based developer Interapptive launched the product in 2002, predating its current competitors by almost 10 years.
Over the course of this review, we'll be taking a look at the strengths and weaknesses of this application. By the time we're done, you should have a good idea of whether or not it's right for your company. Let's get to it.
Pricing:
Let's take a look at the different tiers:
Ecommerce Essentials

$49/month
1500 shipments/mo
1 + Ship-from location

Ecommerce Professional

$149/month
5000 shipments
1 + Ship-from location

Warehouse Essential

$349/month
12,000 shipments
1 + Ship-from location

Warehouse Professional

$599/month
25,000 shipments
2 + Ship-from location

Warehouse Elite

$799/month
25,000 shipments
2 + Ship-from location
Each plan comes with:
Unlimited phone, email, and chat support
Unlimited users and workstations
A free USPS postage account
Users receive an automated notification when they're approaching their shipment limit. Once you've reached your cap you can either upgrade to a larger plan, or wait until your next billing period to start shipping again.
Shipworks has changed their pricing model since my last review, and I think it's a big improvement.
Web-Based or Desktop:
ShipWorks is a desktop application, which means it's stored on your computer's hard drive. This makes it pretty unique, as most of its competition is cloud-based. Here's a quick summary:
Desktop PROs:

Speed/Scalability: Desktop applications are better at handling high volumes of orders. In a cloud-based environment, each user shares machine resources with (potentially) thousands of other customers. In some cases, this equals a big drop in performance when order levels get into the thousands, or tens of thousands. Having the shipping application on a dedicated computer mitigates this problem.
Security: The database ShipWorks utilizes is stored locally on your machine, as opposed to on a giant server farm. This is ideal for those who wish to personally manage the security of their information.
Availability: Local installation means you have access to your data at all times. If a cloud-based app experiences a service interruption, you'll be at a stand still until they can get back online.

Desktop CONs:

Setup: Installing a desktop application requires time, configuration, and (occasionally) some troubleshooting. Users who aren't well versed with computers may require some help from their IT department.
Learning Curve: Desktop applications tend to value functionality over user experience. Sometimes this results in a software environment that takes time to learn.
Maintenance: It is up to the user to install updates and make sure their information is backed up regularly, in case of a hard drive failure.
As I get deeper into this review, you'll see me revisit some of these points. If you're looking to invest in a shipping solution, I'd recommend that you keep these concepts in mind, and think about what your needs are, now and in the future.
Hardware and Software Requirements:
Your machine must fit the following criteria to run this software:
Windows XP, Vista, 7 or later (both 32-bit and 64-bit versions are supported).
At least 2 GB of RAM
1.8 GHz processor or faster
At least 4 GB of disk space
You must have Microsoft .NET Framework 4.5 installed. ShipWorks will assist with this as part of the setup process.
ShipWorks will work on a Macintosh, provided you have a virtual Windows machine. There are a number of different options for this, including Parallels and Bootcamp. NOTE: Both of these solutions require a standalone copy of Windows.
Ease of Use: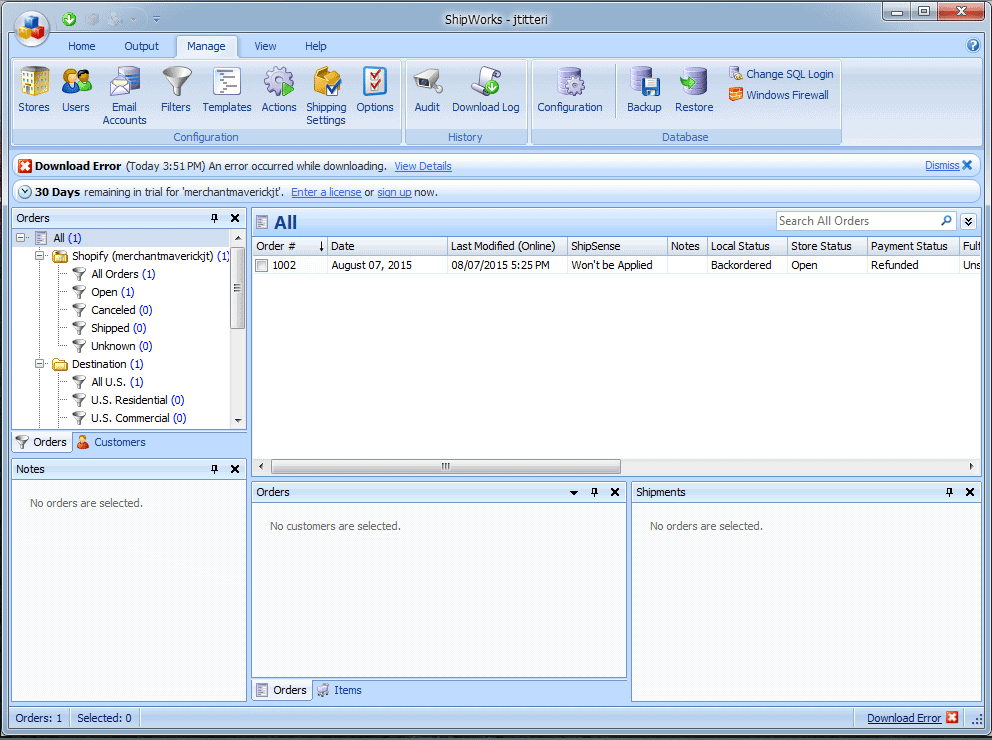 As I mentioned in the intro, ShipWorks has been on the market since 2002. It predates its competitors by 10 years, in some cases, and when you download the software for the first time the difference is apparent.
It took me an afternoon to get everything installed. Most of this was due to the fact that I'm a Mac user, and as such needed to install a bunch of additional software. Still, there were some hiccups along the way, and some baffling browser-display issues that occurred while I was integrating my Shopify store.
Whereas the current generation of cloud-based shipping solutions sport a stylish UI in the vein of a Google web application, ShipWorks looks closer to early 2000s era desktop software (think Microsoft Outlook). The interface is filled with lots of windows, buttons, and menus. For those used to a more guided, streamlined workflow, the difference is jarring.
While it may seem like I'm deriding this aspect of the software, I want you to think about it in context. A lot of professional tools are complicated because they're powerful. Think of an airplane cockpit or a recording studio's mixing desk. What may appear dense and confounding to the initiate can be deadly efficient to the person who's invested some time into learning the layout. And learning ShipWorks won't take very long in the grand scheme of things.
The top menu bar has five tabs for each major function of the software:
Home: Contains all the basic shipping tasks
Output: Covers everything related to printing and email (I'll cover email in a little bit)
Manage: Gives you access to the system preferences, logs, and the database
View: Allows you to setup Custom Views
Help: This section contains the help documentation, access to support, links to suppliers, and information about the company
ShipWorks has a built-in email solution that allows you to send shipment notifications, interact directly with customers, and/or send automated updates to pertinent members of your team. Linking the software to one of your existing email accounts is easily accomplished (the process is the same as with any major email client).
The application also includes the option to create custom views. If you've read any of my other reviews, you know that I love this feature. With custom views you can tailor the UI to your liking by choosing which windows you want displayed, the level of detail in the center grid, and an option for saving and loading presets. ShipWorks really nails this aspect of the user experience.
One last thing I'd like to touch on is the filters and automated tasks. These are the two features that will probably see the most use, particularly if you deal with a high volume of orders. Filters are a way to organize orders based on certain criteria, whereas automated tasks allow you to apply actions when an event occurs (e.g. print an invoice once when a shipment is processed). The user who can master these tools will be using ShipWorks to its full capability.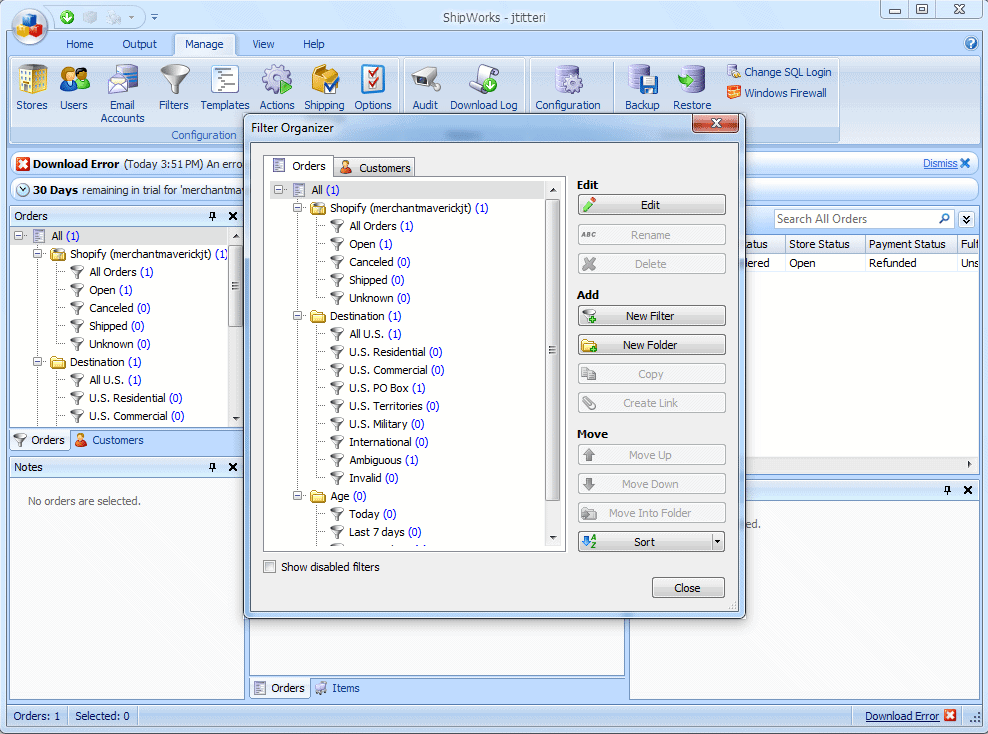 Customer Service and Technical Support:
There are several different options for support:
Phone: 1-800-952-7784 or 314-821-5888
Email: [email protected] (or Support ticket)
Forums
FAQs and KnowledgeBase
Live and archived webinars
Office hours are Monday-Friday, 8:00 am to 5:00 pm (CST).
My personal experience with ShipWorks support has been positive. Turnaround times on support tickets are 24 hours or less, and I've never had trouble getting anybody on the phone.
The knowledge base is extensive, and covers everything from setup, to troubleshooting your printer, to online marketplaces and shipping providers. The articles are clearly written and provide plenty of screenshots.
User Reviews:
In general, reviews are good for ShipWorks. Maybe it's not the easiest software to use, but the functionality, price, and customer service make this a worthwhile product for its clients.
Negative Reviews and Testimonials:
You can find bad reviews of ShipWorks if you dig around the internet for a little while. Capterra has 30 reviews and that leaves ShipWorks with a 4.4/5 average. A user over at Capterra had this to say after giving the software a 3/5 rating:
"An inventory system that communicates with all sales channels would be stongly suggested. Otherwise you'll be left behind by the competition. Cons: Lack of shipping companies no inventory management. Cannot easily compare rates from different shippers – difficult process"
There are a few other negative takes on the software to be found; they tended to focus on difficulty with software upgrades, setup, and customer service.
Positive Reviews and Testimonials:
There are many positive reviews of ShipWorks to be found online. Users love the speed and flexibility of the application, along with the sheer number of available integrations. Here's a review posted this spring on the Shopify App Store that touches on its strengths compared to a cloud-based service:
"First, this shipping software isn't really an app for Shopify but rather a stand alone desktop program. However, it integrates with Shopify very easily and quite beautifully. It's not cloud based–but that is not necessarily a bad thing. We loved ShipWorks but also wanted a second software as a back up and tried a couple of Cloud based companies. We quickly learned why desktop is better. We had a sale where we received 30K plus orders in a day and cloud based software we were testing struggled with that many unshipped orders. Not Shipworks. It handles our biggest sales. Even if we have 50K orders in a day, Shipworks doesn't even hiccup and downloads them quickly and easily.

It's pretty complex to get it up and running (we required a lot of filters to be created) but once it's going it's amazing! We can even track how many orders each shipper is shipping to give them feedback on productivity. The tech support is by far the friendliest people you will ever speak to. That in my opinion is what makes Shipworks stand apart- whatever you need, they can assist. I only wish they had 24 hour support but you can't have everything. We Love Shipworks!"
Features:
Here are the main features ShipWorks has to offer:
Integration with all major shipping carriers, including FedEx, USPS, UPS
Discounted USPS rates through Express1 and Stamps.com
Return labels for FedEx, UPS, and USPS shipments
Direct integration with all major online marketplaces
A Generic API for integrating outside sales platforms
Automated importing of flat files, Excel spreadsheets, and XML
Automatic updating of order status
The ability to send tracking numbers, costs, and payment status back to online stores
Filters for organizing customers and orders
Automated tasks with shipping rules
Customizable document templates for invoices, shipping labels, emails, pick lists and reports
Scheduled tasks
Support for all printers and scales
Reports: There are a variety of reports you can generate in ShipWorks through the "templates" feature. Most of them can be viewed directly in the interface, but there are a few that must be exported before they can be seen properly:
Customers
Orders with Items
Shipsurance Export
Tracking Numbers
Order Status
Order Summary
Orders by Time of Day
Shipper Productivity
Order Charges Breakdown
Shipping Cost by Carrier
Shipping Profit and Loss
Items by Amount
Items by Name
Items by Quantity
Integrations and Add-Ons:
ShipWorks integrates with many different shipping carriers and online marketplaces. If you use a store that isn't directly supported by ShipWorks, you can work with a developer to create your own integration, via the ShipWorks API.
Carriers:
Shopping Carts:
Marketplaces:
Payment Gateways:
Other:
There are a lot more, believe it or not. Check out the full list here.
Security:
As I mentioned earlier, both the application and the database are stored locally on your computer. This is typically safer than a cloud-based solution, provided your network is secure. Consult with your IT department.
Final Verdict:
If you're considering ShipWorks at this point, it's probably worthwhile to think on a couple things:
How big is your company?
How big do you plan to be?
How computer literate are you?
Do you have the time and patience to deal with the setup and learning curve?
For those of you looking to process a high volume of orders now or in the foreseeable future, ShipWorks is an affordable, stable solution. While other solutions may be more user friendly or employ a sexier design, it's important to keep track of the bottom line. If you're a Windows user, and your bottom line is stability, scalability, and flexibility, then ShipWorks is what you're looking for.
---
We've done in-depth research on each and confidently recommend them.
We've done in-depth research on each and confidently recommend them.
To learn more about how we score our reviews, see our
Shipping Software Rating Criteria
.