Expert Analyst & Reviewer

UPDATED
Advertiser Disclosure: Our unbiased reviews and content are supported in part by
affiliate partnerships
, and we adhere to strict
guidelines
to preserve editorial integrity.
Pros
Suited for large businesses
Excellent customer support
Scalable
Attractive design templates
Cons
Add-ons often necessary
Limited features
Expensive monthly cost
Shopify Plus Overview
Shopify is a big name in eCommerce, and the software company has a big reach. With more than a million Shopify stores operating online in more than 175 countries, the company welcomes more than two million daily visitors and has processed more than a billion orders. In 2021, Shopify accounted for an estimated $319 billion in worldwide transactions.
So if you're involved in eCommerce, you're probably familiar with Shopify. How about its big brother, Shopify Plus? If you're heading up a large online sales operation, with more than $500k in annual sales, you might want to consider joining the 7,000+ merchants who have made their home online with Shopify Plus. And if you're just starting your research, this Shopify Plus review can help you learn what the platform has to offer and if it can deliver what your business needs.
Shopify Plus is the enterprise version of Shopify, aimed at high-volume sellers and intended to take the hassle out of running an online business. Shopify Plus features a special onboarding program and priority support options. That means users can say goodbye to sweating over difficult code; Shopify Plus's team of experts has got you covered.
Of course, Shopify Plus enterprise pricing is high-level too. Simply put, Shopify Plus is not cheap, nor is it intended for small businesses or start-ups. Shopify Plus is specifically geared toward large companies. So if your sales ambitions are bigger than your current online revenues, you might do better starting with one of Shopify's more basic offerings. Check out some great shopping cart software for beginners to find an easy-to-use and cost-effective eCommerce option and compare your choices.
On the other hand, if your company is one of the bigger fish in the eCommerce pond, keep reading this Shopify Plus review.
Shopify Plus Pricing
Pricing for merchants on Shopify Plus is customized to each client's business needs. However, the base price is $2,000 USD per month and it goes up from there, with a revenue-based additional 0.25% charge for merchants making $800k+ in eligible platform transactions during any given month. Pricing adjusts each month based on these calculations. Although the price is on the high side, Shopify Plus delivers added features to match the added cost.
Those "eligible platform transactions" are the net value of any online or POS transactions that you process through your Shopify store and do not include any imported orders.
Also, if you choose to process payments through a third-party payment gateway, you will be charged an additional 0.15% transaction fee. This transaction fee will be waived if you choose to use Shopify Payments for your payments instead. Read our review of Shopify Payments to learn about the pros and cons.
Cloud-Based Or Locally-Installed
Shopify Plus is cloud-based, fully hosted software.
Hardware & Software Requirements
Because Shopify Plus is web-based, all you need is a decent computer and a reliable, up-to-date web browser.
Specific Size Of Business
Shopify Plus is designed for large, high volume companies. Shopify says brands typically upgrade to the enterprise level when their online sales reach about $80k/month. So if you're at or nearing that level, Shopify Plus could be a good option for your eCommerce operation.
For comparison purposes, here's a select list of a few current Shopify Plus clients: Staples, Heinz, Bombas, Magnolia, Leesa, UNTUCKit, and Molson Coors. You could say Shopify Plus is a big deal, for big-name companies.
Ease Of Use
Like the more basic Shopify software that it's based on, Shopify Plus is elegant, simple, and easy to navigate.
You can test out the basic Shopify software using a free 14-day trial, with no credit card required. All you have to do is enter some contact information and answer a few questions about your store, and you'll be set up for a free trial account. Note that you cannot access Shopify Plus during this trial period. If you are considering upgrading to Shopify Plus, you should contact a sales rep for more information that can help you decide.
Although there was no beginner's tutorial to get me started using Shopify, it wasn't a huge deal because, as it turns out, the Shopify dashboard is a thing of beauty.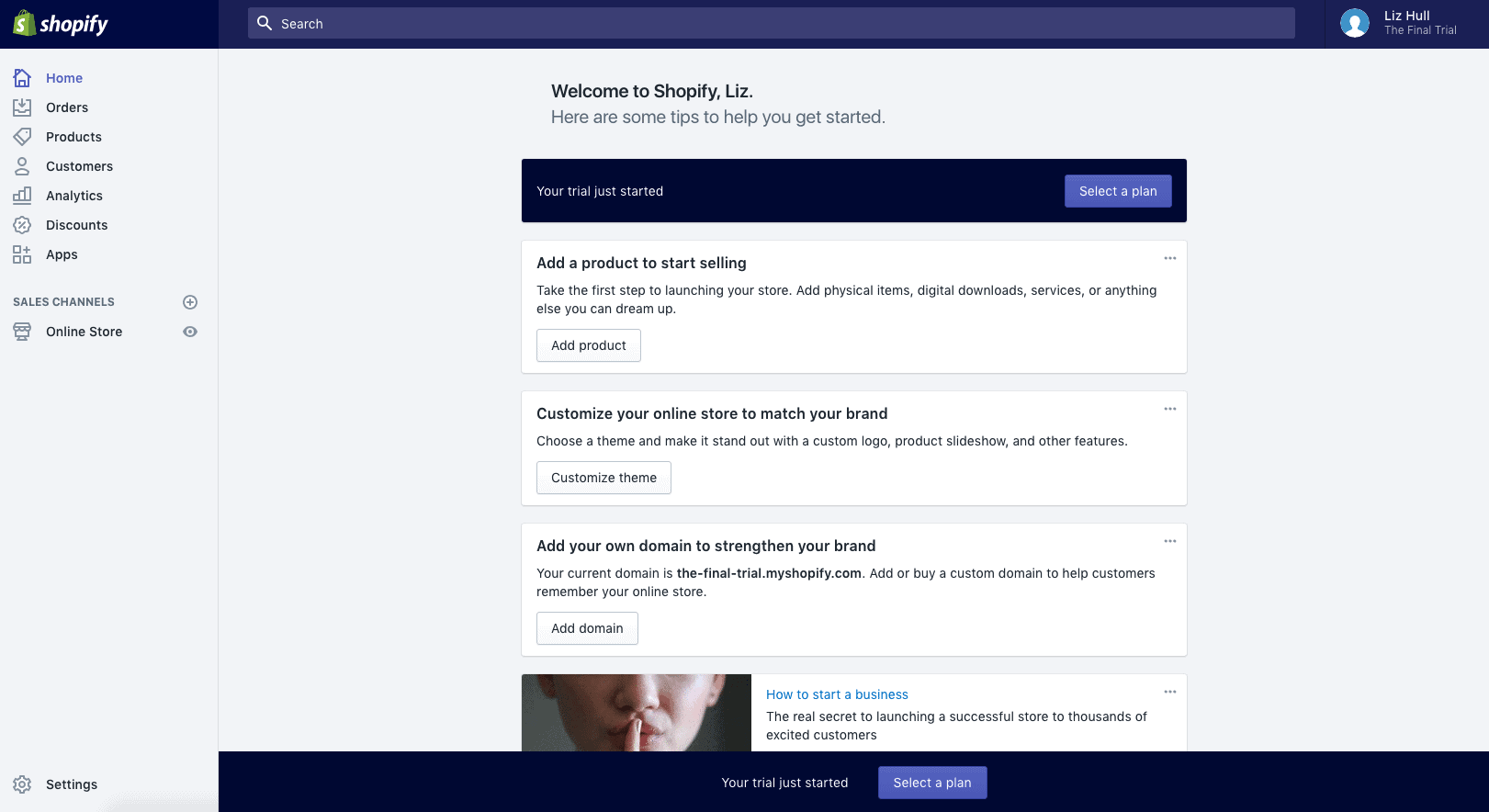 All of the most important features (orders, products, customer records, analytics, discounts, apps) can easily be found in the dashboard's sidebar. Other settings, like payment methods, adjustments to the checkout page (including language selection), tax and shipping settings, and email notifications, can be found at the bottom of the sidebar under (you guessed it) "Settings."
Adding a product takes only a few clicks.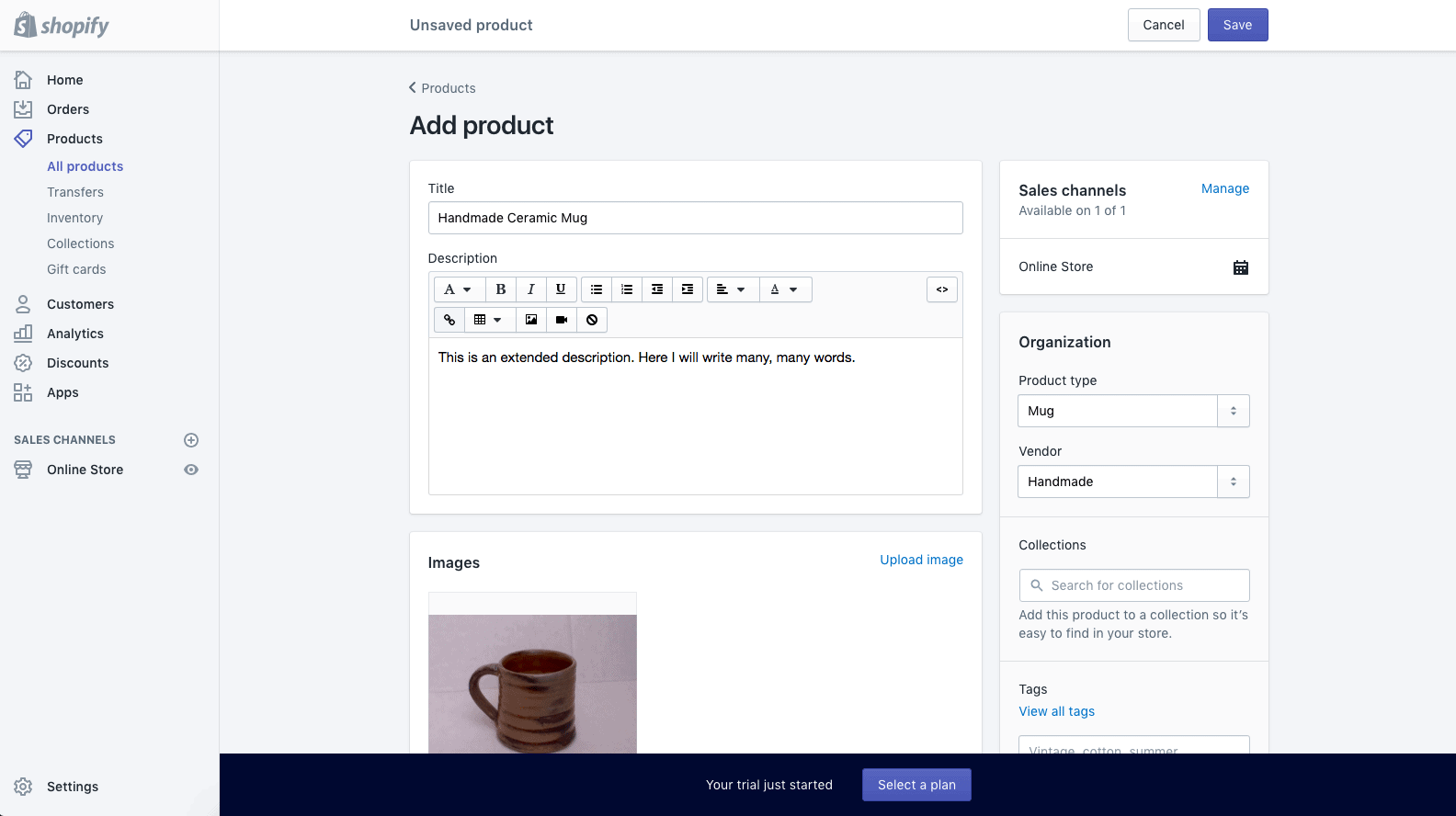 You can use Shopify's discount features to create specific discounts that apply to an individual product or category. You can also set limits to those discounts so that they can be used only a certain number of times or at a certain price point.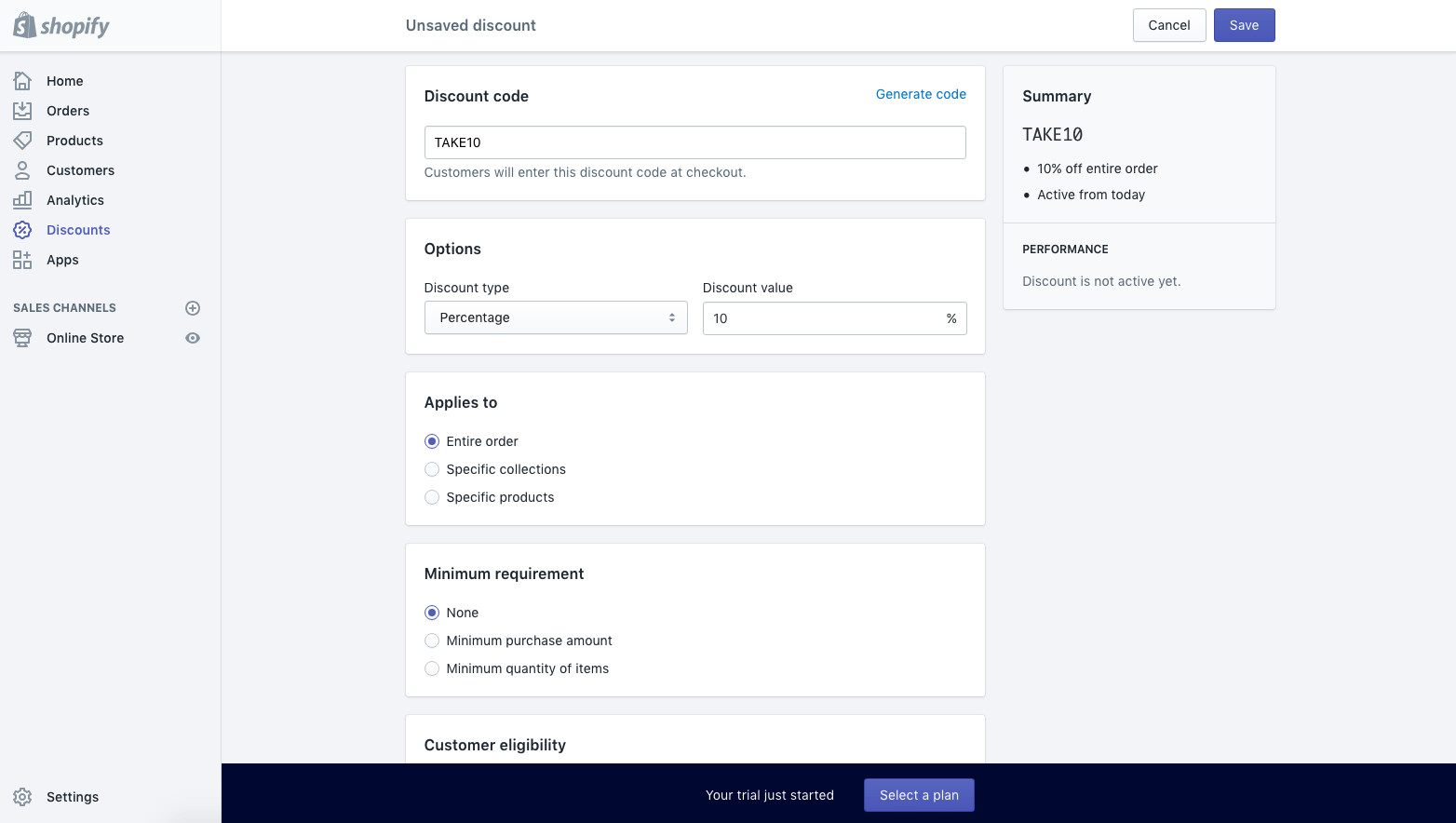 As a whole, Shopify's dashboard does an excellent job. If you can use a WordPress dashboard or even a Facebook account, you can operate a Shopify store. And although Shopify Plus gives you access to new features and tools, using the software is still pleasantly comfortable to do.
Shopify Plus Features
Any Shopify plan (with the exception of the minimalist Shopify Lite plan) comes with the essential features required to operate an online store. All plans come with unlimited bandwidth, unlimited products, and no cap on sales. Here's a brief rundown of those features. See our full Shopify review for all the full details on these:
Dashboard: The main dashboard is clean, orderly, intuitive, and easy to navigate.
Products: It's easy to add products and variants. Users can adjust prices, SKUs, and inventory for each variant and configure different product weights for shipping. You can also add variant-specific images. Use a bulk editor to make it easier to manage data.
Multi-Channel Selling: Sell on Instagram, Facebook, Amazon, through Messenger, and with Buy buttons. Add integrations for additional marketplaces, like Amazon, Etsy, Walmart Marketplace, and eBay.
Sell Internationally: Shopify supports international selling and checkout in over 50 languages. Stores can be set up in five languages and you can accept 133 international currencies.
Checkout: Your customers can create personal accounts or opt for guest checkout. Or use Shop Pay to make checkout even easier for customers. If you use Shopify Shipping you can access carrier-calculated rates and get a discount on those rates.
Inventory Management: List unlimited products and track them with inventory management and category organization tools. Build your catalog using Shopify's bulk import/export feature to ease migration from a previous platform or to make bulk edits to your catalog.
Marketing: Access coupon, gift card, and discount features, including BOGO, then apply them to specific products or categories. Limit the offers to specific customer groups, specify a number of uses, or apply a minimum order total. Use abandoned cart recovery tools and engage visitors via live chat.
Dropshipping: Integrate your Shopify store with a number of popular dropshipping apps made to work seamlessly with Shopify.
Blog: Use the built-in blogging engine to tell stories that increase customer engagement, boost your store's SEO, and convert lookers into buyers. Manage your blog right from your admin and add it to your main navigation menu if you like.
SEO Tools: Standard SEO features include customizable H1s and the ability to write title, product, and meta tags. A sitemap.xml is automatically generated for your store.
Reports & Analytics: Reporting options vary by plan level, with every plan including at least acquisition reports, behavior reports, and marketing reports. Higher plans include more advanced reporting options, and more than 1,100 add-ons let you customize reports to your liking.
On top of those basic Shopify features, Shopify Plus boasts some pretty impressive capabilities. Here are just a few of them:
Reliability: Shopify Plus's servers experience 99.98% uptime.
Scalability: Your site will have the ability to handle fluctuations in traffic and grow as your business grows.
Enhanced Admin: Upgrades to the basic Shopify admin allow you to simplify management of your entire company with new tools. You'll be able to manage users, create new stores, update workflows, and access a high-level overview of key business metrics across all stores in your organization.
Advanced Checkout: Access the checkout.liquid file to create a customizable checkout.
Wholesale Channel: Shopify Plus lets you create a separate, password-protected storefront that extends your online store. You can track wholesale customers and orders from your Shopify admin, use exiting product data and integrations, and manage all your B2C and B2B business from one place. You can also offer customized price lists that let you offer wholesale buyers the same products retail customers can view.
Launch Team: Get your store online faster when you allow the launch team to assist with migration tools and strategies, custom integrations, and solutions that meet your unique needs.
Priority Support: Shopify Plus includes priority support that's available 24/7 in addition to a merchant success program that gives you access to products, platforms, and training options. You can also access assistance with third-party integrations, connect with other Shopify Plus users and social media, and browse the Partners Directory to access peer support and potential partners. If you prefer self-help options, you can visit the Shopify Plus Academy for specialized support, online workshops, and self-guided courses on almost 100 topics.
Expansion Options: Your online sales can be both international and local, with the option to host up to nine expansion stores.
Smooth Setup: Most sites are up and running within 90-120 days. on average.
Multichannel Capabilities: You can sell on over 20 channels in addition to your own site, including major social networks and marketplaces.
Automations: Use Shopify's easy-to-implement automation tool, Shopify Flow, to streamline your daily processes. Also, look into Shopify Scripts to automate campaigns and flash sales. Use Launchpad when you introduce a new product or plan a flash sale, and you'll receive automatically generated reports that can span multiple stores.
Additional Permissions: Take control over the actions staff can take in your Shopify admin, including separate export permissions and permissions to specific apps.
Shopify POS Pro: Available as an add-on with most Shopify plans, this tool is included at the Shopify Plus level. It allows you to use the POS Pro tool at every location in your organization, at no additional charge.
Shopify Plus Web Design
Shopify's themes feature mobile responsive design, something that's absolutely critical in the current market. Today, a slim majority of online sales are coming from mobile devices, and that means your site needs to look just as good on a smartphone or tablet as it does on a full computer screen.
There are more than 100 themes to choose from (10 of them free), and they're easily customizable. When you sign up for Shopify Plus, you gain the ability to add up to 100 themes to your account. That lets you try out new themes, keep seasonal versions of your published theme, or test changes to your published theme.
To customize those themes, you can use Shopify's drag and drop editor. Sections are customizable blocks of content that allow you to customize content with fewer restrictions to better match your original idea for your store.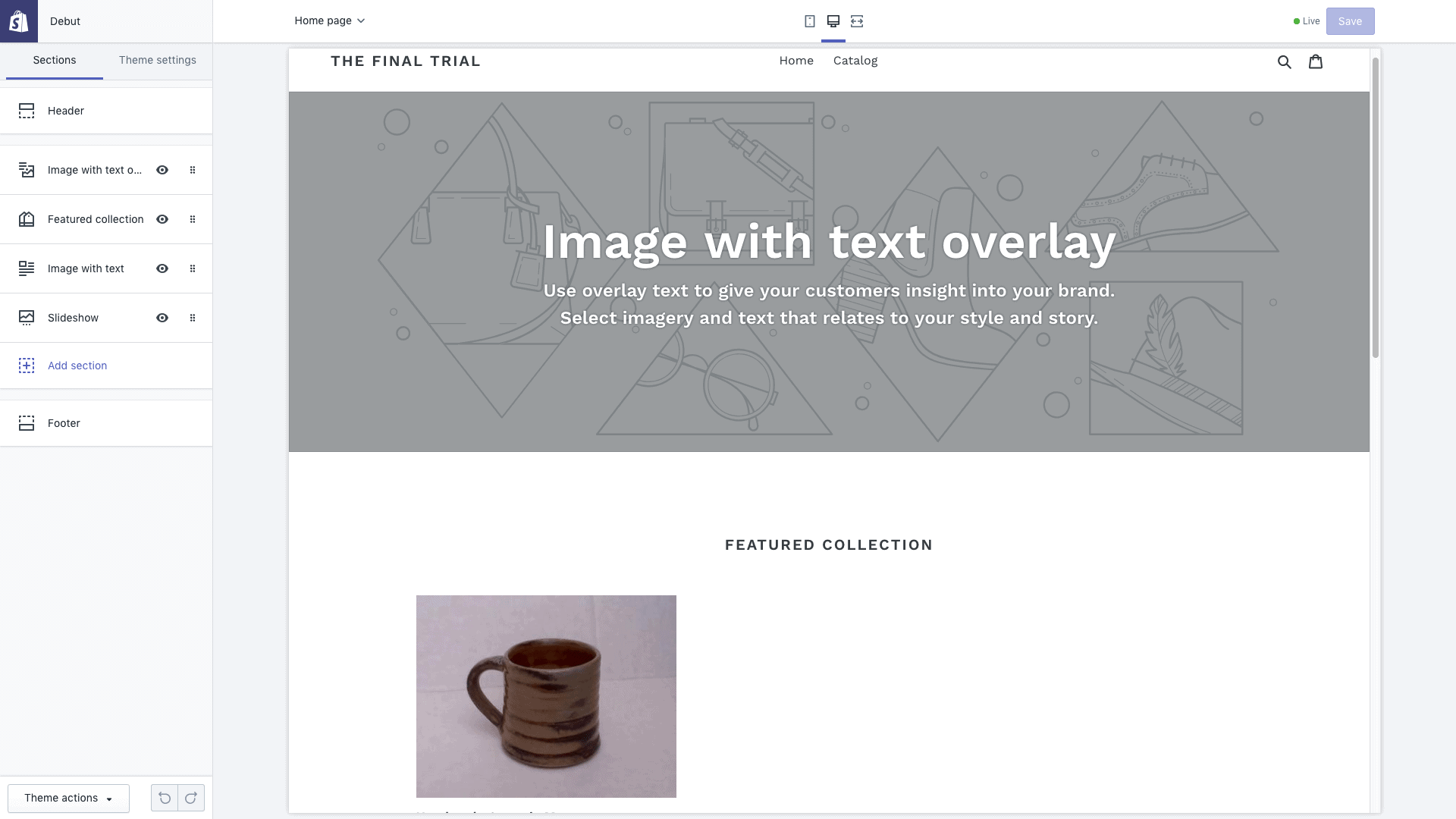 If you're looking for even more design versatility, you'll need to get into your storefront's code. Shopify uses its own templating language called Liquid. You can also edit HTML, CSS, and JavaScript.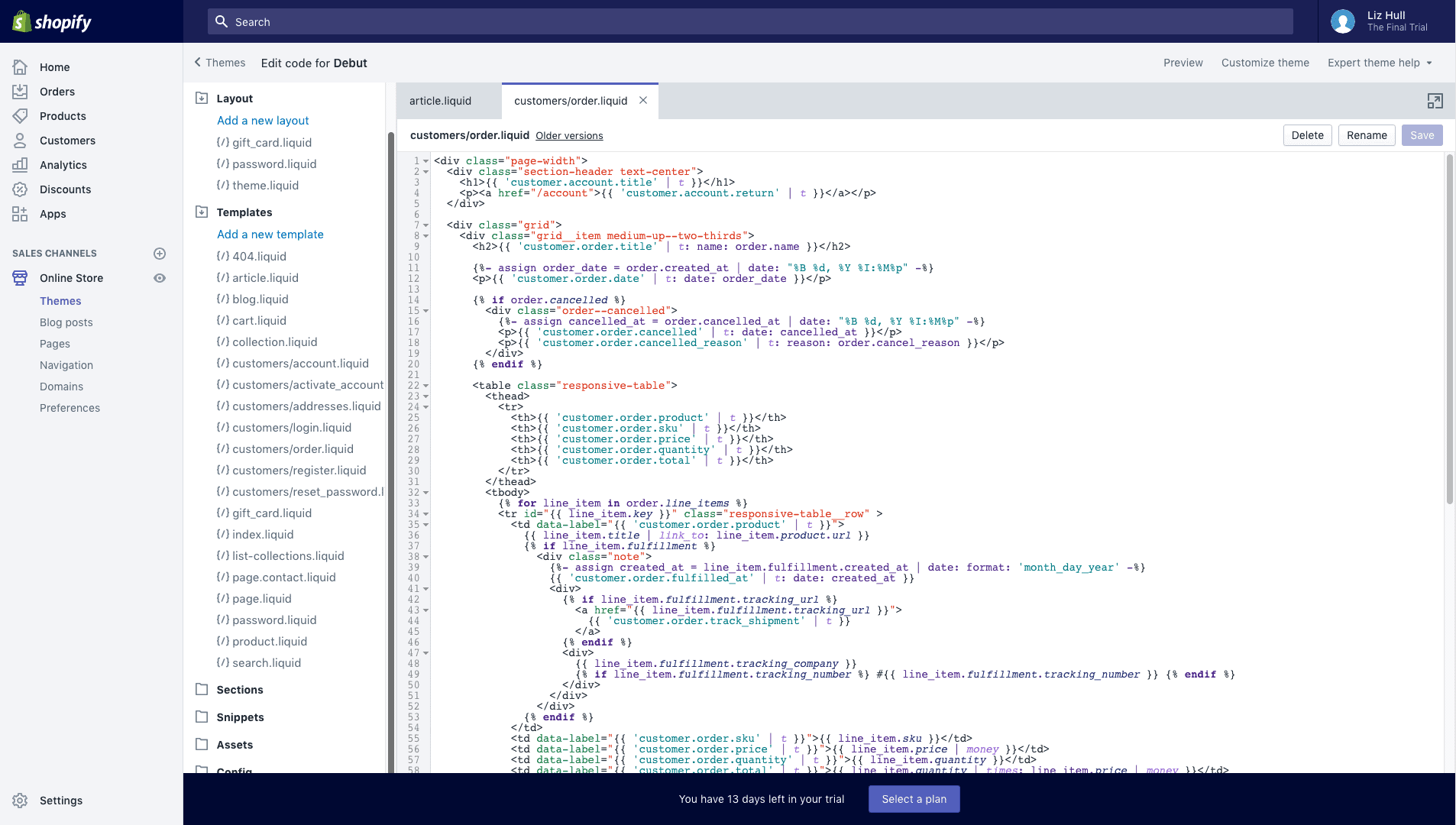 Finally, if you're looking for something a little more unique, Shopify Plus gives you access to a merchant success program that includes support from industry experts, access to specialized partners, and resources that are available exclusively to Shopify Plus members.
Integrations & Add-Ons
Overall, Shopify earns an Excellent rating for the extensive set of available integrations and add-ons available in the Shopify App Store. You'll find well over 3,200 options to choose from there, meaning you're more than likely to find what you need to customize your store.
When you upgrade to Shopify Plus, you gain a few more options. If you have an in-house development team, they can use Shopify Plus's advanced customization capabilities, including your checkout.liquid theme template. If you don't have in-house options, you can tap into the Shopify Plus Partners networks. Or you can rely on Shopify Plus Certified App Partners to find apps selected for their quality and ability to deliver complex solutions. Shopify Plus customers also gain access to Beta programs, allowing you to preview and influence Shopify products.
Shopify Plus also includes access to Avalara tax automation software. You'll be able to calculate accurate taxes on every order based on up-to-date tax rules.
Payment Processing
Shopify Plus is compatible with over 100 payment gateways, including:
Adyen
Authorize.net
Braintree
PayPal
Sezzle
Skrill
You can also access the in-house payment option Shop Pay (previously called Shopify Pay). It's a one-click, secure payment option that stores customers' information and makes checkout fast and easy. Shopify also offers several buy-now-pay-later options, including a special partnership with Affirm.
You'll also have the option to use Shopify's own gateway, Shopify Payments. You may benefit from reduced transaction rates if you qualify for Shopify Payments.
Customer Service & Technical Support
Customer service is where Shopify Plus really excels. While all Shopify clients receive 24/7 support, Shopify Plus clients can count on priority service.
For starters, connect with a Shopify Plus consultant to decide if it's the right fit for your business. Your consultant will map out your requirements, assess your business needs, walk you through the Shopify Plus platforms, and help you identify opportunities for growth, expansion, and efficiencies.
Once you sign up for Shopify Plus, your account should be activated within 24 hours. You'll receive an introduction email that includes a link to join Jumpstart, Shopify Plus's onboarding program. You'll also receive contact information for the Shopify Plus Priority Support team that will be available to you 24/7. A dedicated launch team will consult with you on best practices for re-platforming and building your online store, including international storefronts, custom integrations, data migration, and more.
Sign up for "New from Shopify Plus," and you'll receive a weekly newsletter via email with information about product feature releases, beta opportunities, and Shopify Plus events. Visit the Shopify Plus Academy to access in-depth how-to articles and eCommerce strategies presented in nearly 100 self-guided courses. You can also watch tutorials and access Q&As with business owners there.
You'll also have access to a roster of Shopify Plus Partners, award-winning agencies, and software solutions that specialize in helping businesses. If at any point you feel you need a little help, contact your Plus support team for immediate assistance.
Shopify Plus Reviews
While Shopify's general services receive their fair share of complaints, balanced with rave reviews, Shopify Plus has very few negative comments. I conjecture that this is due to the excellent customer service provided at this level of support: If a Shopify Plus client has a problem, it's likely resolved at higher levels than an online complaint board.
Shopify Plus has a solid 4.5/5 stars on G2 Crowd, with 203 reviews, and a 9.2/10 rating on Trust Radius. Let's take a look at some of the negative comments first.
Negative Shopify Plus Reviews & Complaints
Although users are generally satisfied, a few patterns emerge. Here are some relatively common complaints about Shopify Plus:
Too Many Apps Required: While the huge variety of integrations can be seen as a plus, it also emerges as a negative for some users, who say that instead of improving the core product, Shopify Plus urges users to patch gaps with an app. The costs for those add-ons can quickly add up, and some add-ons don't seem to play so well with others.
High Cost: Even though Shopify Plus is aimed at high-volume merchants, the high monthly subscription cost is a deal-breaker for some users.
Limited Customizability: Although you are able to change many aspects of your Shopify Plus storefront and backend, Shopify is not an open-source solution. Therefore, you will not be able to change every nitty-gritty detail of your store. Many larger merchants who are accustomed to open-source shopping carts are frustrated by these limitations.
Positive Shopify Plus Reviews & Testimonials
There are many client testimonials available on Shopify Plus's website. You can also find positive reviews from real customers by searching phrases like "Shopify Plus Reviews" and "Shopify Plus Pros Cons." Here are some things they have in common:
Easy To Use: Shopify's biggest appeal is ease of use, and this remains true for Shopify Plus. As a fully hosted eCommerce solution, Shopify takes care of hosting, security, content delivery, and other technical details for you.
Endless Integrations: Shopify connects seamlessly with many popular software solutions, including marketing and accounting options. So you're likely to be able to continue using the systems you're familiar with and that work best for your business.
Good Support: Shopify Plus users seem satisfied with the level of customer support they are able to access.
Scalability: Shopify Plus's ability to handle large influxes of orders is a huge bonus. Companies attest to the benefits of scalability during Black Friday, Cyber Monday, the holiday season in general, and during new product releases. They know their shops won't crash because of high traffic.
API For Customization: Using Shopify Plus's API, developers are able to build apps for Shopify's backend in order to meet the specific needs of a company.
Security
Shopify Plus is Level 1 PCI DSS compliant (Payment Card Industry Data Security Standard), which is the gold standard for eCommerce. They run risk management and make security assessments on a regular basis, including all six PCI standard categories: maintaining a secure network, protecting cardholder data, maintaining a vulnerability management program, implementing strong access control measures, regularly monitoring and testing networks, and maintaining an information security policy.
Shopify Plus FAQs
Final Verdict
On the whole, I'm impressed with Shopify Plus. There are very few negatives to the service, and most of these can be solved with an app. Shopify's reliable customer service, ability to scale to a large company's needs, and customizability make any store owner's life a whole lot easier.
While the price of these services would clearly overwhelm a smaller store, for a company with hundreds of thousands in revenue, Shopify Plus may actually save money. With the ability to handle more traffic comes the ability to make more sales and ultimately to grow into an even larger and more successful business.
You may have read this far and realized that you're not quite ready for Shopify Plus. If you're still looking for the right platform for your online store, compare the options from our top recommendations for the best eCommerce platforms. One of those choices may be right for you. On the other hand, if you've outgrown your previous software provider, take a good look at Shopify Plus. Try out the software, talk to a Shopify Plus consultant, and see if it's right for you to make the move to this enterprise-level plan.
---
The Merchant Maverick Seal of Approval 🏆
Shopify Plus


---



After hours of in-depth research and evaluation, we can confidently recommend this brand to our readers. Get started today and see Shopify Plus for yourself.
The Merchant Maverick Seal of Approval 🏆
Shopify Plus


---



After hours of in-depth research and evaluation, we can confidently recommend this brand to our readers. Get started today and see Shopify Plus for yourself.
To learn more about how we score our reviews, see our
eCommerce Software Rating Criteria
.