Shopping Cart Elite Review
Contributor

UPDATED
Advertiser Disclosure: Our unbiased reviews and content are supported in part by
affiliate partnerships
, and we adhere to strict
guidelines
to preserve editorial integrity.
Pros
Suited for large businesses
Impressive feature set
Scalable
Cons
Expensive monthly cost
Moderate learning curve
Poor public reputation
Shopping Cart Elite Overview
Like so many other eCommerce platforms, Shopping Cart Elite (SCE) was born of necessity. There weren't many options by way of eCommerce shopping cart software in the early parts of this century, so in 2001, when the need arose, brothers Igor and Nick Soshkin were forced to build their own system.
SCE was originally designed for enterprise-level businesses, and while there is now a plan available for smaller merchants, it's clear the platform is still best suited to high volume businesses.
This cart comes with broad functionality, so it's appropriate for merchants who want their businesses to work the way they plan, not how technology dictates. That does mean, however, that it comes with a bit of a learning curve. Ideally, SCE is for the online entrepreneur who wants every feature included from the get-go and isn't afraid to learn.
Keep reading for a full unbiased review of SCE, including a breakdown of pricing and ease of use.
Pricing
SCE no longer lists their pricing information on their website, presumably because in the past, pricing has been so difficult to understand.
Pricing is currently based on the number of employees in your company and the number of SKUs you need to list. Companies with more users pay less per user, and similarly, companies with more SKUs pay less per SKU.
You'll have to contact SCE yourself for a more accurate picture of what pricing will look like for your company. During your call, ask about startup fees. SCE has an intense on-boarding process and there are fees associated with that.
SCE also offers a Free 14-Day Trial, though you'll have to go through a guided tour of the product before you can access your admin. More on this in Ease of Use.
Web-hosted or Licensed
SCE can be either web-hosted or licensed. Download the Windows desktop software or run the cloud version from any computer.
Hardware and Software Requirements
Downloaded version:
Operating System: Windows
Mac Users will need to install Windows on VMware, Parallels or Boot Camp to use the software or use the browser-based version
Minimum Requirements: Intel i3 (or equivalent), 4GB Ram, Internet Connection 5/5 Mb
Recommended Requirements: Intel i7, 8GB+ Ram, Internet Connection 20/20 Mb
Cloud version:
You can run the cloud version of SCE on any current computer with a solid internet connection and updated browser. However, it's recommended that you use the desktop version.
Find out more about downloading SCE.
Ease of Use
I must admit that my first interaction with SCE was a little shaky. The company offers a 14-Day Free Trial of their platform, which is very typical of the industry. However, unlike most shopping carts, SCE does not give you access to that trial immediately after you sign up. Instead, you'll have to first schedule a guided tour of SCE's platform. Only then will you be able to test the software yourself.
The day of my scheduled call, I answered the phone and found myself talking to Igor Soshkin, SCE's CEO. Now, let me clarify. It is not common to be walked through the platform by the CEO. When SCE asked for my company information, I disclosed the fact that I'm a reviewer (I'm a terrible liar, okay?), and Igor wanted to make sure I came away with a good understanding of the platform. That said, while you will probably not be guided through the admin by the CEO, you can expect a similarly complex tour during your onboarding process. A representative will find out more about your company and show you a detailed, technical demo, very much like I experienced.
After my tour, I received a link to a cloud-based version of their software, which I was able to try out for myself.
My ultimate verdict about SCE: This is not software for the faint of heart. Nor is it for the hobbyist. However, SCE is not impossible to master. While the cart does have a very steep learning curve, once you learn the ropes, you'll find you have enough features at your hands to do pretty much whatever you want.
Here's SCE's dashboard.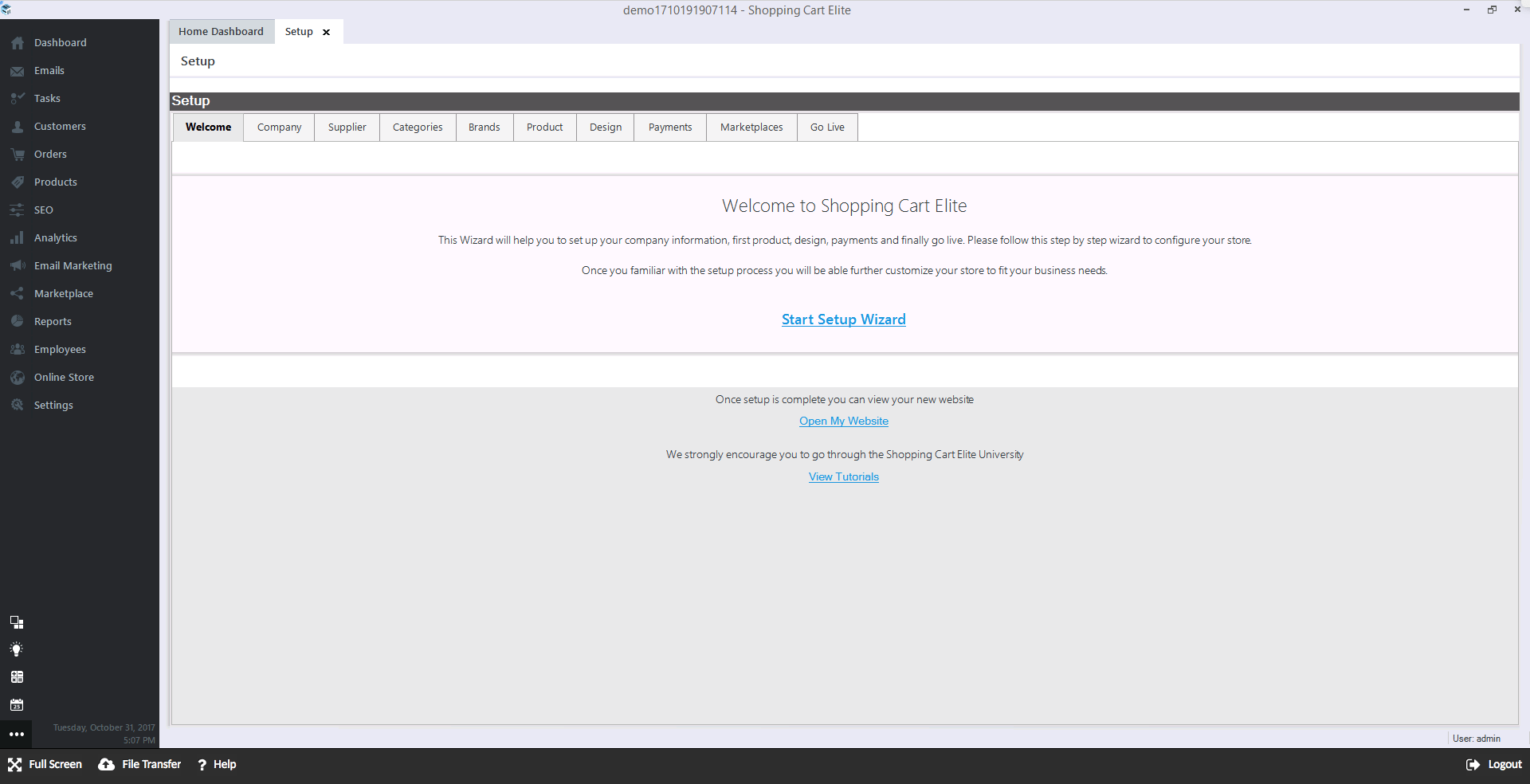 SCE has recently revamped their user interface. The left sidebar strongly resembles that of cloud-based carts like Shopify, while the rest is vaguely reminiscent of Internet Explorer. (That isn't bad – it just isn't sexy.)
I was pleased to discover that whenever I opened a new page in my admin, all of my previous pages were still open as tabs. That way I could easily toggle back and forth between different functions.

As always when testing eCommerce software, I began by adding a product. Every aspect of the process is listed above the fold, which makes finding everything a little bit easier. From here, you can add shipping details and images and update your products' SEO features.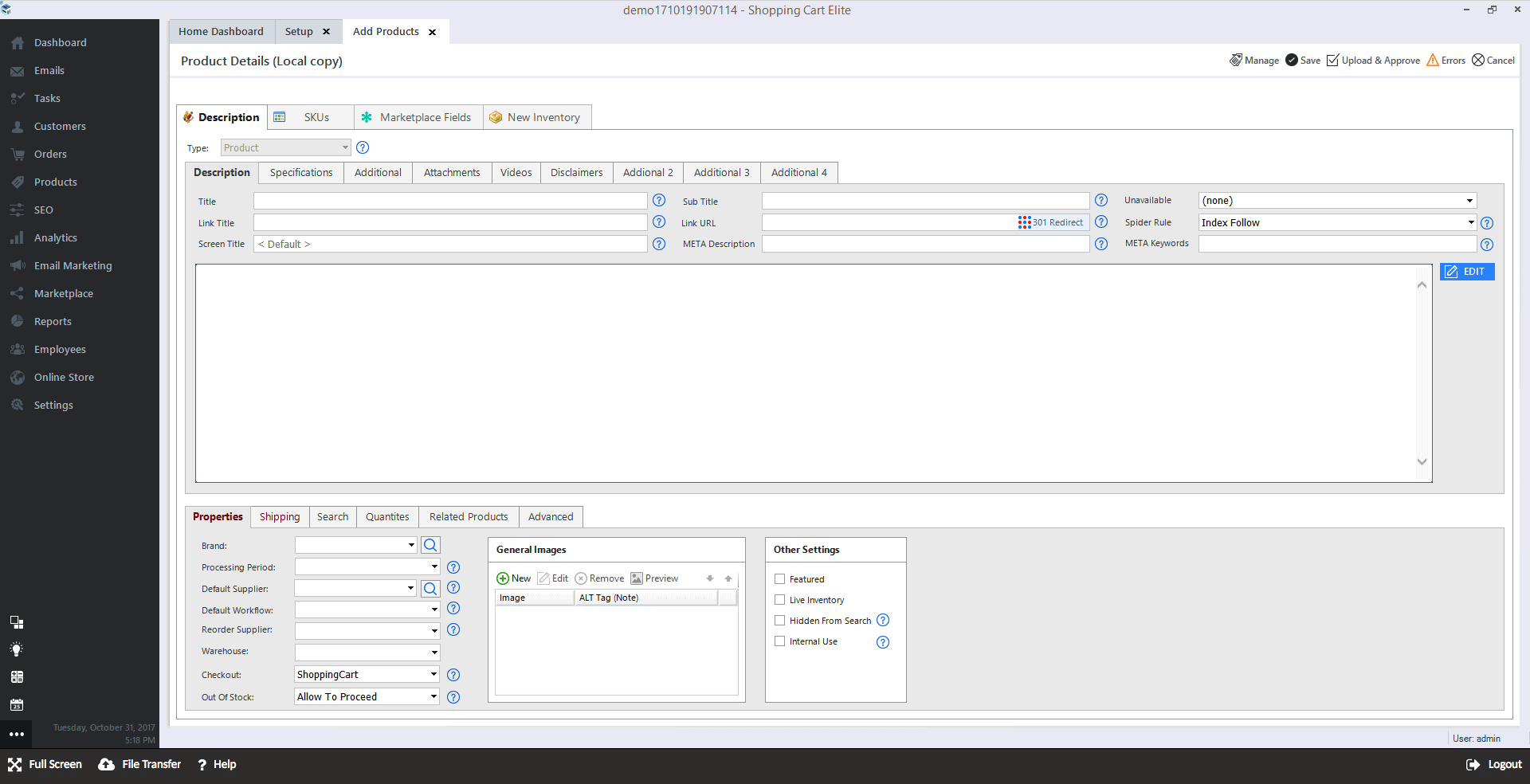 From there, I went on to check out SCE's theme editor. I perused SCE's available theme options. Then I attempted to make a few adjustments.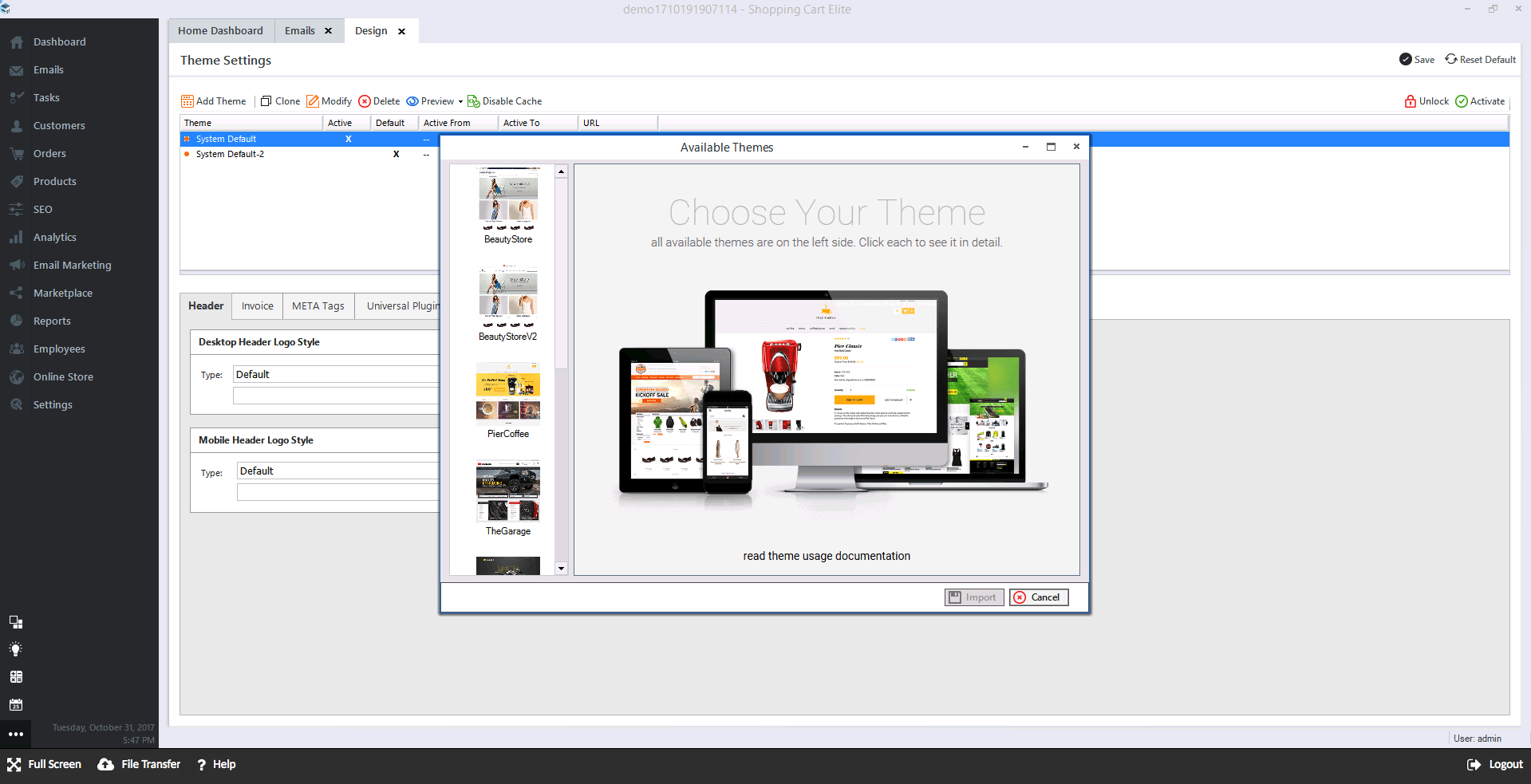 This is when I began to be overwhelmed. SCE's web design tools are far from intuitive. I tried to bumble my way through a few functions, and quickly realized I was in over my head. I tried "Activating" different themes. I tried viewing my storefront. Nothing seemed to work the way I hoped it would. I had no idea what I was doing, and it was clear I was going to have to do some research to figure it out.
The bottom line? This is not a point-and-click platform. This is not a go-in-and-set-up-in-five-minutes platform. This platform is serious. And that means it will take work.
Here's the good thing: that work will eventually pay off. Once you've finally figured everything out, SCE can help you perform those incredibly specific functions you've been trying to piece together with apps. In this way, it is an excellent tool. And if your business has grown to a size that requires comprehensive functionality, it's worth investing the time necessary to learn to SCE.
(Also, while you can always go about setting up your store on your own, you can pay SCE to do it for you. Their rates start at $1000. Note: Most [almost all] merchants choose this route.)
From start to finish, setup with SCE usually takes 30-90 days.
Features
SCE was originally designed for enterprise-level companies, and that fact is reflected in the feature set. This software offers a wide variety of highly specific features for complex selling operations, and one of the best selling points is its automation. SCE lets you automate many of your daily operations, cutting down on the time and money it takes to run your business.
I wasn't able to find a definite feature list anywhere on SCE's website. I did, however, find a bazillion and five features spread out across all of their web pages. I've consolidated a few of the most notable features below.
Storefront
Predictive search and search filters: Let your customers quickly and easily locate the products they're looking for.
Intelligent live chat: Filter your customers' live chat questions. Direct all sales-related questions to a representative via live chat. Send the rest to email.
Social reviews: Email your customers after they've received their orders asking them to leave a review on Facebook or Twitter.
Product bundles: Sell products together. Advanced inventory controls let you ensure that you only sell a bundle if all included products are in stock.
Up-sell and cross-sell: Suggest related products to tack on additional sales.
360-degree images: Give your customers the best understanding of your product.
Social Q&A: Questions about products are automatically emailed to your previous customers who've purchased that product.
Smart pop-ups: Automatically trigger different pop-ups based on the type of visitor that's on your site, the time he or she has been on a specific page, and other conditions.
Smart discounts: Display discounts on the appropriate pages (checkout and product pages) to inspire action.
Email Marketing
Marketing automation: Automatically track the success of your email marketing campaigns. See when a customer opens your emails and monitor your click-through rates.
Abandoned cart saver: Send automatic follow-up emails to customers who've left items in their cart at checkout.
Integrate with Amazon SES (Simple Email Services).
Inbox delivery: Ensure that your emails don't end up in spam folders.
Multiple Marketplaces
Sell across the web: Push your products to Amazon, eBay, Rakuten Shopping, Sears, NewEgg, Overstock, and Jet.
Automatically list your products: Use easy listing features and auto fill descriptions to easily push your products to marketplace.
Read more about selling on multiple marketplaces.
Inventory Controls
True live inventory: Sync your inventory across multiple warehouses and marketplaces so you never sell a product you don't have on hand.
Read more about inventory.
Customer Relation Management
Know your customer: Track every interaction your customers have with sales representatives and know every web page they've visited.
Manage your contacts: Add multiple email addresses to one customer in order to better sell to a company with multiple contacts (this feature is great for B2B selling).
Analytics
Threat Engagement Analytics: SCE lets you track your visitors' mouse movements to detect any suspicious activity. The software compares current visitors' web navigation with past interactions that resulted in conversion to determine positive site engagement. I've never seen a feature like this anywhere. To be honest, I find it a little Big-Brother-ish, but I can see how it would be very effective at determining whether your current marketing strategies are bringing in the right kind of traffic.
SEO
Google best practices: SCE follows all of Google's SEO best practices. They include features like automated sitemaps, 301 redirects, metadata, bread crumbs, and rich snippets.
Speed
Fast load times: SCE guarantees that your pages will load within two seconds.
CDN: Take advantage of SCE's Global Content Delivery Network of 74 data centers to deliver your files faster.
Enable caching: Cache your site's static content to reduce the amount of information that your customers' browsers have to retrieve for each new page.
Web Design
SCE currently offers nine premium design templates. You can view a few of those templates on SCE's site.
SCE uses a "master template" or "live template" model for their web design. Using these master templates, you can take bits and pieces of individual templates and combine them into your own unique design. Master templates are 100% mobile responsive and are guaranteed to work with all system updates (which occur monthly, by the way).
It's possible to edit your theme in a variety of ways. You can use the WYSIWYG editor in your admin or access the CSS3/HTML5 source code to make larger changes.
Furthermore, you can use Blocks (SCE's drag and drop editor) to make changes to your storefront that you can see immediately.
While you can always try to go about this on your own, you can also pay SCE to take care of customization for you (in fact, most merchants do).
SCE is currently working on expanding their template offerings.
Integrations & Add-Ons
SCE prides itself on not needing any add-ons. The company boasts that SCE comes with so many features built-in, you won't need to integrate anything. Therefore there is no integration marketplace available.
SCE has developed partnerships (read: in-depth integrations) with a few big names you may recognize, including ShipStation and Acumatica, as well as a number of marketplaces. You can find the full list of partners on the bottom of this web page.
If for some reason you do need to integrate a different software, you can do so using SCE's API. It's the same API the company uses for its own further development.
Payment Processing
SCE integrates with the most common payment gateways in the industry. They particularly advertise integrations with PayPal and Amazon Checkout. SCE is also developing an integration with Apple Pay.
In total, SCE claims to integrate with over 100 payment gateways, though I counted only 86.
Customer Service & Technical Support
SCE's support model operates much differently the average eCommerce platform. Each merchant using SCE receives personal support and in-depth onboarding assistance from trained representatives. By the time you're set up with your online store, you'll have an excellent idea of how to best use the software. Read SCE's explanation of their support model to learn why they don't rely on just email support and knowledge bases.
In addition, you can access technical support through the following:
Phone: 1-800-401-8296 from Mo-Fri 9am – 7pm EST
Video chat: Skype handle: ShoppingCartElite 9am – 7pm EST
Web ticket: Email support claims to have 24 hour response times and is available 24/7/365
SCE deals with each support request differently, depending upon the level of urgency (take a look at their support policy). Unless your issue is Priority 1 (server down, sales can't go through), it looks like you'll have to hire an SCE expert.
These experts charge on an hourly basis, and their rates vary depending upon the position. As expert support goes, I find these rates to be consistently lower than the industry average. You can even hire SCE experts for long-term assignments. SCE lets your partner with trained individuals to outsource select business operations.
Negative Reviews & Complains
It was difficult to find any current customer reviews of SCE. I found lots of comments and feedback posted between 2011-2014, but hardly anything since then. Here's what the few reviews I did find mentioned:
Poor customer support: A couple customers voiced their frustration with customer service. They said that it was difficult to communicate with support representatives for whom English was a second language. They also said support was slow to resolve their concerns.
Spammy business practices: When you google "Shopping Cart Elite complaints" most of your results will mention SCE spam. SCE has a bad reputation for posting tons of positive self-promoting review across Reddit and Quora. They have also been blamed for sending repeated emails to their customers (and potential customers) that cannot be marked as spam.

Note: I have been informed by SCE that this spam was posted by an SEO company that SCE hired. SCE was unaware of the spam. When they did find out, they fired the SEO company, but it was already too late.

Price is too high: Even SCE's cheapest plan is well above the price of most platforms (though SCE would likely argue that you'll save more money without the need for add-ons). For this reason, I argue that SCE is not right for smaller businesses or startups.
Wasted investment: I only saw this a couple of times, but a few merchants say that they put thousands of dollars into this platform, and never got a completed site from it. (Keep reading to learn the conditions of SCE's 100% refund.)
Initially, I was suspicious of SCE's lack of current customer feedback. I saw one comment online alleging that SCE actually asks customers to remove their negative comments in order to receive the refund they've requested. Turns out, they do have a policy like this!
All agreements with SCE are insured by CFC Underwriting; if SCE breaches the agreement, the merchant will receive a 100% refund. One condition of this refund is that the merchant won't post any negative reviews about SCE. SCE reports that they do not have to issue such refunds very often.
Positive Reviews & Testimonials
So, here's the deal. I've seen positive reviews of SCE online, but they tend to be posted very close together, which sends off little warning bells in my head.
One site shows twenty reviews, nine of which were posted within three days. And a few of those reviews contain exactly the same words posted under different customer names. In cases like this, you can generally assume one that one person is disguising him or herself as multiple different people and is posting false reviews. It is probable that these reviews are not posted by SCE, but rather by that spammy SEO company they hired last year.
I try to not be a skeptic, but, well, I feel a little squirmy when I notice this sort of stuff going on.
Fortunately, I have found a handful of other reviews online that look 100% genuine. Here's what they praise:
Automation: SCE's automatically syncing, uploading, and listing features can really reduce the amount of time you spend on things like data entry. Automation is the reason SCE was created, and they do it well.
Good SEO tools: CEO Igor told me that SCE followed all of Google's specifications to achieve high rankings in search results. Customers online seem to agree that SCE's SEO tools are stellar.
Omni-channel: CRM, inventory management, and email management are all included under-the-hood. You won't have to integrate very many additional services, and popular accounting and shipping integrations (Quickbooks and ShipStation) have already been developed.
TEA (Threat Engagement Analytics): I've really never seen anything like this. Using TEA you can identify click fraud and eliminate marketing that is not bringing in productive (converting) traffic.
Responsive support: Customers report speedy and helpful responses to their support requests. CEO Igor Soshkin is reportedly quite involved with customer service.
Note: SCE has since gotten back to me about their online reputation. They recognize that it looks sketchy, and they'll be working to resolve that in the future. In the meantime, they ask that you take a look at their most recent reviews, which they can verify as genuine (I believe them. I've seen them confront negative reviews with in-depth records). You can also arrange to speak with a current SCE client to ask them about their experience with the platform. Or you can take a look at SCE's testimonials page or view their transparency report.
Security
SCE comes with all your basic security features, plus a little extra. They are, of course, level 1 PCI compliant. They also offer SSL certificates with every plan, at no additional charge.
SCE uses Rek9 bank vault solution to provide a secure tokenization system that makes recurring billing (a.k.a. subscription orders) possible. Furthermore, SCE offers DDoS attack protection and uses CloudFlare as a firewall. Also, SCE owns the hardware for all their own servers, and they perform 24/7/365 live backups, so your information will always be safe. Read more about SCE's security measures.
Final Verdict
I really want to give SCE a glowing review. The platform comes with extensive functionality, and I'm truly impressed by what it can do. Sure, it doesn't have the simplest of dashboards, but SCE seems right to me for a serious business that needs a serious platform. There will be some learning required (and no doubt frustration), but I believe that all of the blood, sweat, and tears will pay off.
I'd love to leave the review at that, but I can't. I just haven't seen enough proof of SCE's credibility in order to wholeheartedly recommend them. While I don't believe SCE is scamming customers (in fact, I think they're probably providing a great service), everything I've seen online put a damper on my enthusiasm.
While SCE is certainly not perfect, I do think it's worth a look. Click the link below to sign up for a demo (remember: that means a phone call) to see for yourself.
Get Started with Shopping Cart Elite
---
We've done in-depth research on each and confidently recommend them.
We've done in-depth research on each and confidently recommend them.
To learn more about how we score our reviews, see our
eCommerce Software Rating Criteria
.