UPDATED
Advertiser Disclosure: Our unbiased reviews and content are supported in part by
affiliate partnerships
, and we adhere to strict
guidelines
to preserve editorial integrity.
Pros
Easy to use
Cheap monthly cost
Cons
Outdated design templates
Outdated UI
Limited features
Hosting not included
ShopSite Overview
I don't think anyone would call me a hipster. That is, until I start talking about ShopSite. Though it has been around since 2001, with roots going back to 1996, it hasn't really hit mainstream in the Shopping Cart scene yet. I feel as though I've found this little gem before it was cool.
The last time Merchant Maverick tested this software was in 2013. The original author of that review gave ShopSite a rather unfavorable score. My own experience is quite different, which shows me how far they've come since then.
ShopSite is a cloud-based service that lets you add eCommerce functionality to any HTML-enabled web presence. In short, this means that your blog, your Facebook page, and even your emails can have Buy Now buttons, all of which link to a single web-based office. Your customers will be able to browse your products, use coupons and gift certificates, choose shipping methods, and complete credit card transactions, all from any device they happen to be using. If that's not enough for you, ShopSite can also be used to build an entirely new eCommerce website.
While ShopSite has a competitive similarity to other top shopping carts, there are some major differences as well. For instance, instead of hosting sites on its own server, this eCommerce software outsources its hosting and customer service to a variety of approved third-party partners (though not in a clunky patchwork way common to most open-sourced shopping carts.) Read on to learn more about ShopSite's features, strengths, and weaknesses.
Pricing
You can access demo stores before committing to a ShopSite plan. You will only be asked to submit your name and email address to start the trial. Once you're ready to move ahead with ShopSite, these are the pricing plans you may choose from:
Free: 10 products, zero pages, mobile checkout, PCI certified.
Starter: $5.99 / mo, includes 15 products, 5 pages, 50+ themes and over 25 payment methods
Manager: $29.99 / mo (or $495 one-time fee), includes Starter features, plus unlimited products and pages, Store Search feature, and automatic shipping calculators
Pro: $59.99 / mo (or $1295 one-time fee), includes Manager features, plus Facebook integration, discounts and coupons, cross selling/upselling, and product reviews.
You'll choose a ShopSite hosting plan from a third-party vendor that ranges in price between $5 and $125 per month. In order to accept credit card orders, you'll also need to open a merchant account. Depending on your hosting service you might want to purchase additional security, as well. You can view a list of service partners that sell ShopSite here.
While ShopSite does not charge per-transaction fees, be sure to check with your hosting service for hidden costs, including storage and bandwidth overage fees. Some ShopSite reseller partners bundle the software's monthly cost into their hosting rates, while others require an upfront payment.
Web-hosted Or Licensed
Web-hosted. As mentioned above, ShopSite outsources hosting to its affiliates. You'll need to work with a third-party vendor to host your eCommerce site.
Ease Of Use
Easy as pie. Piece of cake. Or in my house, simple as stir fry.
ShopSite is very easy to use, with little room for error in the setup process. There are setup wizards. There are updated video tutorials. There are Knowledge Base articles, forums, and legitimate documentation.
That is really all you need to know. But in the interest of being thorough…
Setting Up
Using the software's wizard, you'll first choose your store's language and currency. Next, you'll have the option of importing existing pages to Shopsite or creating pages from scratch. You'll continue by adding products, categories, tax rates, and shipping details. Finally, you'll choose a theme. When your store setup is complete you'll be able to go back into the admin, add a top navigation that includes product categories, upload your store's logo, and adjust layout. Use the 'Preview' link to view your shop in a new window. Once your store is ready you'll need to select a third-party host to roll-out the live site and start doing business.
Daily Use
While ShopSite's backend is easy to use, its appearance is dated and navigation is less intuitive than some competitors. The software's reporting capability is remedial, although that's not a deal-breaker since Google Analytics can be imported, which most business owners prefer anyway.
Hardware & Software Requirements
ShopSite is hosted online via a third-party vendor. Aside from that, the only technical specifications you need will be an updated web browser (Firefox, Safari, Chrome) and a reliable high-speed internet connection.
Features
ShopSite maintains a wide range of features, with many of the most useful and effective management and merchant design tools (searchable page and product databases, gift certificates, order discounts) available only on the top-tier Pro plan. Lots of new features are being continually introduced with every update. Most recently, Shopsite has included Abandoned Cart support and a lot of UX/UI improvements. The latest updates can be viewed here.
ShopSite is optimized to be accessed on smart phones and tablets. The software also generates real-time shipping rates (Manager, Pro) for FedEx, USPS, and UPS. Standard SEO functionality includes meta keywords and descriptions (Manager, Pro). You'll find limited social media integrations: All plans include the option to add 'follow' buttons for Facebook, Twitter, Google+, and Pinterest to your store. Customers can shop for select items via Facebook (Pro). To view a full list of features broken out by plan, click here. Be sure to click on each Categorical heading, as shown below.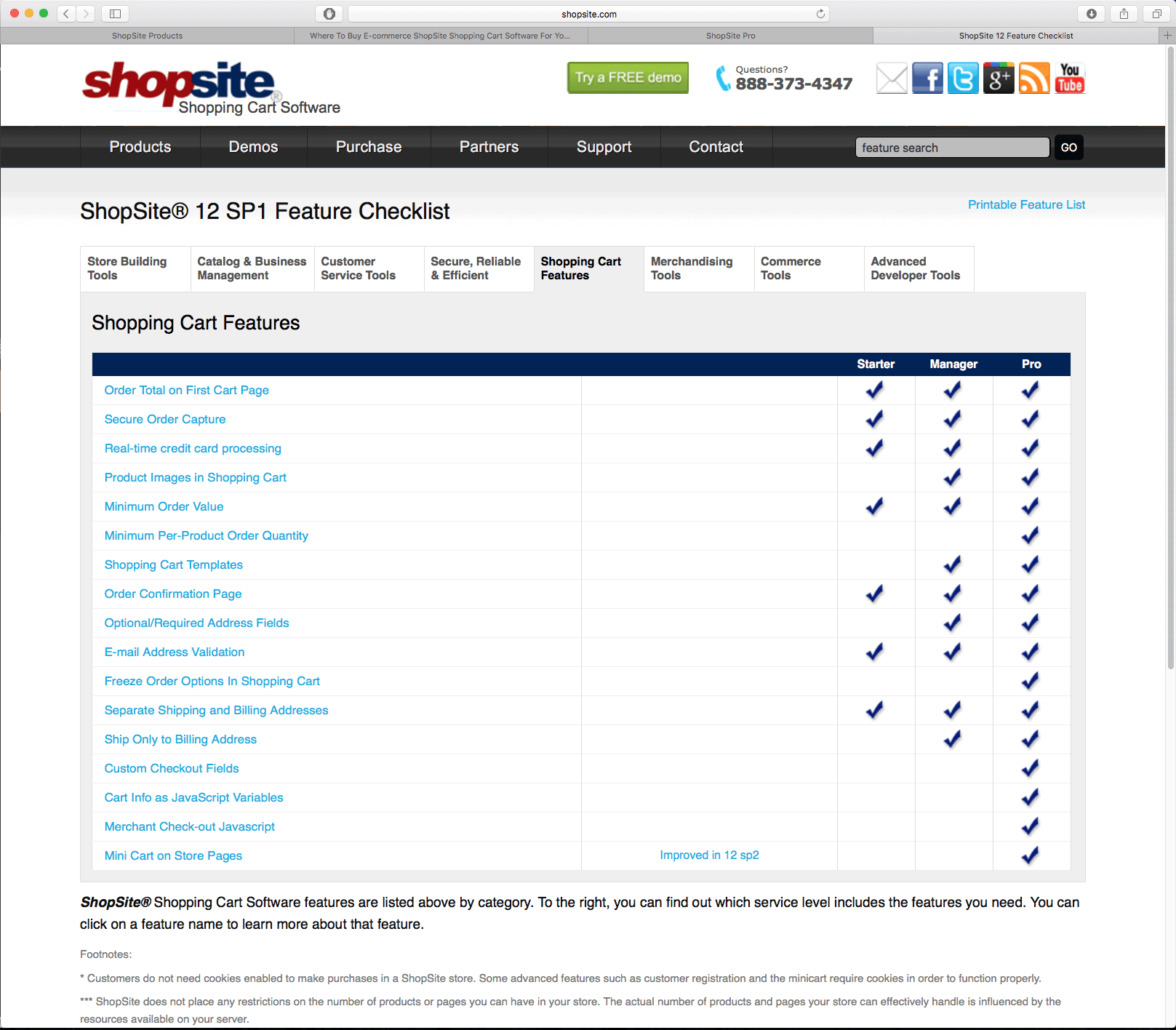 Web Design
ShopSite has listened to customer feedback, and given its themes and templates a much needed refresh. If you're like me, you'll want to do some heavy customization no matter which template you go with. Depending on your HTML skill level, that may mean spending money to hire a designer. The template cookbook is a helpful resource for exploring functionality of custom themes. But for those who just want to get your store live as quickly as possible, you will be satisfied with the designs offered by ShopSite.
At the time of this review, ShopSite offers 53 built-in templates, with another 26 "Legacy themes" which are available but no longer supported. The built-in themes were of surprisingly good quality, from a design perspective. And from a technical perspective, 27 of them were Responsive, meaning they will automatically adjust to any size screen. Can't stress enough the importance of Responsive design.
As for the back end (where you will spend most of your time as the admin,) UI/UIX (User Experience and User Interface, respectively) is relatively clean and easy on the eyes. This has been a major area of improvement since our last review of the system in 2013.
Integrations & Add-Ons
ShopSite offers users several add-ons. If you're used to more impressive App Marketplaces (like that offered by Shopify, for example) you'll be a bit underwhelmed. But considering the full-fledged features list that comes standard with ShopSite, chances are that your unmet needs will be few. You can view a full list of plug-ins here. I've highlighted some interesting options below:
Social Commerce: Allows your website to access visitor monitoring/live chat program LivePerson.
Constant Contact: Integrates ShopSite with newsletter and bulk email program Constant Contact.
Google Analytics: Allows you to integrate your ShopSite store with Google's web analytics.
Orange Soda: Connects ShopSite with geo-targeted online marketing tool Orange Soda.
Payment Processing
There are a few steps involved in order to accept payments through ShopSite: see this page discussing payment processing in detail. Before your shop goes live, you'll need to open a merchant account and payment gateway from a preferred provider, then configure both in your site's backend by clicking 'commerce' then 'payment setup'. ShopSite is compatible with many payment processing companies, including PayPal, Google Wallet, Authorize.net, and Amazon Payments.
Customer Service & Technical Support
As opposed to shopping carts such as Ashop Commerce and Shopify that offer customer support as a part of their monthly user packages, ShopSite support is provided by any number of vendors from the approved roster of hosting partners. Since one of these businesses will become your contact when you have questions about the software, it's important to research the quality and reputation of your third-party host.
But ShopSite is not remiss in Customer Service. The links below contain high quality content, such that you may not need live, personal support at all. ShopSite offers:
If desired, ShopSite does give users the option to pay for additional technical support or upgrade support.
You can also visit the company online via its blog, Facebook page, and Twitter feed.
Negative Reviews & Complaints
After a comprehensive search online I came across an assortment of customer complaints. The majority touched on dissatisfaction with ShopSite's third-party hosting model. A few main negative aspects of the software as reported by users include:
Stale Templates: Themes are badly in need of an redesign.
Underwhelming Admin Interface: The backend is dated, with colors and fonts that are hard on the eyes.
Third Party Hosting: As mentioned above, users have to find and work with a vendor for site hosting and customer support.
Less frequent complaints include:
Entry level packages offer limited access to features.
Customization necessary to update template, which can cost more.
Limited amount of inventory can be loaded in the Starter plan.
Many of these issues have been addressed by new updates to the software, but I include them here both for transparency and to show ShopSite's progress in its problem areas.
Positive Reviews & Testimonials
Many users reported that they are satisfied with the software, attesting to ShopSite's ease of use and global editing functionality. In addition to user testimonials on the company's website, customer review highlights include:
Rich Features: While social media and SEO is nothing special, upper-tier plans offer users an assortment of helpful features.
Accessibility: Users without prior shopping cart experience should have no problem with site setup and maintenance.
Regular Updates: Developers roll out updates on average of once per year and strive to improve functionality.
Less frequently, users commented on the following positive site attributes:
An unlimited amount of products can be loaded via Manager and Pro plans.
Images can be viewed at various sizes; several images can be loaded for each product.
Integrates well with payment gateways.
Final Verdict
While it may be a better business model for ShopSite to outsource hosting and support to vendors, it can be a hassle for eCommerce store owners to manage accounts with various service providers instead of accessing an all-inclusive shopping cart. The company is improving its software's functionality regularly; in recent years, it has taken several giant strides forward.
If I were launching an online business, I'd prefer choosing a shopping cart that includes hosting and support. Having said that, I think ShopSite would still make my "short list" of candidates for my own online business. My concluding stream of thoughts are these:
"Love the pre-populated demo stores. Very affordable monthly price. Nice that you can alternatively buy a license "one and done" style. Not much effort put into its app store, but it has API built in to accomplish this on your own. Its recent updates to features and templates are very promising. No hosting is a pain in the butt. Other carts offer more features, and bundle important retailer-centric concerns like hosting and tech support. Still, self-help resources are outstanding. Simple as stir fry."
Overall, perhaps the best thing that I can say is that I love the direction that ShopSite is going. It has a few more milestones to achieve before it's on par with our top-rated shopping carts, but I like what I see so far. I'd definitely include ShopSite in my list of recommendations for most clients.
Try a free demo and see for yourself if ShopSite is right for you.
---
Featured Free eCommerce Plan 🔥
Square Online


---
Get a free website builder, online ordering, gift cards, in-store pick-up options, and dozens of other features for eCommerce and hybrid businesses. Free options available. Learn more from Square.
Featured Free eCommerce Plan 🔥
Square Online


---
Get a free website builder, online ordering, gift cards, in-store pick-up options, and dozens of other features for eCommerce and hybrid businesses. Free options available. Learn more from Square.
To learn more about how we score our reviews, see our
eCommerce Software Rating Criteria
.