Expert Analyst & Reviewer

UPDATED
Advertiser Disclosure: Our unbiased reviews and content are supported in part by
affiliate partnerships
, and we adhere to strict
guidelines
to preserve editorial integrity.
Shopventory

Pros
Advanced purchase order management
Multi-location inventory management
Stock reconciliation tool
Supports bundled items
Supports partial inventory
Excellent support materials
Cons
Shopventory Overview
Shopventory has been on my radar now for ages. Why? Because this inventory management add-on supports not just Square, but also PayPal Here, Clover, Shopify, WooCommerce, BigCommerce, and Stripe. If you've cobbled together a makeshift inventory system because your current platform doesn't offer what you need — or if you just want something that's a bit more advanced than what's currently available so you can be better organized, Shopventory is an easy and affordable way to fill in the gaps. In addition to inventory management (including quantity tracking), Shopventory offers reports on profitability and sales.
Shopventory fills a critical gap for merchants who need intermediate inventory capabilities. It's not nearly as advanced as some of the big names in inventory (Stitch Labs comes to mind) — but it's also not meant to compete with them.
Shopventory isn't trying to provide comprehensive inventory management to the masses. It's just enhancing the capabilities of a few (fairly major) software solutions, and it's absolutely nailed it as far as I'm concerned.
Shopventory is not without its shortcomings and limitations. It relies on the capabilities of the POS software and eCommerce platforms that its merchants use. So while Shopventory certainly goes above and beyond what's available by default, it can't reinvent the wheel or make something appear out of thin air. If the POS or eCommerce platform's API isn't built to allow access to certain bits of information, there's nothing Shopventory can do about that. That means that the user experience for Shopventory is somewhat dependent on what POS or eCommerce solution you choose.
That said, there's a lot I really like about Shopventory, from the way pricing tiers are structured to the dashboard's ease of use. The inventory management and reporting features are powerful and will add value for merchants who really want better tools.
Read on for a full Shopventory review, including a breakdown of its core features and reporting capabilities.
If you're already using Shopventory, please leave us a comment about your experiences!
Pricing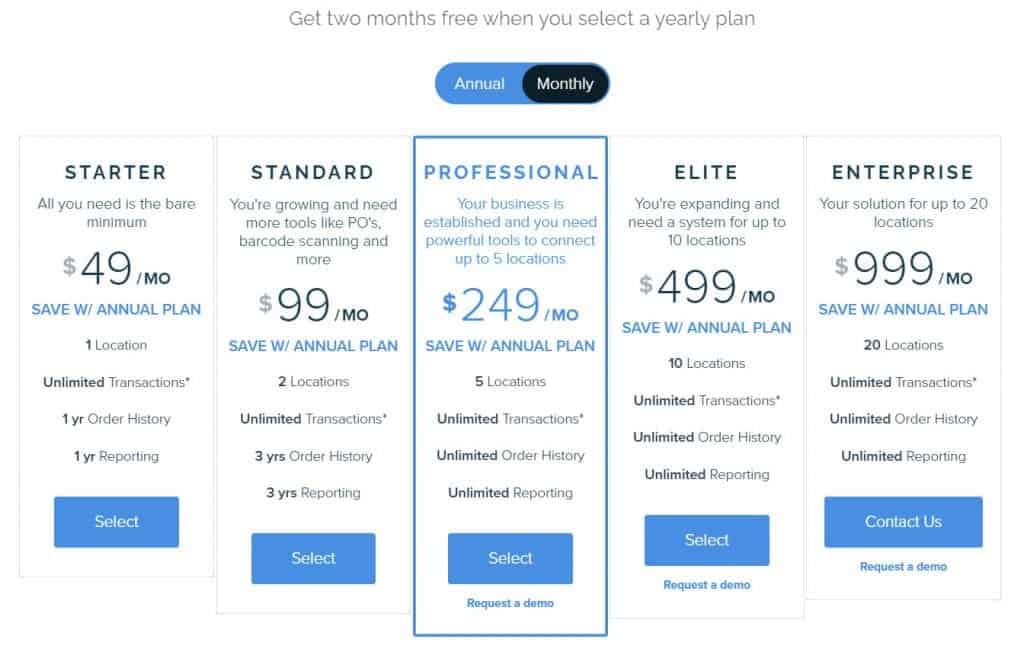 Like any other SaaS provider, Shopventory pricing is offered in several plans, from a basic, entry-level solution up to an enterprise-scale offering. Some features come standard on all plans, which is a pleasant surprise:
No limit on items/SKUs
No limit on POS transactions
Low-stock alerts
Barcode scanning & label printing
Profitability reporting
It seems to me that Shopventory isn't designed around how large your business is — not physically, not financially. Instead, the pricing seems based mostly on the number of locations you have, which I think is much fairer. I also like that eCommerce and physical stores aren't automatically separate integrations — if you have an online store as well as a physical storefront and you want your online sales to deduct from the same inventory pool, all you have to do is connect both integrations at the same location. If you'd prefer they deduct from separate pools, you can treat them as separate locations.
Merchants can choose from five plans. Payments are made monthly, although you can receive a discount for paying annually. While Shopventory once offered a free plan, it no longer does so, though you can use the product freely for 30 days with no feature restrictions.
Starter
$49/month
One location
One-year order history
One year of reporting
Live chat and email support
Standard
$99/month
All of the above, plus:
Two locations
Two user accounts
Three-year order history
Three years of reporting
Phone, live chat, and email support
Bulk spreadsheet uploads
Support for kits and bundles
Support for recipes/ingredients
Warehouse support
Vendor management and PO support
Invoicing
User access permissions
Professional
$249/month
All of the above, plus:
Five locations
Five user accounts
Unlimited order history
Unlimited reporting
Intelligent stock forecasting
Access to beta features
Free QuickBooks syncing
Elite
$499/month
All of the above, plus:
10 locations
10 user accounts
Unlimited saved customer reports
Enterprise
$999/month
All of the above, plus:
20 locations
20 user accounts
And as with most other SaaS providers, you'll also save money if you buy a yearly plan instead of paying month to month. The more expensive the plan, the more you save. You'll also get two free months with an annual subscription, effectively making a yearly plan a 14-month plan.
The Starter plan is entry-level, but without being too basic. The Standard plan is also a pretty decent deal. I like that even with the Starter and Standard plans, you at least get live chat support, even if you don't get phone support. Being able to talk to someone in real-time is important.
The Starter and Standard plans don't include daily syncing with QuickBooks, but you can add this feature for an additional $30/month. Likewise, you can add five users to any plan for an additional $50/month, 10 more custom reports to any plan for $50/month, and five more locations to your Elite plan for an additional $249/month.
Cloud-Based Or Locally-Installed
Shopventory's inventory tools are cloud-hosted. All you have to do is use your Shopventory login to access the dashboard to see the latest data. The information automatically exports to your POS/online shop, too.
That said, Shopventory doesn't support any sort of automatic syncing for changes made in your POS dashboard/eCommerce shop. That means if you log into, say, your Square account and update inventory numbers, that change won't be reflected in Shopventory. You'd have to perform a manual sync to import data from your POS.
While you can still run reports from your POS and such, once you've connected Shopventory, it becomes your primary control for all inventory-related matters. If you're like me, and you find it hard to change routines once you've gotten set into your ways, it might take some time before you stop logging into Square to make your inventory changes and go straight to Shopventory instead. But that's not everyone, and I do appreciate that Shopventory has a solution if you do forget.
Hardware & Software Requirements
Being a browser-based service, you're going to need a computer capable of running a browser (such as Chrome or Safari). However, beyond that, Shopventory doesn't have a list of specific requirements. It recommends a "recent" OS, the latest version of Chrome, a large screen, and a fast Internet connection — though other browsers will work.
Each supplementary mobile Shopventory app — the Dashboard and Barcode Scanner — is available on iOS and Android. Shopventory hasn't posted the minimum requirements for the Android version but the Apple version requires iOS 9.0 or later.
Ease Of Use
Reviewing Shopventory was my first time playing with any sort of inventory software in-depth (apart from what you find by default with Square and other mPOS apps), but I didn't have much trouble finding my way around. For starters, there's a demo mode where you can essentially play around in a sandbox until you get the hang of the system. I was fairly impressed with the help center resources, and Shopventory truly does make an effort to contact you and make sure you can get everything up and running smoothly.
Of course, there's the not-so-little fact that once the integrations are set up, Shopventory automatically pushes inventory changes back to your POS. It should all be automatic — though I imagine some people may struggle with the idea of switching over to Shopventory for all their inventory needs. It's nice that you can still run manual syncs if necessary. For example, if you forget and load a new product into Square instead of Shopventory.
Features
Shopventory is not the most advanced inventory management tool out there. While it definitely has an enterprise-scale solution, I think the real value in Shopventory is for small business owners. And I don't just mean retailers — Shopventory could work for salons and other service businesses, as well as bakeries, cafes, and other food-service businesses. Inventory tracking isn't mandatory. You can just use Shopventory to track sales and manage inventory quantities in another way. I like this because it means that salons that sell hair care products can track sales for appointments as well as physical goods.
If you are after very complex management tools with a lot of customization and flexibility, you should probably look elsewhere.
We're going to break down our analysis of Shopventory's features into inventory management tools and the dashboard since those are the two main components.
But first, let's start with setting up your Shopventory account. Signing up for the 30-day trial is quick and painless — just provide your name, your business name, your phone number, and email address. Shopify doesn't even ask for your credit card. You can log in at any time during the trial period to upgrade your account to a paid plan if you do decide it's worth it.
There are two important steps to setting up Shopventory: creating locations and connecting integrations.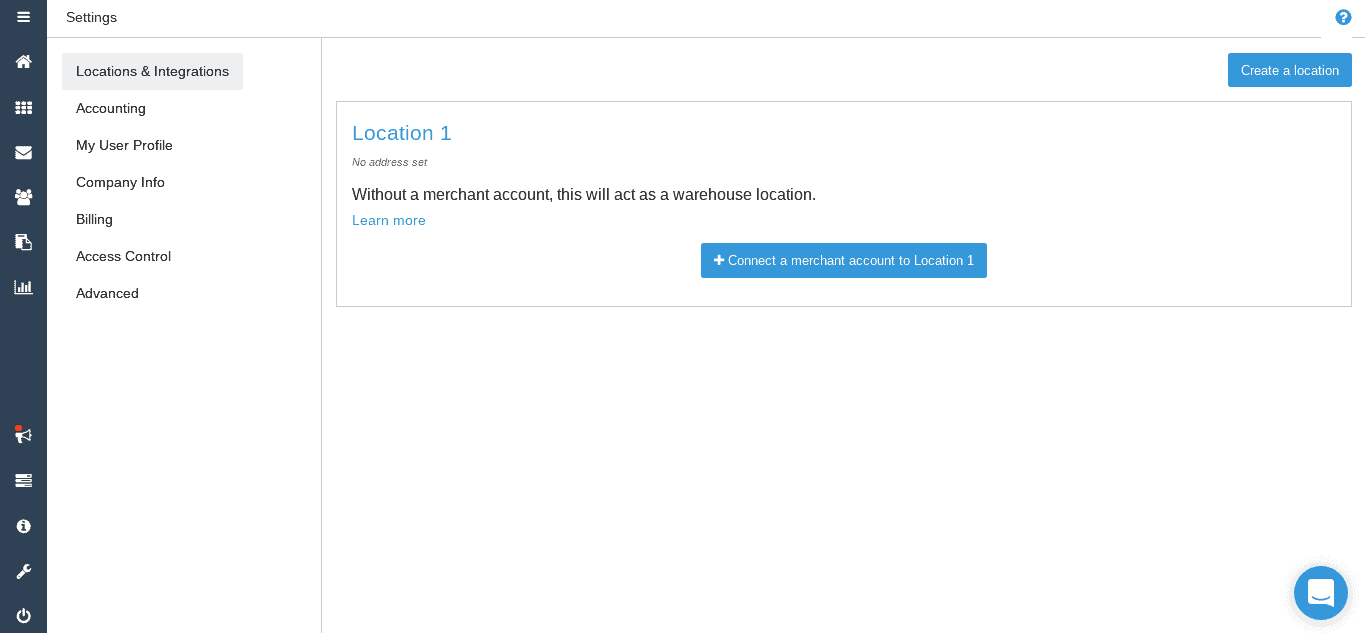 It really is insanely simple to start setting up Shopventory. First, you create the location. Then you connect an integration to the location. Shopventory will direct you to log into your POS or eCommerce provider's site to enable the necessary permissions. If you already have location management enabled with your POS provider, Shopventory can access that information — for example, if you're using Square, when you log in to enable Shopventory's integration for that location, you'll see a list of your Square locations to choose from.
This is nice because instead of spending hours of time just tweaking the Shopventory setup, you can focus on inventory, which should be very easy in most cases: You can import items directly from your existing catalog. (We'll get to that in a moment.)
Depending on which monthly plan you choose, you can track your inventory at up to 25 locations through Shopventory. By default, the system favors inventory tracking at the retail location level, though it is possible to create warehouse locations by simply not connecting a POS or eCommerce platform. This allows you to create "storage" locations for excess inventory. Now that Shopventory lets you transfer inventory between locations, this could be very helpful.
If you're already using Square, Shopify, etc., and are upgrading to Shopventory for better management, you pretty much only need to worry about connecting Shopventory and getting the inventory loaded. So let's talk about what your options are.
Shopventory Inventory Management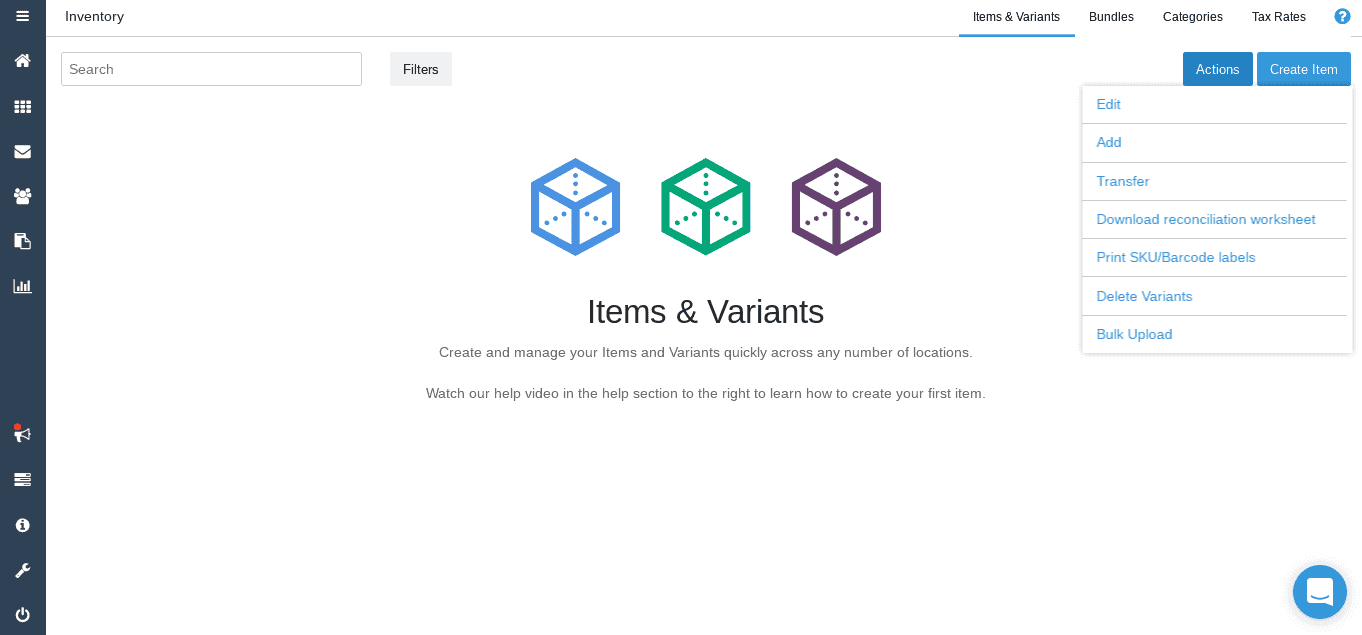 If you've used any sort of inventory system in a POS app or mPOS app, it shouldn't be hard for you to get a handle on the basics of Shopventory's inventory system and item management. Shopventory can pull existing inventory from your POS platform or online shop, but you can also create items from within Shopventory, either one at a time or in bulk using a spreadsheet. Shopventory supports the following (pretty standard) features for item creation:
Product photos
Item descriptions
Barcodes & SKUs
Track quantities at location level
Cost of goods
Sort by category
Item variants
Stocktakes and approvals
Creating item variants can be done one by one, or you can use a matrix to generate multiple variants all at once: for example, a shirt in multiple colors and sizes, or a smoothie with multiple flavors and sizes.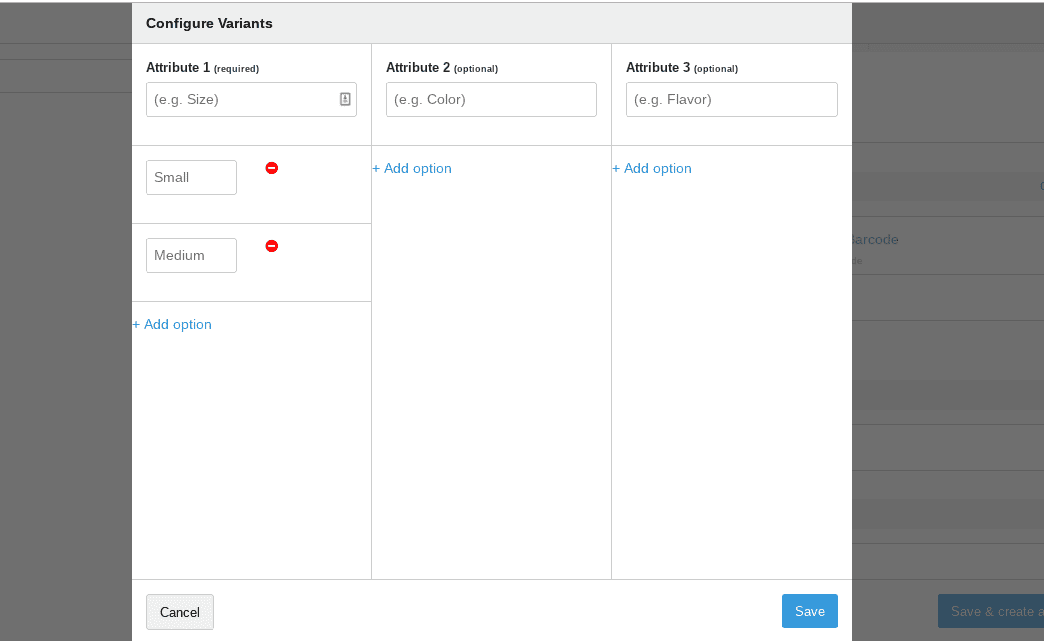 Tucked away under another menu, you'll also find a few more advanced inventory features targeted at eCommerce sellers. You can specify product dimensions and weight for WooCommerce, or product weight for Shopify. These features aren't supported by Square, Clover, or PayPal Here. Additionally, for restaurants, you'll find features like recipe and ingredient tracking.
Shopventory also supports bundling. If you sell gift baskets, for example, full of products you sell on their own, you can use the bundling feature and include all the components of the bundle in their respective item counts. Bundling can also be used for recipes to track quantities of the various components. And also, Shopventory offers a bundle variant feature — which can be useful for tracking a single item sold at multiple price points (wholesale vs retail, for example), or for tracking partial quantities of items.
I want to mention that Shopventory's support for itemized returns and exchanges depends on the integration. Square and PayPal Here, for example, both have limitations in that they don't support partial returns. If you issue a full refund, the items sold will go back into Shopventory's inventory, but if it's only a partial refund, you will have to manually adjust your stock counts to compensate. You'll also have to enable item restocking on refunds within Shopventory, as this feature isn't enabled by default.
Finally, keep in mind that Shopventory's inventory features don't perfectly line up with the terminology and features used by the various integrations. For example, Shopventory doesn't support add-ons the way Square does, which might be a bit of a limitation. Shopventory's team appears to be great at helping you find workarounds, so if you need to know how a specific feature in your POS translates to Shopventory, I suggest reaching out to customer support.
But we haven't even really scratched the surface of what Shopventory can do. I mean sure, it can track inventory quantities even down to partial increments, and that alone can be crucial for business owners. But here are some other noteworthy inventory-related features to take a look at:
Customizable Alerts
One of the key selling points of Shopventory is the alert feature. You can set your own parameters for what constitutes "low stock" and Shopventory will send you a notification whenever you're running low on a product. You can even set multiple conditions to get as specific as you want in your low-stock alerts. And when you want to know what you need to order, you can run a low-stock report.
Stock Counts and Reconciliation
I really like that Shopventory provides you with multiple tools to help with stock counts and reconciliation. For example, you can print off a report of your inventory for the purposes of counting and reconciling inventory. The reconciliation sheet has several features that you can toggle on or off as needed — for example, you can choose whether to include a current stock count according to Shopventory's numbers or only print up a reconciliation sheet for a single category or all categories. (Currently, Shopventory doesn't support selecting some, but not all, categories, which is a disappointment, but one that can be remedied.)
There's also a mobile barcode scanner app. If you want to speed things along, using the barcode scanner app can make the whole stock counting process go much faster. I like that Shopventory will attribute inventory changes to the assigned user.
One recent update enables businesses to track individual inventory components more easily when modifications are made by the customer. For example, if a customer orders a latte but opts to use soy milk instead of regular milk, the system will track the amount of soy milk coming out of inventory.
Tax Management
Shopventory's tax settings allow you to create and apply multiple tax rates to an item. This works great for multi-location users because you can apply a base state tax rate and then any municipal tax rates on top of that. You can also disable taxes on a per-item basis as needed. If you sell internationally, Shopventory also supports VAT, which will add the price onto the base price of the item rather than calculating at checkout.
Purchase Orders & Vendor Management
If you're used to managing vendors and creating purchase orders yourself, finding out that Shopventory offers vendor and purchase order management might be a relief.
Shopventory's purchase order and vendor management start with your database of vendors. You can create a record with the vendor's name, address, contact information, and any special notes, as well as which locations they deliver to. Then, you can link products to the vendor in the vendor file. Shopventory lets you assign a single product to multiple vendors, too.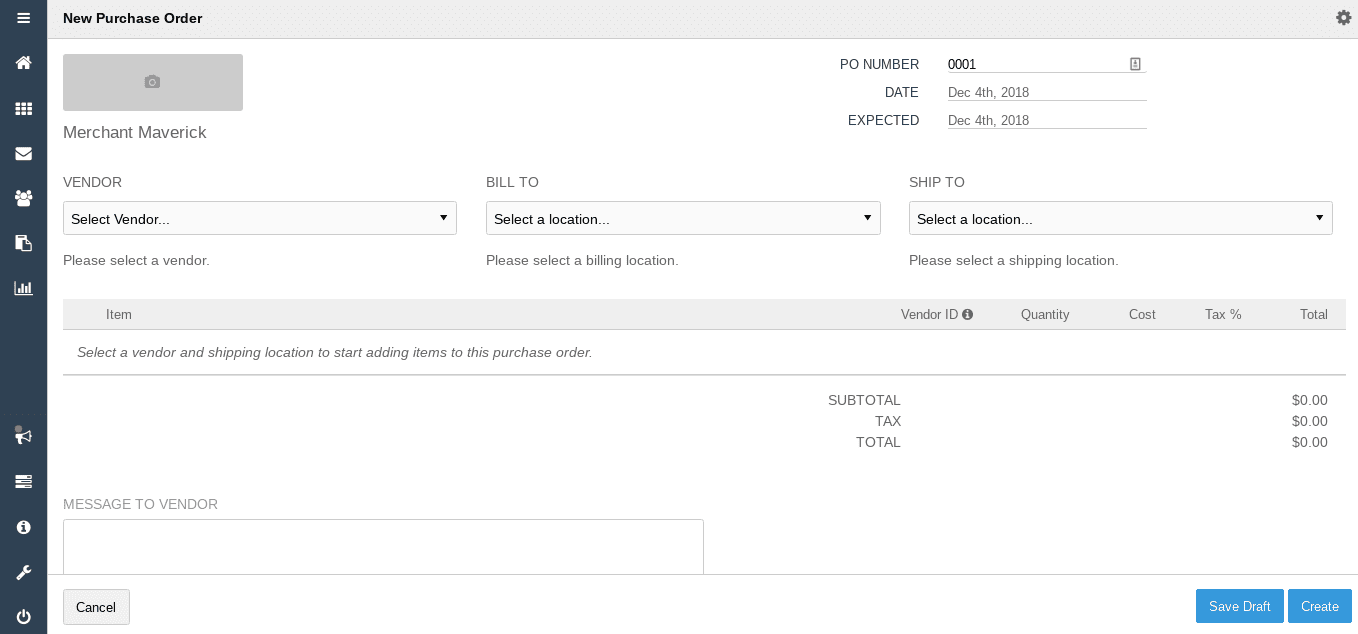 Shopventory uses the vendor database to help you generate purchase orders. To create a PO, you'll go to the purchase orders tab in Shopventory, click "New PO" and then fill in all the information.
Once you select a vendor, you can populate the PO with the products you previously assigned to that vendor, set quantities, and update prices as necessary. There's also a field for vendor ID if your vendor categorizes or labels a product differently than you do. This information doesn't get stored in inventory, but you have the option to add it to the PO each time.
Highly advanced users will probably find it almost painfully basic. All the same, Shopventory's tools did make a really great impression on me — better than the comparable tools found in Square For Retail. And I think that's not an insignificant consideration.
When I first reviewed Shopventory, the platform didn't support transfers of inventory between locations. You would have to manually deduct and add items at each location. But now, I am happy to say, you can go into the PO management section of your dashboard and create internal transfers between locations. The process is overall pretty similar to creating a PO; it's just set between two internal locations rather than between your business and a third party.
Shopventory Reporting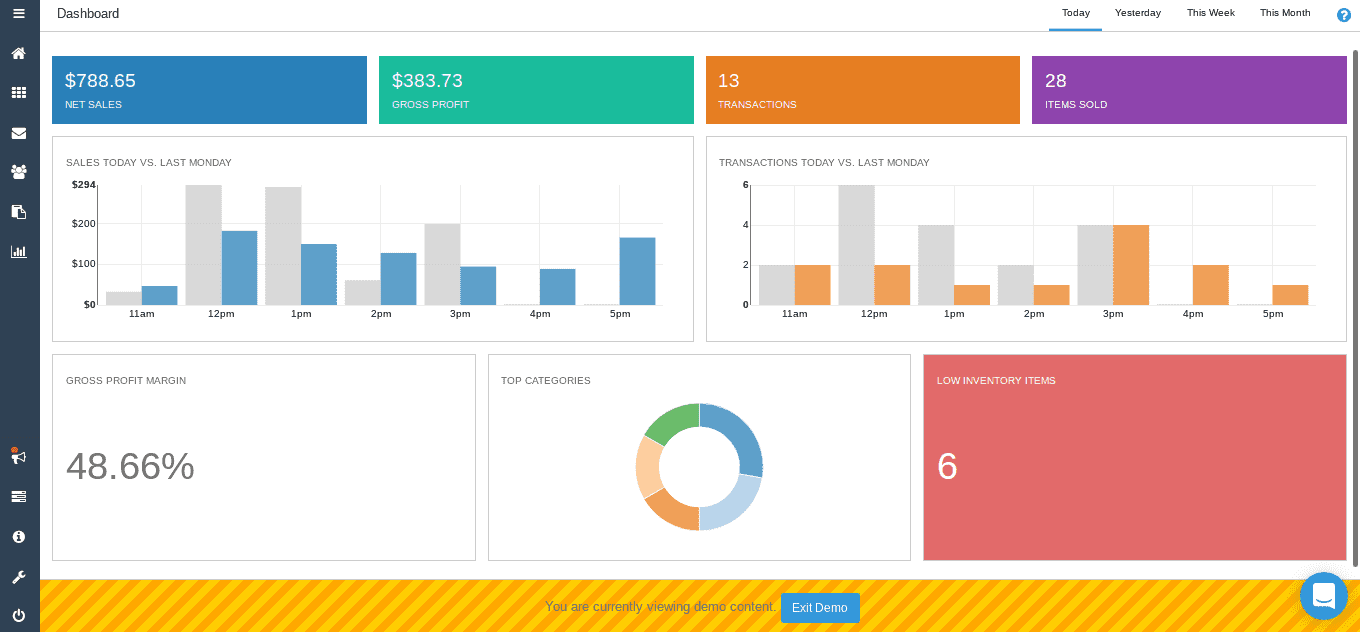 When you log into Shopventory, your dashboard has a display of your recent sales data: net sales, profits, transactions, items sold. You can also check your low-stock alerts right there. You can set the dashboard to display sales data for the day, the day prior, that week, or the entire month.
I really like that that Shopventory offers a demo mode where you can get a feel for the dashboard and how it will look even before you start. It's a great way to learn what everything is and see what kind of data is available to you. (It's worth taking advantage of that free 30-day trial.)
Then, you can head over to the actual reporting tab within the dashboard. From there you can select specific reports: sales, category sales, inventory, discounts, and dead inventory (products that haven't sold in a specified time period). Shopventory also lets you filter your reports by dates, including custom ranges. You can specify one location or all locations for the reports. You can create custom reports. The dashboard also supports PDF and CSV downloads, which is nice.
I'm not super impressed by Shopventory's sales reporting overall, but I do think the inventory reports are useful. Because Shopventory does record the cost of goods, you can track profitability automatically, something that none of the POS integrations support. (You do get profitability with Square for Retail, however.) I especially like the dead inventory report, too, as it can help you more effectively weed out the items that don't move. I also like that Shopventory reports your sales totals after deducting your POS system's processing fees.
The company doesn't guarantee 100% accuracy because it comes down to your POS reporting accurately, but it should be pretty spot on in most cases.
Shopventory Mobile Apps
Shopventory has 2 of its own mobile apps: a Barcode Scanner App and the Shopventory Dashboard app. Both are included for free in all paid service plans.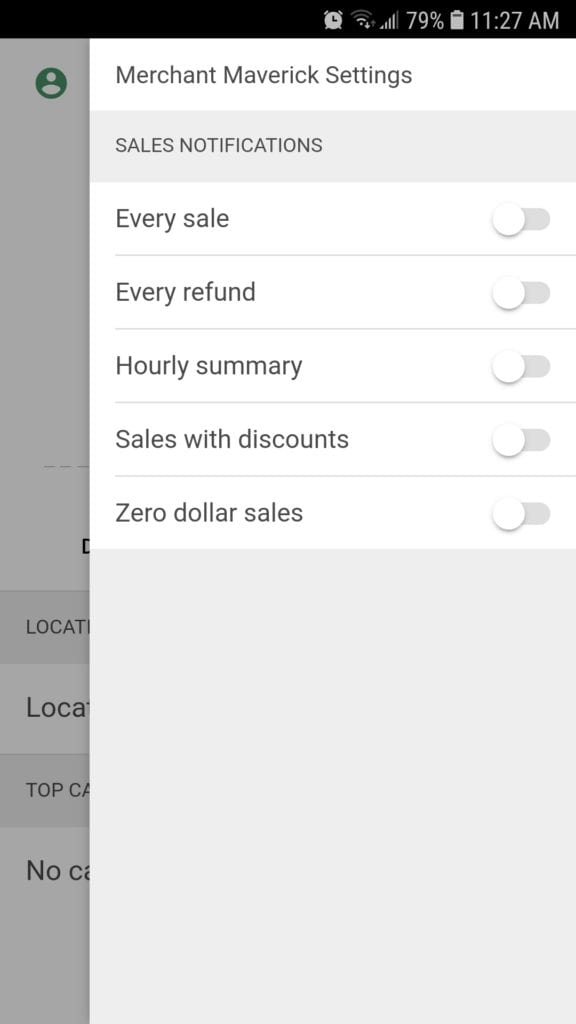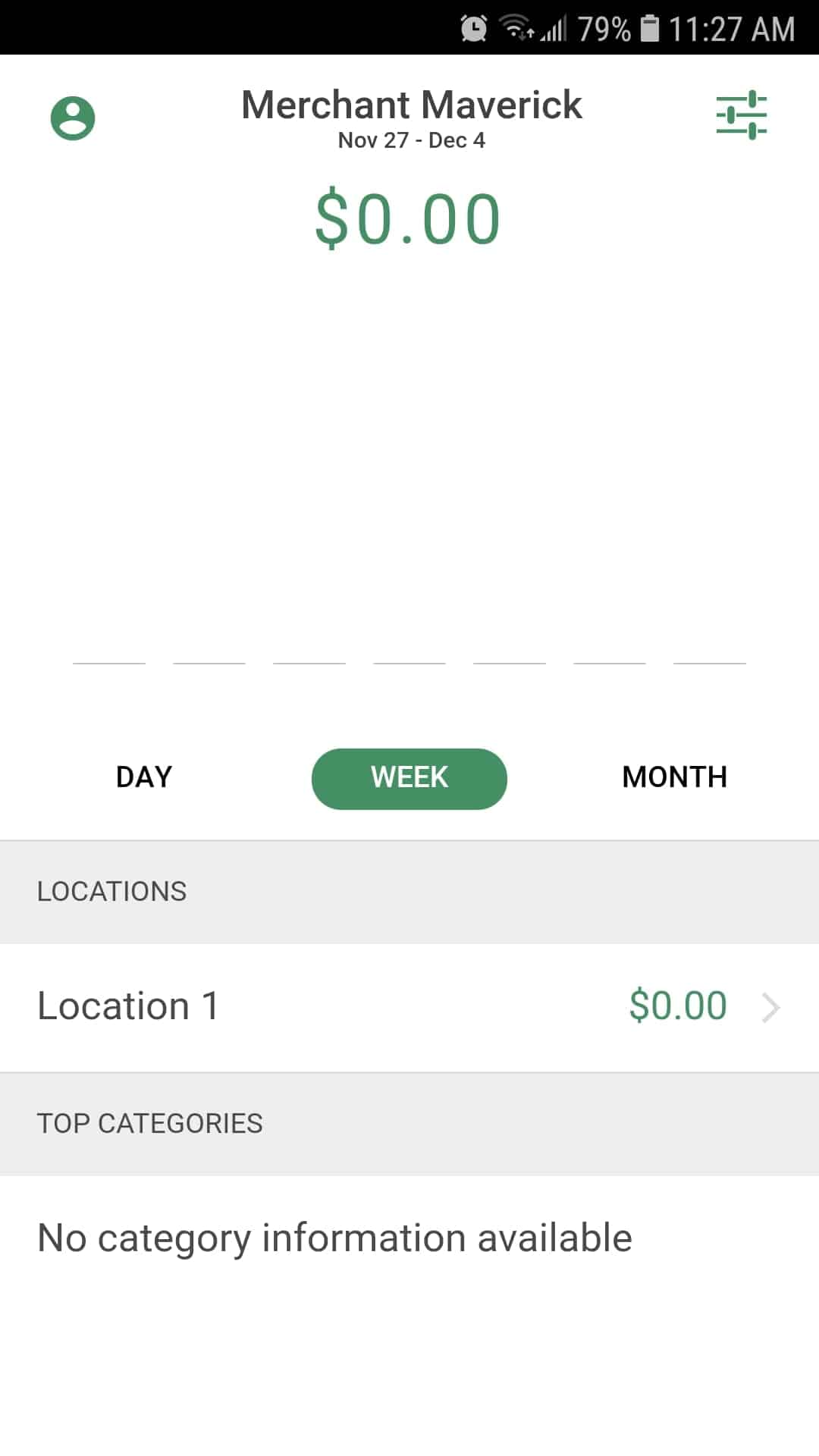 First up is Shopventory's Dashboard App. The dashboard app is just a reporting tool for your sales information. It doesn't support inventory management at all. Instead, you can get sales data for the past day, week, or month. You can set preferences for which alerts you want, whether you want to be notified for all refunds or any $0 sales. Shopventory says that this dashboard app is meant to replace Thrive, an earlier free app that combined your sales data with analytics from social media and email marketing. However, it's not as capable as the original Thrive app at the moment. I expect that to change in the future, so we could start to see more marketing and social media-related integrations, akin to what Thrive offered.
The Barcode Scanner App is an easy way to update or reconcile your inventory. You can use it to receive inventory in bulk or to do inventory counts without having to resort to pen and paper. The app will actually attribute inventory counts to the app user, so you can be sure of who updated the number and increase accountability. This is going to be more practical for businesses using the higher-tier plans, which come with more user accounts. With a single user account, this is a moot point.
Customer Service & Support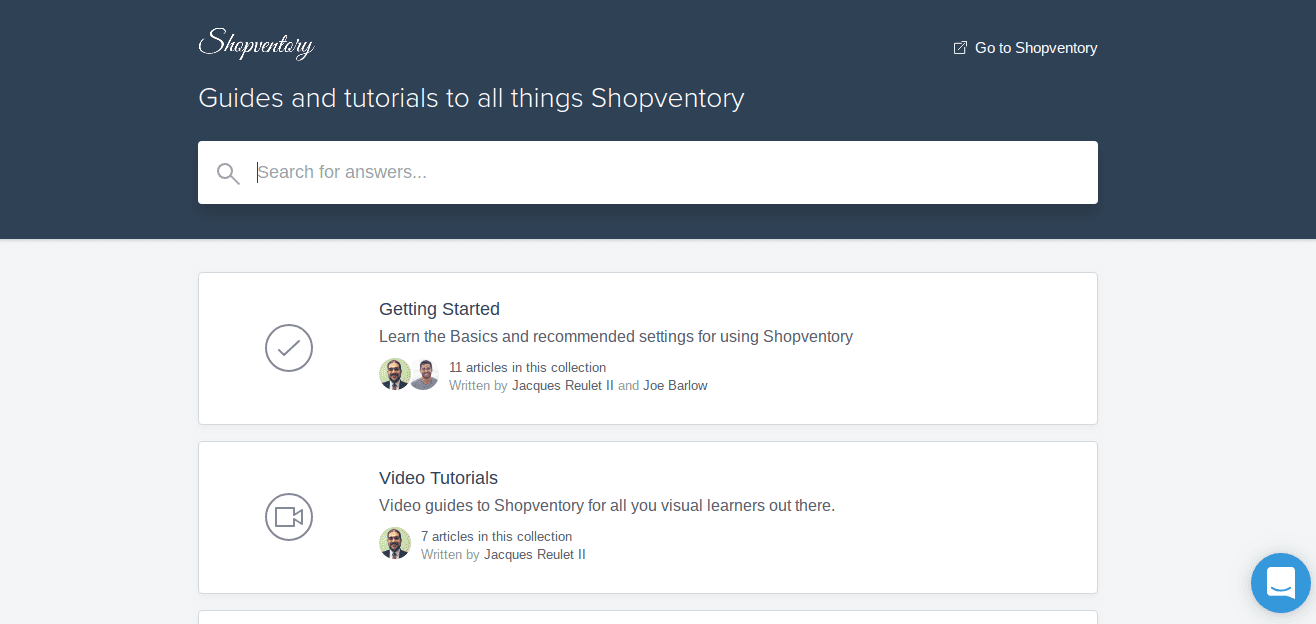 Shopventory offers a few ways to get hold of the team and get answers to your questions.
Of course, there's a knowledgebase. It seems to work pretty well. It's not as comprehensive as others I've seen, but it's definitely above average. Even better, the search function actually works (and works well), which is surprisingly rare in my line of work.
Everyone gets access to Shopventory's email support. There's also a live chat feature, with support reps online from 10 am to 8 pm Eastern Time. In my experience testing the feature, they get back to your initial message quickly, and once they respond, it's with live support. You just need to use the "Conversation" button on the dashboard. They even email transcripts of the conversations by default. I always like seeing live chat as a support option because I absolutely hate waiting on the phone.
And if you opt for one of the higher-tier plans (Standard and above) you get phone support at no extra charge.
I also like that Shopventory runs live webinars for its new users. This is a good way to get a feel for everything Shopventory can do, and since it's live, you can ask questions.
User Reviews
Shopventory is still a small service, so there isn't a lot of talk from merchants. But there does exist a small smattering of Shopventory reviews from users, most of which are overwhelmingly positive. We'll keep our eyes out for more reviews as well.
Negative Reviews & Complaints
The one negative comment that comes up most often is that some of the features aren't quite as advanced or customizable as merchants would like. However, those same merchants say they can usually find a workaround with the help of customer service.
Positive Reviews & Testimonials
One comment that I see cropping up pertains to the customer service. Merchants who have reviewed the service say Shopventory's customer support team is excellent, and always able to help. Merchants say that the support team genuinely listens and responds to their customers' questions and concerns.
Apart from merchants singing the praises for Shopventory's customer support, they also seem to agree that the product is great and committed to continuous improvements.
If you have experience with this company, we encourage you to leave a comment about your experiences! Just make sure that your comment meets our publication guidelines.
Integrations & Add-Ons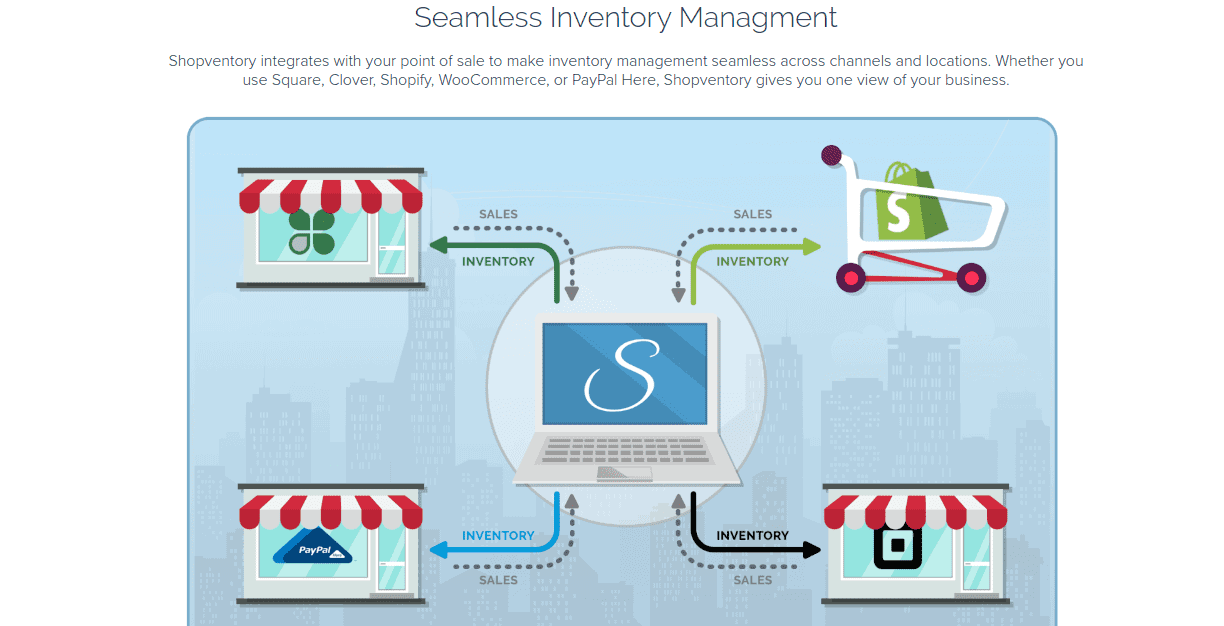 At this point, Shopventory's list of integrations is small but noteworthy:
It's worth noting that Shopventory's Clover support includes Clover Station, Clover Mini, Clover Flex and Clover Mobile, but not the Clover Go mobile app (read our review).
This list is fairly limited, but every single one of these is a noteworthy product for merchants, so it's not like Shopventory only integrates with small, obscure POS and eCommerce platforms. And I think that's an important selling point for Shopventory.
There's one final integration I'd like to mention: QuickBooks Online. You can connect Shopventory to QuickBooks to sync information about your inventory and sales on a daily basis. This means you don't have to worry about trying to sync your POS or eCommerce platform to QBO directly. Shopify offers this feature for free with the higher-tier plans, but it'll cost another $30/month for the lower tier plans.
Security
How does Shopventory keep its data safe?
Shopventory doesn't ever access any transaction data from your POS or eCommerce platform, just the reports of sales. Therefore it's not possible for Shopventory to make changes to transactions, or to get hold of your customers' data — including credit card information, names, frequency of visits, or anything like that.
In short: Industry-standard security and no access to your customers' data. Good deal.
Final Verdict
Shopventory is still a small player in the inventory scene. But it targets a noteworthy niche: merchants using Square, PayPal Here, Clover, Shopify, WooCommerce, and BigCommerce.
I really appreciate that in the time between my initial review and my review update, I've seen some significant improvements to the platform. For starters, the added integrations are really great. I like that you can sell online and in-person even on the Starter Plan. Some of the features I wasn't impressed by (such as the inventory transfer process) are much more functional than they were.
I am very curious about the ways that the company could evolve given more time and suitable resources. But even though I'm curious to see where the company will go from here, I have no qualms in recommending Shopventory as a solution for merchants who need more advanced inventory management. It's already a powerful platform — one that does a lot more than the POS systems and eCommerce platforms that it integrates with. There's no question that Shopventory can and does offer real value for small businesses.
For now, Shopventory gets a very respectable 4-star rating with our general recommendation. If you're running Clover, Square, PayPal Here, Shopventory, WooCommerce, or BigCommerce, and need better inventory management, it's absolutely worth checking out. Don't forget, you can get started with a free 30-day trial where you can test out the system and see if it's right for you. You won't even have to give out your credit card information.
As always, thanks for reading. Got experience with Shopventory? We'd love to hear your experiences. Leave us a comment!
---
The Merchant Maverick Seal of Approval 🏆
Shopventory


---
After hours of in-depth research and evaluation, we can confidently recommend this brand to our readers. Get started today and see Shopventory for yourself.
The Merchant Maverick Seal of Approval 🏆
Shopventory


---
After hours of in-depth research and evaluation, we can confidently recommend this brand to our readers. Get started today and see Shopventory for yourself.
To learn more about how we score our reviews, see our
Inventory Software Rating Criteria
.