Updated on:
Review by: Jason Vissers
Advertiser Disclosure: Our unbiased reviews and content are supported in part by
affiliate partnerships
, and we adhere to strict
guidelines
to preserve editorial integrity.
Need a better shipping solution?
Date Established

2003

Location

Copenhagen, Denmark
Pros
Easy to use
Easy learning curve
Generous free plan
SimpleSite has many satisfied longtime users
Cons
Outdated editor
No templates
Editor is PC-only
No third-party integrations
No social media buttons/links
Limited customer support
Overview
The appropriately-named SimpleSite is an old-school freemium drag-and-drop website builder that, while plain and dated, serves up a solid free plan and generous free eCommerce. Founded in 2003 by brothers Morten and Jacob Elk in the Helvetica-flavored design paradise of Copenhagen, Denmark, SimpleSite was originally known as "123hjemmeside" (123homepage). The product was envisioned as providing a means for "Mr. and Mrs. Denmark" to easily set up a website without coding knowledge. The following year, the company launched in the U.S. as SimpleSite.com. Expansion throughout the intervening years has seen local language versions of SimpleSite produced for 25 countries throughout the world.
SimpleSite proclaims the following on its About Us page: "Our ideal is not perfection; rather, our ideal is play. Using our product should feel like playing – it should be easy, exciting and expanding." I must say, I find this laid-back European ethos a refreshing contrast to the sanctimonious hyper-ambition idealized by too many American firms. But does this playful product actually meet the needs of today's would-be website jockeys? My initial impression of SimpleSite after exploring their home page was that despite the presence of a cheerful Pixar-esque bee, the smell of obsoletion permeated the whole endeavor. Would my initial impressions be confirmed? Read on!
Pricing
For whatever reason, SimpleSite stashes its pricing information away on its FAQ page. Could this be because SimpleSite wants to emphasize its free service and convince you later to remove the page/design limitations? Unfortunately, a prominent Pricing page would reveal the fact that SimpleSite's paid plans are pricier than those of many competitors. That's not a good thing when your brand identity is based on the fact that you're "simpler" than the competition.
Previously only offering monthly and 3-month plans, SimpleSite has recently taken one small, tentative step in the direction of modernity by offering annual plans. The details of SimpleSite's prices and plans are thus:
Basic
FREE
15 Pages
300 Images
600 Seconds of Video
Limited Design & Font Options
5 Online Store Products
PayPal Integration
SimpleSite Advertising
Pro 
$9.99/month (annual plan)
$11.98/month (3-month plan)
$13.95/month (monthly plan)
Unlimited Pages
Unlimited Images
Unlimited Video
Unlimited Design & Font Options
Your Own Domain Name
Custom Email Address
No Advertising
E-Commerce
$24.99/month (annual plan)
$26.98/month (3-month plan)
$28.95/month (monthly plan)
All of the Above PLUS:
Unlimited Online Store Products
Note that after setting up a free account, you will be invited to "Go PRO" with a discount – your first month will cost just $1, after which your account will revert to the normal rate of $11.98/month, renewed every three months. Also note that although no mention of this is made on the FAQ page where pricing and features are listed, a Pro subscription is required to upload a document to your site. That's a pretty basic feature, so its unmentioned exclusion from the free package feels like a touch of the ol' bait & switch.
SimpleSite offers Visa and Mastercard as their sole payment options.
Web-hosted or Licensed
SimpleSite is completely web-hosted.
Hardware/Software Requirements
The sole hardware requirement is a computer. As for software, SimpleSite tells me they are "most compatible" with Google Chrome and Internet Explorer. Apologies to the Firefox-heads out there. (They also warned me against editing my website on anything other than a PC)
Business Types Supported
Upon signing up for a SimpleSite account, you're asked whether your site will be for personal/blog use, business use, or "other." Choosing Business will bring up the following specializations:
Cars and Transport
Fashion and Clothing
Arts and Crafts
Automotive & Transportation
Law, Finance or Insurance
Advertising and Marketing
Cleaning
Real Estate
Travel and Hospitality
Health and Beauty
Retail Products
Education
Technology
Repair Work
However, after going through the process a few times, it seems this process doesn't actually affect the layout of the site you're given to work with. You can change the main image, fonts, and colors in this initial creation process, and there are images relating to most of the categories above, but the underlying template remains the same. After creating your site, adding a new page will bring up a few "templates" to choose from: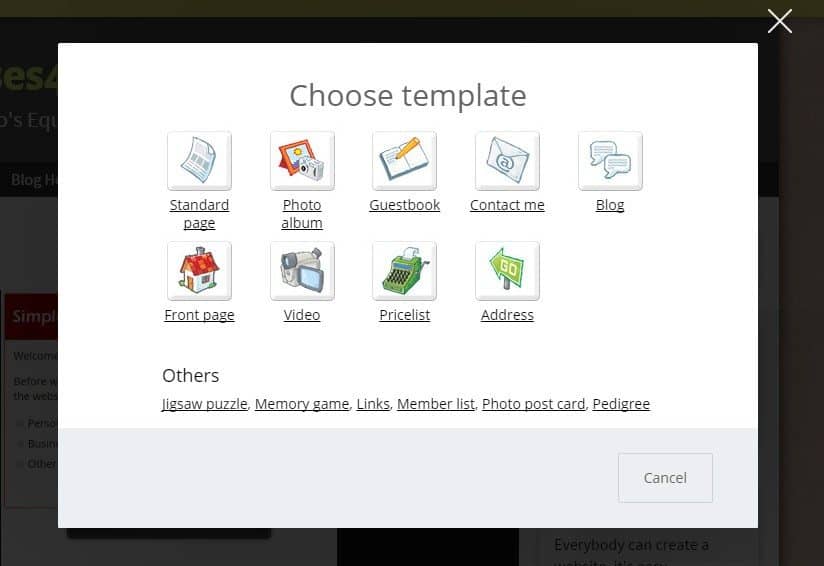 And yet, these are not "templates" as defined by most other website builders, but rather just content blocks, which are then inserted into the same standard page template.
So, essentially, you get one template. SimpleSite sure delivers on the promise implied in its name!
Ease of Use
SimpleSite's editor also delivers on its promise of simplicity. Just click the "Edit This Page" button on the top left of the screen and a list of content blocks appear: Text, Photo, Video, SlideShow, Columns, News, Signature, and Add Document (a premium feature). These content blocks perform exactly as one would expect from a basic website builder. They're solid, but hardly fresh or innovative. You're also restricted to editing the body of your page. The header, menu bar, and background are all fixed in place. While SimpleSite's website creation process may, in fact, be simple, it's hard to say that it "feels like playing" as the creators have suggested.
Design and style options are quite limited and are accessed obliquely by going through the Settings menu option. You can change the Title, Subtitle and Icon image used in your header, pick from among 48 color themes for your site, select from between 74 images or 38 patterns for your background, and choose from between 25 "font packs."
About these design options…clearly, with such limited means of editing, every header on SimpleSite is going to look the same, given the lack of templates to choose from. The color theme selection is decent, but you cannot edit the colors used in your site individually. Furthermore, many of the images, patterns, and fonts on offer are reserved for those with paid accounts. Finally, the "font packs" are just two fonts paired together, meaning your entire site must be built using only two fonts – and you'll just have to hope that one of the font pairings suits your purposes. And forget about adding any HTML or CSS code to your site – SimpleSite allows no such thing.
One feature of note, not found under the "edit design" option but under the "manage pages" option, is the ability to have an audio track play when somebody opens your site! Assault your unsuspecting site visitors with a public domain song or perhaps a jarring horse sound when they click on your page. I recall being excited when MySpace started allowing this in 2005 (though they allowed you to upload your own song…ah, the freewheeling oughts). Tastes have evolved from the days when Tom was everybody's Friend, however, and this feature is now but an amusing throwback.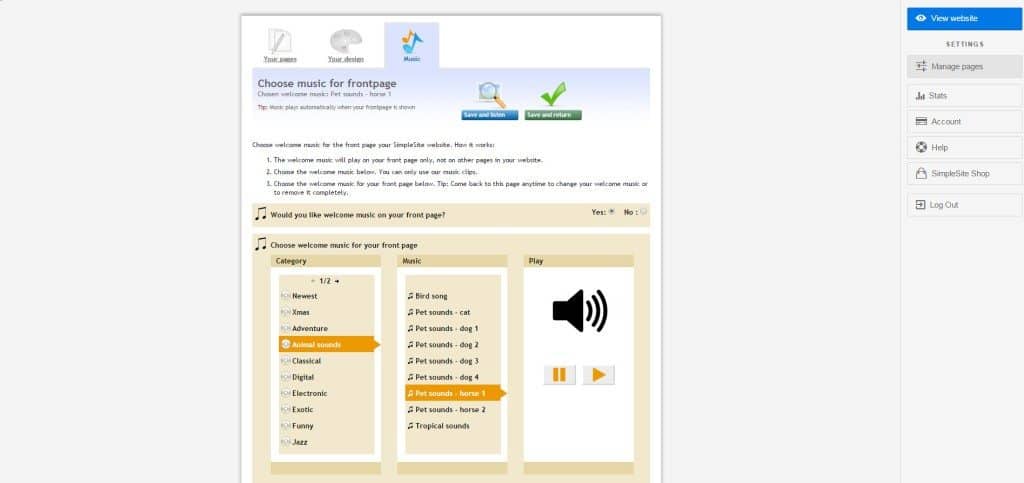 If this all sounds like a review of a product from another era, considering the sophistication of today's popular website builders, well, it should. SimpleSite is a fine free website editor by the 2003 standards of Mr. and Mrs. Denmark. When judged by any other possible standard, it doesn't hold up as well.
One recent feature addition that can actually make your SimpleSite website more contemporary and appealing is the option to add a video background. 11 video clips are provided, and you can't upload your own video or link to one via YouTube for this purpose, but at least it's something to make your site seem less dated.
An aspect of the design editor I didn't mention was this: SimpleSite has an option where you can randomize your site's colors, fonts, and background image. Because really, what better means could there be to craft a site that achieves your design goals and complements your brand than random selection?
Features
SimpleSite offers a small selection of features, one of which is perhaps their main selling point:
eCommerce: The aspect of SimpleSite I most appreciate, and which makes me feel bad for having to criticize them on other points, is the fact that they allow free subscribers to sell up to five items in its online store. Very few competing website builders give such a feature to free subscribers – the only other site I've found thus far with any free eCommerce solution has been Jigsy. eCommerce is nearly always exclusively a premium feature, so SimpleSite should be commended for its part in lowering the eCommerce barrier to entry. SimpleSite's eCommerce tool carries a decent set of options (see image below), three different basic layouts to choose from, and PayPal integration. It won't look like anything special, but it works and is freely available. For this, I will genuflect in the direction of Denmark.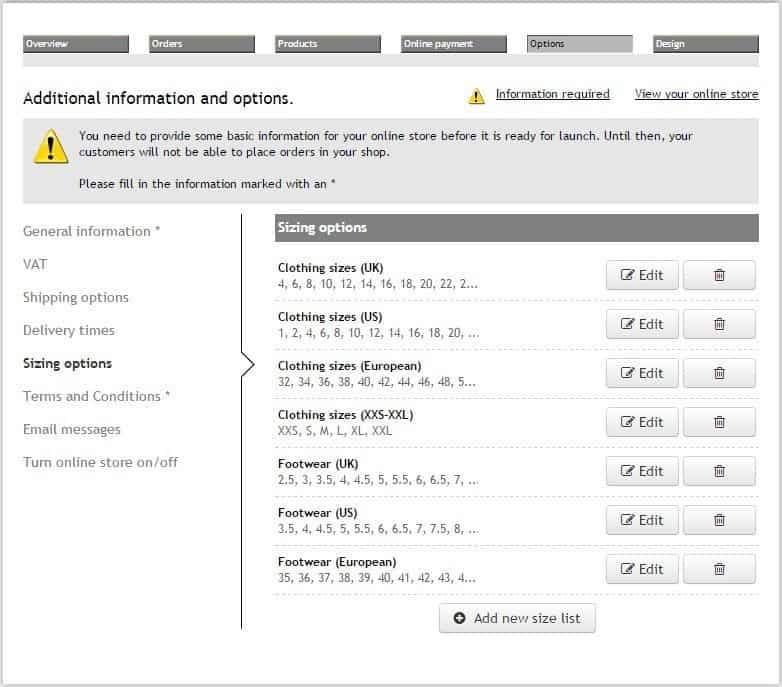 Blogging tool: SimpleSite facilitates the creation of, appropriately enough, simple blogs. The blogging tool allows you to post text, images and/or video (from YouTube, Vimeo or your own uploads). Your site visitors can "like" or comment on your posts. There isn't much more to it than that. The blogging tool doesn't violate the simplicity directive, but it is functional and should meet the basic needs of those looking to create a free blog. Don't expect it to look like it was created in this decade, though.
Contact form: SimpleSite's contact form is disappointing. It is entirely uncustomizable. It asks for the respondent's name, email address and a message. You can't add fields, buttons, or anything else.
Other basic features include an address page with Google Maps integration, a photo album, a guestbook, and a price list. You can also add a terrible jigsaw puzzle game featuring a photo of your choosing. An additional SimpleSite feature not offered by most competitors is a pedigree chart for your pet. Take that, Squarespace!
I would be remiss if I didn't mention another SimpleSite innovation. Embedded in your footer, by default, is a hit counter! This cool web traffic analytics tool from 1996 will be yours, even with a free subscription! You can go into your settings and remove it, but why would you want to do that?
Web Design and Editing
Templates: As I said earlier about SimpleSite's templates, they… don't actually exist. Though you can fiddle with the colors, fonts and background images, your site's basic layout is locked in place – and there are no alternate layouts. You can't even change the layout of your site's menu bar. What's more, as you'll see below, the free version of SimpleSite inserts an ad and a blocky set of "Share This Page" links into a column on the right-hand side of your page. The sharing links can be removed via an out-of-the-way option box in "Manage Pages" while the ad is immovable. It's not exactly subtle. Most free website builders just put an ad on your footer (which SimpleSite does as well).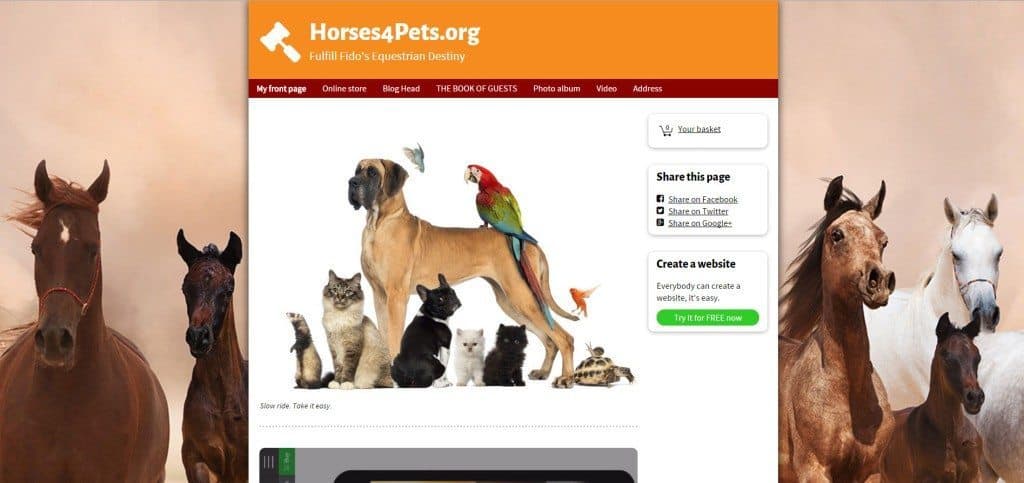 Mobile Editor: Unsurprisingly, SimpleSite doesn't have a mobile editing app, nor any options for customizing the mobile look of your site. However, a basic mobile-optimized version of your site is automatically created when you publish your site, retaining your colors and fonts. It's more than adequate, and it has the benefit of cutting out those ugly links on the side.
Integrations and AddOns
Aside from PayPal and Google Maps, there aren't really any third-party integration to be found. In fact, SimpleSite is the first website builder I've reviewed that lacks social media buttons or timelines or any social media integration at all.
Payment Processing
PayPal is the sole online payment option you can give your customers with SimpleSite eCommerce. As for offline payment, SimpleSite allows you to set up a store in which orders are completed by email so your customers can pay via pre-modern means.
Customer Service
SimpleSite's customer service is decidedly limited. An FAQ page is provided, as is an email address for questions not answered in the FAQ. A helpful note under the customer service email address reads "We try to respond to all requests within two business days." A modest goal indeed, and one just barely achieved in the case of the query I sent them relating to this review.
Negative Reviews and Complaints
SimpleSite has been taken to task for the following:
Though billing complaints are not ubiquitous among SimpleSite customers, a few have reported seeing unauthorized charges on their credit card from SimpleSite.
Positive Reviews and Testimonials
Reviewers have applauded SimpleSite on the following points:
Site Creation Is Possible Within Minutes
…that's really the only praise I've come across in reading SimpleSite reviews.
Customers on TrustPilot rate SimpleSite an average of 7.3 out of 10. It goes to show that even given the glaring limitations of SimpleSite, it generally does what its customers expect of it, though criticism has been mounting as of late.
Final Verdict
Picking on SimpleSite doesn't feel very sporting. Punching down doesn't bring me any satisfaction. SimpleSite isn't trying to be Weebly or Wix. It's just a dated website builder that allows people around the world to create a functional website, and even sell a few items, for free. It's an honest product put out by an identifiable company, and, unlike certain other products in this shark-infested industry, I'm glad it exists.
However, it wouldn't be fair if I didn't point out the obvious: SimpleSite is a manifest anachronism. This is clear from the moment you start editing your site, if not sooner. Any site created via SimpleSite will look so antiquated, people will think it's deliberate; an ironic statement. The whole enterprise is so thinly featured that there's just not that much to say about it. SimpleSite is what it is: a means to get your content online as quickly as possible, without regard to aesthetic considerations or social media functionality. While I see no reason why somebody would pay them money, they provide a workmanlike service to the masses for free. May they exist for years to come.
And if animal husbandry is your bag, SimpleSite is ready for you!
---
Read Next
To learn more about how we score our reviews, see our
Website Builders Rating Criteria
.