Expert Analyst & Reviewer

UPDATED
Advertiser Disclosure: Our unbiased reviews and content are supported in part by
affiliate partnerships
, and we adhere to strict
guidelines
to preserve editorial integrity.
Pros
Good customer service
Impressive feature set
Easy to use
Cons
Limited support materials
Fair public reputation
SimplifyThis Overview
SimplifyThis embodies founder Sanjay Kumar's serious commitment to simplicity. This strict standard is designed to keep SimplifyThis from the "frustration" of "feature-burdened software products that try to be everything for everyone, and end up doing nothing for anyone."
For a quiet, media-shy company devoted in name and spirit to freedom from complexity, SimplifyThis has a surprising number of features. Offering POS, invoicing, and project management solutions in addition to the usual scheduling features and customer relationship management, it does indeed simplify life for small business. The software maintains its simplicity through an incredibly consistent, fun, intuitive graphic user interface, excellently designed despite a couple tics. The company's lack of an FAQ and failure to reveal or explain upgrades to the software to its customers are minor irritations well worth suffering for an excellent, streamlined service at an incredibly low price.
Pricing
SimplifyThis offers a 30-day free trial (no credit card required) in which you can add two staff members and send up to 15 invoices. Monthly pricing plans vary according to only to the number of staff you need to support; features and customer support remain consistent for all users. A minor gripe: the tier descriptions are a little confusing within the program, with the "description" heading describing the number of users the plan will accommodate and the "staff" heading showing the number of staff it can accommodate. It refers to both the users and staff as "staff." The whimsically named pricing plans may sound familiar.
1. Tall: $18 per month
2. Grande: $29 per month
3. Jumbo: $39 per month
Ease Of Use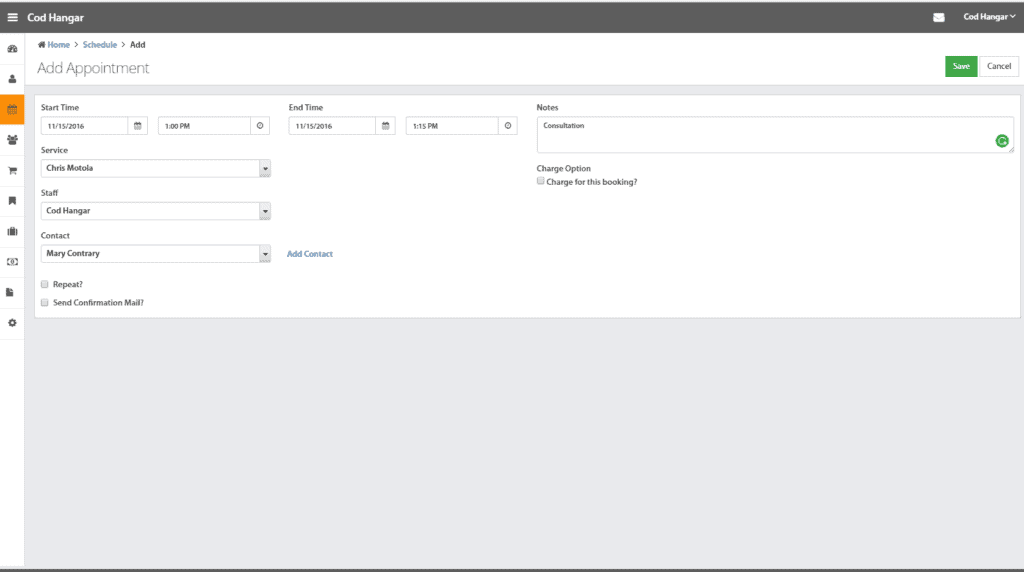 SimplifyThis' passionate emphasis on simplicity and efficiency really shine through in its user interface. Even if you've never used booking software before, SimplifyThis's interface is extremely intuitive and easy to learn.The layout of each page and organization of the whole site is consistent and incredibly clear. At no point during exploring the software was I confused about the options presented to me or unsure about how to navigate to a different view, setting, or feature. The SimplifyThis team has done a great job anticipating the needs of a small service business – including the need not to be overwhelmed by extra features or intimidated by an unfriendly layout.
Setup: Initial setup requires only your name, email, password, and acceptance of terms and privacy policy. While there's no extra support for the first-time user – you even have to hunt independently for tutorial videos – not much, if any, is needed to figure out the software in a few minutes!
Graphic User Interface: The spacing, tabs, headers, buttons, icons, colors… almost everything in SimplifyThis is optimized for the ease of users of any experience level. The great use of popout windows cuts down on the need to constantly move from one screen to another and back, making navigation super-simple. Bold, clear icons are used whenever possible. Unfortunately, the only problem I found while using the site was that pages don't always adjust well to different window sizes on my computer. Certain tabs on the side and pieces of text on the bottom of the screen got cut off unless I expanded the window to full-screen.
Settings: Without undercutting its commitment to simplicity and ease of use, SimplifyThis offers a wealth of configuration options accessible through a button sporting the traditional gear icon in the header of the site. Checkboxes beside well-organized and well-spaced settings make your options, including the choice to restrict clients to book only from packages or whether to block the calendar for unpaid appointments, very clear.
Schedule: Changing the schedule requires some experimentation. Though adding time slots was simple for me, it was too difficult to change the preset time slots at first. I finally figured out that marking and then unmarking individual days as "off days" clears the schedule so you can set up new open times. When I tried changing the preset times for another day, however, there was no problem. In SimplifyThis you can create multiple schedules and configure them to start on a certain date and repeat every 1-4 weeks as needed, perfect for businesses with seasonal calendars.
Calendar: You can easily add business-wide holidays and staff-specific time off from the main calendar page. Make time off recurring and send the staff a confirmation email if you wish. You can add notes to both kinds of schedule blocks any staff with access to the calendar to see. Different tabs on the calendar page allow you to choose from day, week, or month views. Alternatively, you can choose to see more linear, graphic representations of your whole staff's availability or a day calendar separated according to staff members.
Mobile App: The iOS app is old–we're talking iOS 3 old, so best to steer clear of it even though it's still technically available on the App Store. Luckily, the website offers pretty solid mobile functionality at the cost of hiding some buttons and showing you an appointment list for the day rather than a calendar view. You can still book appointments and schedule time off for any date, however.
Customer Booking: The customer booking process is beautiful, logical, and linear. A timeline at the top of the page shows clients how far along they are in the process. Customers can easily create an account to keep track of their payments, invoices, and appointments.
Customer Service & Support
SimplifyThis offers free phone support Monday-Friday during regular business hours (9 am – 5 pm) in Pacific US time. You can also email support; I received a next-day response for my first email and none for my second…
Unfortunately, it lacks the FAQ and customer help base many self-motivated software users tend to rely on. Even the blog and tutorials are difficult to access from the software. Clicking the large "Help and Feedback" button at the bottom of the page gives you the option of writing customer service an email or posting a suggestion in feedback.
SimplifyThis had previously maintained a strong social media presence, but has been inactive on most of their accounts since 2014.
In summary, SimplifyThis offers:
Phone Support: Call (425) 298-6702 during business hours to connect to the Washington State company office.
Email: Contact [email protected] for customer service questions.
New Blog: SimplifyThis' standard blog features, including the entertaining post "Three Tips for Running Your Own Business from Biggie Smalls…" Unfortunately, it hasn't been updated since 2014.
Old Blog: Founder and CEO Sanjay Kumar personally managed an different version of the SimplifyThis blog from 2006-2011.
YouTube: Find nine software tutorials from mrSimplifyThis.
Twitter: The company's Twitter @SimplifyThis features links to old articles, but hasn't been updated since 2014.
Feedback: Give feedback and track the progress of responses by opening a popout window from the footer of your account page. According to the feedback page, a text message reminder feature will be released soon and a followup reminder function is planned.
Negative Reviews & Complaints
Most criticism of SimplifyThis came from customers wanting more from its accounting solutions.
Customer Support: One user complained that email was answered inconsistently for Easy-Bill, the billing software that could be purchased independently from the scheduling side.
Invoice Customization: An online billing review site gave SimplifyThis' billing software a 6/10 rating, noting,


We liked that it can accept partial payments, but we did not see that it can apply one payment to more than one invoice. Currently they only offer invoice types, such as by service or product, but they do not offer a variety of templates to choose from.
Improve Reports: A SimplifyThis user suggested via the feedback portal that SimplifyThis include Income & Expense Reports and Earnings Reports to track business growth over time.
Limited Presence on the Web: SimplifyThis is a very media-shy company, so it can be a little difficult to stay abreast of what's going on with them.
Positive Reviews and Testimonials:
SimplifyThis received great reviews from Google Apps Marketplace (five stars), AppVita, and SEO Maids in addition to its own client testimonials. Reviewers praised its customization, customer support, ease of use, and multi-functionality.
Responsive Support Team: Counter to others' experiences, one reviewer from SEO Maids wrote,
Any time I've had a question I get a response back very quickly. There have been times when I've said, 'Hey, I'd like to be able to do this' and they have actually incorporated my idea into the software within a day or two, you can't beat that!
Integrated Business Solution: An AppVita reviewer called SimplifyThis "a fantastic application" useful for "a full range" of small business solutions. Other users noted as examples that it offers a fast way to invoice on the fly and track client service contracts, just two of the software's many helpful features.
Easy to Use: Billing with SimplifyThis is simple even for someone who hasn't used accounting software before. Users liked that schedules can be adjusted quickly and easily.
Customizable: Some users enjoyed the highly customizable templates that allow you to make the booking page match your business website.
Features
SimplifyThis truly does simplify many aspects of running a small business. From helpful minor functions like keeping a customer-specific to-do list to major solutions like billing and invoicing, the software offers a seamlessly integrated business solution beyond individual, single-service appointment booking.
Manage Projects: SimplifyThis is the only appointment booking software I know of that offers project management solutions. You can create projects as easily as services or classes, although projects are attached to specific customers rather than being generally available. Each project has either fixed, hourly, or non-billable charges. Once you've created a project, you can create specific tasks within it to be billed to the customer. Manually track time or enter a flat rate till the project's completion – then bill the customer as easily as if they had come in for a service!
To-Do List: You can add to-do items by customer name that show up on the home screen as well as in the customers' accounts. Set a due date for each item and mark them when finished.
Calendar: The calendar can be viewed daily, weekly, and monthly and as a list (for easy printing). Staff and availability are easy to access from the calendar, which is color-coded according to staff. Set seasonal schedules and separate schedules for the whole business, different locations, or staff members. Staff can be scheduled at more than one location!
Multiple-Member Customer Accounts: You can add multiple individual contracts to a single account – good news for companies that offer services to businesses or families. You can easily change the account name, add notes to its invoices, or set special pricing from the account page. Fields in the customer account profile include "Referred by," "Status," and "Invoice Notes." You can also choose whether to give each customer access to his or her account. Custom search parameters help you analyze your customer data.
Self-service Customer Account Management: Customers can access their own account to view upcoming and historical bookings, packages, and invoices as well as make payments. You can choose whether to let clients make their own accounts or not.
Custom Reminders: One confirmation and two (customizable) reminder emails are available for each appointment. You can choose how long before an appointment to send reminders and customize the message with your own text. A helpful list of placeholders for the message template appears on the page to take the guesswork out of how to customize your reminders with client names, service types, etc.
Mobile Apps: You can manage appointments, clients, and finances from the iOS app, which has been upgraded seven times since its release in 2010. Staff can sign in individually on the app, which runs constantly in the background of your device so that it's never out of sync with the online scheduler.
Group Booking: SimplifyThis makes it easy to schedule classes, events, courses, and workshops, for which you can track attendance and no-shows. You can make the class fee taxable and add a fixed or percentage-based booking fee. Once you create a class or workshop, you can organize them in a hierarchical structure and add recurring or independent sessions.
Sell Items: SimplifyThis offers a functional POS system that includes items with a name, description, price, and option to be taxable. Items can also be grouped and organized.
Sell Packages: You can sell bundles of services, classes, and apparently products as packages. Unfortunately when I was trying to create packages, not all the classes and none of the items I had created appeared as optional additions, but this is a software glitch the support team could easily fix. When creating a package you can set expiration dates for them, perfect for creating seasonal or limited sales. Package sales reports are available to track their popularity and income.
Reports: You can view sales, invoice, payments, aging, and customer reports. Reports show itemized summaries within a specified date range for each topic. Though they don't show you total numbers (of income, for example), you can export the data into Excel easily and analyze the data more from there.
Payment Options: SimplifyThis' payment options, including the ability to take deposits and create customizable invoices, are some of its most versatile and exciting features. See the "Payments" section below for more details.
Payments
Billing and invoicing customers via SimplifyThis – for services, classes, packages, products, and projects – is truly simple.
Options: You can accept partial or full payments before or after services on-site, over the phone, or online via cash, check, credit card (via Authorize.net), PayPal and X-Charge. Because payment options are integrated into the scheduler, client accounts are updated automatically when they make any form of payment.
Account Billing: While appointments are made according to individual customers, billing occurs according to accounts. This means that services purchased by various members of the same account show up on the same bill, given to the account holder, rather than on separate bills for individual clients.
Invoices: You can send PDF invoices through email from any account page. These invoices are totally customizable, down to which header fields to include and what to name them. You can set invoices to recur in cycles of any frequency, with its release on any day of the month or day of the week you choose. You can also track add-on charges to be included on future invoices and send automatic reminders to clients with overdue bills
Currencies: Finally, the software supports over a dozen currencies, making it a viable small business option internationally.
Security
While the site itself offers no information about the scheduling software security directly, the billing software SimplifyThis uses employs 128-bit encryption. Its credit card portal, Authorize.net, is PCI compliant and stores client data securely so that SimplifyThis doesn't have to, which would make that data more vulnerable. The software is hosted by GoDaddy, which uses multiple-site storage, round-the-clock monitoring, fire protection, chilled water cooling, firewall protection and other measures for security.
Integrations & Add-Ons
SimplifyThis offers integrations to support its project management, payment, and scheduling solutions:
Basecamp: Keep track of time and manage projects through Basecamp, which syncs with SimplifyThis.
Google-Calendar: SimplifyThis offers two-way sync with Google calendar for the whole business schedule or separate staff/location schedules.
Authorize.net: The company's gateway for credit card payments.
PayPal: Sync your PayPal and SimplifyThis accounts to allow clients to pay you online. Service fees apply.
X-Charge: X-Charge allows you to take credit card payments as well. You must create an account with X-Charge to use it in SimplifyThis.
Final Verdict
SimplifyThis takes taxes and booking fees into account; has a flexible, highly interactive calendar; offers support for project management, invoicing, customer relationship management, point of sale, class scheduling, and group/family accounts; presents a distinct, well-designed and –organized graphic user interface; allows individual clients to create their own accounts; and functions well on mobile devices.
While the company offers a great product with a reasonable amount of customer service for $18-$39 per month, there are a few issues that hold me back from enthusiastically recommending SimplifyThis to small businesses. Most of these problems seem to be related to the small size of SimplifyThis's operation: the lack of a searchable FAQ and the conspicuous social media silence over the past couple years. One gets the impression that the company's human resources are spread a bit thin. If that doesn't bother you, and you're a small company looking for easy-to-use appointment scheduling software at a reasonable price, it's worth giving SimplifyThis a shot.
---
Featured Free Corporate Card
Ramp


---
Ramp offers a free corporate card for virtually any business. Start earning rewards with your corporate spending today. Get your free card.
Featured Free Corporate Card
Ramp


---
Ramp offers a free corporate card for virtually any business. Start earning rewards with your corporate spending today. Get your free card.
To learn more about how we score our reviews, see our
Booking Software Rating Criteria
.