Expert Analyst & Reviewer

UPDATED
Advertiser Disclosure: Our unbiased reviews and content are supported in part by
affiliate partnerships
, and we adhere to strict
guidelines
to preserve editorial integrity.
Pros
Excellent eCommerce
Good blogging tool
Mobile responsive
Free trial doesn't require your CC info
Cons
No free plan
Can't customize your mobile site
Few integrations
Simvoly Overview
Simvoly is an upstart responsive website builder from Bulgaria and it's here to challenge the Wixes and Squarespaces of the world for DIY website building supremacy.
Bearing a name, the pronunciation of which isn't obvious to those of us in the English-speaking world (sim-vul-EE), Simvoly burst upon the scene in early 2016 and has set out to be both fully mobile responsive and highly customizable. Generally, these two goals are mutually-exclusive in the website building industry — I've used mobile responsive builders with limited cookie-cutter editing and I've used precision design tools that don't scale well to mobile devices. My Simvoly review attempts to answer the question: is this the rare website builder that can pull off both?
Pricing
When you sign up with Simvoly, you'll be able to use the platform freely for 14 days and you won't have to enter your credit card info. If you want to continue with Simvoly after the expiration of the free trial period, you'll need to sign up for one of their three paid subscription plans:
Personal
$9/month (annual plan)
$12/month (month-to-month)
Up to 20 Pages
5 GB Storage
10 GB Bandwidth
2 Contributors
Free Domain (for one year) and Hosting
Analytics and Tracking
Support
Sell Up to 5 Store Products
Up to 25 Site Members
0% Transaction Fee
Business
$14/month (annual plan)
$18/month (month-to-month)
All of the Above, PLUS:
Unlimited Pages, Storage, Bandwidth, and Contributors
Priority Support
Sell Up to 25 Store Products
Up to 100 Site Members
E-Commerce
$22/month (annual plan)
$26/month (month-to-month)
All of the Above, PLUS:
Sell up to 100 Store Products
Sell Unlimited Products for $10/month more
Unlimited Website Members
Note that all Simvoly sites come with a free SSL certificate.
In addition to their website builder packages, Simvoly offers a service in which a professional designer will create a website for you. For a one-time cost of $199, their designer will generate two design drafts; you'll also be able to communicate, live, with the designer. Afterwards, you can get a full refund if you're not satisfied with your site.
Payment is accepted via credit card (Visa, Mastercard, Maestro, Discover) and PayPal.
Web-hosted Or Licensed
Simvoly is web-hosted.
Hardware & Software Requirements
Simvoly works with all the major browsers.
Business Types Supported
When you start the site creation process (you won't even have to set up an account first), you're given the option of choosing one of the responsive templates provided OR using the Magic Website Wizard, a feature (still in beta) that automatically generates a website for you. Assuming you go the traditional template route, you can choose from between 52 templates, each categorized into one of the following fields:
Online Stores
Art & Design
Business
Restaurant & Bars
Photography
Services
Fashion & Style
Personal
Web Design & Agencies
Ease Of Use
Simvoly's website editor provides a good mix of mobile responsive site creation and easy customizability. The editor will feel familiar to anyone who has used a website builder of recent vintage. The bar at the left of the screen contains links to your dashboard, store settings, and general website settings at the top, but the drag-and-drop editing buttons appear down by the middle of the bar. These are the buttons you'll be using most often while editing.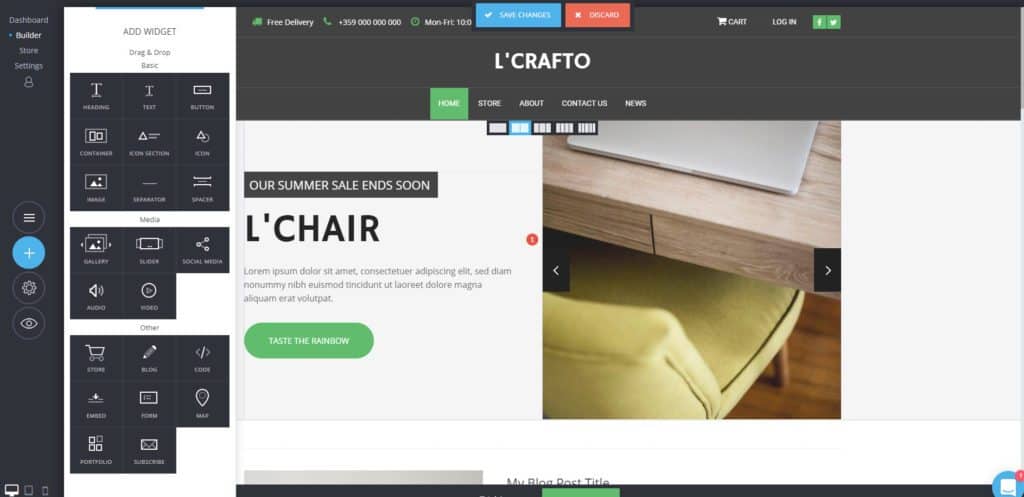 The first of these is the Pages button. As you would expect, this option lets you rename and reorder your pages, create new pages, and group your pages however you wish. It also lets you create pop-up boxes, which are an excellent way of collecting your site visitors' email addresses for a mailing list in exchange for store discounts or a newsletter.
Next comes the Add Widget button. I shouldn't have to tell you what this button does, but in case I do, here goes: This button opens up all the elements you can drag-and-drop onto your page. Now, most mobile responsive website builders — that is, builders that produce websites which automatically scale to fit the screen size of the device viewing it — don't just let you drop content anywhere on your page, and Simvoly is no different. Typically, these mobile-focused builders produce sites comprised of stacks of content, and you can only add new content in the seams between the content blocks. Simvoly is similar in this respect, though you can also place content to the side of your existing content, and the content block you added the widget to will accommodate it by adding another column. Simvoly's editor serves up mobile responsiveness with a nice spoonful of customizability.
Beneath the Add Widget button is the Website Settings button (not to be confused with the aforementioned Settings button in the upper left corner). From here, you can change your site's primary/background/text colors, specify up to four fonts you'd like to use on your site, customize your header, and upload a favicon and a social sharing image. You can also add custom CSS/Javascript, insert your Google Analytics code, and inject custom code into your header from this menu option.
Finally, below the Website Settings button lies the Preview button. You can preview your site in desktop, tablet, and smartphone form. Unfortunately, there are no undo/redo buttons, nor any other way to go back through your editing history.
As I said earlier, you don't have to build your site up from a template — you can have a site built for you by the Magic Website Wizard. AI-powered site creation has been becoming more of a thing lately. Unfortunately, Simvoly's AI solution is vastly inferior to that of Wix ADI and even Impress.ly. It doesn't build you a site based on your existing content. Instead, the Magic Website Wizard asks you to describe the type of business/portfolio/whatever site you want by summing it up in one word. The "Wizard" then creates a site for you that bears some loose relation to your chosen word but which otherwise looks like any Simvoly template. Not a very sophisticated system!
Features
Simvoly has precious few features and add-ons compared to some competing website builders. They have the big two — eCommerce and blogging — covered, however. Let's check out Simvoly's primary features:
eCommerce: Simvoly brings a solid, powerful eCommerce package to the table. When you add a product, you can offer as many variations of that product as you like. You can keep track of product inventory as well. One cool aspect of the Store is that product descriptions can be edited in the same manner as your website, so you can add a YouTube video (or anything else) to your description if you like. Another aspect of the eCommerce worthy of praise is the fact that you can sell digital downloads and services as well as physical products at even the lowest subscription level. Unfortunately, there is no shipping service integration. Stripe and PayPal are the available payment processors.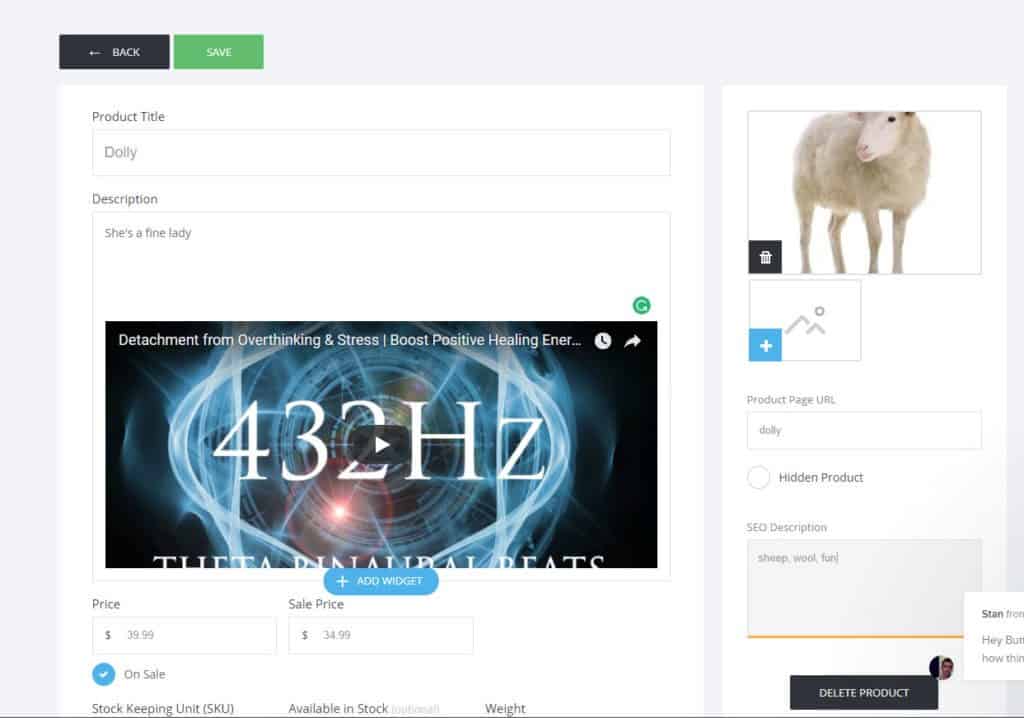 Blogging: Simvoly includes a nice blogging tool that does just about everything you could ask of it. When you choose a template and start working on your site, you'll notice that it already has a blog page set up (though it may be labeled "News"). You can edit your blog posts in the same manner as your website itself, allowing for great flexibility in your posts. You can also designate an image, image gallery, video, or quote to appear at the top of your post. You can choose from between different blog layouts, add categories and tags to your posts, add share buttons to your posts, and enable comments (and, if you like, comment pre-screening). About the only thing you can't do with Simvoly's blog is schedule posts for automatic publishing in the future.
Contact Form: Simvoly's contact form is quite customizable—a necessity for small businesses looking to solicit meaningful feedback. You can add as many different fields as you like (but don't add too many — it decreases response rates!), with options to add password fields, radio boxes, checkboxes, and date fields.
Beyond the Big Three features, there really isn't much in terms of special tools or third-party integrations. There's a Google Maps-based map feature, Google Analytics, YouTube and Vimeo video linking, a photo gallery and slider, and social media links. That is all. Compare this to the plethora of addable features Wix and Weebly make available, and it becomes clear that Simvoly's website builder is rather stripped-down indeed.
Web Design & Editing
Templates: Simvoly's templates are all perfectly respectable and will serve a small business well. Your site won't look that different from those of your competitors (unless they've got some outdated monstrosity representing them), but it's content that really matters. The main thing here is that Simvoly's templates won't hurt your image at all.

Mobile Editing: Simvoly doesn't have an app for editing on mobile devices. Perhaps more disappointing is the fact that you can't make specific edits to the mobile version of your site. If, for example, you wanted to add a custom landing page for mobile or a custom menu for mobile navigation, you're out of luck.
Customer Support
Simvoly could stand to create an FAQ page. As it is, Simvoly has a "Beginner's Guide" to making a website along with a blog that occasionally sees feature explainers posted. However, you can't really search the blog to find information on the topic you're looking for — at best, you can click on a tag and see what comes up.
In terms of direct support, Simvoly provides a contact form and live chat. My question was answered almost immediately when I tried the live chat.
Negative Reviews & Complaints
PCMag seems to be the only other site with a Simvoly review up, so I guess we're the second ones to arrive at the party. PCMag was largely complimentary of Simvoly, though they noted that the eCommerce doesn't handle taxes very well. They also bemoaned the lack of image editing and stock photography, the lack of any mobile customization, and the fact that you can't obtain a domain through Simvoly online — you have to actually contact their staff if you want a domain through Simvoly.
Positive Reviews & Testimonials
Simvoly has received acclaim for their intuitive editor, nice templates, powerful eCommerce, and the detailed stats they give you on your site visitors.
Final Thoughts
With their lack of third-party integrations, Simvoly isn't the most versatile website builder — you'll have to check out one of Simvoly's better-known competitors if you want a broad selection of features. For what it is, however, Simvoly is an excellent choice for the small business owner or the hobbyist looking for a clean, intuitive website builder that produces websites that will look great on any device. For such a young company, Simvoly has produced a very competitive product, and I'm eager to see how their website builder develops in the years to come. Three-and-a-half stars.
---
We've done in-depth research on each and confidently recommend them.
We've done in-depth research on each and confidently recommend them.
To learn more about how we score our reviews, see our
Website Builders Rating Criteria
.