Expert Analyst & Reviewer

UPDATED
Advertiser Disclosure: Our unbiased reviews and content are supported in part by
affiliate partnerships
, and we adhere to strict
guidelines
to preserve editorial integrity.
Sitelio

Pros
Easy to use
Numerous templates
Solid blogging and eCommerce
Cons
Sketchy business practices
Poor billing practices
Overwhelmingly poor customer feedback
Poor customer service
Sitelio Overview
Sitelio is a do-it-yourself website builder offering easy website creation. Launched in 2014, Sitelio's well-designed and straightforward editor is, at first glance, a decent website builder for individuals and small businesses. In addition to the website editor, Sitelio provides free web hosting, domain names, business email, access to SEO tools, and the option of eCommerce integration.
Unfortunately, the company behind Sitelio has a history of atrocious business practices. If you read the comments on this Sitelio review, on our reviews of Sitelio's "sister" sites (see our disclaimer below), or pretty much anywhere online where people can share their experiences with the company, you'll notice that Sitelio and its doppelgangers have possibly the worst reputations of any DIY site builders in the industry. Reports of terrible billing practices and customer service horror stories abound.
A few years ago, Sitelio and its duplicates were acquired by the Endurance International Group (which rechristened itself as Newfold Digital, Inc. this year). The company moved Sitelio's operations to the US from the UK and overhauled its support and billing staff. Sadly, these changes did not seem to result in a better user experience. However, enough time has passed that it's time to reassess our judgment of Sitelio.
Read on to see if Sitelio is worth your time.
Disclaimer: The website building services SiteBuilder.com, Sitey.com, and WebsiteBuilder.com all offer the same website builder as Sitelio.com. Newfold Digital Inc., the company behind Sitelio, is hosting the same website builder on multiple domains. The only differences are in the pricing and feature specifics of the subscription plans.
Business Types Supported
When you start creating your website (which you can do for free), you'll find that Sitelio doesn't have a selection of templates to choose from. Instead, Sitelio guides you through the setup process to essentially create a very basic website for you — one tailored to your industry or interest — which you can then edit.
During this setup process, you'll be asked about the purpose of your site. These are your options:
Music
Photography
Real Estate
Technology
Education
Consulting Services
Food
Art
Podcast
Sitelio Pricing
You can create a website for free with Sitelio, but you'll need a paid subscription to take advantage of the more advanced features, have a normal domain name, and be rid of the company advertising on your site. Here's what's on offer with Sitelio:
Free
Five pages
Free hosting
Intelligent site builder
Sitelio advertising on your site
Simple
The Simple plan costs $15.75/month ($14.50/month when paid annually) and includes:
No Sitelio ads
Free domain for one year
Website statistics
Ad credits included
Captivating
The Captivating plan costs $23.50/month ($18.25/month when paid annually) and includes everything in the Simple plan, plus:
Outstanding
The Outstanding plan costs $36.50/month ($26/month when paid annually) and includes everything in the Captivating plan, plus:
I should note that although Sitelio's pricing plans are unchanged in their feature offerings from when I last updated this review three years ago, prices have risen dramatically. While Sitelio's costs aren't exceptionally high by industry standards, the problem is that Sitelio's pricing is comparable to that of Wix, even though Wix is a much more dynamic and well-featured website builder.
Ease Of Use
Whatever else can be said about Sitelio, it's undeniable that the editor itself is contemporary and intuitive. The tools it provides are simple and accessible, and the learning curve is almost nil. You should be able to figure it out very quickly, and you won't need to know how to code. The initial setup process is particularly easy — based on your responses to the prompts, a basic website will be created as a starting point for your editing.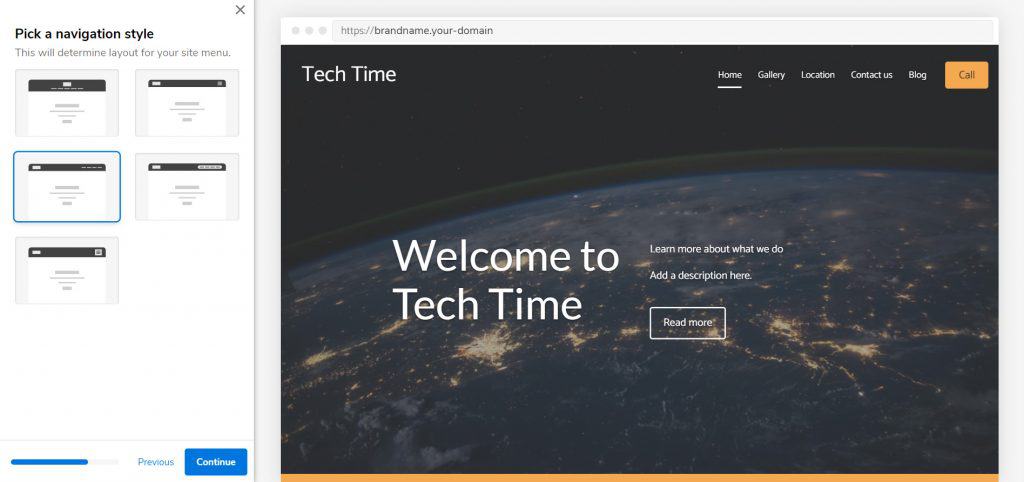 In fact, it is straightforward enough to allow an amateur to learn it well within an hour or so. As with most modern website builders, individual content elements are organized into blocks (referred to here as "Sections") that are stackable vertically. It's not a setup that allows for much design freedom, but it's entirely consistent with industry trends.
Hardware & Software Requirements
You'll need an updated web browser to use Sitelio, but that's it.
Sitelio Website Builder Features
Dashboard: Sitelio's dashboard gives you easy access to your sites while also giving you access to a basic CRM, email marketing, and an "App Market" — though there are precious few apps in said market!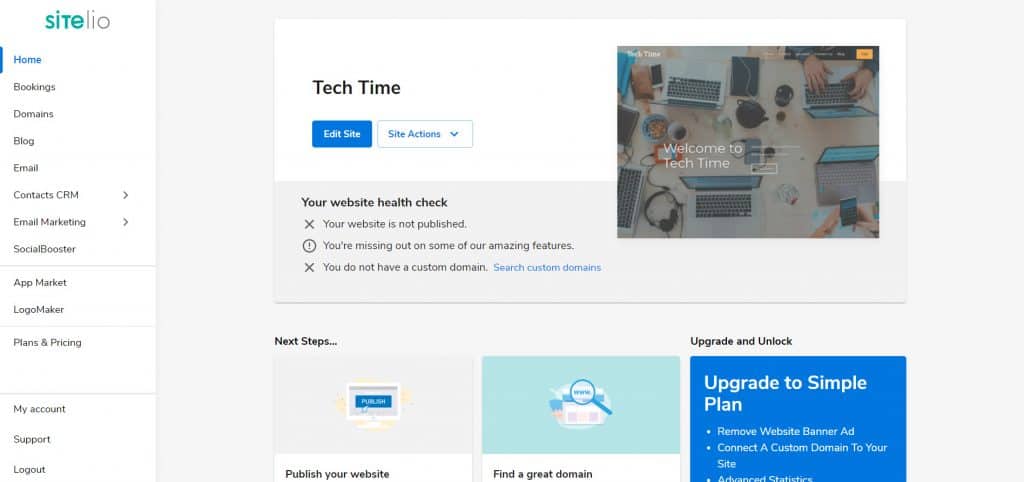 Form Builder: Sitelio's form builder is nice enough, allowing you to add (or not) eight different fields. You can't add radio buttons or anything fancy, though.
Online Store: Sitelio partners with Ecwid to provide eCommerce. It's available only with a subscription to the Outstanding plan. It's a solid online store package, complete with discount codes, product variations, categories, and other features you'd expect of a modern eCommerce system.
Blog: I appreciate a good blogging platform, and that is what Sitelio brings to the table. The versatile post manager makes it simple to tag featured posts, sort out the details of published entries, edit drafts, and pin posts so that they remain organized in a certain manner. Creating new posts is a straightforward process that leaves little room for user error.
Marketing: Sitelio provides an in-house email marketing solution that should see you launching a marketing campaign with minimal trouble. Free users are limited to two email campaigns per month, while paid subscribers get more.
SEO Tools: The SEO (Search Engine Optimization) feature allows you to add/edit site tags and meta tags that are associated with each specific page. Adding meta tags — choosing keywords and phrases that potential visitors might type into a search engine — gives your site better visibility and can lead to more traffic.
Social Media: Social media integration is immensely important to most businesses, and Sitelio doesn't disappoint in this department. Users are provided with clean-looking, out-of-the-way social media widgets, which may be neatly embedded in the website's header.
Image Galleries: This feature lets users select row, column, or grid options for their image galleries, which may be placed anywhere on the website. Being able to customize the appearance of the image gallery can spice up an otherwise dull website and helps to impart some of the creator's personality.
Reports & Analytics: Stat tracking is a must-have for modern websites, and access to accurate feedback can determine the success or failure of a new website. Sitelio does provide this service, though it is only available to users with paid subscriptions.
Sitelio Web Design
Sitelio's website editor is in keeping with modern trends in the industry. The editor is designed to be easily used by absolutely anybody. As such, it doesn't leave a lot of room to be creative, and professional web designers won't be able to wring anything complex out of it. Nonetheless, your websites will likely come out looking decent and contemporary.
Sitelio Customer Service & Support
Sitelio's customer service system consists of a general help tech support page, live chat, email support, and phone support. With the inclusion of the latter two means of support, the company appears to be trying to address the numerous customer service complaints that have been aired. However, users overwhelmingly report negative experiences with Sitelio's customer support, with nary a word of praise to be found.
Sitelio Reviews
Here's where things get really rough for Sitelio. Read on for the gory details.
Negative Sitelio Reviews & Complaints
User reviews of Sitelio and its doppelgangers are almost uniformly terrible. The Trustpilot page of SiteBuilder (one of Sitelio's clones) reveals a horrorshow of complaints: poor customer service, bugs and glitches with the editor, and an enormous number of billing complaints. Countless users tell stories of being billed for services they never intended to order. Even more damning, customers report encountering stalling tactics while trying to cancel an order before the charges went through. Accordingly, the service gets an average customer rating of 1.1 out of 5 stars, based on 165 reviews.
Now, it's not unusual for a website builder — or any widely-used product or service — to rack up a large number of complaints (though it is unusual for a lesser-known website builder to be so widely criticized). I'm not condemning the company for that alone. However, one has to view this torrent of complaints as part of a larger pattern. For one thing, the company never publicly responds to complaints. When faced with a torrent of criticism, most companies make some kind of attempt to appear responsive to users' concerns. Not Sitelio or its clones.
Combine this with the fact that the company doesn't have an"About Us" page on its website (almost as if nobody wants to be publicly associated with it) nor any Testimonials page, and you can't help but get the sense that the company is simply out to make a quick buck. I'm not saying the company is a criminal enterprise or anything — it's more that it just doesn't seem to care enough to get things right.
Sitelio's parent company, Newfold Digital, Inc., is accredited with the BBB and has an A+ rating. Despite this, the company has racked up an astonishing 500+ complaints in the last three years and 136 in the past 12 months. Users on the BBB site give the company an average rating of 1.06 out of 5 stars, based on 131 reviews. However, most of these complaints pertain to Newfold's web hosting companies, not its website builders.
The one sign that the company formerly known as the Endurance International Group was aware of the constant chorus of complaints from its users was when it beefed up its website builder customer service options and replaced its support and billing teams a few years ago. However, since that time, the complaints have continued, albeit at a somewhat reduced frequency.
Should you decide to go against our advice and sign up for a paid Sitelio account, pay close attention to what appears on the bill, and be ready for a protracted ordeal if something isn't right.
Positive Sitelio Reviews & Testimonials
The only praise of Sitelio you'll find comes in the form of a few professional reviews, each of which noted that the website builder itself is quite capable and easy to use, despite being rather simple and basic. However, the product itself isn't the problem here. The fact that you'll be hard-pressed to find any positive Sitelio reviews coming from actual users — not even on Sitelio's website! — is a real red flag.
Again, the sheer volume of complaints is troubling, along with the complete lack of positive user feedback, the absence of any effort by the company to respond to complaints publicly, and the fact that the company offers the same product under four different names and domains (with no explanation or acknowledgment). I see no reason to give your money to this company, especially considering the underlying product is decent but not exceptional.
Sitelio Integrations & Add-Ons
Apart from the Ecwid eCommerce integration, there isn't much here in the way of third-party apps.
Security
Sitelio provides very little information regarding the security of its websites. However, the sites do appear to have HTTPS security, and the company states that it "complies with the Payment Card Industry Security Standard ("PCI Standard") in connection with the collection and processing of your data and billing information."
Final Verdict On Sitelio
The Sitelio website builder is intuitive and fits the needs of most hobbyists and small businesses that need a basic, easy-to-maintain website, though you'll find very few integrations and eCommerce payment options. However, as you've probably gathered by now, the product isn't the real issue here.
Unfortunately, despite the efforts of Newfold Digital to provide more comprehensive customer service, problems persist. Users continue to report a broad array of issues with the service — typically involving billing — on our site and other Sitelio reviews that allow public comments. Again, the fact that you'll find lots of user complaints isn't that unusual. What's unusual is for a company to be so opaque about its business practices, so unwilling to respond to a single one of its disgruntled users, and so blasé about its reputation that it doesn't even bother to post positive testimonials on its website.
A free version of the Sitelio website builder is available. It's a pretty solid website builder, so if you're interested, go ahead and check it out. Sadly, the paid versions are overpriced given the features on offer. In light of all the uncontested public complaints, I see no reason for you to chance it by buying a paid subscription when you can find better value elsewhere anyway. I'm giving Sitelio 2 stars out of 5.
Interested in reading about some better options? Check out Merchant Maverick's website builder reviews and see our recommended providers. And if you want to build a robust online store, check out our BigCommerce and Square Online reviews.
---
We've done in-depth research on each and confidently recommend them.
We've done in-depth research on each and confidently recommend them.
To learn more about how we score our reviews, see our
Website Builders Rating Criteria
.