Expert Analyst & Reviewer

UPDATED
Advertiser Disclosure: Our unbiased reviews and content are supported in part by
affiliate partnerships
, and we adhere to strict
guidelines
to preserve editorial integrity.
Skrill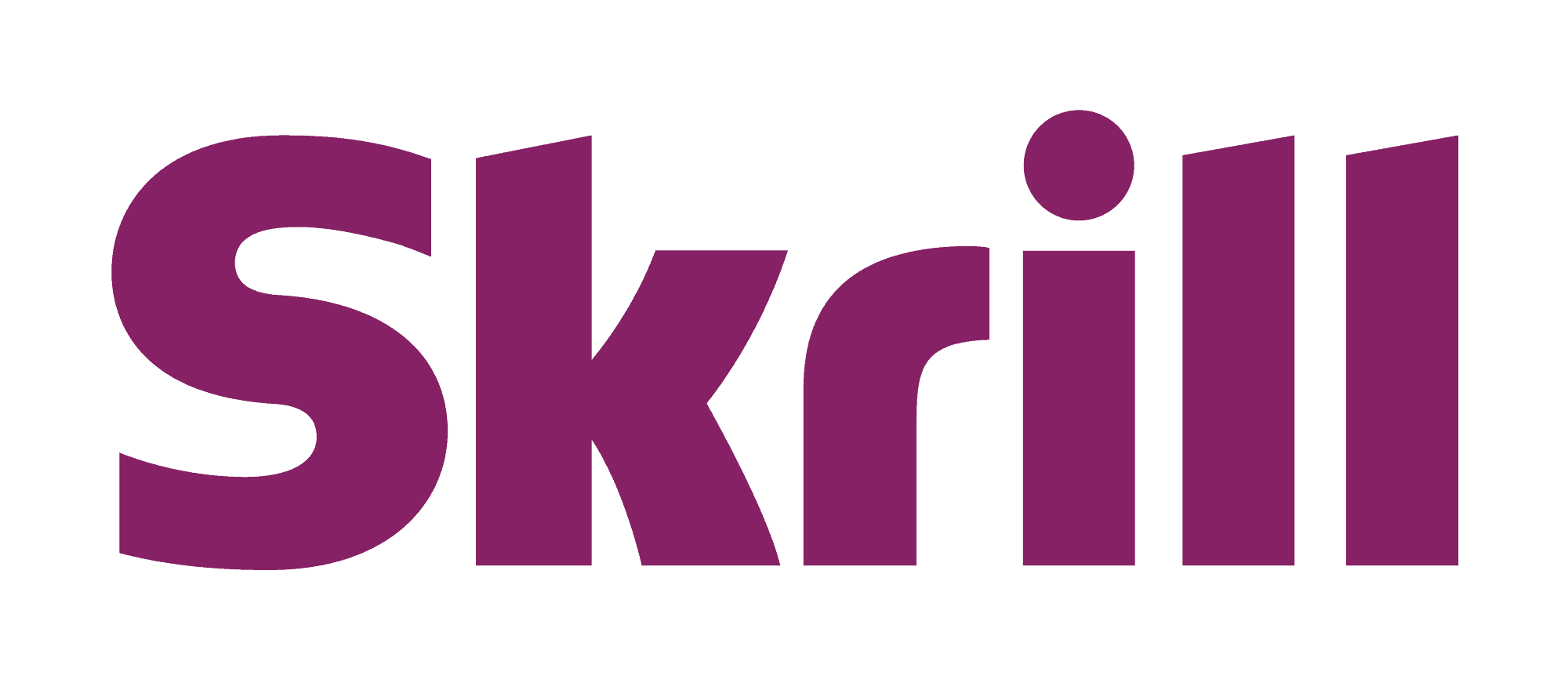 Pros
Supports in-app payments
Integrates with third-party shopping carts
Hosted payment page
Cons
Account stability issues
Expensive fees to transfer money
Poor customer support
Basic reporting
Limited pricing disclosed online
Skrill Overview
At first glance, Skrill seems precisely like the PayPal alternative people have been clamoring for since PayPal started racking up legions of dissatisfied users and merchants. Skrill has digital wallet feature as well as merchant processing services, making it one of the most direct apples-to-apples comparisons I've seen. Skrill even promises that it's available in 200 countries and 40 currencies. So it clearly has the same global reach.
Founded in 2001, the company was originally known as Moneybookers. It wasn't a PayPal contender — it was simply a way for people to move money when they gambled or placed bets online. That's still one of Skrill's product offerings, too. It's owned by Paysafe Group, the people behind Neteller and the Paysafecard.
Since it launched, Skrill has slowly expanded its services, evolving from a way to place bets online to a full-on digital wallet, and of course, a diverse suite of merchant services. It now claims 36 million users and 156,000 merchants, according to its "About Us" page. Those numbers are nothing to sneeze at, but they aren't even close to PayPal's adoption rates.
I can see the consumer draw of Skrill. It's an easy (albeit expensive) way to move money internationally. And for merchants, there's probably has a similar appeal. It's easy to do business across borders and to tap into a market of 36 million users.
I was initially very hopeful about Skrill. The company looks like a very strong contender in the "Anything but PayPal" game. But that's just appearances. When you scratch the surface, you reveal some serious problems — and a lack of information that I simply do not like. Not only that but, in an age when moving your money around can be nearly instantaneous and mostly free, Skrill feels seriously behind the times.
I have absolutely no questions about Skrill's legitimacy as a business. It is the real deal. But for consumers who need a mobile wallet, I fail to see any real advantage over other options. For merchants, there are no unique services, and the company doesn't have any competitive edge — nothing it does better than anyone else.
Combined with highly dubious customer service and some not-insignificant transparency issues, that's more than enough for me to give Skrill 3 stars in this review. Can you use Skrill without any issues? Probably, but it's not worth taking the chance.
If you're a US merchant, even though Skrill offers processing services, I strongly recommend looking elsewhere. If you're in Europe, Skrill is a stronger contender, mostly thanks to a prepaid debit card option. However, the card is only available in select European countries. For a supposedly global wallet, that's a major let down.
There are better, more transparent options out there — ones with better customer service to boot. PayPal is a better option if you're interested in the mobile wallet aspect plus merchant services. If your focus is international business, Stripe or Braintree will also serve you very well.
Read on to find out more about Skrill, or take a look at our list of the best online credit card processors!
Products & Services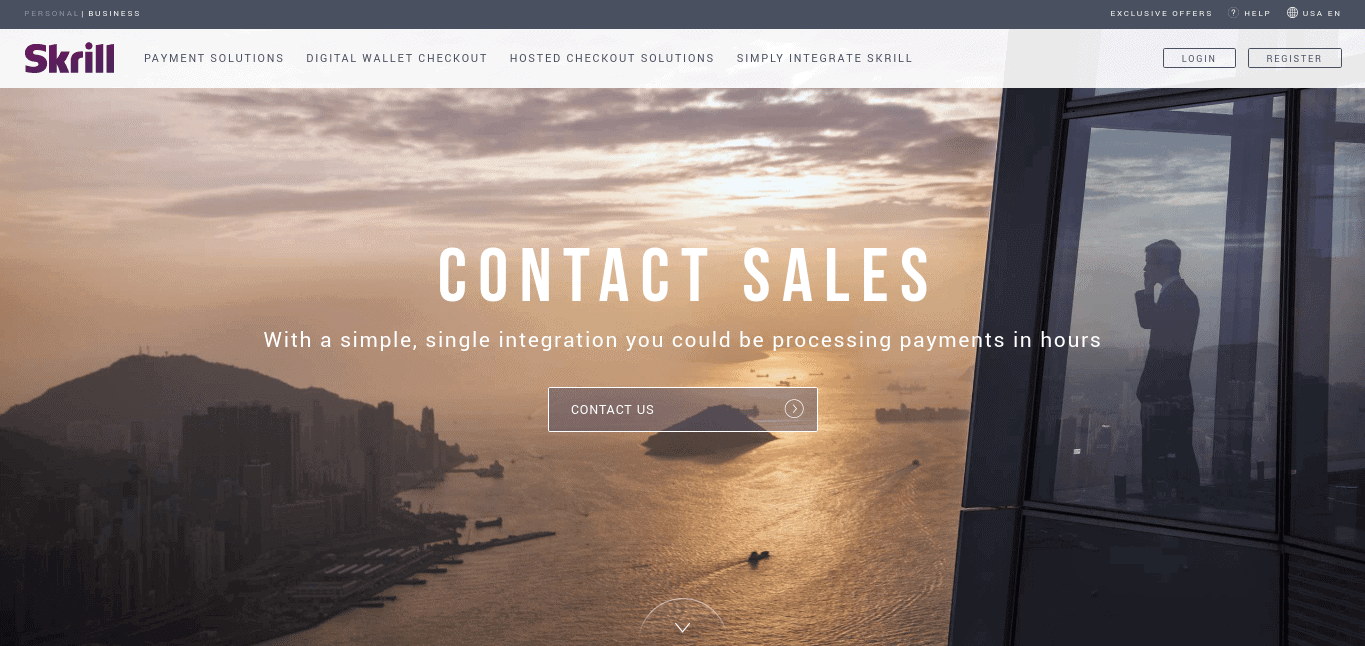 First and foremost, like PayPal, Skrill is a digital wallet. Consumers can load money onto it and spend it anywhere that accepts Skrill payments — or send money to each other (for a cost of 1.9% of the transaction, up to $20). That was my first red flag for Skrill: Sending money to friends and family is typically free on most P2P payments apps. Customers have come to expect that.
It's also used for placing bets online, including for eSports and such. And it can be used for ForEx trading. I think these are the best applications for Skrill. But I'm not here to look at the consumer product. I'm interested in Skrill's business solutions:
Something that may confuse is the fact that Skrill offers business, merchant, and commercial accounts. (There's also a difference between personal and customer accounts.) Each one has its own specific use. If you want to accept payments online, a merchant user account is what you're after.
I'm sad to say that there isn't a neat list of features to look at or a way to nearly compare different account types. I think the company could stand to be a bit more explicit about everything it offers BEFORE someone signs up. The information is fragmented and difficult to find — even for someone like me, and I've got a black belt in Google-Fu (note: that's an entirely made-up thing).
Skrill's merchant services are broken down into two categories:
Wallet payments: It should surprise no one that Skrill allows merchants to accept payments from customers who use the digital wallet.
Hosted payments: The hosted payment solution allows you to accept payments from Skrill users and those without an account. After they check out on your website, they are redirected to the Skrill site to complete the transaction, pretty much exactly how PayPal works. You can also enable an iframe to accept payments through Skrill while keeping customers on your homepage. Skrill brags that hosted payments supports "more than 20 local payment methods and over 80 direct bank transfer connections with a single integration."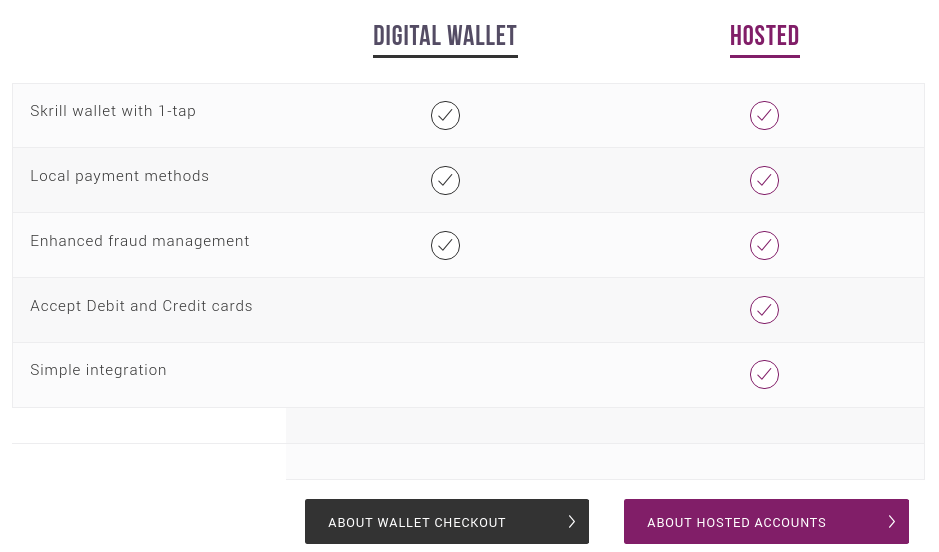 Skrill sort of fails at marketing its own features, but here's a quick run-down of what you get.
In-app payments and microtransactions: Developers can use Skrill's wallet to facilitate payments in online apps, particularly within games.
Mass Payments: Need to send money to a lot of people all at once? Skrill has you covered with its mass payment feature.
Recurring Payments: Great for subscription and membership options. However, I wouldn't expect these to be as advanced as the tools you would get with Stripe or Braintree.
Shopping Cart Integrations: Merchants can choose to integrate with a fairly large selection of shopping carts. Of note are Shopify, WooCommerce, OpenCart, Volusion, and BigCommerce.
Skrill 1-Tap: The 1-Tap feature allows Skrill wallet users to approve purchase automatically, without having to go through an authorization process each time. If you think this sounds an awful lot like PayPal's OneTouch, you'd be right, because that's exactly what it is.
In addition, it's worth mentioning that Skrill is PCI-compliant. Since you're not hosting your own payment page, you won't need to worry about this. You'll also get access to Skrill's analytics, which seem a bit basic, but will at least give you an idea of what your processing volume is like.
However, you're not going to get any sort of in-person payments. Skrill is strictly online and mobile only. And I don't expect to see the company roll out any terminal or mobile solutions any time in the near future. Not only that, but Skrill also doesn't support invoicing in the U.S. There's no option to request payment either. Given that Square and PayPal both offer integrated invoicing among MANY other features, this is disappointing.
Fees & Rates
You can't find merchant processing rates on Skrill's site. Or at least, you can't find U.S. processing rates on the U.S. site. But you can find the pricing for European merchants with no trouble, on the Integrations page.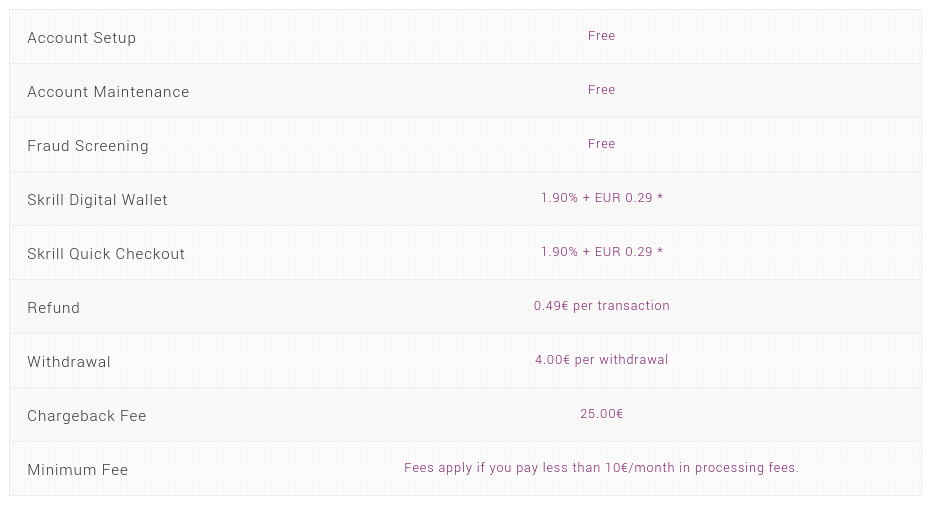 Account setups, account maintenance, and fraud protection tools are all free with Skrill, which is nice.
Digital Wallet Transactions: 1.9% + €0.29
Quick Checkout Transactions: 1.9% + €0.29
Chargeback Fee: €25
I do want to point out this is a drop in fees compared with Skrill's rates last time I looked at this review. That's a good thing, I think. But I have noticed some of the consumer fees have gone up. The withdrawal fee was previously €1.50 for a transfer or € per check (or cheque). On a $100 transfer, you're already paying more and will continue to pay more as the amount you move increases.
Then, take note of these additional fees:
Refunds: Skrill actually charges YOU €0.49 per every refund, which is ridiculous. Lots of great processors will simply refund the transaction fees along with the rest of the money.
Withdrawals: You'll pay €4 for withdrawing fees from your Skrill wallet. Which I guess is better than some of the consumer withdrawal costs, but I assume that's for bank transfers only, which are free for consumers. And again, just about every standard processor routes money to your bank for free (including PayPal).
Minimum Fee: Undisclosed, applies to merchants generating less than €10 in processing fees per month.
I don't like that Skrill doesn't disclose its monthly minimum rate at all because it makes me worry that it's quite high. For example, PayAnywhere charges a whopping $80 if you don't meet the $5,000 monthly minimum for its storefront plan. And if it was merely $10, why not say? The other alternative, of course, is that fees vary based on what services you use. But it really shouldn't be that complicated. (For the record, the threshold is less than €500/month in processing, though the exact amount depends on your average ticket value).
There's one final fee to talk about:
Currency conversion: 3.99%
If you're dealing with global business and want to convert transactions to your home currency, Skrill charges you nearly 4% to do so. Most processors assess a small conversion fee for cross-border transactions, but it seems to vary.
The problem with merchants who keep their funds in a digital wallet is that you can only spend your money on sites that accept your digital wallet. That's why PayPal introduced its Mastercard debit card. Skrill also has an offering — but it's only available to users who reside in the European Economic Area. US users are no longer able to get this card. The limiting of the card's accessibility costs Skrill its partnership with the freelance platform Upwork.
Contract Length & Cancellation Fee
Skrill seems, for the most part, to be a pay-as-you-go service. Merchants will pay per-transaction fees and possibly other monthly fees (Skrill simply says in its help center that "Fees may be applied on Business accounts depending on additional agreements." I assume this includes the monthly minimum fee. I haven't seen any reports of early termination fees, which I guess makes sense given how unstable accounts seem to be.
Customer Service & Support
I'm happy to say Skrill finally added its help center to its main site. I don't like that the help center is so sparse. There's hardly any information available in it — most of the questions are pretty generic. Square and PayPal's self-service resources are far beyond this. You can find the developer guides (PDFs) on the main site, but there's no developer center with all the documentation in the way you see from many other payment processors.
Apart from that, Skrill offers a Twitter account dedicated entirely to customer support (@Ask_Skrill). The team is responsive, even if most replies are copy/pasted from a template and not always helpful. The support team likes to direct most complaints to the help email address. A lot of tweets are from irate users wanting to know why transfers or verifications are taking a painfully long time.
I don't like that there isn't any US-based phone support anymore, either (a fact I only found out by following a link to phone numbers that was posted on Twitter). Especially for merchants, this is a bit of a deal breaker. Having to make an international call for support is just ludicrous. So I don't recommend Skrill for US merchants.
If you're in Europe, you've got several options for phone based on your location. Check out the support center page for numbers and hours. I'll give Skrill credit for at least offering support seven days a week.
Given the lack of disclosure and limited support channels, I'm not at all surprised to see Skrill has quite a few complaints that relate directly to its unreliable customer service. Check those out in "Negative Complaints and Reviews," below.
Sales & Advertising Transparency
I have a few (or more than a few) issues with Skrill's transparency. Reading online, I am not the only one.
Let's start with the easy stuff: The company site looks great. Very slick and up to date. It's really two different sites — one for consumers who use the wallet, and one for merchants. And I do like how easy it is to switch between them. Often in these situations, you find yourself down a rabbit hole that you can't quite escape and your only option to is head to the home page and start over.
But I am frustrated at how little information is on the site. There's no clear list of features. There are vague mentions to micro-payments and in-app payments but no details. I've found slightly more helpful information Skrill's developer guides, but it's still not even close to on par with what it should be.
Complicating things even more, you'll find a US-based English site and a UK-based English site, and you can flip between the two. There's a lot of information on the UK site that the US one doesn't have (like merchant rates). Of course, it seems like Skrill is mostly targeted at the European market.
If you want to learn more about Skrill, you need to sign up for an account or contact a salesperson. Fortunately, I haven't been able to find any reports of pushy sales reps. But the fact that you can't even get in contact with the company without providing your business information is worrisome.
There's no blog, and the press release page redirects to the Paysafe Group site, where most of the press releases aren't about Skrill.
While the company does have active Facebook, Twitter, and LinkedIn pages, there's not much that's particularly compelling or useful to a merchant. At the very least, the social media team is responding. IT looks like the company has gotten a little bit savvier about social media marketing; I'll give Skrill that much. The Facebook page has disabled posts to the page, so some of the comments on its posts are from people seeking customer support or otherwise voicing their complaints against the company.
One of the biggest points of contention for many Skrill users seems to be hidden fees. There are a fair few complaints about loading funds into Skrill, only to find out the company takes a cut well above what was stated. I also see complaints about holds and freezes — Skrill, like most processing companies, has a provision that allows it to implement a reserve fund. However, it doesn't seem to be well disclosed unless you read all the terms and conditions (which you should do before signing up with ANY merchant processor) and seems to be inconsistently enforced.
My impression of Skrill is that it's the kind of company that looks hip and sophisticated and easy to use, but once you're in you find out it's mostly a nightmare. I mean, I know there are a fair number of merchants who accept Skrill, presumably with no problems. But I would expect a viable replacement for PayPal to at least match the company on transparency, or pricing, or features, which are the biggest draws. I don't see that.
User Reviews
Negative Reviews & Complaints
Skrill has a B- rating from the BBB, mostly because of the time it takes for Skrill to respond to complaints. It has a relatively small number of complaints — 57 in the last three years, 12 in the last 12 months. That's down from 68 and 22, respectively, the last time I checked in. However, keep in mind that most of Skrill's customer base is outside the U.S.
You'll also find 17 complaints on RipOff Report. Other review sites on the web, especially global ones, have amassed a collection of scathing reviews, too.
There's a trend in complaints about credit card processors. The bulk of them relate to shoddy or inconsistent customer service. Skrill is no exception, but it also has some other, even more worrisome issues. Here's the highlight reel:
Hidden fees: As mentioned above, plenty of people have complained about hidden fees when adding money to Skrill. This is more of a consumer issue, but if it can happen to them, it can happen to merchants. Read your statements and the terms of service!
Difficulty adding accounts: Those who want to link a bank account to their Skrill account seem to encounter trouble doing so, and the process can take an excessive amount of time to resolve.
Painful verification process: Understandably, Skrill needs to verify its customers' and merchants' identities. However, the process for this tends to long and drawn out. Skrill wants a lot of sensitive information, and some of the complaints I've seen suggest that it's not exactly careful about how that information is transmitted, which puts a lot of people on edge. There is also a boatload of complaints about how long the process can take — weeks, sometimes, when it should only take a couple of days.
Spotty customer service: From the reviews of Skrill that I've seen, the customer support is very hit or miss, with a lot more misses. Skrill's email support appears to be very erratic— sometimes taking weeks to reply.
Lack of protections: PayPal is pretty infamous for its buyer protections. It even has seller protection, albeit more limited. However, Skrill's terms of use specify that it is merely an intermediary. Once money has been moved out of Skrill, the company can't do anything about it. This seems to be a sore spot for both merchants and customers, especially when their accounts are compromised.
Funds lost in transit: There are a fair few accounts of money going missing en route from Skrill to a bank account, and Skrill doesn't seem to be particularly helpful in resolving those issues. Missing money is most definitely not a good thing.
Funds Kept After Termination: There's a whole lot wrong with Skrill's verification process and its policies for dealing with terminated users, but I'm inclined to say this one takes the cake: After merchants receive funds for a transaction, Skrill seems to say "sorry, nope," and terminate the account. That's pretty common for any sort of third-party processing service. So is a mandatory hold period from 90 to 180 days. But what Skrill does is charge an "administration fee" and keeps the money in your account. The terms of service say this:
11.6. If you conduct or attempt to conduct any transaction in violation of the prohibitions contained in this section 11 or without the necessary approval under section 11.5, we reserve the right to: reverse the transaction; and/or close or suspend your Skrill Account; and/or report the transaction to the relevant law enforcement agency; and/or claim damages from you; and charge you an administration fee of up to 150 EUR if we apply any of the above.
Most of the complaints I've found deal with amounts less than or just at that threshold, but I've seen a couple complaints about larger amounts being held, too. Frankly, I call this nonsense and borderline predatory. Combined with everything else that I've seen — on the Skrill site, in its term of service, in accounts from other merchants and Skrill's response to them — I can't see why any consumer or merchant would want to risk it if there are any better options out there.
Got an experience with Skrill? We'd love to hear it.
Positive Reviews & Testimonials
You're not going to find many glowing reviews of Skrill. That's a common problem — plenty of people who have bad experiences are happy to comment, but the ones for whom the service is working don't always come forward. However, I am happy to say I've at least found a couple of positive reviews about Skrill mixed in with the bad. Mostly they comment about how easy Skrill is to use, or how convenient it is.
Beyond that, you'll see that Skrill has business relationships with major names such as Skype, BigStock Photo, and GoDaddy, all of which reinforce my belief that Skrill is legitimate — just not the best option.
If you check out the "About Us" page, you'll also see a collection of awards the company has won. Most of the icon images are too small for me to make out. But they are there, and the most recent appear to date to 2015.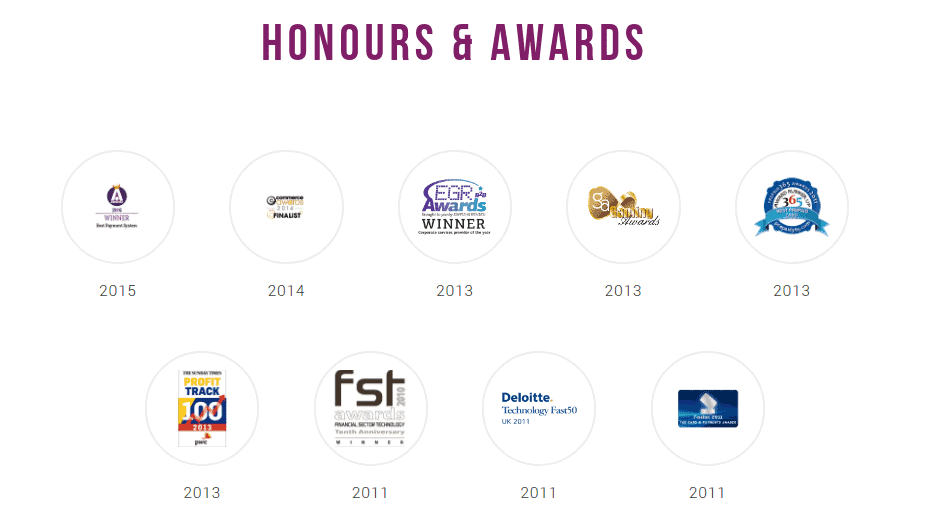 If you've had a positive experience with Skrill's merchant services, be sure to leave us a comment!
Final Verdict
Skrill's services align pretty closely with PayPal's, making it a viable competitor, at least on paper. However, the reality is a lot more complicated.
I don't doubt that Skrill is a legitimate company, despite the trouble merchants have had. All the indications are that it's a pretty popular option in Europe. But its operating model is not one that works well in the U.S., and the company is clearly having trouble adapting to the U.S. market. Even for European businesses, I feel like there's got to be a better, more cost-effective option.
The lack of information about processing rates is frustrating — and stands as a very stark contrast to PayPal, Square, and most other online credit card processors. I feel like the many types of accounts are confusing to both consumers and merchants. And it's incredibly difficult to move money in and out of your account, assuming the payment doesn't get lost in transit.
I said earlier in this review that Skrill doesn't have anything particularly unique, and I stand by this. There's no clear value of using Skrill over any of the dozens of options available for merchants who sell online, including PayPal. The only real reason I see to choose Skrill is if you really, really don't want to work with PayPal (or can't work with PayPal), but you need PayPal-like services. And even then, there's no guarantee that your experience will be any better.
Skrill gets 3 stars from me for all these reasons. Skrill just doesn't quite seem to have a handle on where the market is going for merchants. Its offerings aren't competitive. There's not enough flexibility or freedom to justify it when there are so many other options that can deliver many of the same feature sets (even if you might have to combine a couple).
I sincerely hope that Skrill will find a way to thrive in this fiercely competitive space. But until it manages to catch up to its competitors, I strongly recommend steering clear — especially if you're in the U.S. In the meantime, check out our favorite online credit card processors and our top-rated merchant account providers.
Got an experience with Skrill, and particularly its merchant services? Leave a comment! We love to hear from you, and input from actual customers plays a crucial role in our review process. Please make sure that your comment meets our guidelines so that we can publish it!
Thanks for reading!
---
Our Top Pick To Save On Payment Processing 💰
PaymentCloud


---
PaymentCloud has an excellent track record for service quality, support, and fair pricing. Learn more from PaymentCloud.
Our Top Pick To Save On Payment Processing 💰
PaymentCloud


---
PaymentCloud has an excellent track record for service quality, support, and fair pricing. Learn more from PaymentCloud.
To learn more about how we score our reviews, see our
Credit Card Processor Rating Criteria
.