Expert Analyst & Reviewer

UPDATED
Advertiser Disclosure: Our unbiased reviews and content are supported in part by
affiliate partnerships
, and we adhere to strict
guidelines
to preserve editorial integrity.
SlickPie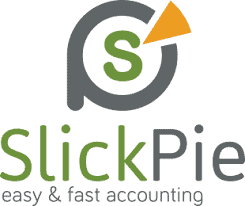 Pros
Unlimited users
Free pricing plan
Supports multiple companies
Well-designed UI
Numerous automations
Cons
Limited invoice customizations
Poor customer support
Limited features
Unsuited for large businesses
Limited integrations
SlickPie Overview
Everybody loves pie. And judging by customer reviews, it seems everyone loves SlickPie as well. With decent features, an easy-to-use interface, unlimited users, support for multiple companies, and a free pricing plan, it's easy to see why.
Founded in 2015, SlickPie was designed to offer an easy, jargon-free accounting solution for small business owners. The software offers double-entry accounting and a decent selection of features, including contact management, expense tracking, accounts payable, automatic data entry, and more.
While SlickPie does some things well, there are definitely still a few improvements that need to be made, including enhanced invoice customizations, more invoice templates, and more integrations. The software also lacks project management and time tracking features, and customer support is almost non-existent. More worrisome is that hardly any changes or improvements have been made since we first reviewed the software in 2017.
For a complete accounting solution, there are more developed and reliable accounting options out there. However, for small business owners who need to manage multiple businesses at an affordable price, SlickPie could still be a decent option. Continue reading to learn more about SlickPie.
SlickPie Pricing
SlickPie offers a free plan and a paid plan. You can test the software's free plan without entering any credit card information. Payments are made monthly, and plans can be canceled at any time.
Previously, SlickPie's free plan had a limited number of automatic receipt data entries and invoices. Now, both features are unlimited on the free plan, which is a huge upgrade. In contrast, the paid plan's price went up by $30 since our initial review (granted, the price is still very competitive if you need to manage multiple companies).
The Starter plan costs $0/month and includes the following features:
Automatic receipt data entry
Invoicing
Estimates
Contact management
Expense tracking
Accounts payable
Live bank feeds
Items list
Multi-currency support
Manage up to 10 companies
Email support
Unlimited users
The Pro plan is priced at $39.95/month and includes all of the features in the Starter plan, plus:
Manage up to 50 companies
Phone support
Cloud-Based Or Locally-Installed
SlickPie is cloud-based, so no downloads or installation is required.
Hardware & Software Requirements
As cloud-based software, SlickPie is compatible with nearly any device so long as you have an internet connection. If you are planning on using SlickPie's MagicBot for automatic receipt data entry, you will need DropBox. There are no mobile apps at this time.
Specific Size Of Business
SlickPie is geared toward small business owners in need of an affordable solution for managing multiple businesses. The software is ideal for businesses that need basic accounting and invoicing but don't need extras, such as time tracking, project management, or payroll. SlickPie is not optimal for users seeking cash-basis accounting, larger businesses, or businesses in need of advanced accounting features and integration options.
SlickPie offers unlimited users and two basic user roles: Standard, which gives read-only access, and Advisor, which gives full access to the software. You can also manage multiple companies with your SlickPie account. The Starter plan supports up to 10 companies, and the Pro plan supports up to 50 companies.
SlickPie is available globally and is currently used by businesses in over 100 different countries.
Accounting Method
SlickPie uses accrual accounting.
Ease Of Use
SlickPie is beautifully designed and well-organized, making the software easy to learn and navigate. If you ever get stuck, there's a nice help center with how-to articles and a guide for getting started.
SlickPie Features
SlickPie offers a decent selection of accounting features. You can read a synopsis of the most notable features below. To see SlickPie's offerings for yourself, sign up for a free account and check out the preset demo company.
Dashboard: The Dashboard is appealing and gives a convenient overview of the most important financial details about your company. The information is organized into charts labeled Financial Overview, Sales Report, Contact Overview, and Profit and Loss. There is also a graph charting your bank account's activity. On the top-right-hand side of the screen, you'll also find a help button, notification center, a quick create button, and settings.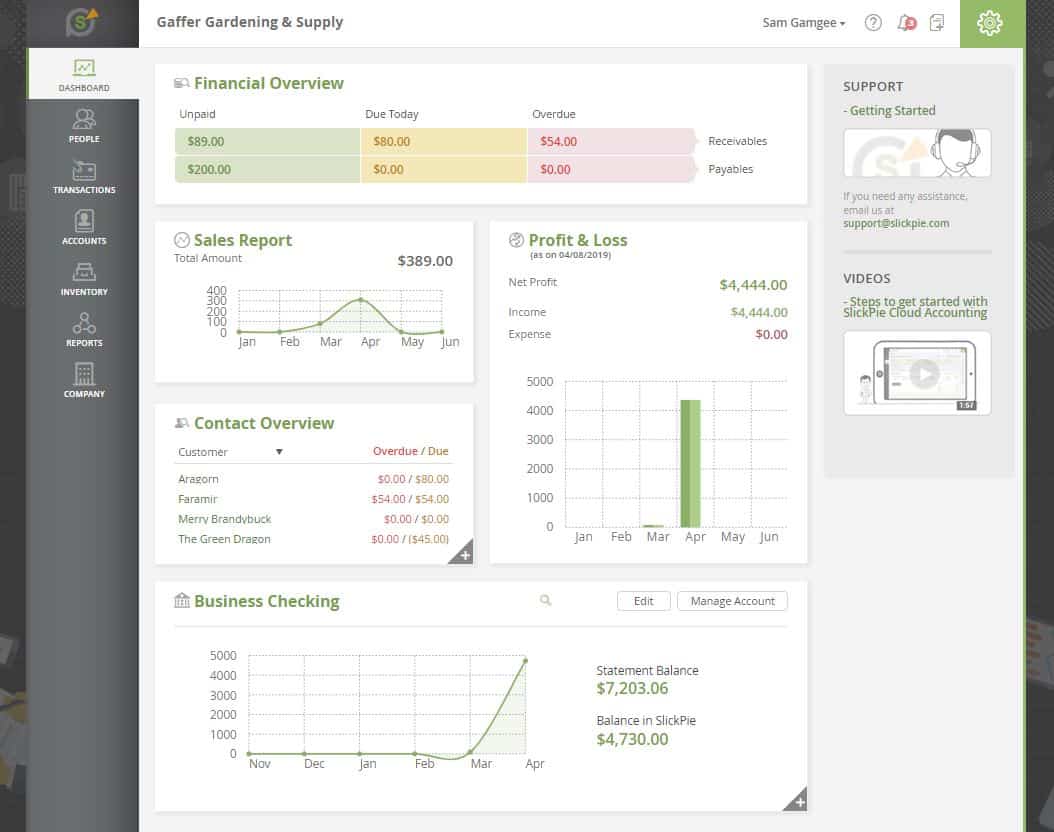 Invoicing: SlickPie has three basic invoicing templates with minimal customizations. You can add a logo and customize the logo size, font, and font size, and that's it. SlickPie gets a few things right by offering recurring invoices and invoice reminders. Currently, invoice reminders cannot be customized from the three default reminders. SlickPie said this would soon be updated to allow editing, but we still see no improvements here. You also cannot add sales tax rates to invoices; instead, you have to add them to each customer. You can add attachments to invoices and enable online payments. One nice touch is that you can add your company's social media handles to your invoices.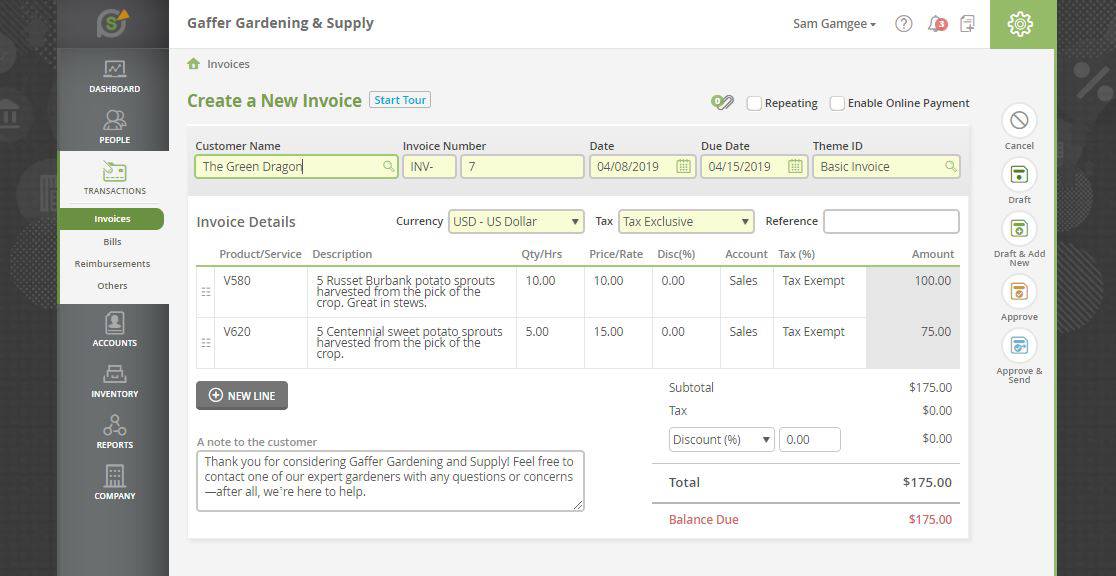 Estimates: You can send estimates for both products and services. Estimates can easily be converted into invoices.
Client Portal: SlickPie offers a basic client portal where customers can accept, reject, and comment on estimates and pay invoices directly online.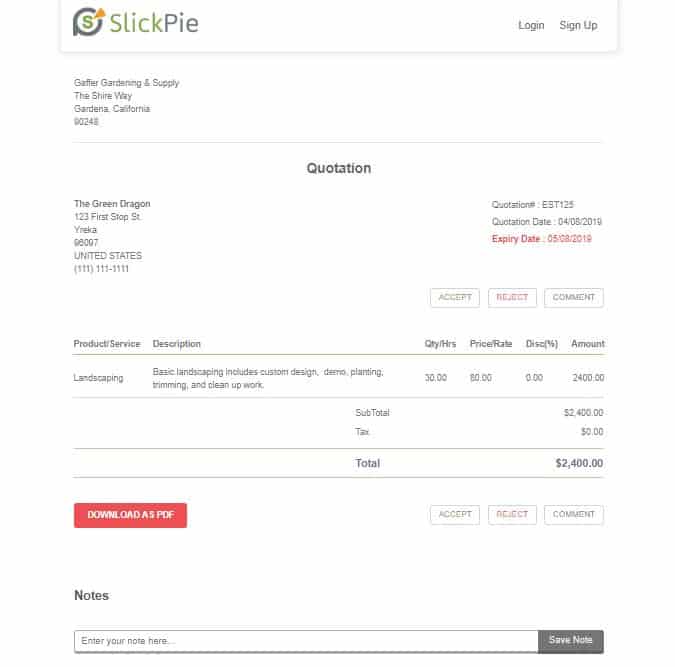 Contact Management: You can manually enter contacts or import them via .csv. You can record basic contact information as well as multiple social media handles and tax preferences. You can also easily view a customer's history in SlickPie. You can manage vendors and employees as well.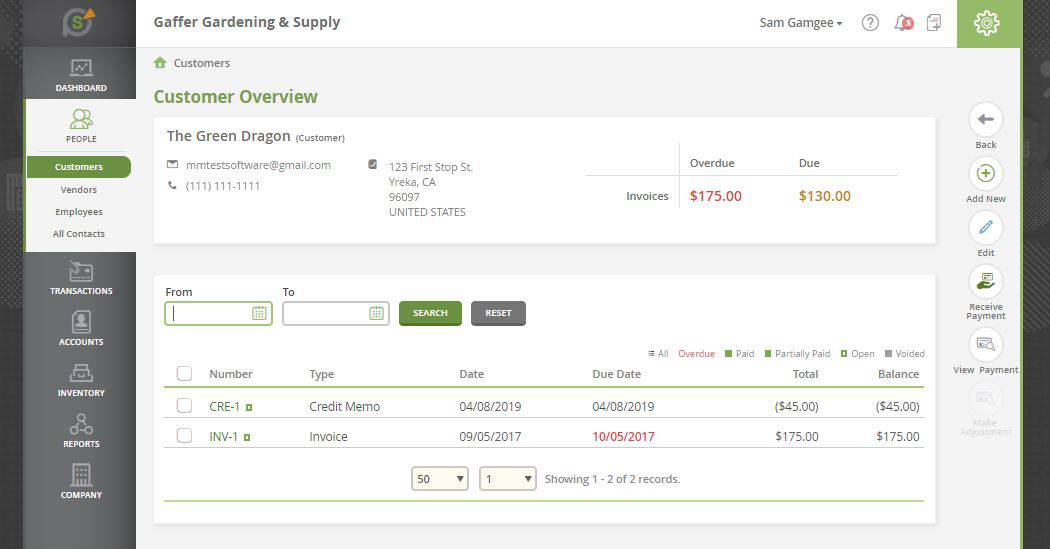 Expense Tracking: You can track expenses by connecting SlickPie to your bank and credit card accounts. You can also import your bank statement or enter expenses using the MagicBot. You can easily categorize expenses and even add reimbursable expenses. Note: Like almost all software using live bank feeds, SlickPie partners with Yodlee, which may violate some banks' Terms and Conditions. Consult with your bank to see whether live bank feeds are the right choice for you.
Bank Reconciliation: SlickPie offers bank reconciliation and has built-in automation to help recognize and match transactions.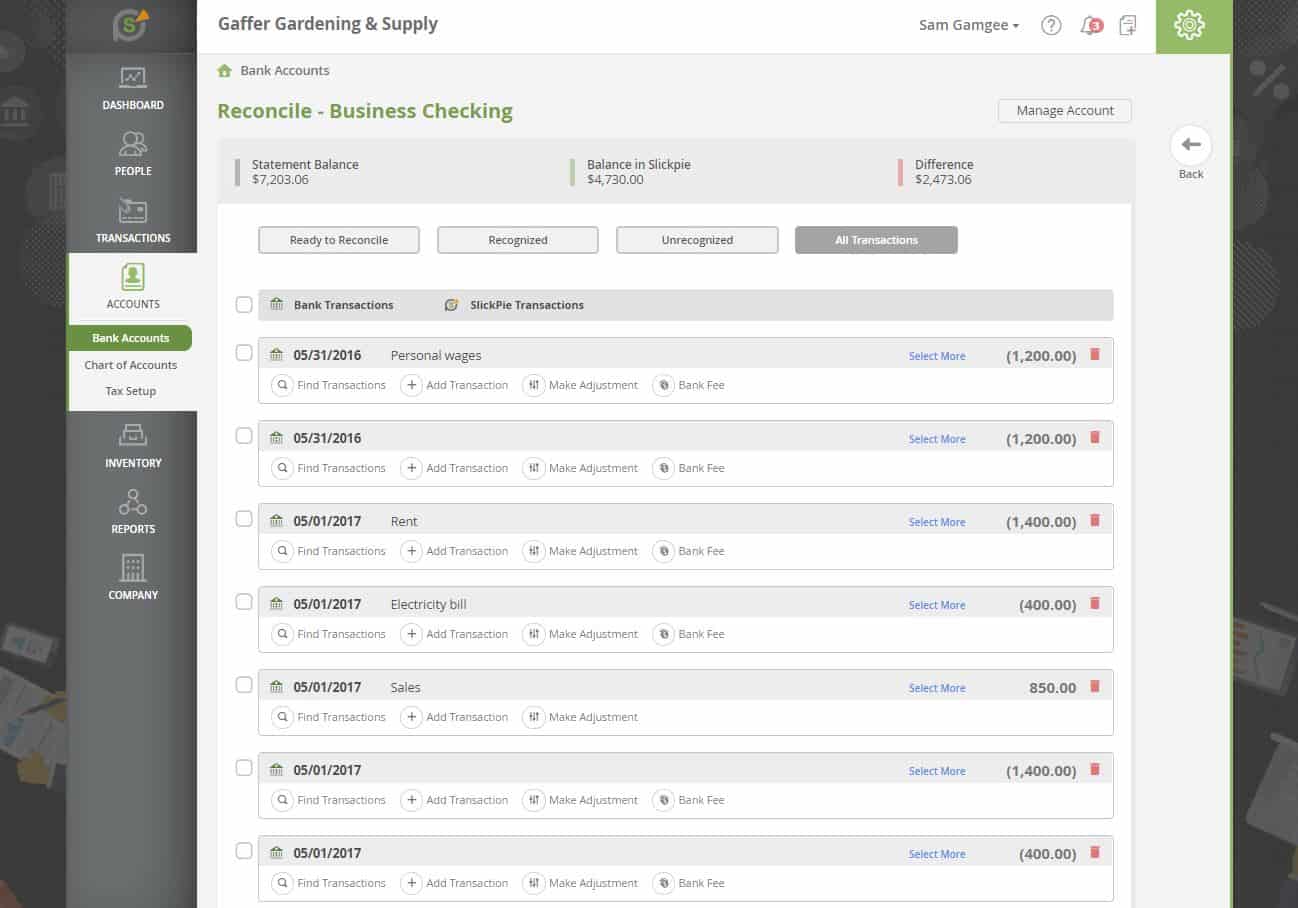 Chart Of Accounts: SlickPie provides a default chart of accounts that you can edit and customize to fit your needs, or you can import your existing chart of accounts into the software.
Accounts Payable: You can easily enter bills and record payments in SlickPie.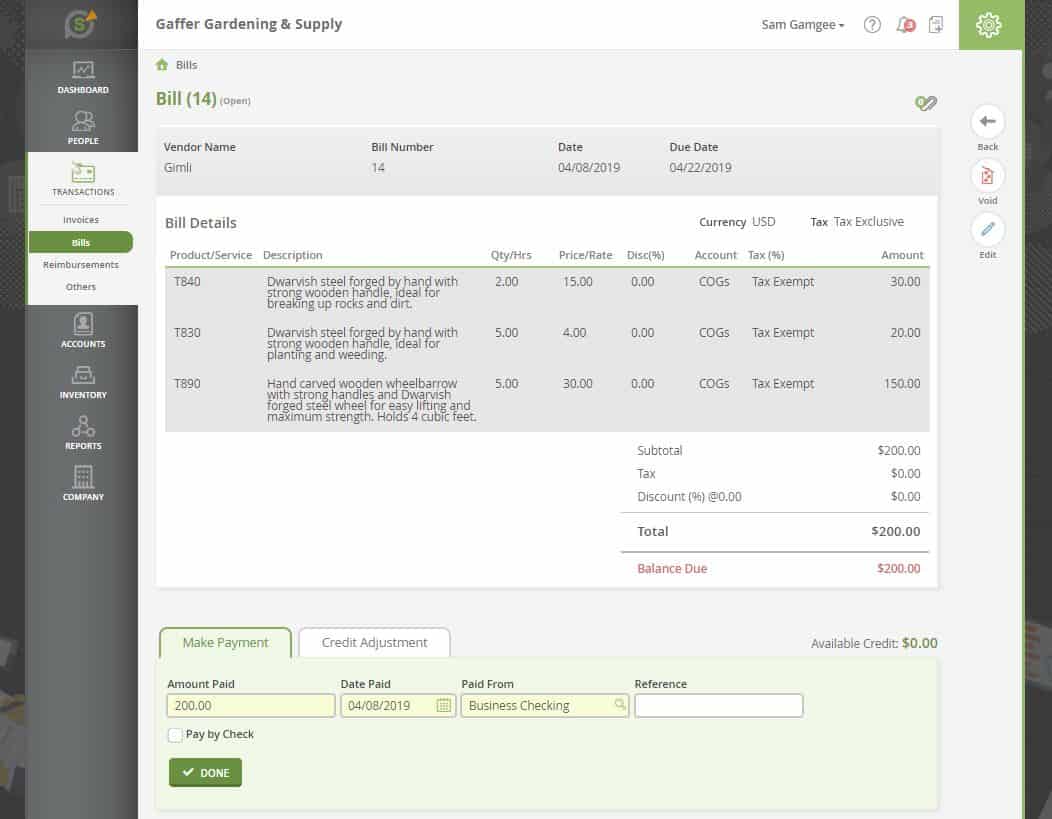 Item List: SlickPie has a simple items list where you can record products and services. You can add a product/service code, item description, sales price, purchase price, default sales/purchase accounts, and default tax preferences. The software does not track inventory counts.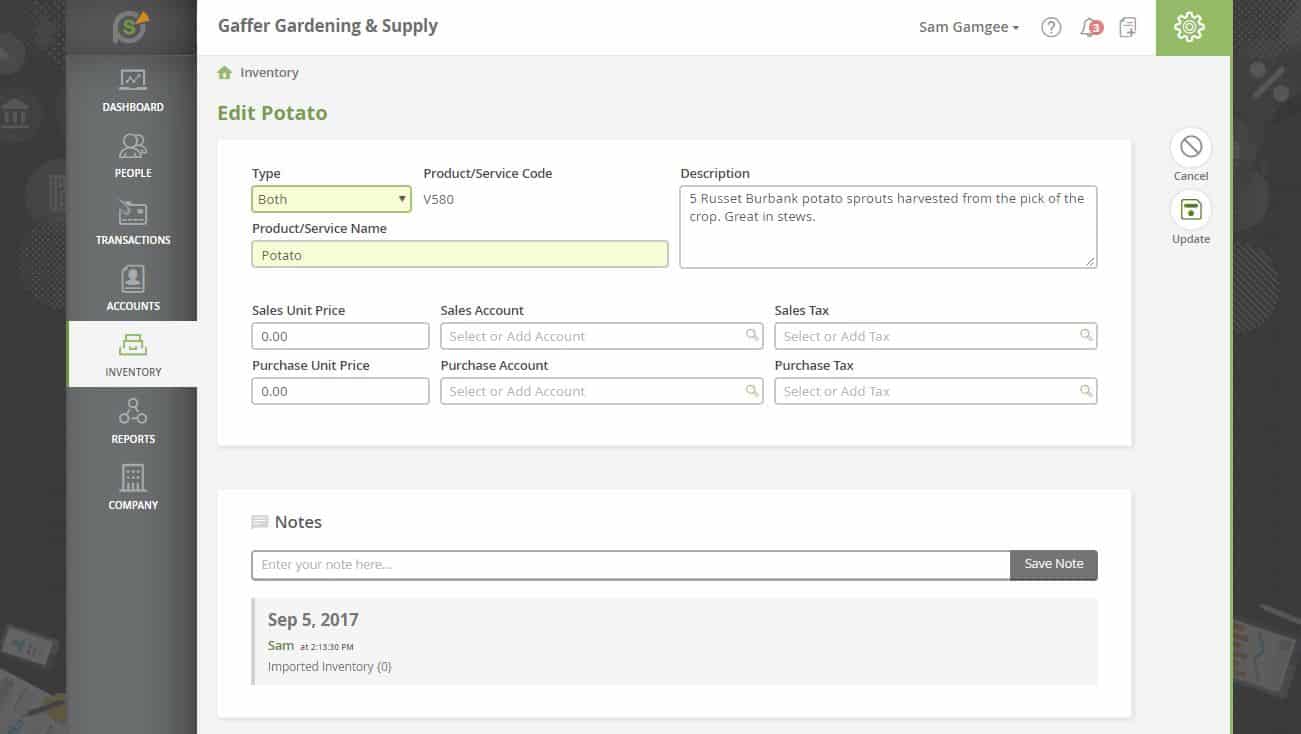 Reports: SlickPie offers 12 reports. These reports cover the basic accounting reports, but there are limited sales reports.
Credit Memo: You can create credit memos in SlickPie.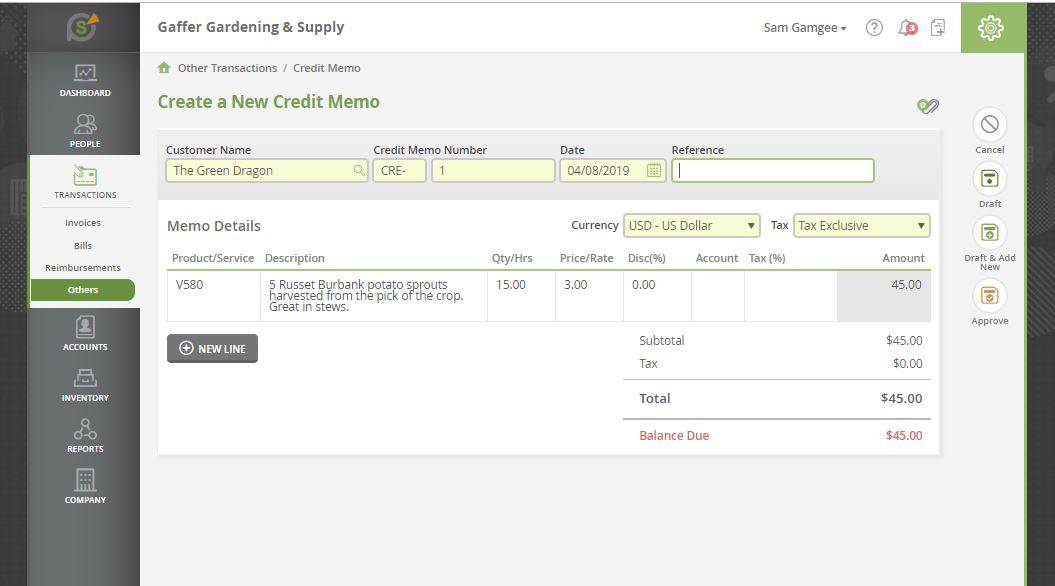 MagicBot (In Beta): MagicBot is SlickPie's automatic receipt data entry solution. Take a photo of your receipt, upload that photo to DropBox, connect DropBox to SlickPie, and the software will automatically gather transaction information from the picture. All you have to do is approve the transaction, saving time on your expense data entry process.
Sales Tax: You can set unlimited sales tax rates in SlickPie as well as compound sales tax rates. SlickPie automatically creates some tax rates based on your company's location, which is a nice touch. You can add default sales tax rates as well.
Multiple Currencies: SlickPie supports over 150 currencies. Simply select which currencies you want to enable, and SlickPie will take care of the rest.
Importing & Exporting: You can import contacts and inventory via .csv and bank statements via .csv or .ofx. SlickPie offers one of the easiest importing experiences out there. The exporting options are a bit more limited as you can only export reports to .xls and download invoices as .pdfs one by one.
SlickPie Customer Service & Support
SlickPie used to have great customer support with quick email response times. Previously, the longest I had to wait for a response was 30 minutes. Now, try three days to hear back from a representative. Additionally, phone support is now limited to the paid plan.
SlickPie has poor customer support, and response times are slow. SlickPie Pro users may have a different experience since they have access to phone support, but free users in need of email support are out of luck — almost. Luckily, SlickPie does offer a nice, comprehensive help center as well as a few other support options.
Here are all of the support options available to SlickPie users:
Phone: If you are a SlickPie Pro user, you can call SlickPie support directly.
Email: You can email SlickPie with questions or issues.
Submit A Request: You can submit a request to the SlickPie team by filling out a request form.
In-Software Support: You can access the help center from directly within SlickPie.
Help Center: SlickPie offers a comprehensive help center that is organized nicely into categories, such as Getting Started, Tax Setup, and more. The articles themselves are generally thorough and informative. There is an FAQ section at the bottom of the help center as well. There's also a help icon where you connect with support via a support form.
YouTube: SlickPie has a very small collection of YouTube videos available. There are only seven videos total, and no new videos have been added for over two years, so another support option is probably a better bet.
Feedback: You can also leave the company feedback and requests directly from the software as well.
Blog: SlickPie has a company blog featuring small business advice and SlickPie news.
Social Media: SlickPie maintains active Twitter, Facebook, and LinkedIn accounts.
SlickPie Reviews
Negative Reviews & Complaints
Because SlickPie is such a young company, I anticipated having a hard time finding reviews. But the company actually has a decent sampling of customer reviews, most of which are generally positive.
Here are the few complaints users have about the software:
Limited Reporting: Users ask for more reporting and graphs.
More Invoice Templates: Several users wish SlickPie had more invoice templates to choose from.
More Integrations: Most users just want the software to grow with more invoicing, more reporting, and more integrations. With only three integrations to choose from, SlickPie users are left wanting.
Not Always Intuitive: A couple of users found that SlickPie is not always intuitive and that the navigation and setup process could be improved.
Positive Reviews & Testimonials
Customer reviews indicate that most users are happy with SlickPie and have positive things to say about the software. SlickPie receives 4.6/5 stars on GetApp (based on 54 reviews) and 4.9/5 stars on G2Crowd (based on 14 reviews). While users praise the software for numerous reasons, here are the most common positive remarks:
Easy To Use: Users appreciate how simple SlickPie is to use and that you don't have to be an accountant to utilize the software. Anyone can learn to balance the books with SlickPie.
Affordable Pricing: It's no surprise that users like the free pricing plan and the affordability of SlickPie's paid plan. Users especially love the unlimited users component.
Nice Feature Set: Users like many of the features offered, including reports, recurring invoices, automatic data entry, and the ability to accept payments online.
Good For Freelancers: With the free plan, invoicing features, and ease of use, one user found SlickPie perfect for freelancing.
Here's what people are saying about SlickPie:
I like to use SlickPie because I can access my company finances from anywhere, get notifications every time I get paid, and I can immediately check my cash flow. I also like the modern design of SlickPie and the automated reminders.

SlickPie is by far the easiest accounting software I've used for my business. It took just a few minutes to start using it after I signed up, and it has been easier and easier ever since.

SlickPie is a friendly user accounting system, the tutorial video is helpful with easy-to-understand steps. I can set my customer account instantly and do all my transactions within a few minutes. I have been using this app for 3 months and it never crashes. I highly recommend it to small business owners.
SlickPie Integrations & Add-Ons
One of the few drawbacks of the software is that there are only three integrations available: PayPal, Stripe, and DropBox. API is available for developers.
Security
SlickPie offers 256-bit SSL encryption as well as physical security measures, such as 24/7 onsite security, video surveillance, and biometric security. The company performs regular security audits and has multiple firewalls and intrusion protection as well. Read more about SlickPie's security or contact support for specific inquiries.
Final Verdict
SlickPie has a lot going for it, and using the software is as easy as pie. The software has improved its pricing plans by offering unlimited invoices on both the free and paid plan now. A free pricing plan, unlimited users, support for multiple companies, and a MagicBot are all the icing on top.
However, this is one recipe that SlickPie hasn't quite yet perfected.
There are still several areas the software could improve. There's no project management, time tracking, or inventory capabilities — and the features it does have are missing the sophistication and level of depth of its competitors. Invoice customizations are incredibly basic, and user permissions are limited. SlickPie also has poor customer service and minimal integration options.
Considering these drawbacks, there are much more developed accounting options out there to help your small business — and you don't have to sacrifice the sweet pricing of SlickPie. Wave, another free software, offers more features for the same great price of $0/month. Read our other top choices for the Best Small Business Accounting Software to find the perfect software.
However, there's one instance where SlickPie may still be a good choice. If you need an affordable solution for managing multiple small businesses, SlickPie is a great choice. Other programs, such as QuickBooks Online and Xero, would require you to purchase a separate subscription for each business, but with SlickPie, you can manage up to 50 companies for just under $40/month and up to 10 companies for free. If you're interested in SlickPie, create a free account and take the software for a run, or use SlickPie's free demo company to see if the software is a good fit for you.
---
Try A Top Pick For Payroll
ADP Payroll


---
We like ADP Payroll for its advanced employee management, strong payroll features, and great customer support. Get three months free when you sign up through our links! Get Started.
Try A Top Pick For Payroll
ADP Payroll


---
We like ADP Payroll for its advanced employee management, strong payroll features, and great customer support. Get three months free when you sign up through our links! Get Started.
To learn more about how we score our reviews, see our
Accounting Software Rating Criteria
.