Expert Analyst & Reviewer

UPDATED
Advertiser Disclosure: Our unbiased reviews and content are supported in part by
affiliate partnerships
, and we adhere to strict
guidelines
to preserve editorial integrity.
Smartsheet

Pros
Numerous features
Scalable
Highly customizable
Cons
Expensive monthly cost
Moderate learning curve
Smartsheet Overview
Smartsheet is a cloud-based work management program that serves many purposes. As project management software goes, Smartsheet is fairly unusual, mainly because it was designed for so much more than project management. Smartsheet can be used like any other spreadsheet application, but it offers a lot of other interesting features that set it apart from the likes of Excel. The package combines interactive spreadsheets with basic Smartsheet project management functions, web forms and templates, and automation capabilities.
According to the company, three million users in 190 different countries employ Smartsheet in some capacity. These users include both small businesses/startups and over 75% of Fortune 500 companies, thus illustrating the software's inherent versatility. Smartsheet is currently available in eight languages, and with its acquisition of Converse.AI, Smartsheet is moving farther into the automation field as well, taking the busy work out of your day with automation.
If you're looking for a fancied-up spreadsheet application to solve your project management needs, Smartsheet may be for you. Read the rest of our Smartsheet review for the full scoop!
Smartsheet Pricing
Smartsheet offers four different pricing plans. Each step up in pricing gives users access to more advanced features. All pricing plans come with the same basic features, including multiple work views, collaboration features, and mobile apps.
Smartsheet costs are pretty reasonable given how much the total package has to offer, and you can change your plan, add new users, or cancel your plan at any time, even if you're on an annual subscription. Smartsheet also offers discounts for eligible nonprofits and a 30-day trial (no credit card required) that you can use to test out the software, after which you are directed to choose one of four different subscription options:
Individual Plan
Smartsheet's Individual Plan costs $14/user per month (when paid annually) and includes:
Free users
Integrations
Free templates
Forms
Automate workflows
Business Plan
Smartsheet's Business Plan costs $25/user per month (when paid annually) and includes everything in the Individual Plan, plus:
$25 per user per month (when paid annually)
Dashboards and charts
Activity log
Data analytics provided by Connectors
Manage groups and users
Reports
Custom branding
Minimum of 3 licenses
Enterprise Plan
Smartsheet's Enterprise Plan is available for a custom price (contact Smartsheet for a quote) and includes everything in the Business Plan, plus:
Unlimited sheets
WorkApps
Single sign-on with Directory Integration
Automates adding users
Approved domain sharing
Configurable file storage options
Customizable user experience
Access to Premium add-ons
System and group admin features
Premium Plan
Smartsheet's Premium Plan is available for a custom price and includes everything in the Enterprise Plan, plus:
Premium support
Data Uploader
Premium apps (Calendar, DataMesh, Pivot, Dynamic View)
Premium application connectors (Jira, Salesforce, Microsoft Dynamics 365)
Cloud-Based Or Locally-Installed
Smartsheet is entirely cloud-based.
Hardware & Software Requirements
Since Smartsheet is cloud-based, you only need a strong internet connection and an up-to-date web browser to use the software. Smartsheet also recommends that you keep Javascript enabled and warns that some features (namely, the Smartsheet Premium apps) are not supported on Internet Explorer.
Smartsheet also offers mobile apps for Android (7.0+) and iOS (12.0+). With these highly-rated mobile apps, you can access sheets quickly, send updates, add notes, edit sheets, and upload pictures from a mobile device's camera or photo library.
Specific Size Of Business
Smartsheet serves small businesses to enterprises in a variety of industries. Current Smartsheet clients include such names as Whirlpool, Sodexo, Cisco, and Providence Medical Group. Businesses in the following industries have used Smartsheet:
Construction/engineering
Education
Energy/utilities
Entertainment
Financial services
Government
Healthcare
Nonprofit
Professional services
Retail
Technology
In my opinion, Smartsheet is best for mid-size to large businesses. The software is fairly complex, and this level of complexity may be more of a hindrance than a help for some small businesses.
Ease Of Use
Smartsheet is a highly functional software. At first glance, it's just a new way to create Excel-like spreadsheets, but when you dive a bit deeper, you realize the many possible uses for the program.
Because Smartsheet is so versatile and feature-rich, it's not the easiest software to learn to use. From what I've seen and from what other users have reported, new users face a steep learning curve. It'll take some time to learn how to use all of the different features and to get templates established for your business's specific needs. However, after this initial learning curve, it seems that the software is fairly intuitive. In particular, it seems that Smartsheet is very usable for anyone already familiar with Excel spreadsheets. If you're looking for a complex project management solution, this is the software for you.
Smartsheet Project Management Features
Smartsheet provides its users with the features they need to plan projects, track job candidates, keep financial records, store employee contact information, and so much more. Smartsheet is a versatile platform with many features and potential uses. Here are a few of the features that we think work best for project management:
Dashboard: Smartsheet allows users to customize their dashboards. You can use widgets to add reports, text, images, metrics, and more for an at-a-glance view of everything you're working on. See the screenshot below to view a few ways you can customize your dashboard.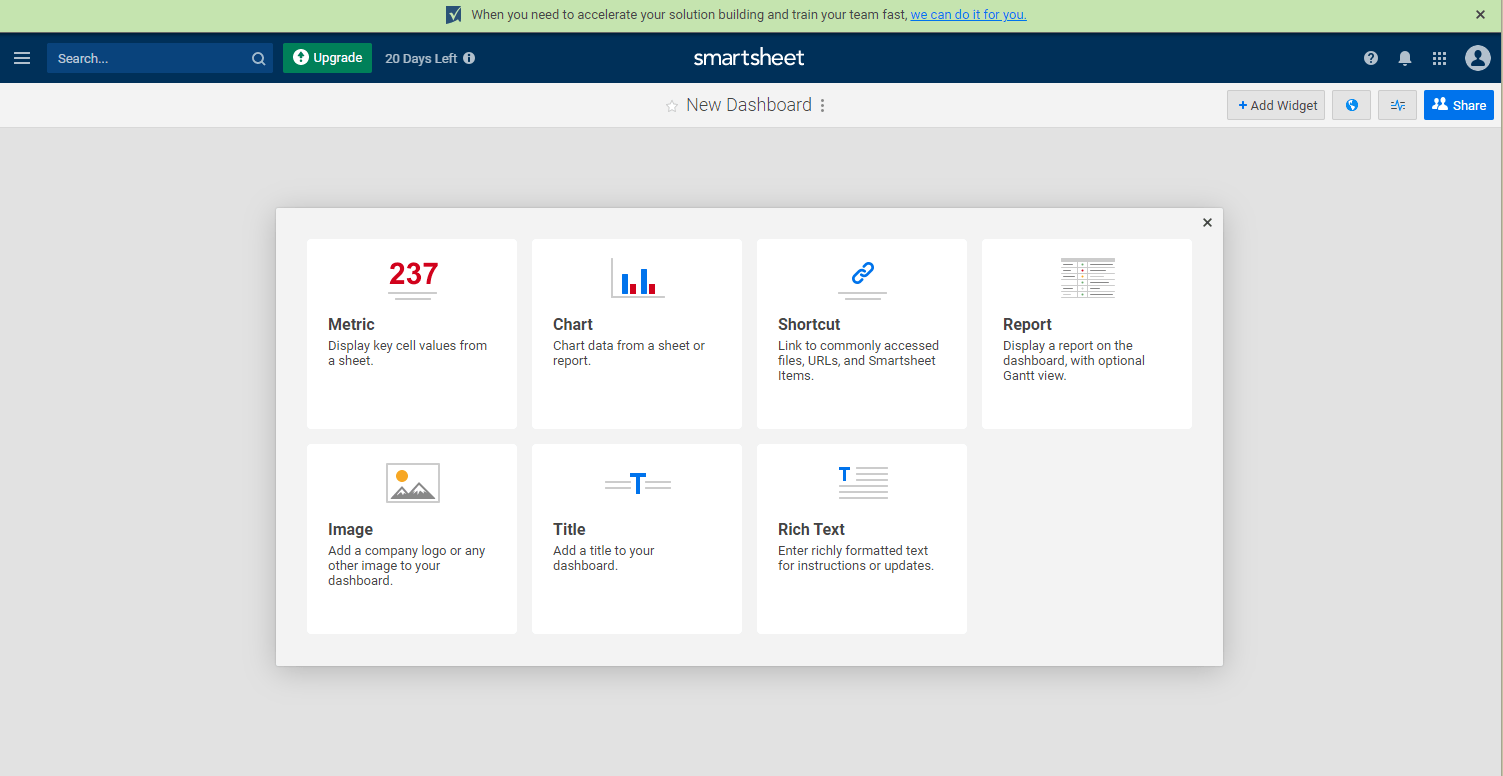 Project Management: Smartsheet allows you to plan projects and tasks in a spreadsheet-style. You can also choose from one of Smartsheet's multiple viewing options: card view, Gantt chart, sheet view, and calendar view. With Smartsheet's project planning templates, you can easily assign tasks and subtasks, set due dates and date ranges, and configure task dependencies. Use the Gantt chart to make drag-and-drop adjustments easily.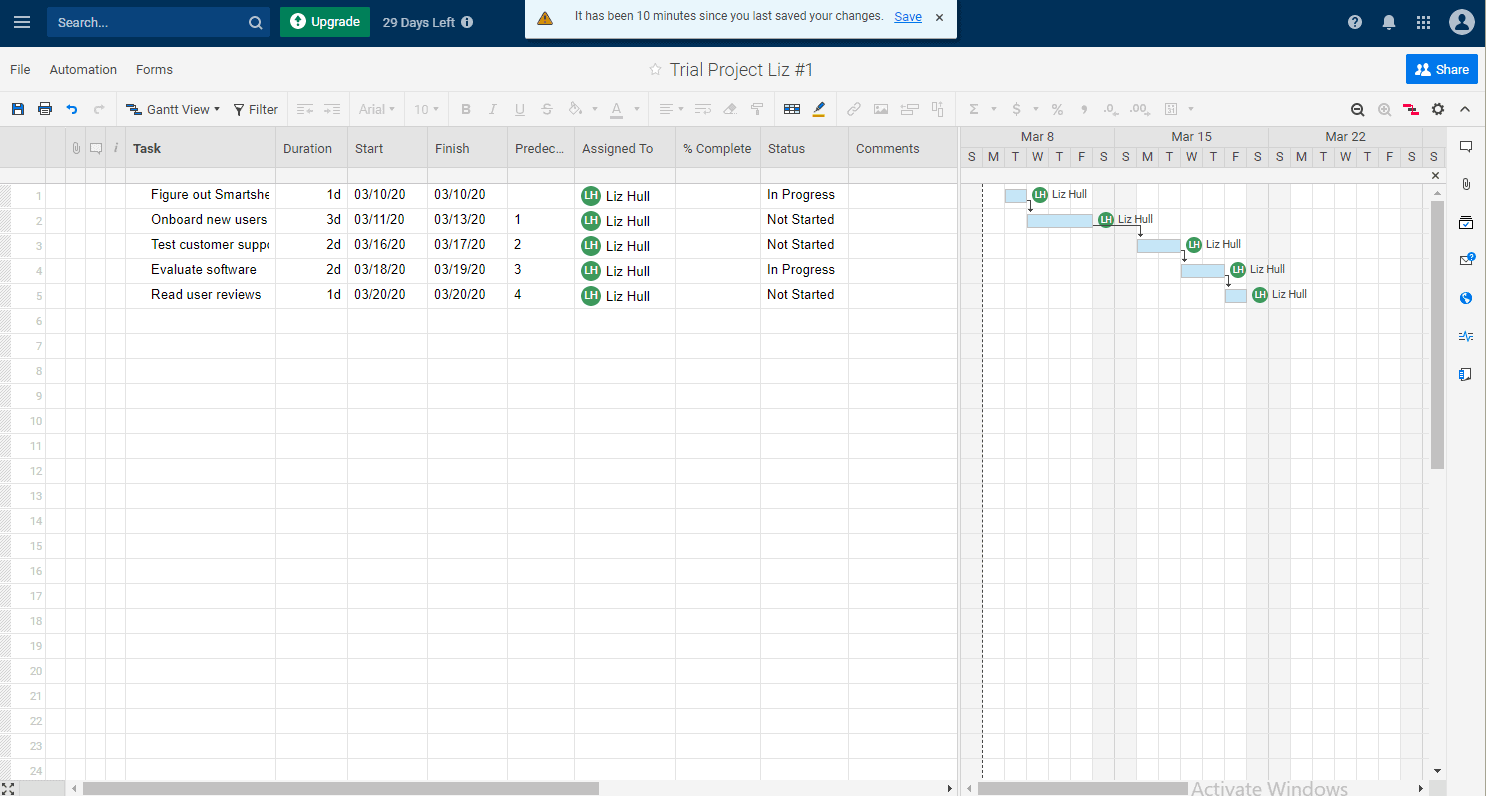 Tasks: Create tasks and subtasks, set duration and due dates, and assign them to employees. I like that you can choose to do all of this within the spreadsheet view or the card view if you prefer a Kanban-style approach.
Resource Management: Smartsheet offers an additional product called 10,000ft (which you can purchase separately). This product adds on resource management features, such as the ability to schedule projects and tasks based on capacity. You can also use this tool for project budgeting and tracking planned hours vs. actual hours spent.
Gantt Charts: These extremely visual charts help show who is working on what portion of your project and at what time. All you need to see them is to start entering dates to your sheet, then select the "Gantt chart" option for one of your columns. This is probably my favorite feature on Smartsheet. It very helpfully illustrates task flows and event sequences, and it's easy to make adjustments to due dates and dependencies.
Time Tracking: This is another feature of Smartsheet's 10,000ft add-on product. Use this product to track time with prefilled timesheets.
Calendar: If the Gantt charts aren't for you, or if you need a more birds-eye view of your project timelines, Smartsheet has a capable calendar mode. You can adjust the view to months or weeks.
Messaging: Collaboration is Smartsheet's biggest strength. Not only are you able to share sheets with coworkers but also with anyone else using Smartsheet's free user accounts. You can share entire sheets or specific rows, which gives you plenty of flexibility. Whether you are communicating with employees, managers, clients, or stakeholders, this kind of transparency keeps everyone honest. Comment within the rows to talk about projects within the context of the plan.
Reports & Analytics: Create custom reports and view them on your dashboard.
Proofing: Proofing features allow you to review documents, suggest changes, upload new versions, and approve or deny changes.
Attach Files: It is easy to attach documents to any row of your sheet using the dedicated attachment column. Smartsheet supports a variety of file types and is compatible with a wide array of third-party apps.
Templates: Use these to help preselect a sheet for your own use. Are you hiring a new employee? There is a template for that. Planning a company event? There is a "smartsheet" for that. Moving office locations? Yep, there is a template for that too. If you are more of a DIY person, you can always start with a blank sheet and customize it for yourself. Or pull a classic "bit of both" maneuver and use the templates if you feel like it.
Web Form: This tool allows you to create simple surveys and send them out to customers or employees. Use it for employee evaluations, product reviews, etc., and all the results will automatically populate your sheet. Use the data however you like, whether it is for refining your product quality or improving customer service.
Autofill: Smartsheet has a clever autofill feature that searches for patterns within sheets. When a user inserts a new row and adds data, Smartsheet looks at the formulas in surrounding rows and automatically fills in further information, even applying special formatting if necessary. This feature works best with templates that contain a series of predictable formulas and is useful for sales pipelines, project plans, budget calculations, etc.
Importing: Import sheets from another spreadsheet program (such as Excel) with only a few clicks. Keep in mind, however, that these imports are not always perfect, and formulas are not preserved from one version to the other.
Notifications: Smartsheet allows you to set automatic alerts about any upcoming tasks or deadlines. Notifications are completely customizable. You determine the type of notifications that will be sent out and how often they will be sent.
Smartsheet Customer Service & Support
Like most modern project management software companies, Smartsheet understands the vital importance of maintaining good customer relationships. It offers a large variety of quality support services, including:
Phone: If you have general sales questions, you can easily reach Smartsheet by phone. When it comes to customer support, however, phone support is only available to users on the Business level or above, and it comes with an additional cost.
Email: For questions that cannot be answered by merely consulting the help center, Smartsheet provides an email support form. Users must give their names and email addresses and then they can pose questions to the support team and attach relevant files, if necessary.
In-Software Help: As soon as you create an account with Smartsheet, you are given free rein of all of the many features and uses. Every time you try something new (open a different part of the software, look at new templates, create a discussion thread, etc.), a window will appear, offering tips and links to tutorials and written instructions. These helpful hints can be easily turned on or off from the help menu, so once you feel like you know the ropes, it is easy enough to make them go away. You can also access links to the help center and Smartsheet's contact page from within the software.
Help Center: Smartsheet's help center features support articles filled with screenshots and step-by-step instructions. All of this information is easy to find within the database with the help of a search bar and filtered search.
Community Forum: You can also search for answers to your questions within Smartsheet's active community forum.
Videos: Smartsheet provides users with ready-to-view training videos in its Learning Center. I found the videos I watched to be helpful, thorough, and generally useful for understanding Smartsheet's various capabilities. These videos are organized into different playlists, which are easy to navigate. There are also regular webinars offered live by Smartsheet each week. Webinar options vary in topic from week to week and often focus on a specific feature of the software. Webinars are free for Smartsheet users. You can also view a handful of prerecorded webinars if you'd prefer not to wait for the next live event.
Solution Services: If you choose, you can hire Smartsheet to help you implement the software in your business. The company can help with onboarding your users, configuring integrations and apps, and building custom reports, sheets, and dashboards. According to the support representative I spoke with, many businesses choose to use this service.
Training: Search Smartsheet's learning center for helpful videos and guides. Smartsheet also provides in-depth training and certification at an additional cost.
Find An Adviser: Smartsheet's consulting services help new users strategize how they'll use the program, and they teach effective use and best practices.
Blog: Smartsheet's blog, called TheHotSheet, is a good source for product news as well as best practices.
Social Media: Smartsheet has active accounts on Facebook, Twitter, LinkedIn, YouTube, and Instagram.
Smartsheet Reviews
Smartsheet Negative Reviews & Complaints
While Smartsheet certainly has a lot of elements in its favor, it has its downsides as well. We've taken to review sites and comment boards across the internet to see what current users have to say about the software. Although comments are generally positive, there were some negatives opinions that users shared as well. Here are a few of the trends that we noticed among user complaints:
Learning Curve: Because Smartsheet is so versatile and feature-rich, it is also a bit difficult to learn. New users will have to dedicate some time to watching training videos, testing out features, and designing custom spreadsheets for their businesses. I am confident, however, that this early time investment will eventually pay off.
Expensive: At $25/user/month for the Business Plan, Smartsheet is not the cheapest project management tool on the market. Users have voiced a desire for the software to be made more affordable.
Boring Design: While Smartsheet's design is certainly efficient, it's far from exciting. Many users have complained that it's difficult to get their employees to use the software because it simply looks boring!
Smartsheet Positive Reviews & Testimonials
Most Smartsheet reviews are generally positive. Smartsheet scores a respectable 8.6/10 on TrustRadius and a 4.3/5 on G2 Crowd. Comments on these platforms (and others) agreed on a few positive aspects of the software. Here's what we've seen mentioned most frequently:
Ease Of Use: I was surprised to find that while some users find the software to be difficult to learn, others say it's easy to use! It appears that after the initial learning curve, Smartsheet is fairly intuitive. I've also seen comments that suggest the software is easy to learn for people already experienced with Excel spreadsheets.
Track & Share Progress: Users love how easy it is to share information within a company and with clients outside of the company. You have the ability to give viewing access to people who are not a part of your company through free user accounts. This keeps everyone up to date on the progress of a project, and it doesn't cost you any extra.
Increased Efficiency: Users are quick to report on how Smartsheet has made their business more efficient. Because the spreadsheets are completely customizable, you can design templates that fit your specific business. Then, you can automate common processes to make things even more seamless.
Smartsheet Integrations & Add-Ons
Smartsheet is equipped with 68 prebuilt integrations & connectors to several leading third-party apps, including G Suite, Slack, Outlook, Microsoft teams, Zapier, and more.
Smartsheet also offers an open API so that users can design their own integrations.
Security
Smartsheet follows multiple security protocols to ensure its users' data is secure. Smartsheet hosts its data at Equinix and AWS facilities, and it ensures data redundancy by storing data at multiple locations. Facilities are ICPA SOC 1 examined and tested and ISO 27001 certified, and they are continually monitored with biometric scanning protocols, continuous surveillance, and 24/7 production environment management.
Smartsheet uses TLS technology and AES 256 at-rest encryption. The company also uses Amazon's S3 service to store and serve uploaded files. Additionally, Smartsheet contracts third-party security professionals to conduct annual security assessments of its system.
Users on Smartsheet are also able to monitor their own security. Smartsheet provides options for user authentication, and users can configure their user permissions.
All in all, Smartsheet provides users with an excellent level of security. For more specific information, take a look at Smartsheet's dedicated webpage.
Smartsheet FAQs
Final Verdict On Smartsheet Project Management Software
Smartsheet is an excellent solution for a wide range of businesses, although the software is not for everyone. There are slicker interfaces out there, and software that offers more for project management. That said, Smartsheet is a versatile platform that can be used across a vast spectrum of applications. Additionally, there are plenty of resources on the company's website to help you learn how to use it effectively.
Smartsheet is great for budgeting, creating forms, and any other needs that can be filled by a spreadsheet. I would venture to say that no one does spreadsheets better than Smartsheet. This software was made for structured, left-brained, analytical types. It's not the best choice if you just want a straightforward and simple approach to keeping track of employees and managing time.
Don't let that stop you from trying it out, though. Smartsheet is incredibly versatile and has many uses outside of basic project management. I think it's worth trying for its template and web form features alone. Its unique approach to work visualization has many practical applications.
If you'd still like to explore your other project management software options, go through our project management software reviews and check out some of our top-rated options. You might also want to read our article detailing our favorite time-tracking software packages.
---
Featured Free Corporate Card
Ramp


---
Ramp offers a free corporate card for virtually any business. Start earning rewards with your corporate spending today. Get your free card.
Featured Free Corporate Card
Ramp


---
Ramp offers a free corporate card for virtually any business. Start earning rewards with your corporate spending today. Get your free card.
To learn more about how we score our reviews, see our
Project Management Software Rating Criteria
.