Updated on:
Review by: Wesley Kriz
Advertiser Disclosure: Our unbiased reviews and content are supported in part by
affiliate partnerships
, and we adhere to strict
guidelines
to preserve editorial integrity.
Pros
Varied integrations
Reasonable monthly cost
Varied support materials
Cons
Outdated user interface
Moderate learning curve
Overview
Smartsheet is a spreadsheet-based program that boasts several million users. As project management software goes, Smartsheet is fairly unusual, mainly because it was designed for so much more than project management. In fact, they describe themselves as an app to run all business functions. Smartsheet can be used like any other spreadsheet application, but it offers a lot of other interesting features that set it apart from programs like Excel. It is truly a whole-package software, combining interactive spreadsheets with basic project management functions, web forms and templates, and ingenious crowdsourcing capabilities.
This Bellevue, Washington-based company was launched in 2006 with the help of founder (and Executive Chairman) Brent R. Frei. Before starting Smartsheet, Frei was the CEO of Onyx Software Corporation, a Seattle-area company specializing in customer relations management software. The current CEO, Mark P. Mader, is also a former employee of Onyx (where he was vice-president of global services). Since their founding 10 years ago, they have received numerous industry awards, including the 2018 Constellation ShortList for work coordination platforms
To date, users from over 80,000 individual organizations and 175 different countries employ Smartsheet in some capacity. The software's inherent versatility has attracted a diverse customer base. Smartsheet's numerous users include small businesses and start-ups, Fortune 500 companies, schools and universities, non-profits, and governmental agencies. Currently, Smartsheet is available in English, Italian, French, German, Spanish, Japanese, Portuguese, and Russian. With their recent acquisition of Converse.AI, Smartsheet is moving farther into the automation field as well, taking the busywork out of your day with intuitive algorithmic intelligence.
If you're in the market for a fancied-up spreadsheet application to solve your project management needs, Smartsheet might be the answer you have been looking for!
Web-Based (SaaS) Or On-Premise
Smartsheet is cloud-based software that can be accessed from anywhere on the web.
Pricing
You can try Smartsheet at any time for free by signing up for a 30-day trial (no credit card required). All plans come with multiple work views, collaboration features, and mobile apps. If you decide to continue using the software after your trial period has ended, there are four different Smartsheet subscription options:
Individual Plan
$14 per user per month (when paid annually)
Unlimited free collaborators
Free templates
Forms
Template sets
Reports (view/edit only)
Project view
Calendar view
Alerts
Business Plan
$25 per user per month (when paid annually)
Dashboards & charts
Activity Log
Automate workflows and tasks
Data analytics with Connectors
Manage groups and users
Reports
Custom branding
Live charts
Customize colors and logos on sheets, forms, and workspaces
Manage users
Manage groups
Manage project resources
Enterprise plan
Contact Smartsheet for pricing
Includes all Smartsheet features, including automated provisioning and single sign-on
Enhanced administrative and access controls
System and group admin features
Premium plan
Contact Smartsheet for Pricing
Premium support
Premium apps (Calendar, DataMesh, Pivot, Dynamic View)
Premium application connectors (Jira, Salesforce, Dynamics)
Smartsheet is reasonably priced, given how much it has to offer. In fact, the company has increased the services they provide while reducing and simplifying their prices since the last time we reviewed their product.
Plans can be changed or upgraded at any point in time, even if you're locked into an annual subscription. Payments are accepted, via major credit card, in American, Canadian, or Australian dollars or in euros, pounds, or yen. If you're squeamish about paying with a credit card, Smartsheet offers alternative billing methods (check, PayPal, wire transfer, or ACH). If you are on an annual Team or Enterprise plan, they will send you an invoice.
Ease Of Use
Though I wouldn't exactly call it easy to use, Smartsheet is nothing if not convenient. If you're looking for a complex project management solution but want to focus less of your energy on computer busywork, this is the software for you. The creators of Smartsheet have expended a lot of effort to create software that is both practical and efficient. The following are just some of the time-saving features of Smartsheet:
Mobile Apps: With the much-loved and highly rated iOS app, you can access sheets quickly, send updates, add notes, edit sheets, and upload pictures from the mobile device's camera or photo library. A popular Android app with similar features has recently been released as well.
Easy Collaboration: You can invite literally anyone in the world (inside and outside of your company) to view or edit your sheets, absolutely free. You don't even have to send an entire sheet; collaborators can receive rows just as easily. Sharing sheets is as simple as clicking a button. Smartsheet remembers any email contacts you have used before; you can also import your contact lists from Google, Yahoo, or virtually anywhere else in the cloud.
Drag-and-Drop Capabilities: This is pretty self-explanatory.
Autofill: Smartsheet has a clever autofill feature that searches for patterns within sheets. When a user inserts a new row and adds data, Smartsheet looks at the formulas in surrounding rows and automatically fills in new information, even applying special formatting if necessary. This feature works best with templates that contain a series of predictable formulas and is useful for sales pipelines, project plans, budget calculations, etc.
Language Selections: Use or view Smartsheet in English, Japanese, Russian, French, Portuguese, Spanish, German, or Italian simply by changing your personal language setting.
Effortless Attachments: Click the paperclip icon on your sheet to be directed to a straightforward attachment menu. You'll have the option of attaching a URL, Box files, Google Docs, or anything from your hard drive. Or just drag-and-drop a file onto the attachment cell. Easy peasy.
Importing: Want to transfer a file from another spreadsheet program (like Excel) to your new Smartsheet account? You can accomplish this instantly with one or two clicks.
Google Collaboration: Smartsheet has always been hand-in-hand with Google, and is a charter member of the Cloud Alliance for Google Apps. At any time or in any location, you can initiate Smartsheet projects, or update, organize, and edit sheets from within the confines of Google Drive. I'd say that's pretty convenient.
Notifications: Smartsheet allows you to set automatic alerts about any upcoming tasks and/or deadlines. You can also choose to be notified via email whenever changes are made to a sheet "so there are no surprises." Notifications are completely customizable. You determine the type of notifications that will be sent out and can specify how often they will be sent.
Customer Service & Support
Like most modern project management software companies, Smartsheet understands the vital importance of maintaining good customer relations. They offer a large variety of quality support services, including:
Email Support: For questions that cannot be answered by simply consulting the product's support system and knowledgebase, Smartsheet provides an email support form. Users must give their names and email addresses, and then they can pose questions to the support team and even attach relevant files, if necessary.
Webinars: There are regular online tutorials offered live by Smartsheet each week. "Smartsheet 101: Getting Started" is ideal for first-time users, and provides a basic summary of the software's various features and uses. "Smartsheet 201: Advanced Functionality" is a more in-depth and detailed webinar, best suited for people who already have a basic understanding of the software and have been using it for a period of time. Other webinar options vary in topic from week to week and usually focus on a specific feature of the software. The two-week schedule I happened to look at contained one live session on reporting and one on creating web forms, but I know there are a variety of others offered. After sampling a few of them, I found the information relatively useful, but the sound quality was distractingly inconsistent.
Video Tutorials: Smartsheet provides users with ready-to-view training videos. I found the videos I watched to be helpful, thorough, and generally useful for understanding Smartsheet's various capabilities. However, there are a dizzying amount of them, and they are organized a little haphazardly. For example, I was confused about the differences between their "How to use Smartsheet" playlist, and the "Popular Features" playlist. Several videos are repeated on these playlists which I found a little befuddling. My recommendation: Give the videos a go, but if you are having a hard time navigating their menus and playlists, you can access complete written instructions to all of Smartsheet's features instead.
In-App Tips/Advice: I discovered this feature after signing up for the free 30-day trial. As soon as you create an account with Smartsheet (a process that takes about 10 seconds), you are given free rein of all of the many features and uses. Every time you try something new (open a different part of the software, look at new templates, create a discussion thread, etc.) a window will appear offering tips and links to tutorials and written instructions. Smartsheet anticipates that you will not be able to use their software correctly or to best advantage when first starting out, an attitude for which I heartily applaud them. More tech-savvy people may find the constant advice intrusive, but I prefer a glut of information to ignorance and frustration. These helpful hints can be easily turned on or off from the help menu, so once you feel like you know the ropes, it is easy enough to make them go away.
Technical Account Managers: Each business that opts for a Smartsheet EPL (Enterprise Platform License) is assigned its own, personal Technical Account Manager (TAM). The TAM will do everything from hosting training and workshops to showing you how to build collaboration templates; they exist purely to offer help during every phase of your Smartsheet experience.
Product Roadmap: There is a handy product roadmap to tell you what is coming up next for Smartsheet (what features will be added/improved), along with general product updates and a lot of other pertinent information for the curious.
Instructional Articles: Smartsheet's support team provides a number of instructional articles that offer everything from tips about branding to best practices for backing up data.
Status Page: Users can monitor system status or prepare for scheduled maintenance periods either by checking the Smartsheet status page or signing up for automatic email updates
Negative Reviews & Complaints
There is no perfect software out there, unfortunately. Smartsheet is intelligent and intuitive, but when you're relying on it for project management purposes, it falls short in many ways. Because Smartsheet revolves around a spreadsheet model, there are just some things it can't quite do. Here are the three biggest pieces of bad news for those of you used to more standard project management software:
No Time Tracking Feature: Smartsheet has a "resource management" feature that allows managers to effectively schedule their employees, but it does not serve as an actual timesheet or stopwatch for employees.
No Practical Activity Stream: It's hard to keep track of everyone's comments, edits, and additions because there is no central hub for communication. Sheet activity can be seen on the sheet and nowhere else.
There are a few other drawbacks as well:
Complicated Reporting: Smartsheet does have very thorough reporting capabilities — especially with the recent addition of work visualization techniques and account maps — but the methodology can be somewhat convoluted. While you can request almost any type of report (filtered to focus on a specific person, time frame, task status, etc.), the process takes time and requires many steps. If you need to perform a lot of quick analytics for your business and don't want to spend a lot of time, Smartsheet may not be the software for you.
Limited Calendar View: Smartsheet's calendar view is pretty useful in general, but be warned that it can only display a certain number of tasks/events at a time. If you have a full schedule, you may not be able to see the full picture without opening up another window.
Positive Reviews & Testimonials
Smartsheet is one of those love-it-or-hate-it programs, but from what I've seen, it has far more devotees than detractors. People seem to be especially stoked about the iOS mobile app, which functions the way that apps should, smoothly and efficiently. Additionally, the software's inherent versatility has won praise from very diverse industries:
"I'm addicted to Smartsheet – I take it with me wherever I go. Whether I'm commuting home on the train, pulling up a sheet on my iPad during a meeting, or basing a conference presentation about what we've been able to accomplish, Smartsheet is the way I work. It's changed my life." – Director of Advancement Information Services, Loyola University.
"As soon as I started working with Smartsheet, I knew that it was an ideal tool to structure our daily operations as well as our franchise model to successfully open Magnolia locations anywhere in the world. The brilliance of Smartsheet is that it was easy for our team to jump right in, and it's quickly transformed the way we work together." – Magnolia Bakery's Project Manager
"It's been a tremendous help for me when I'm reporting to the executive team. I can easily show the task lists that demonstrate that the team has thought through every detail for each event. Plus, anyone on the management team can drill down, and view documents at any time if they want to find out what we're doing. For my team it is a big time and money saver since anyone can jump in, view the status of the project, and provide assistance if necessary. It also helps us to identify opportunities or obstacles for new business development." – Director of Professional Products and Services, Behr Paint
Features
Smartsheet is complex and almost painfully intricate. It performs so many functions that it's hard to know where to start when listing features, but I'll do my best to touch on most of the software's major defining characteristics.
Collaboration: This is Smartsheet's big strength. Not only are you able to share sheets with coworkers and others within your company, but anyone else as well. You can share entire sheets or specific rows, which gives you plenty of flexibility. Whether you are communicating with employees, managers, clients, or stakeholders, this kind of transparency keeps everyone honest.
Attaching Files, Comments, & Reminders: It is easy to attach documents to any row of your sheet using the dedicated attachment column. Smartsheet supports a variety of file types and is compatible with a wide array of third-party apps (listed below). Likewise, adding a comment is accomplished by using the comments column. Reminders are useful tools as well, and once you have set them up using the reminders column, they will be sent out to the person assigned to their respective row.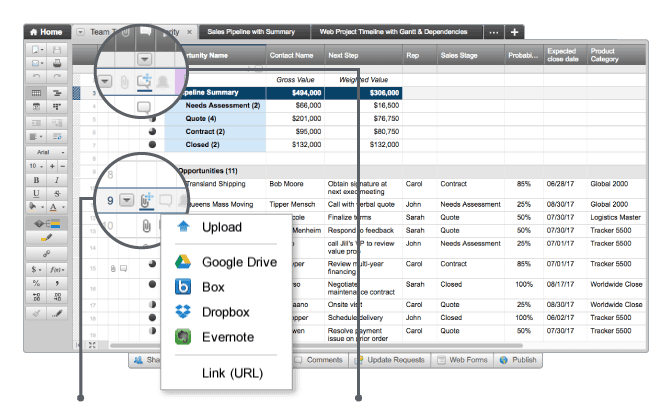 Templates: Use these to help pre-select a sheet for your own use. Hiring a new employee? There is a template for that. Planning a company event? There is a "smartsheet" for that. Moving office locations? Yep, there is a template for that too. If you are more of a DIY person, you can always start with a blank sheet and customize it for yourself. Or pull a classic "bit of both" maneuver and use the templates if you feel like it.
Gantt Charts: These extremely visual charts help show who is working on what portion of your project and at what time. All you need to see them is to start entering dates to your sheet, then select "Gantt chart" for one of your columns. This is probably my favorite feature on Smartsheet, and not just because I like flashy visuals. It very helpfully illustrates task flows and event sequences in a way my writer brain can easily understand.
Calendars: If the Gantt Charts aren't for you, or if you need a more birds-eye view of your project timelines, Smartsheet has a capable calendar mode. However, as noted above, it only displays a limited amount of tasks per day, so it can limit the amount of information available to you.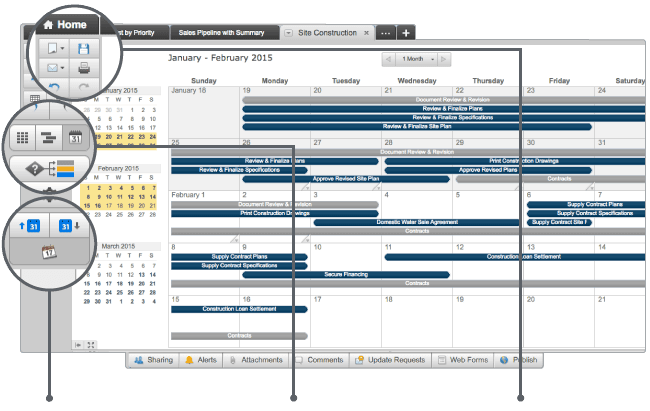 Sights: Need a quick update on a project but don't have time for a full briefing? Sights is a more visual and less complex version of the Reports feature. Sure, the Reports provide better detail and can be tailored to more specific criteria, but they also take more steps to generate. If you are in a hurry, get a "sight" of any project you need, then get the report later if you deem it necessary.
Web Forms: This tool allows you to create simple surveys and send them out to customers or employees. Use it for employee evaluations, product reviews, etc., and all the results will automatically populate your sheet. Use the data however you like, whether it is for refining your product quality or improving customer service.
Card View: Card view is "a powerful new innovation for managing information in a highly visual way." Card view provides functionality similar to that of one of Smarsheet's project management competitors, Trello. In fact, you can import your Trello boards into Card View and use them within Smartsheet.
Integrations & Add-Ons
Smartsheet is equipped with pre-built integrations to several leading 3rd-party apps, including:
Google (Google Apps, Google Drive, Google Chrome, etc.)
Box
Salesforce
DocuSign
Evernote
Harvest
MailChimp
Marketo
AppsGuru
Jira
Zapier
123ContactForm
Centrify
ClicData
Bitium
Klipfolio
Easy Insight
Okta
OneLogin
Meldium
PingOne
Tools4Ever
Tableau
Microsoft Skype for Business
Trello
There are many more integrations available and more being added all the time. Smartsheet also offers an open API so that users can design their own integrations.
Final Verdict
Smartsheet is not for everyone. There are slicker interfaces out there, and software that ticks more boxes. Having said that, Smartsheet is a versatile platform that can be used across a huge spectrum of applications. And if you are a patient type, there are plenty of resources on the company's website to help you learn how to use it effectively. Therefore, let us say that though it might not be for everyone, it is probably good for almost everyone (especially if you are willing to live with some deficiencies).
Smartsheet is great for budgeting, creating forms, and any other needs that can be filled by a spreadsheet. I would venture to say that no one does spreadsheets better than Smartsheet. This software was made for structured, left-brained, analytical types. That said, it is not the best choice if you want a straightforward and simple approach to keeping track of employees, and managing time.
Don't let that stop you from trying it out, though. Smartsheet is incredibly versatile and has many uses outside of basic project management. I think it's worth trying for its template and web form features alone, and its unique approach to work visualization has many practical applications.

---
Read Next
To learn more about how we score our reviews, see our
Project Management Software Rating Criteria
.