UPDATED
Advertiser Disclosure: Our unbiased reviews and content are supported in part by
affiliate partnerships
, and we adhere to strict
guidelines
to preserve editorial integrity.
Pros
Free to download
Deep design customization
Customizable feature set
Cons
Developer skills required
No customer support
Limited integrations
No design templates
Spree Commerce Overview
Spree Commerce is open-source software for building eCommerce websites. Created in 2007 by programmer Sean Schofield, the platform has been honed over the years by a global community of coders, making it one of the most reliable of its kind.
A host of major companies has used Spree to create their online shopping experience, from Bonobos to Casper, to behemoths like Chipotle. But even the tiniest operation can make use of this solution, provided they have the right expertise.
And there's the rub.
Spree Commerce was built for Ruby on Rails and is available via Github. Does that sentence make any sense to you?
If the answer is "no, not at all," then read no further. I'll let you off the hook. There are going to be parts of this review that only folks with a certain technical background will understand. And that's okay. Simply put, Spree Commerce is a free collection of code your web developer can use to build a storefront. If you don't have a web developer and don't want to hire one, I suggest you move on to a more user-friendly eCommerce solution, like Zoey or Shopify.
Now, if the answer to that previous question is "yes, it makes perfect sense," then stick with me. I'll give a more general overview of what Spree has to offer, and we'll discuss some of the pluses and minuses of the platform. Let's do it!
Pricing
This is open-source software, so it's free to use. (Note to any entrepreneurs who are still reading this: while there are no licensing fees, you'll need to account for how much you'll be paying your developer to build out the store.)
Web-Hosted Or Licensed
Unlike Software-as-a-Service (SaaS) shopping carts like Shopify which include hosting in the subscription fee, Spree requires you to have your own space on a web server. Factor this into your overhead.
Ease Of Use
Spree Commerce is a tool designed for professional web developers. The degree to which you're comfortable using it is going to depend on your skill set. Here is a list of knowledge requirements (by my reckoning):
UNIX/LINUX
SQL
HTML/CSS
Ruby On Rails (ROR)
If you're confident in these respective worlds, implementing Spree Commerce will come pretty easily. If you only have experience with the first three items, it may be worth your while to learn ROR. It's a robust tool with a lot of applications beyond eCommerce. (I would budget a week or two to get comfortable unless you're a programming whiz.)
Documentation on Spree's website outlines how to integrate the software with an existing ROR application. This entails updating your Gemfile with Spree's gems and then using the installation generators to deploy everything. It may take some tweaking here and there to make sure Rails, Spree, and your server play nice together. Personally, it took me about a day to get it configured and installed, but keep in mind that I'm not super adept at this sort of thing. A full-time web developer should be able to get rolling in an hour or less.
Once you've managed to get Spree running, you'll find the admin interface simple and manageable. A sidebar displays the main tools: orders, returns, products, reports, promotions, users, and configurations.
Navigation is easy and intuitive. The side bar has collapsing menus that give you quick access to the more advanced features. All the basic tasks are easy to figure out. For example, there's a big green "Add" button at the top of the products page. Clicking it will take you to a section where you can input a name, SKU, pricing, and specify a shipping category. Once the product has been added, you can edit additional info, add an image, write a long description, and so on.
This work flow is followed closely by the other pages. Any time you need to add something, there is a big green button at the top of the page to make it happen.
Site speed will, of course, depend on the machine you're using. The application is so lightweight, however, that a server would have to be pretty taxed for performance to suffer. For what it's worth, Spree ran nimbly in the test environment I set up on my home computer.
I'd say overall, Spree is very intuitive. The average end user will be able to wrap their head around it with little to no difficulty.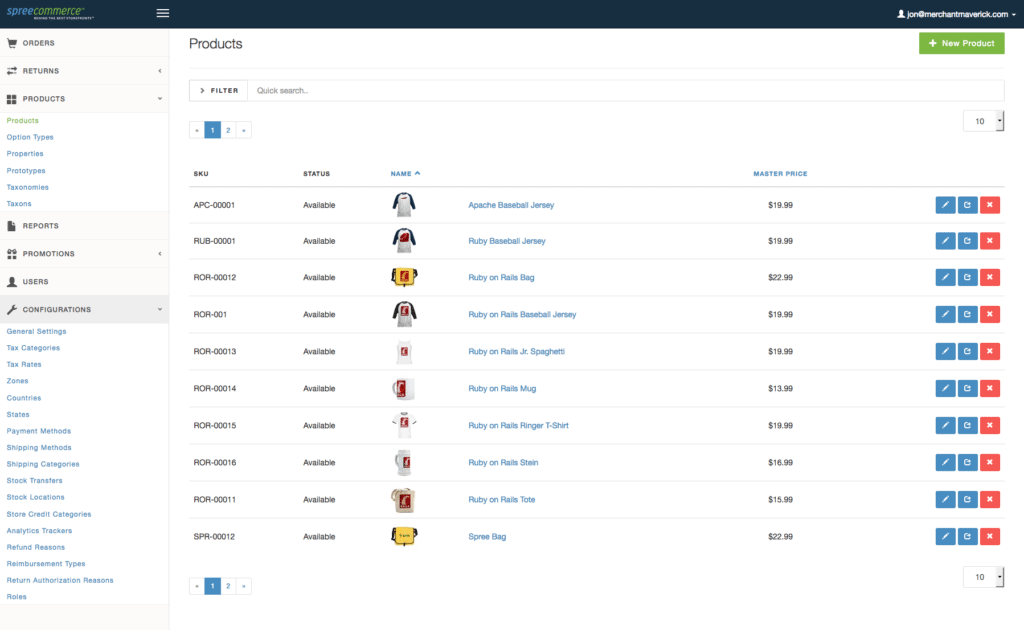 Features
Here's a breakdown of the main features, organized by section:
Orders

Processing: This function lets you take payment on an order, add shipping information, and make sure that stock levels can accommodate the request
Manual Entry: You have the option to input orders manually
Editing: Spree lets you make changes to any existing orders
Returns: RMAs (Returned Merchandise Authorization) can be initiated quickly and easily
Search: There is a search bar for looking up specific orders, sorted by date range, status, or customer


Products

Create/Delete/Edit: Spree provides all the standard functions to manage products in your storefront
Clone: This function is useful for adding products that have similar characteristics to existing ones
Options: This is similar to what you'd call "Variants" in the inventory management world. Note that options are set at the store level, not the product level
Properties: Each product can have a detailed description that will be displayed underneath
Prototypes: A system for adding new products quickly to your storefront. If you plan to add a lot of similar items (say, hats that come in different varieties) you can make a prototype for those items, and create new products based on that prototype. In short, this feature prevents you from having to keep entering redundant information over and over again.
Search: This is similar to the search function on the orders page

Reports

Spree doesn't include a lot of fancy reporting tools, but it does have a simple function that will show you sales totals over a date range, and also display currency, item total and adjustment total.

Configuration

General Settings: This page lets users make changes to global settings like store name, currency, and security protocol.
Taxation: There are a couple of great tools that will allow you to manage tax settings for your store
Zones, Countries, and States: You can decide which countries and states that you'd like to do business with and manage your shipping and taxation settings on a region by region basis
Payment Methods: You can set which payment options are available to customers during checkout
Shipping Methods and Categories: There are several solutions in place to help manage shipping for your store, up to and including large or unusual sized items
Inventory Settings: Spree has a very workable inventory management system that gives you some basic functionality for your company's back-end, including multi-warehousing
Analytics: Spree can integrate with Google Analytics to track traffic patterns for your site's visitors.

Promotions

This is a great tool for offering discounts and coupons to your customers. It's very straightforward and easy to use.
In addition to all these tools, Spree boasts responsive design, which means the site will look great across all devices. The look of the storefront is also fully customizable, so any designer worth their salt will be able to make something that truly represents your business.
Modularity is another big feature. There are a number of extensions you can add (which will be covered in a later section). A global community of coders continue to contribute to this project, so new extensions are always being developed.
Web Design
In the past, there have been custom themes for Spree, but those appear to have been built for earlier iterations of the platform. The main website for the project doesn't offer a good idea of what themes are currently available, if any.
This is kind of a moot point, though. As I've stated many times before, Spree Commerce is made for high-level web designers, so if you can come up with a good idea for your site, your developer should be able to implement it. The sky's the limit.
Integrations & Add-Ons
Spree Commerce used to offer a standalone service called Wombat that integrated with a lot of different SaaS solutions. This is no longer active (it was discontinued in 2015). There are several extensions, however, built by the open source community and available for free:
better_spree_paypal_express: A plugin that lets you accept payments via Paypal
spree_gateway: A collection of payment gateways for your store
spree_wishlist: Gives your store "wish list" functionality. This is a popular feature on Amazon, for example
spree_email_to_friend: This extension allows customers to email info about an item to a friend in just a couple clicks
spree_reviews: Gives your store the ability to include user reviews and ratings for your products
spree_social: Allows you to integrate your store with all the usual suspects in the social media world (Twitter, Facebook, Google, etc.)
spree_multi_currency: Adds support for multiple currencies
spree_multi-domain: This is a pretty awesome feature that lets you point multiple domain names to the same store, giving each domain its own logo, stylesheet, layout, and even special products
These are the extensions listed on the official website. If you scan the web and Github, you are bound to find more, but you'll need to vet their reliability and usability yourself.
There is also an API available which can be used to build custom extensions.
Payment Processing
To accept credit card payments, you'll need a merchant account. Once you have one, you can add it to Spree by clicking the "Configurations" button on the navbar, then selecting "Payment Methods" from the submenu. Most major payment gateways are supported, including Authorize.net, PayPal, and Stripe.
Customer Service & Technical Support
One of the drawbacks of using open source software is that you're more or less on your own for support. There are of course user and developer guides, along with folks on the web who may be willing to help if you get stuck. I've noticed several troubleshooting threads on Stack Overflow.
Negative Reviews & Complaints
I wouldn't say there's been a lot of formal complaints about Spree on the web because — well, whaddya want for nothing? Free software is free software. If I were to list the negatives, though, these would be my bullet points:
Technical Barriers to Entry: If you don't have a coding background, you will be hopelessly lost trying to get Spree Commerce set up by yourself. An experienced web developer is required to get your foot in the door, so unless you're ready to hit the books, you'll need to bring in a contractor or hope someone at your organization is good with this stuff.
Limited Extensions: Spree is missing the kind of integrations solutions like Shopify are famous for. If you subscribe to services like Xero, ShipStation, or StitchLabs you won't be able to integrate them with Spree (unless you want to pay a developer to build this functionality for you).
No Official Support: If something breaks, you're on your own. To make matters worse, the official website for Spree is filled with outdated information and tons of dead links.
No Themes: You will most likely build the look of your store from scratch, as there doesn't appear to be much of a community for Spree themes at the moment.
Positive Reviews & Testimonials
Spree Commerce has a great reputation among the web development community. A quick look on Quora will uncover a lot of positive responses. Here's one:
Spree commerce is the solution my company, Blue Stout, recommends for eCommerce businesses. We like this platform because:

It's open source
Easy payment processor integration – we usually integrate with Stripe
It's built on Ruby on Rails (much lighter code-wise than Magento)

– Allen Burt, BlueStout.com
Here's another endorsement, taken from Spree's site:
"We chose Spree because we needed a full-featured

e-commerce system but couldn't take time away

from feature development to build it ourselves".

– Chris Shmitz, CTO for WeMontage
The consensus among most users is that Spree runs quickly, is easy to setup, and is lightweight in terms of size and machine resources. And of course, it's free!
Final Verdict
That's the breakdown. When used to its full potential, Spree is as good as any shopping cart out there. You don't need to take my word for it either. Plenty of large companies have implemented this platform with great results.
My positive takeaways are that it's incredibly efficient with machine resources, is well designed for the end user, and doesn't take long to configure or install. The extensions also give it a big boost in functionality. I think the "multi_domain" add-on is pretty awesome and could be well utilized by a company that has several different brands.
There are a couple negatives, of course. The obvious technical hurdles, for example, and lack of integrations. If you're an entrepreneur who prefers the convenience of a SaaS solution that will mesh easily with other platforms, I'd recommend staying away from Spree Commerce.
However, if your organization does have a developer on staff, and is looking for something, cheap, manageable, and powerful, definitely give this software a look. You'll know if you like it almost immediately.
Overall, I give Spree a solid 3.5 stars. Thanks for reading, and as always, let me know if you've had any good or bad experiences in the comments.
---
Featured Free eCommerce Plan 🔥
Square Online


---
Get a free website builder, online ordering, gift cards, in-store pick-up options, and dozens of other features for eCommerce and hybrid businesses. Free options available. Learn more from Square.
Featured Free eCommerce Plan 🔥
Square Online


---
Get a free website builder, online ordering, gift cards, in-store pick-up options, and dozens of other features for eCommerce and hybrid businesses. Free options available. Learn more from Square.
To learn more about how we score our reviews, see our
eCommerce Software Rating Criteria
.