Springboard Retail Review
UPDATED
Advertiser Disclosure: Our unbiased reviews and content are supported in part by
affiliate partnerships
, and we adhere to strict
guidelines
to preserve editorial integrity.
Pros
Customizable inventory options
Multiple reporting options
Easy to set up
Cons
Extra cost for additional customer service
No employee time tracking
Springboard Retail Overview
Some of the best things in life have come about because someone was fed up with the status quo and had the willpower to do something about it. Take pizza, for example. The creator of pizza decided that bread, cheese, and tomatoes were not satisfying enough on their own; this desire to aim higher compelled them to conceive the perfectly garnished culinary phenomenon we all eat today. In the same way, the automobile was born from dissatisfaction with the carriage; the pen arose to take the place of the clumsy feather; the assembly line sprang into being to compensate for slower, more inefficient processes.
There is no item, person, event, or process that cannot be improved upon, given time and imagination. Boston-based Springboard Retail illustrates that point perfectly. In 2002, founders Gordon Russell and Jay Stotz created Springboard Retail because they were frustrated by the limitations of the current POS market. Taking matters into their own hands, they created a software solution that would more fully meet their needs.
The spirit of Springboard Retail is best described by one word: growth. Above all else, Springboard Retail is made for the growing business. Each price plan includes unlimited users, items, and customers. Inventory features, in particular, are both comprehensive and beautifully executed. With custom fields that provide an advanced level of item specification and integrated store transfers, organizing merchandise is simple and easy, no matter the size of your inventory.
Springboard Retail is a competitive POS solution that may prove especially appealing to growing businesses on the larger end of the spectrum. Keep reading for a full review.
Don't have time to read an entire review? Take a look at our top rated Point of Sale solutions for a few quick recommendations. Every option we present here offers excellent customer support, detailed user interfaces, and easy-to-use software, all for a reasonable price.
Pricing
Springboard Retail has three price-plan tiers: Standard, Professional, and Enterprise. They are broken down in the following way (note: all prices are given per selling station):
Standard
$79/month (billed annually)
$99/month (billed monthly)
Unlimited users, items and customers, and back office (including reports).
10 custom fields.
Email support and access to online knowledgebase.
Quickbooks online integration $20/month.
Professional
$119/month (billed annually)
$149/month (billed monthly)
Unlimited users, items and customers, back office (including reports), and custom fields.
Phone support.
Distributed sales order management.
Custom payment types.
staging/training environment.
Quickbooks online integration included.
Enterprise
$179/month (billed annually)
$209/month (billed monthly)
Unlimited users, items and customers, back office (including reports), and custom fields.
Extended phone support and live chat.
Distributed sales order management
Custom payment types
Staging/training environment
Custom branding
Custom onboarding and configuration package included (up to 10 hours).
Additionally, Springboard Retail offers a QuickStart Package designed to help with training for you and your employees. It includes up to eight hours of individualized support and costs $995 per database.
If you plan to switch to Springboard Retail from a different POS system, Springboard Retail has two data migration services: Basic and Advanced
Basic Data Migration -$995
Basic data migration will import your previous:
Customer list
Items and inventory quantities
Gift card numbers and balances
Advanced Data Migration -$5,995
Advanced data migration is a comprehensive transfer of data. It will import:
Customer list
Items and inventory quantities
Gift card numbers and balances
Open purchase orders (does not include past purchase or receiving orders)
All item and customer sales history
Springboard Retail offers a free 7-day trial that does not require a credit card to sign up for. It also offers a free webinar to anyone interested. The webinar is approximately 45 minutes long and reviews the POS and its features.
Cloud-Based or Locally-Installed
Cloud-based.
Specific Industry
Retail. Springboard Retail is not appropriate for foodservice settings.
Specific Size of Business
Springboard Retail claims that the majority of its clientele is not new to the POS world; in fact, it caters almost exclusively to medium or even large businesses. I wouldn't recommend Springboard Retail to a small business unless it plans on growing quickly. With a starting price of $79/month (when billed annually), there are simply more affordable options out there.
Hardware & Operating System Requirements
Springboard Retail is pretty universal in that it can be accessed from any device that supports a web browser. The actual interface will run on an iPad, Mac, or PC.
Scanners: According to Springboard Retail's website, the "majority of USB keyboard wedge scanners will work with Springboard Retail."
Receipt Printers: Most USB receipt printers will work with Springboard Retail, provided that they can accept 3 1/8″ paper.
Label Printers: The only panel printer that Springboard Retail is compatible with is the Zebra LP 2824 Plus printer. If you don't want to use the Zebra, however, both Macs and PCs can generate PDF labels that can then be printed out on most printers.
Cash Drawers: Springboard Retail recommends using APG cash drawers with TSP receipt printers because they synchronize with your system more effectively.
Card Swipers: Most card swipers are compatible with Springboard Retail. Springboard Retail also claims that if your swiper is not immediately compatible, it can be reconfigured to work with their system.
Ease of Use
Springboard Retail markets itself as being simple and easy to use. I personally found that to be exactly the case. The back office is built on an intuitive design. A tutorial is not available within the POS but one is not necessarily needed. After playing around with it for about 20 minutes, I was able to figure out most of the software's functions. Although I was not given a tutorial, I was greeted with a welcome message in the chat feature. The chat feature in the POS is an excellent learning tool because it gives you instant access to Springboard Retail's customer service team. Every question I asked was promptly answered with a detailed response.
Once I began using the software, I found it to be pleasantly self-explanatory. You can navigate between headings (including Sales, Inventory, Purchasing, and Reporting), each of which contain subcategories of actions. Everything is exactly where you would expect it to be. There are, however, certain actions that may be more difficult to figure out. Creating a custom field is something that may take some time to learn because there are so many different possibilities involved.
The front-end is also extremely easy to use with the POS taking you through each step of the sales process. Once an item is scanned or selected, you will be able to adjust the price of an item. Before you begin the sale and select an item, you choose whether the item is a return or a sale. This would have the potential to be cumbersome if it weren't for a feature that allows you to switch any individual item to either a sale or a return. With the feature, you don't have to start the whole transaction over or make multiple transactions for a customer who wants to both purchase and return. Once items are selected you simply complete the transaction by selecting the tender your customer will be paying with.
Features
You can find a brief overview of Springboard Retail's features here. Below, I have described the most notable ones.
Register: The checkout process is very easy to use. You begin by selecting either the "sale" or "return" option. Once selected, you can scan an item or coupon or find it manually. (Searching for an item manually is simple. The search function will find an item based on the item number, keywords in the description, group, category, and size. I was very impressed with this feature.) The register will also allow you to enter gift cards and sales tax and includes a field where the sales representative completing the transaction can identify themselves. You can easily place items on hold. Voiding is simple; you have the option to void an entire transaction or a specific tender that was issued. The register will accept credit card, cash, check, gift card, or a custom payment (essentially just a dollar amount you enter that credits the customer's purchase).
Custom Fields: Springboard Retail really stands out in terms of inventory customization. When adding a new item to your inventory, you will, of course, be able to enter general information (item number, price, description, vendor, etc.). Springboard Retail's custom fields, however, take regular inventory capabilities to a much more advanced level. By default, nine custom fields are included: group, category, style name, color name, size, UPC, width, and tax category. Each custom field is designed to further categorize products for more effective searching. This is especially helpful when working with a large inventory. If you would like to work with different or additional custom fields, adding or changing them is simple. The standard plan limits you to ten custom fields, but every other plan gives you free rein to use as many as you like. You can also delete any one of the default fields if you don't find it useful. The idea behind Springboard Retail's custom fields is to not limit you in specifying how to label an item. After spending some time with this POS, I can say that its delivers on that intended idea. When I set up a new custom field, for example, I was given a choice of which group to assign the field to. You can see the options I was given in the photo below.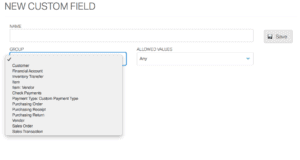 As you can see below, I selected "item" in the "group" field. After selecting "item" you can see I was given many other options for further modification of the custom field.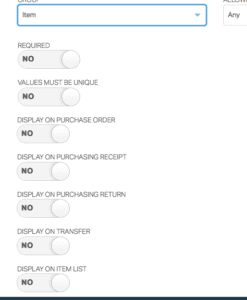 Multi-Store Management: Springboard Retail's inventory functionality is a great example of exactly why it is built for larger businesses. You can easily view your entire inventory across multiple store locations or view a single store's inventory. Shipping between store locations is also streamlined and designed to maximize efficiency; any item in your entire inventory can be selected for transfer between any of your store locations.
Reporting: Springboard Retail reporting is as detailed as it is useful. You can filter information by date, location, item, customer, and purchase order. The reporting provides an in-depth analysis of your sales history. With diverse reporting filters, it is easy to isolate high-selling items according to season, customer etc.
Loyalty Program: While Springboard Retail does not have a native loyalty program, it does have a few options that can (in part) fulfill the same purpose, including the ability to set promotions. Additionally, Springboard Retail has partnered with digital loyalty solution, Thirdshelf.
Inventory Tracking: Automatic inventory reordering can be done by assigning a reorder point to each item and/or setting a target quantity (the number of items that you always want to have available at any location). Remember when I said that Springboard Retail was built for a large inventory? There's a nifty item import feature that allows you to update your reorder point and your target quantity in bulk. The feature can save you a lot of time when you're dealing with a large inventory because you can avoid the painstaking task of updating each individual item. In my opinion, the most impressive feature Springboard Retail brings to the table when it comes to inventory tracking is the built-in reporting feature. The reporting feature analyzes relevant data regarding your business and determines when and what you need to reorder. This is important for two reasons. First, it enables you to make a more informed decision about the ideal time to reorder. Second, it can be an enormous asset when dealing with a large inventory. When you are selling thousands of items, keeping track of when and what to order is nearly impossible. By having the POS do it for you, you become more efficient.
Integrations & Add-Ons
Springboard Retail comes with REST/JSON API and JavaScript API. It currently integrates with the following programs:
eCommerce
Retail Buying
Accounting
Payment Processing
Springboard Retail supports the majority of credit card processors in North America. The two primary payment processors listed on their website are:
You also have the option to use Clover Mini as a payment processing terminal.
Customer Service & Support
The level of customer service you receive varies depending on your pricing tier. With the Professional plan, you will have access to phone support Monday to Friday from 9 am to 8 pm (10 am to 6 pm on weekends or holidays). The Enterprise tier gives you slightly more access to phone support (7 am to 9 pm on weekdays, 9 am to 8 pm on weekends and holidays).
There is also a chat icon on Springboard Retail's website. I took the liberty of using it to ask a question and quickly received a knowledgeable answer.
You won't find an FAQ page on the website but you will find a link to the Springboard Retail help center. The help center is a large compilation of articles and topics related to using Springboard Retail. All of the articles are published by the company. The help center is organized into topics ranging from point of sale to reporting. You can either click on a topic and read through the many articles related to each topic or use the search bar at the top of the page. I tested out the search bar and was happy to find that my search was matched with relevant articles. If you're willing to take the time to do some reading, Springboard Retail's help center is a comprehensive resource that answers almost any question you may have.
Springboard Retail additionally maintains a blog on its website with posts that are somewhat more broad than the help center's. Articles are concerned with the retail industry in general as well as many other helpful business tips.
Although Springboard Retail's YouTube channel does not appear to be frequently updated, it does contain highly detailed instructional videos about aspects of using the POS.
The company is active on Facebook and Twitter and regularly posts helpful suggestions.
Negatives Reviews & Complaints
Overall, complaints about Springboard Retail seem to follow the trends listed below:
No employee time-tracking
A bit pricey
No iPhone App
Positive Reviews & Testimonials
Fortunately, there are many more positive reviews of Springboard Retail than negative. I have listed a few of the general trends I saw below:
Ease of use
Excellent support
Extensive reporting
Highly customizable
Security
Springboard Retail allows you to set complex permissions. When assigning roles to a user, there is an enormous list of restrictions that allows you to control virtually every action any user is able to perform.
The company protects your data by employing its applications on the Rackspace cloud. Springboard Retail claims that since 2005, Rackspace has experienced 99.9 percent uptime outside of regularly scheduled maintenance windows.
Final Verdict
Springboard Retail is a fantastic POS solution. Its features are robust and it can help large organizations drive growth, expansion, and efficiency (although I wouldn't recommend it to very small businesses or businesses with small inventories). What's incredible is that it does this while still being user-friendly and providing excellent customer service. Don't take my word for it, though, Try Springboard Retail out for free with a 7-day trial
---
We've done in-depth research on each and confidently recommend them.
We've done in-depth research on each and confidently recommend them.
To learn more about how we score our reviews, see our
Point Of Sale (POS) Software Rating Criteria
.