Expert Analyst & Reviewer

Updated on:
Advertiser Disclosure: Our unbiased reviews and content are supported in part by
affiliate partnerships
, and we adhere to strict
guidelines
to preserve editorial integrity.
Squarespace

Pros
Excellent templates
Excellent design tools
Easy to use
Cons
No free plan
Limited integrations
Limited eCommerce features
Squarespace Overview
Website builder Squarespace has reached powerhouse status in the CMS and website-building industries. The company's flexible and style-oriented approach to web design has made it an appealing choice for those who want crisp, compelling aesthetics without spending an arm and a leg on a team of web developers. Our Squarespace review will detail why we've come to this conclusion.
While Squarespace's website builder is well-suited to creating attractive portfolio sites, landing pages, and blogs, it has a lot to offer small businesses as well. Restaurateurs, online merchants, and artists of all stripes will find a lot to like in Squarespace's robust feature set.
With over a thousand employees and millions of websites created worldwide, Squarespace's evolution from a dorm room startup to a company with the heft to afford Super Bowl ads has been remarkable. However, we're here to answer your fundamental questions about the platform. What is Squarespace? How much does it cost to build a Squarespace website? Does Squarespace merit all the hype? Find out in our complete Squarespace review.
Business Types Supported
Squarespace may have quite a few big-name users, but the general point of this software is that it is accessible to anyone with a "do it yourself" attitude — not just large corporations. This goes double for entrepreneurs in the creative industries who need a hip, contemporary web presence, and not just an ordinary business website.
Squarespace is ideal for the following markets:
Online stores
Photographers
Bloggers
Artists
Restaurants
Musicians
Wedding planners
Other small businesses
Though Squarespace is targeted primarily at the above industries, the templates provided are customizable and can be tailored to fit nearly every business type.
Squarespace Pricing
Squarespace offers a limited 14-day free trial without requiring you to enter your credit card information. After the trial period, users are given four paid subscription options, all of which include 24/7 customer support (via email and live chat), unlimited bandwidth and storage, a custom domain (free for one year with yearly billing), and a mobile website/store.
I'd advise would-be users to start on the monthly plan. If, after a few months, you decide for sure that Squarespace is the website building platform for you, sign up for the annual plan to get the discounted rate. Squarespace also offers a special discounted rate (50% off your first full year!) for students.
Here's our breakdown of each of these four plans. Bear in mind that online store features are only available on the Business plan and above.
Personal
Squarespace's Personal plan costs $16/month and includes:
Unlimited bandwidth and storage
Mobile-optimization
Basic website metrics
Up to two contributors
SSL security included
SEO features
Third-party extensions
Free custom domain for one year (with annual purchase)
Business
Squarespace's Business plan costs $26/month and includes everything in the Personal plan, plus:
Unlimited contributors
Fully integrated eCommerce
Sell unlimited products and accept donations
3% transaction fee
Professional email from Google
$100 Google Ads credit
Advanced website analytics
Promotional pop-ups & banners
Mobile information bar
Complete customization with CSS and JavaScript
Premium blocks and integrations
Announcement bar
Basic Commerce
Squarespace's Basic Commerce plan costs $30/month and includes everything in the Business pan, plus:
No transaction fees
Point of sale
Mobile-optimized website and checkout
Powerful eCommerce analytics
Inventory, orders, tax, discounts
Limited availability labels
Checkout on your domain
Customer accounts
Products on Instagram
Advanced Commerce
Squarespace's Advanced Commerce plan costs $46/month and includes everything in the Basic Commerce plan, plus:
Subscriptions
Abandoned cart auto-recovery
Advanced shipping
Advanced discounts
Gift cards
Commerce APIs
Squarespace Select
In addition to the above, Squarespace offers a plan for enterprise-level businesses called Squarespace Select. This exclusive subscription tier will include a dedicated account manager, prioritized tech support, SEO consultation, and tailored design assistance. No pricing information is publicly available — you'll have to contact Squarespace to see what the company can offer you.
Extra Costs
You can purchase custom domains and email addresses straight from your admin in Squarespace. And if you sell items from your Squarespace site with a Business subscription, you'll be paying a 3% transaction fee (on top of the payment processing fee, which varies by processor/country and applies to all subscription tiers) on each purchase. That's why I recommend at least a Basic Commerce subscription to all eCommerce merchants.
See our Squarespace pricing article for an even more in-depth look at the costs associated with running a Squarespace website.
Ease Of Use
Squarespace makes things easy for you right from the start of the process. After you start your trial and choose a template, you'll be taken to the editor. From there, you can add pages or change the overall design of your website from the options on the left of the screen. To start editing your site, click the Edit button above the website preview window, and the preview window will expand to fill the screen, and you can then edit, adjust, and rearrage your website's sections and elements to your heart's content.
Squarespace's latest version, 7.1, makes website creation more intuitive than ever. It's still not quite as easy to use as Weebly, but I doubt you'll have much trouble. No coding skills will be required of you. However, if you've already built a Squarespace website using the previous editor (7.0), you will have to rebuild your website if you want to take advantage of the new features.
Hardware & Software Requirements
Because Squarespace is web-based, it requires only an updated browser (Firefox, Safari, Chrome, Microsoft Edge) and a reliable high-speed internet connection. Chrome and Firefox are your best bets, as they are supported on Mac, PC, and Linux.
Squarespace Features
Squarespace provides a good variety of different tools and features, many of which work in the background, freeing your hands to manage your business. Let's explore.
Dashboard: Your dashboard's appearance will depend on whether yours is a regular website or an online store. If you have the latter, you'll have access to your eCommerce settings as well as your online store (or stores). If you have a non-eCommerce website, your dashboard will be simpler, but you'll still have easy access to your website and your account settings.

Form Builder: Squarespace's editor gives you access to a number of attractive prefab contact forms. Thankfully, these forms are easily customizable to fit your business needs. Add as many form fields as you wish, along with checkboxes, radio buttons, and the like.
Online Store: Squarespace's eCommerce capabilities have been beefed up considerably over the years. You can sell unlimited products (digital and physical), set product variants, sell recurring subscriptions, track your inventory with advanced inventory management, use a real-time shipping calculator, and much more. You can run your Squarespace store from your phone with the Squarespace Commerce app. You can even connect the app with a Square Reader and use it as a point of sale system for brick-and-mortar sales. It's not as complete a commerce system as, say, Shopify, but it's a great system for smaller and mid-sized merchants.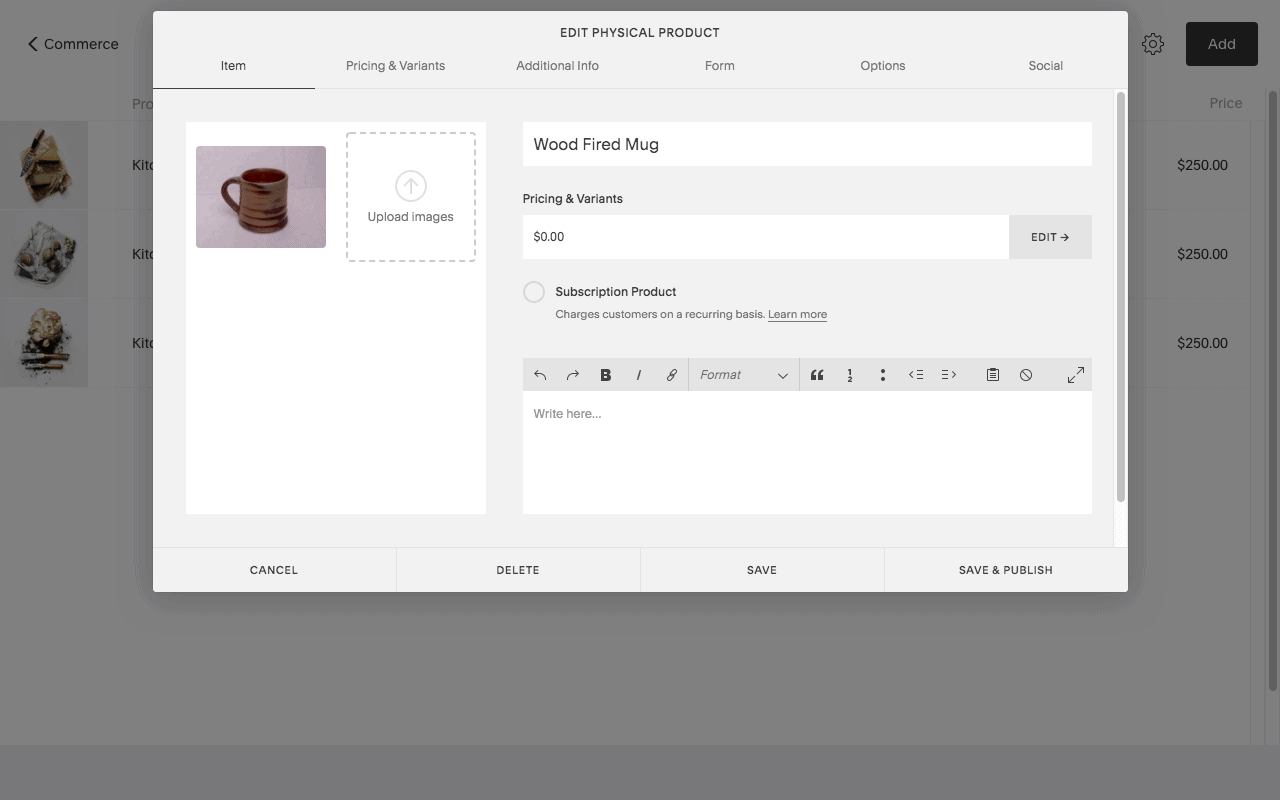 Blog: Squarespace's blogging system is definitely one of the platform's strengths. From the ability to schedule posts to the ability to have multiple authors posting to the same blog, Squarespace's blogging truly stands out. You can even to host a podcast on a Squarespace blog.
Marketing: Squarespace offers up some powerful digital marketing tools. Use them to create an email marketing campaign to promote your products or your blog.
SEO Tools: Customize image file names, meta descriptions, and product tags.
Reports & Analytics: View your site's performance. Learn about your site's traffic and identify sticking points for your visitors.
Smart Image Handling: Loads of features come standard for your custom images, such as optional Image Zoom, Set Focal Point (to ensure the best part of your image is centered in any thumbnail), galleries, automatic image scaling, automatic text wrapping, and display effects. You can also enable progressive image loading so that the images on the top of your website load first, speeding up loading times for visitors.
Device View: Squarespace lets you toggle between three viewing options: desktop, tablet, and mobile. See what your site looks like on every device.
Announcement Bars: Announcement bars let users stream news or post shop deals and greetings on the top of a website's homepage.
CDN: Take advantage of Squarespace's content delivery network (CDN) to enable faster site loading times for your visitors.
Commenting System: Users can anonymously show their interest or appreciation of your products and blog posts. Users can log in to comment or comment anonymously as well. You can also have the option to send comments to a queue for approval, disable comments after a certain amount of time, and block spam.
Squarespace Web Design
Squarespace has always specialized in design. It's the factor that differentiates Squarespace from the competition. Squarespace offers 124 templates for users to choose from, all of which are impeccably designed and fashion-forward. Here's just a sampling of those templates: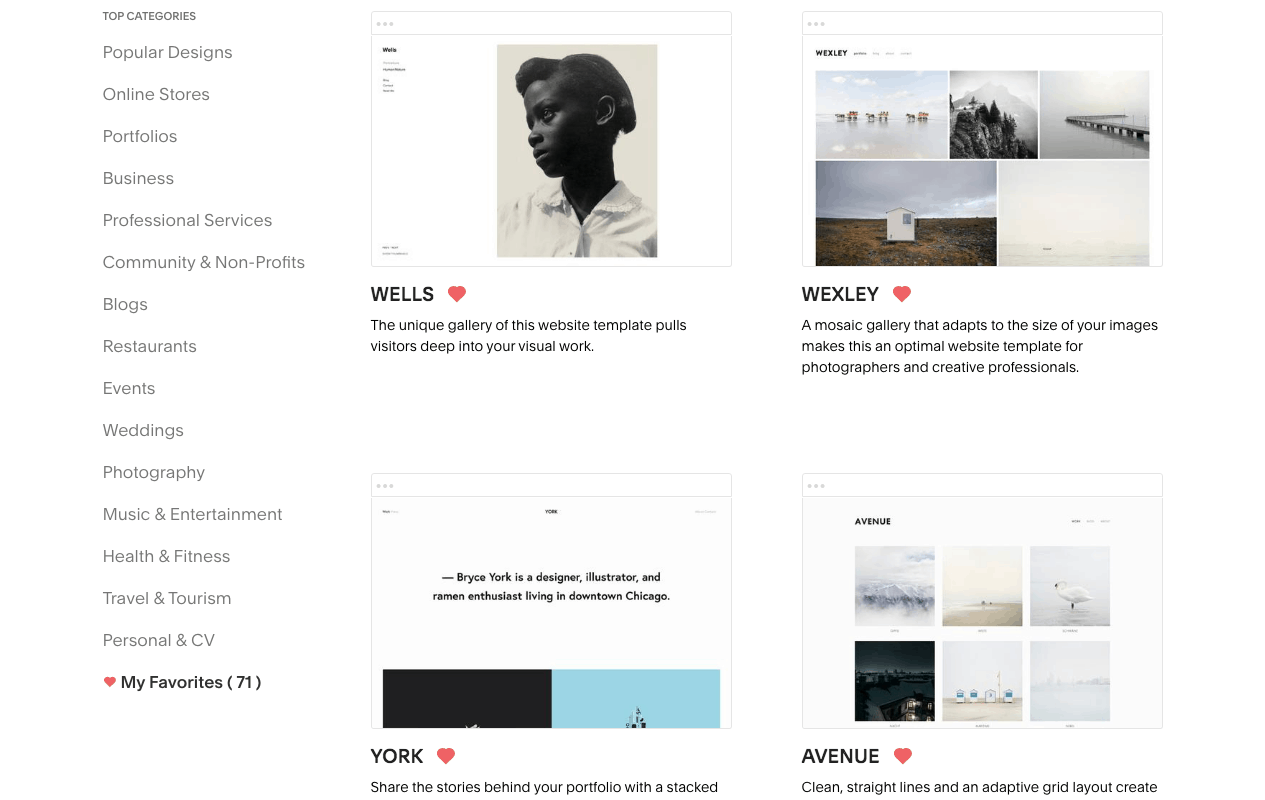 Squarespace's themes are the class of the industry. Those toiling in the creative industries have every reason to choose Squarespace as their website builder. Simply put, your site will reflect well on you.
Squarespace Customer Service & Support
Squarespace's customer service is either terrible or exemplary, depending on who you ask.
All Squarespace users will have access to 24/7 customer support through email and live chat. Squarespace does not offer phone support on any plan, which may frustrate some users. Fortunately, Squarespace also offers a wide variety of self-help resources. These are the problem-solving resources available to you:
Contact Form/Email: Squarespace offers 24/7 email support.
Live Chat: Live chat is open Monday through Friday, 5:30 AM to 8 PM Eastern time.
Community Forum: Join Squarespace's active forum to get help from other users.
Help Centers: Squarespace has an extensive help center you can use to learn more about the software. You can use the search bar to find answers to your questions quickly.
Hire A Designer: Find a Squarespace partner to help you design your store. These partners charge their own rates.
Webinars & Workshops: Join one of Squarespace's hour-long webinars that discuss building your site and launching your online store.
Blog: Read the blog for industry tips and Squarespace product news.
Social Media: You can always try reaching out to Squarespace through its dedicated Twitter account.
Dev Center: Find resources for developers, including API docs, the developer platform, and Squarespace Circle (Squarespace's guides and forums to help developers launch a design business).
My own experience with Squarespace's support was quite positive. I received a response to my web ticket by the next day, and the representative I contacted by live chat was able to answer all of my questions within a minute or so.
Squarespace Reviews
Negative Reviews & Squarespace Complaints
Squarespace has garnered hundreds of reviews online, both positive and negative. One review site might be dominated by negative comments, while another site might be filled with positive reviews. Trustpilot, in particular, sees a lot of Squarespace criticism, with the company currently earning an average customer rating of 1.6 out of 5 stars. Here's a sampling of the criticism found in Squarespace reviews posted by users:
Limitations In Customization: Users are frustrated by the limitations they encounter with Squarespace. These comments mostly referred to limitations in web design, but some of them mentioned the limited options for integrations.
Inadequate Customer Support: Many comments mention poor customer support. It seems that this complaint stems from Squarespace's lack of phone support. It is easy to have miscommunications over text, and customers are frustrated that they can't just call in to resolve their problems.
Expensive: Some Squarespace users think that the pricing plans are too costly, and they'd like access to a lower-level plan. Other users complain that they were unaware of Squarespace's annual auto-renewal policy, and they were billed for the next year when they were planning on discontinuing their account.
Limited eCommerce: Although you can certainly run an online store on Squarespace, it isn't the best option for many online sellers. There are only a few payment processors to choose from, and you will not have access to as many eCommerce features as you would with dedicated eCommerce software.
Keep in mind that accessible and widely-used services like Squarespace tend to get a lot of criticism. Not all customer feedback regarding Squarespace is negative!
Positive Reviews & Testimonials
Squarespace's positive reviews consistently name three things to love about the platform:
Easy To Use: Squarespace is highly usable. Anyone can learn the basics of the software in just a few hours.
Aesthetics: Squarespace is well-known for helping users create beautiful websites. The base templates are clean and elegant, and you can easily add your content to make it look even better.
Quality Customer Support: While Squarespace's customer service comes in for a fair bit of criticism, other users have found the live chat, in particular, to be attentive and helpful.
Squarespace Integrations & Add-Ons
Squarespace offers 57 integrations built into the platform. Integrations come in two different forms. The first category of integrations: Squarespace's Blocks. Blocks allow you to add features to your website in the form of a widget. You'll get an appointment scheduling block, a Flickr block, an Instagram block, etc.
The second category: integrations with external software. You'll find a host of blogging, eCommerce, design, image editing, and marketing integrations. Squarespace also has an integration with Zapier. Zapier is a service that lets you connect with over 1,000 additional apps. Finally, Squarespace has APIs available for users on the Business and Commerce plans. You can use these APIs to build integrations with other third-party software.
Security
Squarespace uses SSL certificates to encrypt all data passing to and from your website, and all Squarespace sites are PCI compliant. Squarespace offers anti-DDOS protection as well. Here's a full list of Squarespace's security features.
Squarespace FAQ
Final Verdict Of Squarespace
Squarespace can be best described in two words: functional beauty.
It doesn't take much effort to create a striking and visually appealing website with the tools Squarespace provides. Squarespace makes it easy and fun to build websites that are both effective and memorable, and that says a lot about the program's overall thoughtful design.
Squarespace has its share of issues, of course. The customer service leaves a lot to be desired, and the software has some limitations, which can be frustrating for more skilled users, including online merchants who need to be able to handle multiple tax rates.
These issues aside, Squarespace is an excellent web builder for hobbyists, artists, entrepreneurs, and small businesses that don't need an exceptionally high level of site customization and eCommerce functionality. The platform manages to marry beauty and utility, combining practical features with gorgeous templates and a solid style editor. If Squarespace sounds like the right fit for your business, sign up for a free trial for 14 days. You can get started without inputting a credit card number, so there's no risk in testing out the software.
If you've decided to go with Squarespace, read our guide to building a Squarespace website if you're looking for expert guidance. And if you're building an online store and are still considering your options, check out our eCommerce website builder comparison chart.
---
The Merchant Maverick Seal of Approval 🏆
Squarespace


---



After hours of in-depth research and evaluation, we can confidently recommend this brand to our readers. Get started today and see Squarespace for yourself.
The Merchant Maverick Seal of Approval 🏆
Squarespace


---



After hours of in-depth research and evaluation, we can confidently recommend this brand to our readers. Get started today and see Squarespace for yourself.
To learn more about how we score our reviews, see our
Website Builders Rating Criteria
.
Read Next