Contributor

UPDATED
Advertiser Disclosure: Our unbiased reviews and content are supported in part by
affiliate partnerships
, and we adhere to strict
guidelines
to preserve editorial integrity.
Pros
Easy to use
Modern user interface
Simple pricing plan
Cons
Limited support materials
Limited features
Overview:
In the words of the company website, "Streamtime is project management software for humans – brought to you by a team of clever cookies dedicated to thinking big, shooting straight and bringing a little bit of spice to your work life." This impressive-sounding claim exemplifies the new focus of Streamtime, which recently went through a major rebranding.
Streamtime was launched in 2002 out of New Zealand. Over the years it has undergone numerous changes and iterations. In 2016, however, founder Aaron Green decided to "throw accepted practices out the window, and radically alter the interface and input requirements of project management software."
The newest version of Streamtime, launched earlier this year, strives to simplify workflow, do away with irritating time cards, and most importantly, improve user experience to the point that work could be… fun.
This is no easy task, but the informal, casual, and (dare I say) entertaining way Streamtime approaches their product makes me think they may have accomplished the near-impossible. Let's take a look at what they have to offer:
https://youtu.be/xrwh_RocHSU
Web Based (SAAS) or On-Premise:
Streamtime is fully web-based and does not require any downloading.
Pricing:
Streamtime offers a very simple pricing scheme In fact, there is only one option! Here are the details:
$15/user/month
Comprehensive-yet-intuitive project management
Time tracking made easy with auto-populated to-do lists
Data interpretation with a smart dashboard
Simple job planning and tracking
Gorgeous design and a genuine sense of humor
Pay annually to save money, or take it month-by-month
There is also a standard two week trial that you can sign up for using only your email (no credit card information is required). As usual, I absolutely recommend doing the trial run before buying; it's always best to know what your are paying for before pulling the trigger.
Ease of Use:
Streamtime has devoted a lot of time and effort towards being extremely easy to use; everything about rebranded aesthetic points toward a simple, clean, efficient design.
When you log in for the first time, Streamtime greets you with some of my favorite ease-of-use features: a sample project and a basic tutorial. I love it when companies include these training tools; it really shows that they care about a positive user experience.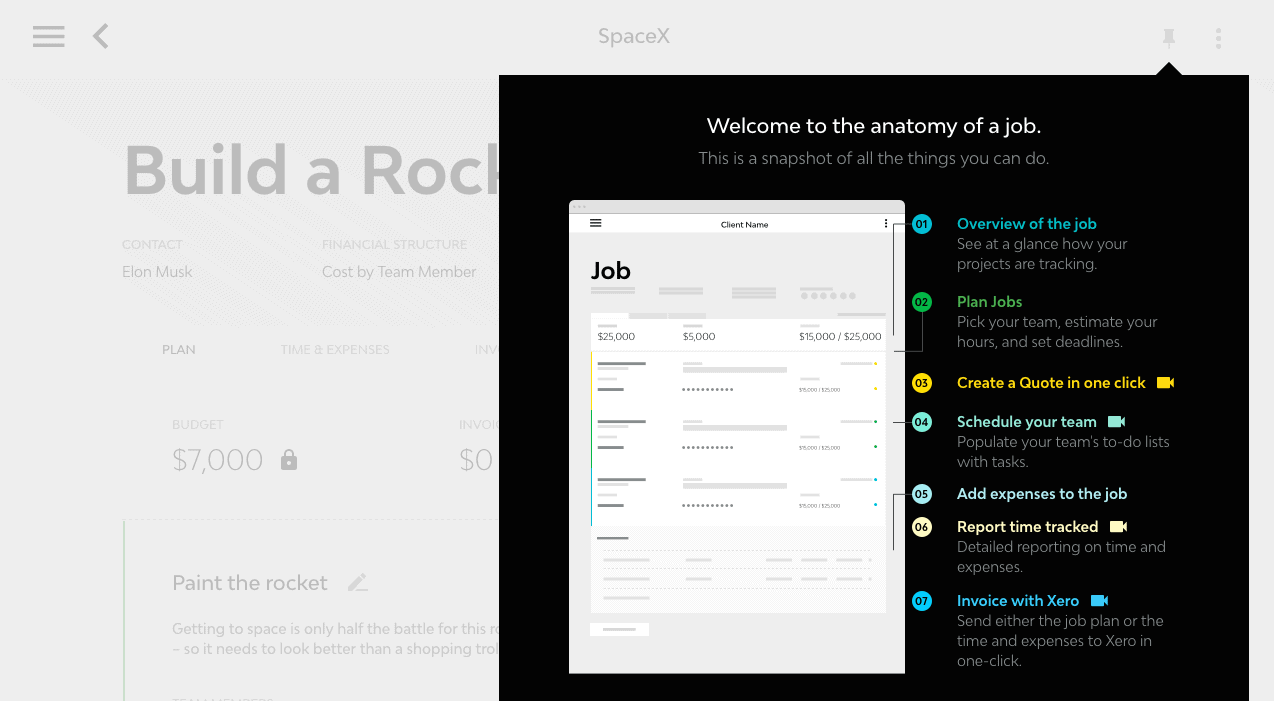 If you look at the different entries in the introductory tutorial, you will see that several of them are accompanied by video icons. Clicking those icons will redirect you to quick tutorial videos which explain the best way to enact the task in question.
The general usability of Streamtime is… different. Different than anything I have ever encountered before, that is. And that is saying something, since I have tested more than 50 project management software programs. In this case, different is a very good thing. I have never seen a system that incorporates such a depth and breadth of features in such an easy package. I will talk more about this later, but Streamtime manages to bundle scheduling, workload, task management, and budgeting features into an extremely user-friendly product. I really have nothing bad to say about it, from an ease-of-use perspective.
Customer Service and Support:
Streamtime offers one official support option beyond the :
FAQ's: There are only eight FAQs available on Streamtime's website, and most of them have nothing to do with how the product works. I get that the company is going for a simple, easygoing vibe with their product, but it doesn't make much sense to not have anything else available.
There are other ways to get support, though, which are:
Intercom.io: There is a little speech bubble in the lower right corner of the company website. Use this to connect with representatives and ask questions about Streamtime. This can be accessed through the app itself as well, but it is not as obvious as it should be. Support options should be very clear and obvious to users; if you are having a problem, you don't want to fell like you are digging through layers of difficulty just to get some answers. You want them clear, right in front of you! The good news here is that once you do locate the intercom.io button in Streamtime, you get 1:1 support from a real Streamtime expert. This is pretty excellent, but I still think the whole process should be made more user friendly.
Social Media: Streamtime seems relatively connected on social media, posting nearly every day on both Facebook and Twitter. They also have a YouTube channel that offers a few decent videos on how to use Streamtime.
Beyond that, the only other option for support is the company's "Contact Us" page, where you can supply your email address and write a brief message which will be answered at a later date.
Negative Reviews and Complaints:
I was unable to find any complaints or negative reviews from users of the new version of Streamtime. My main criticism of the company as of now is that there really are not enough customer support options available. A few YouTube videos and eight FAQs simply do not cut it in a field where competitors are giving clients individual treatment with personal customer service reps.
Customer service aside, I have only one beef with Streamtime as a project management tool, and unfortunately it's a fairly major one: the lack of communication tools. There is no chat feature to allow you to communicate with team members, a serious flaw in an otherwise exemplary product; if you are part of a team that works remotely, Streamtime may not be for you. At the very least you will need to find another form of group communication, at worst you will have to look elsewhere for your project management needs.
Positive Reviews and Testimonials:
Overall, people seem very happy with the redesigned Streamtime. They like the shift in focus, the acknowledgement that life is not all about work, and the efforts the production team has made to make this an enjoyable program. Here are a few excerpts from glowing reviews of Streamtime:
"Really well designed. Very easy to use interface and great for planning allocation of time to jobs and for tracking how much time is spent on a job. Customer support is excellent. The visual layout is great and it just makes it so easy to see scheduled tasks for the week in the 'to do' section and to move tasks around, edit the time spent on tasks etc."

"I started using Streamtime after searching and trialing many other products. After finding this one and watching a few of the vblogs on their website I knew that this was the one for me and that the team behind it had the same idea and thoughts as to what this sort of software should be like to use. Although it is still quite new and some features are still being developed I have confidence in the team and that this will continue to evolve into something even greater. It has actually made me start to enjoy planning and tracking my workload, before it was a task and nothing I had found was flexible enough to keep up with the constantly updating task workload, especially when under pressure and on tight deadlines the normal time where keep track of things and recording time goes out the window. Highly recommend."

"Firstly, Streamtime looks AMAZING. Clean lines, negative space and neutral colours…just a sexy design overall. The customer service is exceptional…fast email responses, glitch fixing and Skype calls to discuss any questions."

"I'm a digital marketing manager in a small full-service agency with anywhere between 5-6 team members collaborating on projects. After having troubles with software that was clunky and difficult for everyone to use. So far Streamtime's had a short learning curve and been adopted by the entire team. Extremely intuitive and easy to manage days, weeks and months"

"Streamtime allows you to do many of the core functions that teams and individuals require without all of the redundant features that most people never use. Quoting, invoicing, integration with the world's best accounting system (Xero) are all well-thought-out additions. Granted, there is still work to be done on the options and functions for invoicing pre-Xero, but all of the must-haves are in the pipeline as we speak. Although the app and it's unique functionality are in its infancy, these guys literally don't stop improving every week."
The industry at large seems to agree with these excited users. Since its re-launch earlier this year, Streamtime has been a 2016 AGDA award finalist, a Gold winner at the 2016 Sydney Design Awards, and a finalist in the Best Design awards.
Features:
As I mentioned above, Streamtime provides what is a frankly shocking amount of features at an extremely affordable price point. They also manage to be something I almost never encounter in my job as a reviewer: a truly unique solution to project management. Here are some of the ways Streamtime stands out from the crowd:
Dashboard: The dashboard in Streamtime is a good place to find an overview of all tasks currently assigned to you, graphs based on your team's productivity, and reports on budgeting. Streamtime pulls off this basic functionality with aplomb, but they have another trick up their sleeve. When you access your dashboard, Streamtime will ask you to choose a "persona." This will modify the kind of information you see on your dashboard. In all cases, you will be notified of upcoming projects and how much money has been made or spent, but different parts of that information will be emphasized, depending on your needs. I love the recognition here that people experience the world in different ways and that different team members might care more about different parts of the project.
To Do: Your to-do list is comprised of tasks that correlate to different jobs. This list is placed above a "to-do" line in the Streamtime UI. When you finish one or more of these tasks, you can drag them down below the line to the "done" section of the page. Here is the neatest thing about this feature: each of these tasks has a "budgeted time" section. As you complete tasks, Streamtime automatically updates how long you have been working based on the budgeted time of your tasks. I can see how this could become a problem if not implemented well, but I think that, as a concept, it works.
Team Schedule: I love anything that helps keep team members on the same page, and that is exactly what the Team Schedule is for: all tasks assigned to team members show up here, as well as which jobs they correlate with. This is a neat little feature that will certainly add to the overall cohesiveness of team work.
Jobs: Jobs are the big, umbrella-term used to talk about projects in Streamtime. Projects are associated with specific clients, and last as long as they need to in order to finish the Job. Within Jobs you can create Items, which are roughly like the milestones some other project management programs utilize. Both Jobs and Items offer budgeting options, something almost unheard-of at Streamtime's $15/user/month price point.
Analytics: Streamtime's analytics are mostly focused on hours reports, with options for personal time and group time, both for a single week or an entire month. There are also analytics for items that are over-budget, as well as more general "all work in progress" analytics.
Integrations and Add-ons:
Currently, Streamtime only integrates with Xero and Zapier. They promise that more integrations (like Quickbooks) are on the way, and encourage their users to tweet them with suggestions of future add-ons.
Final Verdict:
Let's make this perfectly clear: I love Streamtime. Their approach to project management software appeals to me on a number of levels, especially the way they strive to make work enjoyable. Having tested a number of project management tropes and found them wanting, Streamtime has been audacious enough to throw them out and start over. That really appeals to me.
Having said that, there are a few gaping holes in Streamtime's defenses. There are not nearly enough customer support options, and, most importantly, there are no communication tools available. I have said this before, but I find that communication tools (chat, project discussion feeds, etc.) are the more important features of effective project management software. The fact that Streamtime does not even integrate with an external chat feature, like Slack or Google Hangouts, is extremely worrisome to me. Hopefully a fix to that issue is on the way.
As always, I encourage you to not just take my word for it. The best way to decide whether Streamtime is for you is to sign up for the free trial and try it for yourself. From where I am standing, it could be one of the best decisions you will ever make for your business.
---
Featured Free Corporate Card
Ramp


---
Ramp offers a free corporate card for virtually any business. Start earning rewards with your corporate spending today. Get your free card.
Featured Free Corporate Card
Ramp


---
Ramp offers a free corporate card for virtually any business. Start earning rewards with your corporate spending today. Get your free card.
To learn more about how we score our reviews, see our
Project Management Software Rating Criteria
.