Updated on:
Advertiser Disclosure: Our unbiased reviews and content are supported in part by
affiliate partnerships
, and we adhere to strict
guidelines
to preserve editorial integrity.
Pros
Easy to use
Good customer support
Reasonable pricing
Cons
Limited integrations
Limited design templates
Outdated design templates
Annual upgrade fee
SunShop Overview
SunShop launched in 2009 as a component of Turnkey Web Tools. While most eCommerce vendors offer a web-based solution or a self-hosted solution, SunShop does both. You can choose between four pricing plans which allow you to either own SunShop's software or subscribe to their cloud option.
Some may argue that this dual approach creates a jack-of-all-trades-and-master-of-none situation, and limits SunShop's effectiveness. However, I found that while SunShop is not a perfect eCommerce solution, it hasn't suffered too terribly from its split efforts.
The admin is easy to use, support is solid, and pricing is reasonable. The main issues I see have to do with SunShop's lack of add-ons and template options. The company could resolve a lot of their problems by incorporating a marketplace.
Keep reading for a complete analysis of SunShop.
Pricing
SunShop comes in two forms (licensed and hosted), and there are two different pricing options for each.
All licensed plans come with one year of free basic support and one year of free software updates. There are no subscription fees or transaction fees for licensed platforms.
Keep in mind that licensed platforms always come with extra expenses. You'll have to pay for updates beyond the first year (If you're on the One Time Standard plan), hosting, an SSL certificate, add-ons, and themes. You'll also need to pay any expenses related to your payment processing.
Here are the two ways you can purchase a license.
One Time Standard — One Time Fee of $199.99

Unlimited Categories
Unlimited Products
No Transaction Fees
Money Back Guarantee
30 Days Initial Phone Support
1 Year Basic Support
1 Year Updates Access
Installs On Any Server
After one year, support and access to updates cost $125 annually.

One Time Owned — One Time Fee of $499.99

Unlimited Categories
Unlimited Products
No Transaction Fees
Money Back Guarantee
60 Days Initial Phone Support
1 Year Basic Support
Lifetime Access to Updates
Installs on Any Server
After one year, support costs $75 annually.
Hosted options include all the basics you would expect from a typical SaaS solution: software updates, a shared SSL, web-based management, a free domain name, hosting, free phone support, and weekly backups.
Here are the two plans for web-based platforms.
Monthly Plan — $34.99 / month

Monthly Renewal
Unlimited Categories
Unlimited Products
No Transaction Fees
No Contract
Toll-Free Phone Support
Lifetime Basic Support
Free Upgrades
Free Domain
Annual Plan — $299.99 / year

Unlimited Categories
Unlimited Products
No Transaction Fees
No Contract
Toll-Free Phone Support
Lifetime Basic Support
Free Upgrades
Free Domain
If you decide within 30 days that SunShop isn't for you, they do offer a refund, though you should note that this applies only to licensed plans. You should also be aware of this additional fine print.
SunShop offers Developer and ASP licenses for those looking to build sites on behalf of their clients.
Cloud-Based or Locally Installed
Both. SunShop offers cloud-based and locally installed platforms.
Specific Size of Business
SunShop works for small to mid-sized businesses, though larger businesses may be frustrated by the lack of add-ons.
Hardware & Operating System Requirements
In order to use SunShop's hosted solutions, you'll need a computer, a web browser, and internet access.
There are a few more requirements for their licensed platform. They are:
PHP 5.4 or better
cURL: Secure Communication
GD Library: Image Resizing
MCrypt: Credit Card Encryption
MySQL: Version 5.1 or later
You'll also need to set up your own web-host; take a look at SunShop's hosting recommendations.
Ease of Use
You can try out SunShop for yourself using one of their readily available demos. You won't have to enter any personal information to try out the product. Just go to this webpage and select whether you want to test the admin, view SunShop's storefront, or view a demo of SunShop's installation.
All users have access to the same demo, so any test information you enter will be automatically deleted after an hour.
I started by testing out SunShop's admin panel. Here's what I found.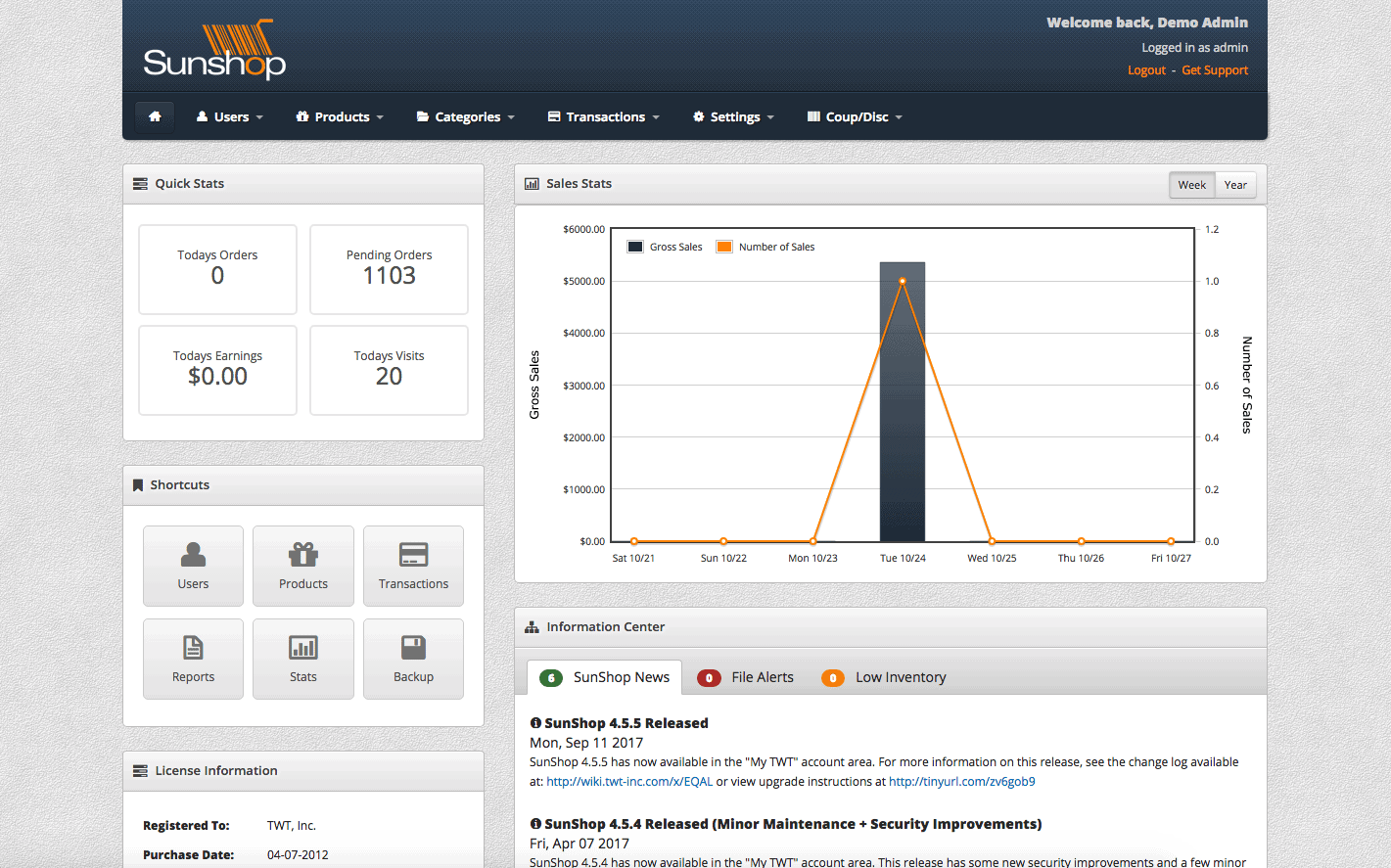 SunShop's admin is clean and logical. I easily found all the features I was looking for in drop down menus on the top navigation bar and had absolutely no trouble at all finding my way around.
As always when testing eCommerce software, I went on to add a product. Here's the full layout of the Add a Product page.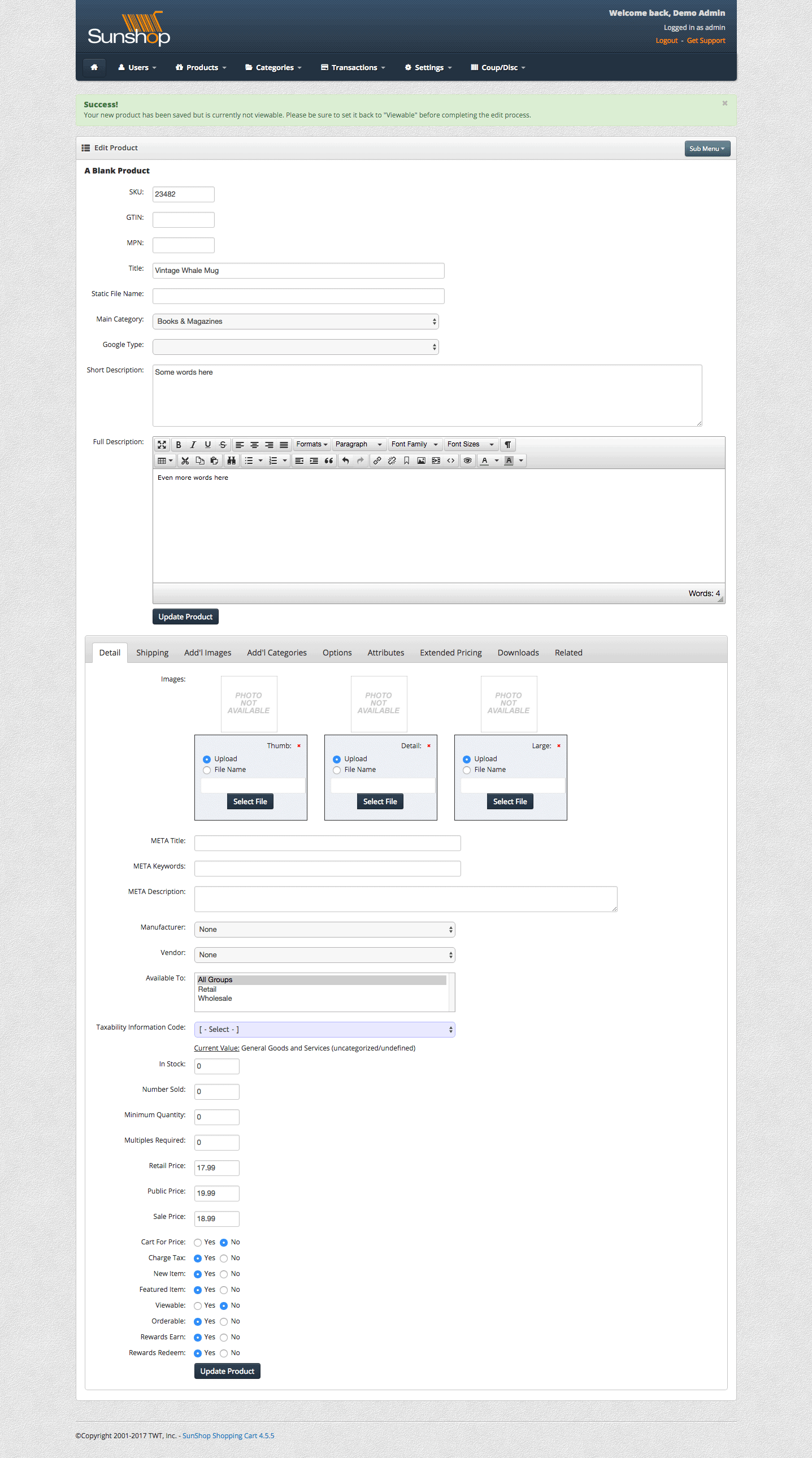 You can enter all your products' basic information above the fold. More advanced product features are tucked away in the tabs at the bottom of the screen. I prefer this method of organization; it results in far less scrolling to input your information.
I also tried out the coupon generator.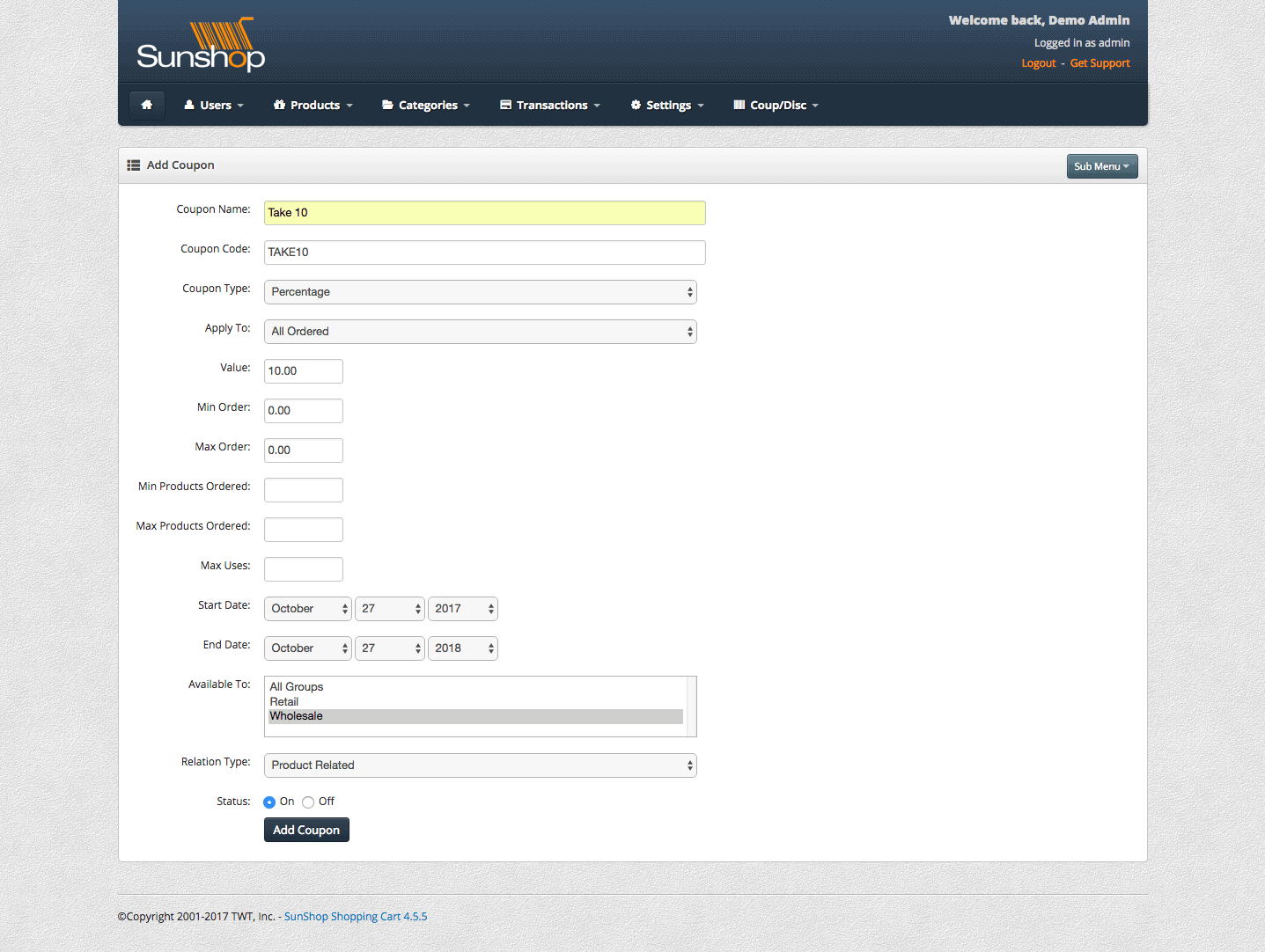 With SunShop, it's possible to create a coupon that applies to a specific category or a specific set of products. I had a bit of trouble selecting multiple individual products to which my theoretical discount would apply, so I submitted a quick support ticket and found out that you need to hold down the CTRL key to select multiple products or categories.
My biggest issue with SunShop's admin is that it is sorely lacking in order fulfillment features. You'll need to use an order management and shipping add-on like ShipStation in order to streamline processing and packaging.
Aside from that one issue, SunShop's admin is a viable platform for most merchants.
Features
SunShop has a perfectly acceptable range of features. I am neither overwhelmed nor underwhelmed with the functions available. For the full features list, explore these pages. For a bullet point summary, check below.
Store Management
Unlimited products and categories: List as many as you have.
List products under multiple categories: SunShop lets you list that ceramic mug under both "Glassware" and "Gifts."
Unlimited product images: You can add as many as you please, but remember that images take up bandwidth, so you might not want to add eight images for each product.
Unlimited product options: List your T-shirts in eight different colors and five different sizes.
Inventory management: Only sell in-stock products. Track your inventory by product and attribute. Stock automatically updates after each sale. Make bulk edits using CSV files or Excel.
Digital products: Sell downloadable products and securely deliver them to your customers.
Reports: Use SunShops's dynamic graphs reporting and website statistics to find out more about your traffic and sales. You can also integrate with Google Analytics.
Marketing
Rewards system: Encourage customer loyalty with a rewards program.
Coupons and discounts: Promote your products and collections with specific discounts and coupon codes.
Gift certificates: Let current customers create future customers for you.
"Tell-A-Friend": Allow customers to easily email your product pages.
Product reviews and ratings: Inspire buyer confidence with real customer reviews.
Cross-sell and up-sell: Set and list related products and display them alongside the products your shoppers are considering.
Affiliate program: Reward referrals.
Automated product-feed modules: Push your products to Shopzilla, Shopping.com, Google, and Yahoo! Shopping.
SEO
User-defined URLs: Create custom URLs for categories, subcategories, and products.
XML sitemap: Take advantage of an automatic XML sitemap generator for Google.
Title and meta tag generator: Spare yourself the time it takes to write custom meta tags.
Breadcrumb navigation: Use breadcrumb navigation (e.g. Clothing>Men's>Shorts) to help customers and search engines find your products.
Web Design
SunShop offers very little by way of templates. I counted ten available options, and three of those are just the same template with different color schemes. Furthermore, what themes are available are dated and plain.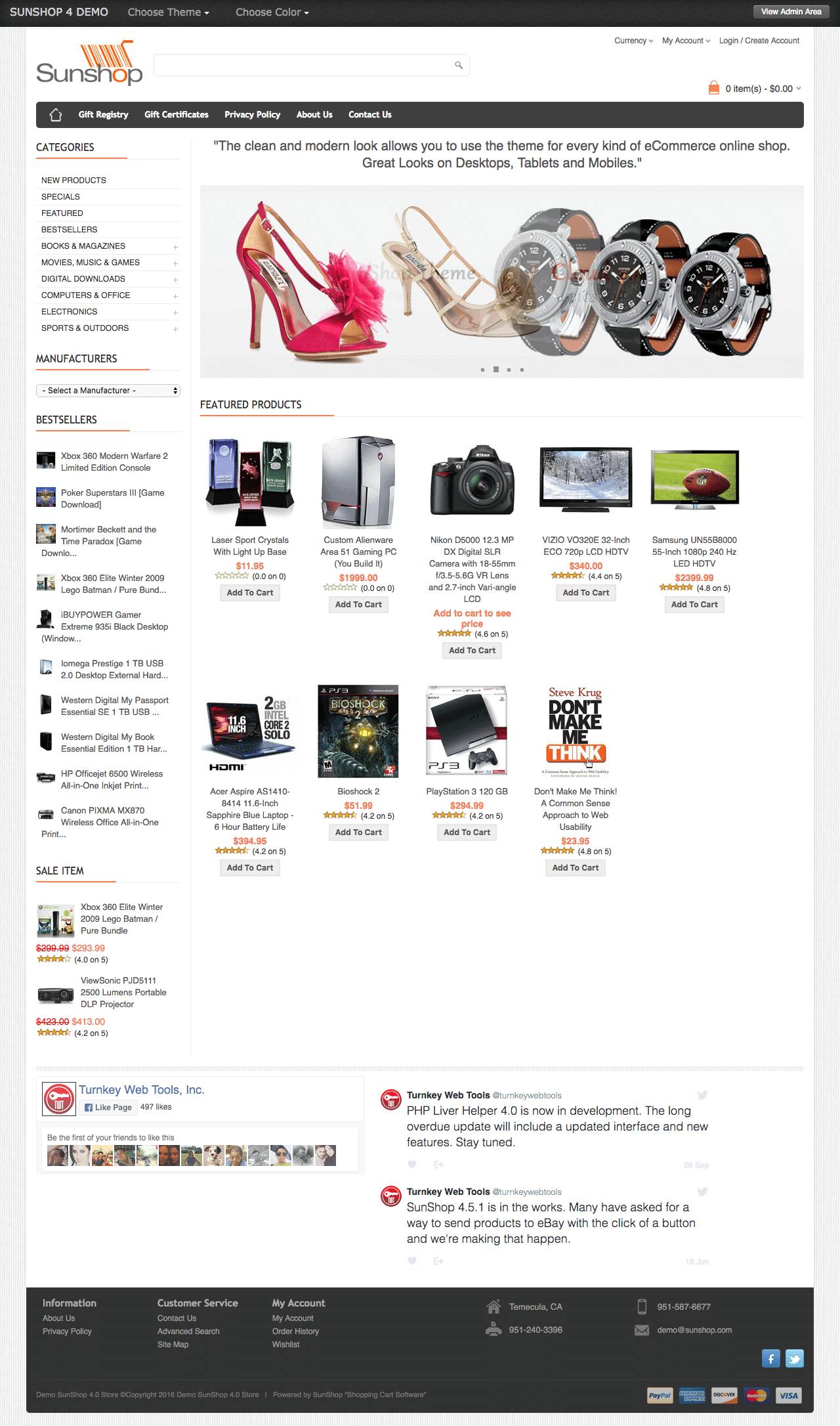 Fortunately, those themes are customizable, so if you've got the necessary tech ability, you can make your theme look however you like. If you aren't quite to that skill level, there is a WYSIWYG (what you see is what you get) editor, so you can update your site's content without messing with the code.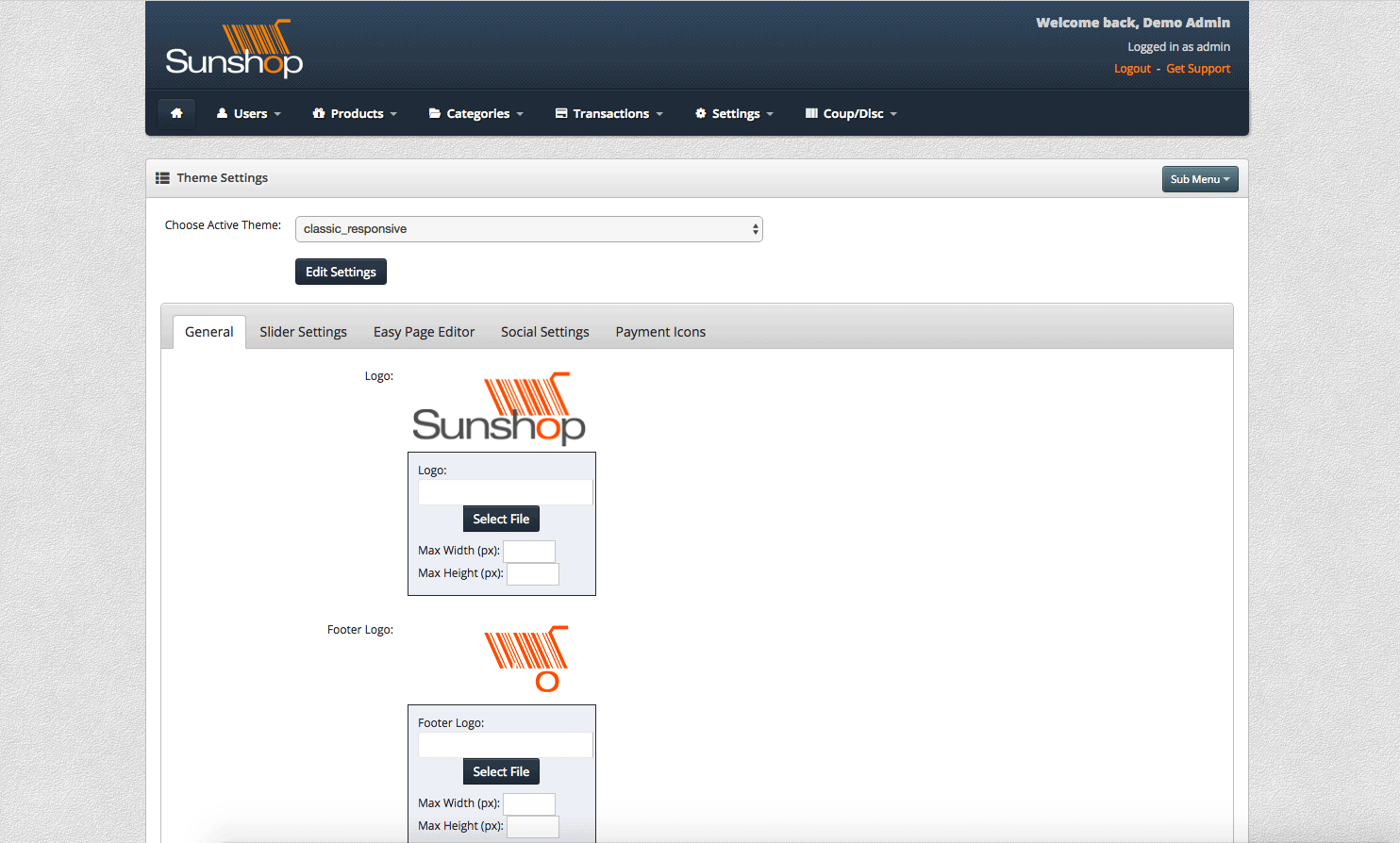 Alternatively, you could always hire a developer or spring for SunShop's custom design service.
Integrations & Add-Ons
Compared to most other platforms, Sunshop integrates with very few third-party software systems. Here are the integrations listed on their website:
You can find a few additional add-ons in your admin. They are listed under "Settings" and then "Manage Plug-ins." However, there aren't many options.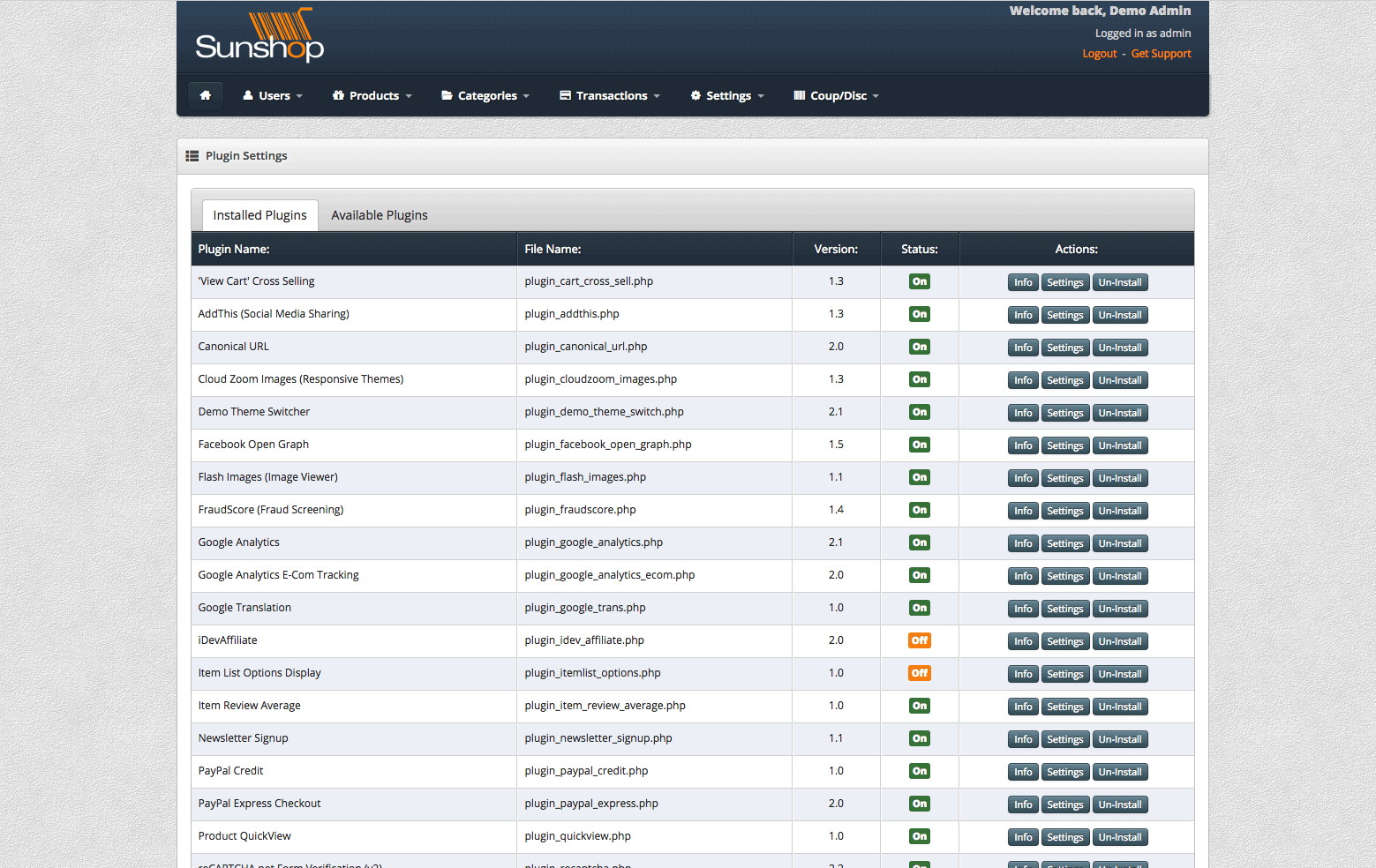 Payment Processing
SunShop integrates with over 60 payment gateways. I've listed a few big name players below.
SunShop also lets you accept payments in a wide variety of other forms (via phone, fax, mail order, store pickup, mail order by check, etc.). You can use your own terminal for manual processing.
SunShop also offers their own merchant account.
Customer Service & Support
If you sign up for SunShop's hosted solution, you'll receive all methods of support for as long as you're a subscriber.
If you go the self-hosted route, you'll benefit from phone support for the first couple months of your plan and receive basic support for one year. After that, you're on your own.
Here are the support options that SunShop provides.
You can also contact SunShop on their Facebook and Twitter pages, though SunShop's social media pages are far from active.
I had a positive experience when I probed SunShop's customer service. I submitted two web tickets to SunShop during my trial and received answers to both questions within only a few hours. That's significantly less time than the industry standard (which is often a full 24 hours).
Negatives Reviews & Complaints
Reviews of SunShop, both positive and negative, are few and far between. There's very little on the comment boards I frequent, and SunShop's social media presence is sparse.
Many of the reviews I found are years old, and therefore no longer relevant. Some of the more current complaints include:
Not many themes: There are only about seven different templates available with SunShop, and none of them are very attractive. You'll probably have to look into third-party offerings.
Few add-ons: Normally with licensed software, I expect a vast marketplace of integrations and add-ons. I just haven't found that to be the case with SunShop.
Must renew license yearly: In order to keep receiving software updates on the Standard license, you'll have to pay a yearly $125 renewal fee. That isn't as bad as with some licensed carts, but it isn't as good as free renewal either.
Upgrades difficult: Some customers report that software updates are difficult to implement and don't always fix bugs in the system.
Positive Reviews & Testimonials
There are a few testimonials on SunShop's site; most of them praise SunShop's customer service. Here are a few other positives I've gleaned from reviews across the web. (Note: SunShop is particularly popular with developers who are using the software to develop sites for their clients.)
Intuitive admin: SunShop's admin is easy to learn and easy to use. I had no problem navigating or implementing features.
Available support: I received answers to my web tickets within the promised "3 business hours" time frame. Customers also like SunShop's active forums.
Regular updates: While some customers found updates difficult to implement, other customers were pleased with their regularity.
Price: Pricing for all SunShop plans is on the cheaper side of typical. Their One-Time Standard licensed plan is particularly inexpensive.
Security
SunShop's hosted solutions are fully PCI compliant and come with a free shared SSL certificate. Your information will be backed up weekly.
Merchants who choose to purchase SunShop's licensed software will have to maintain their own security. While SunShop offers one part of a PCI/CISP compliant solution, you'll need to take a few steps in order to ensure the security of your entire site. Check out your options for an SSL certificate, and take a look at SunShop's instructions on maintaining PCI compliance.
SunShop comes with a few other tools that you can use to maintain security. For example, it integrates with FraudScore, which provides an analysis of each transaction along with a risk score. FraudScore can either automate your order processing or provide additional information for manual processing.
Additionally, SunShop supports HTTPS and SSL protocols and allows merchants to restrict admin access to specific users. It offers Recaptcha.net support (to reduce fraudulent transactions) and a one-way private encryption key, which encrypts any stored credit card information.
Final Verdict
If you're looking for an inexpensive, licensed solution with a solid feature set and an easy-to-use admin, SunShop may be a good choice. However, I would recommend you also look into Magento. Sunshop has much stronger customer support than Magento does, but Magento is more advanced in terms of functionality and add-ons.
On the other hand, I'm not particularly interested in SunShop's web-hosted solution. There are lots of other SaaS solutions out there with superior theme design and add-ons. You may be better off with a platform like Zoey Commerce or Shopify.
Regardless, SunShop is worth a look. Click the link below to start exploring what they have to offer.
---
We've done in-depth research on each and confidently recommend them.
Shopify is giving Merchant Maverick users a 14 day free trial + 14 day free trial + pay only $1 for your first month..
We've done in-depth research on each and confidently recommend them.
Shopify is giving Merchant Maverick users a 14 day free trial + 14 day free trial + pay only $1 for your first month..
To learn more about how we score our reviews, see our
eCommerce Software Rating Criteria
.
Read Next