SunShop Review
Due to SunShop's pricing increases, outdated themes, and the lack of modern add-ons, we cannot highly recommend this eCommerce solution.
Expert Analyst & Reviewer

UPDATED
Advertiser Disclosure: Our unbiased reviews and content are supported in part by
affiliate partnerships
, and we adhere to strict
guidelines
to preserve editorial integrity.
SunShop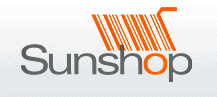 Pros
Cons
Expensive
Limited integrations
Outdated design templates
Limited customer support
SunShop Overview
SunShop Shopping Cart Software launched in 2009 as a component of Turnkey Web Tools. Most eCommerce vendors offer a web-based solution or software licensing, but SunShop offers both.
While SunShop's software is straightforward once you get it installed, that is mostly because the company has not developed the expansive amount of web builder functionalities and add-ons that business owners have come to expect from their eCommerce provider.
Previously, the company was known for its reasonable software licensing pricing, which would give you lifetime access to the software and all its updates. However, SunShop has drastically increased the price of their hosted and self-managed software, to the point where both plans cost more than most eCommerce solutions from more well-known providers.
Before you write SunShop off entirely, though, take a look at all their eCommerce solutions have to offer.
Sunshop Pricing
SunShop plans include a downloadable software (SunShop Download) and a hosted solution (SunShop On Demand). There is no free trial period.
While SunShop previously priced their one-time software download fee at $199, it has since spiked up to $499, plus an annual $150 renewal fee for support from the SunShop team.
On top of that, you have to pay for your own domain name, site hosting, and SSL certificate. Compared to downloadable eCommerce software such as PrestaShop, which costs $0 to download, SunShop Download is incredibly expensive.
Here is a quick rundown of what you get with SunShop Download:
SunShop Download: One Time Fee of $499
Unlimited categories
Unlimited number of product listings
No transaction fees
30-day money-back guarantee
One year free phone, email, ticket, and live support ($150 annual renewal fee for continued support)
Lifetime access to software updates
Installs on any server
Access to all software features
SunShop On Demand is now priced at $49/month, where it used to be $39/month. While you don't have to pay transaction fees with this eCommerce platform provider, it's relatively expensive when you consider that other platforms such as Volusion also have no transaction fees, and they cost less per month than SunShop On Demand.
Here is a quick rundown of what you get with SunShop On Demand:
SunShop On Demand: $49/month, or $449.99/year
Free web hosting
Unlimited categories
Unlimited number of product listings
No transaction fees
30-day money-back guarantee
Unlimited phone, email, ticket, and live support
Lifetime access to software updates
Installs on any server
Free domain name (annual plan only)
If you decide within 30 days that SunShop isn't for you, they do offer a refund. It should be noted that there is a lot of fine print involved in the return process, and it's easy to get stuck footing the bill if you don't follow their return instructions carefully.
Cloud-Based or Locally Installed
Both. SunShop offers cloud-based and locally installed platforms.
Specific Size of Business
SunShop works for small to mid-sized businesses. Larger businesses may be frustrated by the lack of add-ons.
Hardware & Operating System Requirements
In order to use SunShop On Demand, all you'll need a computer, a web browser, and internet access.
There are a few more requirements to work with their licensed software, which include:
PHP 5.6 or better (7.2 is recommended)
cURL: Secure Communication
GD Library: Image Resizing
OpenSSL: Credit Card Encryption
MySQL/MariaDB: Version 5.1 or later
PDO MySQL: Database
MbString: String Functions
You'll also need to set up your own web hosting if you're on the SunShop Download plan. Take a look at SunShop's hosting recommendations to decide which hosting provider best fits your needs.
Ease of Use
While using SunShop is pretty simple, installing SunShop to a server, editing the source code of your site's theme, or trying to add any more functionality to your website is something that requires at least some level of PHP coding knowledge. There is a knowledge base available to help walk you through the installation process, but the articles are quite short and some have not been updated in a while.
You can try out SunShop for yourself using their fully functional demo. You don't have to enter any personal information to view a SunShop demo storefront or test SunShop's admin dashboard. All users have access to the same demo, so any test information you enter will be automatically deleted after an hour.
I started by testing out SunShop's admin panel. Here's what I found.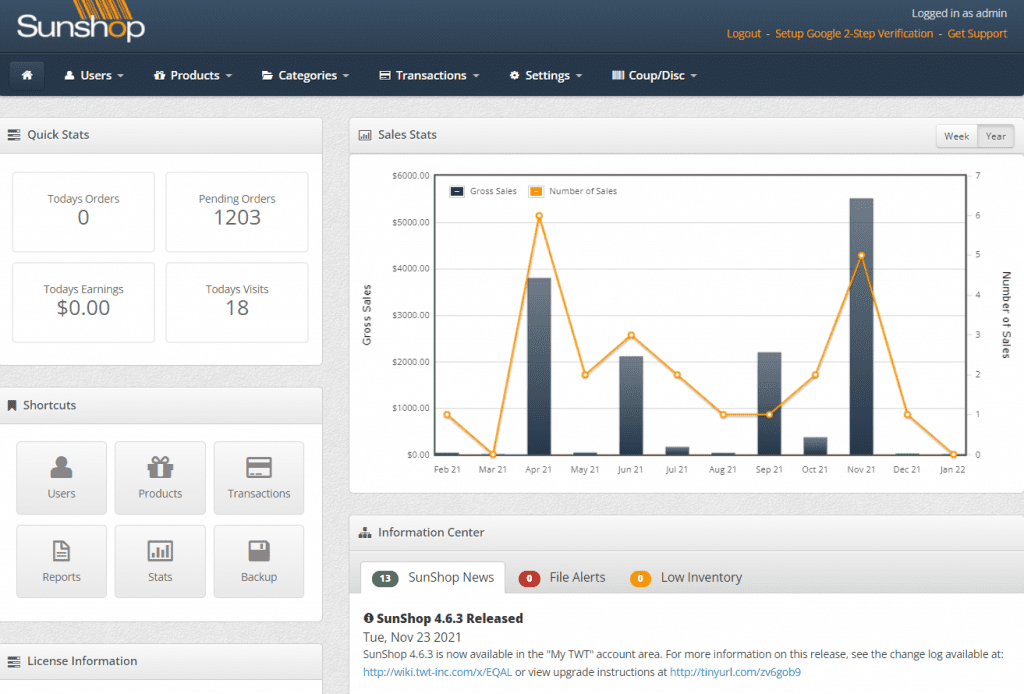 SunShop's admin is clean and logical. I easily found all the features I was looking for in drop down menus on the top navigation bar and had absolutely no trouble at all finding my way around.
As always when testing eCommerce software, I went on to add a product. Here's the layout of the Add a Product page.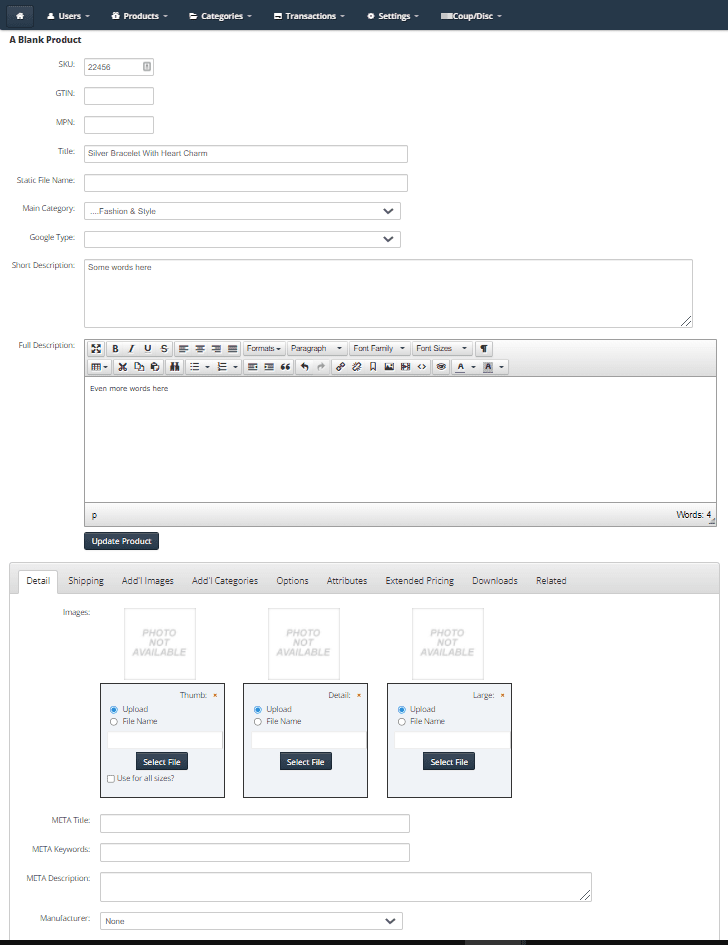 You can enter all your products' basic information above the fold. More advanced product features are tucked away in the tabs at the bottom of the screen. I prefer this method of organization; it results in far less scrolling to input your information.
I especially appreciate that you can easily enter metadata about your product while listing it. This makes it easier for Google search bots and potential buyers to find your listings.
I also tried out the coupon generator.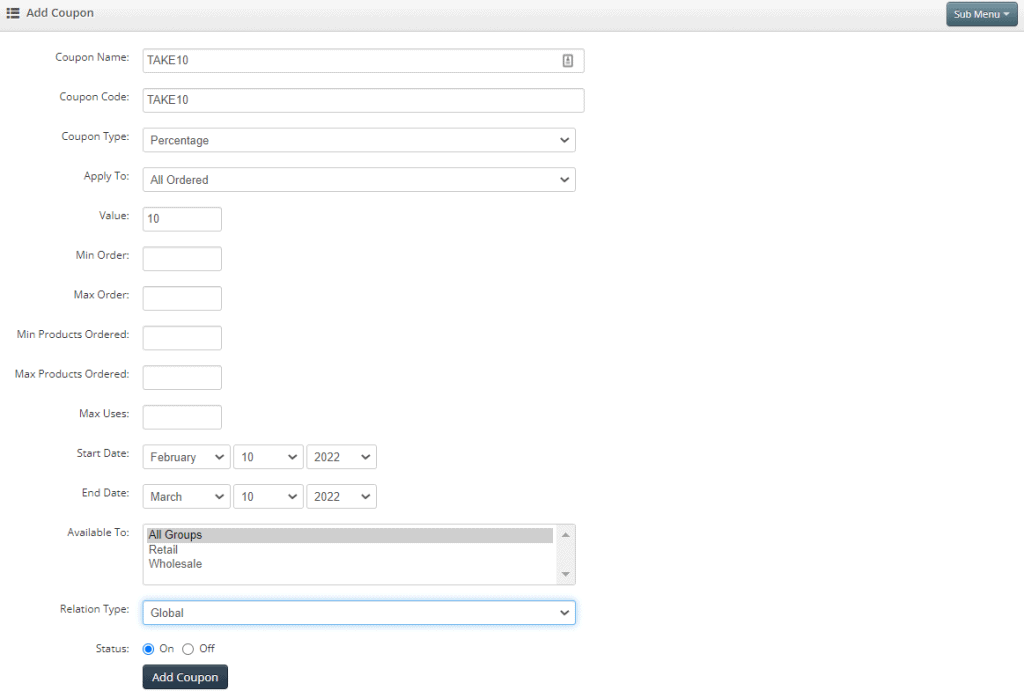 With SunShop, it's possible to create a coupon that applies to a specific category or a specific set of products. I had a bit of trouble selecting multiple individual products to which my theoretical discount would apply, so I submitted a quick support ticket and found out that you need to hold down the CTRL key to select multiple products or categories.
My biggest issue with SunShop's admin is that it is sorely lacking in order fulfillment features. You'll need to use an order management and shipping add-on like ShipStation in order to streamline processing and packaging.
Aside from that one issue, SunShop's admin is a viable platform for most merchants.
Sunshop Features
SunShop has an acceptable range of features to manage an online store. Those features include:
Store Management
Unlimited Products And Categories: List as many as you have.
Multiple Product Categories: SunShop lets you list a single product under multiple categories.
Unlimited Product Images: Add as many as you like, but remember that images take up bandwidth, so you might not want to add eight images for each product.
Unlimited Product Options: List a single product in several different colors, sizes, etc.
Inventory Management: Only sell in-stock products. Track your inventory by product and attribute. Stock automatically updates after each sale. Make bulk edits using CSV files or Excel.
Digital Products: Sell downloadable products and securely deliver them to your customers.
Reports: Use SunShops's dynamic graphs reporting and website statistics to find out more about your traffic and sales. You can also integrate with Google Analytics.
Marketing
Rewards System: Encourage customer loyalty with a rewards program.
Coupons And Discounts: Promote your products and collections with specific discounts and coupon codes.
Gift Certificates: Let current customers create future customers for you.
"Tell-A-Friend": Allow customers to easily email your product pages.
Product Reviews And Ratings: Inspire buyer confidence with real customer reviews.
Cross-sell And Up-sell: Set and list related products and display them alongside the products your shoppers are considering.
Affiliate Program: Reward referrals.
Automated Product-Feed Modules: Push your products to Google, Pinterest, Pricegrabber, ShopBuddy, Shopzilla, and Yahoo! Shopping.
SEO
User-Defined URLs: Create custom URLs for categories, subcategories, and products.
XML Sitemap: Take advantage of an automatic XML sitemap generator for Google.
Title And Meta Tag Generator: Spare yourself the time it takes to write custom meta tags.
Breadcrumb Navigation: Use breadcrumb navigation (e.g. Clothing>Men's>Shorts) to help customers and search engines find your products.
Simple Blog: Add a blog and do some content marketing to get people buying.
Web Design
SunShop's web builder uses "what you see is what you get" themes, and also gives users access to the web builder's source code so that you may change your website manually. There are currently only nine different themes, all of which are cluttered, outdated, and lackluster.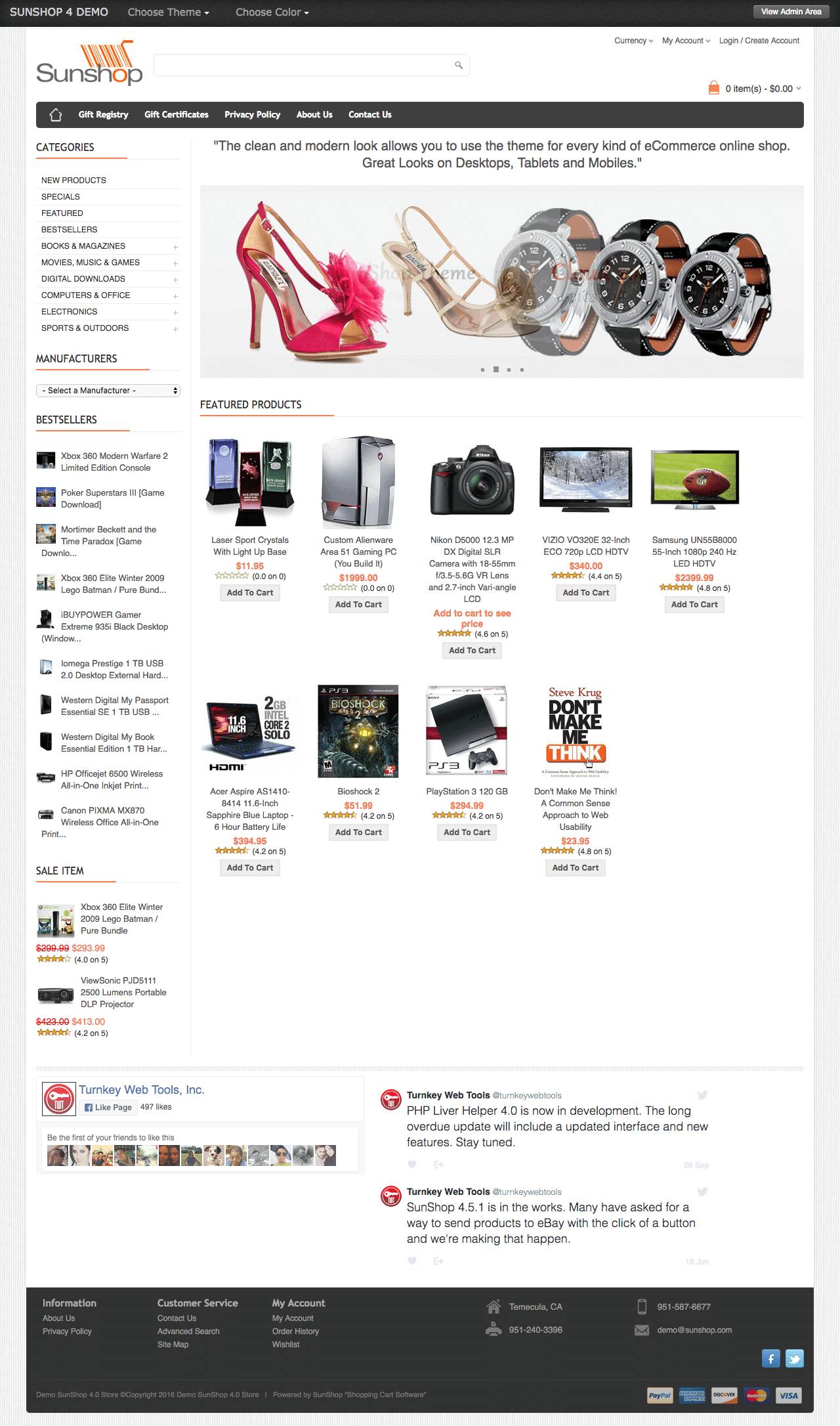 Alternatively, you could hire a developer or spring for SunShop's custom design service.
Integrations & Add-Ons
Compared to most other platforms, SunShop integrates with very few third-party software systems, which makes most users feel limited in terms of their site's functionality. Here are the integrations listed on SunShop's website:
Webgility: Integrate with Quickbooks, shipping processors, and payment gateways
Atandra T-Hub: Integrate with Quickbooks and shipping services
ShipStation, ShipRush, and ShipBob: Shipping solutions
TaxCloud: Tax management service
iDevAffiliate: Affiliate tracking software
CartStack: Launch automated abandoned cart recovery campaigns
In addition to third-party integrations, SunShop also offers some plugins for installation. They are listed under "Settings" and then "Manage Plug-ins" on your admin dashboard. However, these options are not up-to-date when it comes to giving businesses everything they need to prosper in the eCommerce sphere.
For example, businesses are not able to add social media tracking to any platform besides Facebook, when selling on Instagram and TikTok is arguably more relevant. You also don't have a readily available in-person selling feature available to you.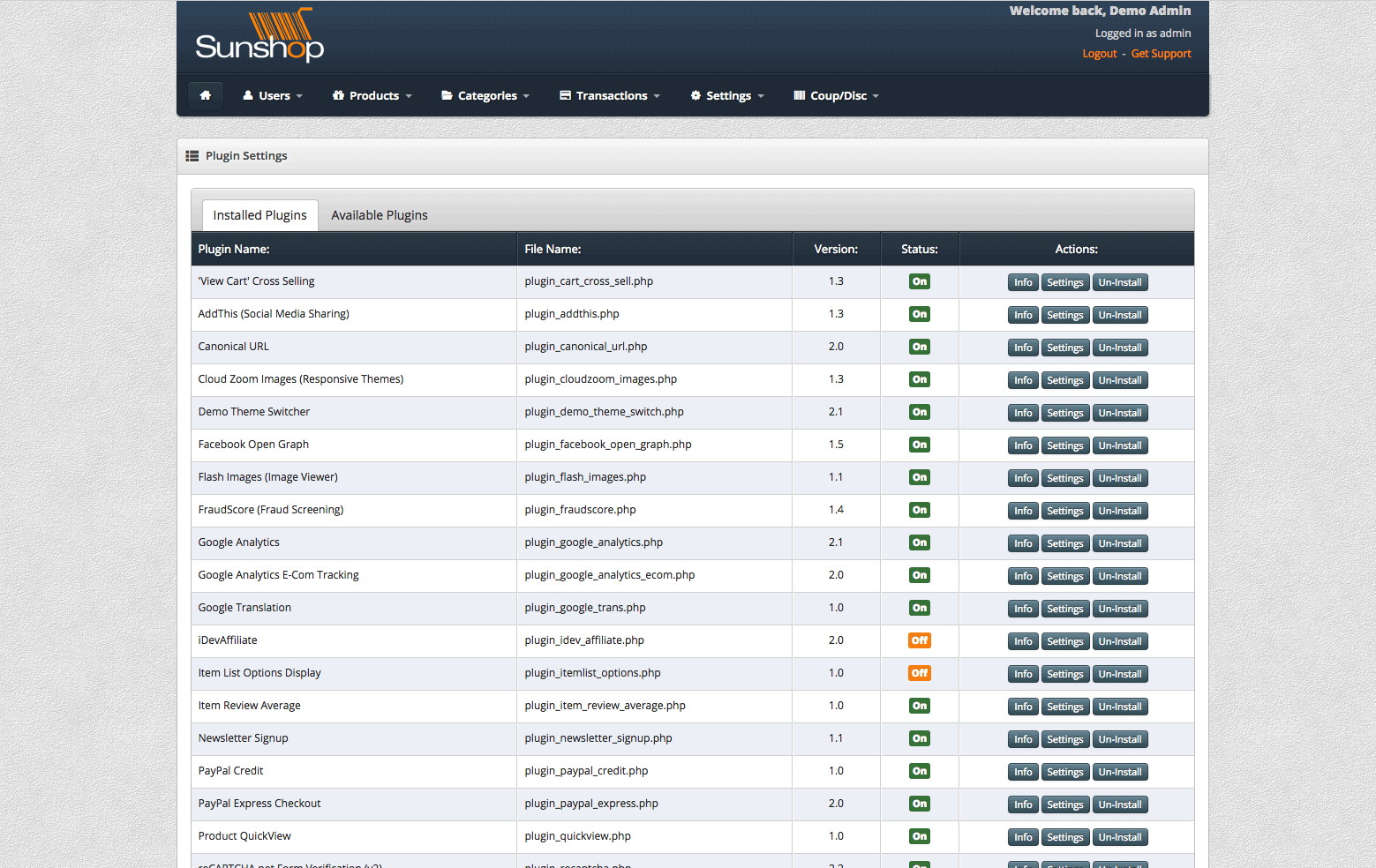 Payment Processing
SunShop integrates with over 80 payment gateways. I've listed a few big name players below.
SunShop also lets you accept payments in a wide variety of other forms (via phone, fax, mail order, store pickup, mail order by check, etc.).
Unlike eCommerce site builders such as Shopify, SunShop does not charge transaction fees based on the type of payment processor you use.
Customer Service & Support
With a self-hosted software download, you will receive one year of support for free. After that, you will need to pay a $150 annual renewal fee if you want to keep getting support. If you sign up for SunShop's hosted solution, you'll receive all methods of support for as long as you're a subscriber.
SunShop lists itself as having phone, email, ticket, and live chat support options. However, upon further inspection, I found that all representatives were "offline" and that live support was not actually available. It's essentially the equivalent of sending an email request.
There is a contact form available, but several attempts at sending in this form only resulted in an error message asking me to try submitting the form again.
There is a knowledgebase and documentation. However, both contain varying levels of out-of-date information (some articles were last updated in 2012.)
SunShop's support hours are 9 AM to 5 PM PST, Monday through Friday.
When I could eventually get a ticket in, I did have a positive experience when I probed SunShop's customer service. I submitted two web tickets to SunShop during business hours on my trial and received answers to both questions within a few hours. However, if an issue occurred outside of business hours or over the weekend, I would have had to wait much longer.
It is important to note that I did not send in software-related questions, so I can't speak to how long it might take to get a software issue resolved.
SunShop Reviews
SunShop has been available since 2009, and the software has gone through many updates since then, meaning that some user reviews are no longer relevant. There are also very few reviews of SunShop in general. Take this into consideration as you're reading user reviews.
Negatives Reviews & Complaints
Some of the more current complaints include:
Not Many Themes: There are only nine different templates available with SunShop, and none of them are very attractive. You'll probably have to look into third-party offerings.
Lack Of Advanced Features: Normally with licensed software, users expect a vast marketplace of integrations and add-ons. That doesn't seem to be the case with SunShop.
Upgrades Difficult: Some customers report that software updates are difficult to implement and don't always fix bugs in the system.
Positive Reviews & Testimonials
Here are a few positives from reviews across the web:
Intuitive Admin: SunShop's learning curve is not too steep, and becomes intuitive once you get familiar with the software.
Lightweight: SunShop's shopping cart software is pretty lightweight, so websites utilizing the software will load faster.
Regular Updates: While some customers found updates difficult to implement, other customers were pleased with their regularity.
Security
SunShop's hosted solutions are fully PCI compliant and SunShop guarantees 99.99% uptime for your website. Your information will be backed up weekly. If you go with the SunShop On Demand annual plan, you will receive a free SSL certificate. Otherwise, you will have to purchase one separately.
Merchants who choose to purchase SunShop's licensed software will have to maintain their own security. While SunShop offers one part of a PCI compliant solution, you'll need to take a few steps in order to ensure the security of your entire site. These steps include getting your own SSL certificate and choosing a hosting provider with a good track record of secure data encryption and backup.
SunShop comes with a few other tools that you can use to maintain security. For example, it integrates with FraudScore, which provides an analysis of each transaction along with a risk score. FraudScore can either automate your order processing or provide additional information for manual processing.
Additionally, SunShop supports HTTPS and SSL protocols and allows merchants to restrict admin access to specific users. It offers Recaptcha.net support (to reduce fraudulent transactions) and a one-way private encryption key, which encrypts any stored credit card information.
There have been reports of security breaches on SunShop-powered websites. SunShop's team has instructed all users to make sure their software is consistently up-to-date to make sure security breaches don't happen (even on hosted plans, SunShop does not automatically update your software.)
Final Verdict
SunShop used to be an inexpensive licensed eCommerce solution with a solid feature set. However, due to pricing increases, outdated themes, and the lack of modern add-ons, I cannot recommend using SunShop for your eCommerce needs. If you're looking for licensed software, consider Magneto or Shift4Shop. They are both more advanced in terms of functionality and add-ons.
If you're looking for a fully hosted eCommerce solution, platforms such as Shopify and BigCommerce offer robust web builders, a noteworthy level of security, intuitive admin space, and hundreds of add-ons for you to create the modern, sleek online store that customers have grown to expect.
Check out our guide on the best eCommerce platforms to create your online store before making your decision.
---
Featured Free eCommerce Plan 🔥
Square Online


---
Get a free website builder, online ordering, gift cards, in-store pick-up options, and dozens of other features for eCommerce and hybrid businesses. Free options available. Learn more from Square.
Featured Free eCommerce Plan 🔥
Square Online


---
Get a free website builder, online ordering, gift cards, in-store pick-up options, and dozens of other features for eCommerce and hybrid businesses. Free options available. Learn more from Square.
To learn more about how we score our reviews, see our
eCommerce Software Rating Criteria
.