Swift Capital Review
Swift Capital has partnered with PayPal to offer business loans under the name LoanBuilder. The company no longer offers the financial products described below.
Expert Analyst & Reviewer

UPDATED
Advertiser Disclosure: Our unbiased reviews and content are supported in part by
affiliate partnerships
, and we adhere to strict
guidelines
to preserve editorial integrity.
Note: Swift Capital has partnered with PayPal to offer business loans under the name LoanBuilder. The company no longer offers the financial products described below. See our LoanBuilder Review for an up-to-date review of the products offered by this company.
Highlights
Merchant cash advances
Working capital funds
48-72 hour funding decisions
Weekly fixed ACH repayments
Poor credit okay
3 – 12-month terms
Swift Capital Overview
Swift Capital is a funder that offers a product similar to merchant cash advances based on your future sales. Unlike traditional MCAs, however, the product isn't based on your future credit and debit card sales, but on your total projected revenue. This makes it also similar to a short-term cash flow loan, though Swift calls their product a "business advance" for reasons related to state law. Regardless, as the company's name would suggest, you can receive funding very quickly.
In the world of online funding, being fast isn't very special, though. Any merchant can find a funder that's willing to give them money fast—it's a bit more difficult to find a funder that can get you quality service, good fees, and an agreeable repayment structure.
In that respect, you could certainly do a lot worse than Swift. They advertise fixed, weekly ACH repayments, which is significantly more convenient than other repayment methods. Their website provides a fair amount of information and most customers claim the customer service is genuinely helpful and honest. However, I'd still recommend doing some serious comparison shopping before committing to an MCA-like lender.

LoanBuilder


---
Services Offered
Swift Capital offers the following products/services:
Borrower Qualifications
These are the minimum qualifications to get an advance from Swift Capital:
| | |
| --- | --- |
| Time in business: | 12 months |
| Credit score: | 500 |
| Business revenue: | $100K/year |
Terms and Fees
Swift Capital is pretty upfront about their process, taking pains to lay out how it works on their site.
| | |
| --- | --- |
| Borrowing amount: | $5K – $500K |
| Term length: | 3 – 12 months |
| Flat fee: | x1.099 – x1.429 |
| Origination fee: | 1% – 2.5% |
| Effective APR: | Learn more |
| Collateral: | UCC-1 blanket lien |
According to Swift's website, they'll usually offer between 10% and 15% of your annual revenue, with a cap at $500K. For example, if you make $100K annually, you can expect Swift to offer you somewhere between $10K and $15K in funding. Swift estimates that 97% of their advances come in under a 29.8% interest rate; the remaining 3% are mainly businesses with very poor credit seeking a higher term length (more than 9 months).
Like most alternative short-term funders, Swift doesn't change periodic interest. They do, however, structure their product in a slightly different way than many similar companies. Swift charges what they call a one-time buy rate. This fee is calculated once based on the original amount advanced to you. Swift, to their credit, is far more transparent about their formula than the industry at large, though keep in mind that you may receive an offer with better or worse terms.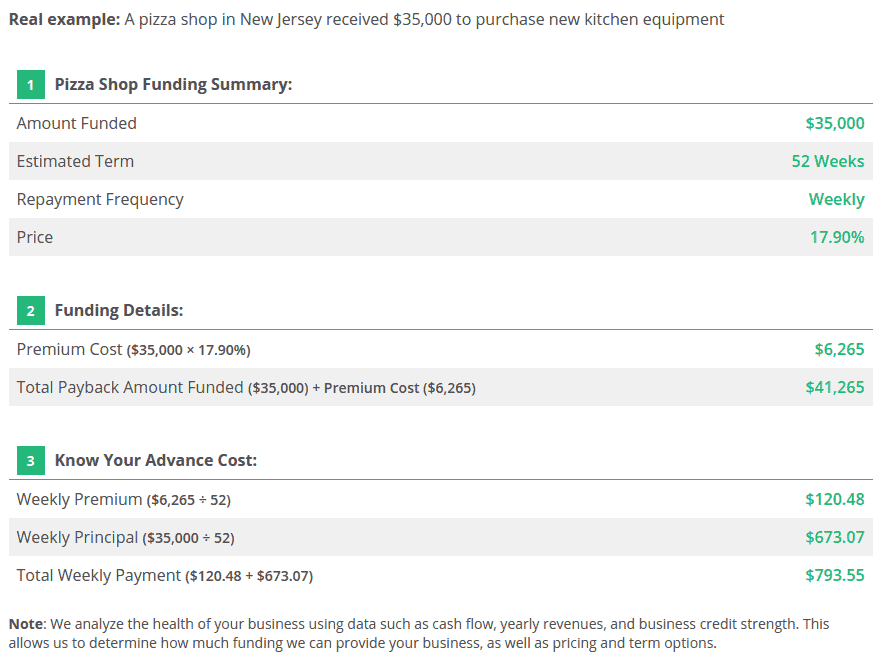 (screenshot is current as of 7/21/17)
Note that Swift writes the buy rate (what they call the price) as a percentage. This is not the same thing as an interest rate or APR. Most MCAs express the fee as a "factor rate," a multiplier to the amount you borrowed. Converted from a percentage, the factor rate for the example above would be 1.179. That means that for every dollar that person is borrowing, they're repaying about $1.18.
On the website, Swift states that their starting rate is 1.099, or 9.9%. I was unable to find a maximum rate, but you should expect a rate somewhere between 1.099 and 1.4 (this is backed up by reviews). That means you'll pay somewhere between $1.10 and $1.40 for every dollar borrowed.
Each week money is deducted from your bank account via automated clearing house. This stands in contrast to many alternative funders that require daily payments. Like an MCA, this number can fluctuate based on changes to your cash flow.

LoanBuilder


---
Best Price Guarantee
Swift advertises what they call a 'Best Price Guarantee.' Here's the deal in all its legalese glory:
In the event Business is approved by Purchaser, and, prior to funding, Business receives an approved offer from a competing purchaser at a lower discount price to that offered by Purchaser, Purchaser will beat the discount price, or Purchaser will pay Business five hundred dollars ($500.00). To be eligible for the Price Guarantee, the competing agreement must be for equivalent terms as those provided by Purchaser (e.g. Purchase Price, Amount Sold, collateral or other security, and no other materially different terms). Business must submit written proof of an approved agreement with competing purchaser.
In a previous version of this review, we'd taken this to mean that only MCAs were applicable, but Swift assures us that it also applies to products that are structured like loans.
Application Process
Applying is simple. All you have to do is fill out the online application which asks for basic information about your business. According to the FAQ, this is the documentation you can expect to provide:
Monthly sales figures
Social security number of business owners
Business tax ID
Swift might also require documentation such as bank statements.
When you finish the application, a representative will get in contact with you to confirm some information, request any additional documentation needed, and answer whatever questions you might have.
Should you choose to accept the offer, the money will be wired to your bank account within a couple of days. The time from application to funding shouldn't be longer than 48 or 72 hours, though as is often the case with MCAs, many customers encounter delays.
Sales and Advertising Transparency
As MCAs go, Swift is among the best when it comes to accurately describing their product and processes. It's not an especially high bar to cross given some of the competition, but it's still nice to see a minimal amount of obfuscation. You'll find information about rates, repayment processes, and even some useful supplementary information on the company's blog.
The biggest gripe I have concerns the Best Price Guarantee (given that it doesn't apply to many other offers that merchants might be able to get).
Customer Service and Technical Support
Customer service is available by phone 8:00 AM to 8:00 PM ET, Monday through Friday. They are also available via email. And, of course, this is the 21st century, so the company has Facebook, Twitter, and LinkedIn accounts as well.
The majority of the customers on Swift's TrustPilot page are happy with the level of support offered by customer service. There is, however, a minority who claim Swift suffers from poor in-house and follow-up communication. Some were not kept up to date regarding the status of their application, had trouble contacting their representative, or felt that the customer service wasn't communicating with the underwriting department.
Negative Reviews and Complaints
Swift is accredited by the BBB with an A+ rating. The company currently has 26 complaints and 24 customer reviews. Additionally, Swift also has a healthy presence on TrustPilot with an aggregated rating of 9.3. Here's a rundown of the complaints against this service:
Poor communication: Some customers have voiced complaints that Swift suffers from poor communication both in-house and with their customers. This may be a side effect of the fact that half the company is located in Delaware and the other half is in Pennsylvania. See the Customer Service section for more details.
Changing offers: Whether it's due to poor communication or because Swift is trying to be too, you know, swift, some customers have reported that this company has a tendency to unexpectedly change up the offer. A few customers even complained of being overcharged. Don't get set on the numbers until you're sure that your file has gone through underwriting.
Expensive fees: Money from this company doesn't come cheap.
Short repayment terms: Repayment is a maximum of 12 months. That's not a long time. The weekly repayments will be much higher than they would be if you got a longer term length.
Stacking fees: Stacking occurs when you have multiple loans or advances at the same time. Because it potentially puts your business and assets in a precarious position, stacking is a big problem which is hugely unfair to both you and any businesses that are providing financing to you. Per the agreement, if you stack on a Swift loan, there's a fee of between $2K and $4K (reports are varied). Evidently, Swift needs to communicate this fee more clearly. While it may be unfair to stack loans, it's also unfair to hit businesses with unexpected fees.
Positive Reviews and Testimonials
This company has a number of testimonials on their website, a lot of positive reviews on TrustPilot, and a few positive experiences on the BBB. Customers usually like:
Fast time to funding: Despite the costs of doing so, being able to get capital fast has its virtues.
Helpful customer service: For the most part customers appear to be satisfied with the service and support Swift offered.
Weekly repayment terms. Most MCA and short term loan providers deduct a portion of your sales every day. For many businesses, weekly deductions are much easier to handle.
Want to add to this conversation? Leave a message in the comments! If you've had experience with Swift Capital, we'd love to hear about it.
Final Verdict
By now, I hope that you've gathered that Swift Capital advances come with a high price tag. This shouldn't necessarily be a deterrent; if you need money, you need money, after all. As alternative funding goes, though, the rates aren't bad.
Nevertheless, don't assume this funder is your only option. At the very least, you should get a quote from OnDeck, another short-term lender that offers better term lengths and potentially lower fees. Eligible businesses could also consider these lenders.

LoanBuilder


---
---
Featured Free Corporate Card
Ramp


---
Ramp offers a free corporate card for virtually any business. Start earning rewards with your corporate spending today. Get your free card.
Featured Free Corporate Card
Ramp


---
Ramp offers a free corporate card for virtually any business. Start earning rewards with your corporate spending today. Get your free card.
To learn more about how we score our reviews, see our
Business Loan Rating Criteria
.