Upserve Payments (Formerly Swipely) Review
Expert Analyst & Reviewer

UPDATED
Advertiser Disclosure: Our unbiased reviews and content are supported in part by
affiliate partnerships
, and we adhere to strict
guidelines
to preserve editorial integrity.
Upserve Payments

Pros
Transparent subscription pricing
Good for restaurants
Excellent customer support
Inexpensive hardware
Multi-location inventory management
Cons
Expensive for low-volume merchants
Upserve Payments Overview
I approached this review with healthy levels of cynicism and genuine curiosity because it became clear from the start that Upserve is in a class of its own. For the past several years, Upserve has been in a near-constant state of transition and evolution. With each leadership change or adjustment to their core offer, they hone further into the niche space of foodservice. As I dug into this review, my goal was to not only scrutinize their services but to dig deeper into the company itself and look at what's developing as a whole. Transitions can be either very good or very bad. I wanted to find out how Upserve meets the internal challenges that come with rapid growth and more importantly — How are the needs of restaurants, bars, and other foodservice models being served?
The core promise of Upserve is that they simplify and save time for all levels of employees and management. From simplifying ordering and table management to mining all of the seemingly random interactions into a visual representation that reveals a bigger truth, there's no part of running a restaurant untouched by this solution. Upserve uses data to show you that everything in your restaurant tells a story. And when you understand that story, you can make better choices in staffing, scheduling, promotions, menu placement, inventory, and more. It's quite incredible. More than 10,000 restaurants use Upserve today, and it's this specialization in foodservice that not only makes Upserve unique, it also provides the most value to those who use it. And it's led to Upserve's massive growth.
For those who aren't familiar with Upserve's trajectory, here is a quick look at how the company has changed over the not-so-too-distant past:
2009:

Upserve Payments is founded with the original name, Swipely.

2016:

Swipely rebrands and becomes Upserve. Two months later, Upserve acquires Breadcrumb mPOS, but the two had a private partnership to collaborate on integrating systems since 2015.

2017: Upserve picked up steam among restaurants and grew its customer base by 100%.
2018:

Angus Davis, Upserve's CEO, moved to a strategic advisor position with Sheryl Hoskins as the new CEO.
As you'll see throughout this review, Upserve is on a trajectory of growth utilizing both the tech of big data and internal expertise focused on developing products and services for the specific needs of a restaurant owner. They successfully deliver, all with highly responsive, US customer support to back it up. Despite some of the ongoing issues in reliability at the beginning of Upserve's development, you'll see why the 5-star score for Upserve was well earned.
Products & Services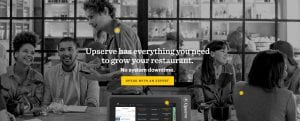 Here are the options you'll get when you set up an account with Upserve:
Merchant Account: Upserve issues traditional merchant accounts, and it's important to note that they are not a third-party aggregator as you might expect. However, your Upserve Payments merchant account will only work with Upserve POS, and you can't switch POS systems while using their payment processing. You can continue using their POS and switch processors, however.
Upserve HQ (POS Application):

As mentioned above,

Upserve's payment processing and data analytics software come as a package deal. The restaurant management system is what ties the data analytics software to the payments. Calling it analytics software, however, actually sells Upserve short. A healthy amount of customer relationship management (CRM) and employee management is built-in as well, alongside a robust loyalty program, menu intelligence, and reputation monitoring system. This suite of products works together as the Upserve HQ to provide a broad and easily accessed view of your business.

The app runs on both iOS and Android devices, though you can also get proprietary hardware. Check out our full

Upserve POS review

for an in-depth look at the management software features.

Tableside Ordering: The Upserve Tableside mobile device lets you plug in orders and accept payments right in front of customers, and, of course, tableside ordering is all synced up with the rest of your POS and mobile devices, so your whole team gets updated as it happens. What makes the tableside ordering hardware a bit different is the design. It's got a five-inch screen and has a sturdy clip, so your servers can attach it to a belt or apron.
Online Ordering:

Restaurants can offer online ordering in two ways. You can either get a unique link that will bring your customers to an Upserve-hosted payment form, or you can embed the menu for online ordering with a widget. As of March 2019, you can now add a GrubHub integration so that your Upserve POS online ordering menu syncs for automatic updating for your customers. When your customers place an order on GrubHub, they go directly into your POS, and your team is all up to date, too.

POS Terminal:

Upserve offers both iOS and Android-compatible terminals with built-in credit card processing, including EMV support. Upserve will also reprogram your existing equipment for a nominal fee as long as it's compatible with their system.

EMV Payments:

Every POS system is EMV certified, which means you can take chip cards as well as NFC payments such as Apple Pay. If you are using a legacy system, Upserve also offers stand-alone EMV readers for your POS.

Kitchen Display: Upserve offers an integrated kitchen display system (KDS) iPad or a traditional Epson KDS for back-of-house and front-of-house coordination. Your team can see orders happening in real-time by tables, by open tabs, and orders that are out for delivery.
Mobile App:

Upserve Live is the mobile app that gives you quite a bit of control on the go compared to other payment apps. Sure, you can track sales, but you can also keep track of labor costs, see how well your servers are performing in real-time, track discounts, guest behavior, and even delete or adjust menu items. Upserve Live gives you real-time data from multiple locations all from the app, too. Another nice thing about the app is that you can track discounts, comps, and voids so that you can identify any patterns with particular dishes or locations.
The excellent rating in the products and services category was an easy call for me. Upserve offers an extraordinary amount of value wrapped up with their payments, POS, and restaurant management software. They've successfully created an ecosystem that would benefit the specific needs and challenges of any restaurant or bar. From improving usability to ensuring that there is now no system downtime, Upserve keeps improving things based on customer feedback (more on that below).
Fees & Rates
The last time we reviewed Upserve, their pricing was a bit hazy. It's always nice to see when a company evolves to better transparency. Upserve offers a flat-rate pricing model at 2.49% + $0.15. What's remarkable is that this price is really and truly a flat-rate whether you swipe, dip, enter in the payment details manually, or your customer pays through your Upserve Online Ordering. Additionally, you don't pay anything extra for American Express, another bit of an anomaly in the payments space.
Another tidbit to keep in mind for merchants who already have an existing processor is that the rep I spoke with confirmed that merchants might be able to price match for a lower rate, but the Account Executive works with the merchant to make any final determinations for fee adjustments.
Upserve Payments is just one part of the whole Upserve platform. Below are the prices for each of the three levels you can choose for your business that includes the restaurant management software and POS. Your payment processing costs are the same no matter what plan you choose. Though you may be able to negotiate a better deal, Upserve's payment transaction fees highlighted at the beginning of this section are a good deal considering you won't pay extra for American Express.
Upserve offers three service levels for the restaurant owner. You can choose from the Core, Pro, and Pro Plus plans and each provides a healthy set of features.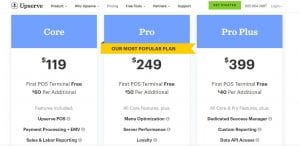 Core:

The Core plan by Upserve is

$119/month

and includes a free Upserve POS terminal with an additional

$60

per additional POS you'll need for your business. If you need automatic inventory management, you can opt to pay an additional

$99/month

. You also have the option of adding online ordering for

$59/month. The Core plan includes your merchant account (payment processing and EMV), sales and labor reporting, marketing campaigns and insights, reputation management, mobile app, workforce (staff scheduling), and 24/7 US-based support. If you find yourself wanting both of those additional options for your business, however, you're going to save money with the Pro plan, which gives you both online ordering and inventory management.
Pro:

The Pro Plan is

$249/month

, and this plan also includes a free Upserve POS terminal, and each additional POS is only

$50

with this plan. The Pro plan gives you everything in the Core, plus inventory and online ordering are included in that price as well. Additionally, you'll get the customizable loyalty program, menu optimization software, and server performance insights along with the deal, too. The Pro plan is the most popular plan that Upserve offers, and it's not hard to see why. You'll get nearly every feature you need with this deal, and the pricing is straightforward.

Pro Plus:

The Pro Plus plan is

$399/month

and gives you all of the Core and Pro features. With this plan, you'll get your first POS terminal at no charge, just like the other two levels, but additional POS terminals are only

$40

with this tiered plan. Additionally, the Pro Plus plan offers three additional features that the other two don't. You'll get a dedicated customer support rep, custom reporting, and data API access. No matter what plan you choose, you'll receive 24/7 US-based customer support, but the dedicated success manager offers something a bit more akin to consulting. Your success manager provides dedicated, personalized support for your business, greater guidance through account management, and general consulting for your business to make the most of the whole suite of services. The custom reporting features provide more custom filtering options to create specialized reports using your sales and menu data. For businesses that have their own tech platforms, Data API access allows you to build solutions tailored to your needs.
It's worth mentioning again that while your merchant account comes with Upserve POS and restaurant management, that doesn't mean you have to keep Upserve for payment processing. If you choose to go with a different payment processor while using Upserve POS services, you'd incur an additional $99/month in gateway fees on your account.
As noted in our other sections, Upserve offers a full line of hardware, kitchen display system options, stands, networking devices, and more. As far as pricing is concerned, we are glad to note that Upserve doesn't appear to be marking up units unnecessarily, and that is a great thing to report. What Upserve offers seems to be on par with what we'd expect to find in a company that focuses on providing value, not opportunistic price gouging. I like the full range of options thoughtfully curated for the needs of foodservice, so they deserve the excellent rating in this category.
Contract Length & Early Termination Fee
The contract length for merchants who sign up for Upserve is three years. While we don't love long-term contracts, they are commonplace in the industry in general and especially in software-heavy feature sets as Upserve offers. When I was digging into the research, what I found was that Upserve spells out the specifics of their ETF (early termination fee) in their master subscription agreement. If you terminate your contract early, you're on the hook for any one-off costs you've incurred, such as services or hardware, as well as the remainder of the monthly fees on your order term agreement.
I wanted to probe a little further into the ETF, so I asked two different reps about it, and they both answered that they weren't even sure what the fees were, which was a little surprising since I easily accessed the information on their main site. It's possible that the reps I spoke with only deal with front-end customers and may not be aware of the process on the other side.
While I don't have any specific reports of merchants having ETF fees waived, it's possible that they do waive them in certain circumstances, considering that I couldn't find a single review of a merchant complaining about early termination fees. If ETF fees were high or were a surprise, it's a sure thing that we'd find some evidence of it and that's just not the case.
The other thing that this whole situation indicates is that their retention rate, in general, is likely good and/or they communicate with the merchant upfront about cancellation fees. Transparency always pays a company back in the form of happier business owners and fewer negative reviews, so this is a good sign overall.
As I perused their master agreement, I noticed that Upserve makes allowances for merchants to leave the agreement if fees change, and they don't charge an ETF in these cases. Upserve agrees to provide a 30-day notice, and if merchants choose, they can terminate the agreement before that window. Note that the merchant has to read the notice to cleanly exit the contract and not notice the fee change on a statement after the fact.
The Upserve contract isn't as easy to leave as a month-to-month plan would be, but their master agreement is very easy to access from the site, so we have to take this transparency and the fact that Upserve has a clean record as far as customer complaints go into consideration. For these reasons, they've earned an excellent rating for contract length and early termination fees. While a long-term contract may not be ideal for every business, it's undoubtedly expected with these types of integrated services, and Upserve offers good contract terms overall.
Sales & Advertising Transparency
Upserve's marketing is built to convert visitors into viable leads and get those leads into the sales experience as quickly as possible and with minimal friction. They want to get you into a guided software demo sooner rather than later because they are that confident in their software. How many payment processors allow you to test their reporting system before signing up? Very nearly zero. Most processors are selling you on their (alleged) honesty, reliability, and cost-effectiveness, none of which are that interesting to demonstrate and are usually over-sold on promises. Upserve, on the other hand, is selling you clearer insight and a plethora of tools that assist you in nearly every aspect of your restaurant. This type of thing is fun to demonstrate.
In the past, when we reviewed Upserve, we noted that there was room for improvement as far as transparency in processing pricing. Pricing information was shrouded, and that left a lot of room for speculation. We couldn't determine if merchants were getting consistent and fair pricing when the company mergers were gaining steam, so we had to note that in our review. Now, as I review their site, it's pretty clear exactly how much you'll pay for processing and any additional fees for add-on services and hardware. While they don't list pricing for equipment and supplies on their main site, I was able to get a full price list via a link to an Upserve subdomain directly from the rep. The price list isn't accessible otherwise but was freely given when I asked. I can tell you that it's not always easy to get pricing information for software and processing for merchant accounts from a rep, not to mention what a company charges for ancillary services, so I'm happy to boost their score to excellent in the sales and advertising transparency category.
Customer Service & Technical Support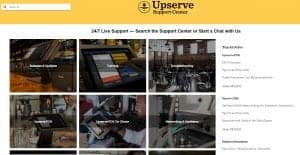 Upserve offers a variety of ways to get help, day or night:
Phone:

Phone support is offered 24/7 from US-based representatives.

Email Support:

Merchants can contact Upserve using their email page and can expect to get a response within 24 hours.

Live Chat: Upserve offers web support via their Live Chat during business hours. I used their chat feature twice and found them very responsive and thorough when answering my questions.
Upserve Support Center:

Since the time of our last review, Upserve has upped their game with a robust knowledgebase neatly organized by topic and fully searchable by keyword. Everything from troubleshooting to training, releases, and updates as well as crucial information on processing, reporting, POS, menus, and more; it's all there.
User Reviews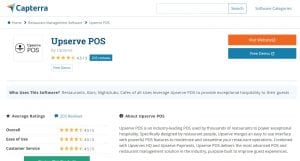 Negative Reviews & Complaints
When I investigated around at the more prominent review sites, such as the BBB and Capterra, I noted that the reviews are overwhelmingly positive for Upserve. This in and of itself is noteworthy because even if a company receives an A+ BBB rating, for instance (as Upserve does), you'll still typically be hard-pressed to find glowing reviews. That's not the case with Upserve. When I focused on looking at just the criticisms within any review, however, my goal was to identify patterns. Of the negative reviews (which were few) the most common complaints were system downtime and lack of training materials for staff. I also noticed that Upserve responded in a respectful way to the constructive criticism while admitting they may need to work on that issue or that an update was coming that would address the issue. Again, this is a bit remarkable in the payment processing/POS space, so it's worth noting the engagement and overall attitude of the Upserve outreach team to negative reviews.
I then followed up on the Upserve site to verify if they've resolved issues with updates and what the updates were. For the major complaint of not having training materials for new staff, that's definitely been improved. Upserve now offers an extensive library of help articles and training resources for each role. Additionally, if you have a big group you'd like to train all at once or need some extra training support, Upserve offers in-house training for an added cost. However, most restaurants will likely find that The Academy section that's freely accessed on the Upserve site is sufficient to train staff and management alike.
The other (and more disturbing) complaint was system downtime during peak hours of use. The Upserve system now touts "zero downtime." They've updated their software to now have an offline mode and the option to hardwire to eliminate downtime.
Additionally, they now claim that their automatic updates won't disrupt workflow. "Downtime" is a bit like a catch-all term, however. A restaurant owner may have experienced downtime while having an on-site Internet issue, which doesn't have anything to do with the POS system updating itself. Upserve is doing better at addressing the range of potential "downtime" issues before they become a problem.
Positive Reviews & Testimonials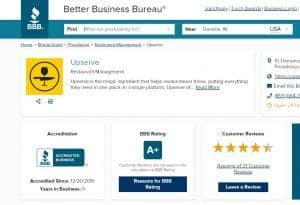 The repeated pattern of glowing reviews that Upserve gets across multiple platforms is out of the ordinary in the POS/payments processing space, so I wanted to dig in and figure out what made them different. The overwhelmingly positive reviews for Upserve are for exemplary customer service and the ease of use of the system itself. The reviews reflect restaurant owners who are relieved of some of the most significant pressures in everyday business: keeping customers happy and improving workflow. And if Upserve does what it says it's going to do, that would create a lot of happy merchants, as we've seen.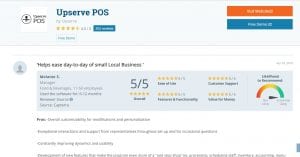 Because Upserve is so active in addressing complaints and is consistent in not only responding but also improving the specific areas their customers are complaining about, an excellent rating in the review category is well warranted.
Final Verdict
I'm a bit of a suspicious person by nature. I tend to notice those negative patterns because, frankly, it seems to be more common than not in the payment space. So it was initially a shock to find a company that's actions show dedication to evolving in all of the right ways. It's clear that when they go to the drawing board, it's not about squeezing out an extra buck from merchants but actually developing a better product. Seems like a novel idea, but it shouldn't be. While continuing to advance and offer better value to current or existing merchants seems like the smarter way to do business, sadly it's rarely the case. Sometimes the largest entities are the absolute worst at bringing anything new to the table. Instead, they rely on bait-and-switch pricing to get you to sign on the line.
That's why Upserve is like a shining beacon in the payments space. Keep in mind, however, that the overall value that any restaurant owner gains from using the Upserve system is largely due to the Upserve POS restaurant management software that comes combined with Upserve Payments as the complete Upserve product. This being the case, a small restaurant with a limited budget is likely not going to find that the whole shebang is worth the cost. Upserve is certainly not out to be the "value" processor. Upserve is best suited for restaurants who have the ability and long-term vision to invest in something that will pay them back with better insights and improved workflow. Can your restaurant be successful without Upserve? Of course, but if you want to solve problems and get better insights into how your menu works (and doesn't), what servers do best and why, and more about your customers and your bottom line, you'd be hard-pressed to find a more cost-effective way to go about all of that. Upserve does what it says it is going to do, and it does it well. From products and features to customer service that is ahead of its class, and a demonstrable drive to become better at what they do, Upserve has earned the overall 5-star score with no reservations.
---
The Merchant Maverick Seal of Approval 🏆
Upserve Payments


---
After hours of in-depth research and evaluation, we can confidently recommend this brand to our readers. Get started today and see Upserve Payments for yourself.
The Merchant Maverick Seal of Approval 🏆
Upserve Payments


---
After hours of in-depth research and evaluation, we can confidently recommend this brand to our readers. Get started today and see Upserve Payments for yourself.
To learn more about how we score our reviews, see our
Credit Card Processor Rating Criteria
.