SwipeSimple B250 Reader Review
Expert Analyst & Reviewer

UPDATED
Advertiser Disclosure: Our unbiased reviews and content are supported in part by
affiliate partnerships
, and we adhere to strict
guidelines
to preserve editorial integrity.
Pros
All-in-one reader
Affordable price
Compatible with iOS and Android
Cons
Multiple SwipeSimple resellers with different pricing
SwipeSimple B250 Reader Overview
As I write this, it's Spring of 2019. While EMV compliance isn't mandatory, merchants have been accepting the liability for fraudulently swiped transactions that could have been prevented by a chip card reader since October of 2015. That's almost three and a half years. At this point, as you're shopping for mobile readers, the question shouldn't just be "do I need a chip card reader," but "do I need a chip card reader with NFC as well?"
Enter the Swift B250 card reader, available with the SwipeSimple mobile app. It's an all-in-one reader (meaning it accepts swipe, chip, and contactless/NFC transactions) available for a very reasonable price. If you're still on the fence about accepting contactless payments from Apple Pay, Google Pay, and other similar mobile wallets, this could be the device that finally sways you.
SwipeSimple is a mobile app offered by a company called CardFlight. Unlike Square and PayPal Here, which are available for customers to directly sign up for, CardFlight instead partners with a variety of merchant services providers to resell its mobile app. That means that as far as pricing, contract terms, and some aspects of customer support, you might find very different information about SwipeSimple/CardFlight. Here, I am focusing on one particular reseller, Payment Depot (read our review). Payment Depot, on the whole, offers competitive subscription-based pricing, fair contract terms, and good customer service for businesses that sell in stores, online, and anywhere in between. The company has also recently introduced a mobile plan with competitive pricing for low-volume merchants. I'm excited to say this mobile plan is a Merchant Maverick exclusive, so if you'd like to take advantage of this special offer, you'll need to use the links provided on our website to sign up with PD.
I like the Swift B250 reader, even if it's a little bit generic in design. When you sign up with Payment Depot mobile, you can get the B250 for just $25, which is about the best price you can get on an all-in-one card reader. Plus, Payment Depot offers month-to-month processing agreements with no monthly minimums or hidden fees. I find the SwipeSimple app to be functional, with all the core features that merchants need for mobile processing — and a few extra features as well. All of this considered, the Swift B250 earns a perfect 5-star rating.
I've previously reviewed Payment Depot's mobile plan with SwipeSimple, so if you want more information about the app, check out the full review. Keep in mind that the pricing and contract terms only apply to merchants processing through Payment Depot, though the technical information is still valid for merchants using (or considering) SwipeSimple through another provider.
Overall Design
Let's start by taking a look at what comes with the Swift B250 card reader! When you slide off the dust cover, you'll see that the B250 comes packaged in a plastic carrying case. I like this — the only other card reader I've seen that includes a travel case like this is the Shopify Chip & Tap Reader.
When you open the case, there isn't a whole lot in the box — there's a very quick setup guide that doubles as the art on the case, as well as a charging cable, a lanyard, and a piece of adhesive foam so you can mount the reader to a cell phone case. The foam adhesive piece isn't labeled in any way, but I am a huge fan of 3m Command Strips so it was fairly easy for me to guess what the piece was for. The charging cord is a standard three-foot length, and if you want to charge it from a wall port, you'll need a base piece.
The lanyard is what interests me. It's branded, of course, and has a small plastic clip so you can easily detach the reader for transactions. I haven't seen a lanyard included with a card reader thus far, but I like it. The lanyard is soft to the touch and feels sturdy enough. I attached the card reader to the lanyard and wore it around just to see if it would bother me. If you're particularly sensitive to weight around your neck, you probably won't enjoy having a card reader hanging from it, but for the most part, everyone else should be fine.
I'm not going to lie: I really like this. Clearly, the hardware maker has put some thought into how this reader will be used — and what mobile merchants need. Thoughtful design often goes hand-in-hand with a quality product, but just because something comes with a pretty case doesn't automatically mean it's a good product, either.
As far as the reader itself is concerned, I have no qualms either. It feels good in my hand — not too big. It's not heavy by any means, but it has an appropriate heft for its size — it doesn't feel totally hollow. The texturing around the reader also means it's not too slick to hold.
I like the design of the B250 reader. The magstripe reader is conveniently placed at the back, while the EMV/chip card slot is available at the top of the reader. The charging port is located on the bottom of the reader, too. That means you can actually charge the reader while using it, without having to worry about knocking the charging cord out of place or trying to work around a weird cable jutting out from the side. The power button is located on the side along with a little LED indicator light so you see if the reader is on, for example, or if the battery is low on power.
Card Reader Specs
Officially, the Swift B250 measures 2.6 inches by 2.4 inches with a depth of 0.7 inches, and it weighs just 2.36 ounces. It's not a large device. But it does combine magstripe, EMV/chip card, and NFC/contactless payments in a single device. The reader connects via Bluetooth.
I wasn't able to find an official statement on battery life, but when I reached out to Payment Depot, I was told that the battery in the Swift B250 is good for up to 1,000 transactions, or up to a week on standby. That's a fairly big battery for a card reader, though obviously, it's hard to draw direct comparisons because manufacturers use different benchmarks (number of transactions, number of hours, total battery capacity). Your mileage will vary based on your personal usage patterns, but for the most part, you should have no problems using the B250 reader all day on a single charge.
Payment Depot


---
(Also, if you're curious, the entry-level companion to the B250, the Swift B200, has a slightly smaller battery that's good for up to 600 transactions or 5 days in standby mode.)
Because I was curious — and the shape of the B250 reminded me of another card reader I've seen –, I pulled out the PayPal Tap And Chip Reader, which I reviewed previously. The B250 is actually marginally smaller, though they do look very similar.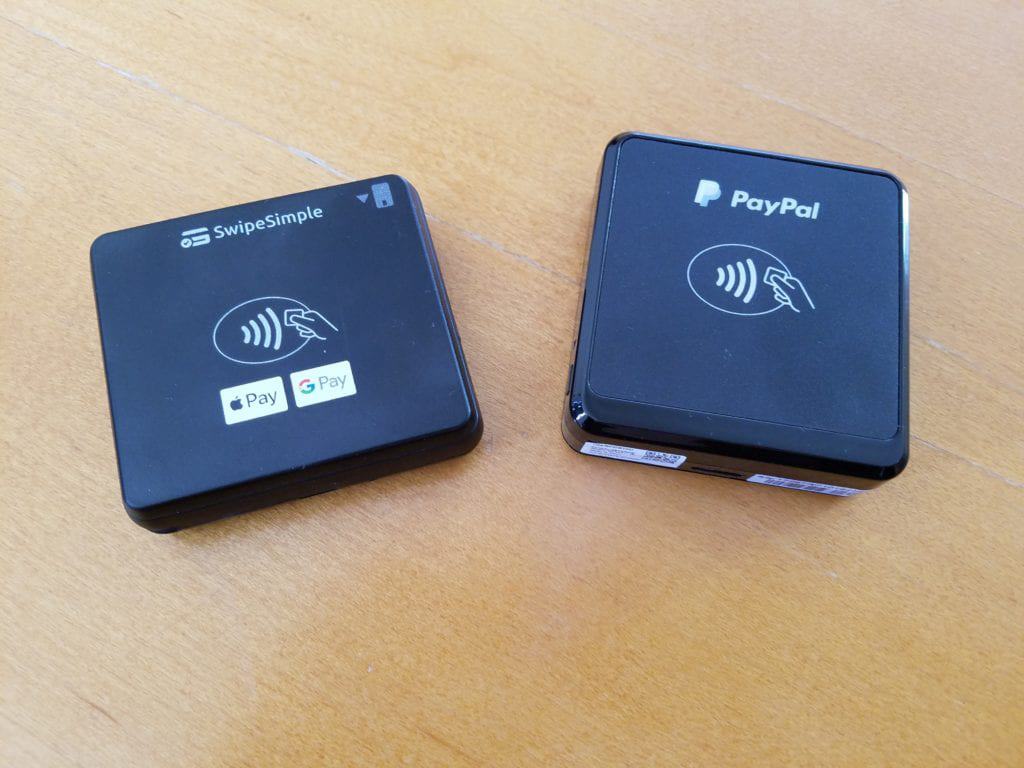 The Swift B250 reader is compatible with a charging dock. I haven't gotten my hands on the dock so I can't give you my opinion of it, but from the photos I've seen, it looks to be very similar (again) to the dock for the PayPal Chip and Tap Reader. It's a functional design, even if it's not the most stylish. If you do want a stationary spot for your card reader, it's worth looking at the dock.
Getting Started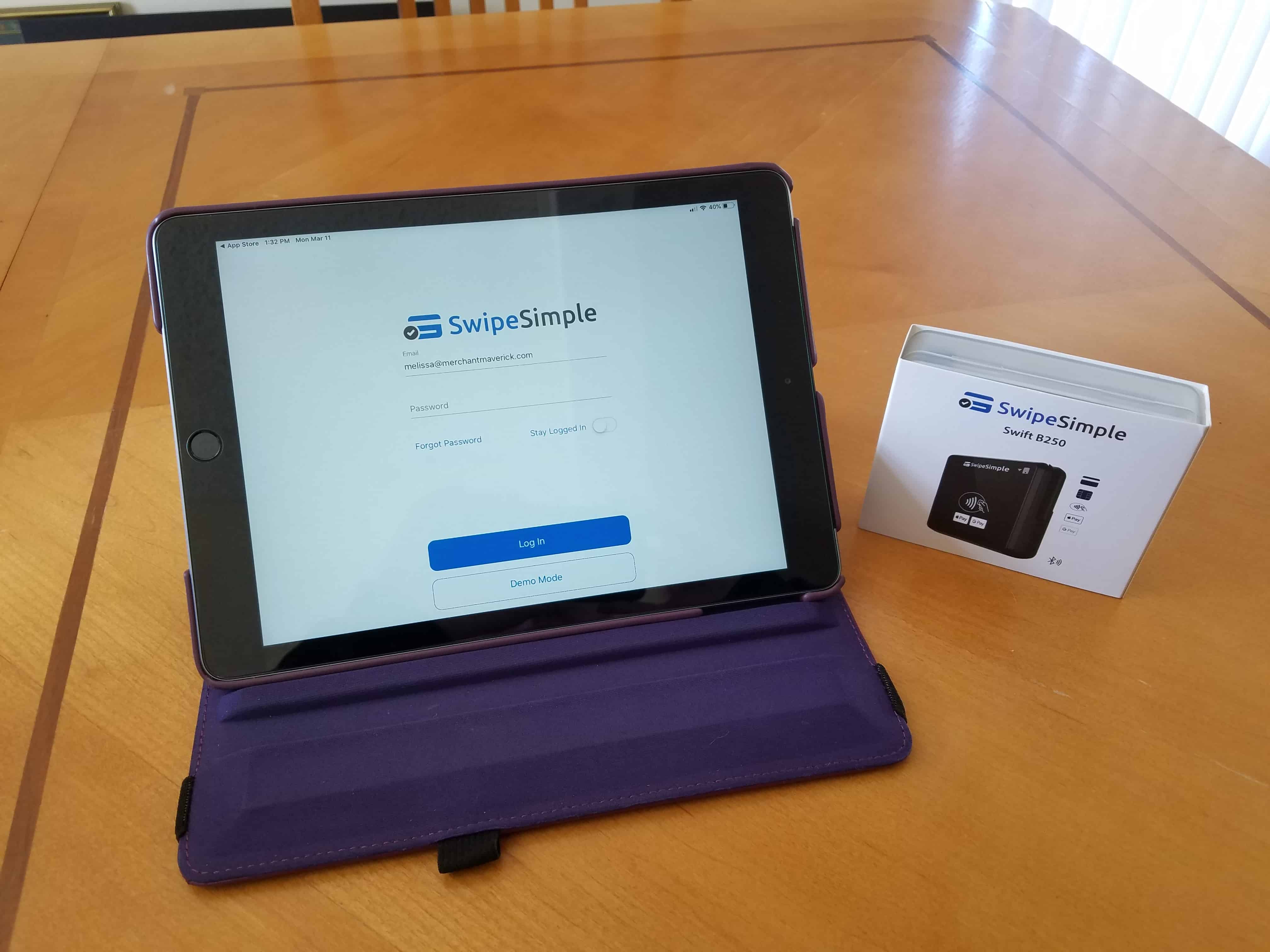 Suffice it to say, I've been around the block a few times when it comes to getting up a card reader. So I usually ignore the instructions that come with the reader and see if I can figure it out with no guidance. While I will say that the process of pairing your card reader to your device is easy, it's not exactly intuitive. I tested out the pairing process with both my iPad and my Galaxy S7 to see what differences there are between the two platforms — but the process is identical for both.
The first step is to enable Bluetooth on your mobile device (I don't run Bluetooth on my device all the time, and so I frequently forget this step). Then, turn on the card reader. In the SwipeSimple app, go to settings and select "Devices" — you should see the Swift B250 listed on the screen. Select the reader, and the app will direct you to another menu where you can connect/disconnect it from your phone or tablet. You can also optionally enable the "Default reader" setting. The default reader option will really only matter if you have multiple devices and multiple card readers, but it is a nice feature to see.
What I found to be rather unintuitive was the device menu — particularly the fact that you can't access or see anything about card readers until you enable Bluetooth and turn a reader on. Most other apps I've tested have a page in their menus specifically devoted to card readers so you can see what the options are and get some troubleshooting tips before you try pairing a reader. With the Swift B250, if you want any information about the reader, you can go to the support menu and select "Reader" to receive some troubleshooting tips.
I suppose you could also look at the setup guide included with the card reader, but honestly, where's the fun in that? However, if you do check it out you'll find a very quick setup guide and some troubleshooting tips. The guide says the reader may take up to two hours to fully charge, but it will depend on what wall charger and cable you use — some are faster than others.
Compatible Software & Apps
We're reviewing the Swift B250 card reader from SwipeSimple, which actually is available from several providers. In this post, we're focusing on Payment Depot, and so pricing and those details will pertain only to merchants signed up with PD. However, information about software and specs are universal regardless of which processor you're going through. For more information about the app overall, check out our Payment Depot Mobile/SwipeSimple review.
While SwipeSimple isn't the most advanced mobile processing app (mPOS) out there, it's got all the important features (item catalog, sales tax, collection, discounts, and tipping, for starters) plus a few extras that just make it stand out. That includes an offline mode for credit card processing, a virtual terminal to key in payments from a computer, and a customer database. The app design is fairly intuitive and easy to navigate. Plus, SwipeSimple offers a demo mode for merchants to test drive the app and get used to core features. I also really like that SwipeSimple has created a tablet-optimized version of its app and a smartphone-friendly version. What this means is that your iPad version of the app isn't just a scaled up version of the iPhone app — it's designed and optimized around the bigger screen.
All of this is well and good. On its own, SwipeSimple would definitely earn a good rating for the app. But the real value is when you combine the app with Payment Depot's pricing. Speaking of which…
Pricing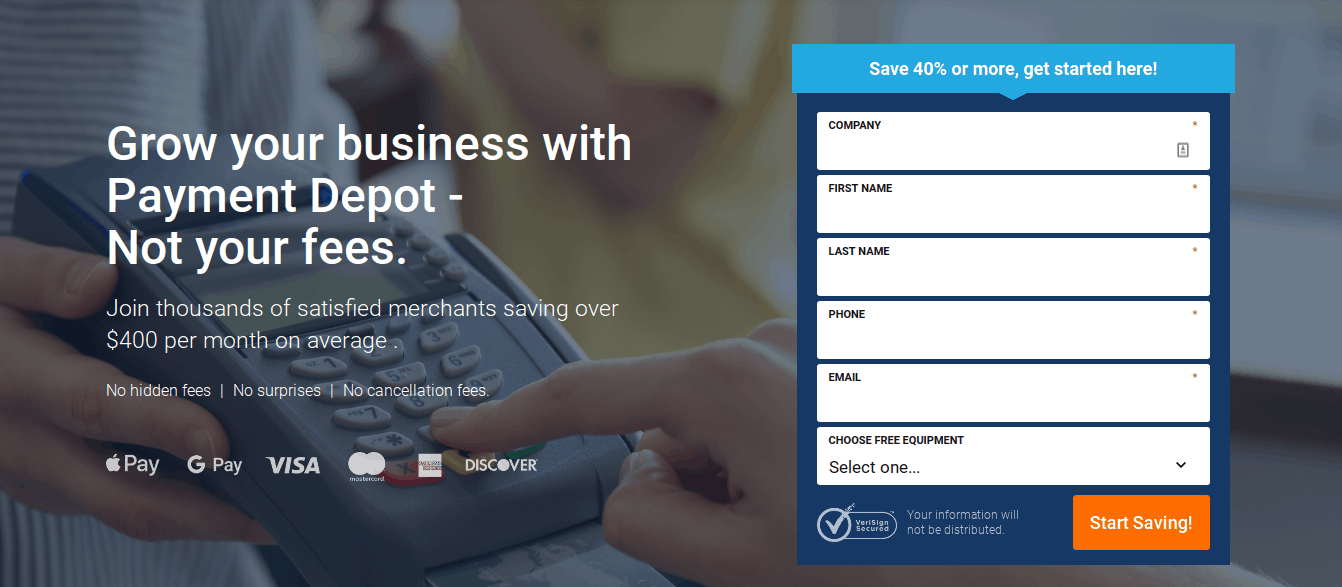 The Swift B250 Reader, when purchased through Payment Depot, is just $25. This is an excellent price for an all-in-one Bluetooth mobile card reader, considering that PayPal's goes for $60, Shopify's is $100, and Square doesn't even have one. (I also want to mention that the Swift B200 is available from Payment Depot for free. The B200 doesn't have contactless support and has a smaller battery, but it does connect via Bluetooth and supports magstripe and chip card transactions. Again, that's an excellent value for a card reader.)
The B250 comes with a charging dock, which is available for $30. That's still a good price for a charging dock, and on par with others in the industry.
But honestly, the hardware isn't even the best part of Payment Depot's pricing. Merchant Maverick readers qualify for an exclusive pricing agreement, one that's competitive for even low-volume merchants:
$10 monthly fee
2.6% + $0.10 per transaction
That's it. Seriously. Now admittedly, the $0.10 per transaction fee is going to cost more for very small-ticket merchants than flat percentage-based pricing. However, consider the fact that you get the stability of your own merchant account with no monthly minimums. For low-volume merchants, that's a great value that gives you both competitive pricing and a significantly reduced risk of a funding hold or account termination.
If you are a higher-volume merchant (with sales exceeding $10k/month in cards), you can also get the SwipeSimple app with Payment Depot's standard pricing — $49/month and interchange + $0.15 per transaction, which might be more cost effective for you.
Customer Service & Support
Payment Depot offers 24/7 customer support via the phone. However, Payment Depot's back-end processors, TSYS and First Data, pick up some of the slack during the off hours. Payment Depot's standard business hours are 7 AM to 5 PM Pacific Time, but they do keep staff on to monitor support requests round the clock. That does mean there's a potential for slightly inconsistent customer support, but in reality, Payment Depot's customers generally seem really happy with the quality of service. Tellingly, the few public complaints about Payment Depot that exist focus on other issues instead of customer service. Because poor customer service tends to be the most common issue with any merchant account, the lack of complaints is very telling.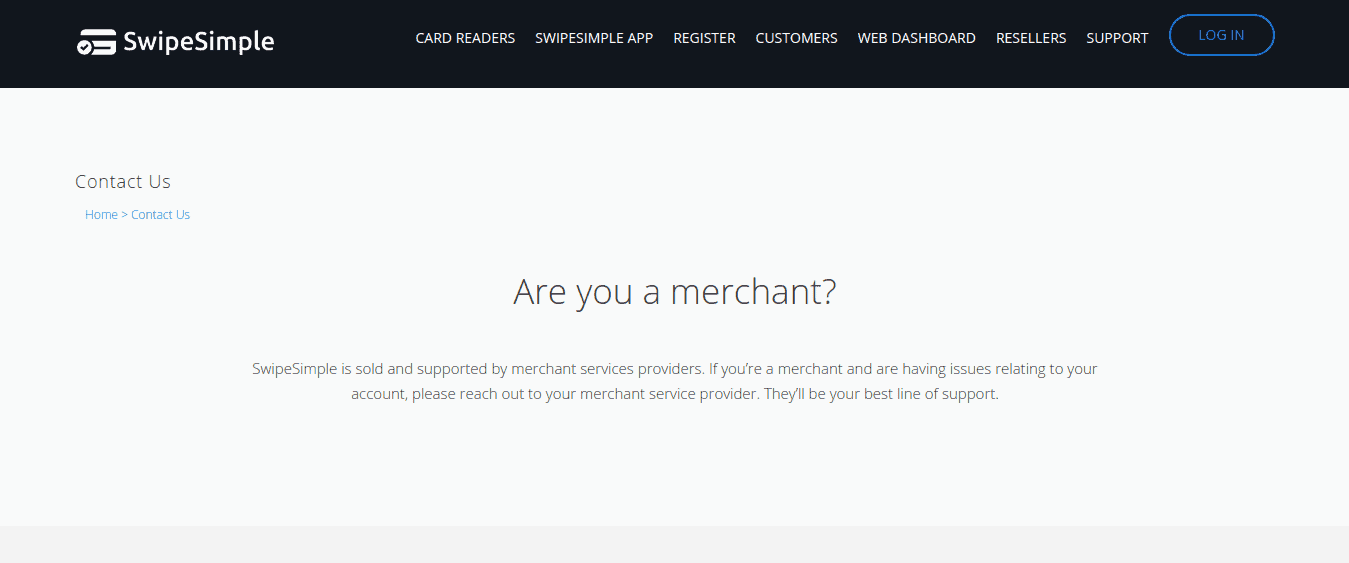 Payment Depot doesn't really have a self-service knowledgebase, which means you can't use the site to troubleshoot issues yourself. If you have any questions about technical issues though, you'll likely be referred to Swipe Simple, which does offer some (limited) information the site. However, the support center does explicitly state that for account-related issues, you'll need to contact your processor. Since SwipeSimple (CardFlight) is just a reseller for its mobile processing service, this does make sense.
User Reviews
Finding information about specific card readers is usually a bit of a challenge because the hardware itself is such a niche subject. One of the best sources is app reviews. SwipeSimple has a 3.3-star rating in the Google Play store based on just over 200 reviews. That's not great, but it's not terrible. Many of the reviews are old, but among the recent reviews there are a couple of trends: complaints about fees and poor customer service, and complaint about glitches.
I need to reiterate again that Card Flight resells its mobile app to a variety of processors, and the comments don't necessarily indicate who that processor is. That means we have no way of knowing if those comments relate to Payment Depot or not. Payment Depot has a history of fair, transparent pricing and good customer service, but it definitely seems that some of the other resellers' practices have affected Payment Depot's overall rating.
The other complaint — glitches — is universal to mobile processing apps. The complaints sometimes relate specifically to the card reader and Bluetooth connection problems, as well as to complaints about app updates that break features. While it's always worrisome that hardware might fail, it's also helpful to understand that every mobile app (and the associated hardware) suffers from this same complaint. I think, unfortunately, it's just going to be a side effect of living in a world with technology, until we (as a collective society) get a little bit better at coding.
Final Verdict
I really like the Swift B250 card reader, even though it's not innovative or ground-breaking. In fact, I specifically called out its similarities to other readers in another section of this review. The overall design is fine, and definitely functional. I like that the reader is packaged with a carrying case, a lanyard, and a way to mount the reader to a phone or tablet case. The mobile app is solid, providing all of the features you need to take payments on the go, plus a little bit of extra value — and that's definitely a good reason to consider SwipeSimple/Cardflight.
But what I really like is the contract terms and pricing you get with Payment Depot. For low-volume merchants, a $10 monthly fee and 2.6% + $0.10 per transaction is a competitive price, especially considering you get account stability with your own merchant account. It's not the absolute lowest price, but the added stability, plus a month-to-month agreement that you can cancel anytime makes Payment Depot Mobile (via SwipeSimple) a really great choice for all kinds of businesses.
Plus, it's really hard to find an affordably priced all-in-one reader with support for contactless payments. Payment Depot offers the Swift B250 reader for just $25 — which is definitely the lowest price you'll pay for contactless acceptance. For all of these reasons, I am happy to give the B250 a 5-star rating. If you're waffling about whether to accept contactless payments as well as chip cards, the Swift B250 reader really does make it easy to get both at a very reasonable price.
However, if you're really cash strapped and need a mobile reader that accepts chip card payments, the B250's little sibling, the B200, is completely free. It lacks contactless payments and the battery isn't quite as powerful, but it's free and you can still get our exclusive Payment Depot pricing with the free reader. Be sure to check out our Payment Depot Mobile review, and if you're still undecided, check out our mobile processor comparison page!
---
The Merchant Maverick Seal of Approval 🏆
SwipeSimple B250 Reader


---
After hours of in-depth research and evaluation, we can confidently recommend this brand to our readers. Get started today and see SwipeSimple B250 Reader for yourself.
The Merchant Maverick Seal of Approval 🏆
SwipeSimple B250 Reader


---
After hours of in-depth research and evaluation, we can confidently recommend this brand to our readers. Get started today and see SwipeSimple B250 Reader for yourself.