Expert Analyst & Reviewer

UPDATED
Advertiser Disclosure: Our unbiased reviews and content are supported in part by
affiliate partnerships
, and we adhere to strict
guidelines
to preserve editorial integrity.
Teamwork Projects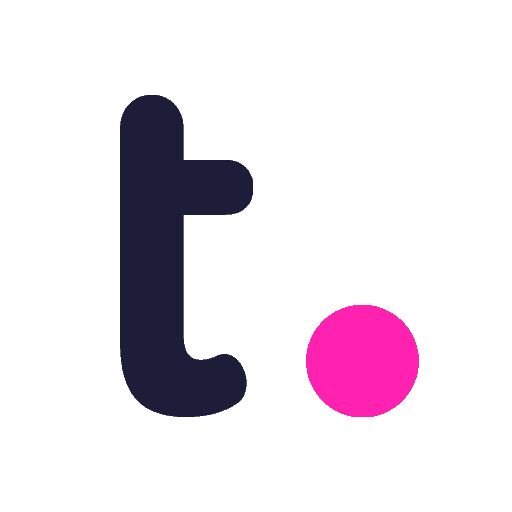 Pros
Reasonable monthly cost
Easy to use
Varied integrations
Cons
Buggy on occasion
Inconsistent customer support
Teamwork Projects Overview
The visionaries responsible for Teamwork.com, Peter Coppinger and Daniel Mackey, began their collaboration almost 15 years ago. Digital Crew, the company they founded together, specialized only in creating websites, intranets, and custom web-based solutions. However, the Ireland-based business quickly developed an international reputation for excellence. In early 2007, a client contacted Coppinger and Mackey and asked them to design a simple project management solution. Both men had already been thinking about a way to build intuitive, easy-to-use software, envisioning a product that would take minimal time to learn and maintain. Naturally, they jumped at the chance to make this dream a reality. Inspired by Basecamp as well as the basic design of Apple software, the iPhone, and other online applications, Coppinger and Mackey began work on the design of project management software that could be used by anyone, anywhere. By October of 2007, Teamwork Projects had been launched.
Teamwork (they have since dropped the "Projects" from their name) has evolved quite a bit since then, taking on its own flavor and character. By 2010, Digital Crew and its founders were able to devote themselves purely to the maintenance, development, and improvement of Teamwork. User feedback has contributed largely to this software's evolution, and Teamwork has grown and changed through a long process of trial and error. Today, Teamwork is used by more than 20,000 companies. In addition to project management software, Teamwork offers several other software products for teams: Teamwork Desk, Teamwork Chat, Teamwork CRM, and Teamwork Spaces, all of which are compatible with the original Teamwork.
In 2020, COVID-19 accelerated the remote workforce trend, moving even more of the global workforce online to work from home. Even post-pandemic, much of the workforce is expected to continue working remotely, with major companies (such as Twitter) telling their workers they can stay home indefinitely. These changes have increased the need for web-based project management software more than ever. Although the project management software category is somewhat crowded, Teamwork continues to be an important player, balancing functionality with simplicity and affordability.
Pricing
There are five different ways to subscribe to Teamwork, varied according to need and budget. You can sign up for a free, 30-day trial of the Pro or Premium plan to test it out. All plans are priced per month.
Free Forever
Free
Two projects
Five team members
Limited Board view
Subtasks
Pro
$10/month per user (starting from five users)

Everything in Free Forever, plus:

300 projects
Unlimited free client users
Time tracking
Billing and invoicing
Dashboards
View workload capacity
Tasklist templates
20 project templates
Board view automation
Gantt chart
Custom branding
Unlimited free collaborators
Slack integration
Teams
Premium
$18/month per user (starting from five users)

Everything in Pro, plus:

600 projects
50 project templates
Manage workload capacity
Workload planner
Project Portfolio view
Change history timeline
Burndown reporting
Project time budget
Custom fields
Premium integrations
Custom domain with SSL
Enterprise
Contact Teamwork for pricing
Everything in Premium, plus:

Unlimited projects
Add 100+ team members
SSO
Priority support
Customer success manager
Enterprise-specific API
Enterprise dashboard panels
Enterprise-class security
HIPAA
Password policies
Bundle Pricing: Teamwork One
$35/month/user billed monthly; $44/month/user billed annually
Includes an entire suite of Teamwork products, at a discount
Teamwork: Project management software
Teamwork Chat: Chat software for teams
Teamwork CRM: Sales CRM software
Teamwork Desk: Help desk software for teams
Teamwork Spaces: Content collaboration workspace
If you decide to subscribe after your 30-day free trial expires, you can pay for your subscription with a monthly credit card payment or bank transfer (though only annual subscriptions can pay by bank transfer). If you decide not to continue with the paid option you used for the 30-day trial, your account will automatically be downgraded to the free plan. You do not have to give your credit card information to start a free trial.
The nice thing about Teamwork is that you can upgrade or downgrade your account at any point in time. There are never any cancellation fees, but be aware that you will not receive a refund if you cancel mid-way through an annual subscription. Yearly accounts remain live for the full 12 months. If you want to downgrade a yearly subscription, you have to wait until it has expired.
Discounts are offered to nonprofits and educational organizations on a case-by-case basis. If you think you may qualify, you can contact Teamwork directly.
Cloud-Based Or Locally-Installed
Teamwork is a cloud-based software that you can access from anywhere on the web. Teamwork does have a downloadable desktop app, though it requires an internet connection to function.
Hardware & Software Requirements
Being web-based, Teamwork is a lightweight software that you can run on pretty much any PC or Mac. You can download the Teamwork desktop app for Windows or Mac, or you can access Teamwork entirely through your web browser (Google Chrome is recommended, though any modern browser is supported). Teamwork also has a Google Chrome extension and mobile apps for iOS and Android.
Specific Size Of Business
Teamwork is scalable for any size of business. The free plan is appropriate for a small startup, while the enterprise version can handle a large corporation. Teamwork boasts that its software is used by Disney, Netflix, Spotify, Panasonic, PayPal, and other giants.
Ease Of Use
Teamwork has always aimed for simplicity. In fact, the company's official motto is "Project Management Made Easy." This software does have some great time and labor-saving features that make it quite easy to work with. Teamwork's design is masterful. This is one of the most user-friendly software programs I have ever encountered, mostly because the dashboard tabs are clear and easy to understand. It is impossible to get confused when functions are labeled this clearly. If you want to look at projects, click on the Projects tab. If you're looking for files, they're in the Files tab. It's as simple as that. There is no need to dig through an intricate hierarchy of tabs to find the comment stream or look for a contact list. It's all right there in plain English.
Here are some facets of the program that contribute to Teamwork's excellent ease of use:
Desktop Timer App: This timer is a very cool feature and well worth trying, especially if you or your employees have to keep track of hourly labor. You can install it on both Windows and Mac operating systems as a native desktop application by simply downloading it directly from the Teamwork website. I have a MacBook and found the timer in the Apple App Store, where I was able to download it pretty easily. If you aren't on a Mac, you will need to download Adobe AIR to run the timer. AIR is free and took me virtually no time to install, though, so this really isn't a problem. The timer can automatically display in compact or full view and updates, provided you close and re-launch the app. It also remembers your settings. For example, if you worked on one task and marked it as billable, the timer will remember to bill the time correctly. Perhaps its greatest characteristic is the Autopause feature. When the Desktop Timer does not sense activity, it automatically stops the clock. This is smart, quick, and saves a lot of worries, believe me. You can also just use the basic-issue Teamwork timer or manually log time. Be aware, though, that while I encountered no problems when I was testing it, the Desktop Timer has very low reviews on the App Store for what looks like update issues.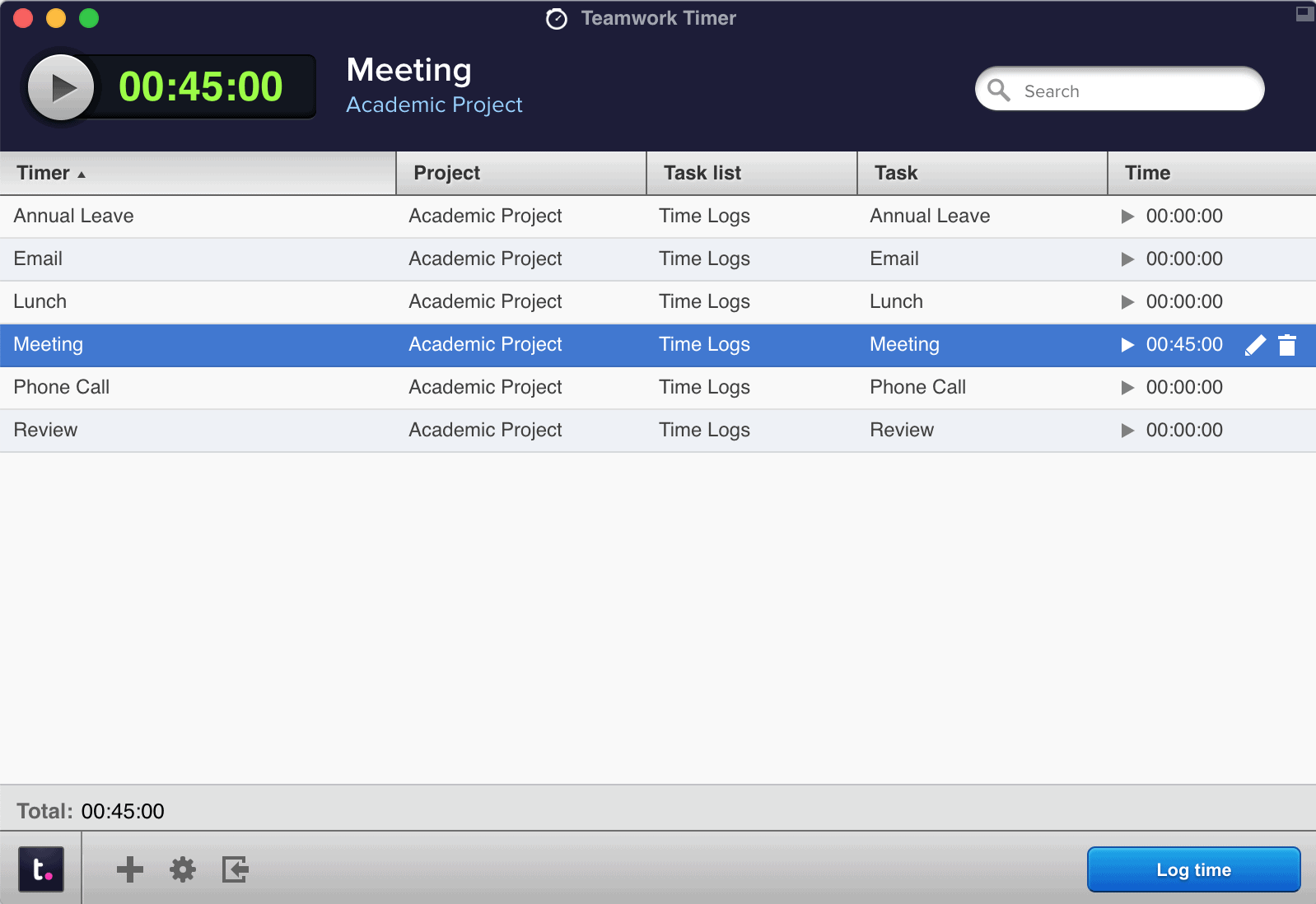 Mobile Apps: Unlike most project management software, Teamwork works great even when you're away from your computer. The iPad app functions almost as well as the desktop version and allows you to upload and view files, assign tasks, create or reply to messages, and a whole lot of other important things. The iPhone app is also impressively thorough, with many actual dashboard functions. You can view and edit tasks and milestones, look at projects, and check your status updates or activity stream. You can even create new tasks and milestones. Teamwork is currently developing new features for the iPhone app, including notebook viewing, the ability to comment on milestones, and calendar events. The Android app is perhaps not as impressive, but it does just about everything you might need and comes with great dashboard capabilities. You can also enable the Android app to switch between multiple accounts.
Dashboard: This feature provides a comprehensive overview of your projects and activity stream, all in one convenient place. The dashboard shows all activity from your 10 most recently active projects, advises you of daily or upcoming due dates (anything approaching in the next 14 days), and reminds you about overdue tasks. Dashboards can be customized with your company's logo and website address, and you can also customize themes and views, even on the mobile apps. The dashboard gives you hassle-free access to projects as well as a "switch project" feature that directs you to the last five projects you worked on.
Updates On Storage Space: A sidebar on your dashboard will show you how much storage space you have remaining at any given time. This information's ready availability is crucial and allows you to determine whether you will need to upgrade your plan before the month is over. It can also help you decide if you've paid for more storage than you need. Incidentally, you can archive as many completed projects as you would like; archived projects do not count against your monthly GB space and can be retrieved at any juncture.
The "Everything" Tab: In addition to the Dashboard, Teamwork features a tab where you can find "everything" your teams are working on. Want to see all open tasks across all projects you are part of? Come to the Everything tab. Want to see all Messages sent? All Comments? All the time being spent on various tasks and subtasks? Come to the Everything tab.
Features
Teamwork is cleverly thought out and designed with the average user in mind. It doesn't necessarily perform as many complex functions as other similar programs, but what it does, it does with flair. Teamwork is best known for its unique and exceptional coverage of basic project management needs.
It lacks in a few areas, as it doesn't give you the ability to mark up images and doesn't include a chat or messaging feature (for that, you'll have to purchase Teamwork Chat for an extra $4/user/month). However, the features Teamwork does include are very well-executed.
In addition to the usual run-of-the-mill project management functions (such as the ability to create milestones, view schedules on a Gantt chart, create task dependencies, and access a central activity stream), here are a few keys areas where this software really shines:
Project Management: Teamwork's Overview tab is basically a dashboard to give you a breakdown of progress on the tasks and milestones within your project.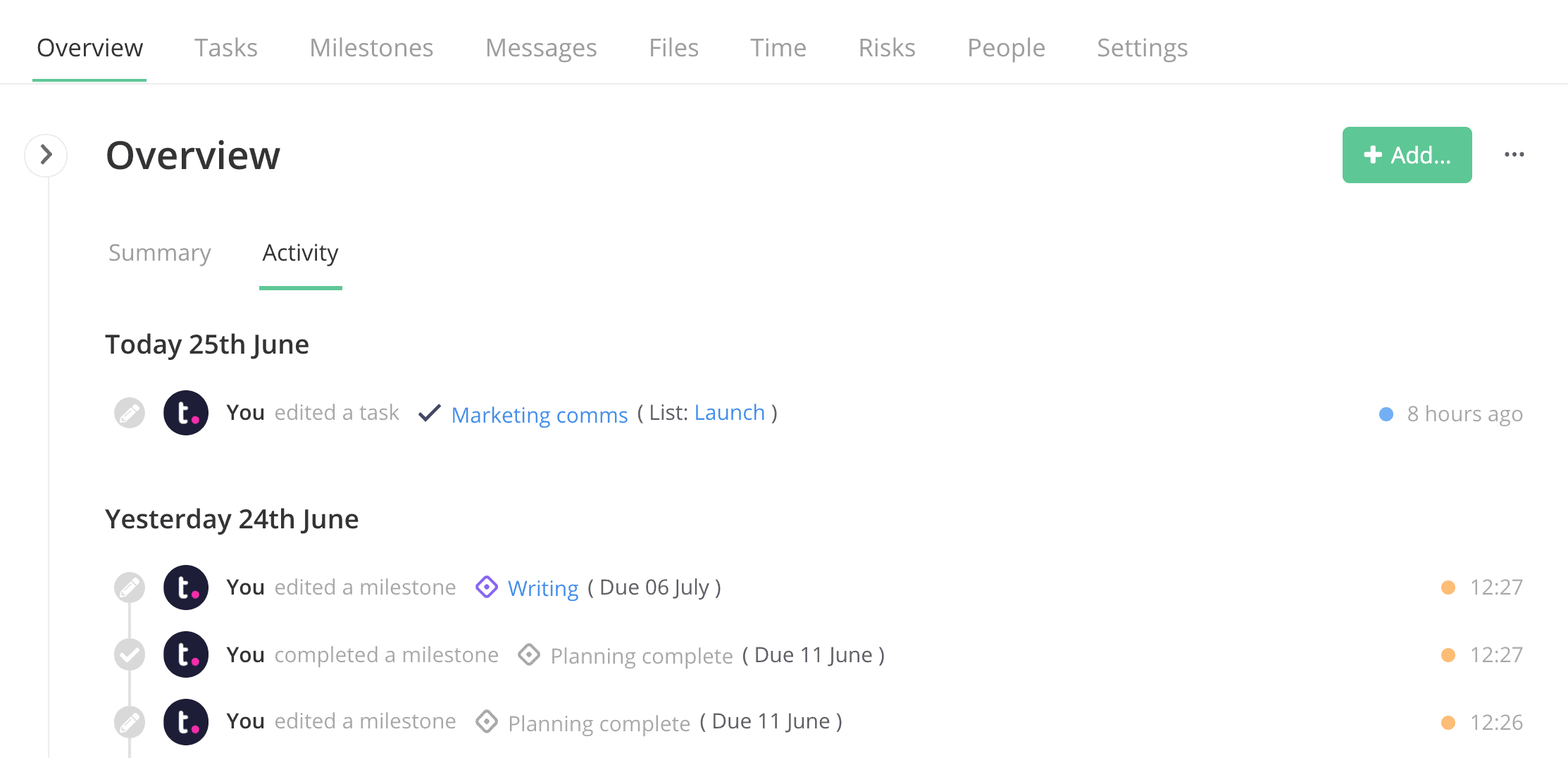 Tasks: Teamwork is the only project management software that permits you to assign tasks to more than one person at a time. You are allowed to create recurring tasks on a daily, weekly, or monthly basis — also a feature that many programs lack. Conveniently, each time a recurring task is marked as "complete," a new task is automatically scheduled to replace it. Regular tasks can be given due dates, start dates, and estimated completion times. Additionally, you can log time against individual tasks and subtasks. Subtasks are given special consideration in Teamwork and may be allotted their own start and end times, owners, and attachments. Tasks may be created directly from your account, but you can also create them via email. You also have the capability to bulk-edit tasks, making a boring, repetitive chore less time-consuming!

Board View: Board view is similar in concept to the service another project management platform, Trello, provides. Trello is notoriously simple but very intuitive and easy to use. By bringing some of that simple visual style to Teamwork, the developers are helping ensure that anyone can use the product.

Email Integration & Features: Teamwork allows you to reply directly to updates, comments, and reminders directly through your email. You can opt to receive a number of different email alerts from your account, including notification of new users or new file attachments and uploads as well as upcoming milestones. To keep all work-related communiqués in one location, this software ingeniously allows you to forward non-Teamwork emails to your account by enabling the "process forwarded emails" setting. Additionally — and this is something I've never seen before — you are allowed to add up to three alternative email addresses to your account. Teamwork stores email signature attachments for you and remembers them for future reference. That means that those pesky and redundant signature images (personal photos, company logos, etc.) will not be mistaken for important new file attachments. You can also stop annoying auto-reply vacation notices from being repetitively emailed to your account. Additionally, Teamwork has a direct Gmail integration.
Billing: The Billing tab enables you to group billable time and expenses into invoices. You can opt to set fixed prices or rates (per user) against any billable logged time, allowing invoices to calculate automatically. Completed invoices can be imported to Xero, QuickBooks, Harvest, FreshBooks, Blinksale, or Excel. See the Integrations & Add-Ons section of this review for more information about importing invoices.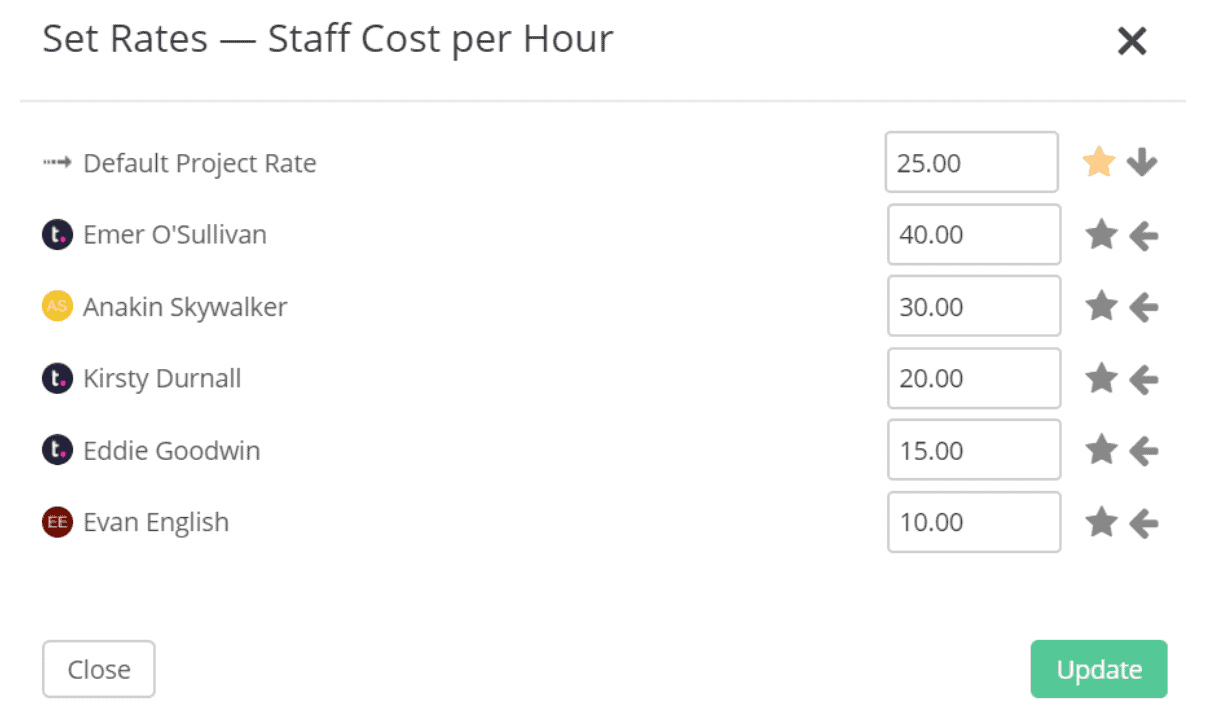 Statuses: This handy little feature, located in the top control bar, makes it possible to send Twitter-like status updates to colleagues, letting them know where you are, what you're doing, and whether you're available to phone chat or take a meeting. You can view status updates for your whole company or business network on one timeline. You can update your status via email, and you can also request that a team member update their status.
Calendar: The Teamwork calendar feature can be used to invite or notify coworkers about events; anyone attending a specific event is enabled to edit the calendar by entering specific details, such as time, location, and agenda. Any event can be made private to your parent company. You are allowed to create recurring events on a daily, weekly, monthly, and yearly basis. Recurring events can also be scheduled more specifically every Monday-Friday or on selected days of your choosing. Conveniently (for people who would like to use both), Teamwork calendars sync easily to your Outlook calendar, Google calendar, and iCalendar.
Portfolio: Using elements of the perennially-popular Board view (made famous by the likes of Trello), portfolios in Teamwork Project allow you to plan, track, and assign tasks within various projects. If you are a portfolio manager, this is the feature for you, though you will need to pay for the business plan or higher.
People: The People section of Teamwork is fairly thorough and gives you the option of adding different contacts and companies to your installation. Each user on your account is given a profile with contact details as well as time zone, date, and language preferences. Users can also be assigned different access levels within the projects they are permitted to view.

Links Tab: Formerly known as the Resources tab, the Links tab in each project is the designated location for embedding third-party applications, links, and webpages. This is a thoughtful addition on Teamwork's part and allows you to keep track of pertinent websites, add training videos and podcasts, and a whole lot more. Any resources you add to your account can be categorized by subject or grouped by date.
Client Users: Client users, available on per-user Pro subscription plans and above, allow you to add clients to your project without incurring additional user costs. Client users can be granted the same permission options as standard users at a project level, but they are limited as far as their organization-wide permissions.
Risk Register: Though Teamwork is not as completely risk-driven as programs such as LiquidPlanner, it does provide you with the option to download a risk register, which helps determine potential threats to your projects. This chart can be converted into a PDF file and printed for easy reference. It is also PMBOK/PMP compliant.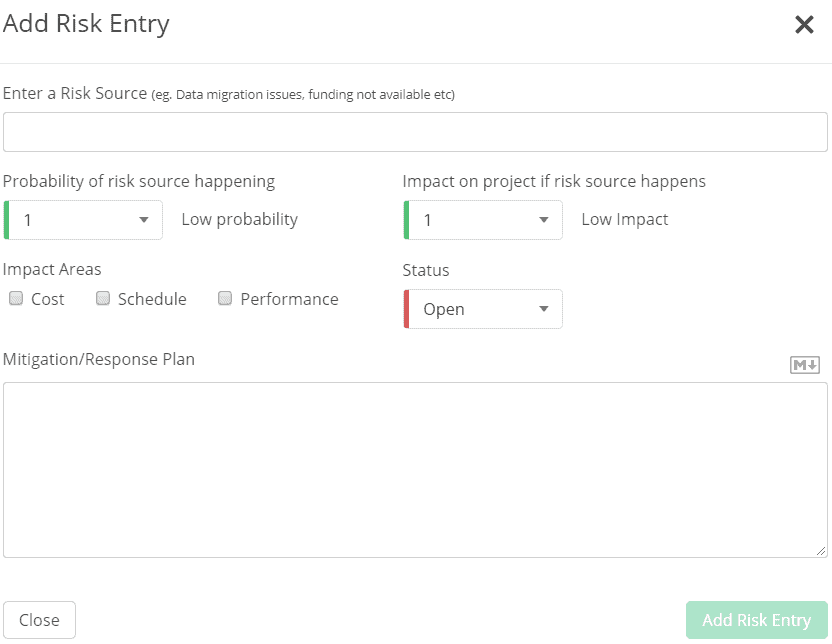 Document Editing: This feature, which works with a variety of file types, including Microsoft Word and Excel, LibreOffice, Adobe Photoshop, and others, requires you to download an editor application to your computer. The document editor app lets you open an uploaded Photoshop file, Word file, etc., using the appropriate application. You can then edit the document to your liking and upload the edited version you created. I am happy to see Teamwork getting on board with at least a basic doc editor, though I have seen it implemented in other programs without requiring downloads. This may or may not be much of a problem for you, but it is something to be aware of if you have limited hard drive space. Teamwork does not have an image editor that lets you mark up or highlight a document from the app.
Customer Service & Support
Teamwork is a smaller operation, as project management software goes, and lacks the level of customer support you can get from software such as Wrike or LiquidPlanner. For example, there is no live chat option. However, I think the service is generally pretty great — personal, helpful, and timely. There are a few things any future subscriber should know about how Teamwork addresses customer support:
Phone: You can call Teamwork's live support team should you encounter a problem. Teamwork's support team is available Monday through Friday, 7 AM to 12 AM GMT.
Email: Teamwork also has a support email; support will answer during their regular Monday-Friday hours, with some limited weekend availability as well.
Support Ticket: You can file a support request on Teamwork's website, and they will answer during their regular working hours.
Knowledgebase: The folks at Teamwork try to answer all support questions within 24 hours, but they strongly encourage people to check out the knowledgebase first. I've never run across this particular attitude before, and it put me off a bit at first. I must admit, though, that the KB is extraordinarily thorough and does indeed cover almost any potential questions or concerns. There is also a set of video tutorials, which are well made and useful if not well organized. If these options don't get your questions answered, you will have to email customer support directly.
Webinars: Teamwork also has some helpful webinar options as part of its support offering.
Social Media: Teamwork maintains an active social media presence on Facebook and Twitter. The Teamwork Facebook account is a great place to pick up tips, ask for advice, and stay apprised of updates and additions to the software. The Teamwork Twitter feed, as well, is an ideal way to pose questions directly to company reps, bounce ideas around, and keep up with new additions and bug fixes. Additionally, Teamwork keeps its YouTube channel regularly updated with new tutorials.
Roadmap: The Teamwork Roadmap is continuously updated to reflect changes or anticipated changes to the software. If you want to know what's ahead or what to expect from Teamwork over the next few months, this is the place to look.
Monthly Newsletter: You can sign up for a free monthly newsletter that offers helpful tips and hints about using Teamwork to best advantage.
User Reviews
Negative Reviews & Complaints
Some people find Teamwork difficult to use and overly complex. However, most genuine complaints about Teamwork center on its compatibility (or lack of compatibility) with other programs and operating systems. The biggest hiccups tend to be with the following issues:
Teamwork & Internet Explorer: Teamwork only supports the latest version of IE, and certain functions might not work on older versions.
Teamwork & Windows: You may have to change your Firewall setting to use the Desktop Timer app with Windows.
Teamwork & Mobile Apps: Some users have complained that Gantt charts cannot be viewed on an iPad, iPhone, Android, or generic mobile version of Teamwork.
Positive Reviews & Testimonials
In general, the media has been very kind to Teamwork. There are scores of satisfied customers as well. People are most excited about the following characteristics of Teamwork:
User-Friendly: Most subscribers agree this is one of the easiest project management programs to use effectively right away. There is no steep learning curve with Teamwork.
Flexible & Adaptable: People like being able to customize their accounts with personal or company branding. They also like the freedom to incorporate third-party apps.
Improvements & Updates: Teamwork is in a state of constant development, which most users like very much; they know that the software continues to be perfected and changed as technology improves.
Free Option: People really enjoy the fact that they can use a Teamwork account forever at no charge. Who doesn't like free stuff?
As a matter of fact, I read very little feedback about Teamwork that wasn't glowing and complimentary. Here are a few examples:
It's truly one of the best SaaS apps I've ever seen.

The constant additions and updates the team includes from customer suggestions clearly show this is a company that puts its clients first.

TeamworkPM has completely changed how we get work done, interact with team members and improve workflow with remote employees who now have access from anywhere. We evaluated several project management programs before determining TeamworkPM gave us the most flexibility & features to make it easy for the team to learn & adopt. We cannot imagine going back to our old ways, and still can't believe we operated without TeamworkPM for so long!

What amazes me more than the feature set is the intuitive nature of the layout. It took me about 15 minutes to figure out how everything worked and 4 hours later I had 3 projects with fully populated task lists sent to my client with them having access to the site and their respective API's for their mobile devices.
There are many similar testimonials on the Teamwork website.
Integrations & Add-Ons
MS Teams
Slack
Gmail
Dropbox
Zendesk
Outlook
Harvest
Google Docs
Microsoft OneDrive
Zoho Analytics
Additionally, you can use Zapier to integrate your Teamwork account with many other third-party apps, including GitHub, YouTube, and Salesforce. You can also import data if you're switching from another PM program, such as Asana, Basecamp, or Wrike.
You can also use Teamwork's REST API to develop add-ons, apps, and integrations. For more information on this and the other compatible programs mentioned, check out the official Teamwork integrations FAQ.
Security
Teamwork monitors security with an almost obsessive vigilance. Besides providing regular updates and bug-fixes, the company constantly watches for general internet security threats, viruses, and hackers. Teamwork protects subscriber accounts in the following ways:
Salted Passwords: All accounts are guarded by salted password hashes instead of plain-text passwords, and Teamwork uses SSL for all login screens that use a Teamwork subdomain.
Secure Facilities: The physical safety of information is also treated with thought and attention. Teamwork Project's locked-down servers and databases are located in a completely secure facility that requires both a security card and a passport ID to enter.
Backups: Teamwork backs up all databases to an off-site facility twice each day. You can download a database snapshot of any project files whenever you want; only account owners can access these stored files. In case of unforeseen circumstances, Teamwork data is always stored on mirrored database servers.
Final Verdict
I like Teamwork quite a bit. This software has achieved an extremely customer-oriented design without sacrificing function or practicality. It takes little-to-no time to master, and the features are clean, simple, and self-explanatory. In my opinion, Teamwork is a near-perfect project management tool, especially for those of you with smaller budgets or fewer resources.
My biggest concern with Teamwork is the small-scale customer support network. Customer support is by no means nonexistent, though, and Teamwork is so simple to figure out that you may not miss the informative spoon-feeding given by other software programs. Compatibility with browsers and security programs is also an issue with Teamwork, but all the bugs have somewhat straightforward solutions so long as you're willing to spend the time on multistep fixes.
I highly recommend Teamwork and suggest trying it out for a month. Users who do a lot of business on mobile devices will love the Teamwork mobile apps' streamlined utility. Highly collaborative businesses will enjoy the fact that all plans include free, unlimited users. Give it a try and see for yourself.
---
The Merchant Maverick Seal of Approval 🏆
Teamwork Projects


---
After hours of in-depth research and evaluation, we can confidently recommend this brand to our readers. Get started today and see Teamwork Projects for yourself.
The Merchant Maverick Seal of Approval 🏆
Teamwork Projects


---
After hours of in-depth research and evaluation, we can confidently recommend this brand to our readers. Get started today and see Teamwork Projects for yourself.
To learn more about how we score our reviews, see our
Project Management Software Rating Criteria
.