Writer

UPDATED
Advertiser Disclosure: Our unbiased reviews and content are supported in part by
affiliate partnerships
, and we adhere to strict
guidelines
to preserve editorial integrity.
TemplateMonster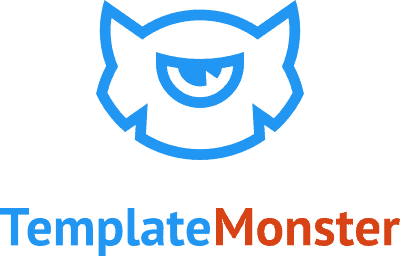 Pros
Free web templates available
Large selection for multiple platforms
Good for a wide variety of industries
Quality-vetting system in place
24/7 marketplace support
Exclusive licensing available
Transparent pricing
Cons
Costly add-ons/customization
Coding skill may be required
An inadequate user review system
TemplateMonster Overview
Easy website creation has finally reached the masses. Thanks to DIY site builders, such as Wix and Squarespace — along with eCommerce platforms, such as Shopify, offering online storefront-building capabilities as part of their services — virtually anyone can get a decent website up and running with as little time and money invested as possible.
Regardless of which platform you ultimately use to build your business or personal website, one of the first things you'll need to do is select a template. (Heck, I even remember selecting a template for my family blog on Blogger back in 2008! I browsed through the default options and picked a blueish one I thought was pretty.)
The words "template" and "theme" tend to get used interchangeably. While you can definitely split technical hairs, we typically use both terms to describe the overall look, feel, and structural layout of your website and its various pages. Even those who work with a front-end designer to customize their websites often still pick a base template to start. When you want something a bit different than the default template offerings within the site-building platform you've chosen, you may end up seeking out a third-party design.
Founded in 2002, TemplateMonster is one such source of third-party template designs for a variety of well-known eCommerce platforms, website builders, and CMS (Content Management System) platforms. TemplateMonster's products cover WordPress, Shopify, BigCommerce, Magento, PrestaShop, WooCommerce, MotoCMS, and more.
Initially, TemplateMonster offered templates built and supported in-house only. In mid-2017, the site became an online marketplace to which multiple manufacturers of web templates and other digital products could contribute their wares. At the current count, there are over 40,000 products for sale at TemplateMonster, with hundreds more added each month. Some listings are exclusively offered through TemplateMonster, while others are non-exclusive to the site and may be sold on other marketplaces or websites as well.
Although the TemplateMonster marketplace offers several types of digital products, we'll focus mainly on its web design templates in this review. We'll also examine the marketplace as a whole, including its customer support and online reputation.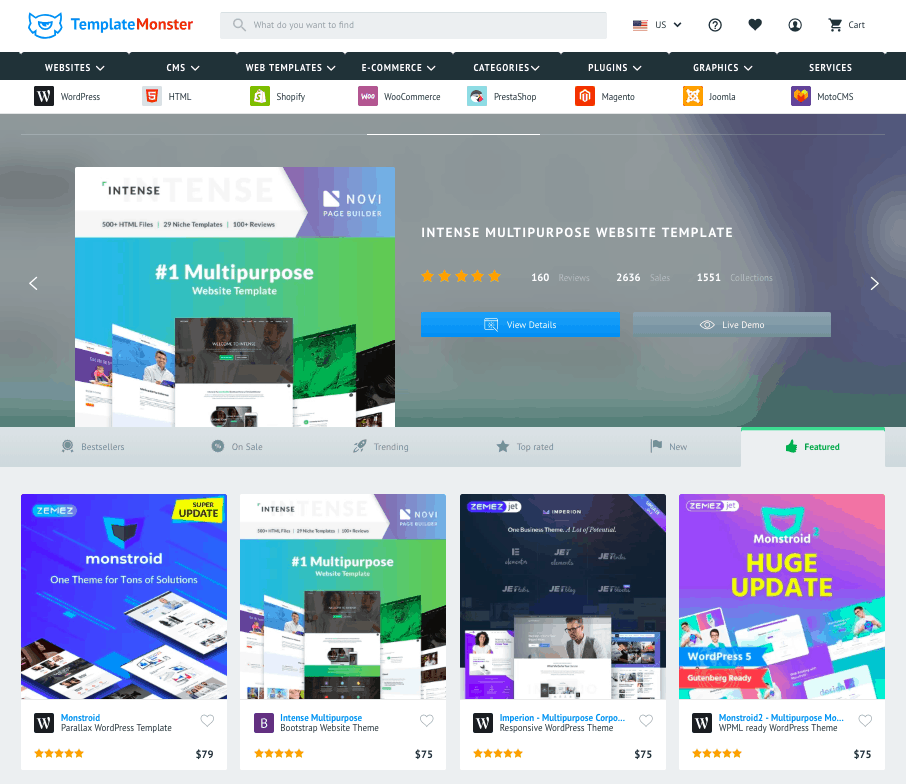 Products & Services
Here are the products and services TemplateMonster offers:
Web Templates & Themes: Standard HTML templates for full websites, CMS-based themes, and eCommerce store templates are all offered. Each has a rich set of specific features included, along with all source files. Below are some of the platforms connected with the TemplateMonster marketplace and the approximate number of templates available for each:
| Platform | Available Templates |
| --- | --- |
| WordPress: | 2,000+ |
| Joomla: | 1,000+ |
| Moto CMS 3: | 700+ |
| PrestaShop: | 600+ |
| OpenCart: | 600+ |
| WooCommerce: | 500+ |
| Shopify: | 500+ |
| Magento: | 400+ |
| Drupal: | 300+ |
| ZenCart: | 200+ |
| VirtueMart: | 200+ |
| X-Cart: | 15+ |
| BigCommerce: | 5+ |
Licensing Options: TemplateMonster offers Single Site, Developer's, or Buyout/Exclusive licenses for templates. You can also choose from "Zero Download" templates, meaning they've never been used by anyone else.
Full Website Design: If you'd like a full site designed from scratch, TemplateMonster resells custom site-building services from Weblium as well as MotoCMS subscriptions.
Additional Template Types: Find templates for resumes, certificates, logos, PowerPoint or Keynote presentations, and more.
Additional Digital Products: Graphics, illustrations, infographic elements, site plugins/modules, and other digital products are offered.
Customization Services & Add-Ons: This is clearly where the TemplateMonster marketplace earns a lot of its revenue — offering add-on products and services associated with editing, customizing, and generally beefing up your website. Third-party vendors can also offer these services directly through the marketplace.
Customer Service: TemplateMonster is happy to provide plenty of presale guidance via live chat, email, and phone. Marketplace representatives can also offer basic guidance toward solutions to problems with purchased products, but most technical support for templates is provided directly by the template vendor.
Pricing
The marketplace itself sets the price of digital products sold at TemplateMonster, so the price of templates will vary. When a product is submitted, a possible price range is given to the vendor based on the item's quality, the platform it's designed for, and the level of technical support that accompanies the product. The vendor can then adjust the price to their liking within the specified range. Vendor commissions depend on various factors, including whether or not the product is exclusive to the TemplateMonster marketplace.
TemplateMonster does offer over 100 free sample templates that are "lite" versions of some of the premium versions. Free templates come with no personalized support but include detailed documentation. As I browsed through premium templates in the marketplace, I noticed that pricing is usually in line with premium templates offered by the corresponding platforms themselves. For example, WordPress templates from TemplateMonster are typically well under $100, while most Shopify templates are right around $140-$180 each. It makes sense, really.
TemplateMonster Licensing Fees
Your primary cost associated with a template is its licensing fee. Here are the different types of template licenses available for purchase:
Free Sample: Free, of course! This type of fee usually requires you to share TemplateMonster on social media for the privilege of downloading.
Single Site License: Ranges from a few dollars to around $200, depending on the product, vendor, and associated platform.
Developer's License: For non-exclusive use on up to five sites. It's cheaper than the cost of five single site licenses for the same product.
Exclusive/Buyout License: You're typically looking at spending several thousand dollars.
Extra Costs
Here are a few other pricing considerations with TemplateMonster:
Add-On Products & Services For Templates: As you view a template listing or add a template to your cart, you'll notice a wide variety of optional add-on items advertised. These are provided by the marketplace itself, the template vendor, or even a separate third party. We'll cover these more fully in the Integrations & Add-Ons section of this review, but the costs range from a few dollars to several hundred, depending on the product or service.
TemplateMonster Service Center: The Service Center is the department of TemplateMonster that provides customization and add-on services. The TemplateMonster Service Center has its own page with prices listed. While there is some overlap between these listings and the services listed within individual templates, the pricing doesn't always match up between the two. Based on my conversations with TemplateMonster, I'd suggest mostly ignoring the prices on the Service Center page — pay more attention to the costs listed within a particular template listing instead.
Loyalty Program: TemplateMonster will credit your account a percentage of your purchase when you buy products and services that are part of its loyalty program. The cashback system is based on the number and amount of your orders, and you become eligible for credits as soon as you purchase any product that's part of the loyalty program.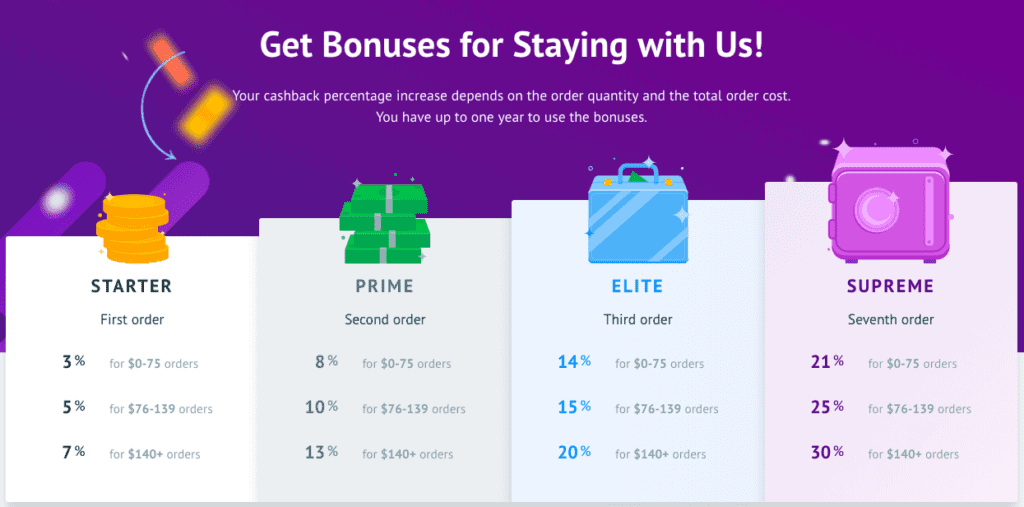 TemplateMonster's Refund Policy
In general, TemplateMonster does not offer refunds if you are simply unhappy with your purchase. Exceptions to this rule include:
Non-Delivery Of Product: Must be reported to TemplateMonster within 14 days of placing the order.
Major Defects: Vendor has 72 hours to rectify the error. This exception does not apply to compatibility issues with third-party systems.
Product Not As Described: Must provide clear proof that the product was somehow falsely advertised (not that it just didn't meet your expectations or wishes) within 14 days of the purchase.
I'd suggest reading the complete policy at the TemplateMonster website before you purchase. To play it safe, assume from the get-go that refunds are extremely rare.
Cloud-Based Or Locally-Installed
Templates from TemplateMonster are downloadable items for which you purchase a usage license. Even the templates that are eventually used on fully-hosted, cloud-based platforms such as Shopify still require an initial download and then installation of zip files. Meanwhile, if you install a TemplateMonster theme onto a self-hosted platform, such as WordPress, your template will ultimately run off the same third-party web host you've chosen.
Do note that you'll have access to the source code of any template you obtain from TemplateMonster. All of the templates are open source.
Business Types Supported
eCommerce store owners/developers and anyone creating a website using a CMS such as WordPress are the primary target audiences for TemplateMonster. You're bound to find your business type amongst the offered categories of templates:
Arts and culture
Animals and pets
Businesses and services
Cars and motorcycles
Computers and internet
Design and photography
Education and books
Electronics
Entertainment, games, and nightlife
Fashion and beauty
Food and restaurant
Holidays, gifts, and flowers
Home and family
Medical (Healthcare)
Real estate
Society and people
Sports, outdoors, and travel
Hardware & Software Requirements
The technological requirements for each template will depend on what's necessary to operate and customize the template itself as well as the requirements of the web host on which the template will be installed. Requirements will be highly specific to each template in the marketplace.
Check the "Details" section of each template listing for a summary of its requirements. Here's an example from a WordPress template:
Below is a Shopify template example.

Hosting is already taken care of as part of your Shopify account, so the requirements should be a bit less rigorous than for a WordPress template — at least in theory. You can see that, in this case, Shopify assumes you're probably going to be doing some code editing within the template, so it wants you to have a PHP editor. Not all Shopify themes come with this sort of requirement, so check as you go!
Ease Of Use
The TemplateMonster marketplace is easy to navigate once you learn the basic layout of the site. You can shop by type of product using the dropdown menus across the top of the homepage, or head straight to one of the more popular platforms listed directly underneath (such as WordPress, Shopify, and WooCommerce) to browse the corresponding templates:

Once you open the menu for your desired platform, you'll be able to filter your options by business category, features, popularity, version compatibility, and more from the left menu. Or simply scroll down the page to click on any themes that catch your eye: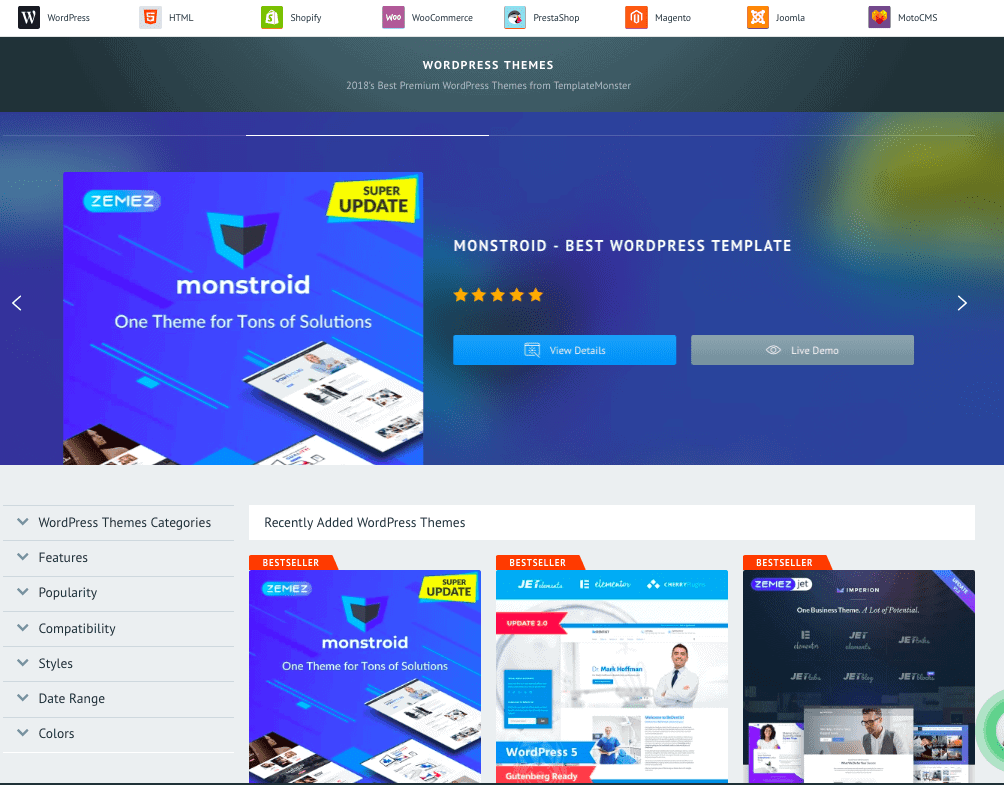 When you open a template listing, you can take a look at features, software requirements, user reviews, and customer support options. I'd also recommend checking out the live demo of the template.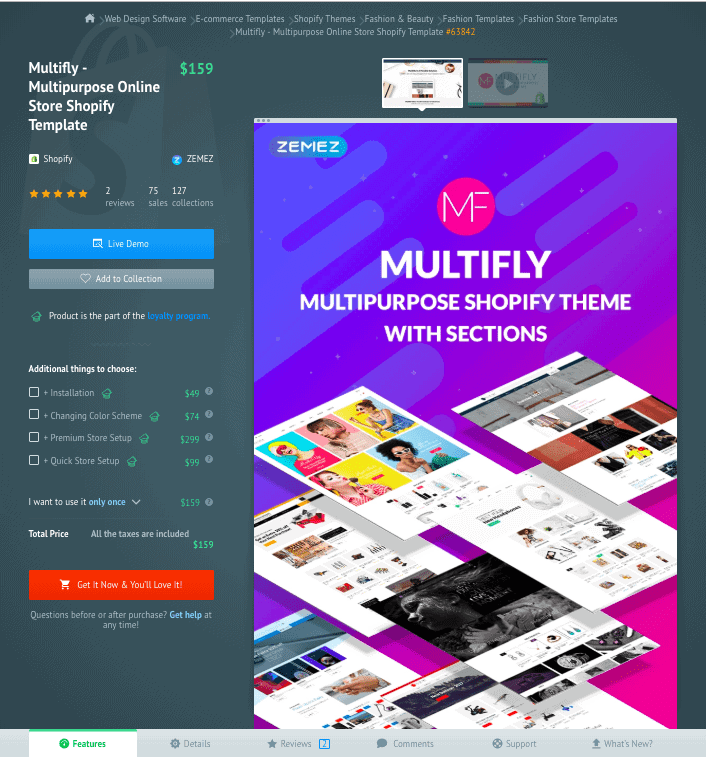 If you'd like, you can also search the marketplace by vendor name.
As I explored TemplateMonster myself, I added a couple of free templates (one WordPress and one Shopify) to my cart and was able to download the files with no problem: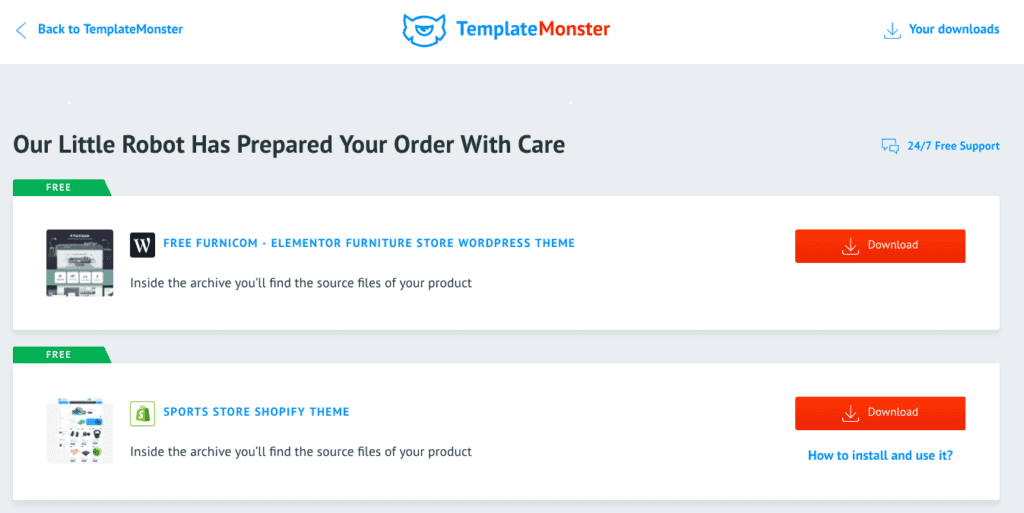 Once I downloaded the zip files for the Shopify template, the installation process was surprisingly easy. With just a couple of clicks, the template showed up in my Shopify account inside my theme collection straight away, and I could immediately begin making customizations.
The WordPress template gave me a bit more trouble. Granted, WordPress is self-hosted and open source (unlike Shopify), so there are typically more installation steps and considerations to begin with. Still, because the template I downloaded was free, TemplateMonster could not connect me with live customer support. Instead, TemplateMonster sent me the link to a "quick guide" published by the template vendor, which led down its own rabbit hole of steps.
Here's the takeaway: If you're unable to troubleshoot these sorts of inevitable snags on your own, you'll likely need to either work with a developer or buy an installation package from TemplateMonster. If you've purchased a premium theme from TemplateMonster, it can also offer some basic guidance via live chat, but you'll ultimately be responsible for getting everything working properly.
Note that working with the template once it is installed can also be tricky if you're not already very familiar with the platform you're using to build your website. On top of this, you should consider the fact that each template's ease of use varies, even when comparing templates for the same platform. We'll cover this topic a bit more in the Web Design & Editing section of the review.
TemplateMonster claims that people without coding experience can work with most of its templates. However, I'll throw in my own warning: It's still likely that advanced customizations will require programming skills. You should also expect a higher learning curve than for a template that comes straight out of the box with your site-building platform.
Features
While each template from TemplateMonster comes jam-packed with features, figuring out which template has the right combination of features you actually need can be a bit overwhelming at first. Of course, you could choose a template based purely on your initial impression of its appearance. However, we'll assume that if you've gone to the trouble of searching for a third-party template for your site, you probably have a specific set of deal-breaker features in mind (even though you may not know the developer-speak name of each one). We'll also assume you've already chosen a site-building platform, such as Shopify or WordPress.
There are several ways you can examine template features at TemplateMonster. First of all, you can seek the advice of TemplateMonster's marketplace support. I'd recommend this route if words such as "parallax" and "ajax" are foreign to you, or else you'll soon be lost in a sea of terms. If you'd prefer to search on your own, each platform page has a set of features listed in its left sidebar menu. Here's an example of Shopify template features you can use to narrow down your search:

Unfortunately, the best way to view all the features of a given template varies widely, so I'd advise you to make sure you've read every piece of the listing. Sometimes, the important features are highlighted directly on the main listing page under the "Features" tab as you scroll down. In other cases, the "live demo" of the template is actually set up as an advertisement website for the template itself, so you'll have better luck finding a complete feature list inside the demo. I confess I find this second setup confusing — I'd rather see all the features plainly listed on the main page — but I got used to digging inside the demos for more information after a while.
Here is one small piece of a list of features for a Shopify template that I found inside its live demo site: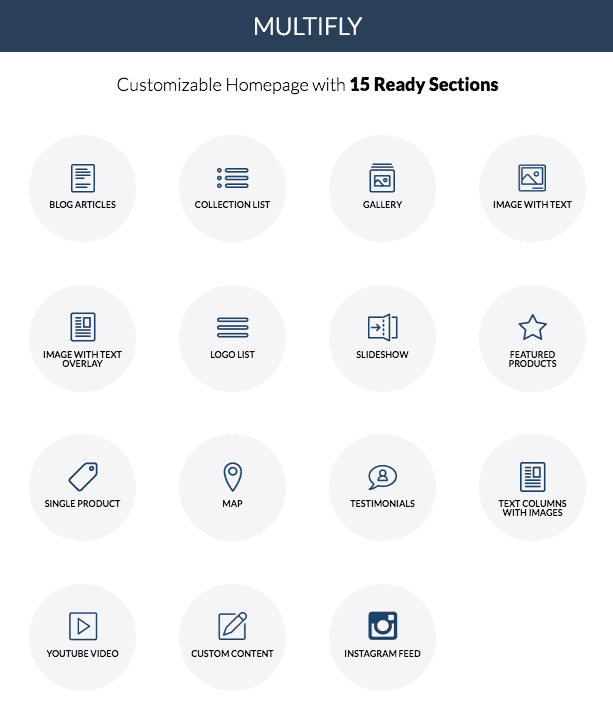 Another good place to find the features of a template is inside the "Details" tab of the listing page, under "Properties." This section typically lists some helpful technical specs as well. Here's an example from a WordPress template: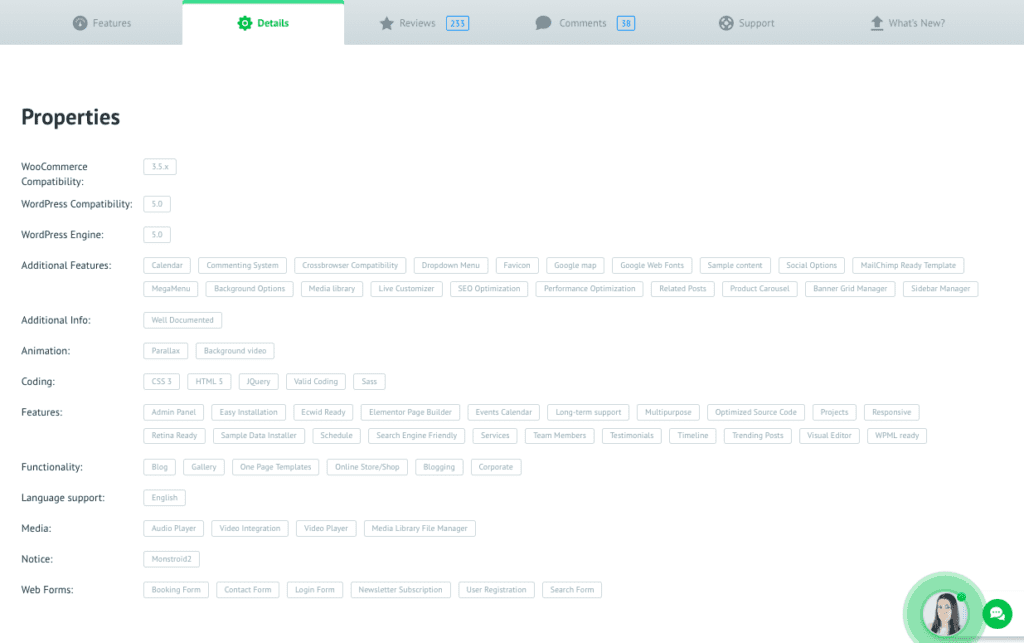 Some vendors do a better job than others of including the comprehensive details of templates within their listings, so be sure to ask a TemplateMonster representative for clarification if you don't find a particular feature you were hoping to see.
Before we move on, let's take a quick look at a few of the feature types often highlighted by the template manufacturers at TemplateMonster:
Weight & Speed: How much memory your site will use and how fast pages will load.
Theme Editor: Integration with the platform's built-in theme editors or editor plugins (e.g., Elementor for WordPress, Sections for Shopify).
Plugin Package: Some templates include several preloaded plugins.
Currency & Language Support: Important considerations for your location and shopper/client locations.
Animation: Moving visual elements in the background and foreground of your site and how this relates to page scrolling.
Predesigned Pages/Sections/Widgets: Selection of premade structures and elements for your site. These include full internal page types as well as subelements, such as menus, testimonials, commenting systems, schedules, maps, and various types of image displays.
Media Integration: For audio and video players, etc.
Web Forms: For registering users, managing bookings, newsletter subscriptions, etc.
Web Design & Editing
Business owners and web developers seek out marketplaces such as TemplateMonster when they'd like more design selection and flexibility than the default templates a given site-building platform provides. TemplateMonster offers a wide variety of functional, elegant, and modern themes for many of the more popular CMS and eCommerce platforms.
If you've already shopped around at the theme store of the platform of your choice, you may have noticed that while the built-in store may offer a set number of themes, each theme often includes various subthemes, "child" themes, or styles. The same is true for TemplateMonster templates — in addition to the main choices you'll find in your initial search, remember to investigate any "skins" and other design variations available within individual TemplateMonster products.
The degree to which you can edit your template from TemplateMonster without coding skills depends on the template itself. Most templates from TemplateMonster advertise some kind of no-code, visual editor — either built into the template's software or added with a compatible plugin from the platform itself (Elementor from WordPress is a very common example of this type of plugin). However, I wouldn't necessarily count on avoiding code completely when working with third-party templates. By nature of the system, you should be prepared to dive under the hood to get your theme and the rest of your site to play nicely. This is one reason TemplateMonster and its vendors offer installation and customization services for hire in the first place. You also may find that you want to customize more than the default theme editor allows.
As mentioned, some themes come with an editing dashboard that integrates right into the platform's normal theme editing interface. These tools usually resemble the default editor of the platform, but there can be significant differences. For example, not all Shopify templates from TemplateMonster come pre-integrated with Sections, Shopify's native drag-and-drop tool. While some Shopify templates sold at TemplateMonster allow you to purchase the integration separately, you may be stuck with the editing interface that comes with certain templates.
As an example, take a look at the Sections theme editor menu from Shopify (on the left), versus the editor that came along with a free template I installed from TemplateMonster (on the right):
The TemplateMonster template came with more "stuff" built into the design from the start but less ability to drag-and-drop all the elements around the page. In other words, the editor does not integrate with Shopify's "Sections" editor by default but comes with its own editing system that you may or may not prefer, depending on your skill level and how much of the template you'd like to alter. The real key is to thoroughly investigate each template and watch the live demos before downloading.
Integrations & Add-Ons
While TemplateMonster specializes in web design templates, a huge component of the marketplace is the gamut of add-on products and services offered to customers. While some tertiary products and services may be purchased à la carte, you're more likely to encounter them within a specific template listing. Examples I came across in my browsing (along with their approximate price ranges) include:
Template Installation: $49
Change Color Scheme: $59
Add Your Logo: $29
Quick Store Setup: $99
Premium Store Setup: $299-$499
GDPR Compliance: $59
Online Store Integration: $199
Ready-To-Use Website Premium: $199
Must-Have Plugins: $79
Hacker & Spam Protection Pack: $94
Year Of Hosting: $27-$47
SSL Certificate: $14
Multi-Language Package: $149-249
SEO Boost: $99
Once you add a template to your cart, you're shown a massive list of additional options beyond those that were highlighted within the main listing page. You'll also be able to more clearly see who is providing the item (TemplateMonster or one of its vendors) and often the time frame for completion: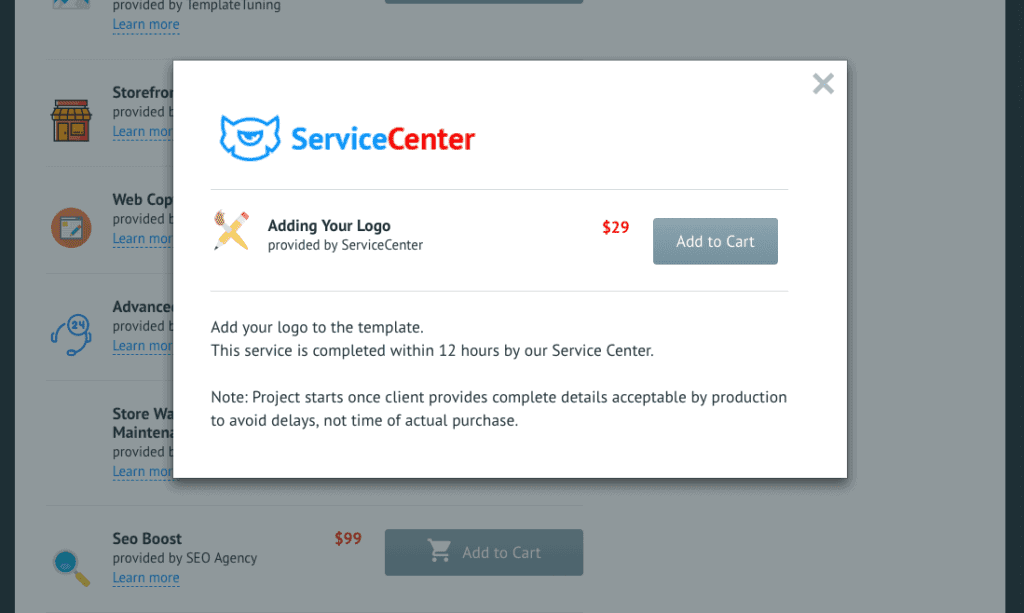 To me, it seems you ought to thoroughly explore the possibility of accomplishing some of these tasks yourself before blindly adding extra services to your cart. If you have trouble adding your logo, for example, check the documentation that comes with the template, or contact the template vendor's support team. You can always reach out to TemplateMonster later for additional services if required — I'm sure the company will still be more than happy to sell you something!
Customer Service & Technical Support
The most important distinction to make when it comes to customer support with TemplateMonster is that TemplateMonster is just the marketplace. Once you purchase a product, whether it's a template or anything else, your technical support will come directly from the vendor, not TemplateMonster.
TemplateMonster's 24/7 email, phone, and live chat support are limited to such issues as presales information, help with finding the right product, billing, order status and delivery, and "general assistance." You should conduct separate research regarding the support channels, hours, and quality for the vendors associated with the products you select.
While the actual tech support comes from the vendor itself, TemplateMonster provides the infrastructure via which you can make support requests. Web tickets are submitted through a site called Templete-Help.com, which is accessed from the help desk area at TemplateMonster.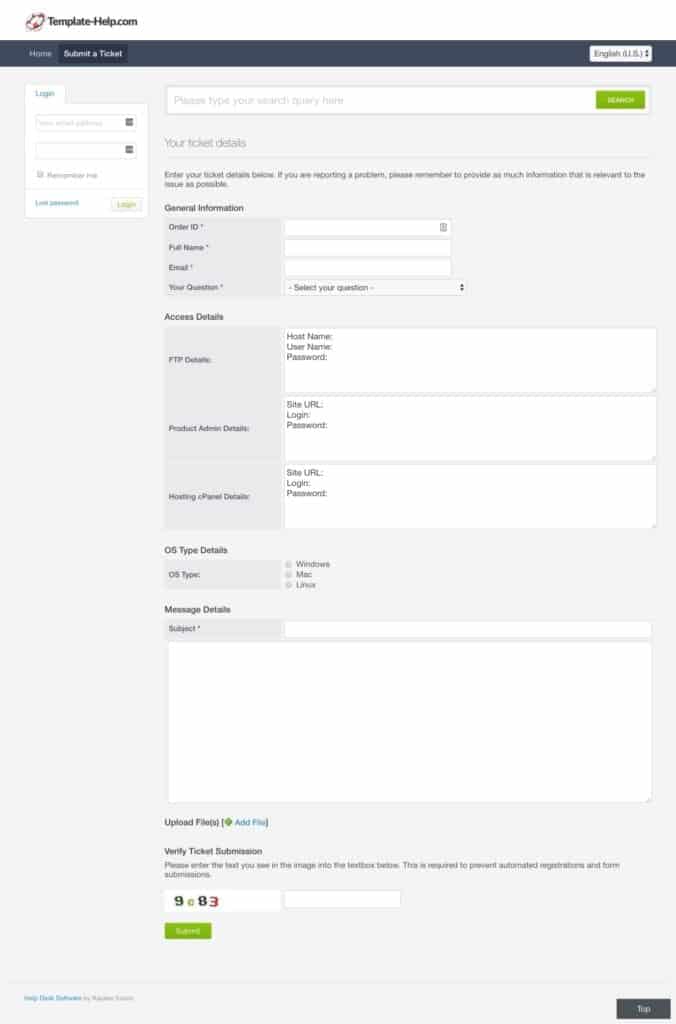 You can also submit a ticket from your dashboard once you've created an account with TemplateMonster: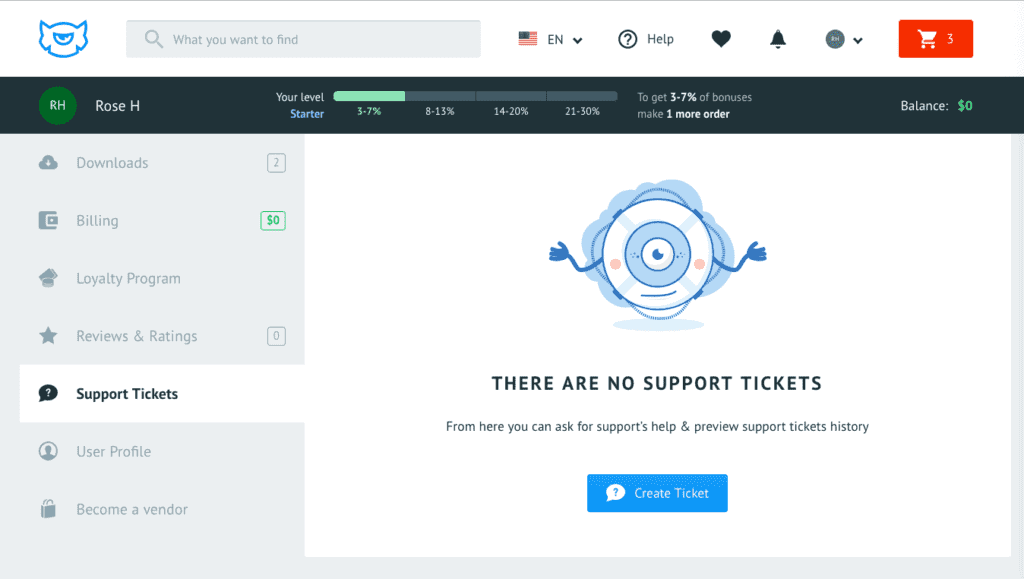 To check the types of support provided by your vendor, find the support tab within the main template listing. Here you'll see the avenues available, along with your maximum expected wait time for a response from each channel: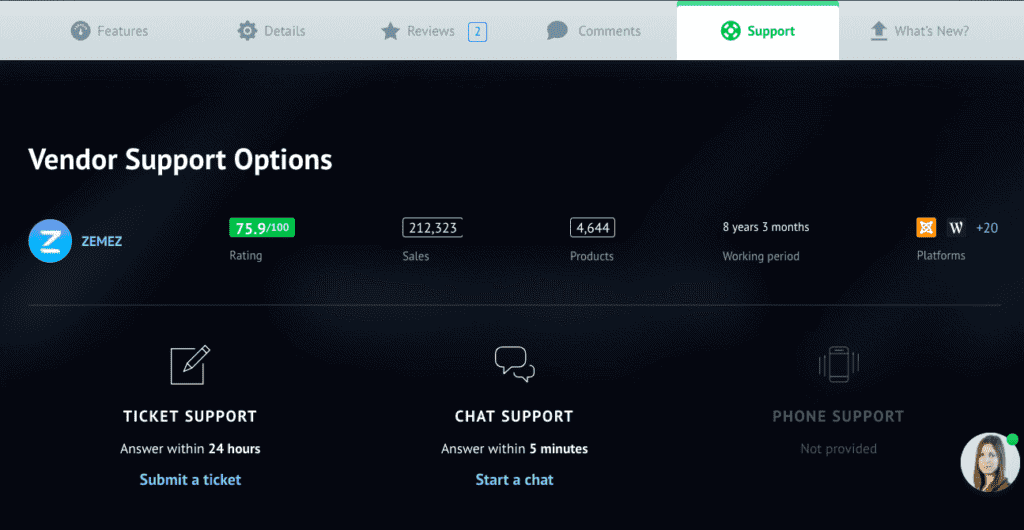 Generally speaking, TemplateMonster advises customers to give vendors up to 24 hours to reply to tickets. Meanwhile, vendors are expected to make support available 24/7/365, regardless of their ultimate response time. I also read in the vendor terms and conditions that technical support must be guaranteed for six months from purchase. In other words, you won't receive indefinite support for a particular product unless you pay for it as an add-on.
Most of my own experience with TemplateMonster's customer support has been with the marketplace's presales live chat. I found the quality of their answers to be somewhat hit-or-miss, but I also ended up asking several questions they probably don't typically field. They were at least polite and patient with me! Unfortunately, you can't submit tickets and receive support from the vendors on any free products. Nevertheless, I'd recommend testing the TemplateMonster support system as much as you can before you purchase a product.
If you're curious about the quality of support from a particular vendor, there's a metric called the "Support Quality Index" listed on each template. This is a score out of 100 and is apparently based on customers reporting the quality of support received on resolved tickets (so keep that in mind if the ratings seem a bit high).
Overall, it seems like TemplateMonster has some good customer service systems in place for the marketplace. At the very least, vendor support is monitored. That's one nice perk of using a marketplace such as TemplateMonster, versus going to straight to a vendor's site.
Lastly, you should be aware that you may receive better/more support overall if you choose a template from one of TemplateMonster's preferred vendors. As far as I know, these are Zemez and WT — you'll see loads of products offered by these two companies at TemplateMonster. (From the way TemplateMonster's marketplace support talks about them, I suspect they may be subsidiaries of TemplateMonster or former branches of TemplateMonster before it became an open marketplace.)
User Reviews
Negative Reviews & Complaints
With a service as diffuse as TemplateMonster, it's difficult to quantify the general sentiment of the service's users. Online feedback about TemplateMonster is layered. We have to consider the reputation of the TemplateMonster marketplace as a whole, the vendors within the marketplace, and the vendors' products. Depending on your confidence in selecting the right template for your needs versus working with the technical aspects of templates themselves, the type of support you're most interested in will vary.
It can be tough to assess the quality of a specific vendor or template but definitely check out the reviews and metrics at TemplateMonster. There are a few spots in which you can find this information, and we'll discuss these in a moment. You can also try to track down some outside feedback on vendors — an easier task if the vendor happens to sell goods via multiple marketplaces.
For now, here's a summary of the most common negative feedback I've read at TemplateMonster and other user review sites.
Diminishing Customer Service: Some customers report that while the initial support in choosing a template is good, ongoing customer service is lacking. Even though technical support post-purchase is supposed to be covered by the specific vendor, customers have said they expected better mediation from TemplateMonster when things went wrong. Sometimes, problems get blamed on a third party that's not directly associated with the template or vendor, such as the customer's web host. As you'd expect, 'round and 'round the blame goes from here.
Technical Difficulties: Whether it's trouble with installation or the ongoing performance of a product, it's difficult to know which reported issues are due to user error and which are due to actual product defects. Nevertheless, and unsurprisingly, some templates don't always work out perfectly for certain customers.
Coding Skill Required: Call it a complaint, or call it a simple reality check, this user comment does pop up from time to time. Similar to our admonishments, customers have also offered warnings that you should know what you're getting into from a technical standpoint before choosing a template.
No Refunds: Perhaps customers didn't understand the refund policy from the outset, but I've seen evidence that you're more likely to get additional credit added to your TemplateMonster account than a refund as a concession (if a concession is offered at all).
Positive Reviews & Testimonials
I mentioned that there are a couple of places to find information about the quality of TemplateMonster templates. The first is under the "Reviews" tab of a given template: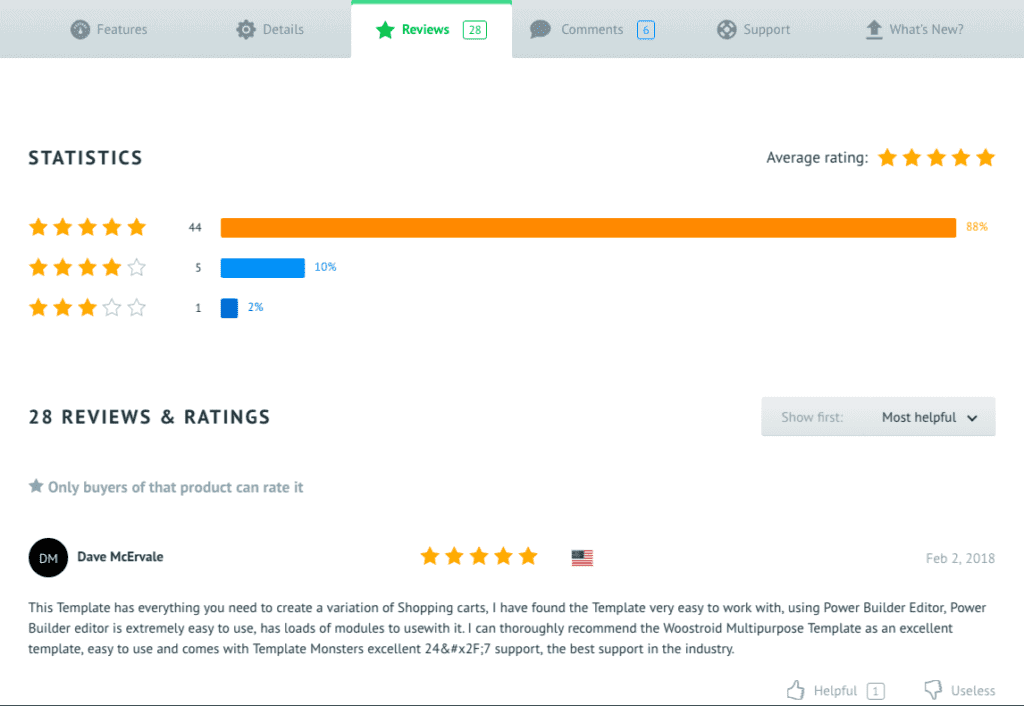 As you can see, customers may leave a star rating and/or a written review. The only problem is that you can't read all the reviews — the list always mysteriously cuts off after a handful. In any case, the actual written comments are more helpful than the star ratings.
Another piece of the feedback puzzle comes in the "About The Product" section of a template:

High scores, right? This is typical at TemplateMonster, and I'm honestly not sure how the numbers are derived. For example, what does a 100 score for Users' Rating mean? Did 100% of customers express 100% satisfaction with the product? The numbers seem a bit inflated and hard to believe (and appear inconsistent with the Review sections we've already discussed). I still think reading the user comments is your best bet.
As for positive feedback about the TemplateMonster marketplace overall, you'll find plenty at various review sites, such as Trustpilot and SiteJabber. It seems to me that TemplateMonster is soliciting these reviews from customers — a relatively common practice for online businesses. That's not to say the reviews are fake, but they do often appear hastily done and lacking in substance.
All that said, from examining the trends in these review sites and the feedback left at TemplateMonster's website, here are the positive patterns we've observed:
Good Presales Customer Support: This is the most common positive comment I've read about the TemplateMonster marketplace.
Nice Designs: Users have commented on the quality and selection of designs from TemplateMonster.
Good Customization Services: Some customers were pleased with the add-on services provided via the marketplace, mentioning it was cheaper and/or more effective than hiring a developer.
Repeat Customers: The fact that customers have returned to TemplateMonster to purchase additional items is a recommendation in itself.
Loyalty Program: Repeat customers appreciate the discounts they receive on multiple products.
Final Verdict
Whether you're a web developer or a business owner in the market for one or more third-party website themes — and you're interested in access to the source code and lots of customization potential — it's worth browsing the TemplateMonster marketplace to get a lay of the land. This is particularly true if you're building a website on one of TemplateMonster's more popular platforms (such as WordPress or Joomla CMS or eCommerce platforms, such as Shopify, WooCommerce, and PrestaShop).
From what I gather overall, the TemplateMonster support team will be a great resource in guiding you to the best-suited designs for your needs. Just remember that while TemplateMonster's 24/7 marketplace support can help with your decision, your actual tech support comes from the template vendor itself. Do as much vendor research as you can.
While I harbor no major reservations about TemplateMonster, I have a few tips to follow when using this marketplace:
First, take any assertions that you won't need to touch code with a grain of salt. This will be highly template-specific and can even vary widely based on your circumstances, skills, and needs. Carefully examine the features that are already included in the template, what you might need to change, and how these changes are facilitated (e.g., know what theme editing tools come with the template and the technical specifications of the template files).
Secondly, you're guaranteed to be faced with lots of extra service and add-on suggestions from the marketplace, and you'll need to sort through which ones you actually need. These costs can add up fast. Taking advantage of these services is a bit like hiring a developer in piecemeal, rather than signing on a dedicated web designer for yourself. If you're not very experienced with web development, you may find you want your own developer on hand anyway.
The flip side can also be true — you may not need as much help as TemplateMonster offers you. I'd suggest exploring what you can accomplish on your own without paying upfront for services, such as installation, color changes, adding your logo, etc. Play around with various free templates from TemplateMonster before buying to get a feel for both the process and the product. Install several templates and try out the provided editing systems. Read template reviews, but don't get too caught up in TM's rating system.
If I were choosing a template from TemplateMonster, I'd probably start by browsing the catalog of a vendor that already has lots of sales and reviews under its belt. In particular, I'd see if anything from Zemez or WT caught my eye first, seeing as these seem to be TemplateMonster's "preferred" vendors with more customer service resources available.
The bottom line: You can absolutely use TemplateMonter's marketplace to assemble a robust, functional website. Just don't go into it expecting the process to be as intuitive and straightforward as using a DIY website builder.
Have you used any of TemplateMonster's web design templates (or, indeed, any of its other website services)? What was your experience? Please drop us a comment and let us know how it went! In the meantime, best of luck in your website-building quest.
---
We've done in-depth research on each and confidently recommend them.
We've done in-depth research on each and confidently recommend them.
To learn more about how we score our reviews, see our
Website Builders Rating Criteria
.