Expert Analyst & Reviewer

UPDATED
Advertiser Disclosure: Our unbiased reviews and content are supported in part by
affiliate partnerships
, and we adhere to strict
guidelines
to preserve editorial integrity.
Time Doctor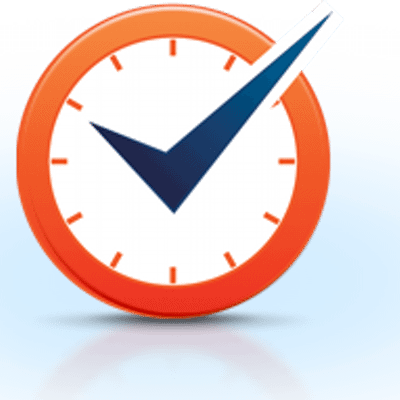 Pros
Adaptable to any business size
Easy to use
Improves productivity
Cons
Bugs and glitches
Expensive for large companies
Time Doctor Overview
Time Doctor is a time-tracking and productivity app that currently serves over 83,000 subscribers around the world. More than just a digital timesheet, Time Doctor aims to not only track your time but also help you learn to use it more effectively. With the ability to track time, access payroll features, and other productivity aids, Time Doctor is a well-received, well-priced solution for your time tracking needs.
Time Doctor is perfectly suited for those who work from home and also small business owners looking for a way to increase their efficiency. The software appears to scale well into larger businesses as well. Verizon, Keller Williams Realty, and even the Better Business Bureau all use Time Doctor.
Read on for our full Time Doctor review.
Time Doctor Pricing
Time Doctor is offered in three different subscription tiers. Each tier can be tried freely for 14 days, no credit card information required. Should you decide to spring for a paid subscription, each tier has 8 different pricing options, each one based on the number of users (1, 5, 10, 15, 20, 30, 40, or 50) who will get access to the software. I will give the approximate per-user-per-month price for each tier, though there is some slight variation in this depending on your number of users.
Basic
Time Doctor's Basic plan costs $7.80/user/month and includes:
Time tracking
Tasks & projects
Unlimited screenshots
Activity tracking
3 day support
1 group/department
1 month data storage
Standard
Time Doctor's Standard plan costs $9.80/user/month and includes everything in the Basic plan, plus:
Track apps and URLs
Payroll
60+ integrations
24 hour support
Up to 3 groups/departments
6 months data storage
Premium
Time Doctor's Premium plan costs $19.80/user/month and includes everything in the Standard plan, plus:
Client login access
VIP support
Concierge account setup
Video screen captures
Unlimited groups/departments
Unlimited data storage
Cloud-Based Or Locally-Installed
Both. Time Doctor is made of two elements. One element is downloaded software that runs on your device. The other element is a web-based dashboard that you can use to view reports of the time you or your employees have worked.
Hardware & Software Requirements
Time Doctor's desktop application is compatible with Mac OS 10.11+, most Linux OS versions, and all Windows computers with Windows 7 or later. To access your online dashboard, you should use the latest version of one of these compatible browsers: Internet Explorer, Firefox, Safari, or Chrome.
Specific Size Of Business
Time Doctor is quite adaptable to your particular business size. It is used by self-employed business owners and major corporations alike.
Ease Of Use
I found Time Doctor very easy to use. Once you have an account and have downloaded and installed the program, it leads you through a quick tutorial on how to track your time, take breaks, and add tasks. As a whole, this is a seamless process and feels pretty natural. Once you know how to do these three things, you know how to do just about everything the downloaded program is designed for. To add extra hours, view reports or screenshots, or alter any of your account details, you need to log in to Time Doctor's web app.
The web app has an even better design than the downloaded program. Your landing page is your dashboard, and from there, you can edit your timesheet, view screenshots, see reports, and more. It is well laid out and intuitive.
Employers and employees have access to slightly different dashboards. On the employer dashboard, you can manage user settings, process payroll, and set work schedules. The employee dashboard essentially allows employees to view reports for their own work time. Both dashboards are intuitive, and it took me less than an hour to get the hang of things. In terms of ease of use, Time Doctor earns itself an excellent rating.
Time Doctor Software Features
Time Doctor is designed to work as a time management software for yourself and your employees. It allows you to track time, monitor your employees' productivity, and process payroll. While Time Doctor is excellent at what it does, business owners who are looking for a more traditional project management system may find that Time Doctor is missing some important features. For example, you won't find features such as Gantt charts, a risk register, or contact management.
Here are some of the features Time Doctor does include:
Dashboard: Time Doctor gives you access to two different dashboards. One is for tracking your time, and the other is for viewing reports and payroll information.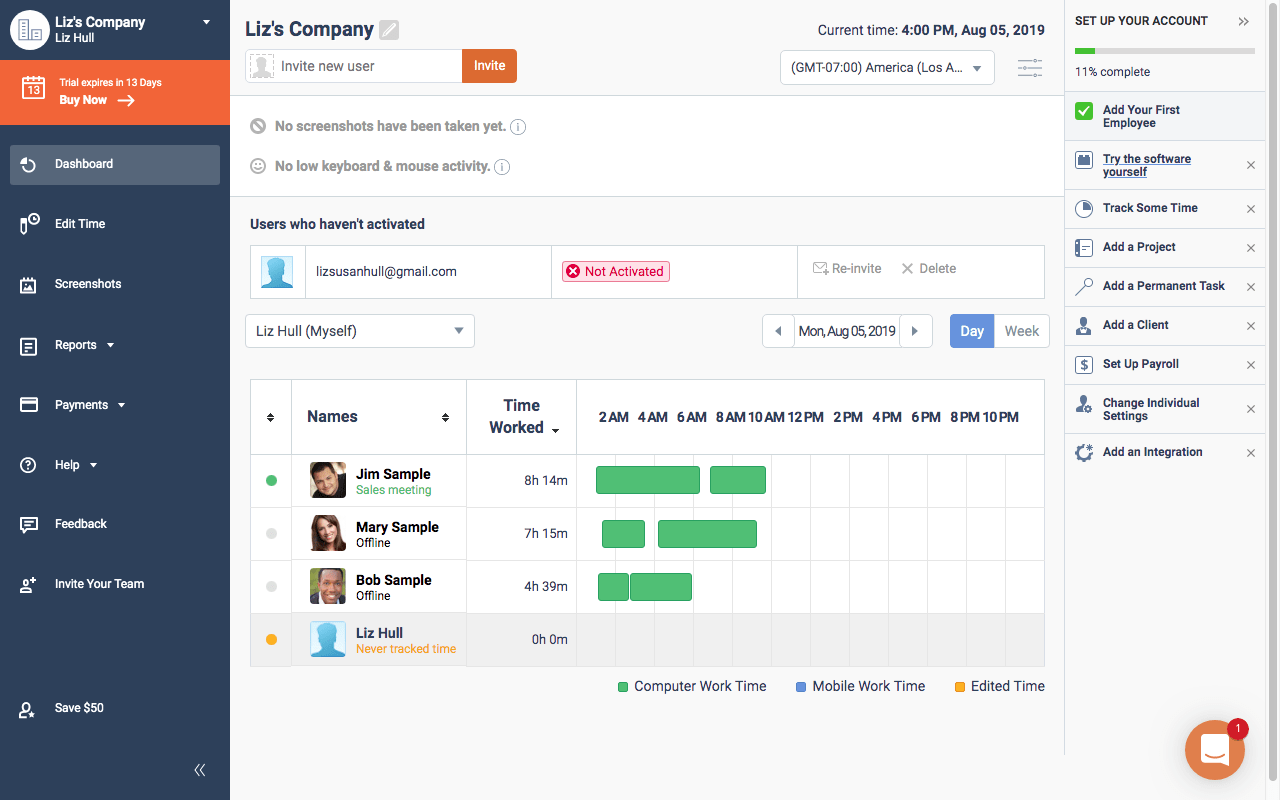 Project Management: Create projects and assign them to your users. You can also add permanent tasks to your projects, so you can more easily track the cumulative amount of time that multiple users spend on one task.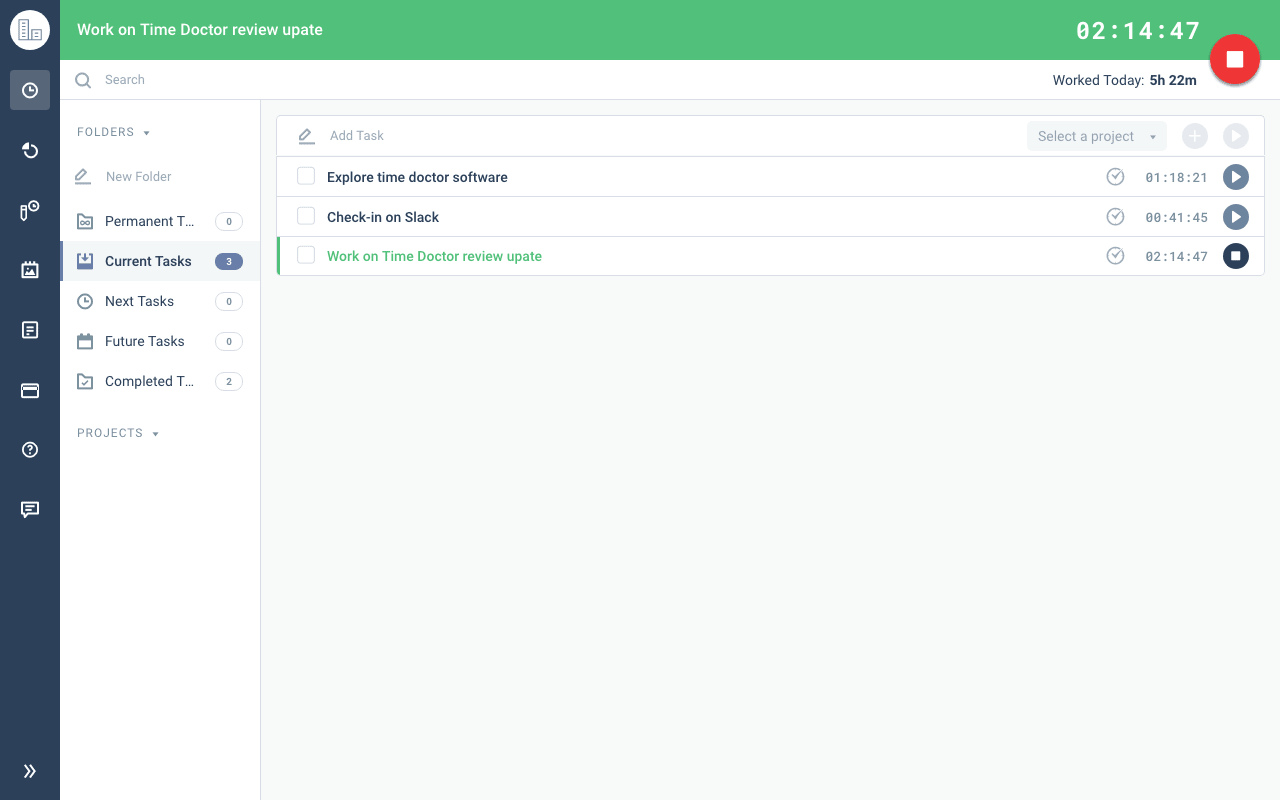 Tasks: Add new tasks and connect tasks with larger projects. When you complete a task, you can mark it as done. Time Doctor tracks all the time you spend on each task.
Time Tracking: Keep track of not just your total time spent working but how many hours you spend on each job. If you need a break, no problem: press the Break button and take the time you need. Additionally, if you need to edit your time after the fact, or if you forget to start the timer, you can add hours here.
Payroll: Setup your payroll with employees' pay rates and hourly limits. Employees' hours on the clock transfer over into your admin account, and you can start processing payroll. At the end of each pay period, you receive an email reminding you to review payroll. Once you have checked everything, you just need to click "Approve" and then "Send." Time Doctor allows you to use any payment method to pay your employees, such as PayPal, Payoneer, and TransferWise, among others.
Scheduling: You can set work schedules for your employees. You receive a notification when employees start work late or when they are fully or partially absent.
Email Settings: Request to have Time Doctor email reports to just yourself or your entire team.
Reports & Analytics: There are numerous reports available for your consideration, including those that analyze employee timesheets, timelines, projects, and poor time use. That last one is interesting to me; it tracks employees and analyzes their "personal computer use." If they spend more than 10 minutes in one day on non-work related sites, they could be in trouble. As I discuss below, this report is not perfect. In my testing, I was able to trick the software more than once.
Activity Monitoring: Time Doctor keeps track of the websites you visit while on the clock. During my test, it did a pretty good job keeping track of my activity. However, the "Possible Poor Time Use" feature isn't perfect. Time Doctor did not register when I played YouTube videos in other tabs or an incognito browser. Ironically, the only YouTube videos Time Doctor did "catch" were the Time Doctor tutorial videos that I played from within the Time Doctor dashboard.
Screen Monitoring: If enabled, this feature captures images of employees' screens and sends them off to a supervisor to help ensure every moment is productive. Feel like this is an invasion of privacy? You are not alone. That said, this feature is designed to allow employees to delete screen captures they don't like. However, the time slot for that image is also deducted from their pay.
Webcam Images: If you were freaked out by the screenshots, then you will be horrified by this feature. Time Doctor allows administrators to enable webcam photos, which are taken on the employee's computer at a set time interval.
Productivity Hints: If you wander on the internet (who doesn't?) and get a little too far off the beaten path to be considered productive anymore, Time Doctor sends you a pop-up asking if you are still working on your given task. Additionally, you get a little time bar at the bottom of your screen to help keep you focused on the job at hand.
Time Doctor Customer Service & Support
Time Doctor gives users several customer service options. There's only one direct support option, however.
Email: Contact a support representative directly by submitting a support ticket. They will then reach out to you by email, where you can continue the conversation.
In-Software Help: Your dashboard includes links to support and feedback, a webpage where you can vote on upcoming features, the webpage where you download the Time Doctor software, and the product blog.
Help Center: Time Doctor provides a searchable Help Center, which you can access from your dashboard or the Time Doctor website. This Help Center includes how-to and troubleshooting guides to help you learn how to use the software effectively. The Help Center also consists of a small library of videos, which show you a few of the basic processes involved with using Time Doctor.
Videos: The Help Center includes 11 videos. These videos are the same videos you view during your introductory tour of the software.
Blog: Time Doctor's blog includes product updates as well as productivity tips and general business-related articles.
Social Media: Time Doctor posts frequently on Twitter, Facebook, and LinkedIn. They also have an account on Instagram, but they have not posted on it for the past two and a half years.
It's important to note that you can only contact Time Doctor via email. This limitation may be frustrating for merchants who prefer real-time assistance options like phone support or live chat. I've seen several Time Doctor reviews that complain about the company being slow to respond to emails. So, keep in mind that it may not be as easy to access technical support as you would like.
Time Doctor Reviews
Negative Time Doctor Reviews & Complaints
Time Doctor is a well-reviewed program, scoring highly on third-party review sites. However, users still have a few complaints regarding areas in which Time Doctor could improve. Here's what users complain about most frequently:
Bugs & Glitches: I've seen numerous reports of bugs and glitches within the software. Some users say the software slows down their computers, while others report problems with tracking time accurately. A couple of users say Time Doctor does not work well on Mac.
High Pricing For Large Companies: Time Doctor is priced per user. This method of pricing means that companies with many employees may find the software to be too expensive.
Annoying & Invasive: These complaints typically come from employees using the software rather than business owners. Time Doctor sends "Are you working" pop-ups when employees are not active on their computers, which can be frustrating since many employees complete a significant portion of their work away from the computer. Most significantly, however, many employees feel that Time Doctor's screenshot captures and webcam captures are creepy and invasive. They say Time Doctor is essentially spyware for employers.
Technical Support: It can be difficult to get ahold of technical support.
Positive Time Doctor Reviews & Testimonials
As I mentioned, most Time Doctor subscribers are happy with the product. Here's what Time Doctor's positive reviews tend to focus on:
Good For Managing Time: Employers love that they can use Time Doctor to track their employees' use of time. This ability to track helps them better evaluate employees' performance, and it helps them get a better understanding of the amount of time required to complete each task. Employers are then able to better delegate tasks and increase overall productivity.
Screenshots: Managers and owners like the ability to monitor their employees' work through screenshots. This screenshot ability seems to be especially important for those who employ remote workers. Freelancers also like this feature since it allows them to prove their time use to clients.
Easy To Use: Time Doctor is easy to set up and use.
Time Doctor also lists a few positive testimonials on its site. Here's what one user had to say about the software:
Running a marketing agency with Time Doctor allows me to simplify my workflow, streamline jobs, and spend more time with my family.
Time Doctor currently gets an excellent average score of 4.4/5 at G2.com based on 186 user reviews.
Integrations & Add-Ons
Time Doctor integrates with 60 apps and services, including Slack, Trello, FreshBooks, WordPress, and Zendesk. Time Doctor also integrates with Zapier, which, in turn, allows you to connect with your choice of hundreds of other programs. Additionally, you can use Time Doctor's Chrome Extension to integrate with different apps, such as Redbooth, GitHub, and more.
Finally, Time Doctor offers users access to their API, which you can use to build a custom solution.
Security
Time Doctor uses SSL encryption for all communications with its servers. Time Doctor states that its data centers are monitored 24/7 and that it uses special intrusion detection systems to block malicious connections and hacking attempts.
Time Doctor's privacy policy explains what happens with screenshots that the software takes as users work. These screenshots are viewable by managers within your company and by a few of Time Doctor's system administrators and high-level developers who use these images for testing and troubleshooting. You can also set these screenshots to appear blurry for employees who work with sensitive information.
Time Doctor FAQs
Final Verdict Of Time Doctor
Is Time Doctor a good work management tool? To answer that, let's review what comes with every subscription: You get a time tracker that breaks down your timesheet into separate tasks, a productivity monitor to help ensure you are as efficient as possible while working (Time Doctor's website claims an increase in efficiency of up to 22%), a service to integrate with your payroll system and almost automate payday in entirety, and you get it all for less than ten bucks per person per month.
While I do feel the whole screenshot/activity monitoring is a little creepy, especially when installed on a non-work device, I also know that you can turn this function off when the time for work has ended (which is important if you work remotely using your own device). Overall, the combination of usability, good features, and value-for-money makes Time Doctor worth your attention. But don't take my word for it! Go sign up for a free trial and decide for yourself.
If you'd like to shop around a bit more, check out this rundown of our top 7 time tracking apps along with our full list of project management software reviews.
---
Featured Free Corporate Card
Ramp


---
Ramp offers a free corporate card for virtually any business. Start earning rewards with your corporate spending today. Get your free card.
Featured Free Corporate Card
Ramp


---
Ramp offers a free corporate card for virtually any business. Start earning rewards with your corporate spending today. Get your free card.
To learn more about how we score our reviews, see our
Project Management Software Rating Criteria
.