Timely Time Tracking App Review
Contributor

UPDATED
Advertiser Disclosure: Our unbiased reviews and content are supported in part by
affiliate partnerships
, and we adhere to strict
guidelines
to preserve editorial integrity.
Pros
Easy to use
Modern user interface
Varied support materials
Cons
Expensive monthly cost
Rudimentary feature set
Overview:
Founded by Mathias Mikkelsen and designed in Norway, Timely is built around an obsession with time. According to the company website, Timely is designed to help customers find the storied "25th hour" that will help them progress faster and better than their competition. The key? Stop wasting too much time doing things not directly involved in making your company money. Timely is very interested in the automation of time tracking, but they throw in some project and task management too.
Now, with a brand-new and completely redesigned interface (launched in April of 2017) it seems that promise is being fulfilled. Timely is a great value for individuals and smaller teams working in a project development or freelancing environment, though larger businesses may find its functionality a bit too narrow and its integration potential too low.
Pricing:
Timely has changed its pricing system; plans are now based primarily on the number of staff who will be using the product. This turns out to be a pretty good deal for individual users, who can use it for free (so long as they don't need to track more than five projects at a time). Otherwise, the pricing tiers are refreshingly simple: you'll pay $14/mo per user unless you want to shell out for premium support.
Professional:
$14/mo per user ($12.60 when billed annually)
Unlimited projects
Enterprise:
Contact for pricing
Unlimited projects
Priority support
Account manager
There is also a 14-day free trial available should you want to see how Timely works before shelling out the big bucks to use it on a daily basis. As always, Merchant Maverick highly recommends this option.
Web-Based (SAAS) or Locally Installed:
Timely is a web-app, which means you do not have to download it or install it on your computer. However, a part of the newly re-designed Timely includes something called Memory, which does require a download and install. More on what Memory does later.
Ease of Use:
Timely is pretty easy to use. With a streamlined interface and beautiful graphic design, it does not take long to figure out how to use what is, essentially, a time-tracking app. Adding time is as simple as clicking on the day of the week and entering time. Or, if you are starting work and want to track the time as you go, click the little stopwatch icon. It all works just as you would expect.
The story is the same with the other sections of Timely, from projects to users to reports. It is simple and easy to use. My only complaint would be that Timely has made the landing page for their app the "Memory" page. While Memory seems to be a fantastic product, it is also not quite ready for Windows users yet. Yes, it is easy enough to get away from the Memory page, it also seems like a mistake to land people on a feature that isn't quite ready for mass use.
Customer Service and Support:
In terms of self-service support, Timely has a massive collection of FAQ-like articles that cover pretty much every minute aspect of this software. I would argue that these articles are not organized in a particularly effective way (it seems like in order to find what you need, you need to already know what that is…which may not always be the case).
If you want to contact Timely more directly, there are three main options: Email, Twitter, and Facebook.
Use email for specific questions and queries:

[email protected]

Go to Twitter for what Timely calls "quick replies and updates" The Twitter handle to use is @timelyapp. Their statement about quick updates and replies seems completely accurate; there is a lot of customer interaction happening on this twitter page!
Timely's Facebook page is hardly the same hub of activity found on Twitter. While there are posts about Timely news here, I would go elsewhere with questions.
Negative Reviews and Complaints:
People seem to really like the new redesign of Timely. In fact, with the re-launch so new, there was only one complaint I could find at all!
Mobile Apps: Most people seem satisfied with these, but one complaint stuck out: no time tracking. This seems like a bit of an oversight since time tracking would be awfully handy on the go.
Based on my own experience with the app, I feel like Timely really doesn't offer that much for the amount you pay for it. Basically, this feels to me like a low-powered project management application. For a slightly higher price, users could get a subscription to ProWorkflow, which accomplishes all of the scheduling and time tracking goals of Timely (plus much more). It isn't that Timely is bad at what it does… but it does seem like other solutions do more for less.
Positive Reviews and Testimonials:
Here are a few excerpts from satisfied customers:
"This is exactly why I like Timely: you always have the ability to record your time at your fingertips, have a short overview at any time and get monthly reports automatically done for you. Worth each penny!"

"I can drag and drop all of the emails I sent for the day with the Gmail integration, drag and drop my meetings of the day with the Google Calendar integration. My time tracking is fun, easy, and I don't feel like I'm playing catchup, I'm just recording what I'm doing on various channels!

"I am very happy with this app. I have used, and built a few, time tracking systems, and am amazed by the thought and detail put into this service. Super clean and easy to use UI. Web, Mobile and Desktop applications."

"Prior to using Timely, I was guessing how profitable my work was. But now with hard data, I can see what's working whilst also planning time ahead. This is an excellent feature of the product — planned vs actual time spent. I can also see how much work I can realistically fit into each week. Great solution. Love Timely."

"Timely is the easiest time tracking software I've used. It's also pretty good looking! I've been using Timely for a year now. At the beginning I enjoyed the experience and thought it did everything I needed it to do. Then the awesome folks at Timely started adding new features, features I didn't realize I wanted/needed until they came out."
Features:
Here are some of Timely's best features:
Time Sheets: Log your hours quickly and efficiently with Timely. Saving time on tracking your hours means more time working on actual projects!
Project Tracking: Timely allows you to set budgets for your projects and automatically deducts employee hours from that budget. If your employees work at different pay rates, you can enter those into the equation as well. This is a pretty nifty tool that I have not seen before!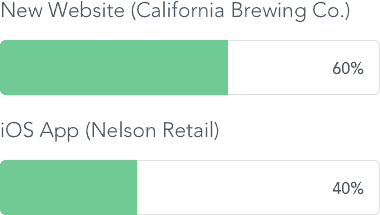 Reporting: Timely can create an itemized list of how exactly you spent your client's money. These reports can export as a .pdf or .xls file.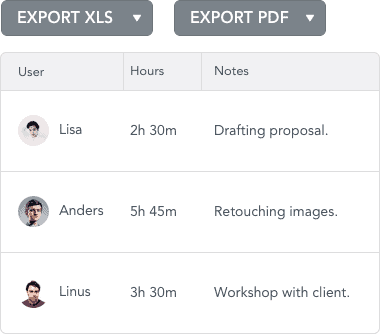 Memory: One of the new features/products within the recently redesigned Timely, Memory aims to ensure you know exactly how you spend your time, with the goal of maximizing efficiency. For the moment (as stated above), Memory is only available as a Mac OS app, though a Windows version is supposed to drop soon.

Memory is a private timeline of all tasks you complete throughout the day. As you work, your accomplishments and hours are automatically added. Later, you can look back and determine how to improve your use of time.
Integrations and Add-Ons:
Timely Integrates with the following 3rd party apps:
Office 365
Google Calendar
Outlook
Quickbooks
Freshbooks
Xero
Security:
Timely uses Amazon Web Services for their servers and security. For more information on AWS, click here.
Final Verdict:
I am divided in my opinion on Timely. On the one hand, this is a program that does what it was designed to do impeccably well. It is beautiful and intuitive to the point that using it feels almost like second nature. And after all, what more can you ask for than a software that does exactly what it is intended to do in as perfect a manner as possible?
On the other hand, Timely is almost as expensive as a more typical project management program but provides much less functionality. So even though I like it a lot, I have a hard time recommending it when there are so many great project management software systems out there for a similar price.
In the end, it is not for me to choose. Go check out the Timely web page and sign up for the free trial. From there, the decision about whether Timely is what you need belongs to you alone.
---
Featured Free Corporate Card
Ramp


---
Ramp offers a free corporate card for virtually any business. Start earning rewards with your corporate spending today. Get your free card.
Featured Free Corporate Card
Ramp


---
Ramp offers a free corporate card for virtually any business. Start earning rewards with your corporate spending today. Get your free card.
To learn more about how we score our reviews, see our
Project Management Software Rating Criteria
.