Expert Analyst & Reviewer

UPDATED
Advertiser Disclosure: Our unbiased reviews and content are supported in part by
affiliate partnerships
, and we adhere to strict
guidelines
to preserve editorial integrity.
Pros
Easy to use
Good Mobile Apps
varied support materials
Cons
Poor customer support
Difficult to use
TimeTrade Overview
TimeTrade is online scheduling software solutions for any business—whether you're a global retailer, a department, or a professional individual. The company's homepage plays to the retail, banking, marketing, finance, and education industries, with a heavy emphasis on improving customer engagement.
In some ways, it may almost be better to think of TimeTrade as a scheduling framework that you can use to bind several other related programs together. TimeTrade's system is, itself, quite limited. It's also cheap, functional, and scales well from small to large businesses, but you'll be relying on integrations pretty heavily (which can occasionally be an issue given frequent reports of syncing issues).
Pricing
Some bad news for the frugal: TimeTrade has recently done away with their free plan. Nevertheless, the paid plans remain some of the cheapest on the market, particularly at the individual level. The cost of the business plans has increased, however. All plans are billed annually, but I've listed monthly costs to make it easier to compare the pricing to that of other programs.
Professional: $49 Per Year ($4.08 /Month)
1 User
Outlook, Google Calendar and iCal integration
Instantly confirmed appointments from website, blog, or landing page
Custom branding for an additional $29/year
Business Edition: $180 Per User Per Year ($15/Month)
All Individual tier features
Salesforce integration
Central billing and team administration
Custom branding included
Business-Plus Edition: $300 Per User Per Year ($25/Month)
All Business tier features
Activity Reporting
Smart Routing
Website registration form and marketing automation integration
Ease of Use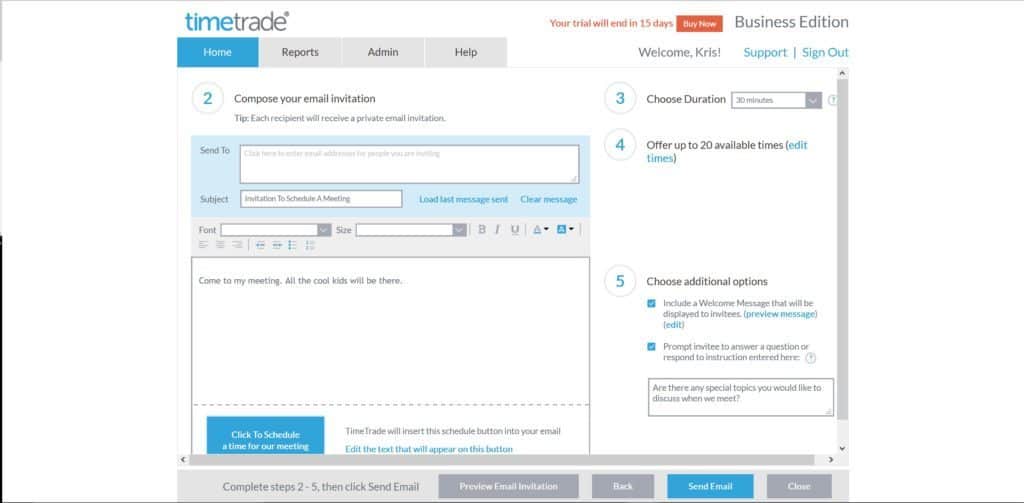 TimeTrade is one of the most straightforward scheduling services on the market. Because it doesn't ask a lot of data about you, your users, or your appointments, there aren't many steps to go through to setup or configure most options, and not much information to track and store. TimeTrade is both visually attractive and easy-to-use.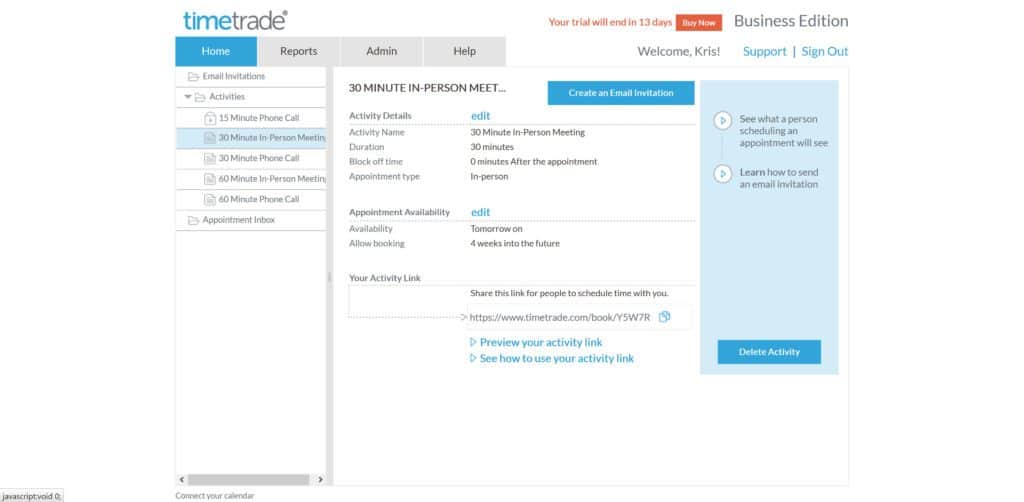 Setup: The only thing you need to set up to have a fully functioning account is a new activity. I appreciated that you can create a new activity during the process of sending an email invitation to your first client. (Activity durations and availability are marked out in 15-minute segments—so no chance of scheduling a ten-minute call or a 1:20 meeting.) You can set up appointments to be in person or by phone. You then define open times for the activity you created in a clickable calendar. Creating an activity with scheduled openings automatically creates a shareable link, or you can send a customizable email invitation thru TimeTrade to up to 200 people at a time.
User Interface: TimeTrade avoids showing users too much information on a single page. Each page is nicely contained and organized into a few simple tabs. Your account homepage revolves around email invitations (creating new ones and tracking sent ones), activities (creating new ones and viewing details and availability for each), and an "Appointment Inbox" that summarizes upcoming appointments and allows you to send messages to those you will meet with.
Settings: Configuration options are very limited. You have the most control over appointment creation, your logo (TimeTrade's, your own, or none), and email invitations: you can custom create unlimited appointment types (with name, duration, and short description), automatically paste your logo on everything, and customize your email. Beyond that, you don't have much control over your account or the scheduling process. You can add users (with only a name and email address), assign them to a group, assign activities to users or groups, and route appointments according to detailed commands. You can connect one external calendar. You can set four very simple appointment rules: which is the first day of your workweek, whether you let customers book last-minute, how far into the future appointments can be booked, and whether you want to receive email confirmations.
Calendar: The first thing you'll notice is that there isn't one. Each activity's schedule receives a unique link, which you can share. This means there is no central calendar, or even a coherent view, of availability from the administrator's perspective. From your homepage, however, you can preview how your activity link appears to those being invited to schedule, and in that way see your "calendar". Each team member can integrate with Outlook, iCal and Google Calendar. A link in confirmation emails and confirmation pages allows the viewer to directly add an appointment to their personal calendar. Advanced scheduling settings include options to add recurring availability and customer scheduling limitations (such as a limited number of daily timeslots per person per day or disallowing last-minute scheduling).
Client Experience: New users or invitees must register by inserting their information into the system to schedule an appointment. A scheduling button embedded in an invitation email leads to a very clean scheduling page. (Alternatively, you can embed the scheduler into your website.) An optional "welcome" page appears before the actual calendar. Then the calendar, in either week or month view, shows available slots. After entering their information, clients can review the appointment and confirm. On the confirmation screen, they receive a confirmation number and can click buttons to import the event to their Outlook, iCal, or Google Calendar. They can also import the activity into Lotus Notes from the email confirmation, or cancel/reschedule via a link.
Customer Service and Support
TimeTrade offers a lot of documentation for self-service help, including support forums. The company has amassed a trove of video tutorials and recorded webinars. Support ticket responses reportedly take at least a day to deliver; some users complain of very belated or infrequent responses. My support ticket request, however, was answered within 40 minutes – not totally to my satisfaction, but in a timely manner.
The company's main customer service options include:
Community Forum: Hundreds of discussions have been started by users in the community forum platform, which allows users to upvote the questions of others and see whether they have been answered. Many have lots of responses and comments, from both TimeTrade Support and other users.
Knowledge base: TimeTrade's support forum includes over 100 support topics, from account activation to integration info./li>
Email Support: Available to all paid plans.
Support Ticketing System: Available to all paid plans. I received a ticket receipt as well as a reply within the hour.
Phone Support: Available to Workgroup account owners during business hours, and to Enterprise and Retail users 24/7.
Additional customer engagement and support channels include:
Negative Reviews & Complaints
Much of the frustration in customer feedback has to do with TimeTrade's basic setup as a scheduler and the unique links created by each kind of one-on-one meeting. Limitations and glitches include:
Unique Activity Links: Each activity you set up receives a unique URL link for each user. This has caused some frustration for AppExchange reviewers, particularly because administrators can't see the URLs and set them up for users.
Spotty Customer Support: An ongoing criticism of TimeTrade has been its sometimes unresponsive customer service. Users have reported inability to schedule demos and difficulties reaching phone support.
Time Zone Issues: Several users complained in the community forum of incorrectly syncing time zones and client confirmation emails that contained the wrong data.
Little Flexibility: In the non-enterprise, non-retail editions of the software, users have very little control over anything besides the name of the activity they're scheduling and the route a scheduled appointment takes when it's made. Virtually every other feature is severely unconfigurable.
Positive Reviews & Testimonials
Customer testimonials on TimeTrade's site and positive reviews elsewhere indicated that users enjoy how much more efficient the software makes them, how easy it is to configure and use, how well customers respond to it, and how easy it is to sync with an external calendar.
Saves Time: Virtually every glowing review begins with gratitude for how much time TimeTrade saves them and their company. Sales reps, in particular, were delighted by how much more time they spent with prospects after using the software.
Easy to Configure and Use: Many mention that the software is easy to use, both from an administrator/user perspective and from that of a client/invitee.
Increases Customer Satisfaction: Some users claimed that TimeTrade's scheduling system made them appear more professional to their clients and gave them power and a sense of being respected.
Syncs with External Calendar: TimeTrade syncs with virtually any external calendar, a feature many users, apparently, take advantage of.
Fully Functional on Mobile Devices: While it's not much to look at on your desktop, the simple, straightforward interface lends itself extremely well to mobile devices.
Features
TimeTrade doesn't offer a wealth of advanced features, though it has some neat marketing and appointment routing solutions.
Appointment Routing: TimeTrade offers two special ways to automatically route appointments: Round Robin style, or according to special rules. You can also simply distribute activities to specific users or groups of users.

"Smart Routing": This feature helps you create a prioritized list of rules for each activity. These rules let you drop scheduled activities in the appropriate team member lap(s). While perhaps the most difficult feature to understand (it required me to read through an 18-page tutorial), this is by far the most robust and most unique aspect of TimeTrade.
Round Robin: When you add users to a Round Robin group, scheduled appointments (when set to be distributed across members of the Round Robin group) will be evenly parceled out to team members in a cyclical way.

Salesforce App: For businesses and individuals already plugged into Salesforce, linking your account with TimeTrade is relatively easy, though it takes some time. You can offer appointments to leads right through your SalesForce.com account, which can also be synced with external calendars.
Unlimited Appointment Types: You can easily create a new activity from your account homepage "from scratch". Set up requires an activity name, duration (choose from 15-minute intervals), and short description. You then choose whether the appointment will be in person or by phone, and what your availability is. Each activity is associated with one availability schedule and a unique URL for scheduling. When you email invitations to schedule, each user who receives the invitation gets a unique link.
Branding: You can choose to clear all your TimeTrade web pages and emails of the TimeTrade logo and include your own in its stead (or leave them logo-less).
Mobile Options: TimeTrade had an iOS app until recently, but they've ceased supporting it in favor of optimizing the site for mobile.
Payments
TimeTrade does not offer a direct method of payment processing for your customers. This blog post describes how you can set up a PayPal account to lead a customer through scheduling from the PayPal receipt/thank you page.
Security
TimeTrade uses 128-bit SSL encryption. It is certified by Hacker Safe and by VeriSign. Their servers are hosted in high-security data centers that are monitored 24/7.
Integrations & Add-Ons
TimeTrade's 3rd party software integrations serve two purposes: calendar syncing and marketing.
Calendar Syncing: TimeTrade syncs with Google Calendar, iCal, and Outlook. Users can choose to show busy times on external calendars as unavailable on their TimeTrade account. Additionally, clients can import appointments into Lotus Notes.
Sales & Marketing: TimeTrade integrates with Marketo, Eloqua, Salesforce, and Hubspot for streamlining sales and marketing processes.
Paying subscribers have access to the following:
Custom Logo Branding: For professional and higher plans.
Automatic Customer Feedback: For Enterprise and Retail Editions.
Advanced Custom Reports: For Enterprise and Retail Editions.
Pre-Configured Dashboards: For Enterprise and Retail Editions.
Enterprise-Class API: For Enterprise and Retail Editions
Final Verdict
TimeTrade's minimalistic approach to scheduling diverges quite heavily from that of most of its competitors, which typically provide more robust feature sets.
With that in mind, chances are you'll either love or hate TimeTrade. The SaaS is fairly reliant on integration and syncing for higher level features and, while the company is continuously making improvements, users still report difficulties syncing their schedules. In general, TimeTrade would be suitable for professionals or sales teams that offer one-on-one appointments with non-paying clients, or for bargain hunters who don't mind having to do a little extra work getting their work environment setup. But any way you look at it, TimeTrade works best for businesses which don't need client payments upfront.
---
Featured Free Corporate Card
Ramp


---
Ramp offers a free corporate card for virtually any business. Start earning rewards with your corporate spending today. Get your free card.
Featured Free Corporate Card
Ramp


---
Ramp offers a free corporate card for virtually any business. Start earning rewards with your corporate spending today. Get your free card.
To learn more about how we score our reviews, see our
Booking Software Rating Criteria
.