Expert Analyst & Reviewer

UPDATED
Advertiser Disclosure: Our unbiased reviews and content are supported in part by
affiliate partnerships
, and we adhere to strict
guidelines
to preserve editorial integrity.
Total Touch POS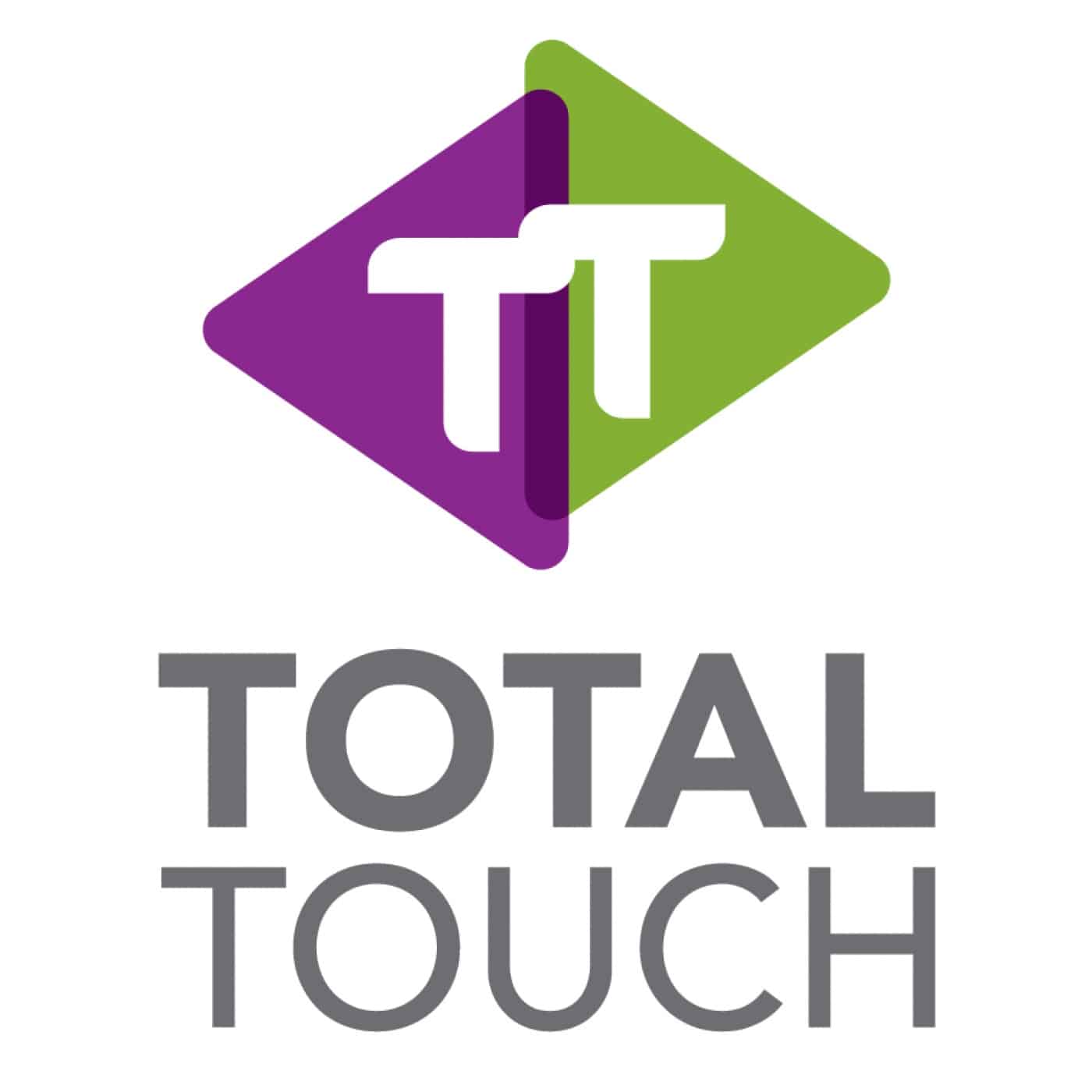 Pros
All-in-one system
Strong mobile ordering
Processing flexibility
Cons
Some back-end features are time-consuming
Customer service not available 24/7
Total Touch POS Overview
Total Touch is an all-in-one POS company for restaurants and foodservice establishments of all shapes and sizes. The company was purchased by processing company Electronic Merchant Services in 2018 and is a feature-rich POS that has everything you need to start your foodservice business. Total Touch hangs its hat on a few key areas. First, it integrates with the majority of major credit card processors and boasts a guarantee that no one will be forced to change processors. However, you also get a nice little discount on its monthly software services if you do use EMS. Total Touch is far from the only POS system that integrates with a large number of processors. But still, it's nice to have options.
Total Touch also likes to highlight its convenience by being a one-stop-shop. The software truly does come with or integrates directly with everything you might need, from loyalty to inventory management to accounting. You can also purchase your hardware directly through the company, albeit from independent dealers — which can lead to some potential pricing discrepancies.
Finally, Total Touch has an integrated mobile ordering system that it likes to showcase. It's a nice feature to have built into the software, and, for restaurants that plan on selling online, this feature alone might help put Total Touch on your shortlist.
In all, it's a solid system without many gaps and is relatively user-friendly. I have concerns about its customer service, as it was hit or miss from my perspective. Total Touch is still new to the scene without a lot of feedback from users anywhere on the internet. I would advise taking advantage of the company's free demo to try it out first.
Pricing
You won't find a quote on the website, which is a little frustrating. However, SaaS pricing for Total Touch comes to $59 a month if you use Electronic Merchant Services as your processor and $74 a month if you use another processor. This pricing is pretty competitive, considering the breadth of features it offers.
Cloud-Based Or Locally-Installed
Total Touch is what's commonly referred to as a hybrid system. The POS itself is locally installed at your facility and connects either through an ethernet cable or Wi-Fi connection. Data and information are stored in the cloud, adding a level of security.
Specific Industry
Total Touch is designed specifically for the foodservice industry. With table management, the POS can handle small to mid-sized full-service restaurants. It also has some nice features specifically for bars and more niche foodservice industries, such as pizza shops or cafes. Its strong mobile ordering functionality also makes it a good option for restaurants that are looking to capitalize on to-go orders.
Specific Size Of Business
Total Touch can probably handle most restaurants. I would say it's best suited for small to mid-range establishments. Still, for larger, busier restaurants, it has all of the features you would expect, including a Kitchen Display System, inventory, and employee management.
Ease Of Use
The interface isn't particularly flashy, and I found some of the pre-set color-coding options to be a bit distracting. I would imagine that it would take some time for a server or employee to get used to where menu items were. But this is typical for Windows-based systems. Anyone with experience in POS systems will have a leg up when it comes to training. The front end is fairly intuitive, featuring a nice cash quick-sale option. Selecting tables and adding menu options is simple, and you can set up modifiers in a convenient fashion to help out your employees.
Ticket splitting is also intuitive, with a feature that allows you to easily divvy up items when it comes time to pay the bill. The back end is also relatively easy to navigate once you know where to look. Everything isn't exactly right at your fingertips as it is with some systems. Still, once you're into reporting or employee scheduling, etc., the interface makes sense, and you can get the information you need or make necessary changes in a timely fashion. I did find that some of the functionality for manually entering employees, menu items, or inventory, for example, was a bit tedious and time-consuming. I would look for shortcuts wherever possible.
Hardware & Operating System Requirements
Total Touch is Windows-based and can run on Windows 10 or later. The company offers all-in-one hardware packages through specific dealers, which you can find through its website. Those packages can include the basic station along with card readers, receipt printers, Kitchen Display Systems, and a wide variety of more specific items such as scanners or scales if needed. If you buy through a dealer, Total Touch sells Touch Dynamics and Epson products, but the software will function on any up-to-date Windows device.
Features
Total Touch offers a robust and generous package of features. It has pretty much everything your quick-service or full-service restaurant might need to at least get started. Here's a quick look at a few areas where it stands out.
Table Mapping: You can set up your custom restaurant layout quickly and add color-coding to your tables. It's then easy to click on each table to assign orders.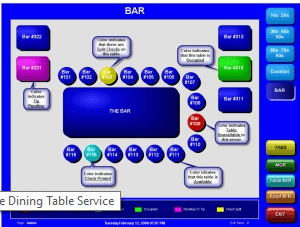 Check Splitting: This important function is pretty simple to navigate. You can easily switch and lump items as necessary, and you can split the check multiple ways and accept various forms of payment on one tab.
Menu Building: This feature can be a little time consuming, but it's fully customizable, and you can make things as simple or complex as you'd like. After you've added all of your basic items, you can easily set up modifiers that will walk servers through various options. There's even a convenient feature that allows you to create combo meals easily.
Online Ordering: One of Total Touch's best features is its built-in online ordering system, something which is becoming increasingly important in the restaurant industry. Through your customized website, you can receive orders directly to the POS system. You can also send and receive messages from customers. As a bonus, you can create online-only coupons and set up specials for your mobile customers.
Loyalty: Also integrated into the software is Total Touch's loyalty and gift card program. You can easily store customer information for future use with marketing and track customer loyalty points on the POS to encourage repeat business.
Pre-Authorized Bar Tabs: This is another feature that more and more POS systems are starting to roll out. It ensures accuracy with your employees and helps profitability.
Kitchen Display System: Through Total Touch's dealers, you can order a Kitchen Display System if necessary for your restaurant. For larger restaurants, this can be a godsend, helping to organize orders and speed up ticket times for your cooks.
Inventory Management: Total Touch features a solid inventory package that helps you track ingredients. It features an item countdown so that servers can know when various ingredients or menu items are running low and can track how certain items are selling.
Employee Management: Total Touch integrates with ADP to help run your payroll and time clock. You can also assign various permissions and set up promotions and rewards.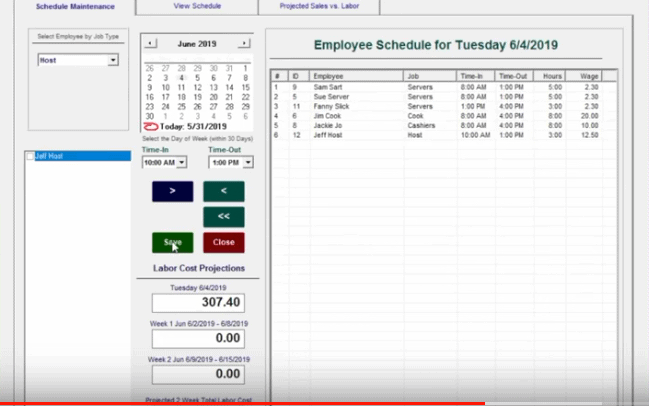 Reporting: The software comes with a standard number of reports that can help you track sales over specific periods. You can also break things down further to see what employees are performing particularly well, and what menu items are the most profitable.
Customer Service & Support
Total Touch offers email and phone support, but the response time can vary. For technical support, there is an 800 number to call that features live support from 8 AM to midnight ET, and agents are on-call for off-hours questions.
Total Touch has a presence on Facebook, Twitter, and YouTube but is not overly active. There are nearly three dozen short videos available on its YouTube page and website. These videos walk you through various features that are useful for set up, such as splitting checks and managing employees.
Compatible Credit Card Processors
Total Touch prides itself on its ability to let you keep or choose the credit card processor of your choice. It even makes a guarantee that you won't have to switch providers if you don't want to. It integrates with nearly all major providers, including Electronic Merchant Systems, Elavon, Chase Merchant Services, First Data, Global Payments, TSYS, and Worldpay. However, as mentioned, the software is $15 a month cheaper if you go with EMS, Total Touch's parent company.
Integrations & Add-Ons
Total Touch doesn't have some of the big integrations that you would expect to find, such as QuickBooks for accounting or Shopify for eCommerce, but it has a handful that could prove to be useful for your restaurant including:
ADP
411eat
Aspect management interface
Avero management interface
Restaurant365 management interface (requires file transfer module)
Optimum Control Inventory interface
Yellow Dog Inventory interface
User Reviews
Total Touch is relatively new on the scene, so there is not much in the way of either formal reviews or user reviews yet.
Negative Reviews & Complaints
As mentioned, finding any kind of review that wasn't a direct testimonial off of Total Touch's website proved to be tricky. My experience with Total Touch's customer service was a bit underwhelming. The fact that there doesn't appear to be a guaranteed means (either via phone or email) of receiving a timely response is problematic. Total Touch's overall functionality is solid, despite a few areas that are more time-consuming than they need to be.
Positive Reviews & Testimonials
While the lack of any glaring negative reviews online is always a good thing, the flip side is that there aren't any glowing independent reviews either. There are a handful of testimonials on Total Touch's website, and they tout the system's usability and the convenience of having an all-in-one POS. Here are a couple of those testimonials:
This product brings efficiency to a new level. It is the easiest-to-use POS system that I have ever used.

I set up my new Total Touch POS system in my full service restaurant in less than a day…
Final Verdict
In all, Total Touch checks a lot of boxes. The company has plenty of experience in the restaurant industry, and it shows with the number of features that come standard with its software. Total Touch doesn't have some of the more personal touches or unique features that come with some more modern cloud-based systems, but that's by design. The aim is to keep things simple, and that's what it's done. If customer service is essential to you, Total Touch may leave you wanting. Still, if you simply want a professional system that you can customize to your restaurant's specifications that also comes with a few nice bonuses, it's worth a look.
---
We've done in-depth research on each and confidently recommend them.
We've done in-depth research on each and confidently recommend them.
To learn more about how we score our reviews, see our
Point Of Sale (POS) Software Rating Criteria
.