TradeGecko Review (Now QuickBooks Commerce)
Expert Analyst & Reviewer

UPDATED
Advertiser Disclosure: Our unbiased reviews and content are supported in part by
affiliate partnerships
, and we adhere to strict
guidelines
to preserve editorial integrity.
TradeGecko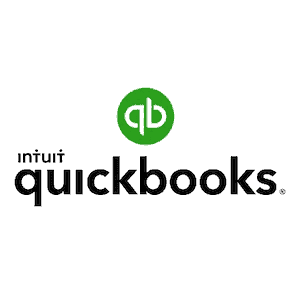 Pros
Good for multiple business sizes
Advanced features
Good value for money
Cons
Buggy
Some customer support concerns
TradeGecko Overview
TradeGecko is a cloud-based inventory SaaS (Software-as-a-Service) application for small- to medium-sized businesses. One of the more prominent names in this particular market, its makers have placed an emphasis on international business. Companies all over the world use this product, from Australia to the US, Hong Kong, the UK, and more.
TradeGecko's steady growth and ever-expanding international user base have garnered the company a lot of attention, to the point that it has recently come under new ownership. Intuit announced its acquisition of TradeGecko in August 2020 and rebranded the product as QuickBooks Commerce in September. Accordingly, we will henceforth be referring to the product as QuickBooks Commerce. (If you are an existing customer, rest assured you can still use your old TradeGecko login as normal.)
Now that the TradeGecko inventory management platform is part of the extensive Intuit family, what can you expect from it going forward? Stick around and read our full QuickBooks Commerce review, as we're about to go deep into what this platform has to offer.
Pricing
If you visit the old tradegecko.com website, you'll find that QuickBooks Commerce is still being offered at the same TradeGecko pricing as it was before the Intuit acquisition. You can use QuickBooks Commerce for a 14-day free trial period, no credit card required. You get a monthly discount if you commit to paying for a year upfront. If you decide to cancel before the year is up, you receive a prorated refund. Here are the plans (prices are in USD and assume you pay for an annual plan):
Founder

$39/month
One user ($75/month per additional user)
No sales channel integration

s (you can add sales channel integrations for $75/month per channel)

Accounting integration
B2B eCommerce
Ten sales orders/month
Single warehouse
Multiple currencies
Zonal shipping rates
24/7 email technical support
Basic user rights
Mobile Sales app
Payments
Automation

Lite

$79/month
Two users
50 orders/month

Small Business

$199/month
Five users
Two sales channel integrations
500 orders/month
Unlimited warehouses
Two hours of setup assistance
Basic user rights management
Manufacturing
Custom reports
Batch and expiry tracking
Business

$599/month
Eight users
Three sales channel integrations
2,500 orders/month
Unlimited automation
Four hours of setup assistance
Advanced user rights management
Fulfillment by Amazon
Custom B2B domains
Advanced B2B
API access
Account manager
Bin locations

Premium

$799/month
Five sales channel integrations
15 users
5,000 orders/month
Eight hours of setup assistance
Multilanguage documents
Multiple brands
Now, you also have the option of purchasing QuickBooks Commerce through the Intuit QuickBooks website, but only if you are not an existing QuickBooks Online user. If you don't currently have a QuickBooks Online account, you can sign up for a QuickBooks Commerce account for just $20/month for the first year ($250/month after that). The catch is that you must also sign up for QuickBooks Online, which, of course, comes with its own costs.
The version of QuickBooks Commerce offered on Intuit QuickBooks's website comes with the following:
Two sales channels
1,000 orders/month
Automatically list products across channels
Order management
Control inventory across multiple channels
Automated order and shipping workflows
Custom reporting and insights
Customizable B2B store
Sync QuickBooks to automate accounting
Create custom shipping rates across carriers
The fact that QuickBooks Commerce is currently sold on two different websites under different terms points to a product in transition. As QuickBooks Commerce becomes a more established part of the QuickBooks product family, I wouldn't expect this arrangement to last forever.
Cloud-Based Or Locally-Installed
QuickBooks Commerce is entirely cloud-based. There is nothing to download or install on your computer.
Ease Of Use
QuickBooks Commerce has been around for a while (in the guise of TradeGecko), and the software is pretty refined as a result. The interface is elegant and easy to navigate, and the aesthetic is on point. The different panels I mentioned above are represented as icons arrayed in a vertical navbar that's aligned on the left-hand side of the page. When you're not using the navbar, it collapses so that space on the page is maximized. QuickBooks Commerce isn't the first company to employ this design, but it still looks and feels great.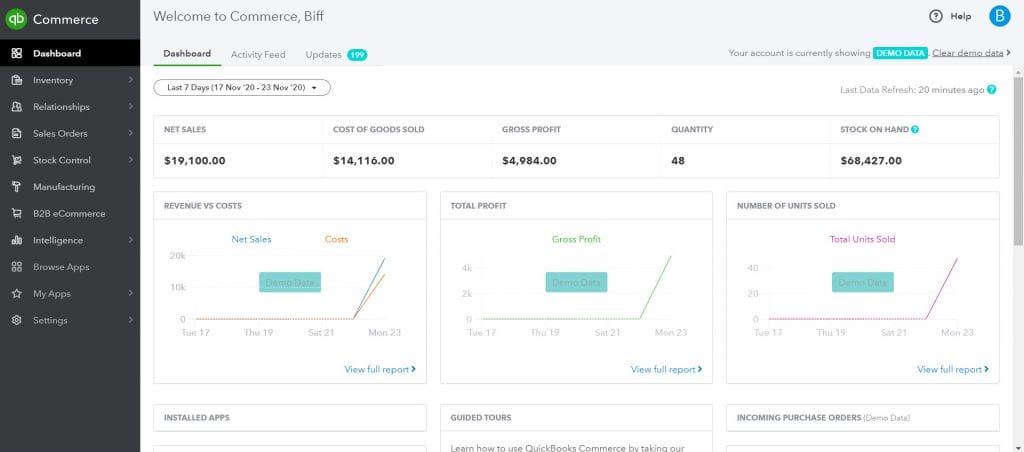 The overall workflow is simple. When you sign up, the dashboard will show you how to set up your account and walks you through each step. Generally, the first thing to do would be importing your products and stock information manually or by integrating a sales channel (QuickBooks Commerce's term for sales platform). Next, you can set up any other integrations you have. Finally, upload your customers and suppliers. Once your account has been configured, basic tasks (such as creating a sales order or looking up a customer) can all be managed in a few clicks. If you get stuck at any point, a customer service representative can assist you.
I have a few issues with the software, though they weren't all that glaring. For one thing, the responsive design will start to break the pages if you shrink them down to a narrow column (as I did when I was referencing another web page). Fields and drop-down menus become unusable in this circumstance. This is not a deal-breaker by a long shot, but I do think it is worth mentioning.
Features
QuickBooks Commerce is full of tools that make it great for managing not just your inventory but many other aspects of your business. Here are a few of my favorite features:
Inventory Management: This is, of course, where the software excels. You can quickly search through all of your products, add a product image, track the item history, and adjust pricing. The application runs nimbly on my machine (though in an environment where you're running thousands of products/orders, the potential for a performance drop is very real). I'd recommend that any companies operating at a huge volume pay attention during their trial period to see if they run into any bottlenecks.
Intelligence: Intelligence is QuickBooks Commerce's smart reporting service. By using autonomously collected data, Intelligence reports give you insight across your entire business, allowing you to identify where you need to become more efficient.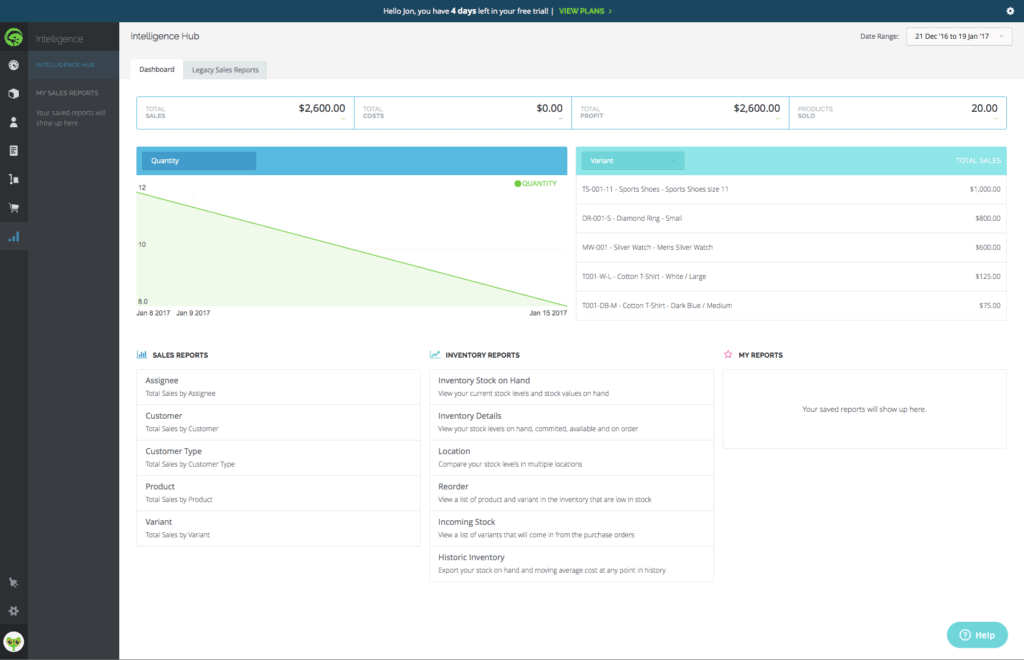 Product Images: The software allows you to upload an image or multiple images for a product. Bulk image upload is possible, but there are a few steps you need to take. First, you must upload all images to a file hosting service and then input URLs for all the images into a spreadsheet, along with the corresponding product SKU in another column. Once you have this spreadsheet created, you can send it to a customer service representative, and they will manage the upload through the back end.
Sales Orders: When you pull up a sales order, the software provides all the appropriate fields to fill out, along with drop-down menus that populate with your existing customers. Integrating your sales channels means that orders automatically sync with your inventory in real-time.
Stock Control: It's easy to make stock adjustments, create and send purchase orders, add landed costs, and manage stock transfers between multiple locations (assuming your account includes multi-warehousing).
Multiple Users: QuickBooks Commerce lets you create individual user accounts for your team members. You can also manage each user's permissions to give read/write access to different parts of the software or bar them from some sections entirely.
Barcode Scanning: There is full support for this in QuickBooks Commerce. Most USB scanners should work fine if you want to scan items in. Barcodes can be added by selecting a product in the inventory panel and then manually entering it next to the SKU field. Keep in mind that you'll need a printer to generate barcodes.
Barcode Generator: As the term implies, QuickBooks Commerce will automatically generate barcodes for your products, saving time and effort.
Multi-Warehousing: Additional locations (such as warehouses and consignment shops) can be added, depending on which plan you're on. You can also manage stock transfers and monitor inventory levels between all your locations.
Composite Variants: You can bundle items together or combine them to create a distinct product. If a composite variant is purchased, QuickBooks Commerce makes the appropriate adjustments to inventory levels.
Batch/Expiry Tracking: If you have products that expire or may be subject to recalls, QuickBooks Commerce allows you to pull them all together as a "batch." Batching streamlines the recall service should the need arise. I can also imagine other uses for it; being able to call up entire batches of a product just seems useful.
Payments: This feature aims to help out eCommerce wholesalers by simplifying the payment process and ensuring bank transfers don't linger for days, stopping you from getting your payments! This feature also allows customers to make payments by invoice through your online store.
Customer Service & Technical Support
QuickBooks Commerce has a recently updated, highly-detailed knowledgebase with step-by-step instructions for many tasks, ranging from the basic to the advanced. Here are the different customer service options:
Community Support: Access to community guides and the help center
Email Support: Available for all plans
Webinars: Available live or prerecorded to learn in a remote classroom environment
eBooks: Read text-based collections of information on how to use the app
My experiences with the support team over the years has been pretty mixed. The first time I reviewed this company, response times varied from a few hours to a few days. Recently, response times have been better, which is encouraging. Companies outside of Southeast Asia should be mindful of the time difference, as it may have a big impact on how quickly you can get in touch with a representative.
User Reviews
The community response to this product has become pretty polarized over the years. When searching for TradeGecko reviews specifically (there isn't much out there yet under the name of QuickBooks Commerce), I found plenty of examples of glowing praise, but it isn't hard to find unhappy ones either.
Negative Reviews & Complaints
The biggest criticism I found of QuickBooks Commerce was, rather worryingly, to do with the customer service team.
Here's a recent one from Capterra:
Then the support from TG became so poor that it took them five days to respond with an auto text non help response. They then told me that for only $350 USD per month I could sign up and then be entitled to phone support. It would be nice if support called you if you are really having an issue.
Here's another one, this time pulled from the Xero Community. It's pretty scathing:
The last eight months of using TradeGecko has been hell. Absolute Hell. I have opened more than 100 tickets and have wasted thousands of dollars in hiring IT support to fix their issues as well as an unknown amount of lost revenue from their software wiping my web-store and countless other problems. Today I lost 95% of my products from my website…POOF, gone! Today was also the day I cancelled the subscription and will be seeking compensation.
So this is clearly a pretty serious problem. Though I will say that you do have to dig into the 1-star reviews to find these criticisms. Could these be edge cases that slipped through the cracks? Possibly. Of course, if you become one of those edge cases, that knowledge will be cold comfort.
The switchover to QuickBooks Commerce is still very recent, and I haven't seen many reviews of the newly-rebranded software. However, the recent complaints I did find haven't differed greatly from when the product was still called TradeGecko. Some users complain of inadequate support materials, while others find fault with the inventory management and automations.
Positive Reviews & Testimonials
Despite what I just highlighted, QuickBooks Commerce has received plenty of great reviews in online forums, with many celebrating it as an important part of their business.
Here's one, again from the reviews section of Shopify's App store:
I spend at least two hours every single day on TradeGecko and I'm really glad I have it. There's a lot of functionality so it took me a few days to get in the groove but when I did it was great for me to not only manage my inventory but also learn about what more I should be doing (as a first time seller everything was a learning curve).

I've noticed they've also been releasing more and more really helpful articles to help with whatever questions I have. Which is great for me so I don't have to bother reaching out in the first place . The functionality is pretty intrinsic to use because of the design and UI.

It keeps everything in control for me and helps me keep a clear eye on the business. the main reason why I love it is how easy it is to fulfil orders — I automatically see all my Shopify orders, get a easy pick list and send through customer data straight to my 3PL so it's really smooth. And as soon as I'm done it's so enjoyable to mark them as packed and shipped then to have them wiped from the active orders. Clean and clear, my kind of software.

Overall, TradeGecko helps me manage 100% of my backend and I would recommend it to anyone, any day.
Here's another recent review from the same source:
We opted to install TradeGecko to expand our multi-channel operation and because managing it manually meant we had too many oversells.

With TradeGecko installed, we haven't oversold any item for six weeks now. Which has lead to increased sales for us!

Excellent software, customer service and pricing!
Positive comments from users have remained fairly steady in the product's new era (though these are early days, to be sure). Users continue to praise the product's features, scalability, and customer service.
Integrations & Add-Ons
eCommerce:

Amazon (US, UK, Canada)
eBay

Accounting:
Shipping:

StarShipIt
TradeGecko 3PL Exporter Plugin

Inventory Forecasting:
Other:

Google Drive
Crossfire EDI
SalesForce
Mailchimp
Final Verdict
QuickBooks Commerce has a lot going for it, and the newer design choices are definitely to my liking. I'm also impressed with how quickly the application runs, at least in the demo environment. It's the fastest I've seen so far.
Is it the best inventory management software out there? I can't say for sure. Complaints about the support department, particularly regarding response times, are still popping up around the web. And bugs continue to be a problem. The minor glitches in the interface I mentioned in the Ease Of Use section are one thing, but the customer complaints I've seen are pretty rough.
We'll have to see how the product develops as it becomes a part of the QuickBooks ecosystem. Until then, we're sticking with 4.5 stars.
If you want to try it out for yourself, check out the free trial.
---
The Merchant Maverick Seal of Approval 🏆
TradeGecko


---
After hours of in-depth research and evaluation, we can confidently recommend this brand to our readers. Get started today and see TradeGecko for yourself.
The Merchant Maverick Seal of Approval 🏆
TradeGecko


---
After hours of in-depth research and evaluation, we can confidently recommend this brand to our readers. Get started today and see TradeGecko for yourself.
To learn more about how we score our reviews, see our
Inventory Software Rating Criteria
.