Contributor

Updated on:
Advertiser Disclosure: Our unbiased reviews and content are supported in part by
affiliate partnerships
, and we adhere to strict
guidelines
to preserve editorial integrity.
Trello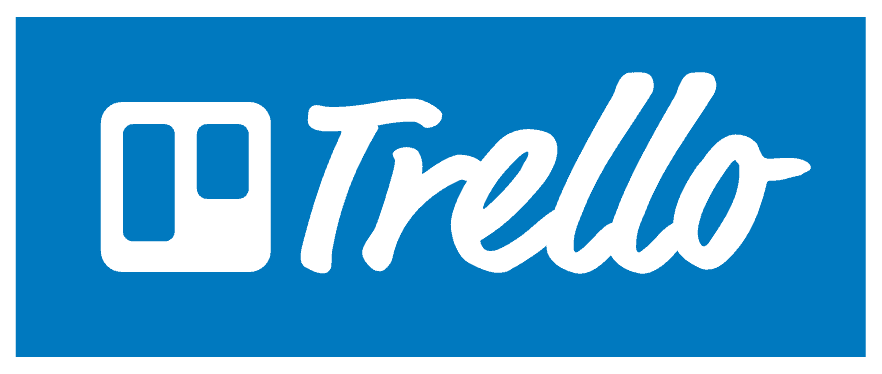 Pros
Easy to use
Free plan available
No learning curve
Cons
Limited features
Unsuited to large businesses
Trello Overview
In a world inundated with social media (from Facebook and Twitter to Instagram and Snapchat), comes a project management application clearly gaining inspiration from these social platforms: Trello. The first time I opened up Trello, I thought, "Why am I looking at a Pinterest board?" Indeed, the resemblance between Trello and Pinterest is a little uncanny, from the asymmetrical layout of rectangular boxes to the fact that different projects are called "boards." Trello is, without a doubt, a product of the social media generation.
Trello is what we call a task manager. It provides users with the tools they need to plan projects, assign tasks, and communicate about upcoming work. However, Trello is not a comprehensive project management solution. You won't find any resource management or budgeting tools built into the software. To access basic project management tools, such as Gantt charts and time tracking tools, you have to add features through integrations.
That said, Trello is excellent for individuals as well as for small to mid-sized businesses that want an easy way to plan and organize tasks. Trello is incredibly easy to use and can serve businesses in a variety of industries. What's more, Trello is a relatively inexpensive solution for many users. If Trello sounds like it could be a good fit for your company, keep reading. We'll review Trello's pricing as well as ease of use, available features, customer support, and more.
Trello Pricing
Trello loves to market its software as a free product. And while it is true that you can use Trello entirely free of cost, you'll need to sign up for a paid plan to gain unrestricted access to team boards and automation.
When you sign up for a paid plan, you get to choose how frequently you are billed for the software. If you pay month to month, your rates are slightly higher than if you commit to an annual purchase. Customers who choose monthly subscriptions are billed automatically on the first business day of each month. Yearly subscribers are billed each year on the anniversary of their initial subscription. Paid plans may be canceled at any time, although Trello only offers full refunds to users who cancel their accounts within 90 days of signing up.
Trello also offers a few discounts to its users. For example, users who recommend Trello to a friend receive a free month of Trello Gold if the other party ends up subscribing to the software. Trello also offers discounted rates to nonprofits and educational institutions. Nonprofits may qualify for a 75% discount on paid plans, while educational institutions can expect 30% off.
For a complete breakdown of Trello pricing, take a look at the available plans below:
Free
Trello offers a free plan that includes:
Unlimited personal lists and cards
Up to 10 team boards
One Power-Up (integration) per board
50 automation Command runs per month
File attachments of up to 10MB
Two-factor authentication
Mobile apps for iOS, Android, and more
Trello Gold
Trello's Gold plan costs $5/month or $45/year and includes everything in the free plan, plus:
Intended for individual users
Three Power-Ups (integrations) per board
Premium sticker packs, including Taco the Husky
File attachments of up to 250MB
Saved searches
Advanced automation, with Butler rules, buttons, scheduled commands, and more
Trello Business Class
Trello's Business Class plan costs $12.50/user/month or $120/year and includes everything in the Gold plan, plus:
Unlimited team boards, cards, and lists
File attachments up to 250MB
Advanced checklists
Priority support
View-only permissions
Custom backgrounds and stickers
Board collections
Team board templates
Unlimited Power-Ups (integrations)
Custom fields
List limits
Card repeater
Calendar view
Map view
Voting
100+ app integrations
1,000 Command runs per team plus 200 per user
Command administration
Google Apps sign-on
Automation tools
Advanced admin and security features
Trello Enterprise
Aimed at businesses with 100 or more users, Trello's Enterprise plan costs $17.50/user/month; volume discounts are available for companies with 300+ users. The Enterprise plan includes everything on the Business Class plan, plus:
Increased SAML SSO security available via Atlassian Access (starts at $3/month/user)
Power-Up (integrations) administration
Attachment restrictions
Organization-wide permissions
Organization visible boards
Public board management
Web-Hosted Or Licensed
Trello is a web-based software.
Hardware & Software Requirements
Because Trello is web-based, all you need to use the software is an up-to-date web browser and a strong internet connection. The latest versions of Chrome and Firefox as well as Safari and Microsoft Edge support Trello.
Trello also has mobile and desktop apps for iOS, Android, and PC products. The Trello apps are compatible with iOS version 13.0 or later; Android compatibility varies by device. The Tello desktop app works on MacOS 10.9 or higher (64-bit only) and Windows 10 (64-bit).
Business Types Supported
Trello works best as a task management software rather than a full project management solution. While businesses of all sizes can use Trello, I recommend it primarily to small and mid-sized businesses of 100 or fewer employees or workgroups of small teams. Larger companies most likely need a more robust solution than Trello can provide.
Trello also works excellently for individuals who need a way to organize their work and personal lives. The Free plan and the Gold plan are both geared toward individual users, and they are very affordable.
Ease Of Use
Trello's simple, visually-appealing UI makes it incredibly easy to use. A mere five minutes after I signed up, I was able to navigate the software quickly, creating cards and boards like a pro. Most of Trello's features involve drag-and-drop, and you can access all of a task's information just by double-clicking the card. Trello has numerous user-friendly features, including the ability to label your cards for better organization and add more advanced features through power-ups. Ease of use is one of Trello's major selling points, and it's one of the factors that users praise the most on review sites. Try it out for yourself by signing up for a free Trello plan.
Trello Features
Trello is about as straightforward and streamlined as it gets. The software's premise is simple: Members belong to boards populated with cards (which often represent tasks). You can reorganize these cards, add information to the backs, and file them under different categories.
Trello is so simple that we don't consider it a full project management solution. Instead, it's more of a task management software. You can use Trello to create to-do lists, assign to-dos, and organize upcoming projects. However, you typically can't use Trello for more complicated project management operations, such as setting a budget for a project, tracking project expenses, and evaluating potential risk factors.
Fortunately, while Trello's built-in offerings are somewhat basic, you can add a number of more advanced features with Trello's selection of integrations (called "Power-Ups"). Many of these integrations are free and include tools such as Gantt charts and time tracking. To get the best use of Power-Ups, you need to sign up for a Business Class account. You can use Power-Ups on the Free plan and the Gold plan; however, you are very limited in the number of Power-Ups you can include on each board. In my opinion, to get the best use of Trello's software, you should incorporate at least three Power-Ups on each board.
That said, Trello also has some interesting and practical features already built into the software. Here are the features you can expect to find within Trello (including some that are available as Power-Ups):
Dashboard: Trello's home page is your central information hub. This page gathers information from all of your boards and displays essential items (such as upcoming due dates) for your convenience. Trello's home page is a great place to go to get the general pulse of your projects before diving into specific tasks.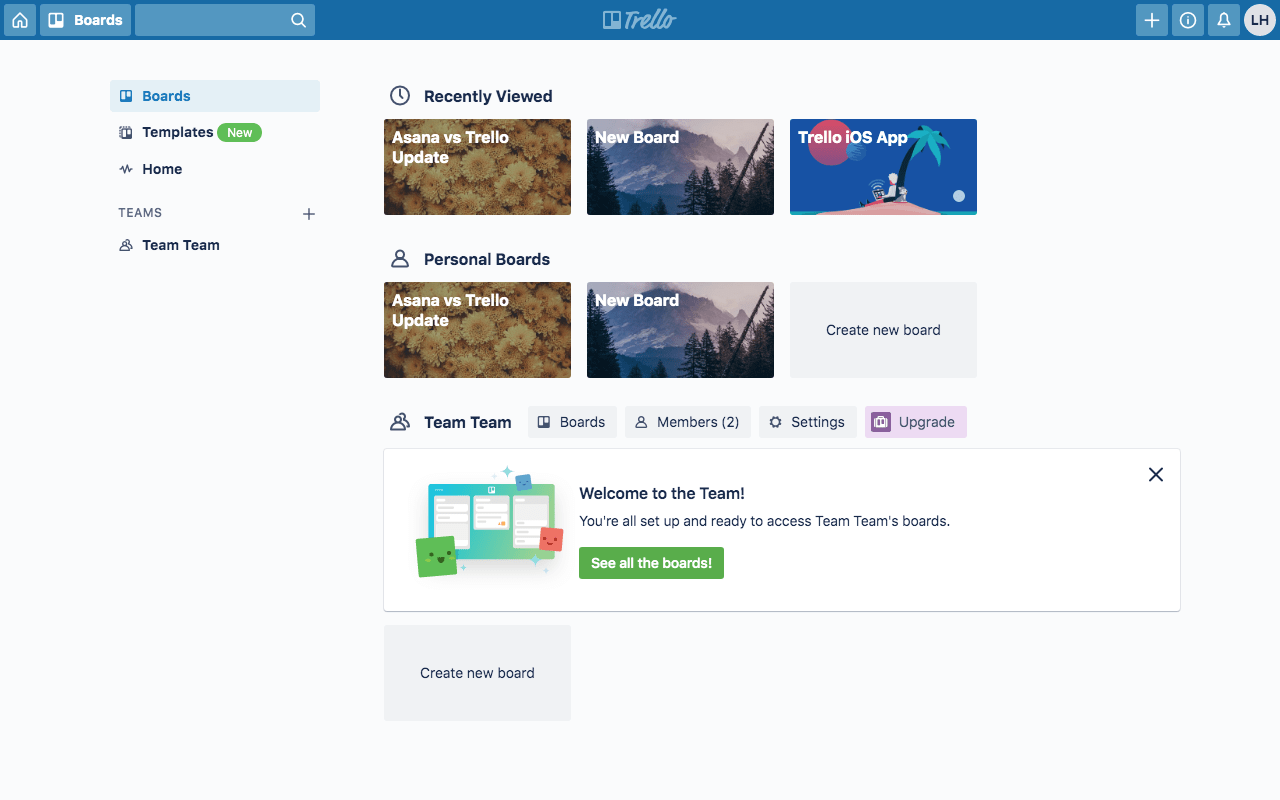 Project Management: In Trello, projects get organized on different boards. While Trello boards can have varied uses, it is best to think of them as representing projects or products that are continuously changing and developing. Each board is made up of one or more lists (which are made up of individual cards) that "represent a collection of ideas, things to remember, or different stages of a workflow." There is no limit to the number of lists that can be added to any board.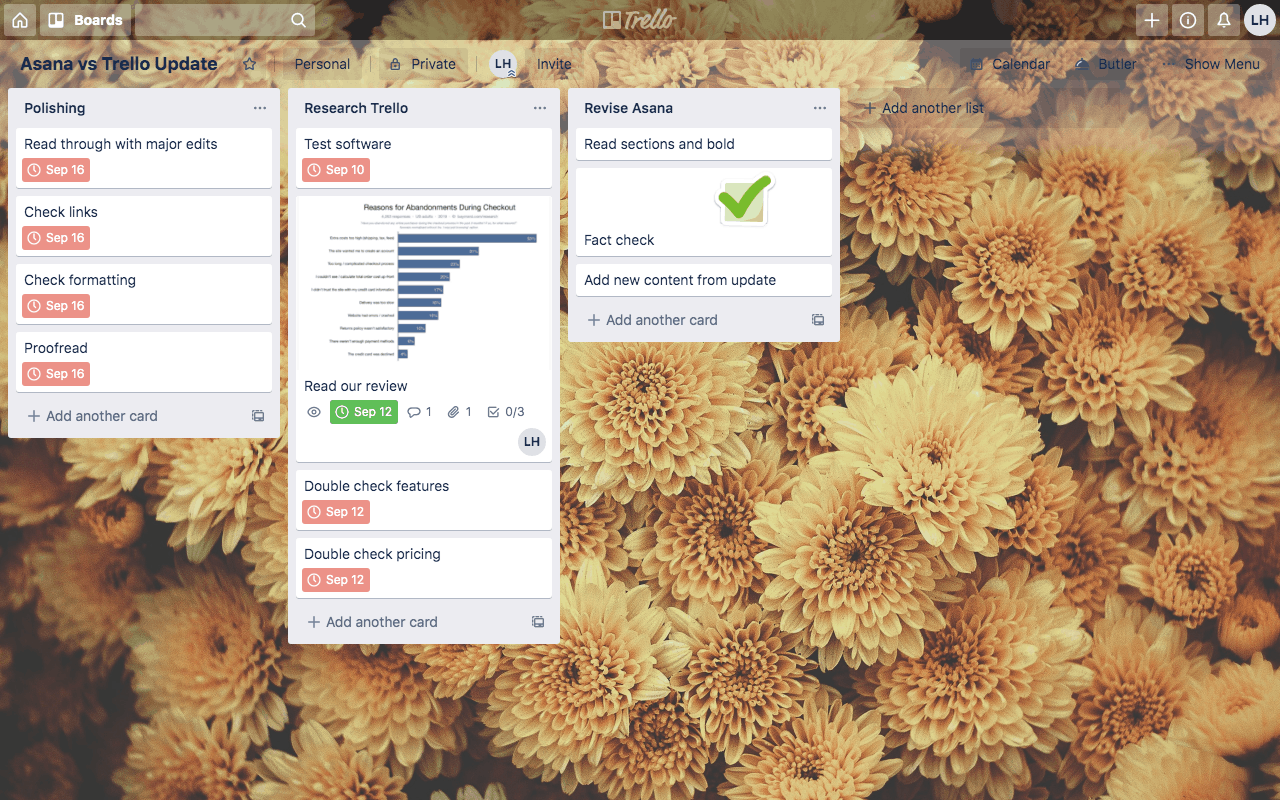 Tasks: As the most fundamental component of Trello, cards can represent anything from tasks to new features, legal cases, customer support issues, or story leads. Cards can also represent clients or potential employees. The folks at Trello are pretty invested in the 3×5 card metaphor. To view card details, such as subtasks, attached files, descriptions, and so on, users must turn the card over to look at the 'back.' In true kanban fashion, individual cards may be shuffled from one list to another to indicate progression.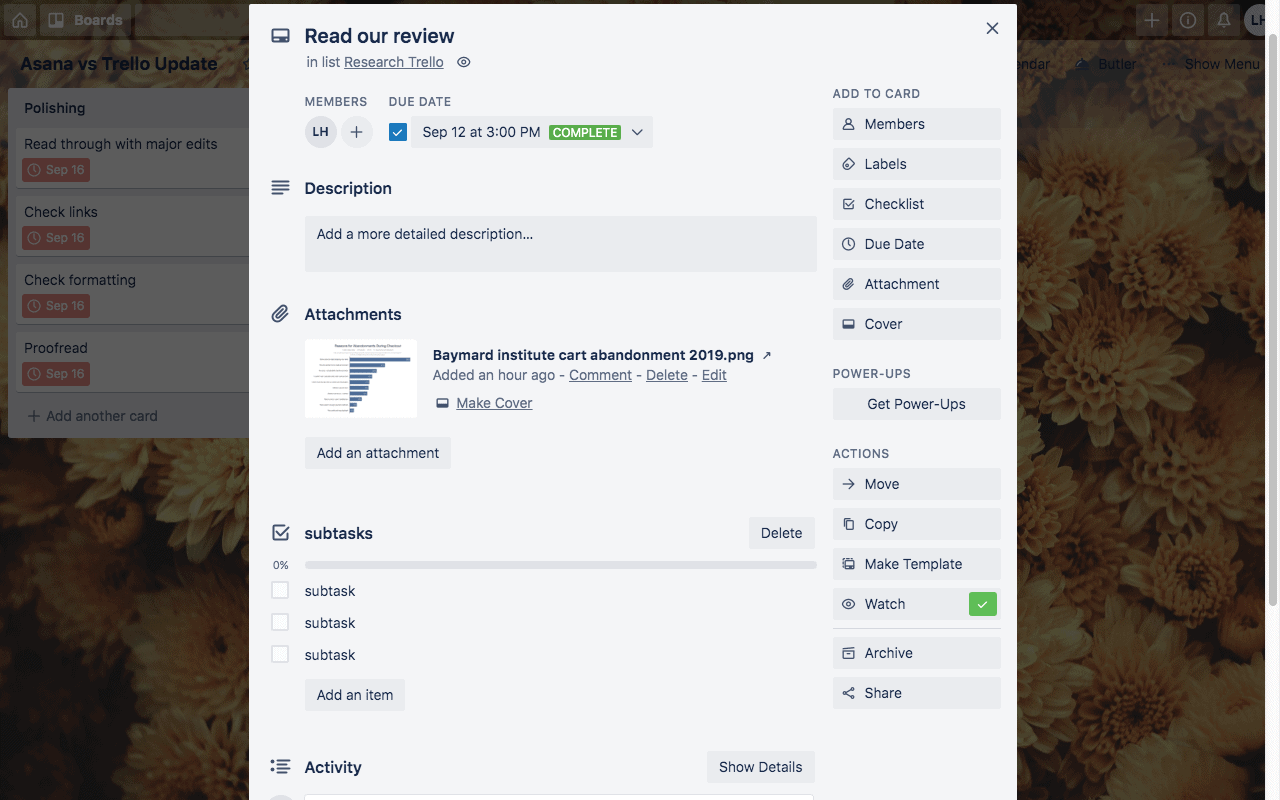 Gantt Charts: While Trello does not offer Gantt charts as a built-in feature, this tool is available through several of the Power-Ups. I added one named BigPicture to my board, and I found it satisfactory. It isn't quite as robust as the Gantt charts you find built into other software, but I'm happy that it's an option at all.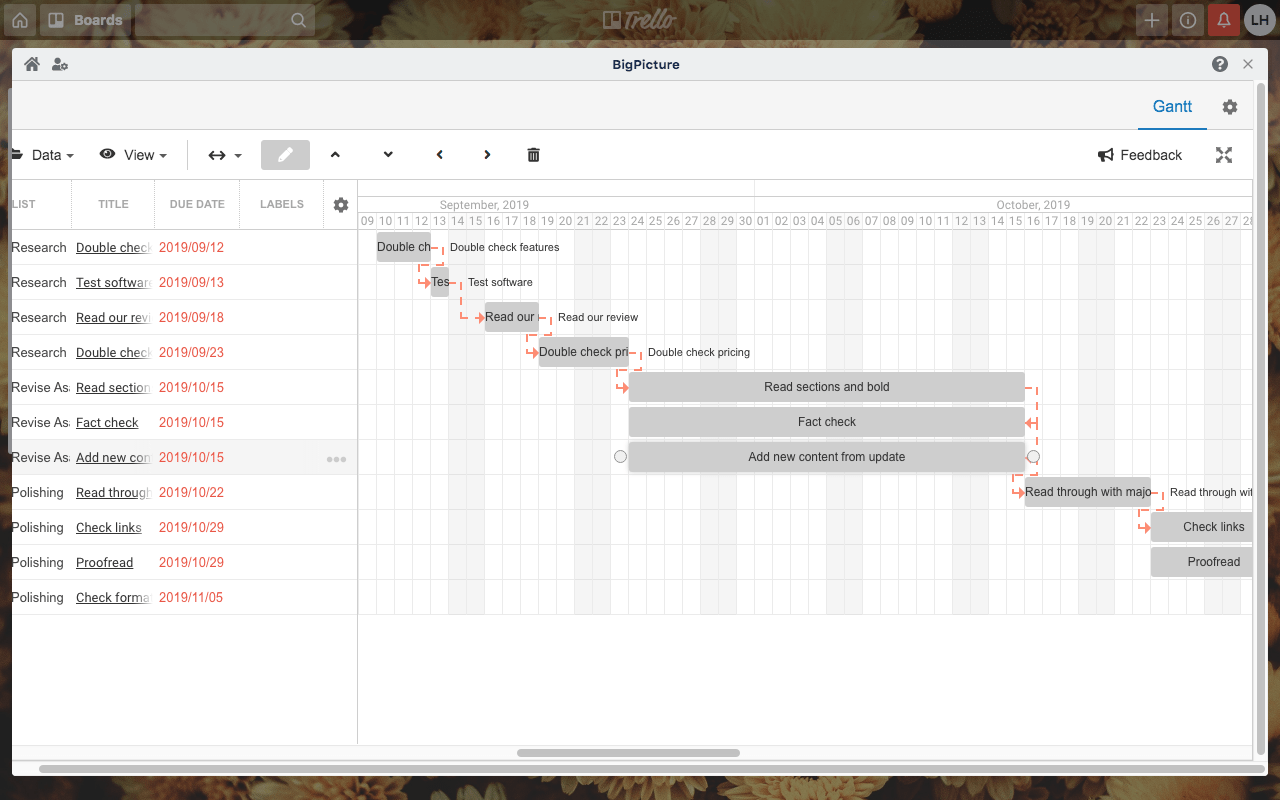 Time Tracking: Time tracking is not a built-in feature, but you can access it with a few different Power-Ups. I added the Chronos Time Tracker to my boards, which allowed me to track time on individual cards and export my time into an Excel spreadsheet.
Calendar: Each board also has an optional calendar Power-Up that allows users to see their cards in a calendar view. Users can switch between week and month modes and drag-and-drop cards between calendar days to alter due dates with this calendar integration. It is also possible to import these feeds into external third-party calendars. If you need or want to view all of your board's cards in one place, you can simply import multiple iCal feeds and combine them into a single view on your external calendar.
Messaging: You can communicate with your team members by leaving comments on cards. Use @mentions to get specific people's attention.
Email Settings: Trello is automatically set up to send you periodic emails with updates on what's happening on each of your boards. You can adjust your settings so that Trello sends you these emails periodically, instantly, or never. You can also use email to create Trello tasks. The process is simple. You can either draft or forward an email to a special email address associated with your Trello board. The email's subject line becomes the card's title, and the body of the email becomes the card's description. Any files attached to the email are also automatically added to the card. There are even ways to assign labels and add members to the new card via email.
Power-Ups: Power-Ups allow users to enhance the functionality of their boards with card aging and voting features. Card aging is a particularly intriguing integration that's intended to highlight cards that haven't experienced any recent activity. When card aging is enabled, inactive cards begin to either slowly disappear or — if the Power-Up is in Pirate Mode(!) — yellow, fade, and crack like an old treasure map.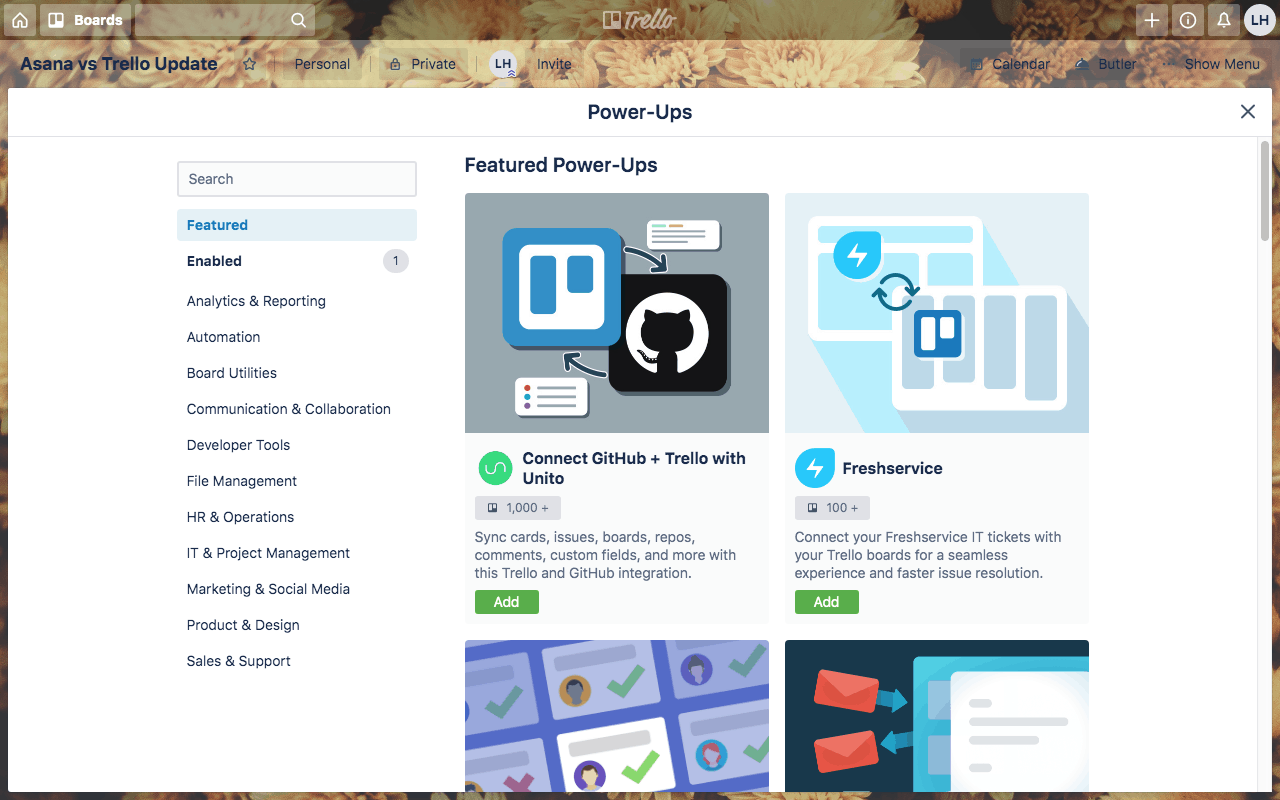 User Types & Permissions: It is possible to create three different types of users in Trello: normal users, observer-level users (only available with a subscription to Trello Business Class), and virtual users. The majority of account members have normal user status. Observers, as the name would suggest, are limited to read-only access. Virtual users are those who have been invited to join a board but haven't officially confirmed their account. Users can also be assigned different permissions. Board admins, for example, have the power to change anything on boards. Some users are granted access only to one board. Other users have organization member status, which means they can potentially see all boards across an entire organization.
Templates: Trello gives you the ability to turn any card into a template. Just click the "Make template" button on the card's back.
Attachments: Users can add multiple attachments to their Trello cards, either from computer hard drives, Google Drive, Dropbox, Box, or OneDrive or by pasting in a link. While attachments from a user's computer get copied into Trello, documents attached from file storage programs link back to the document's original copy. One feature I really appreciate is that if you attach an image file to a card, Trello automatically places the image (known as a 'card cover') on both the front of the card and in the header of the 'back' of the card. That makes it easier to identify cards quickly. It's also possible to preview Trello attachments without actually having to download them simply by clicking on the attachment thumbnail, which I find handy.
Customization: Users may select from various colors and images to customize their Trello boards' backgrounds. File size may be limited by plan tier. Trello also allows users to customize their boards using stickers. An unnecessary but somewhat whimsical feature, stickers are a "simple yet fun way to add visual flair to your Trello cards." They can be used for practical purposes — to indicate a card's status, for example — or just for kicks and giggles. Users with paid subscriptions can upload custom stickers.
Trello Customer Service & Support
Trello's customer service is available by email and web ticket only; you cannot call in with questions or contact a representative via live chat. That means you'll have to wait for responses to your requests via email. I'm always a little disappointed when I see that email and web tickets are the only ways of contacting support. In some cases, it's nice to be able to call in and get a response within minutes. Fortunately, Trello is pretty quick at responding to messages during business hours. When I sent in a support request, I received a detailed reply in just over an hour. Here are all of Trello's support options:
Email: Trello provides email support to all users during regular business hours (Monday through Friday, 9 AM to 5 PM EST). Trello is closed on major holidays.
Contact Form: Create a support ticket by filling out Trello's Contact Form. Be sure to be specific and descriptive in your message and include attachments of any relevant screenshots or documents.
In-Software Help: Within your Trello dashboard, you can find links to Trello's knowledgebase and community forum. You can also submit a contact form or search support documentation within your dashboard.
Knowledgebase: Numerous tutorials and articles in Trello's knowledgebase help explain the software's basic concepts, allowing users to troubleshoot specific problems. Screenshots with step-by-step instructions accompany many of the tutorials. I found all of the articles to be well-written, thorough, and helpful. You can also see FAQs and support documentation on Trello's iOS App board.
Community Forum: Trello has an active community forum. Users frequently post comments and questions, and other Trello users (and sometimes Trello employees) respond with suggestions.
Videos: Trello has 18 on-demand webinars available covering topics such as getting started, using agile, and incorporating automation into your Trello account.
Feature Requests: Send your feature requests into Trello via email. Trello frequently adds features to its software. You can see previous additions in its "Trello Development Roadmap" board.
Blog: The company blog is well-written and seems to get updated frequently.
Social Media: Trello has a Facebook page that contains press releases, articles, announcements, and the like. The Trello Twitter feed serves a similar function, complete with articles, updates, and fun and innovative suggestions about using cards. Trello is also active on LinkedIn and Instagram.
Trello Reviews
Negative Reviews & Complaints
Although Trello is generally well-liked, some users have pointed out a few downsides to this software. These negative factors included in Trello reviews are:
Needs More Functionality: Users are quick to recognize that while Trello is excellent at what it does — the organization of ideas and broad task management — it is not well suited for advanced project management purposes. And this is especially true with Trello's freemium version. Some people love this part of Trello, while others find the limitations irritating.
User Interface Can Become Overwhelming: Users say that as you use Trello for more and more projects, it can become easy to lose cards. To use Trello effectively (especially with large teams or projects), you have to keep things organized with a common user methodology. Additionally, some users say the interface can be difficult to use on the mobile app due to screen size limitations.
Not Always Intuitive: While most users praise Trello's ease of use, some users say it is not always the most intuitive tool.
Positive Reviews & Testimonials
In general, online feedback for Trello is positive, earning 4.3/5 stars on G2 Crowd. Users are most enthusiastic about these Trello features:
Affordable: In its simplest form, Trello is completely free and requires no risk or obligation on the user's part. But even the paid plans are quite reasonably priced (starting at $5/month).
Ease Of Use: Trello is so easy to use that it's accessible to anyone with even the most basic computer skills. If you can read, open a browser, and manipulate a mouse, then Trello is within your reach.
Collaborative Features: Multiple users can work together on a Trello board. It is even possible to bring in outside collaborators at any time by emailing them an invitation to join your organization or sending them a link to the board.
Good For Team Organization: Trello users love that they can assign tasks to different people on their team. They also love how Trello helps them provide transparency about their workflow and improves communication across the company.
Versatile: Many commenters report using Trello for multiple purposes. It works well with many business types, and you can even use it to manage your personal life.
Trello Integrations & Add-Ons
Trello can integrate with more than 190 third-party apps, including Zapier, and features add-ons, such as Card Dependencies by Screenful, Expiration Reminder, and TeamGantt. You can also use Trello's "Power-Ups" (apps) to connect with reporting tools, such as Agile Metrics by Screenful, or with sales and support tools, such as Zendesk and Salesforce. Take a look at Trello's complete collection of power-ups to get a good idea of what you can do.
Keep in mind any limitations you may have regarding Power-Ups on your plan level (one per board on the Free plan, three per board on the Gold plan, and unlimited on the Business Class and Enterprise plans).
Trello also provides a simple RESTful web API, which you can use to build additional apps.
Security
Trello protects users in the following ways:
Use of Transport Layer Security (TLS) to create a secure connection using 128-bit Advanced Encryption Standard (AES) encryption for all data sent between the web, desktop, iOS, and Android apps and the Trello servers
GDPR compliant
Data stored in Amazon Web Services (AWS) EC2 platform and Google Cloud Storage (GCS)
Regular testing for vulnerabilities
Regular data backups and data stored in multiple offsite locations
For more detailed information about Trello's security protocols, take a look at Trello's security guide on its website.
Final Verdict
Trello is simple, cute, and a breeze to learn and implement. And for some users, Trello will be free! If all you need from your project management software is simplicity and affordability, you should give Trello a try.
That said, we have to remember that Trello has its limitations. There are no budgeting or resource management tools, and to access advanced features, you need to use multiple integrations on each board. But the thing is, Trello is not trying to be anything more than a task manager. Trello is designed to help organize your business's to-do list, and it does an excellent job meeting that goal.
So if you are in the market for a task management tool, I recommend giving Trello a try. You may find that the cutesy layout and stickers aren't your cup of tea. On the other hand, you might find that being able to put a smiley face, checkmark, or husky dog sticker on your teams' boards and cards fits perfectly with your company culture. There's no way to know until you try!
---
We've done in-depth testing of each and confidently recommend them.
We've done in-depth testing of each and confidently recommend them.
To learn more about how we score our reviews, see our
Project Management Software Rating Criteria
.
Read Next