Expert Analyst & Reviewer

UPDATED
Advertiser Disclosure: Our unbiased reviews and content are supported in part by
affiliate partnerships
, and we adhere to strict
guidelines
to preserve editorial integrity.
TrustCommerce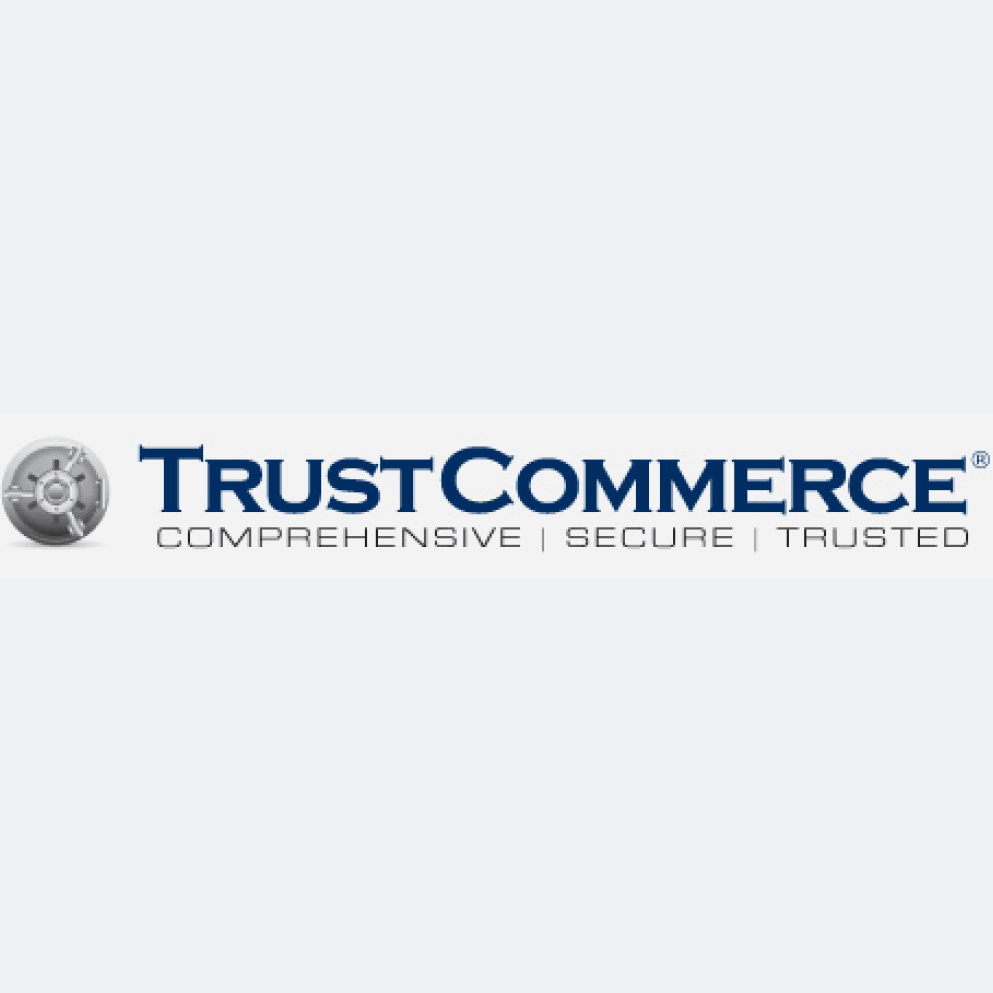 Pros
No early termination fee
eCheck processing offered
Good for eCommerce
Few public complaints
Good subscription tools
Cons
No pricing disclosed online
Expensive for low-volume merchants
Hidden developer tools
TrustCommerce Overview
Established in 2000, TrustCommerce is a payment gateway provider headquartered in Santa Ana, California. Like many gateway providers, TrustCommerce prefers to market its products and services through resellers, although it's also possible to sign up for its payment gateway directly. TrustCommerce is not a merchant account provider, so you'll have to get your merchant account through a third party regardless of how you set up your payment gateway. TrustCommerce partners with a large number of prominent merchant account providers, including Chase Merchant Services (formerly Chase Paymentech), First Data, TSYS, and many others. In 2017, Waud Capital Partners acquired and combined TrustCommerce and Anovia Payments to create Sphere, a payment processor. TrustCommerce does still exist semi-autonomously as a payment gateway service you can purchase separately from the rest of Sphere's services if you're so inclined.
Like most payment gateway providers, TrustCommerce offers much more than just a basic gateway. TrustCommerce also provides various security and reporting features to protect your customer's sensitive credit card data and help you monitor how your business is performing. The TC Integrated Payment Application (TrustCommerce's name for its payment gateway) processes and tracks payments made with credit and debit cards, checks (both paper and echecks), and even cash. Even if your business is strictly retail-only with no online sales, TrustCommerce's suite of products can help you keep on top of daily sales activity, maintain a database of repeat customers, and even process card-present transactions with a compatible USB-connected card reader.
The biggest concern I have with TrustCommerce is the reluctance to disclose much information about its rates, plans, and API documentation publicly. The free trial is nice, but you'll have to submit your information before you can really get a sense of what TrustCommerce is all about. With a solidly reliable product and practically no complaints against the company online, TrustCommerce scores 4 out of 5 stars. While the company is great in most respects, I'd like to see at least some pricing disclosures — at least for merchants who sign up for the gateway directly rather than through a third party. Competitors such as Authorize.Net do this, and it would be handy for businesses considering using its services. TrustCommerce also doesn't disclose much information about its hardware options, such as terminals or card readers. TrustCommerce relies on third-party manufacturers for its hardware, but it doesn't offer specific information about which machines are compatible with its gateway.
While this won't apply to most businesses, be aware that TrustCommerce doesn't service adult websites and similar businesses.
Countries Served
TrustCommerce is available in the United States, with some partner merchant account providers (such as Global Payments) also being available internationally.
Products & Services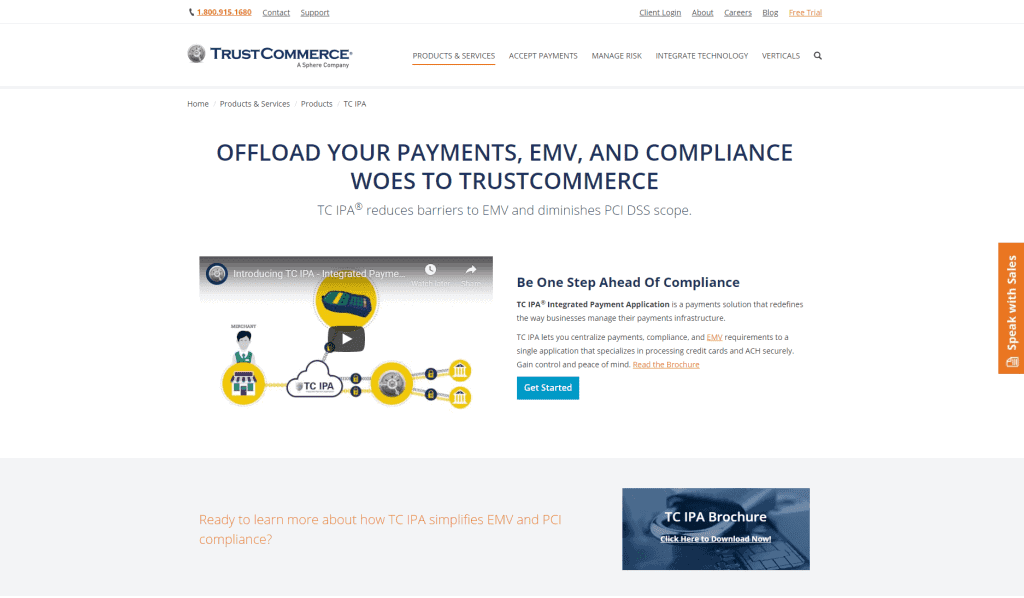 Gateway services are usually barebones affairs, but there's more going on with TrustCommerce than you might expect. Among TrustCommerce's services, you'll find the following:
TC Integrated Payment Application (IPA): This is TrustCommerce's name for its payment gateway. In addition to processing online credit and debit card transactions, it functions as an integrated payments hub, tracking echeck (ACH) and even cash payments as well. It also offers dynamic reporting and is fully EMV-compliant when used with a compatible card reader or terminal.
TC Vault: TC Vault is TrustCommerce's browser-based virtual terminal. It can be accessed from any internet-connected computer and can also process card-present transactions when used with a USB-connected card reader. Features include batch uploading, reporting, custom data fields, and a user management function. TC Vault can process credit and debit cards and also echeck (ACH) payments.
TC Trustee: TrustCommerce enhances the security of online payments in one of two ways. You can set up a transparent redirect or use a hosted payment page. With a transparent redirect, your customer's payment data is sent directly to TrustCommerce's gateway without the need to redirect the customer to a special payment web page. Customers don't have to leave your site, lowering the likelihood of shopping cart abandonment. With a hosted payment page, your customers will be redirected to a TrustCommerce-hosted page to enter payment information, then sent back to your website after all payment data is received. With either option, you'll never have sensitive credit card data stored on your site, reducing the scope of your PCI compliance requirements and protecting you from a possible data breach.
TC Citadel: This is TrustCommerce's name for its automated recurring billing feature. Most payment gateway providers offer this as an optional feature for merchants who need to process recurring payments or subscriptions. TC Citadel includes all the standard customization features you'll need to set up recurring payments any way you like. It also integrates with TC Trustee to encrypt your customer's card data and store it on TrustCommerce's secure servers via token management.
TC CardCurrent: This feature automatically updates your customer's credit card data when the issuing bank issues a new card or an account is closed. It can save you valuable time and money, as you won't have to contact customers to get their updated card information.
TC Link API: TrustCommerce's API supports credit/debit card payments, ACH/echeck payments, recurring payments, and more. The free trial offers a virtual sandbox that developers can use to test out the features. The API is well-supported with online resources and sample code. Over 20 programming languages are supported.
Real-Time Reporting & Reconciliation: This feature is pretty self-explanatory. You can view both real-time and historical data as well as run custom queries to isolate specific types of data that you're looking for.
Mobile Payments: If you need to accept credit card payments in the field, TrustCommerce has you covered with PayWithIt, an app-based system that's similar to Square. The PayWithIt family of apps include an Android version and three iOS versions, including PayWithIt, PayWithIt for iPhone, PayWithIt Swipe Only for iPhone/iPod. The iPad-specific version of the swipe-only app appears to have been discontinued. You'll also need a compatible encrypting card reader, which you can obtain on your own or through TrustCommerce. The company partners with MagTek and ID Tech for mobile readers, but it doesn't provide any information about compatible models on its website. The PayWithIt app is free, and there's no additional cost (other than purchasing the card reader) to use it.
Shopping Cart Integration: TrustCommerce is compatible with many online shopping carts, including 3dcart and many others. Curiously, Shopify was once listed as a partner and no longer is. Even if the shopping cart provider isn't one of TrustCommerce's partners, you should be able to integrate it using the TC Link API.
Security Features: TrustCommerce utilizes point-to-point encryption (P2PE), which encrypts credit card data at every step of the transaction processing, and tokenization, which substitutes temporary character strings (tokens) to safeguard your customer's credit card numbers and other data. Through these features, sensitive data is never stored on your website. In fact, merchants aren't given the keys necessary to decrypt their customers' credit card data.
Credit Card Terminals: For retailers, TrustCommerce partners with Ingenico and Verifone to offer several terminals, including EMV-compliant models. These terminals are sold outright, not leased.
TrustCommerce doesn't sell dedicated POS systems, but it does offer APIs to integrate with many third-party POS systems. Also, its TC Vault virtual terminal can provide many of the same capabilities as a POS system when used with a compatible card reader.
Fees & Rates
TrustCommerce does not disclose any pricing data on its website. Neither does its parent company, Sphere, on its website. Pricing will be customized for each merchant who signs up directly through TrustCommerce. Factors affecting pricing include the length of time in business, processing history, average monthly processing volume, and other considerations. If you sign up through your merchant account provider, pricing is highly variable. Some providers advertise fixed prices for payment gateway services on their websites, while many others do not.
As with any payment gateway, pricing for TrustCommerce will include several types of fees and rates. First of all, you might have to pay a one-time gateway setup fee to get started. These fees can range anywhere from $0 to as much as $150, but in most cases, you shouldn't have to pay more than about $75.
You'll also have to pay a monthly gateway fee to continue using the payment gateway. These fees usually run about $20-25 per month. Some providers will advertise the "free" use of a gateway, but in many cases, you'll pay a higher monthly fee for your merchant account instead of a separate fee just for the gateway.
Lastly, you can expect to pay a per-transaction fee for each payment processed through the gateway. This fee is usually about $0.10 per transaction, but it could be higher (or lower). Note that this is in addition to whatever processing rates and fees your merchant account provider charges you. These costs can add up quickly, especially if you typically process a large number of transactions each month.
Supported Payment Types & Currency
TrustCommerce supports American Express, Discover, Visa, and Mastercard credit and debit transactions. It also supports ACH/echeck payments and recurring billing. TrustCommerce only supports USD transactions, so you'll need to look elsewhere if you're doing a lot of international business.
Ease Of Use
TrustCommerce offers several ways to integrate its gateway into your payment processing. The TC IPA is a cloud-based payment application. Unlike TC Link, TrustCommerce's API, it interacts directly with POS devices, removing most of the PCI burden you'd have with other forms of access. It's also substantially easier to set up without technical knowledge.
That said, the main interface is still the TC Link API, which allows for greater customization and integration with, say, shopping carts that aren't directly partnered with TrustCommerce. Like the rest of its services, TrustCommerce doesn't offer too much information about its API to the public, but it does provide a virtual sandbox that potential customers can use to test out code during the free trial.
Finally, the TC Trustee API provides a simple web interface for eCommerce payments. It can't be used for card-present transactions, however.
Sales & Advertising Transparency
TrustCommerce markets its gateway and associated services primarily through its website and a small team of in-house sales representatives. Whether you sign up for TrustCommerce directly or through your merchant account provider, you'll want to contact the company's dedicated sales representatives for any technical questions about the products or services. In almost all cases, they'll be much more knowledgeable about the payment gateway than an agent for a merchant account provider.
The company's website is a polished product, as you would expect from a tech-focused organization. It's well laid-out, easy to navigate, and very informative. One minor annoyance is that many of the additional information resources require you to submit a contact form (with your email and telephone number) to access. While I realize that TrustCommerce wants to put prospective clients in touch with its sales team, there's no reason you should have to provide personal information just to see marketing material. Considering that many other payment gateway providers are more forthcoming with their information, it just makes TrustCommerce seem less trustworthy.
TrustCommerce has an active social media presence, with accounts on Facebook, Twitter, and LinkedIn. These accounts are frequently updated and often include links to blog posts and educational articles. It also has a YouTube channel, which currently has video tutorials for different features of the TrustCommerce gateway. These videos are also available from the company's main website.
Contract Length & Early Termination Fee
TrustCommerce does not disclose the terms of its contracts or provide a sample contract on its website, but most payment gateway providers bill on a month-to-month basis. There's no long-term contract and no early termination fee as a penalty for closing your account. We haven't seen any complaints online about the company's contracts, so in most cases, you'll likely have a simple month-to-month arrangement for your TrustCommerce payment gateway. Of course, it's imperative that you thoroughly review your entire contract before signing up to confirm this — don't take our word for it.
You should also be aware that since most payment gateways are sold as a bundled product with merchant accounts, the terms of your merchant account might be very different. Merchant accounts and payment gateways are governed by separate contracts, even if you obtain both services from the same provider. Many of TrustCommerce's merchant account provider partners still require a standard three-year contract with an automatic renewal clause (typically for one-year periods) and an early termination fee (around $500) if you close your account before your contract expires. The bottom line is that it's usually pretty easy to drop your payment gateway or switch to a different gateway provider, but closing the merchant account that goes with it can be much more challenging.
Customer Service & Technical Support
If you run into trouble, customer support is available via telephone 24/7, 365 days a year. Because TrustCommerce is a relatively small company, you're probably going to have a better experience if you call during business hours, as you're much more likely to reach a fully-trained in-house customer service representative. After hours support is probably outsourced, and your experience may be less than ideal.
You can also contact customer service via email at any time. Expect to receive a response within 24 hours.
TrustCommerce also offers some educational material on its website, including a Resources section that contains links to several whitepapers, fact sheets, case studies, and infographics. Annoyingly, they're hidden behind a contact information submission form. While it's nice to see some additional information, the material here is more focused on marketing than technical help.
User Reviews
Negative Reviews & Complaints
TrustCommerce is currently not accredited by the BBB but still has an A+ rating with zero complaints in the last three years. This is very impressive, even for a relatively small company. Businesses in the merchant services category usually attract a lot of criticism on consumer protection sites, so the lack of complaints is itself a very good indication that the company's customers are satisfied with its products and services. There also are zero complaints against TrustCommerce on Ripoff Report, which is particularly impressive as Ripoff Report never removes old complaints.
Here are some points of caution for TrustCommerce:
Customer Service: One of the only negative user reviews is from a customer who claims they couldn't reach support by phone.
Opaque Marketing: TrustCommerce plays its cards pretty close to the vest and seems reluctant to give out hard numbers online.
Domestic Only: TrustCommerce deals in USD exclusively, making it a bad fit for international eCommerce.
Positive Reviews & Testimonials
TrustCommerce features testimonials from eight customers on its home page. The testimonials are brief but well-written and convincing. The company also has a 5-star rating on TrustLink, based on four 5-star reviews submitted by users.
Here are some selling points for TrustCommerce:
Reliability: Surfrider's CEO praised TrustCommerce's reliability and security. Other customers offered similar praise.
Easy PCI Compliance: An LA Convention Center representative appreciated just how simple TrustCommerce made it for them to comply with PCI standards.
Knowledgeable Staff: Other customers found TrustCommerce's staff knowledgeable and responsive.
If you've had a positive experience with TrustCommerce, by all means, please feel free to share it with us in the Comments section below.
Final Verdict
TrustCommerce is proof that you don't have to be a huge company to offer a dependable, innovative product and be able to back it up with excellent customer service and support. Its payment gateway is easy to use, secure, and compatible with any merchant account provider you want to use. The company was the first to introduce tokenization for subscription-based merchants in 2001, and it seems to be doing a great job of updating its services to keep up with the most recent technological changes in the payments industry.
With over sixteen years in business, TrustCommerce is one of the oldest payment gateway providers in the industry. I have no problem recommending its services if you're in the market for a reliable payment gateway provider. Overall, it's earned 4 out of 5 stars. While there are no glaring weaknesses in its lineup of products or services, there are a few minor critiques that you should take into consideration. The most notable criticism is that it doesn't disclose any pricing information on its website. While it's to be expected that exact pricing will be customized for each merchant, other competing gateway providers offer standardized pricing and fully disclose their costs. While it's generally more expensive to sign up for a payment gateway directly through a gateway provider rather than bundling it with your merchant account, this isn't always the case. Additionally, it's a US-centric service, so if you need to handle currencies other than American dollars, you'll need to look at alternatives.
I'd also like to see a little more information about compatible hardware. TrustCommerce partners with several manufacturers to provide card readers and terminals, but it doesn't disclose information about specific models. While it's nice to see that TrustCommerce will sell you the hardware you need rather than forcing you into a lease, it would be better if the company also told you which models were compatible. With this information, you could make an informed decision about whether it's more cost-effective to buy your terminals from TrustCommerce or a third-party vendor.
Despite these minor quibbles, TrustCommerce is an excellent choice as a gateway provider. If you're looking for a payment gateway, be sure to shop around and get a quote from both TrustCommerce and other gateway providers as well. You'll also want to compare the overall cost of signing up directly with TrustCommerce rather than going through your merchant account provider.
---
We've done in-depth research on each and confidently recommend them.
We've done in-depth research on each and confidently recommend them.