TSheets Time Tracking App Review
Updated on:
Review by: Wesley Kriz
Advertiser Disclosure: Our unbiased reviews and content are supported in part by
affiliate partnerships
, and we adhere to strict
guidelines
to preserve editorial integrity.
Pros
Reasonable monthly cost
Excellent mobile apps
Advanced features
Varied support materials
Cons
Outdated user interface
Buggy
Overview
Based proudly (defiantly?) in Boise, Idaho, TSheets seeks to stand out from the crowd. From their origins as a unique, homebrew software intended for use by a single small business to their current status as a multi-national country with employees in 20 states, South Korea, Austrailia, and the U.K, the story of TSheets serves as a testament to what they call "The PBR core values."
TSheets claims to "love employees." In an industry like time tracking — one that often is perceived poorly by the average working stiff –, this is a bold, almost brazen statement. But TSheets backs up this claim by giving employees GPS tracking, timesheet modification, and a low price, making their product more available than that of many competitors. Recently acquired by Intuit, Tsheets is ready to take their message to an ever-larger audience. Overall, it is easy to see why TSheets is beloved by businesses large and small the world over.
Pricing
TSheets offers three pricing plans that break down as follows:
1 User: Free! This version of TSheets is limited to just one user. You can purchase the scheduling feature for an additional price.
2-99 Users: This plan charges a $16 base fee, then adds four dollars/user/month. Those of you who want scheduling services must also pay an additional dollar/user/month
100+ Users: Like the lower user-count plan above, this plan charges four dollars/user/month, but the base fee increases from $16 to $80. The cost of adding scheduling services is one dollar extra/user/month
All three plans come with the full suite of TSheets features (with the exception of Scheduling, as noted above), and you can make payments with a credit card. Impressively, TSheets does not make you sign contracts, so you can cancel your subscription at any time.

Web-Based (SaaS) Or Locally-Installed
TSheets is entirely web-based and does not need to be downloaded or installed on your computer. The mobile apps, however, do require installation on your smartphone.
Ease Of Use
Upon signing up for TSheets, you will be plied with a few questions. First, what do you plan to use TSheets for? Second, what industry are you in? From there, you can either take a tour of the app or jump in unaided. I chose the former; it is a click-through tour that highlights the various locations and features of the product. It does a decent job at this, though the UI is pretty self-explanatory all on its own.
That said, don't take "self-explanatory" to mean "good." This UI feels extremely archaic, with lots of pop-up windows that can, at times, stack up on top of one another. That can be a problem if you lose track of all the little windows you've opened up (something that is all too easy to do considering the clutter created by the pop-ups).
I am happy to report, though, that the mobile app, at least the iOS version, is much better from a usability standpoint. I was able to access my timesheets, clock in and out, and use all the available features. Verdict: if you are using a phone, TSheets is pretty easy to use. If you are working on a computer, it is unpolished and, at times, irritating.
Customer Service & Support
TSheets has a couple of good options for customer service, including;
Small Business Resource Center: With information on both how to use TSheets and business strategies in general, this is a good place to go if you are part of a small organization and looking for more general tips on how to organize yourself
Training/Webinars: For both of these options you will need to sign yourself up on the TSheets website. The training courses offer specific support for setting up your TSheets experience. Webinars, on the other hand, are filled with more general information (still about TSheets, but less specific). Both types of class are run often, at least once a week.
Blog: The TSheets blog is a great place to go for tips and advice, but also to learn more about TSheets news and updates.
Direct Contact: Using either phone, chat, or email, you can actually talk to a real person at TSheets about your problems. With a team that claims record response times, most users express nothing but satisfaction with TSheet's customer service.
Knowledge Base: Looking for an exhaustive database of the inner workings of TSheets? Want specific articles about each feature found within the product? Make your way to the Knowledge Base, where you will find tons of articles to meet your every need.
Negative Reviews & Complaints
TSheets enjoys a 4.7/5 on G2 Crowd and an impressive 5/5 stars on softwareadvice.com. Having said that, there are a few things that some customers would like to see improved:
Clumsy Interface: I ran across a number of frustrated users who claimed that the user interface was sometimes hard to use. Several of these users specifically noted that the admin view was most troublesome, with numerous drop-down menus that were difficult to navigate.
Mobile Bugs: Worryingly, some users commented that at times the mobile app did not successfully clock them in. Considering that is literally the entire point of paying for TSheets, it is a pretty big problem for it not to work every time.
Clock-In Issues: Several user reviews noted that if you forget to clock in it can be difficult to add time back manually. I wonder if these users are aware of the manual time card option described on the website, which would seem to correct this issue.
Positive Reviews & Testimonials
Like I mentioned above, TSheets is generally a beloved service, with many users lauding the customer support specifically in their comments, even naming the person or persons who helped them in their reviews. Here are a few excerpts from satisfied customers:
After a few months of using it personally for my own time tracking and billing/invoicing clients, I'm finding myself also persuading my clients themselves to use it internally in their organizations due to the rock-solid performance and almost invisible footprint it makes in my workflow while still achieving all that I need it to – whether it's being used in the web application, browser extensions, or mobile apps, the overall time-saving and time-tracking features of TSheets undisputably enhance my flow.

I love that this is something that can be used online or on any smartphone. It has made tracking payroll so much easier for the company I currently work for. Being able to track billable hours while out on location with clients is fantastic because it ensures I get paid in a timely manner without short changing myself.

Audit logs are great. The UI is very responsive and can stay open for an entire day on my laptop. If you switch networks, it will reconnect without forcing you to manually reload the page.

The Customer Service is Fast to answer the phone, has competent people to talk to you, and has always been able to resolve my issues in a quick and efficient manner. This morning I talked with rep, who guided me to the reports I was needing. She did not seem rushed, and listened very attentively to my questions and Comments. Kudos to rep.
Features
TSheets breaks features down into three major functions: tracking time, managing time, and reporting time. These are the major features within those umbrellas:
Tracking time:
Punch In/Out: TSheets is mostly designed to work with a mobile app on your smartphone. However, there is also a "kiosk mode" that allows all employees to log in from a single location. Either way, this part of the program functions just like a standard time sheet. There is also a manual time entry option if you forgot to clock in or out for a shift.
GPS Tracking: Designed to keep employees honest and employers informed, GPS tracking is useful to companies with mobile employees. If your workday includes stops at several locations, having a time sheet that tracks your location is a great way of covering your back, from a legal perspective.

PTO Tracking: A nice feature, not all that common in time tracking apps, is that TSheets can compile your PTO for you and your employees. With recently added advanced overtime features, you can calculate complicated pay rates that differ from employee to employee.
Image Attachments: Tsheets recently acquiesced to user requests for the ability to attach photos to timesheets. These can be used as proof that tasks have been completed, evidence of pleased customers, or reporting issues experienced on the job site.
Managing Time:
Overtime Alerts: To help avoid unintentional overtime expenditures, TSheets can send hyper-productive (or at least long-working) employees an alert when they are approaching overtime. While this feature might not be supremely useful to everyone, it may prove vital if you work in an industry that commonly operates outside the standard nine-to-five schedule.
Timesheet Approvals: Want to add another layer of accountability? In "just one touch on the web dashboard" your employees can submit timesheets for your approval. If you see something you don't like, denying them is just as easy.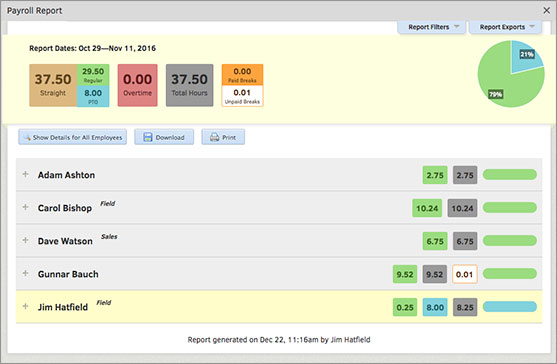 "Who's Working": This feature lets you see who is and who is not currently punched in.
Reporting TIme:
Payroll Reporting: These flexible reports start as a bird's-eye view of your entire payroll, then allow you to "drill down" and see data on each individual employee; when they worked, how much overtime they accrued, etc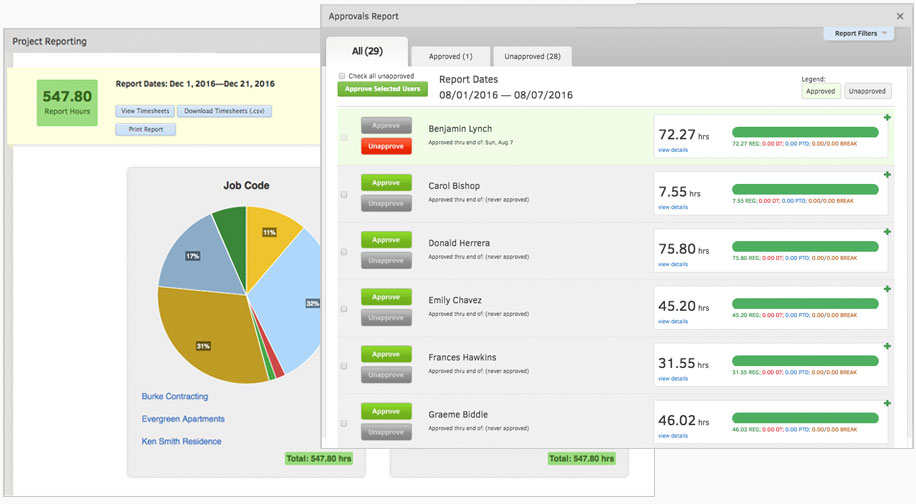 Project Reporting: Use these reports to see how much time has been spent on particular projects; is everything on schedule? Search jobs by code, name, or "service item."
TSheets also offers a Scheduling feature (available for an additional fee), and it works in one of two ways: scheduling by shift or by task. Shift scheduling works basically like a calendar. Task scheduling, on the other hand, allows you to tie specific employees to particular tasks. Thes two options both have pros and cons, so which one you use will depend on the kind of business you run.
Integrations & Add-Ons
TSheets integrates with the following outside software and apps:
Gusto
Square
Expensify
Namely
Rippling
Wagepoint
… And many more!
Security
According to the TSheets website, the app employs "accepted best methods and takes reasonable measures to help protect information about you from loss, theft, misuse and unauthorized access, disclosure, alteration, and destruction." As statements go, that one is not particularly specific, so if you are concerned about information, server, and identity security, you may need to contact the team at TSheets directly.
Final Verdict
I am of two minds about TSheets. Usually, poor UI design is enough to sour me on a software. However, the attitude displayed by TSheets, with their care for employees and excellent customer service, has me wavering. Furthermore, since the mobile app (the portal through which most users will experience TSheets) does not suffer in the same ways that plague the browser-based experience, TSheets is right back in contention.
In the end, I think TSheets is an excellent choice for most businesses, especially if you plan to primarily use your mobile device. Go ahead and give the free trial a shot to confirm what so many users already believe: TSheets is one of the best ways of tracking time available now.

---
Read Next
To learn more about how we score our reviews, see our
Project Management Software Rating Criteria
.