TSheets By QuickBooks Review
Expert Analyst & Reviewer

Updated on:
Advertiser Disclosure: Our unbiased reviews and content are supported in part by
affiliate partnerships
, and we adhere to strict
guidelines
to preserve editorial integrity.
TSheets Time Tracking App

Pros
Reasonable monthly cost
Excellent mobile apps
Good customer support
Cons
Poorly-designed user interface
Buggy
Overview
TSheets is time tracking software that's packed with convenient features for both employees and employers. This user-friendly software comes loaded with tools, including GPS tracking, mobile time clocks, team management, and scheduling. It even simplifies payroll by integrating with many popular payroll and accounting software programs. Add in excellent customer service and thousands of positive TSheets reviews, and this software seems like the ultimate package.
Unfortunately, though, TSheets isn't without its flaws. The UI isn't the most user-friendly and can feel a bit cluttered. TSheets has plenty of time-tracking features, but it noticeably lacks task management and other features, meaning you may have to integrate with other software. And while there are plenty of positive TSheets reviews online, several complaints surround the clunky interface, bugs in the software, and difficulties with integrations.
Despite these flaws, though, TSheets has built a reputation as a leader in the time tracking software space. TSheets is a great choice for many businesses, but is it the right one for yours? In this review, we're going to break down TSheets pricing, features, security, and user reviews to help you determine if this software is worth investing in. Keep reading to learn more about TSheets.
TSheets Pricing
TSheets offers its software in two different pricing plans. The lower-level plan offers basic time tracking features, while the higher-level plan offers more advanced features, such as geofencing and timesheet signatures.
You can purchase this software on a monthly or an annual basis. If you choose the monthly route, you benefit from flexibility (you can cancel the software at any time without any financial penalties). If you choose the annual plan, you can take advantage of a 20% discount. The big disadvantage of the annual plan, however, is that if you decide to cancel your subscription before the year is up, TSheets will not provide you a refund of any kind.
If you'd like to test the software out before committing to a paid plan, TSheets offers a 14-day free trial. We highly recommend you sign up for this trial as it will give you a good idea of whether or not the software fits your needs.
Here's a quick breakdown of TSheets' two available plans, complete with features and pricing:
Premium
The TSheets Premium plan costs $8/user/month + a $20 base fee/month and includes:
One free admin
Track time on any device
Mobile app with GPS
Streamlined payroll and invoicing
QuickBooks integrations
Job and shift scheduling
Real-time reports
See who's working
Time-off management
Alerts and notifications
Photo attachments
Time Clock Kiosk with facial recognition
Unlimited live customer support
Elite
The TSheets Elite plan costs $10/user/month + a $40 base fee/month and includes everything in the Premium plan, plus:
Track project progress
Project estimates vs. actual reporting
Project activity feeds and messaging
Timesheet signatures
Geofencing
Cloud-Based Or Locally-Installed
TSheets is entirely web-based and does not need to be downloaded or installed on your computer. The mobile apps, however, do require installation on your smartphone.
Hardware & Software Requirements
Because TSheets is cloud-based software, you don't need any specific software or hardware to log into your account. TSheets does, however, recommend a few browsers for the desktop interface. Recommended browsers include Chrome 30+, Firefox 26+, Internet Explorer 11+, Microsoft Edge, and Safari 6+.
TSheets also offers mobile apps for both iOS (11.0+) and Android (5.0+). Using these apps, users can clock in and out and adjust their timesheets remotely.
Finally, TSheets offers a Time Clock Kiosk feature that is designed to be used on a tablet. Compatible tablets are iPad iOS 8.0+ and Android OS 6.0+.
Specific Size Of Business
TSheets is a good solution for small businesses that need a convenient way to track time. In particular, TSheets works well for businesses that have workers who travel to different locations. It gives these mobile employees a way to clock in and out while in the field. A few advanced features (such as geofencing and facial recognition) give employers the guarantee that employees are honest with their time tracking.
Ease Of Use
Upon signing up for TSheets, you are asked a few questions. First, what do you plan to use TSheets for? Second, what industry are you in? From there, you can either take a tour of the app or jump in unaided. I chose the former; it is a click-through tour that highlights the product's various locations and features. It does a decent job at this, though the UI is pretty self-explanatory all on its own.
That said, don't take "self-explanatory" to mean "good." This UI feels a bit clumsy, with lots of pop-up windows that, at times, stack up on top of one another. That can be a problem if you lose track of all the little windows you've opened up (something that is all too easy to do, considering the clutter created by the pop-ups).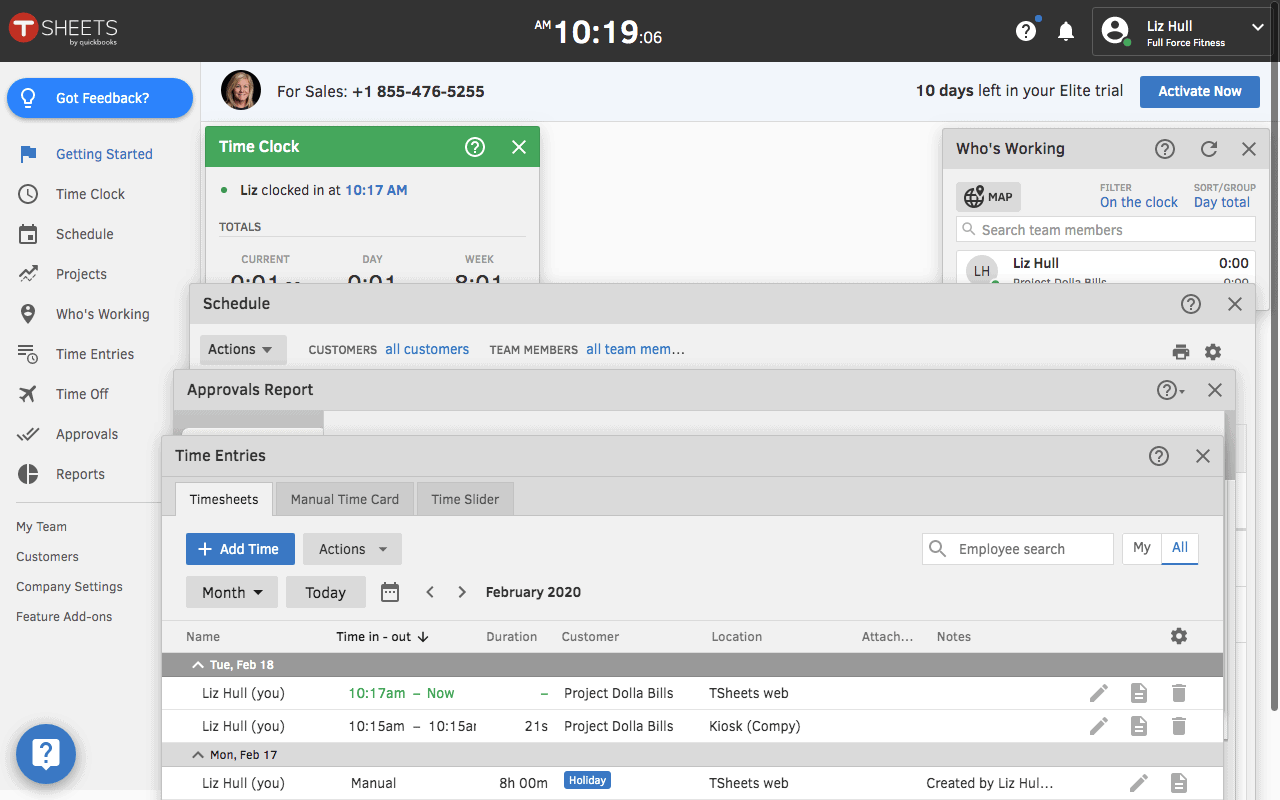 I am happy to report that the mobile app is much better from a usability standpoint. I was able to access my timesheets, clock in and out, and use all the available features. Verdict: If you are using a phone, TSheets is pretty easy to use. If you are working on a computer, it is unpolished and even irritating.
TSheets Time Tracking Software Features
TSheets is time tracking software. It contains built-in features for time tracking and scheduling, but not much else. If you need project management features (such as task management and communication tools), you'll need to pair TSheets with another project management software. That said, TSheets offers robust tools for tracking time and monitoring employees' timesheets.
Take a look below at the features you get with TSheets (keep in mind that some of these features, such as project tracking, geofencing, and timesheet signatures, are only available on the Elite plan):
Dashboard: Use the TSheets dashboard on desktop or mobile to track time and manage schedules. Manage PTO and employees' timesheets, see who's currently clocked in, and view reports about employee hours. Take a look at the dashboard below.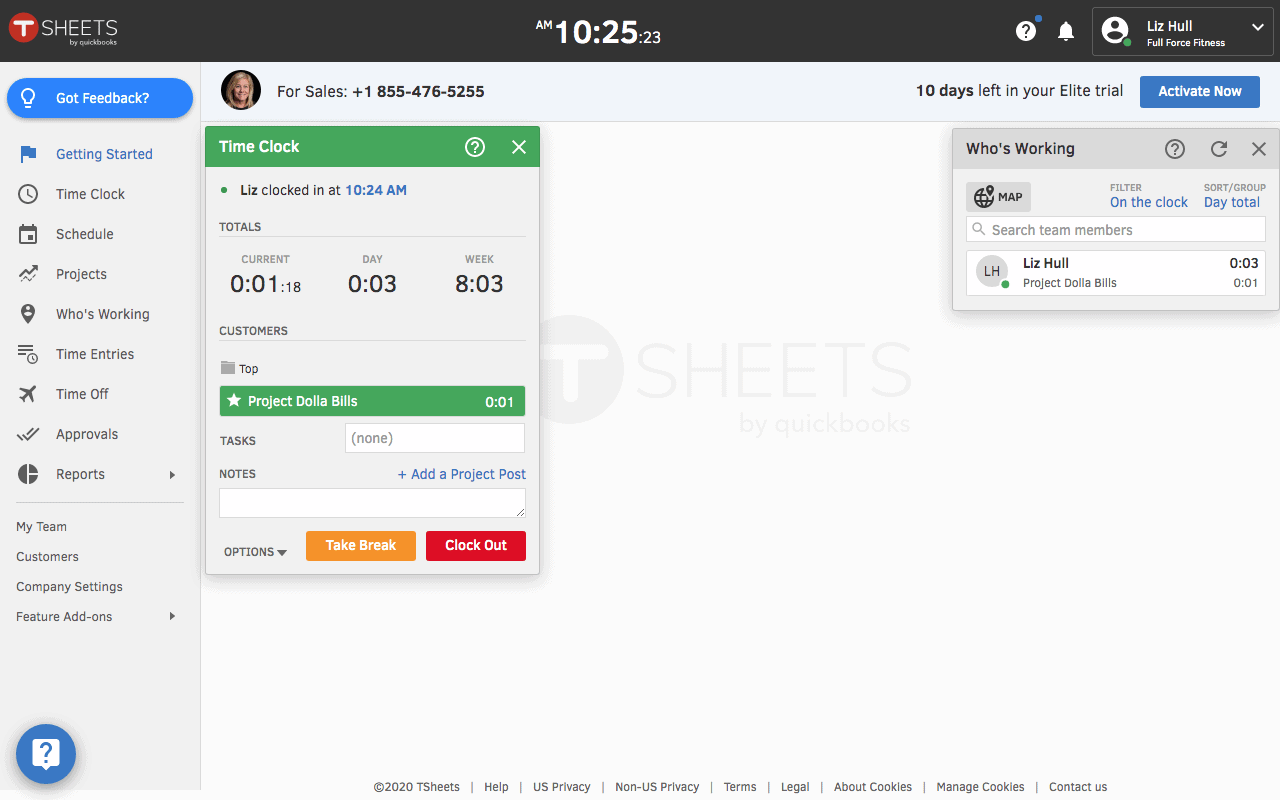 Project Management: Use TSheets' "Projects" features to plan the amount of time a project will take and track the time spent on each element of the project. Make sure things are running on schedule, and use the time you tracked on previous projects to make better estimates of time for future projects. You can also use the "Feature add-on" tool to assign tasks to employees within the software.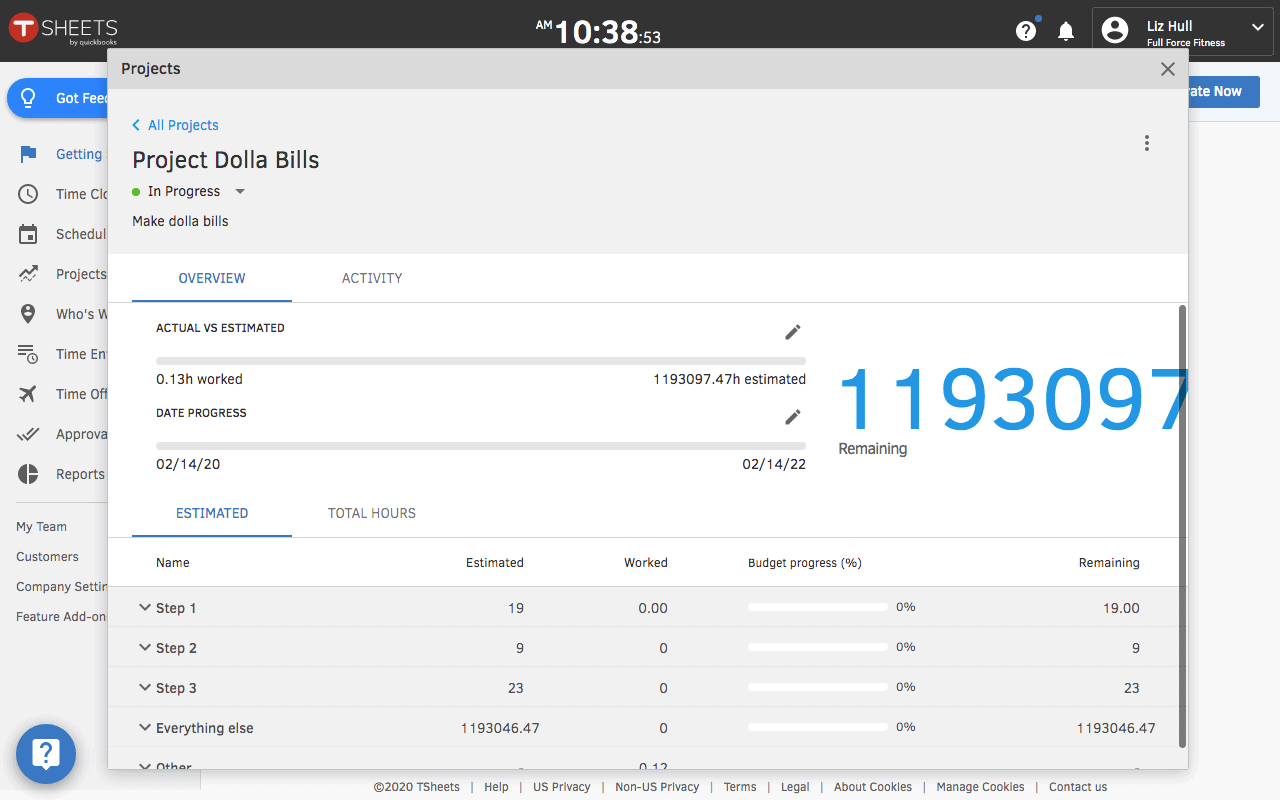 Time Tracking: TSheets lets you track time on a mobile phone or a desktop computer. There is also a "kiosk mode" that allows all employees to log in from a single location. You can even enable a facial recognition feature on the kiosk to take photos of your employees when they clock in and out to eliminate "buddy punching." You can also enable overtime alerts to send mobile notifications when employees are approaching overtime. Employees and managers can use the manual time entry option if someone forgets to clock in or out for a shift. At the end of each pay period, you can have employees sign their timesheets and then approve timesheets manually.
Payroll: TSheets offers payroll reporting features. These flexible reports start as a bird's-eye view of your entire payroll, then allow you to "drill down" and see data on each employee: when they worked, how much overtime they accrued, etc. You can set different pay rates and overtime pay rates for each employee to ensure these reports are accurate. Integrate TSheets with your payroll software or export payroll information as a CSV file to make running payroll a bit more automatic.
Employee Management: Set different pay rates and overtime rates for each employee, and use TSheets' PTO features to set PTO accrual rates and track time-off balances.
Scheduling: TSheets' scheduling features work in two ways: scheduling by shift and by task. Shift scheduling works basically like a calendar. Task scheduling, on the other hand, allows you to tie specific employees to particular tasks. Both options have pros and cons, so which one you use depends on the kind of business you run. Your employees receive notifications when managers change or publish schedules, and you can sync with cloud-based calendar solutions, such as Apple iCal, Microsoft Outlook, and Google Calendar, to make planning ahead a little easier.
Reports & Analytics: View project reports to track how much time is spent on each task and compare time estimates with the actual time spent. You can also use the reporting features to view and export payroll reports.
Image Attachments: Use image attachments to attach photos to timesheets. These photos can be used as proof that tasks have been completed to track progress on a build or as a means of reporting issues experienced on the job site. You can only take and add these photos from the TSheets mobile app.
Geofencing: Designed to keep employees honest and employers informed, geofencing is useful to companies with mobile employees. Geofencing features send reminders to clock in and out when employees enter and leave a job location. Geofencing can also ensure that employees only clock in when they are on site.
TSheets Customer Service & Support
TSheets has a couple of good options for customer service, including:
Phone: Phone support is available Mon-Fri from 5 AM-9 PM MST and Sat-Sun from 8 AM-5 PM MST.
Email: If you'd prefer email support, TSheets makes this option available.
Live Chat: TSheets' support is also available via live chat during the hours listed above. I found TSheets' live chat support helpful and responsive.
In-Software Help: Access the help center, the community forum, and live chat from within the TSheets dashboard.
Help Center: TSheets' help center is incorporated into the QuickBooks help center. That means you have to be very careful when you search the help center to find answers that are specific to TSheets. You can use the "Refine" tool within the help center search engine to narrow your results to TSheets-specific answers only.
Community Forum: Ask questions in the community forum and get help from other users.
White Papers: TSheets' Small Business Resource Center gives you information on both how to use TSheets and business strategies in general. It's a good place to go if you are part of a small organization and looking for more general tips on how to get organized.
Videos: TSheets' YouTube account features dozens of videos ranging from two to ten minutes with instructions on setting up and using the software.
Training & Webinars: TSheets' training videos and webinars are offered frequently and designed to help you set up and use your TSheets account effectively.
Blog: The TSheets blog is a great place to go for tips and advice and learn more about TSheets news and updates.
Social Media: TSheets is active on Facebook, Instagram, LinkedIn, Twitter, and YouTube.
TSheets Reviews
TSheets Negative Reviews & Complaints
TSheets gets mixed reviews online. While the company has a glowing 4.5/5 stars on G2 Crowd, it's also earned a scathing 1.3/5 star average on Trustpilot. Here are a few areas of common concern:
Clumsy Interface: I ran across some frustrated users who claim that the user interface is sometimes hard to use. This includes the organization of the admin as well as the general bugginess of the software.
Bugs: Users frequently report bugs in the software. Worryingly, some users commented that the mobile app did not always successfully clock them in or out. Considering that is the entire purpose of TSheets, that it doesn't work every time is a pretty big problem.
No Refund On Annual Purchase: Many users express frustration at not being able to receive any type of refund (prorated or full) on their annual purchase of TSheets. Make sure you absolutely love the software before you sign up for an annual plan.
Trouble Syncing With QuickBooks: Because TSheets is now a part of the Intuit family, you would expect its integrations with Intuit products to be seamless. However, this does not appear to be the case. Many users have expressed difficulty syncing information between TSheets and QuickBooks.
TSheets Positive Reviews & Testimonials
Although TSheets does not please every user, many users have positive experiences with the platform. Here are a few of the things we see current users praise most frequently:
User-Friendly: TSheets is easy to use, and it's easy to train new employees to use the system.
Mobile Interface: Users like TSheets' mobile apps. The ability to clock in and out remotely is a big positive for many companies, especially those that have employees working in the field.
Responsive Customer Support: When it comes to customer service, the positive reviews outweigh the negative. Users say that customer support is kind, responsive, and helpful.
TSheets Integrations & Add-Ons
TSheets integrates with over 40 third-party software programs. These include integrations with project management software (Asana and Knowify), accounting and payroll solutions (QuickBooks and Xero), and HR management software (Gusto and Justworks).
As a part of the Intuit family, we would typically expect TSheets' integration with QuickBooks to be seamless. However, we have seen a handful of user reviews that state the opposite. According to these reviews, TSheets' integration with QuickBooks may not be as strong as you'd expect.
Security
TSheets ensures its users' data security through a variety of safeguards. All data is encrypted with a minimum of a 128-bit TLS, and all backup data copies are encrypted with a 256-bit AES encryption. TSheets uses multiple servers to house data. These servers are located in multiple Tier-3 data centers around the world. Data centers are secured by strict access controls and real-time video monitoring. TSheets is also PCI DSS compliant, so any credit card information you enter is stored and transferred securely.
Final Verdict Of TSheets Review
I have mixed feelings when it comes to TSheets. In some ways, TSheets is great software. TSheets gives users a wide range of tools for tracking hours on location and when on the go. It's easy to use and easy to teach to new hires. What's more, TSheets' advanced features, such as facial recognition, geofencing, and overtime alerts, give employers peace of mind that their employees are honest and accurate in their time tracking.
All that said, TSheets does have a few downsides. The software only really works for time tracking. If you need more advanced project management features, you'll need to integrate another third-party software or choose a full-featured project management software, such as Wrike. Additionally, many users report that TSheets suffers from bugs and glitches, especially when employees go to clock in and out. I am concerned that TSheets' most fundamental feature deals with these bugs. In my mind, this is a serious concern for time tracking software.
As you consider what time tracking software you want to add to your business, I recommend that you keep TSheets in mind. While it is not a perfect solution, it is a good option for many businesses. You should also look into a few other solutions to see if there's another one that might serve your needs better. Take a look at our article on our seven favorite time tracking solutions for more suggestions.
Best of luck!
---
We've done in-depth testing of each and confidently recommend them.
We've done in-depth testing of each and confidently recommend them.
To learn more about how we score our reviews, see our
Project Management Software Rating Criteria
.
Read Next